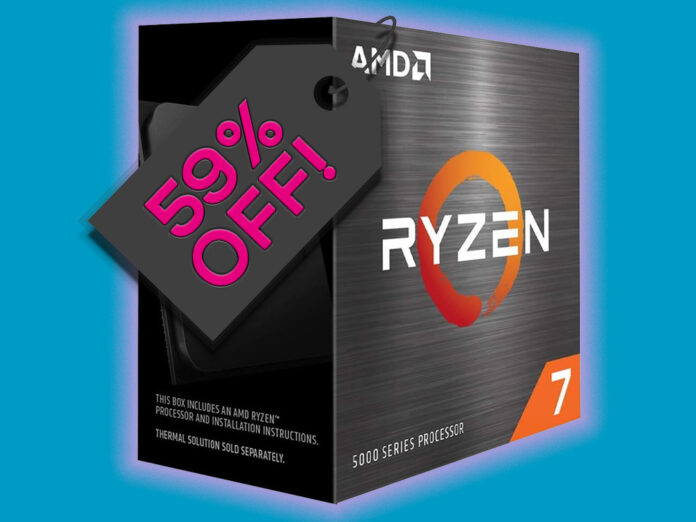 Black Friday is nearly upon us and this year's sale extravaganza has presented a plethora of noteworthy deals. Granted, there's still a whole lot of dross to sift through, but we're here to help you identify all the best buys in PC tech.
The component to catch our eye today is AMD's longstanding Ryzen 7 5800X processor. It used to sit among the best CPUs of its day. Despite dating back to 2020, AMD's 7nm chip remains a veritable powerhouse and is now better than half price at £170.97 in the UK or $210.49 US.
Packing eight cores and 16 threads, the AM4 chip scales to a 4.7GHz top speed and carries a manageable 105W TDP. It's a CPU primed for a potent gaming or productivity rig, and sure, you'd prefer the Ryzen 7 5800X3D, but as things stand, regular 5800X costs £120 less than its X3D brethren, making it an absolute bargain.
Resisting the temptation to spend more is tricky, yet the sizeable saving can be distributed elsewhere – a 4TB SSD, perhaps? A key attraction to the Ryzen 7 5800X is AMD's long-standing AM4 platform. For those already invested, the 16-thread chip is a welcome drop-in upgrade from older generations, and if you're migrating from even further back, total platform costs are at an all-time low.
AMD Ryzen 7 5800X
---
"AMD Ryzen 7 5800X elite gaming desktop processors come with 8 cores optimised for high-FPS gaming rigs."
We earn a commission if you make a purchase, at no additional cost to you.
Add a competent B550 motherboard, 32GB of DDR4 memory, a fast M.2 SSD and a decent graphics card – we're thinking along the lines of RTX 4070 or RX 7800 XT – and you have the makings of a very capable PC for around a grand. We're eager to see what the coming days will serve up, but this is a CPU deal that'll take some beating.