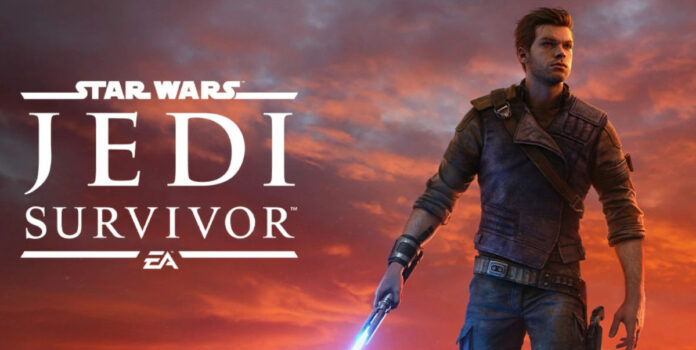 AMD's keynote at CES 2023 was the perfect platform to unveil its eagerly anticipated Ryzen 7000 X3D CPUs, but what's new hardware without new game partnerships? That's where Star Wars Jedi: Survivor comes in.
CEO Lisa Su announced the game has not only been developed on and optimised for AMD Ryzen hardware but will also be included in future AMD Raise The Game bundles. For starters, according to Team Red's official product page, the game will fully support FidelityFX Super resolution, while recommended specifications vaguely suggest any AMD Ryzen Processor and Radeon RX series graphics card. Real subtle, guys.
Star Wars Jedi: Survivor is a sequel to the critically acclaimed Fallen Order. Set during the ruthless reign of the Galactic Empire, the story centred around former Padawan Cal Kestis. He's journey starts off in hiding as a rigger on the Mid Rim world and junkyard planet, Bracca, and due to a series of unforeseen circumstances forces the young lad to embrace the Force, escape Jedi Hunters known as the Inquisitorius, and seek truths across the galaxy alongside a band of misfits with ties to the Resistance. Also, who can't forget Cal's Android side kick, BD-1, I love that little guy.
It's an epic tale that you should consider picking up if you haven't already. Now that Cal has mastered his skills and become a Jedi Knight, Respawn Entertainment promises the sequel's overall tone and story will tread deeper, darker waters and push visual boundaries to its limits on both console and PC.
On a related note, game director Stig Asmussen revealed in an interview with starwars.com that ray tracing and faster load times are among the few improvements that will take precedent in the sequel. Addressing the elephant in the room, we can't help but wonder how well AMD's graphics cards will fair up against Nvidia's latest when it comes to rendering ray-traced effects, an area where GeForce tends to have the upper hand. Meditate on this, I will.
Dr. Su states the bundle offer will become available to select Ryzen 7000 Series CPUs later this month, though you will have to wait a short while to redeem as Star Wars Jedi: Survivor is scheduled for release March 17 on PC, PlayStation 5 and Xbox Series S|X.