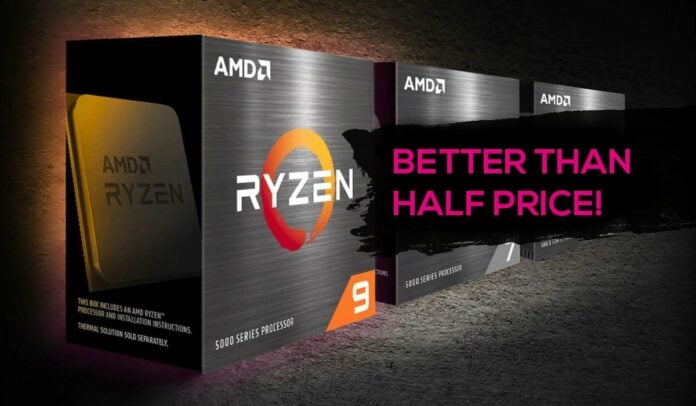 AMD Ryzen 9 5900X CPU
---
"Obliterate multithreaded tasks like 3D rendering, video rendering, and software compiling by taking advantage of 12 cores, 24 threads and PCIe 4.0 support."
We earn a commission if you make a purchase, at no additional cost to you.
There's plenty of talk on the Internet about Intel launching 14th Gen Core processors next week. Those are all fine and well – rumour is that Raptor Lake Refresh is, at best, a minor uptick in performance over 13th Gen Core – but there are incredible deals to be had for impressive processors right this minute.
A great case in point is the excellent AMD Ryzen 9 5900X CPU. This 12-core, 24-thread processor makes light work of even the most demanding tasks and being run on the established and mature AM4 ecosystem, it fits into a wide range of value motherboards. What's more, unlike premium Intel alternatives, 5900X sips on no more than 105W of power.
Using Zen 3 smarts, AMD Ryzen 9 5900X arrived on the scene in November 2020 priced at $549 / £510. That's not what you pay today, not by a long shot, as the processor has dropped to an incredible £245 on UK shores, representing a massive 52 per cent discount off the competitive RRP. Our cousins over the pond in the US can also avail themselves of a superb discount as the processor is down to an all-time-low of $297. At these prices, it's hard to say no.
As part of Amazon's Prime Big Deals promotion, this superb price is exclusive to Prime members. If you're considering joining up, check out our dedicated guide on what you get with an Amazon Prime subscription.
Club386 is always on the lookout for unmissable PC component deals. Follow on Twitter or Facebook to stay up to date with the latest discounts, and subscribe to our free weekly newsletter to be kept abreast of all the developments in the world of tech.