Jump to: Gaming | Productivity | Performance | Conclusion
Finding the right PC monitor requires a certain amount of compromise. Panels geared toward creative types aren't best suited to gaming, or vice versa, and with so many specification variables to contend with, it can be hard to locate a one-size-fits-all solution.
Let us help remove some of the guesswork; AOC's Agon Pro AG324UX isn't perfect, yet if you can stretch to the £870 price point, this 32in display ticks a good number of boxes across multiple platforms.
Gaming Credentials
Launched under the gamer-specific Agon brand, there's no mistaking the monitor's primary purpose is to deliver fluid gameplay at high detail. To that end, the flat 32in (31.5in, to be precise) IPS panel touts a 3840×2160 UHD resolution, 1ms grey-to-grey response time and swift 144Hz refresh rate.
Decent ingredients any day of the week, and as all modern monitors should, the AG324UX has ambitions that extend beyond PC. Augmenting customary Displayport 1.4 are two HDMI 2.1 ports, allowing latest-generation consoles such as the PlayStation 5 and Xbox Series S|X to output at 4K120. Extremely handy if you can't fit a TV in the dorm room, as a panel of this size covers both bases.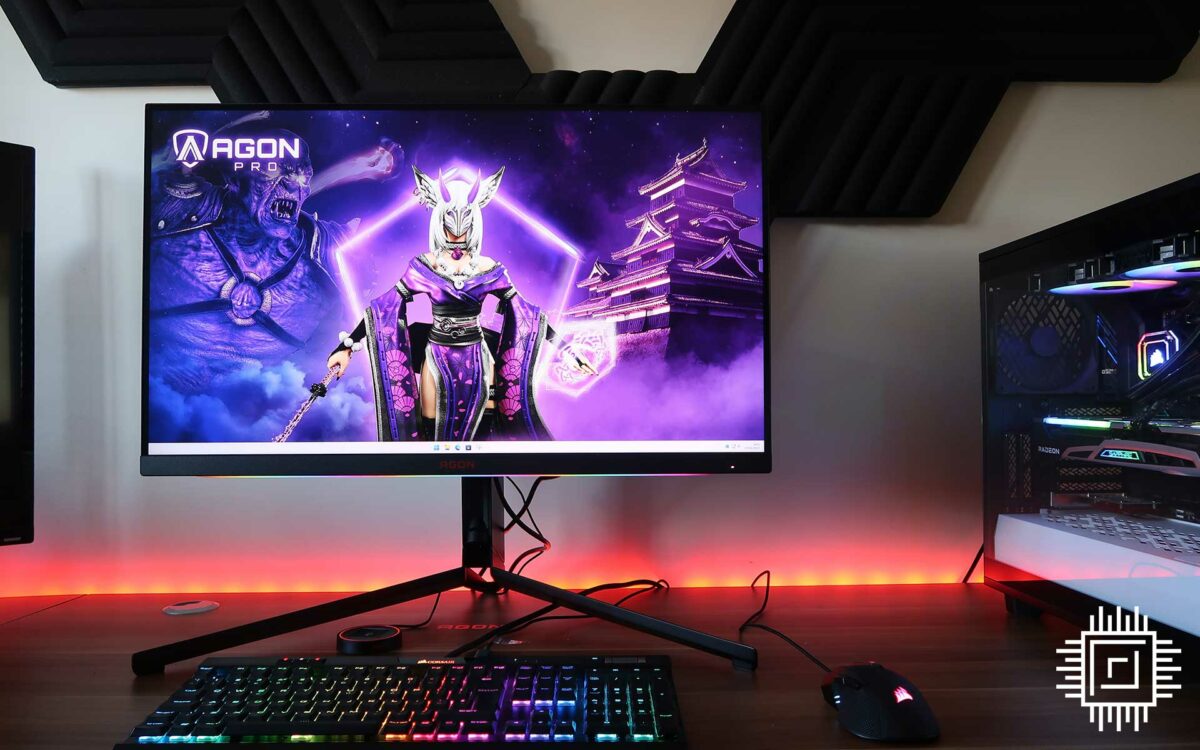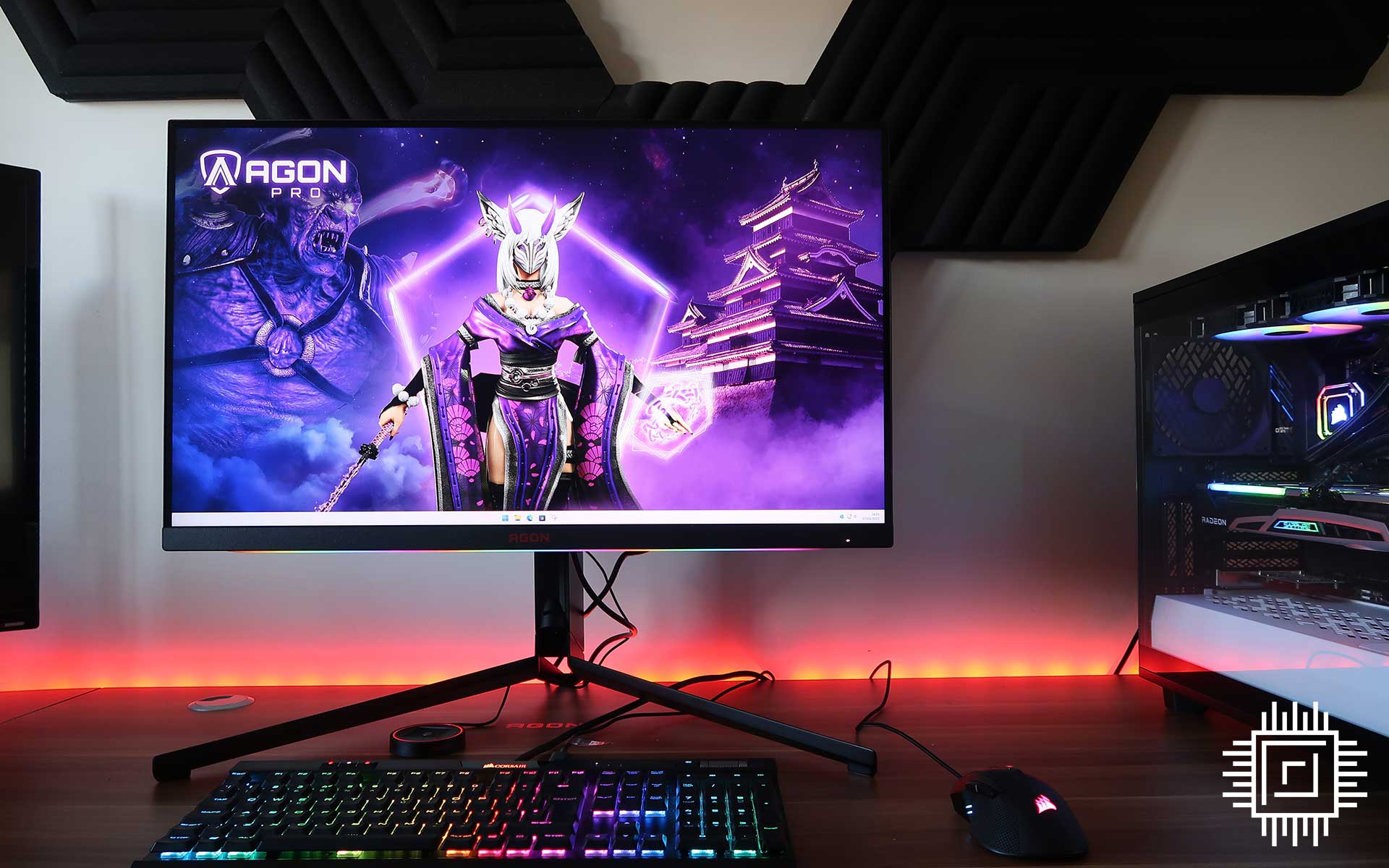 AMD FreeSync Premium and Nvidia G-Sync Compatible certification, as expected, are par for the course at this price point. A silky experience is guaranteed on any modern graphics card, and you'll also benefit from variable refresh rate (VRR) support on an Xbox Series games console; PlayStation 5 is expected to gain VRR in the near future.
Adaptive sync is supported in the common 48-144Hz range, but do note that ghosting becomes quite apparent when framerate drops below that window. PC gamers will want a potent graphics card to keep things running optimally at the native resolution, and driving 8.3 million pixels does require a good amount of GPU firepower.
Response times proved decent enough during testing, albeit not on a par with quicker TN alternatives. Our review unit plays well and feels nippy when using the 'weak' overdrive setting, but those susceptible to overshoot will want to steer clear of 'medium' and 'strong.'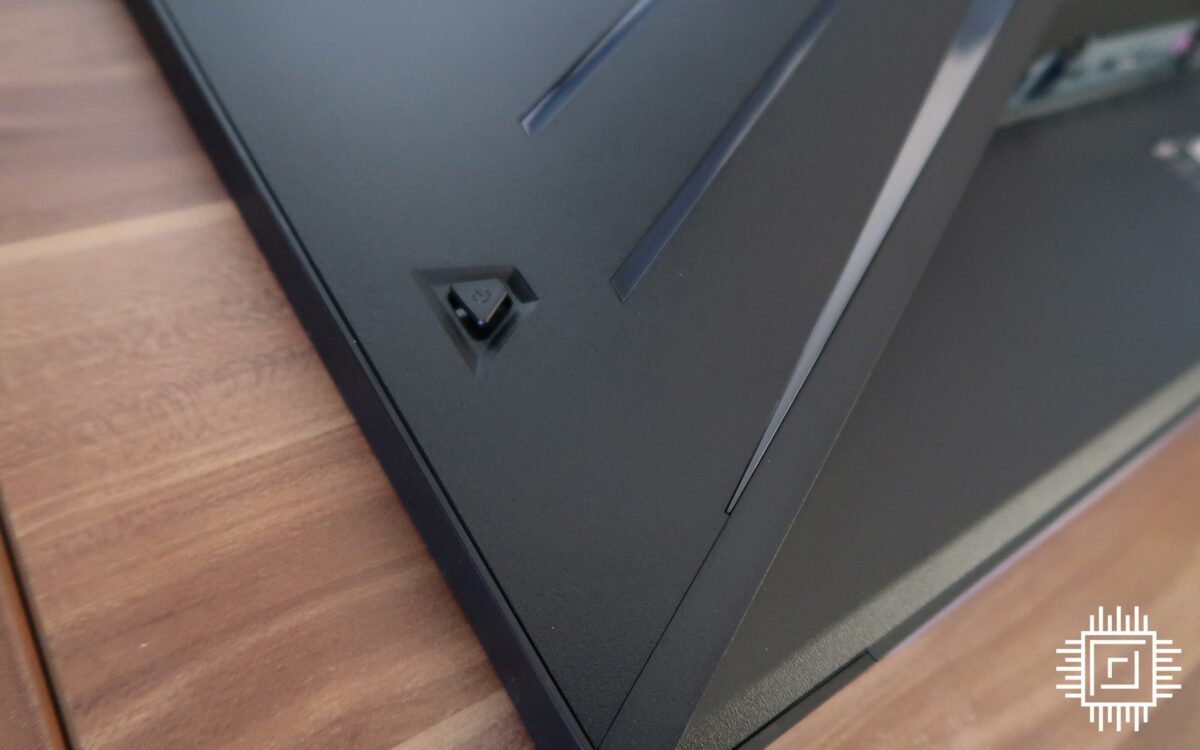 A routine criticism of gamer hardware is that aesthetics adopt an ostentatious feel. The same is true here. Rear RGB lighting does little for us, the novelty of projected AGON branding soon wears off, and though the illuminated strip across the monitor's bottom-front edge is both colourful and consistent, we find it distracting during regular use.
Disabling lighting is easy enough but other gamer accents are here to stay. We'd prefer the 'AGON' logo on the front to be more subtle – red doesn't blend into all setups – and the skinned OSD favours flashy graphics over ease of use. Menu layout and navigation could be better, however AOC is spot on with regards to input devices as the monitor includes both a rear joystick and a USB-attached, puck-shaped 'Quick Switch' remote control.

Show your support for impartial Club386 reviews
Club386 takes great pride in providing in-depth, high-quality reviews built on honest analysis and sage buying advice. As an independent publication, free from shareholder or commercial influence, we are committed to maintaining the standards our readers expect.
To help support our work, please consider making a donation via our Patreon channel.
Capable Workhorse
As a gamer-first solution there's a lot to like, irrespective of platform, but how about productivity? Well, it's mostly good news on that front, too. A 4K UHD resolution works well at the 31.5in size – I can get away with Windows desktop scaling set to 100 per cent, though others may deem 125 more comfortable – and the combination of 350-nit brightness, an antiglare finish and 178° viewing angles delivers good visibility in most environments.
Versatility is decent with 130mm height adjustment, 20° swivel and a small amount of tilt, and if the workload calls for it, the display can easily pivot into portrait mode. AOC's metal stand does take up a fair bit of space – the feet measure 40cm deep and 65cm wide – and while we appreciate the carry handle at the top of the column, there's little in the way of cable management. Those favouring their own mount can easily remove the stand to reveal a standard 100mm VESA attachment.
Out-the-box colour accuracy is good, and though colour coverage isn't fantastic, AOC's attention to the finer details makes this a satisfying screen on which to work by day and play by night. Key value adds include a USB 3.2 Type-C port that can accept 4K144 output from a laptop while simultaneously delivering up to 90W of charge.
USB-C docking is a feature we've come to appreciate on modern monitors, and in this instance a built-in KVM allows multiple systems to share peripherals attached to any of the four USB Type-A ports. Combined with PIP (picture-in-picture) or PBP (picture by picture) modes, the AG324UX is a gaming monitor complete with productivity smarts. Heck, there's even a pop-out arm to store your headset when it's time to get to work.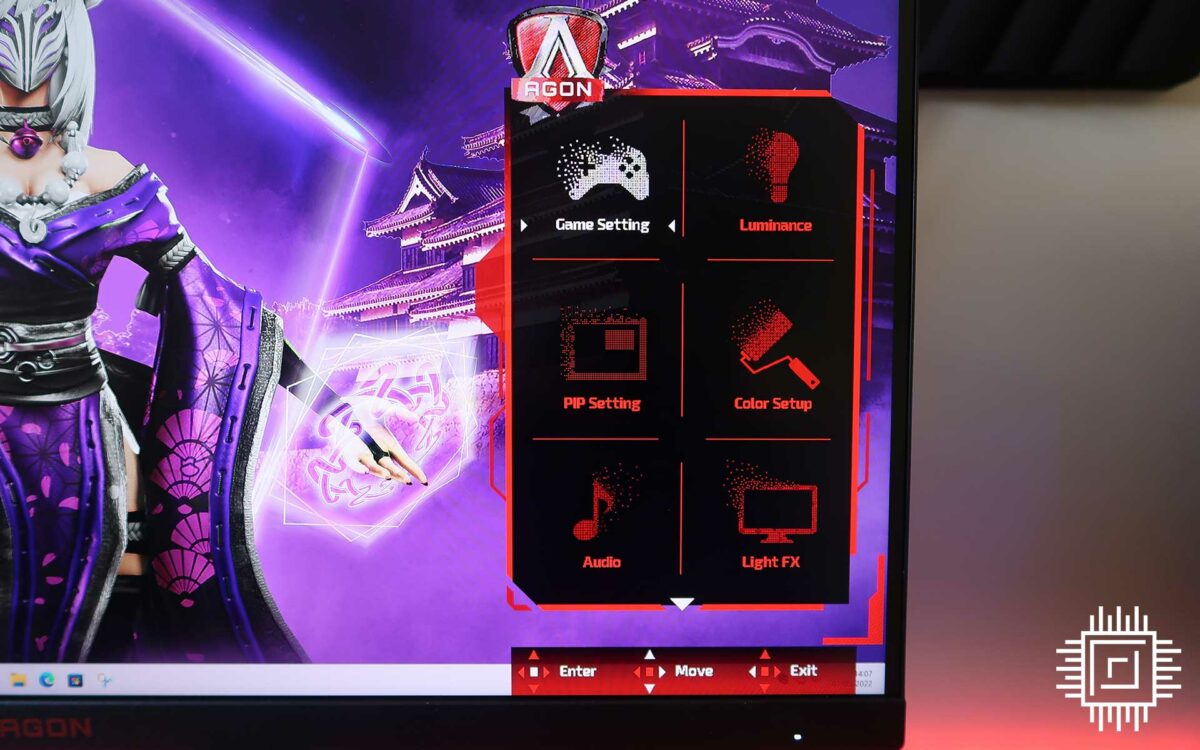 It's a shame the power supply isn't integrated – AOC's external 280W brick is quite chunky – and though the stand offers good versatility, the display does exhibit a tad more wobble than we'd like. While we're nitpicking, don't expect a great deal of wow factor when it comes to HDR. Though the AG324UX employs 16-zone local dimming, peak brightness isn't anywhere close enough to deliver a convincing experience, as evidenced by entry-level HDR400 certification.
Multimedia capabilities are better realised by integrated 8W DTS stereo speakers that are perfectly adequate for everyday use, and AOC doesn't skimp on cables. The bundle includes 1.8m HDMI 2.1, 1.8m DisplayPort plus 1.5m USB-C, and the entire package is backed by a three-year warranty as standard.
Colour Performance



Our sample demonstrates good colour accuracy without the need for any tweaking (a Delta-E score of less than one can be deemed excellent), but colour coverage is slightly off the pace and attuned content creators may be left wanting more.
Brightness and Contrast



Contrast is merely average by today's standards. Peak brightness of 365 nits during SDR use is ample in a bright room and colours are vibrant, yet HDR performance is basic and for those gaming in the dark it's a shame minimum brightness barely drops below 100 nits.
Efficiency and Uniformity

Power consumption is in line with our expectations of a 32in panel. A maximum of 60W isn't going to break the bank, though with energy prices being what they are, it's something worth bearing in mind.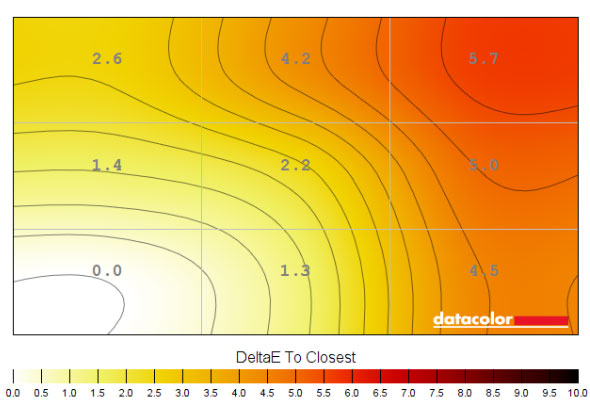 Luminance uniformity on our review unit is very good, falling within our preferred maximum of 10 per cent, however colour uniformity in the top-right corner leaves room for improvement. Solid if not spectacular benchmark results.
Conclusion
The growing availability of 4K 32in monitors suggests a shift in the market toward bigger, higher-resolution panels. Though the likes of ultra-fast QHD and super-wide DQHD have merit, there's something to be said for the convenience of a single, large canvas.
AOC's Agon Pro AG324UX is a fine example of a display that gets the essentials right. Gaming at 144Hz with adaptive sync feels fast and responsive, the availability of HDMI 2.1 makes it a safe choice for latest-generation games consoles, and a 4K resolution is an excellent fit on an IPS panel of this size.
There are a few caveats – contrast isn't great, colour coverage could be better and the £870 price tag is far from mainstream – yet AOC includes a series of niceties that help the monitor stand out from the crowd. With 90W USB-C docking and a built-in KVM, the AG324UX is a good fit for both work and play.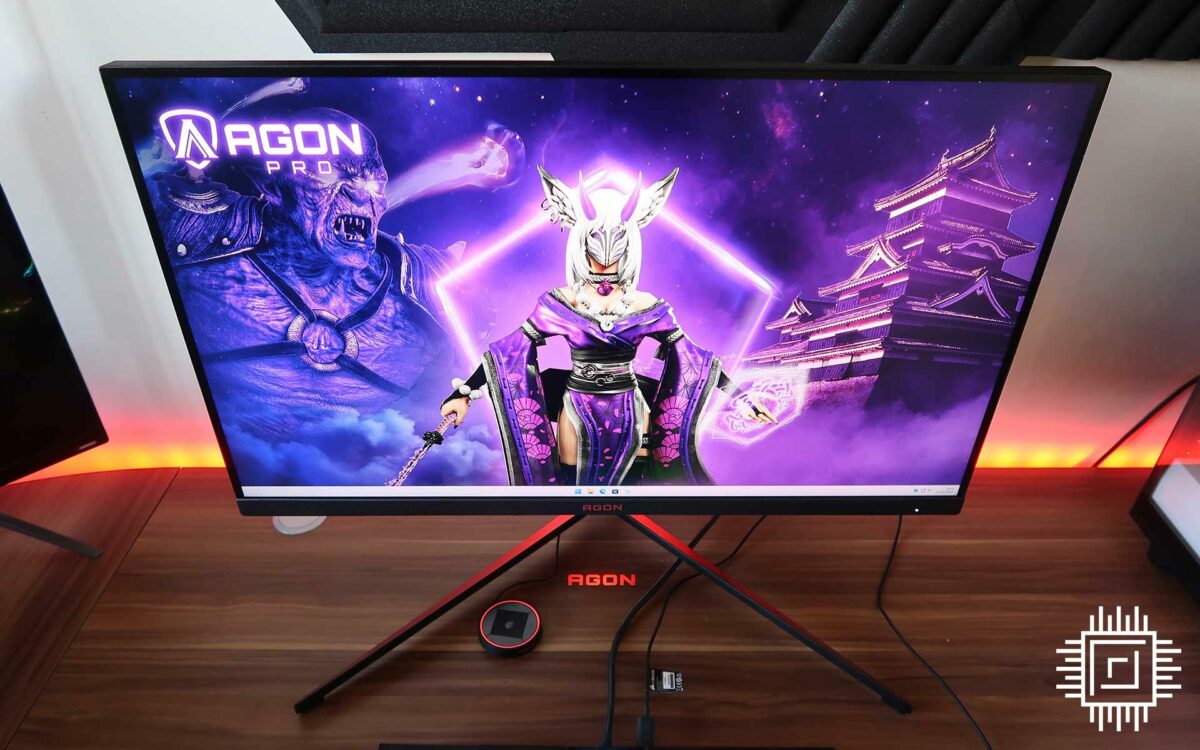 AOC Agon Pro AG324UX
Verdict: A mega upgrade for most, AOC's premium Agon Pro AG324UX monitor blends responsive 4K gaming and thoughtful productivity in a likeable 32in package.
---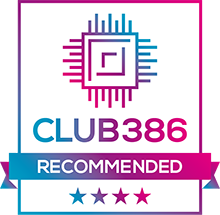 Pros
144Hz adaptive sync
Responsive 4K gaming
2x HDMI 2.1
Built-in KVM
90W USB-C docking
Cons
Cluttered OSD
Middling contrast
Limited colour coverage

---
Club386 may earn an affiliate commission when you purchase products through links on our site. This helps keep our content free for all.
Rest assured, our buying advice will forever remain impartial and unbiased.