Jump to: Real Estate | Performance | Conclusion
A shortage of graphics cards has diminished the appeal of upgrading our gaming rigs. GeForce and Radeon hardware is still fetching exorbitant amounts, and for the DIY builders out there, the last couple of years have proven to be a source of frustration.
Don't be entirely disheartened, mind, as there's still plenty for enthusiasts to get excited about, particularly in the display arena. Today's most innovative screens offer a breadth of advancements that can transform the gaming experience, and we'd argue that a high-quality display is one of the most important upgrades any PC gamer can make.
The big question is which type of panel do you go for? With so many competing solutions a good ol' 27in QHD can feel like a safe option, but Philips wants gamers to think big wide and consider the Brilliance 498P9Z.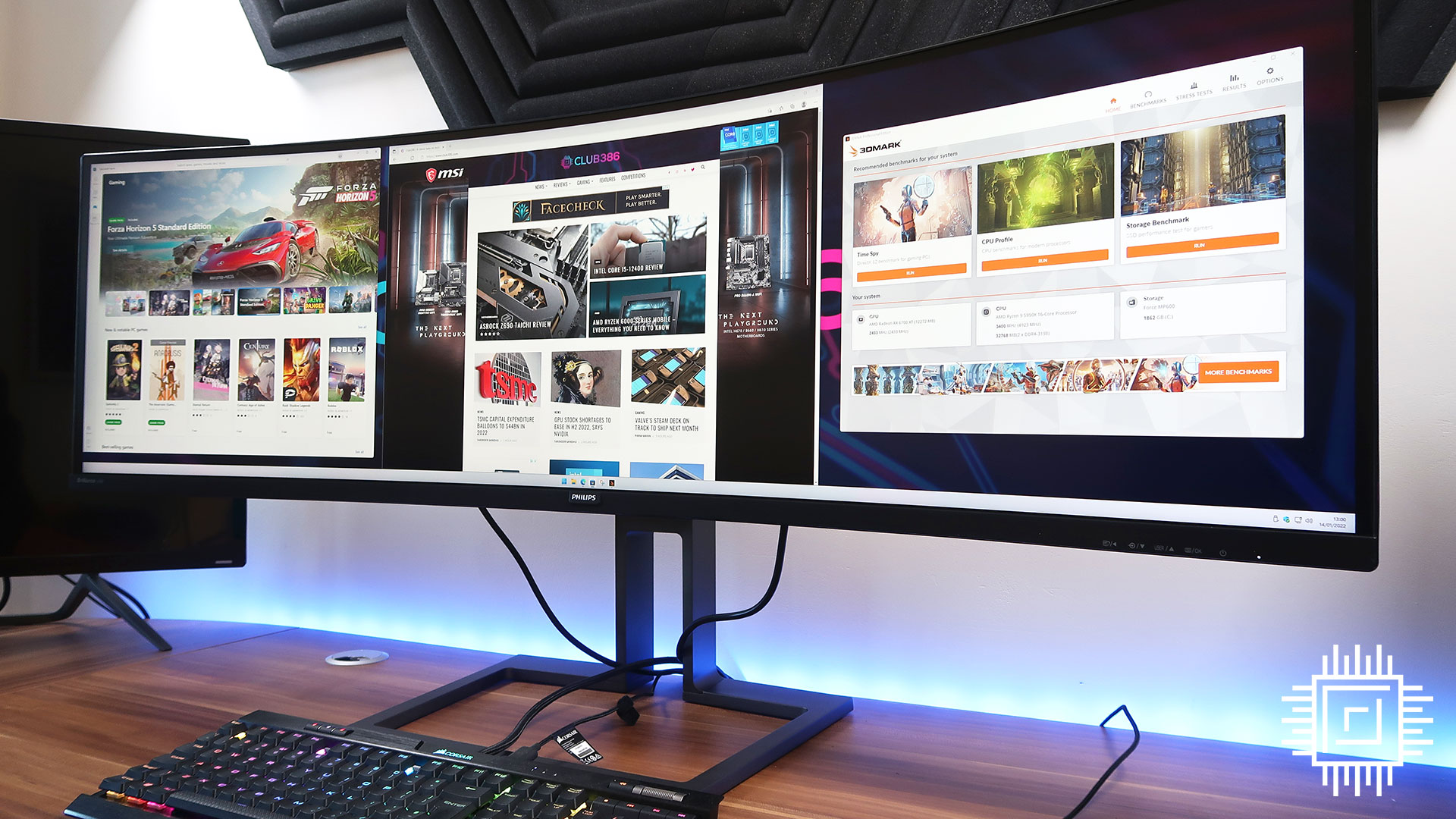 This 48.8in, curved 32:9 SuperWide behemoth has to be seen to be believed. Effectively two QHD panels in one, the enormous 5120×1440 canvas offers all the goodness of a multi-screen setup without the unsightly seam. Ideal for productivity, you might think, but where do gamers factor in? Expanding on first-generation models, the latest 498P9Z ups the ante with a tighter 4ms grey-to-grey response time and 165Hz adaptive sync for GeForce or Radeon graphics cards.
The bad news, sadly, is that global shipping difficulties have slowed the 498P9Z's journey to retail. Philips advises Club386 that this particular model isn't expected to enter the channel in meaningful quantity until March, though pricing ought to be competitive at a £949 MSRP.
A little less productivity, a little more gaming, please
More than a 2x increase in maximum refresh rate is not to be scoffed at, and the panel's gamer-centric ambitions are reflected in other areas; the Windows Hello webcam available to its predecessor has fallen by the wayside, and so too has the USB-C docking station. No great loss for the target audience, and we're pleased to find that Philips' integration still looks fantastic. While the 12mm bezels on the top and sides could be thinner, they don't detract from what is an utterly immersive display.
There's no superfluous RGB lighting (though Ambilight might have been a nice touch), an 1800R curve envelops the user wonderfully, and the all-metal stand accentuates the high-quality look and feel. You do lose a fair bit of desktop real estate – the dark-grey base measures 300mm deep and 400mm wide – but on the flip side there's minimal wobble.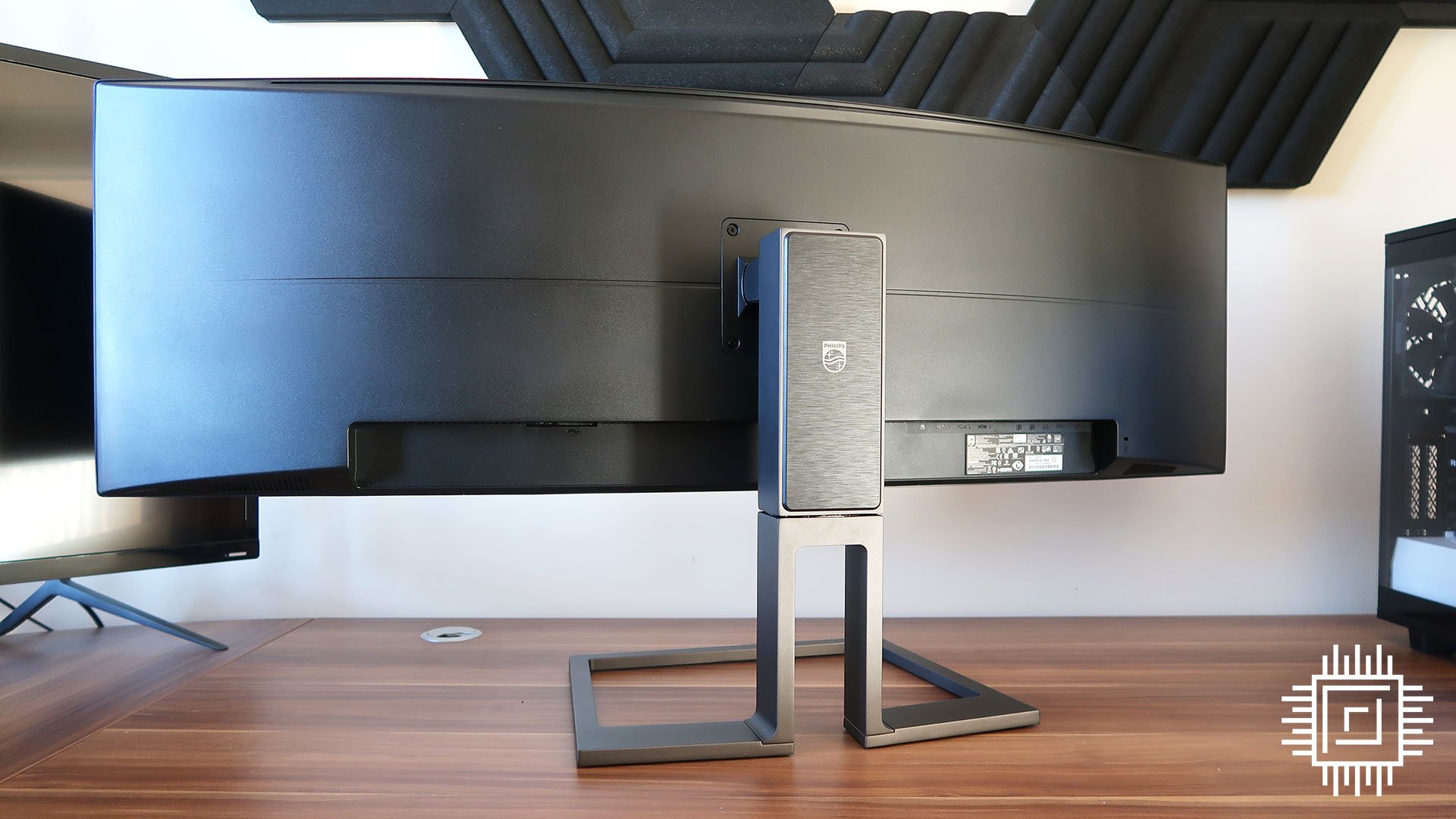 We'd recommend getting an extra pair of hands during setup as the screen itself measures a whopping 1,194mm x 369mm x 156mm. You'll need to manually attach the stand using four supplied screws, and once assembled the whole package tips the scales at a hefty 15.2kg.
Despite its bulk, the Brilliance 498P9Z looks surprisingly elegant in situ, and there's a decent amount of flexibility in the stand. Height can be adjusted by 130mm, there's +/- 20° of swivel, as well as -5° to +15° of tilt. A built-in power supply takes away any external clutter, and connectivity is reasonably well stocked, with a single DisplayPort 1.4, three HDMI 2.0, a four-port USB 3.2 Gen 1 hub and 3.5mm audio out.
Philips helpfully integrates a KVM, allowing for the same keyboard and mouse to be used with two systems in picture-by-picture mode, and the integrated 5W stereo speakers are surprisingly decent, aided no doubt by an automatically wide soundstage. Plenty to like, though do be aware the HDMI ports are limited to 75Hz at the maximum resolution, and it's a shame Philips' OSD is navigated by basic tactile buttons as opposed to a rear joystick. I've been in and out of those menus repeatedly this past week, and still hit the wrong button from time to time.

Show your support for impartial Club386 reviews
Club386 takes great pride in providing in-depth, high-quality reviews built on honest analysis and sage buying advice. As an independent publication, free from shareholder or commercial influence, we are committed to maintaining the standards our readers expect.
To help support our work, please consider making a donation via our Patreon channel.
All this resolution is satisfactioning me
With a monitor as niche as this, it is inevitable that some use cases are going to work better than others. Fortunately for Philips, I'm arguably the Brilliance 498P9Z's perfect candidate. The 5120×1440 resolution is a genuine boon in my line of work, and for those who regularly manage multiple open windows and apps, the usefulness of a 32:9 SuperWide can't be overestimated. It is also a setup that better highlights the benefits of Windows 11; a central Start menu now makes a whole lot of sense, and quick shortcuts for two-, three- and four-way window snapping really come in handy.
The VA panel doesn't offer the consistency of IPS – colours do shift a tad toward the sides – and colour coverage isn't best in class, yet overall sharpness is good and this combination of size and resolution can be scaled to 100 per cent without any eye strain.
When the time comes to kick back and relax, the 498P9Z literally brings a whole new dimension to PC gaming, albeit with the caveat that developer support is required. We've long since bemoaned the fact that a lot of titles fail to realise the potential of extra-wide resolutions, if indeed they support it at all. Even those that do are often tarnished with jarring cut scenes that only fill the central section of the screen, awkward-looking menus, and on a lot of occasions a fish-eye field of view that makes the picture appear stretched toward the sides.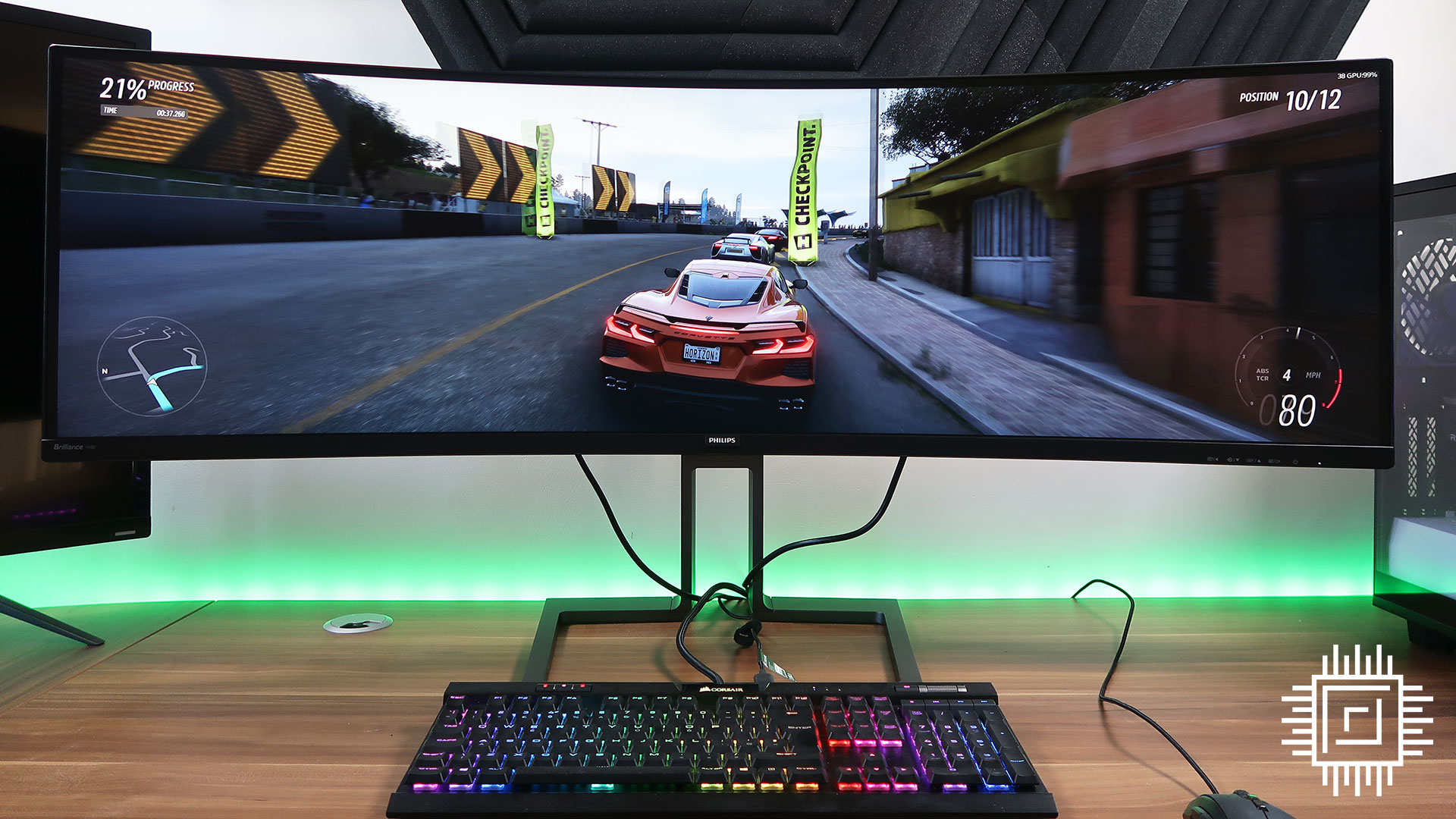 Thankfully, developer support does appear to be improving slowly but surely. Forza Horizon 5 looks stunningly beautiful at the Philips' native resolution, and Halo Infinite, a game I can't get enough of right now, is arguably the best implementation of 5120×1440 in any FPS game to date. It looks and plays incredibly well and sets a benchmark for developers to follow.
There are other niggles to consider, however. First and foremost, those 7.4-million pixels require a serious amount of graphics horsepower. Our test platform, outfitted with a Ryzen 9 5950X CPU and reasonably potent Radeon RX 6700 XT GPU, struggled to maintain over 60fps in any of the aforementioned titles without turning quality settings down a couple of notches. That shortcoming is heightened by the fact the 498P9Z plays best at higher refresh rates; ghosting is evident at under 100fps, and clearly noticeable when framerates dip below 50.
FreeSync support in the 48-to-165Hz range does help, but a truly high-end graphics card, if you can find one, is bordering on essential, and even then, the 498P9Z can't do it all. Peak brightness of up to 550 cd/m² is more than sufficient for SDR use but achieves only entry-level HDR400 certification. Don't even both using Philips' built-in HDR modes for Game, Movie and Photo – all of which distort colours to the point of being unusable – and, if you watch a lot of video at the PC, be prepared to put up with vast black borders either side.
Colour Credentials



Go big or go wide is the question we're posing by comparing the 48.8in Brilliance 498P9Z against Philips' own 42.5in Momentum 43M6VBPAB. Don't get caught out by the advertised sizes, taking into account the aspect ratios, the 42.5in Momentum actually offers 24 per cent more screen area than the 48.8in Brilliance; 4,004cm² vs. 4,979cm².
Neither is lacking in the size department, though the traditional, flat Momentum does have the edge in terms of colour coverage and accuracy. 90 per cent DCI-P3 for the Brilliance 498P9Z is nonetheless decent, and any out-the-box accuracy score of less than two is deemed very good.
Brightness and Contrast



Philips' curved SuperWide is off the pace once again, though such results need to be put into perspective. Maximum SDR brightness of 477 nits is ample for regular use – we actually need to turn brightness down below 50 per cent for the sake of comfort – and for a VA panel of this size, black levels are reasonably inky, resulting in acceptable contrast.
Efficiency and Uniformity

Larger displays will be reflected on the 'leccy bill, which is something we're all becoming acutely aware of. The 42.5in Momentum is one of the thirstiest panels we've ever tested, and though the SuperWide Brilliance fares better, it still slips the wrong side of 100 watts at maximum brightness.
Maintaining tight uniformity is a real challenge as panels grow in size. Philips' results are exemplary as far as colour accuracy is concerned, but luminance uniformity does leave room for improvement, with the bottom of our review unit exhibiting a variance of ~20 per cent.
Conclusion
The Philips Brilliance 498P9Z is a welcome addition to the burgeoning market of 5120×1440 dual-QHD displays.
Proving the 32:9 format can be equally effective for both gaming and productivity, the SuperWide VA panel marries good brightness, decent colour coverage and 165Hz adaptive sync to deliver an overall experience that is likely to resonate with the target audience.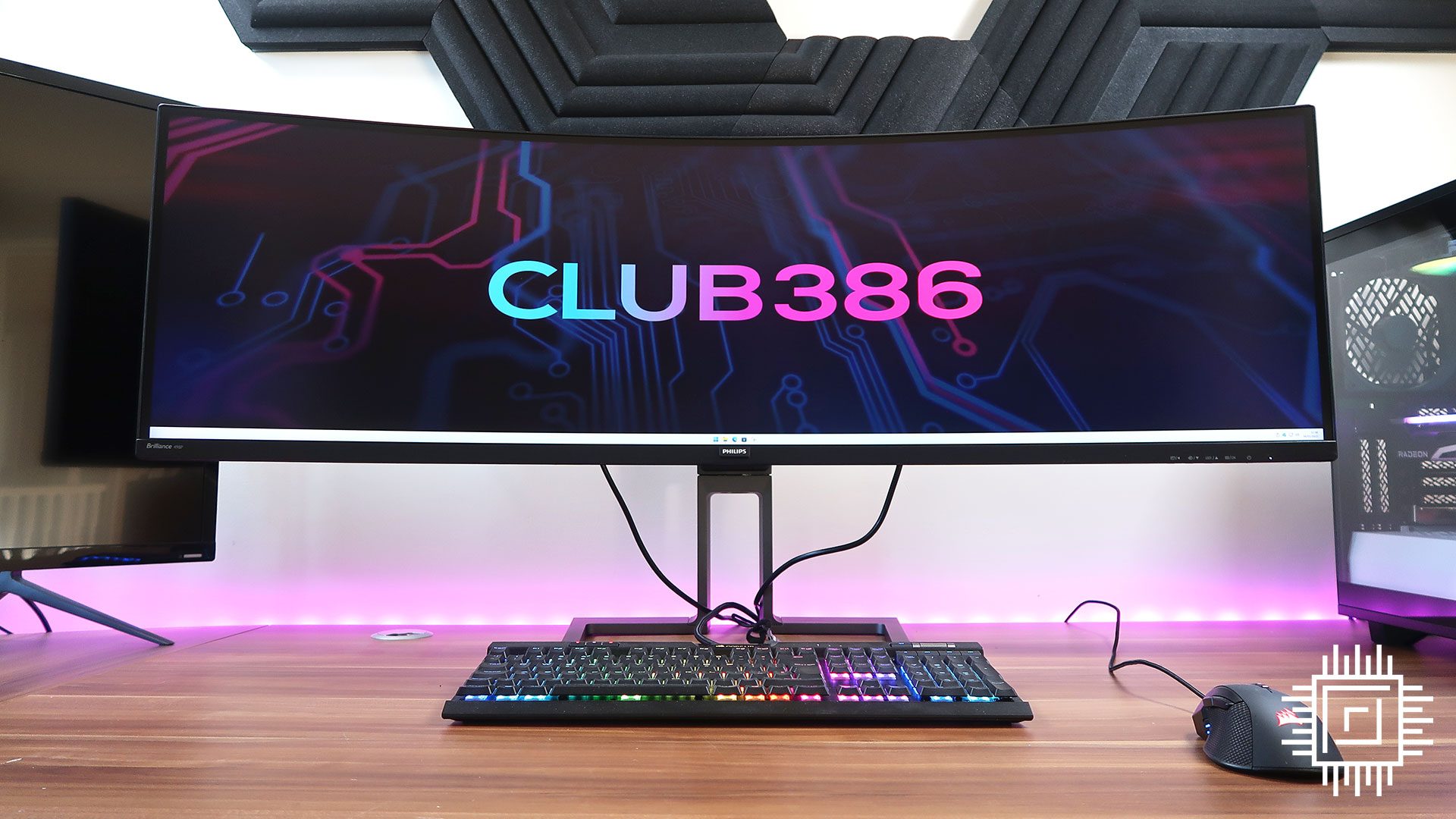 There are inevitable concessions – HDR performance is basic, ghosting could deter the most stringent gamers, and HDMI 2.1 hasn't made the cut – yet no 32:9 SuperWide manages to do it all.
Finding the right balance is key to creating an enjoyable display, and though the Philips' lacks the accuracy of an IPS panel, or the rapid response of TN, it strikes an admirable middle ground that makes it a joy to use in most common scenarios. Working on such an extensive canvas is a revelation for those who've been glued to 16:9, and if you've never gamed on anything wider, prepare for the 498P9Z to truly broaden your horizons.

Philips Brilliance 498P9Z
Verdict: 32:9 SuperWide is a form factor that's growing in popularity for good reason. Philips' 498P9Z offers one of the best implementations to date and is recommended to those eager to make the jump.
Pros
The right games look stunning
165Hz adaptive sync
Excellent for productivity
Solid, no-frills build quality
Decent onboard speakers
Cons
Middling HDR performance
Ghosting at low framerates
HDMI limited to 75Hz
Club386 may earn an affiliate commission when you purchase products through links on our site. This helps keep our content free for all. Rest assured, our buying advice will forever remain impartial and unbiased.