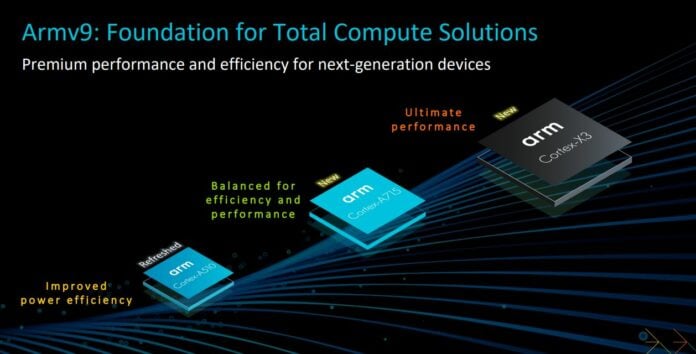 Chip designer Arm debuted a trio of CPUs based on the all-new v9-A architecture last year. Cortex-A710 and Cortex-A510 were augmented with Cortex-X2, which was special insofar as it removed support for 32-bit processing. In the field, Cortex-X2 is now seen in high-performance SoCs from MediaTek (Dimensity 9000), Qualcomm (Snapdragon 8/8+) and Samsung (Exynos 2200).
Today, Arm debuts the next generation of premium mobile CPUs in the form of Cortex-X3, Cortex-A715 and an updated version of Cortex-A510. As you will be seeing this IP in many of next year's leading Android handsets, let's dig into the finer details.
Cortex-X3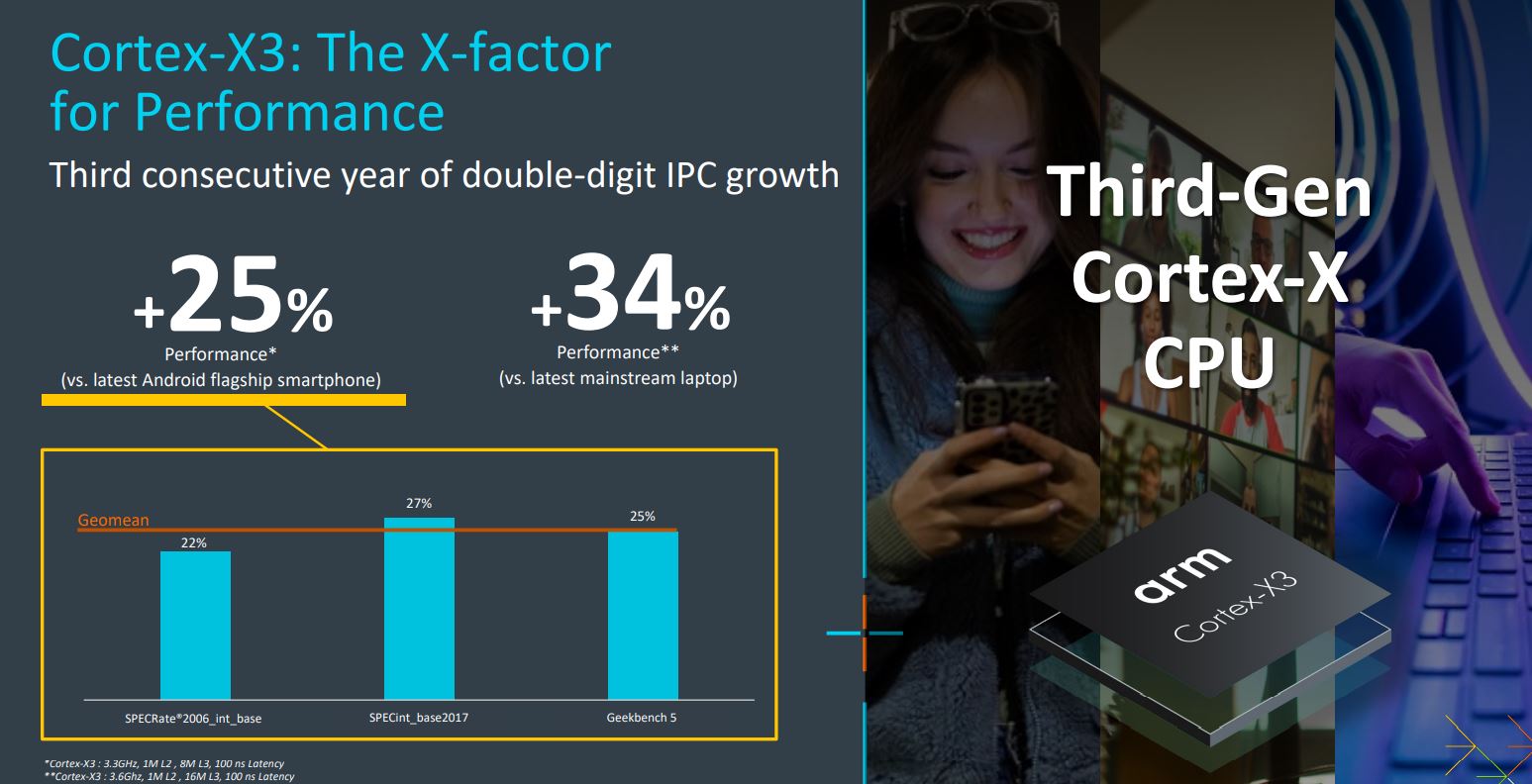 The newest head honcho, running at 3.3GHz, claims to offer 25 per cent more performance than a smartphone equipped with last year's Cortex-X2, while Arm is even more bullish about prospects against latest laptops, stating a 3.6GHz Cortex-X3 offers 34 per cent more performance than an otherwise equivalent laptop running a 28W Intel Core i7-1260P, evaluated using SPECRate2017_int_base.
Percentage uplift claims are often nebulous as process and higher frequencies are also typically baked into newer designs. To this end, Arm is transparent in stating Cortex-X3 has an 11 per cent performance increase over Cortex-X2 at an equivalised ISO process.
Arm has achieved these gains by evolution rather than revolution. Cortex-X3 is therefore an incremental upgrade which optimises the Cortex-X2 design released a year ago. In particular, improvements into the front-end of the CPU – branch prediction, larger buffers, fewer front-end stalls, larger micro-op caches – have the largest effect on performance.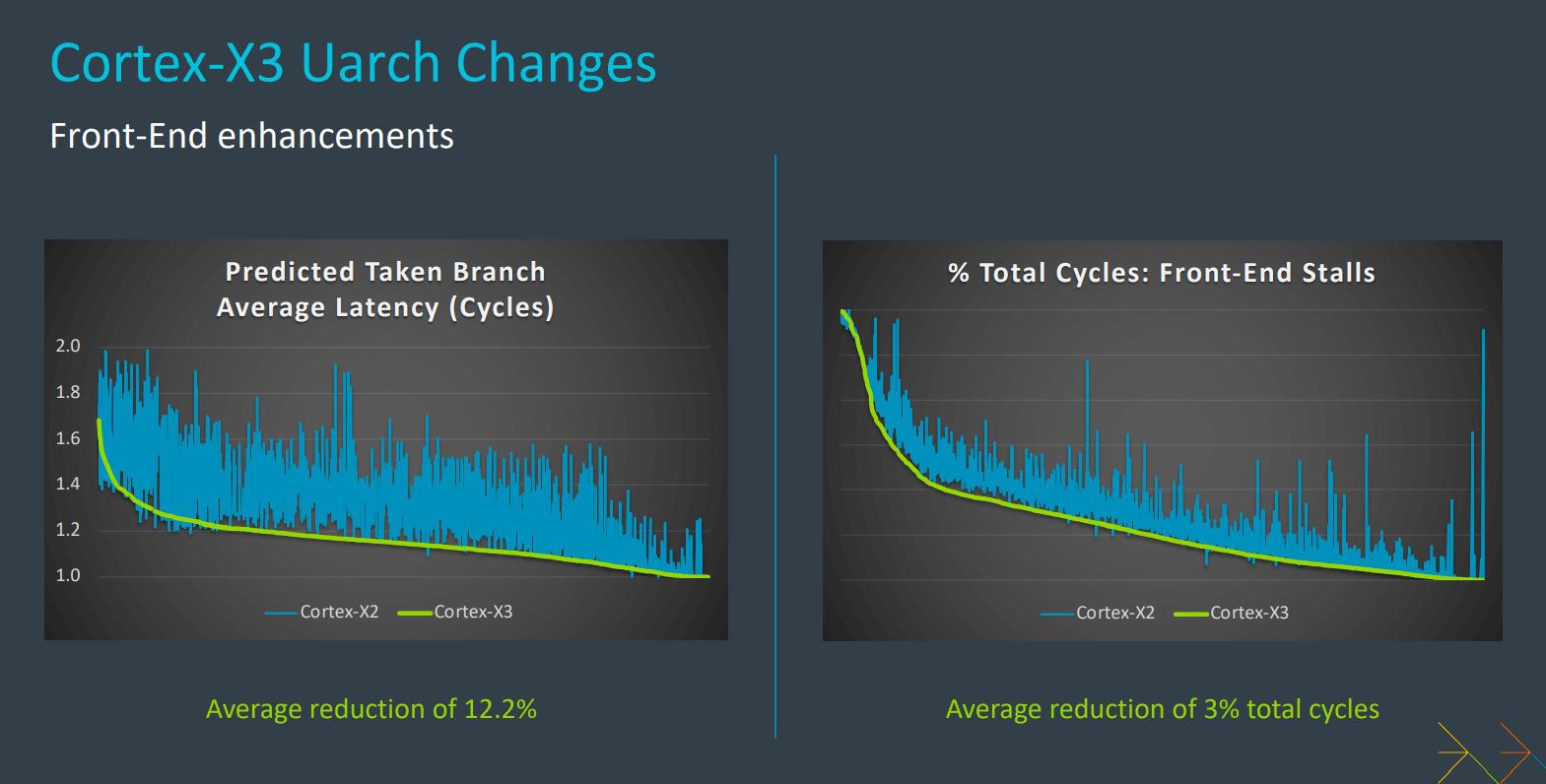 Nevertheless, Cortex-X3 is a more potent CPU from an engine viewpoint. Arm increases decode bandwidth from five to six for instructions that cannot be broken down to the more efficient micro-op cache, and integer ALUs increase from four to six (meaning the chip can simply calculate more in-flight). Back-end improvements offer less performance gain but are important in feeding the beast.
It's becoming increasingly arguable that flagship CPUs such as Cortex-X3 are now too powerful for typical mobile phone handsets, and Arm speaks openly about the bridge between them and laptops, where a fully-specced X3 is more at home. Like previous chips, Cortex-X3 is offered in many configurations, with models segregated on frequency, L2 cache levels and the size, or even need, for L3 cache. Put simply, one Cortex-X3 can perform quite differently from another, depending upon implementation and TDP.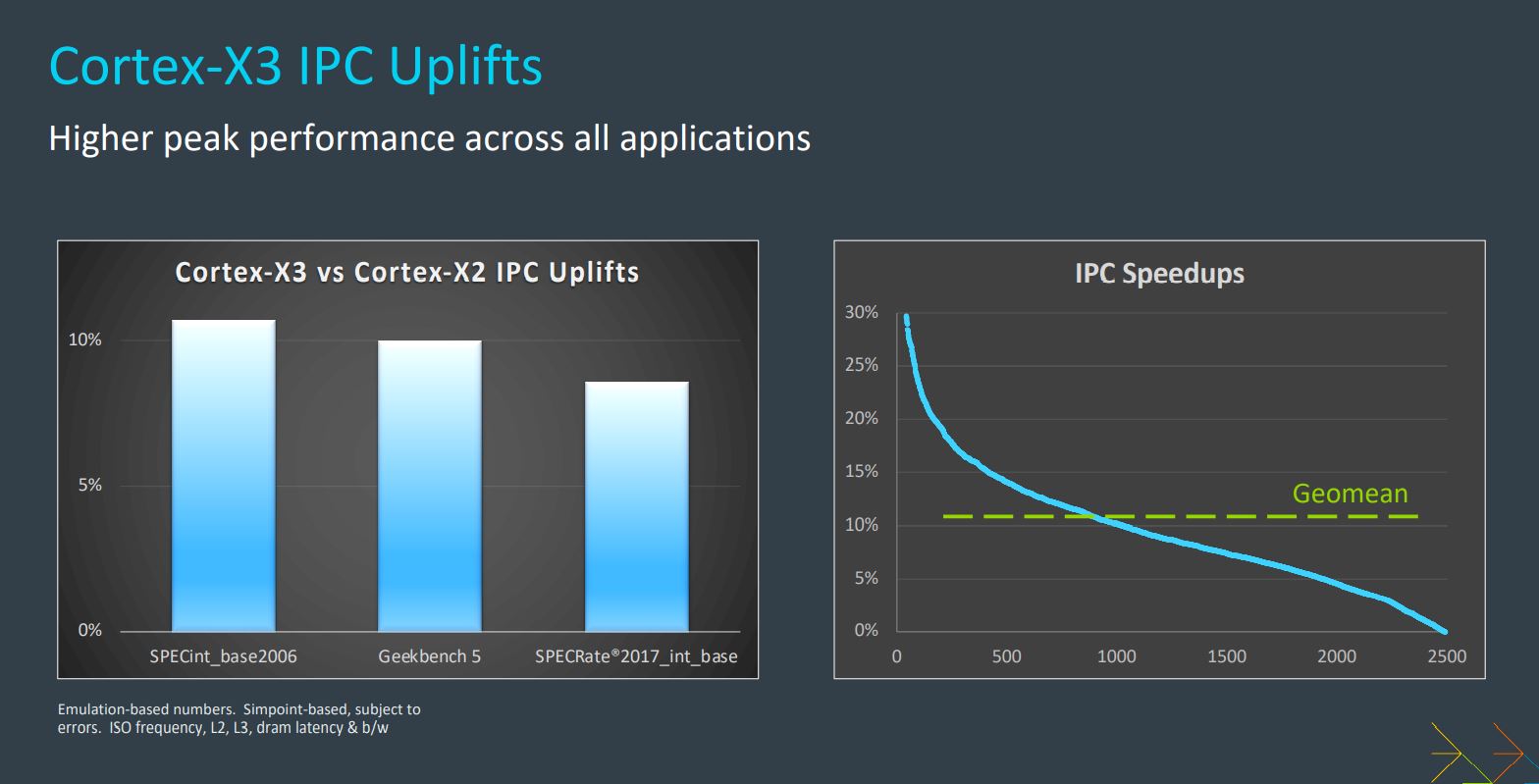 Keeping to the same ISA and process node, Arm's chief aim with Cortex-X3 is to offer double-digit gains in sustained performance. Going by the presentations we saw a couple of weeks' back, it achieves this metric across a broad swathe of real-world benchmarks. Expect to see 2023's Dimensity, Snapdragon and Exynos all take on Cortex-X3 in varying designs.
Cortex-A715 and Cortex-A510
Keeping consistency with predecessors, the new Cortex-A715 takes most of the performance goodness present in Cortex-X3 and tempers architecture and implementation such that it's a more attractive offering for the premium (but not flagship) smartphone market, and like Cortex-X3 is 64-bit-only, marking an important departure from predecessor Cortex-A710.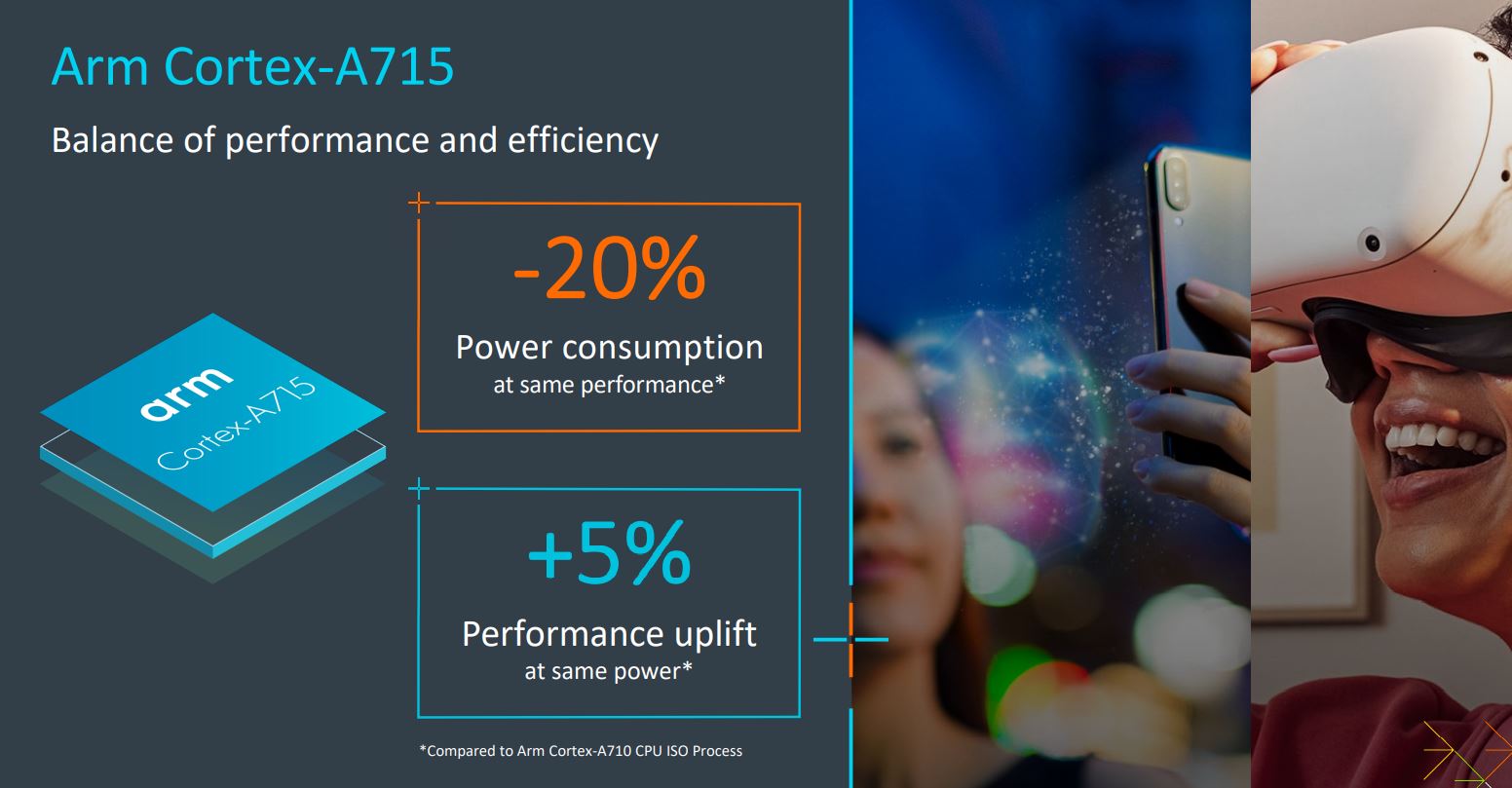 And it's in power efficiency that Cortex-A715 strikes the largest chord. Arm claims the new CPU offers 20 per cent lower power consumption at the same performance level or five per cent higher performance at the same power compared to Cortex-A710, all on a 4nm process.
Cortex-A715 has also been tweaked on the front-end by using iterative learnings from the X range. A better branch predictor wastes less energy which in turn leads to greater efficiency, and part of that 20 per cent gain comes from this first important step.
Arm's IP designers spend an inordinate amount of time reducing the amount of memory accesses occurring in newer designs, the company said, and keeping more data on-chip, usually through larger caches and buffers, also helps top up the all-important efficiency metric. Cortex-A715 now matches the performance of the original Cortex-X1 (2020), albeit at lower power levels.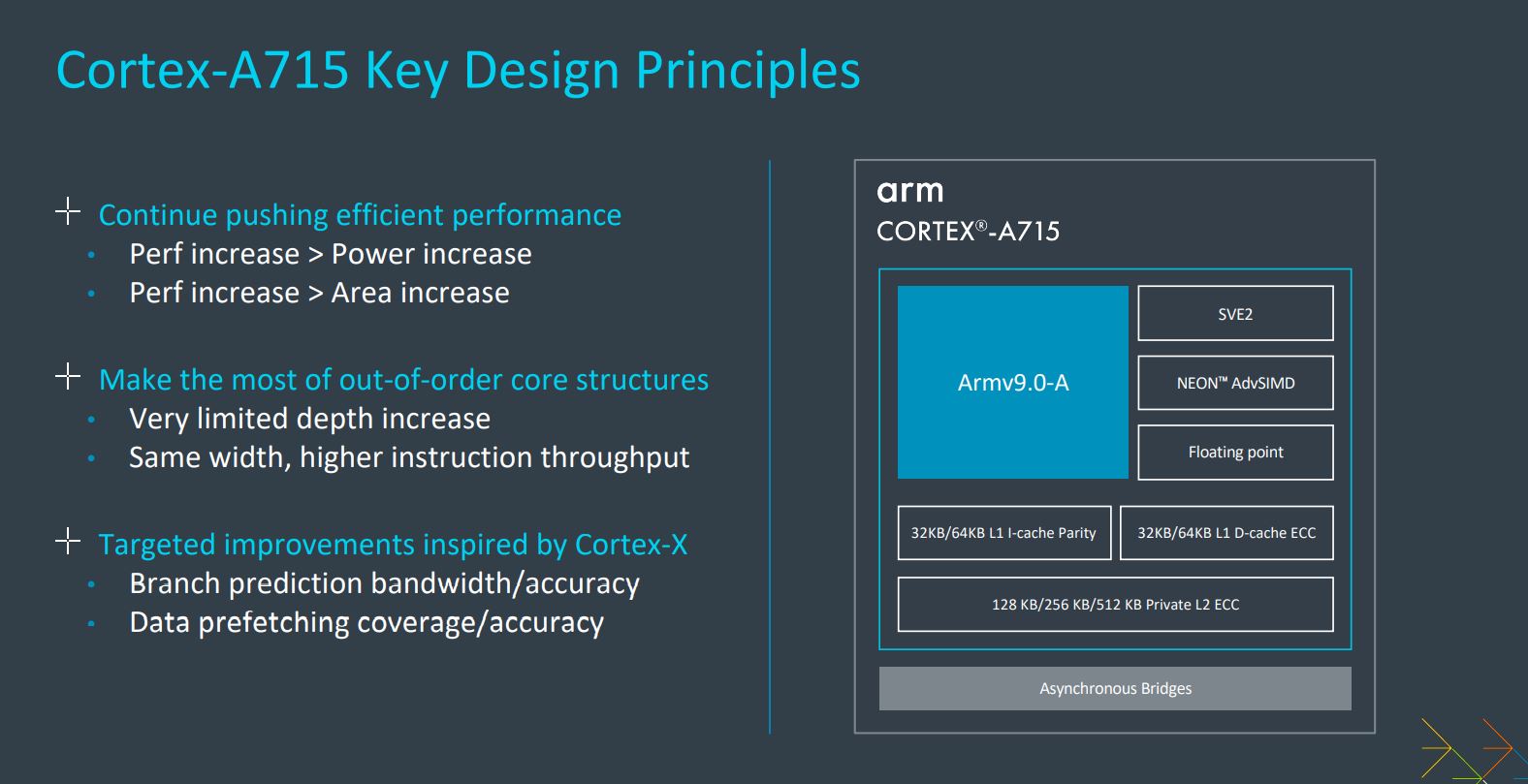 There are fewer enhancements to Cortex-A510, so much so that the model numbers remain unchanged from last year. Feeling there is no need to reinvent the wheel in the mass market mobile CPU segment where Cortex-A510 is strong and an able deputy in big.LITTLE configurations with Cortex-X3/A715, this year's offering brings a modicum of extra efficiency, to the tune of five per cent, and higher peak frequencies.
Wrap
This new slew of CPUs offers relatively modest improvements in performance and efficiency over last year's models. This is entirely to be expected as they're considered refinements rather than grounds-up redesigns, and Arm is making it easy for SoC designers to harness new technology easily for next year's leading Android-based smartphones.
The real question is whether the cumulative 30 per cent performance or efficiency gain is enough over, say, 2020's suite of CPU IP? Is it enough to convince smartphone owners of two-year-old handsets to shell out more for newer models? Time will tell. Of course, the CPU is but one element of modern smartphone design, and Arm is also making large strides in improving GPUs. Considering the increasing importance of machine learning and graphics, we appreciate why more focus is put on that area.
As it so happens, Arm has also released new GPU IP, and you can read all about it here.