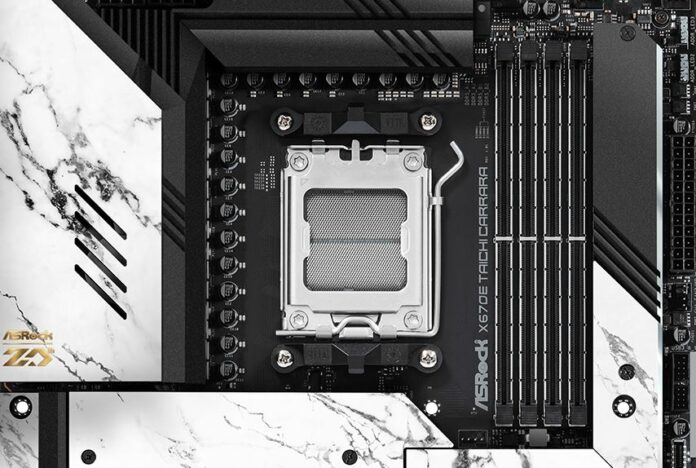 AMD has allowed partners to officially unveil motherboards for next-generation Ryzen 7000 series processors. Built using Zen 4 smarts, another big change is with socket, moving from five-year-old AM4 to AM5.
AM5 is different insofar as the pins are moved from chip to socket, and ASRock has been quick off the mark in promoting a number of spiffy X670E boards.
X670E Taichi Carrara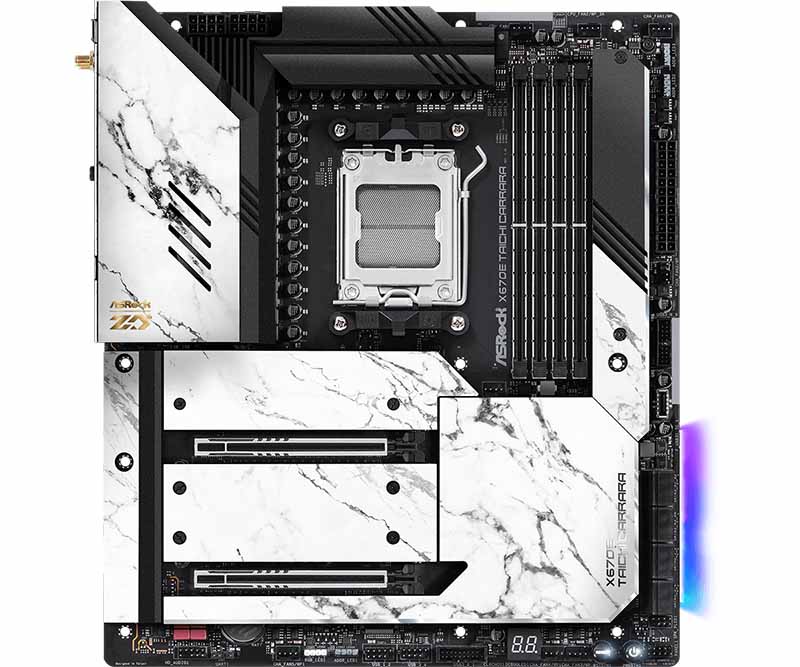 At the top of the stack is the X670E Taichi Carrara. Featuring a massive 26-phase power supply making easy work of overclocking even the 170W TDP premium Ryzen 7000 series processors, the board further features a topmost PCIe 5.0 x16 slot and a bottom PCIe 5.0 x8. There are no x1 slots anywhere, with the remainder of the lower section devoted to heatsinks covering M.2 drives.
Speaking of which, there is a single PCIe 5.0 x4 M.2 slot at the top and three further PCIe 4.0 x4 dotted lower down. Eight SATA complete storage.
As you would expect from the high-end offering, there are plenty of further goodies, including two Thunderbolt/USB 4 riding off Type-C, a front USB 3.2 2×2 Type-C, five USB 3.2 Gen2 Type-A, and seven USB 3.2 Gen1 Type-A (three rear, four front).
Last but not least, Killer is purposed for Wi-Fi and LAN duties through the AX1675 802.11ax and E3100G 2.5G, respectively. Handy for those wanting to use Ryzen 7000 series' display output capabilities, ASRock also includes an HDMI port. Pricing is not known, but we expect it to cost at least £500.
X670E Taichi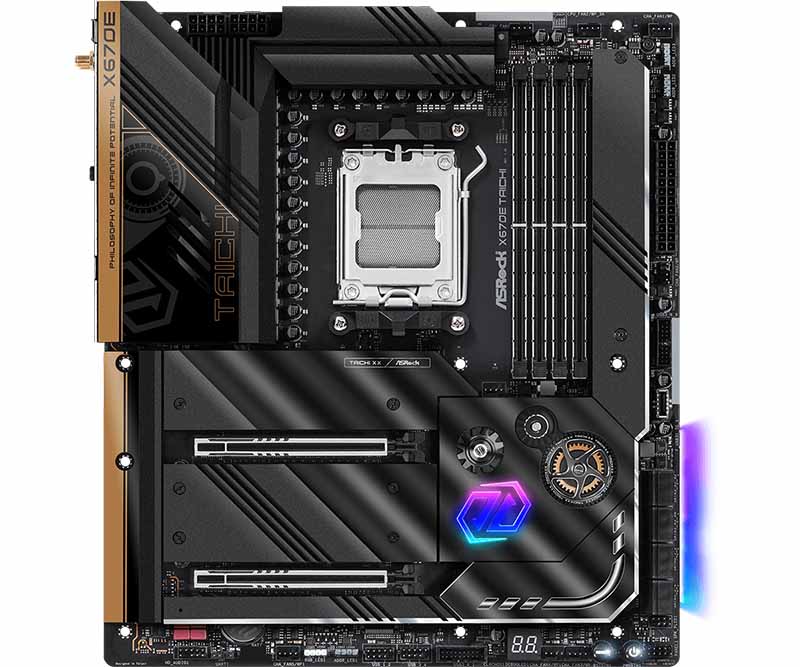 Regular Taichi is actually the same board electrically; differences between it and the Carrara are cosmetic, so all the specification discussions above apply here.
It makes sense for ASRock to offer a refreshed look as some enthusiasts aren't, unlike us, enamoured with the cogs and RGB that's a hallmark of Taichi standard. Nevertheless, we think it's a beautiful-looking board, but again, don't expect change from £500.
X670E Steel Legend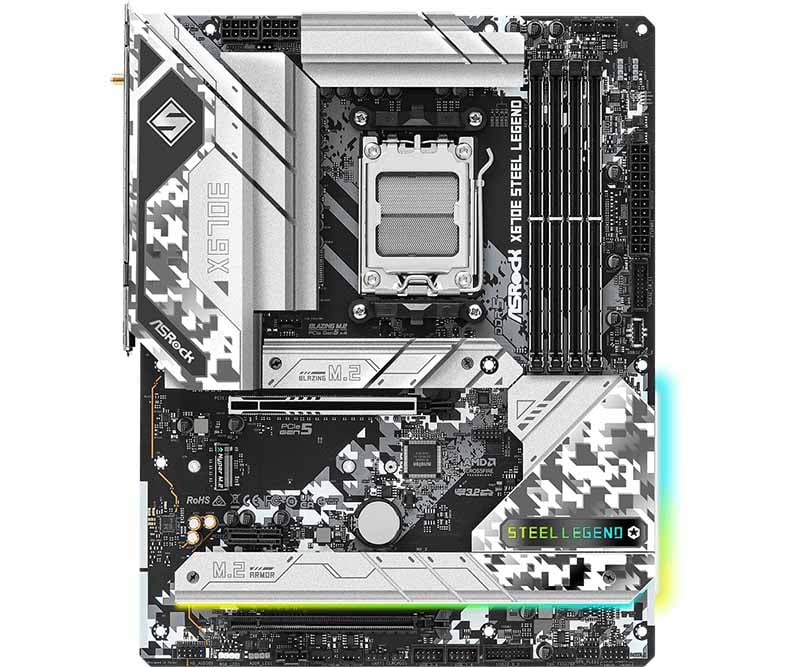 Next up we have the X670E Steel Legend. There's a lot going on with the camo covering on two heatsinks, and the aesthetic is an acquired taste.
It is not reasonable to expect the same level of componentry on this mid-priced board. As it is, ASRock uses only a single PCIe 5.0 x16 slot at the top along with a x1 at the bottom. M.2 is covered by a single PCIe 5.0 x4 above the primary graphics slot and one of unknown speed at the bottom, though both are covered by simpler heatsinks compared to Taichi. Another is set mid-board, uncovered.
ASRock doesn't have much more to say on this board other than it supports USB 3.2 2×2 Type-C, 'Dragon' 2.5Gbps LAN, 802.11ax Wi-Fi, and the cheaper ALC1220 audio codec.
Again, no indication on pricing, but going by this generation, we'd go for a £250 street price. Remember all support only DDR5 memory, so factor that into any upgrade decisions.
X670E Pro RS
Pro RS is the board to go for if on a subdued budget. PCIe 5.0 x16 and x4 are present for a graphics card and M.2 storage, respectively, and it appears Pro RS is quite close to Steel Legend in specification. There's also a mid-board M.2 for storage along with a shorter connector for Wi-Fi.
USB 3.2 2×2 Type-C and Dragon 2.5G LAN make the cut, and being primed for a wider audience, both HDMI and DisplayPort are available for the on-chip graphics. Expect to pay around £200 for this entry-level X670E board.