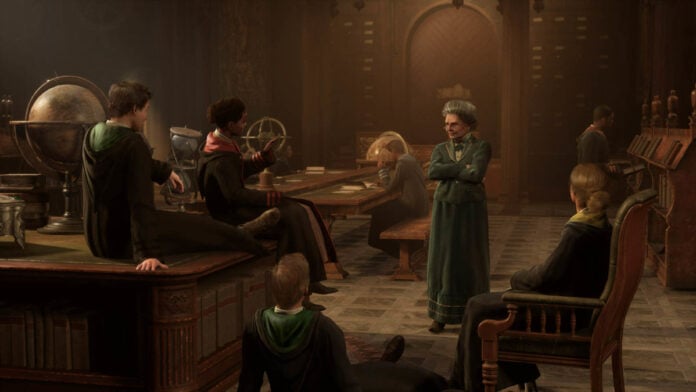 Portkey Games and Avalanche Software's annual presentation of everything Hogwarts Legacy has arrived, giving us a welcome tour of the common rooms of every student house including Gryffindor, Hufflepuff, Ravenclaw and Slytherin.
Back to Hogwarts is the day many young witches and wizards make a return to King's Crossing and embark on a journey toward Hogwarts School of Witchcraft and Wizardry. Follow us on a guided tour of each common room, no need for passwords, we've got them all.
Located deep within the dungeons of Hogwarts castle, Slytherin House features distinct rocky walls within its beautiful common house. The distinct entrance hallway has a dark dreary feel with dimly lit braziers. A large mechanical serpent magically reveals the entrance, and upon entering, players get to experience various ornaments, tapestry, statues and decorations unique to Slytherin house.
Another cool touch are the large windows revealing that the common room and its inhabitants are completely surrounded by water, and the incoming light emits a distinct blue hue to every facet within the space.
A stark contrast from Slytherin's darker tone, Hufflepuff's common room is drenched in natural sunlight, and since the house inhabitants are known for their affinity to Herbology, is filled with magical plants, flowers and cacti adding natural earthy vibes and hues of golden honey fill the environment thanks to the beautifully carved wooden arches and accompanying wooden furniture. So cosy.
Located in the Ravenclaw tower above the clouds, where knowledge soars and wit is highly valued, this common room is the airiest of all houses found within Hogwarts. Featuring blue and bronze silks and tapestry, the circular room is surrounded by large airy windows, a domed ceiling with painted stars and books cover the walls, the room littered with paintings easels, study nooks and instruments.
White marble finishes complete the sophisticated look and a large Rowena Ravenclaw statue stares down proudly upon her students. Since the house values knowledge and creativity, before entering the large entrance doorway you'll have to answer a riddle from the huge eagle knocker, if answered correctly the eagle folds its wings and the door opens, beckoning you inside.
Rounding off the tour, nestled inside the tallest towers of Hogwarts and home to the brave and bold, Gryffindor common room is exactly the way we left it in the books and films. The house is adorned with scarlet and gold hues, gold chandeliers cast warm glows all around, and the iconic fireplace mantle still features a large portrait of a lion, surrounded by comfy chairs and the walls covered with tapestries of famous witches and wizards that found home at Gryffindor during their tenor at Hogwarts.
The makers at Avalanche Software have also revealed a list of special rewards exclusive to Harry Potter Fan Club members, revealing a Beaked Skull mask, and a special set of robes that allows you to represent your house in style. Additionally, you can link your WB games account and fan account to receive your very own personalised wand in-game after you perform a personality quiz on the site. Remember the wand 'chooses you' so be sure to check out this webpage if you're interested.
Hogwarts Legacy will be released February 10, 2023, for PC, PlayStation 4, PlayStation 5, Xbox One, and Xbox Series S|X, and release date for Nintendo Switch coming soon.