Jump to: Performance | Conclusion
Power supply manufacturers are acutely aware that next-generation hardware is likely to extract higher wattages. That's great news for those offering 1,000W-plus supplies, as they're primed to be the foundations of a premium build.
We'll see manufacturers come in fast and heavy with numerous models later in the year, though for now, German cooling specialist be quiet! is well positioned with a couple of Dark Power Pro supplies housing 1,200W and 1,500W capacities. With an eye to the future, we're taking a high-end 1,200W model for a spin. Priced at £310, this is not a supply for the weak of wallet. Nevertheless, specifications are premium in every regard.
It is an absolute unit, literally, weighing 2,416g and measuring 200mm long, 150mm wide and 86mm high. Build quality is sublime, too, acting as a giant frame for the internal Silent Wings 3 fan obscured by a chassis-wide screen. Like all be quiet! PSUs, the six-pole motor fan remains on at all times, albeit spinning so slowly that our test equipment cannot readily distinguish it actually being on. There have been reports of the fan causing rattling in this series, but we encountered none during testing.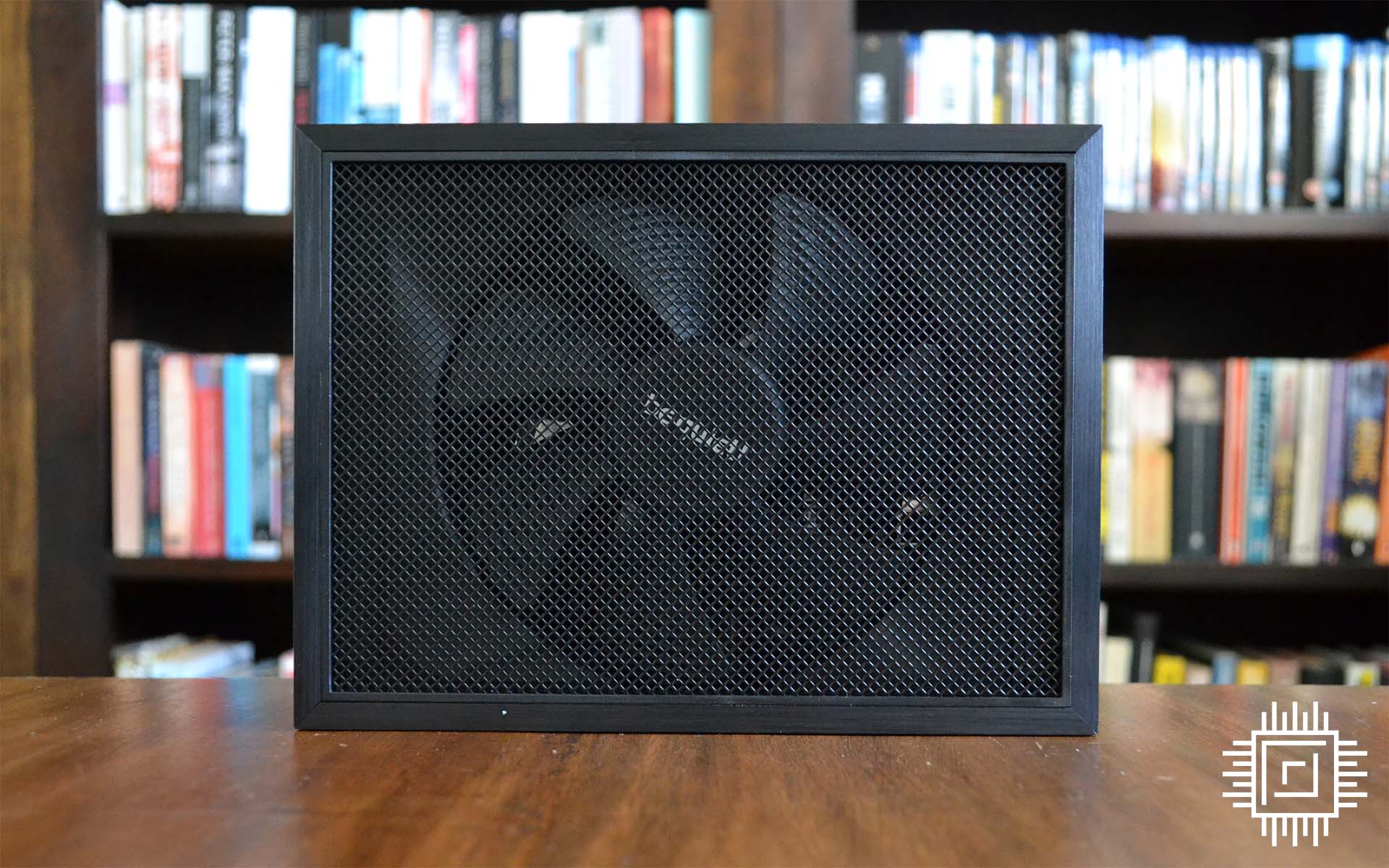 A large part of the reason the fan runs relatively slowly at all times is directly rated to efficiency. The Dark Power Pro 12 ships with 80 Plus Titanium certification, meaning high efficiency between common 20-100 per cent loads. At 600W, or 50 per cent, the supply will achieve close to 100 per cent from a 230V source. In other words, there's very little heat being produced in the translation between AC and DC.
Understanding that 1,200W is reserved for truly high-end systems, the supply drives 10 PCIe through five dual-cabled outputs, offers dual 12V P8, and 16 SATA. Nevertheless, having been out for a while, there is no native 16-pin 'PCIe 5.0' connector; instead, anyone purchasing an RTX 3090 Ti bearing such an input will have to use adapters bundled in with the graphics card.
The next-gen graphics connector situation is in flux because, right now, no-one outside of Nvidia and AMD truly knows the situation regarding power requirements, so we can't mark be quiet! down for not supporting it. What we do know is the company will cater for said next-gen cards either with a cable update for existing premium supplies or brand-new cabling for, say, the inevitable Dark Power Pro 13.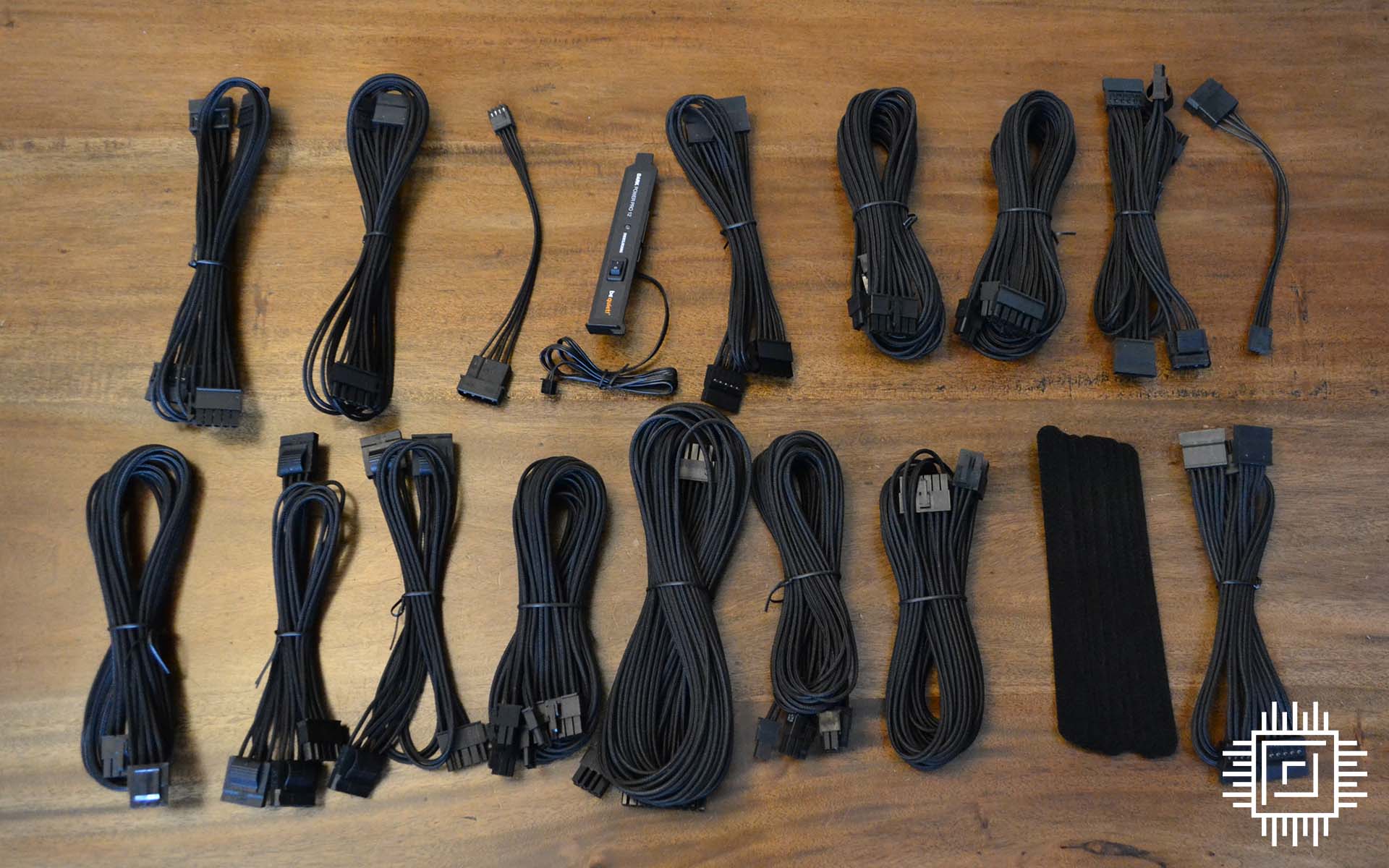 All told, there are 17 cables in the box, and every single one is individually sleeved enabling a very clean build. Going down this route also makes the cables more malleable. The OC bracket in the top-middle is used to switch the supply from its standard six 12V setup to a single rail, should you wish, though we'd prefer the physical switch to be on the PSU instead.
Run in out-the-box mode, 12V1 takes care of drives and the main 24-pin for the motherboard, 12V2 supplies the two additional CPU cables, and 12V3-12V6 is reserved solely for graphics PCIe.
Adhering to the ATX 2.92 EPS 12V standard and using a wire-free, full-bridge design with DC-to-DC conversion for the minor rails, be quiet! feels comfortable delivering the entire 1,200W capacity at an ambient 50°C.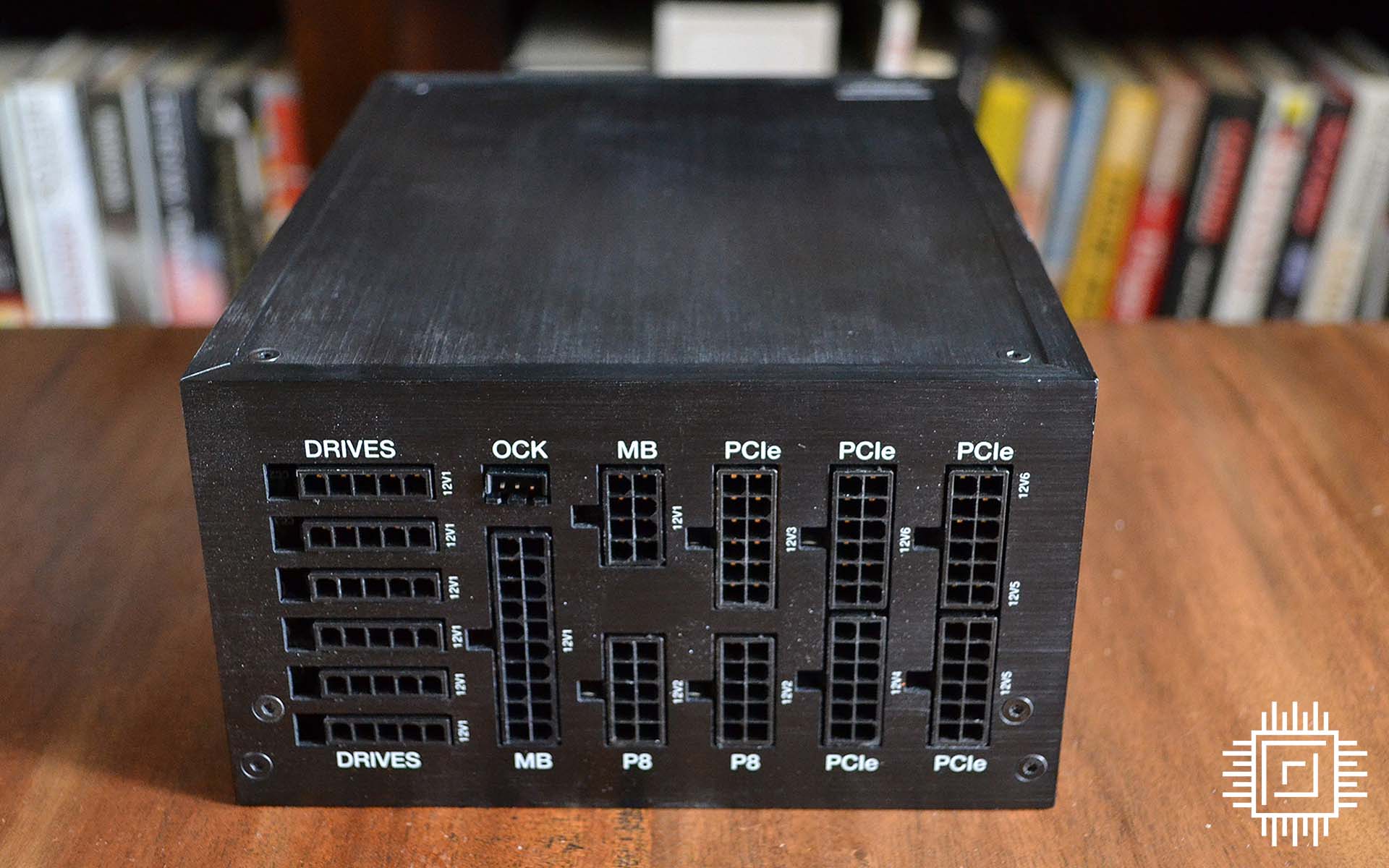 Super-clean internals sit underneath a circular upper section into which slots the fan. Positioning it this way reduces turbulence and allows be quiet! to use a mesh cover without sacrificing airflow. Soldering is of a high quality and component spacing adequate.
Dark Power Pro 12 is built by PSU manufacturer Channel Well Technology (CWT) to be quiet!'s design. This only applies to the Pro version as the non-Pro uses a completely different platform built by rival FSP.
Club386 uses a dedicated Chroma DC load mainframe capable of evaluating the electrical capability of PSUs up to 1,200W in capacity. As the be quiet! Dark Power Pro 12 is an ultra-premium supply to which we have no adequate comparison currently, it is tested in isolation, pitting the company's claims against our real-world results.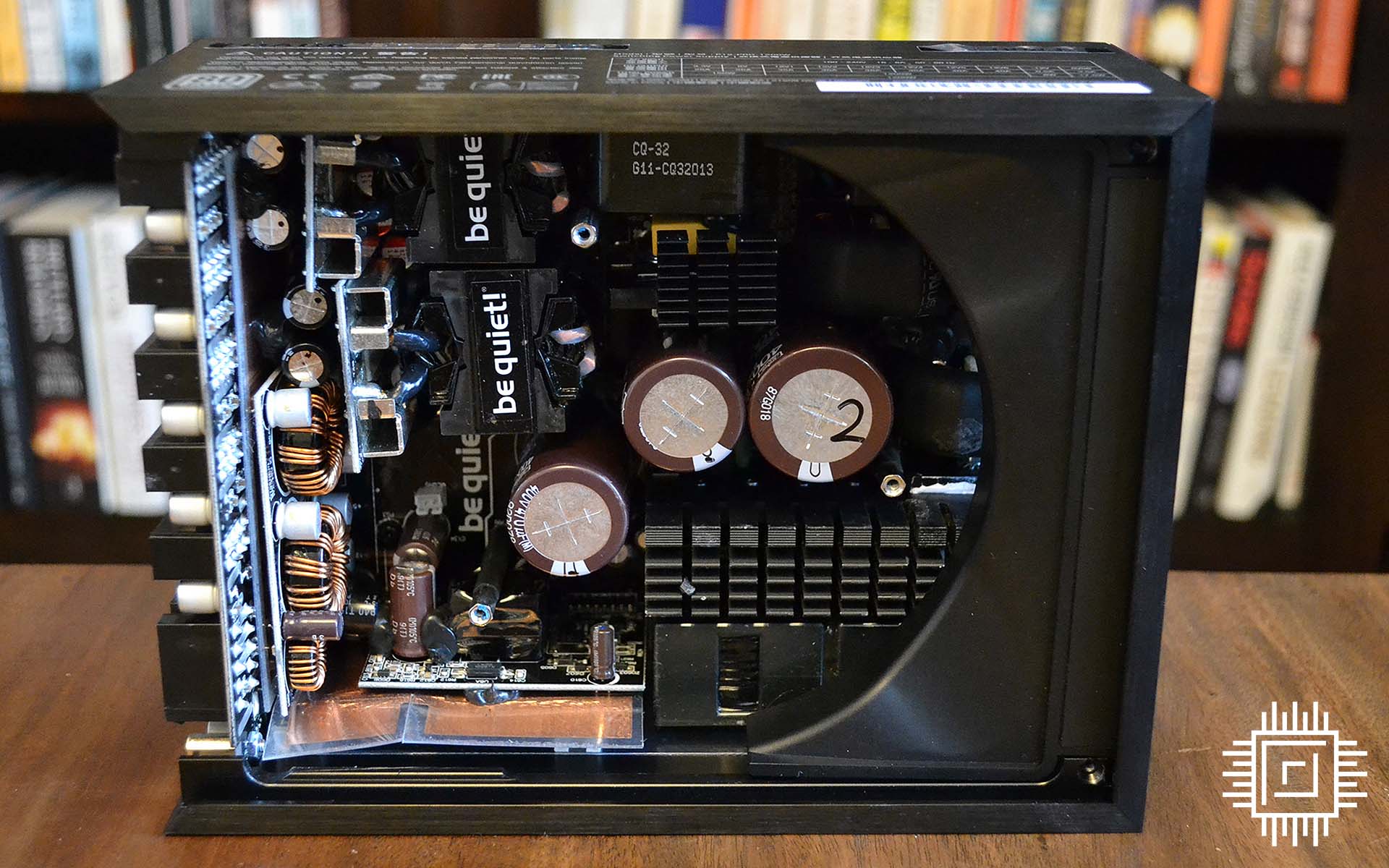 12V regulation
| | |
| --- | --- |
| 100W | 12.04V |
| 400W | 12.02V |
| 800W | 12.01V |
| 1,200W | 11.97V |
PSUs typically produce higher-than-ideal voltages with low loads and then sag and struggle as the load is increased. One indirect way of knowing a supply's intrinsic quality is to look at performance at 100 per cent load and evaluate how close it is to a perfect 12V.
The Dark Power Pro 12 1,200W is exemplary in this regard, and its highest-to-lowest figures show the least amount of deviation we've seen thus far. An impressive showing.
Wide-load efficiency
| | |
| --- | --- |
| 100W | 92.2 per cent |
| 400W | 94.5 per cent |
| 800W | 96.1 per cent |
| 1,200W | 94.2 per cent |
High-performance PCs tend to idle close to 100W and then escalate as the GPU(s) and CPU are loaded up. Even high-end systems tend to pull less than 600W, but if you're planning on hosting a next-generation graphics card and like to overclock everything, having a 1,000W supply is sensible.
In that regard, run off a 230V source, the full 1,200W requires around 1,274W at the mains, with the supply losing 74W in translation from AC to DC. Might sound like a lot, but it's about as good as consumer PSUs get.
Low-load efficiency
| | |
| --- | --- |
| 20W | 80.2 per cent |
| 40W | 85.1 per cent |
| 60W | 88.3 per cent |
| 80W | 91.2 per cent |
Examining low-load efficiency is equally important if, like us, your PC spends a vast amount of time in an idle state. The Club386 test platform, for example, idles at just 67W.
It's more difficult for a 1,200W PSU to be excellent in the 20-80W range as it represents a tiny percentage of overall power. Nevertheless, 88.3 per cent at 60W is a solid return, which is only five per cent of the Dark Power Pro 12's total output.

Show your support for impartial Club386 reviews
Club386 takes great pride in providing in-depth, high-quality reviews built on honest analysis and sage buying advice. As an independent publication, free from shareholder or commercial influence, we are committed to maintaining the standards our readers expect.
To help support our work, please consider making a donation via our Patreon channel.
12V ripple suppression
| | |
| --- | --- |
| 100W | 4.2mV |
| 400W | 6.1mV |
| 800W | 10.8mV |
| 1,200W | 13.8mV |
Ripple is caused by converting mains AC to PSU DC, and having a low suppression figure is ideal. The supply also does very well here, coming in well below the 120mV ATX spec at 100 per cent load.
The only way to improve these figures further is to use in-line capacitors on the various cables, which is something be quiet! doesn't do. We're happy with that decision because installing them would destroy the beautiful, individually-sleeved cables that are a hallmark of this supply.
Noise
| | |
| --- | --- |
| 100W | 30.8dB |
| 400W | 31.0dB |
| 800W | 32.2dB |
| 1,200W | 36.8dB |
Having an always-on fan isn't an aural burden. In fact, an ear needs to be placed right next to the grill to even know it's on. Our sample produces the lowest of hums at anything below 500W. It is noticeable at anything above 1,000W, but that's to be expected.
Appreciating the engineering that's gone into the platform, wouldn't it be nice if there was a switch on the back that turned this monster supply into a totally passive solution up to, say, 750W? We'd vote for such a feature.
Temperature
| | |
| --- | --- |
| 100W | 26°C |
| 400W | 28°C |
| 800W | 36°C |
| 1,200W | 44°C |
Remember the supply requires only 100W to shift the entire load from AC to DC. A relatively low figure, coupled with good internal ventilation and decent heatsinks, means temperature is not an issue. You'd have to be in a really hot environment to achieve an ambient 50°C, which is what this model is rated at.
Conclusion
be quiet! understands its premium consumer power supply needs to be brilliant in all areas. Dark Power Pro 12 1,200W achieves top marks in aesthetics, build quality, electrical performance and cabling.
Such luxury doesn't come cheap, of course, and £310 is a steep price reserved for all but the most wattage-thirsty enthusiasts. You can purchase a supply nearly as good for a lot less, but that's missing the point, as, Dark Power Pro 12 is an experience from start to finish.
We'd ditch the OC Key for an on-PSU button and would love the ability to run the supply totally passive at decent wattages – the engineering is certainly there – but if you want a high-performance, attractive PSU, Dark Power 12 absolutely needs to be on the list.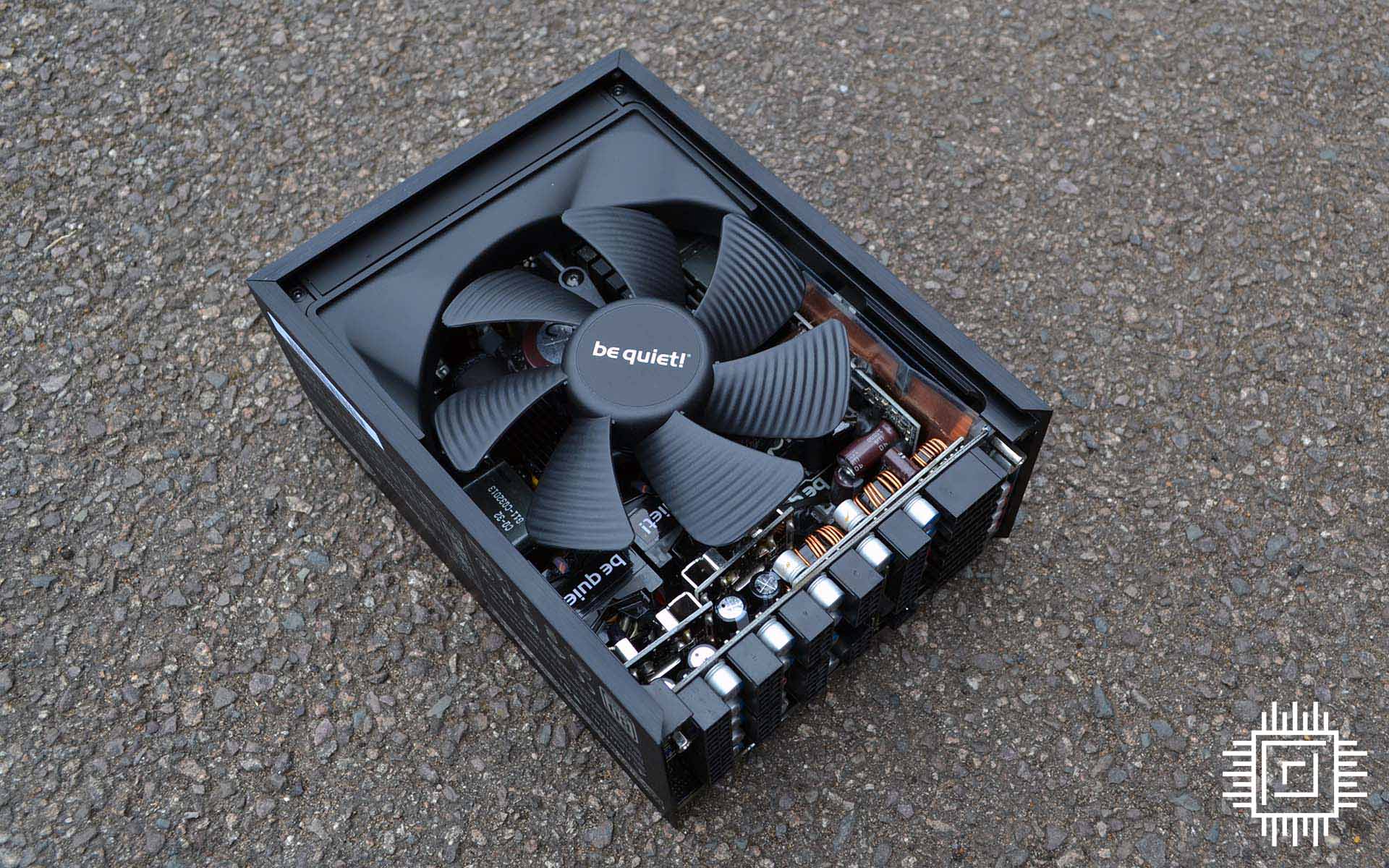 be quiet! Dark Power Pro 12 1,200W
Verdict: A top-notch supply worthy of any luxury build.
---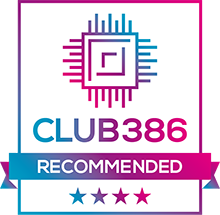 Pros
Wonderful build quality
Luxury cables
Superb performance
Low temps and noise
Cons
Pricey at £310
OC Key clunky
---
Club386 may earn an affiliate commission when you purchase products through links on our site. This helps keep our content free for all.
Rest assured, our buying advice will forever remain impartial and unbiased.