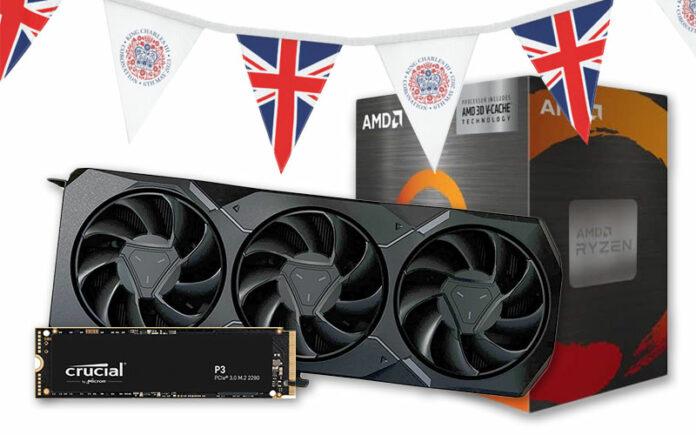 Sapphire RX 7900 XT
---
"Built on the groundbreaking AMD RDNA 3 architecture with chiplet technology, AMD Radeon RX 7900 XT graphics deliver next-generation performance, visuals, and efficiency at 4K and beyond."
We earn a commission if you make a purchase, at no additional cost to you.
Birds are chirping, bluebells are growing, the sun is (occasionally) shining, and whether or not you're partaking in coronation festivities, we're sure everyone's looking forward to a second bank holiday Monday on the trot!
The break provides perfect opportunity to contemplate PC upgrades, or seeing as it's a special occasion, perhaps an entirely new rig. Retailers are eager to promote festive bargains, and if you're hoping for something a little more exotic than a coronation quiche, we've spent the morning seeking out some of the best deals in PC tech.
Starting with graphics, our pick of the bunch is Sapphire's Radeon RX 7900 XT. Launched in December 2022 at £899, the high-end, latest-generation RDNA 3 GPU is already on sale direct from Amazon for £750! A 17 per cent price cut in a matter of months is not to be scoffed at, and with AMD's latest game bundle, you'll also be eligible for a free copy of The Last of Us Part I.
AMD Ryzen 7 7700X
---
"AMD Ryzen 7 7700X is a dominant gaming desktop processor that comes with 8 CPU cores, 16 threads, and a max boost clock speed of up to 5.4GHz."
We earn a commission if you make a purchase, at no additional cost to you.
Team Red is leading the charge with CPU deals, too. Tried-and-trusted Ryzen 7 5800X3D remains an incredible chip for gaming, and is now practically half price at £280. Prefer something a little more forward-looking? Then note that Ryzen 7 7700X, launched in September 2022 at £420, is on sale at £296 – the lowest price we've ever seen!
Need a motherboard to go with your Ryzen 7000 Series CPU? Platform costs have been coming down nicely in recent months, as evidenced by the MSI MAG B650 Tomahawk Wi-Fi being reduced from £299 to a far more attractive £209. Better still, DDR5 prices have also plummeted – you can't go wrong with a 32GB (2x16GB) pack of Corsair Vengeance DDR5-6000 for under one hundred quid.
MSI B650 Tomahawk
---
"The MAG B650 Tomahawk WIFI is a gaming oriented ATX motherboard constructed around the latest AMD B650 chipset that unites value with premium hardware."
We earn a commission if you make a purchase, at no additional cost to you.
Last but not least, now's an excellent time to invest in a new SSD. Prices have tumbled such that a 4TB Crucial P3 is available for an astonishing £175, and if you're after something just a wee bit faster, the 2TB Crucial P5 Plus is also effectively half price at £122.
Plenty of encouragement to upgrade or start afresh, and who knows, if you're due some royal good luck, try your hand at the latest Club386 competition – we're giving away an incredible Nvidia GeForce RTX 4080 Founders Edition!