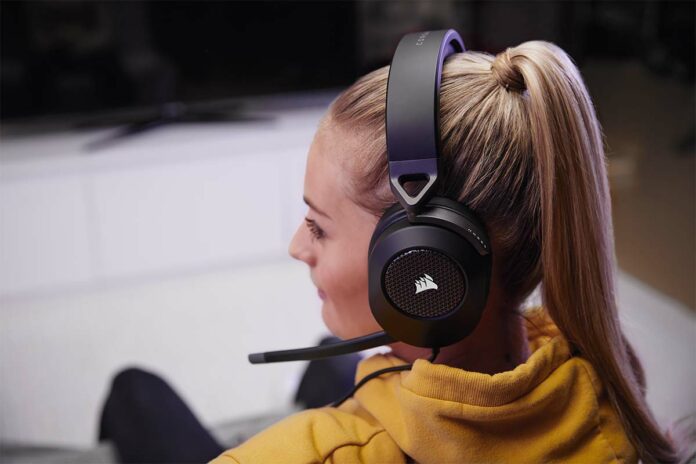 PC hardware specialist Corsair is expanding its range of wired gaming headsets with the introduction of four affordable options priced between £50 and £110.
Amid the new releases, Corsair's mid-pack HS65 Surround (£80) is described by the firm as a "particularly exciting launch" courtesy of integrated Sonarworks SoundID technology. Designed to personalise your audio experience with minimal fuss, SoundID allows users to customise the acoustic profile by completing a series of short sound preference and hearing tests within the iCue app.
The patented tech is proving increasingly popular and features on a range of products ranging from Apple AirPods to Sony's WH-1000XM4, and Corsair is keen to extol its virtues, stating that SoundID delivers "an extremely personalised experience rivalling that of professional-grade headphones, without a professional price tag."
Designed for all-day comfort, the HS65 Surround tips the scales at a reasonably lightweight 282g and features leatherette memory foam ear pads, soft-touch exterior with a mesh grill accentuating each ear cup, and an adjustable headband.
Custom-tuned 50mm neodymium drivers promise punchy sound and PC users can take advantage of 7.1 Dolby Audio surround sound when connecting via USB. An omni-directional microphone handles chat duties, while an on-ear volume roller and flip-to-mute function help maintain privacy when need be. Those happy to stick to good ol' stereo can also plug the headset into console or mobile devices using the customary 3.5mm jack.
Never one to shy away from multiple models, Corsair's revamped range also includes the new HS55 Stereo (£50), HS55 Surround (£70) and HS80 RGB USB (£110), though none of these support SoundID personalisation.
All four headsets are being made available in a choice of black or white colour schemes, and though each employs 50mm neodymium drivers, there are key points of differentiation. The entry-level HS55 forgoes 7.1 surround and support for high-res audio, but still ticks a good number of boxes as a budget 3.5mm solution.
At the top end of this release, HS80 RGB USB is the only new addition to feature RGB lighting on the Corsair sails logo, as well as a floating headband for additional comfort. All four models are already available to order at Amazon and vital specs can be compared using the table below.
| | | | | |
| --- | --- | --- | --- | --- |
| | HS80 RGB USB | HS65 Surround | HS55 Surround | HS55 Stereo |
| SoundID | X | YES | X | X |
| 3.5mm Connection | X | YES | YES | YES |
| USB Connection | YES | YES, VIA ADAPTER | YES, VIA ADAPTER | X |
| Dolby Audio 7.1 on PC | YES | YES | YES | X |
| Omni-Directional Mic | YES | YES | YES | YES |
| Flip-to-Mute Function | YES | YES | YES | YES |
| 50mm Neodymium Drivers | YES | YES | YES | YES |
| Memory Foam Ear Pads | YES | YES | YES | YES |
| Floating Headband | YES | X | X | X |
| RGB | YES | X | X | X |
| High-Res 24bit/96kHz | YES | YES, VIA ADAPTER | YES, VIA ADAPTER | X |
| UK MSRP | £110 | £80 | £70 | £50 |