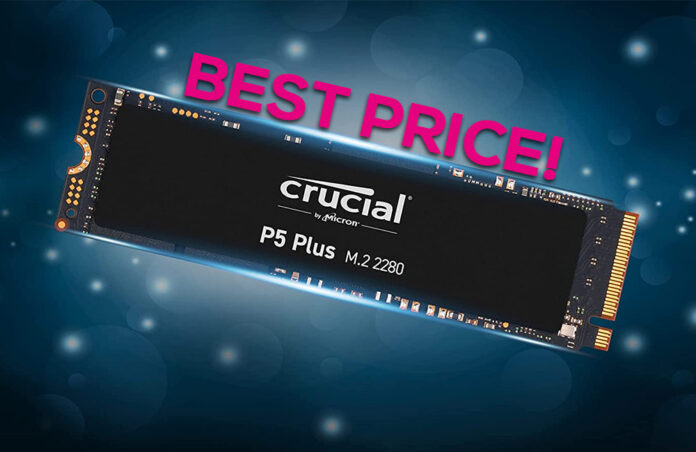 Crucial P5 Plus 2TB SSD
---
"Designed specifically for intensive workloads, high-quality creative content, and hardcore gaming, the P5 Plus is also backward compatible with most Gen3 systems for ultimate flexibility."
We earn a commission if you make a purchase, at no additional cost to you.
Welcome to July, everybody. A new quarter begins much the way the last one ended, with tech component deals galore. This feels like the best time to upgrade in years, and SSD bargains in particular are worthy of your attention.
A top deal to start your week is Crucial's venerable P5 Plus, which has hit another all-time-low at Amazon. This is a high-quality drive from a reputable brand, but most importantly, 1TB and 2TB models have dropped to £54.98 and £99.99, respectively. That's more than 50 per cent off, and marks the best price we've ever seen.
PS5 users should note that Crucial's PCIe 4.0 drive hits sequential speeds of up to 6,600MB/s – more than enough to meet the requirements of Sony's console – but you will have to pay a little more if you opt for a model with heatsink included.
Don't need quite so much speed for your PC or laptop? It's worth taking a look at the regular Crucial P3, too. Though peak performance drops to 3,500MB/s, Crucial's mainstream PCIe 3.0 drive remains an excellent upgrade and is also now cheaper than ever before. 1TB and 2TB models have fallen to £34.98 and £79.99, respectively, and if you crave space above all else, there's a 4TB drive for £171.94.
All of the mentioned drives are backed by a five-year warranty as standard, and if it's a PS5 upgrade you're considering, Crucial has a helpful little guide on how to 'Plus your PS5' available online.
Crucial P3 4TB SSD
---
"Get faster bootups, downloads and file transfers, and store all your files, photos, videos, apps, and games with room to spare with the quality and dependability you expect from Crucial."
We earn a commission if you make a purchase, at no additional cost to you.
Club386 is always on the lookout for unmissable PC component bargains. Follow on Twitter or Facebook to keep up to date with the latest deals, and subscribe to our free weekly newsletter to be kept abreast of all the latest developments in the world of tech.