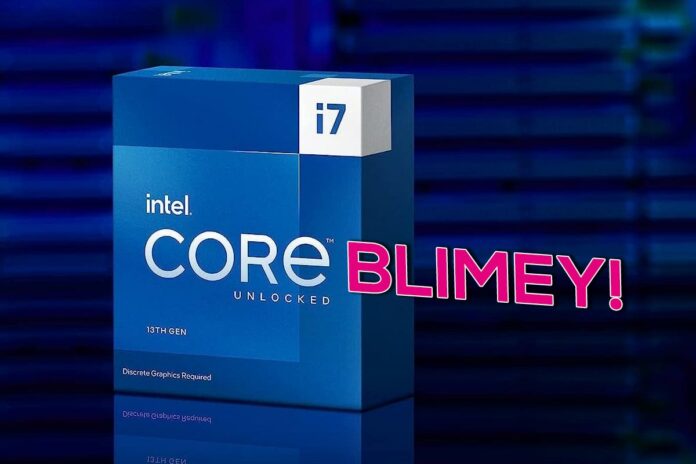 Intel Core i7-13700KF
---
"Game and multitask without interruption. Up to 5.4GHz max clock speed, 16 cores, 24 threads, unlocked and overclockable."
We earn a commission if you make a purchase, at no additional cost to you.
While discounts on latest-generation AMD Ryzen CPUs have been relatively easy to come by, price cuts on Intel 13th Gen Core are something of a rareity.
That's likely to change with the arrival of 14th Gen refresh in the coming months, and you don't have to wait that long as price cuts are already beginning to seep through. The one that has caught our eye this morning is Core i7-13700KF, a 16-core, 24-thread powerhouse whose price has dropped by nearly 10 per cent from £370 to £339 at Amazon UK.
Designated KF, this is an unlocked CPU requiring discrete graphics, and with a top speed of 5.4GHz, represents a fine fit for a gaming build. The same processor still retails for $389 in the US, suggesting the discount is yet to filter through to other regions, but we suspect it is only a matter of time.
Why the reduction when 13th Gen pricing has remained steadfast since launch? It may have something to do with the next-gen Core i7-14700K that has been leaked in recent weeks. Word on the grapevine is that Intel's upcoming successor will carry an additional four efficient cores, increasing total thread count from 24 to 28.
A meaningful bump, and if pricing remains consistent between generations, rare discounts on existing i7-13700KF may become the norm. It's certainly a potent CPU worth keeping an eye on, and if you were already planning to make the jump, £339 is a welcome deal and the lowest price we've seen to date.
[Update] As at 16:45, August 25, the price has crept back up to £366.
[Update] August 27, while the Core i7-13700KF remains at £366, Intel's Core i7-13700K – with integrated graphics – has dropped to £350 GBP / $365 USD. Once again the lowest price we've seen!