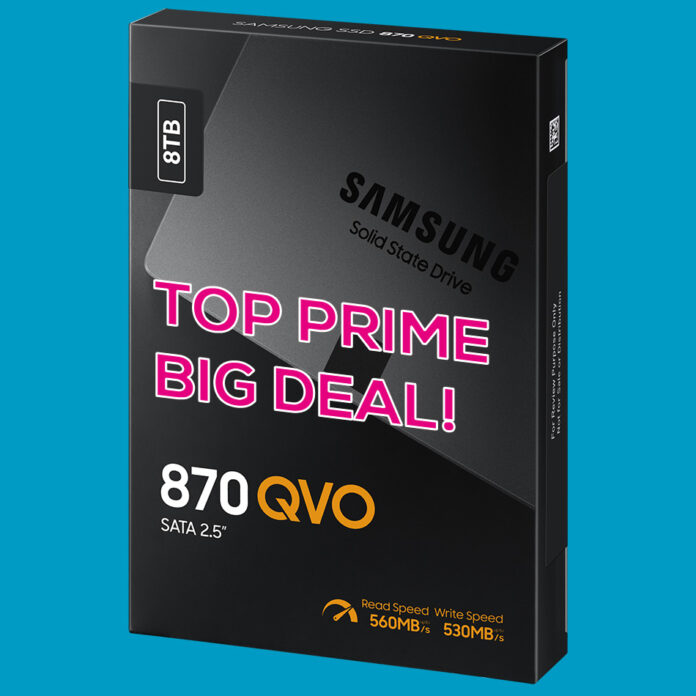 8TB SAMSUNG 870 QVO
---
"The 870 QVO is Samsung's latest 2nd gen QLC SSD and the largest of its kind that provides up to 8TB of storage."
We earn a commission if you make a purchase, at no additional cost to you.
You're not alone in scouring Amazon's virtual shelves this morning in the hunt for Prime Big Deals. Let us remove the guesswork for you by nominating Samsung's 8TB 870 QVO SSD as our pick of the day's best bargains.
This voluminous 2.5in SSD has steadily come down in price these past months, but the Amazon promotion has made things extremely interesting with an unbelievable drop to $319.99 US and £257.99 UK. Whichever way you look at it, that's outstanding value for a vast 8TB drive, and the lowest price we've ever seen by some margin.
Samsung's 2.5in SATA 6Gbps drive is a straightforward upgrade for most PC or laptop users and delivers the instant response of solid-state technology alongside sequential read and write speeds of 560MB/s and 530MB/s, respectively. The manufacturer backs the drive with a three-year warranty, and though not strictly a NAS-certified device, sheer capacity is such that it's hard to resist the temptation. Anybody else thinking RAID server?
As part of Amazon's Prime Big Deals promotion, the best-ever price is exclusive to Prime members. If you're thinking of joining up, check out our dedicated guide on what you get with an Amazon Prime subscription.
Club386 is always on the lookout for unmissable PC component deals. Follow on Twitter or Facebook to stay up to date with the latest discounts, and subscribe to our free weekly newsletter to be kept abreast of all the developments in the world of tech.