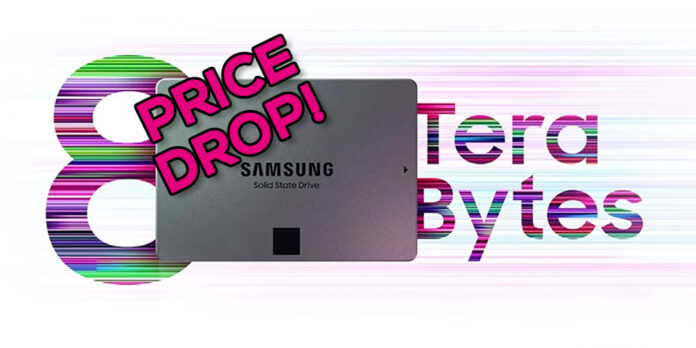 8TB Samsung 870 QVO
---
"The 870 QVO is Samsung's latest 2nd gen. QLC SSD and the largest of its kind that provides up to 8TB of storage."
We earn a commission if you make a purchase, at no additional cost to you.
If it's more storage that you need, you've come to the right place. Club386 has been keeping a close eye on SSD bargains in recent months, and we're encouraged to see high-capacity models offer true incentive to migrate from a basic 512GB or 1TB drive.
At the very top of the scale, it's worth taking a closer look at the voluminous 8TB Samsung 870 QVO, whose price has tumbled to an all-time-low of £316 in the UK. To give you an idea of how steep the price drop really is, the very same drive fetched over £600 this time last year!
Similar price cuts are applicable in other regions – we've seen the 8TB model as low as €330 on the continent or $375 in the US – representing an excellent deal on a cost-per-terabyte basis.
Samsung's 2.5in SATA 6Gbps drive is a straightforward upgrade for most PCs or laptops and delivers the instant response of solid-state technology alongside sequential read and write speeds of 560MB/s and 530MB/s, respectively. The manufacturer backs the drive with a three-year warranty, and though not strictly a NAS-certified device, sheer capacity is such that it's hard to resist the temptation.
Two or four of these in a RAID configuration would make for an incredibly fast, spacious and efficient NAS. One for the wish-list, perhaps.
Club386 is always on the lookout for unmissable PC component deals. Follow on Twitter or Facebook to stay up to date with the latest discounts, and subscribe to our free weekly newsletter to be kept abreast of all the developments in the world of tech.