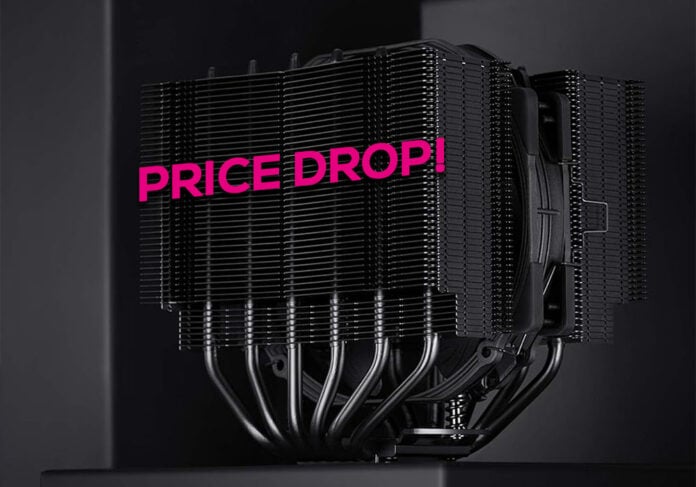 Noctua NH-D15S chromax.black
---
"The NH-D15S chromax.black is an all-black version of Noctua's award-winning NH-D15S premium-quality quiet CPU cooler."
We earn a commission if you make a purchase, at no additional cost to you.
'You can't go wrong with a Noctua' is a familiar motto around these here parts, and that sentiment continues to ring true for any enthusiast in the market for a high-quality air cooler.
The caveat for some folk is that the brown-and-beige colour scheme is very much an acquired taste. Yours truly kinda likes it, but if you happen to favour a stealthy look, you're in luck as the venerable NH-D15S chromax.black is back down to its lowest price of £89.99 in the UK and $109.95 US.
Noctua's sale price typically becomes available from time to time, but it has been some months since the cooler dropped back to this low. The fact that the price is higher during the hot (or lukewarm for us Brits) summer months is no surprise, and if you've been waiting for the opportune moment, now's a good time to bite.
Easily one of the best coolers on the market, the NH-D15S chromax.black is, as the name suggests, a blacked-out variant of the single-fan NH-D15S whose asymmetrical dual-stack layout sandwiches an esteemed 140mm NF-A15 fan.
An excellent piece of kit for those with deep wallets, yet there are more affordable alternatives if budgets are tight. Noteworthy at the time of writing is DeepCool's AK620, a dual-tower, dual-fan cooler whose price has dropped to £59.99/$59.99. Better still, Amazon UK currently has a 15 per cent voucher on this particular model, bringing the cost down to just under £51. A bargain at that price!
DeepCool AK620
---
"Achieve dominant cooling and silent efficiency with the DeepCool AK620 high-performance CPU Cooler equipped with six copper heat pipes stacked with a dense dual-tower fin array and two 120 FDB fans."
We earn a commission if you make a purchase, at no additional cost to you.
Club386 is always on the lookout for unmissable tech deals. Follow on Twitter and Facebook to stay up to date with the latest discounts and subscribe to our free weekly newsletter to be kept abreast of all the developments in the world of technology.