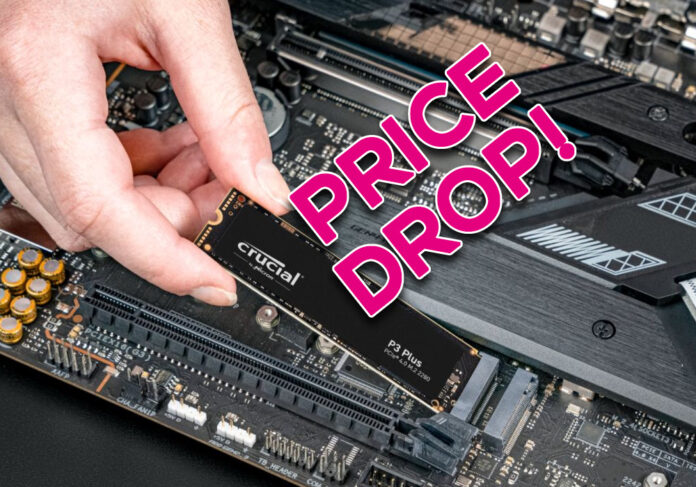 2TB Crucial P3 Plus
---
"Upgrade your PC with the fast Gen4 performance it needs at a price you want. The Crucial P3 Plus NVMe SSD delivers load times and data transfers that are 8.9x faster than SATA and 43% faster than the fastest Gen3 SSDs."
We earn a commission if you make a purchase, at no additional cost to you.
The tumbling cost of SSD storage is such that it makes sense to employ a larger drive, saving you from having to relegate your games to a slower, secondary disk. Indeed, if you're enjoying Starfield, you may have noticed that developer Bethesda lists an SSD as a minimum requirement, and that's a trend that will only continue.
Fortunately for gamers in need of an upgrade, capable drives are more affordable than ever before. A fine example is the 2TB Crucial P3 Plus, whose price has dropped to just £78 in the UK or $90 over in the US.
Said drive is now better than half price and touts sequential read and write speeds of up to 5,000MB/s and 4,200MB/s, respectively. Not necessarily the quickest, but plenty fast for most users, particularly those who appreciate the peace of mind of a five-year warranty from a long-standing and reputable brand.
A sensible upgrade for most, and if you do happen to need more storage – games aren't getting any smaller – the 4TB Crucial P3 Plus has also fallen to an all-time-low of £165. A cracking deal, though US pricing on the 4TB model is less favourable at $210.
4TB Crucial P3 Plus
---
"With generous space of up to 4TB, the Crucial P3 Plus offers powerful Gen4 storage for loads of apps, programs, files, docs, photos, videos, and games — with room to spare."
We earn a commission if you make a purchase, at no additional cost to you.
It's also worth pointing out the newer, speedier 2TB Crucial P5 Plus, a DRAM-enabled variant that increases peak speeds to 6,600MB/s. That's quick enough to meet PS5's official requirements, but pricing increases to £109 / $130 with heatsink included. A welcome option, yet for PC users the regular P3 Plus represents a better bargain.
Club386 is always on the lookout for unmissable tech deals. Follow on Twitter or Facebook to stay up to date with the latest discounts, and subscribe to our free weekly newsletter to be kept abreast of all the developments in the world of technology.