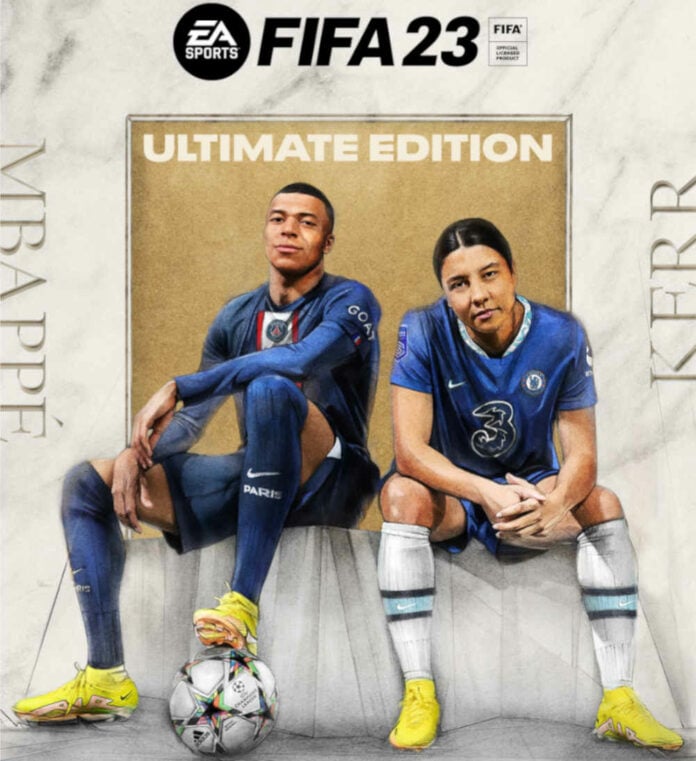 EA has unleashed a new trailer for its popular FIFA-endorsed footie title, FIFA 23, the 30th and final FIFA game to be developed by EA Sports marking the end of the era. Next year the series will continue as EA Sports FC.
The biggest announcements to takeaway from the reveal include for the first time ever, both women's and men's FIFA World Cups, and accompanying Women's Club Football leagues. The front cover is adorned by both Chelsea's Sam Kerr and for the third time in a row Paris Saint-Germain's Kyliann Mbappe.
Cross-play also takes center stage this year, allowing players to join an online match with their friends regardless of what platform they are on. Neat. However, in classic EA fashion, the announcement of cross-play is not without criticism. Firstly, you cannot cross-play between different generations, quite understandable as the Hypermotion2 engine takes point on current-gen consoles. Another caveat has arisen in that many players have voiced strong opinions on the exclusion of Pro Clubs in cross-play support. Most commentators appear to believe the mode fell offside in lieu of top scorer and money maker FIFA Ultimate Team.
Still, Pro Clubs does have its fair share of fans and a growing number took to twitter to voice their frustrations. As for EA, it has stated that the process is just far too complicated to implement. "We want to ensure our product innovation is delivered at quality, and because of the technical intricacies of implementing cross-play, modes that pair players together such as Pro Clubs will not feature cross-play at this time," said EA.
Regardless of the minor debacle, it is still a celebration of sorts, as this marks the end to a franchise that has featured on near every console since 1993. Although PES fans may beg to differ, it is undoubtedly one of the most popular football series ever released to date. Despite the EA/FIFA split, the franchise will live on spiritually as EA Sports FC and FIFA President Gianni Infantino has stated the FIFA franchise will continue on its own path regardless of who's at the helm. We're of the opinion it'll never quite feel the same.
I for one can remember running home from school every Friday afternoon, changing out of my school uniform, haphazardly rushing all my Friday chores, grabbing a bowl of cereal, and finally popping in FIFA Football 2004 into my then aging PlayStation console. Cue PS2 power-on chime, saying a little prayer that the overused disk works, until finally an EA Sports logo appears out of the darkness; "EA Sports, it's in the Game!" Those were the days.
Players can expect FIFA 23 on Windows PC, Xbox One, Xbox Series S, Xbox Series X, PS4, PS5 and Stadia from September 30. If you opt for the Ultimate Edition, it provides three-day early access from September 27.