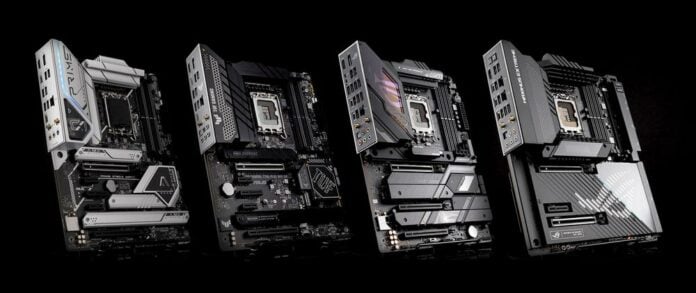 Asus is ready for Intel 13th Gen Raptor Lake processors with a slew of motherboards ranging from ROG Maximus and ROG Strix to TUF Gaming, Prime and ProArt series.
The Asus line-up will span at least 13 boards, in addition to an unknown number coming soon to the ProArt series. All will include the new top-tier Z790 chipset from Intel alongside Asus's in-house features such as AI Overclocking for an easy performance boost, and AI Cooling II which balances thermals and acoustics of your system with a single click. How good these AI features are is still to be determined, however manual tuning will still be the best course of action, for the perceivable future anyway.
Asus emphasises the DIY-friendly design, offering simpler locking mechanisms to secure M.2 SSDs, buttons to release PCIe cards without needing to reach the lock below the cards, and a two-digit Q-Code for fast system troubleshooting using error codes. Many models will be available in DDR5 and DDR4 variants, meaning that every time you see a product name with 'D4' at the end, you know it's a DDR4 version.
ROG Maximus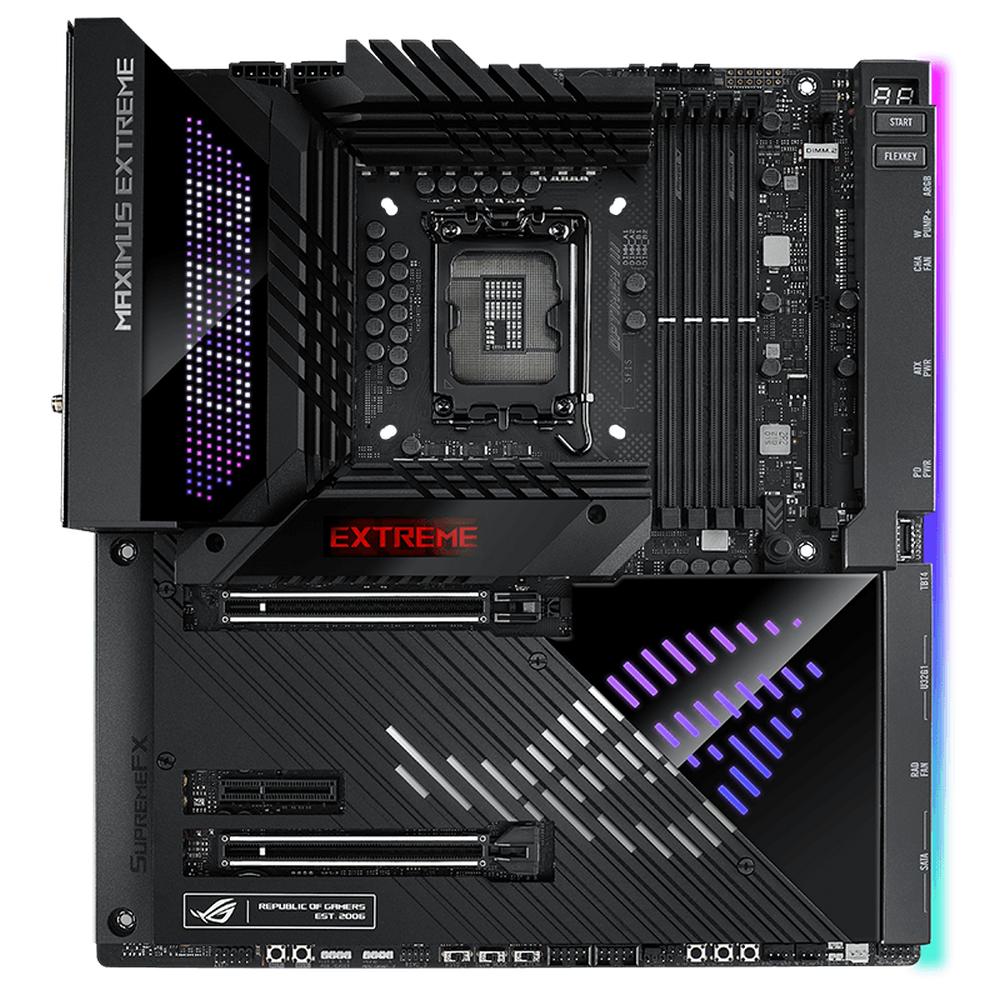 The Maximus series include two boards, the ROG Maximus Z790 Extreme and ROG Maximus Z790 Hero. Both are built for enthusiasts wanting the best hardware possible, be it to break a new overclocking record or simply to game with zero compromises. And it shows even in the PCIe x16 spacing since Asus is leaving room for up to a four-slot graphics card.
The former takes an eATX format packed with 24+1-phase design, two PCIe x16 slots (at least one is Gen 5), one PCIe 5.0 M.2 SSD slot plus four PCIe 4.0 ones, two USB 3.2 Gen 2×2, two Thunderbolt 4 (USB4 compliant), Wi-Fi 6E and, most importantly for heavy-duty users, a fast 10GbE plus 2.5GbE connection.
The latter dials things down just a bit to fit inside an ATX format, thus offering 20+1 90A power stages, three PCIe slots (one is Gen 5 x16 and another may be Gen 3 or 4 x8), one PCIe 5.0 M.2 slot plus four PCIe 4.0 ones, one USB 3.2 Gen 2×2, two Thunderbolt 4 (USB4 compliant), Wi-Fi 6E and 2.5GbE.
ROG Strix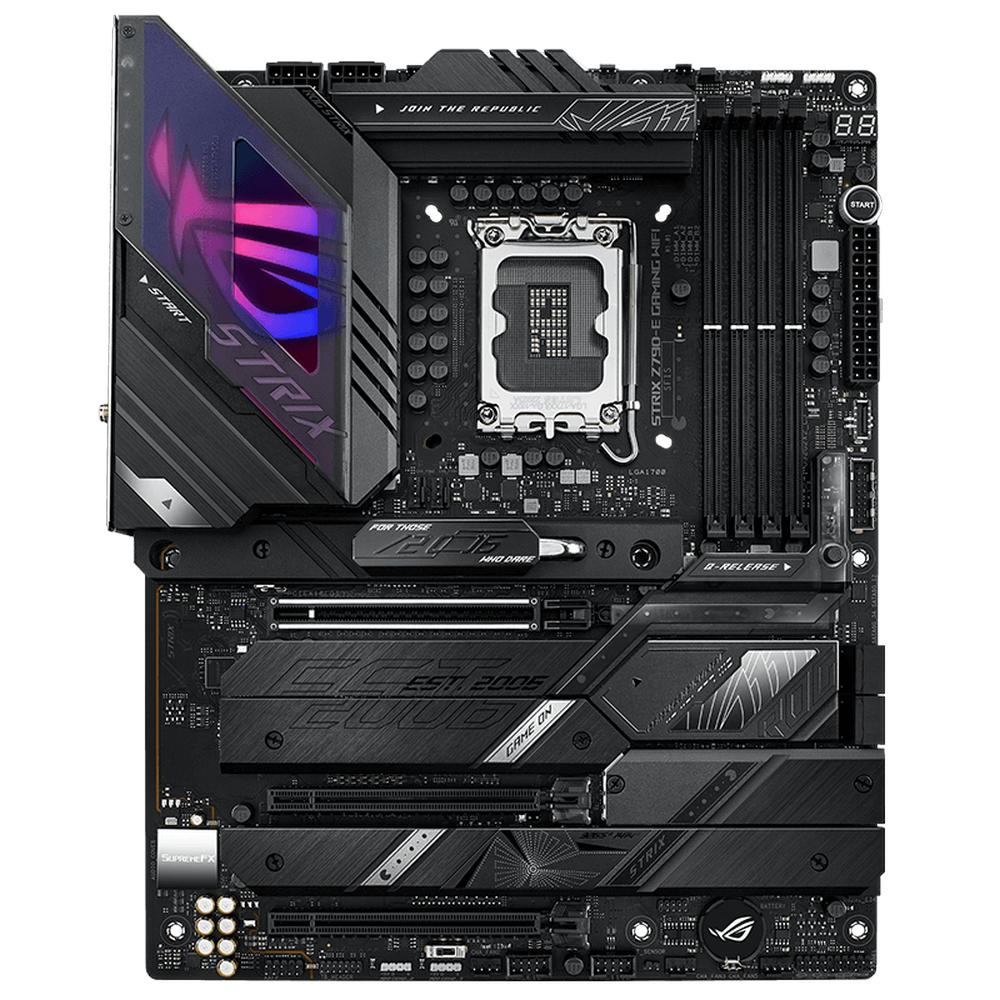 Holding the middle ground between Maximus and TUF series, this range includes four models: ROG Strix Z790-E Gaming WiFi, ROG Strix Z790-F Gaming WiFi, ROG Strix Z790-I Gaming WiFi, and ROG Strix Z790-A Gaming WiFi D4. Note that the Strix series is the only one featuring a mini-ITX board.
Arguably the most interesting of the bunch are the Z790-E Gaming (not to confuse with AMD's '-E' for Extreme chipset variants) and Z790-I Gaming. The first has the largest feature set of this family since we find 18+1 90A power stages, three PCIe slots (one should be Gen 5 x16), four PCIe 5.0 M.2 slots plus four others running at PCIe 4.0, two USB 3.2 Gen 2×2, a single Thunderbolt 4/USB 4 header, Wi-Fi 6E and 2.5GbE. Phew.
The second drops many parts because of its limited surface area, leaving us with a still-capable 10+1 105A stage power delivery system, two DDR5 DIMMs instead of four on the others, a lonely PCIe 5.0 x16 slot for graphics, two M.2 slots (one at PCIe 5.0 and the other at PCIe 4.0 speeds), two USB 3.2 Gen 2×2, two Thunderbolt 4/USB 4 ports (one more than the others), Wi-Fi 6E and 2.5GbE.
TUF Gaming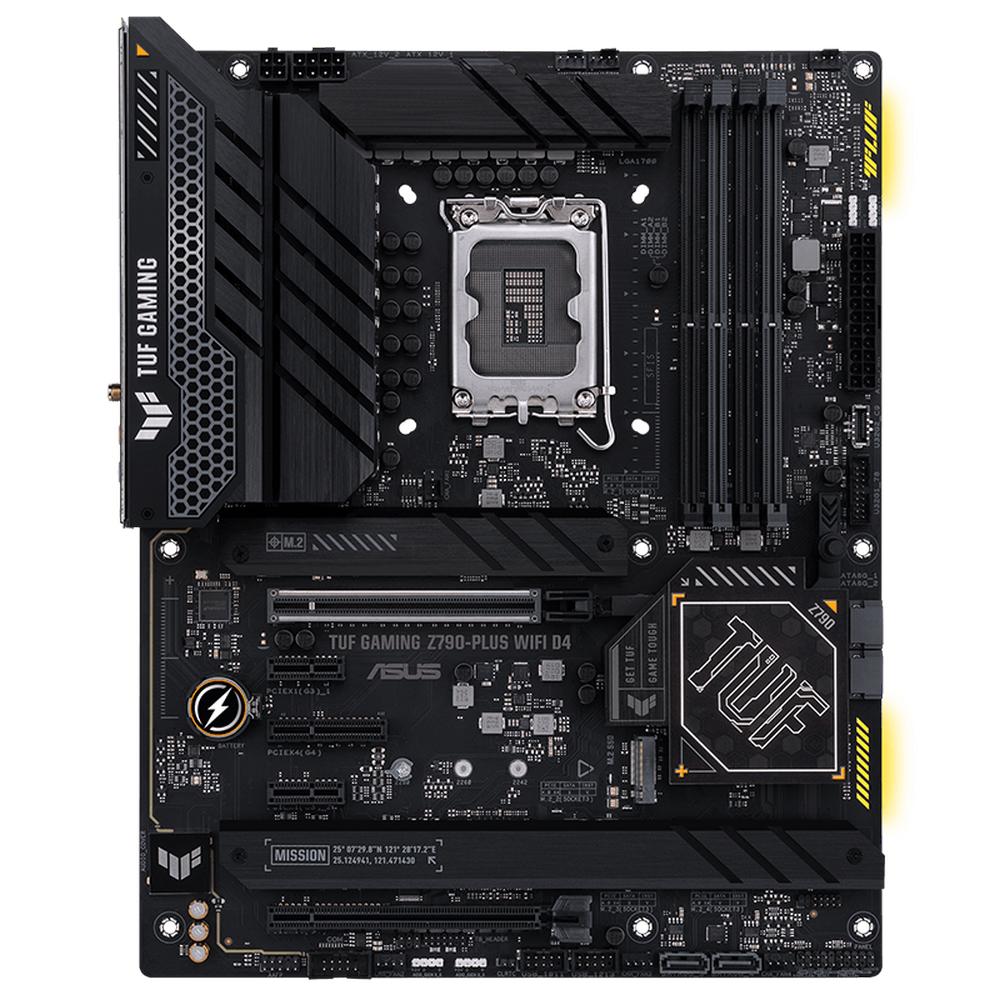 Probably the gamer's favourite boards, TUF Gaming takes the cake thanks to its well-rounded specs at reasonable prices, though keep in mind that we still don't have pricing for this one. Need a lot of memory? You got it, right up to 128GB. Need PCIe x1 or x4 for your video-capture card? You have it. Only play 100GB+ games? You have enough M.2 slots for at least 32TB (4x8TB) of storage. The only inconvenience this generation is the availability of only a DDR4 variant.
Taking the ATX format, this board has a healthy 16+1 60A power stages, PCIe 5.0 x16 for graphics, four PCIe 4.0 M.2 for NVMe SSD, one USB 3.2 Gen 2×2 plus one Thunderbolt 4/USB 4 ports, Wi-Fi 6E and 2.5GbE. Ought to cost around £240-ish if it follows the predecessor's pricing.
Prime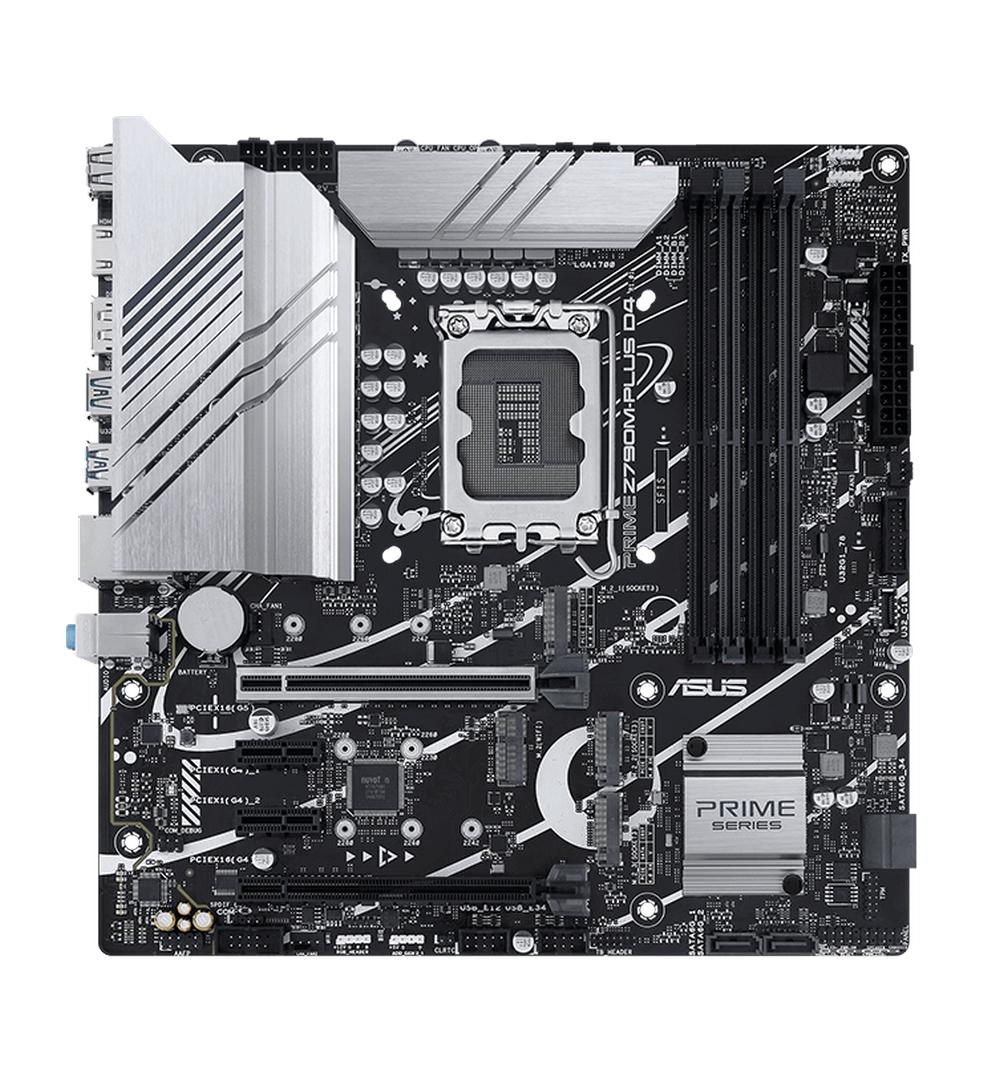 Covering the entry-level Z790, the Prime range includes six motherboards: Prime Z790-A WiFi, Prime Z790-P WiFi, Prime Z790-P, Prime Z790M-Plus D4, Prime Z790-P WiFi D4, and Prime Z790-P D4. Here we find the only mATX board if you find mini-ITX too limited.
All models share many similarities such as a main PCIe 5.0 slot for graphics alongside a cocktail of PCIe x1, x4, or x8. Each one has four DIMM slots supporting DDR4 or DDR5 depending on the variant and four PCIe 4.0 M.2 slots for storage – apart from the mATX model which losses one M.2.
For power delivery, the Z790-A WiFi gets 16+1 60A power stages, the Z790M-Plus D4 has 10+1 50A power stages, and the rest sit in the middle with 14+1 50A power stages. Finally, all models apart from the mATX have 2.5GbE and Wi-Fi 6E when applicable.
Found something of interest to you? If so, Asus indicates that it's currently accepting pre-orders for all these boards.