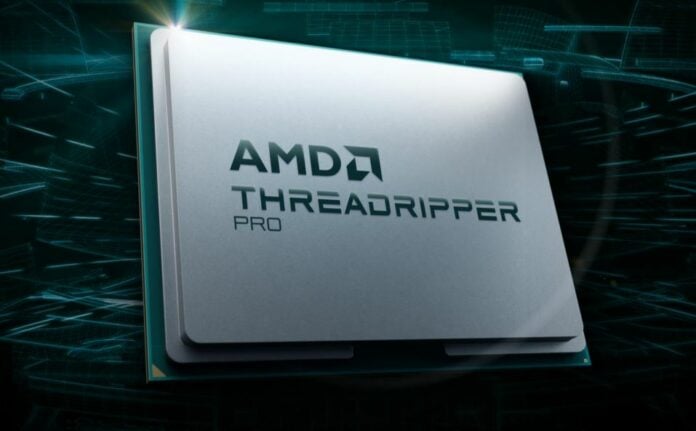 AMD's Ryzen Threadripper processors launched to much fanfare in August 2017. Designed as the foremost performance solutions for high-end desktop (HEDT) and workstation markets, successive iterations built on firm foundations. Yet launch progress has stalled because the last HEDT chips known as Threadripper 3000 Series launched in 2019 and OEM-only 5000 Series Pro models in early 2022. With desktop Ryzen topping out at 16 cores and 32 threads for the last two generations, there's clamour for more performance. AMD answers that call today by announcing Ryzen Threadripper Pro WX and non-Pro 7000 Series.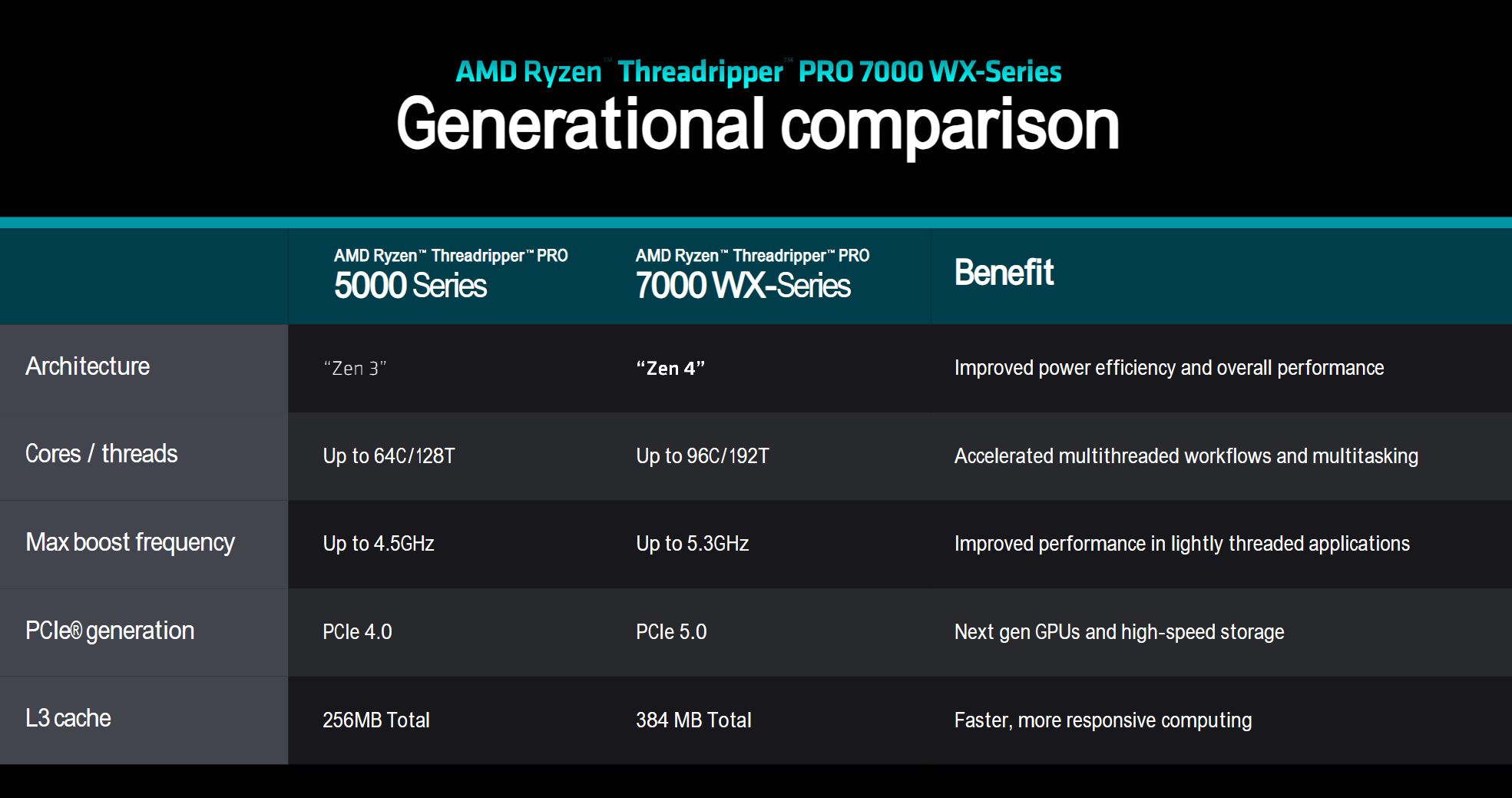 As expected, both sets of new Threadrippers leverage the latest Zen 4 architecture that debuted on desktop Ryzen in September 2022. Offering more throughput per clock cycle, this shift provides an immediate performance boost to the tune of 13 per cent. Speaking first about Threadripper Pro, AMD further turns up the wick with higher frequencies, more cores and larger caches.
AMD's modular design architecture enables extra cores easily and we see evidence of even higher core counts on server-focussed Epyc processors. It's no secret the latest chips lean heavily on Epyc's floorplans and feature sets.
Ryzen Threadripper Pro 7000 WX Series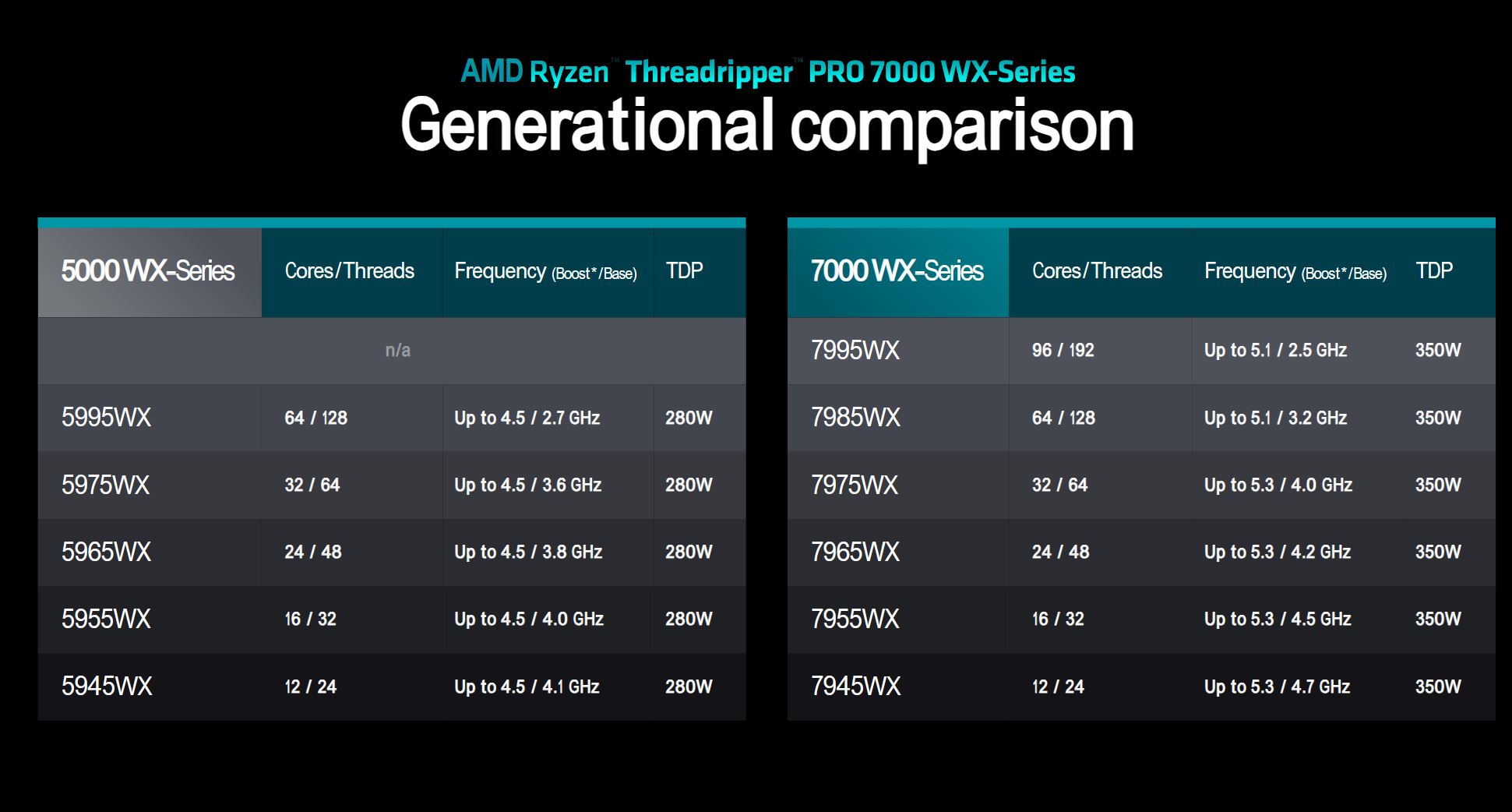 7000 Pro WX's core-and-thread count remains largely unchanged from the previous 5000 Series generation, other than the top-bin chip housing 96 cores and 192 threads, which is a first for the Threadripper line. A 25 per cent increase in total chip power is the main driver of higher frequencies for each model, meaning there's a two-pronged approach to performance enhancement – IPC and speed.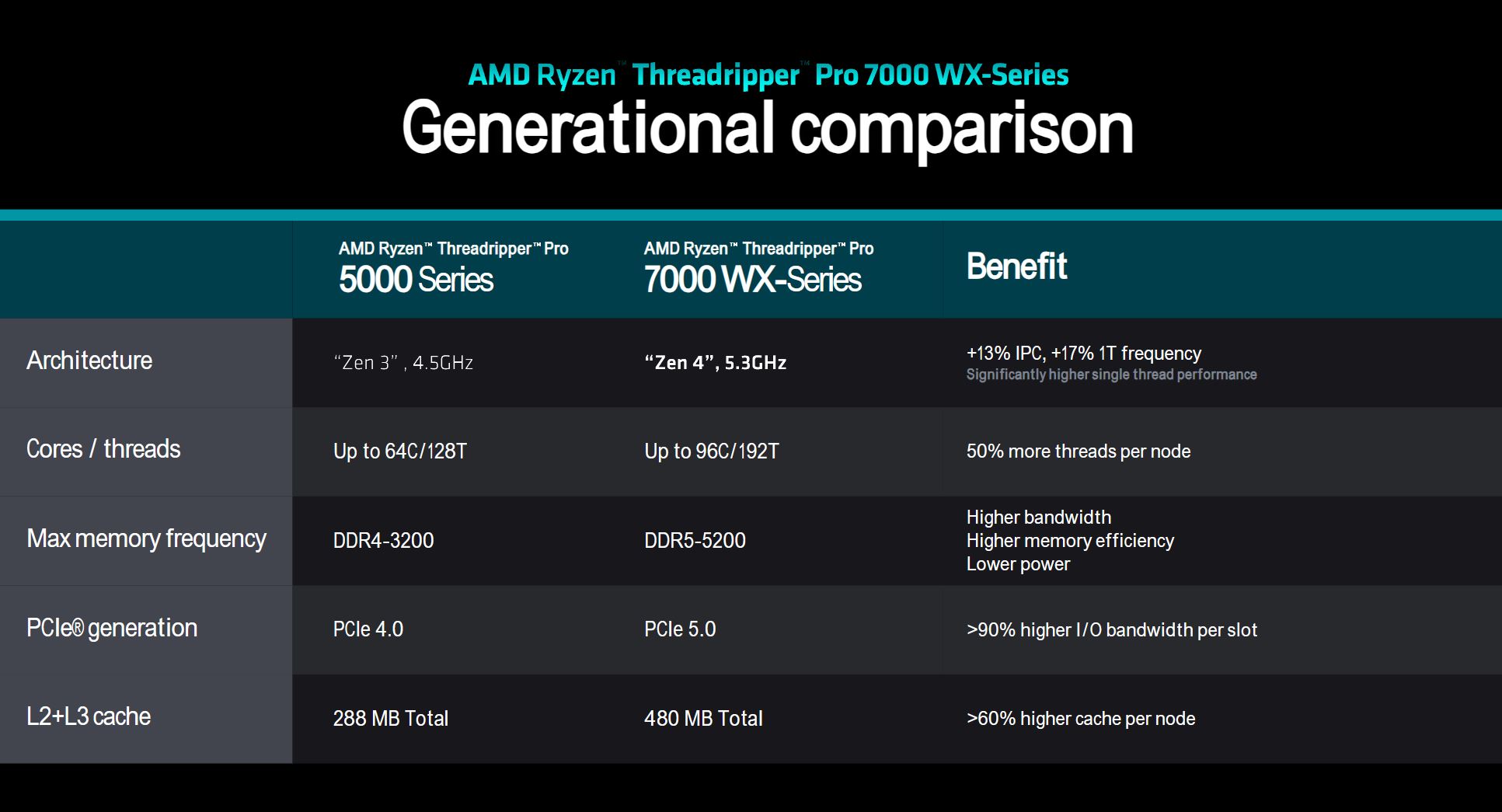 Drilling down farther, Pro 7000 WX's move to a new architecture and platform yields attendant benefits such as a shift to higher-performance DDR5, PCIe 5.0, and a heck of a lot more L2 and L3 cache. From our observations, 5000 Series chips offered the best workstation performance; 7000 Pro Series WX is set to move the bar a few notches higher.
Yet there is no free lunch. An architecture change requires new motherboard and memory support – akin to the transition between desktop 5000 and 7000 Series.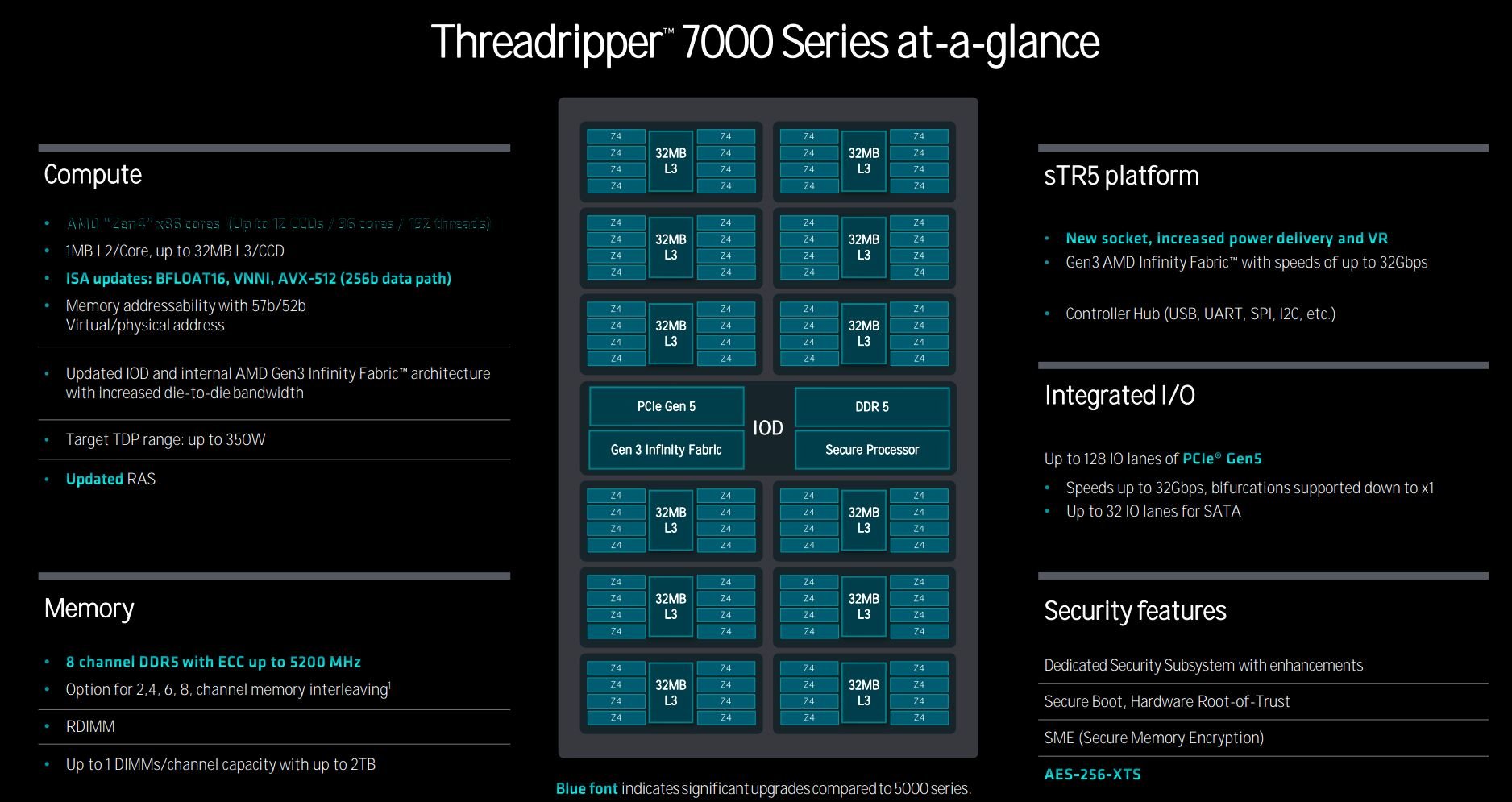 The new sTR5 socket enables the latest generation to strut its stuff. Offering higher power support, the backbone brings Zen 4-related goodness to the fore. Shown with top dog 7995WX home to 12 CCDs containing eight cores each, this is peak Ryzen Threadripper for 2023.
Carrying a raft of AMD Pro technologies for easier manageability, a fully-configured setup accommodates up to 2TB of registered DDR5 memory and a raft of expansion opportunities for high-speed storage and other relevant accelerators.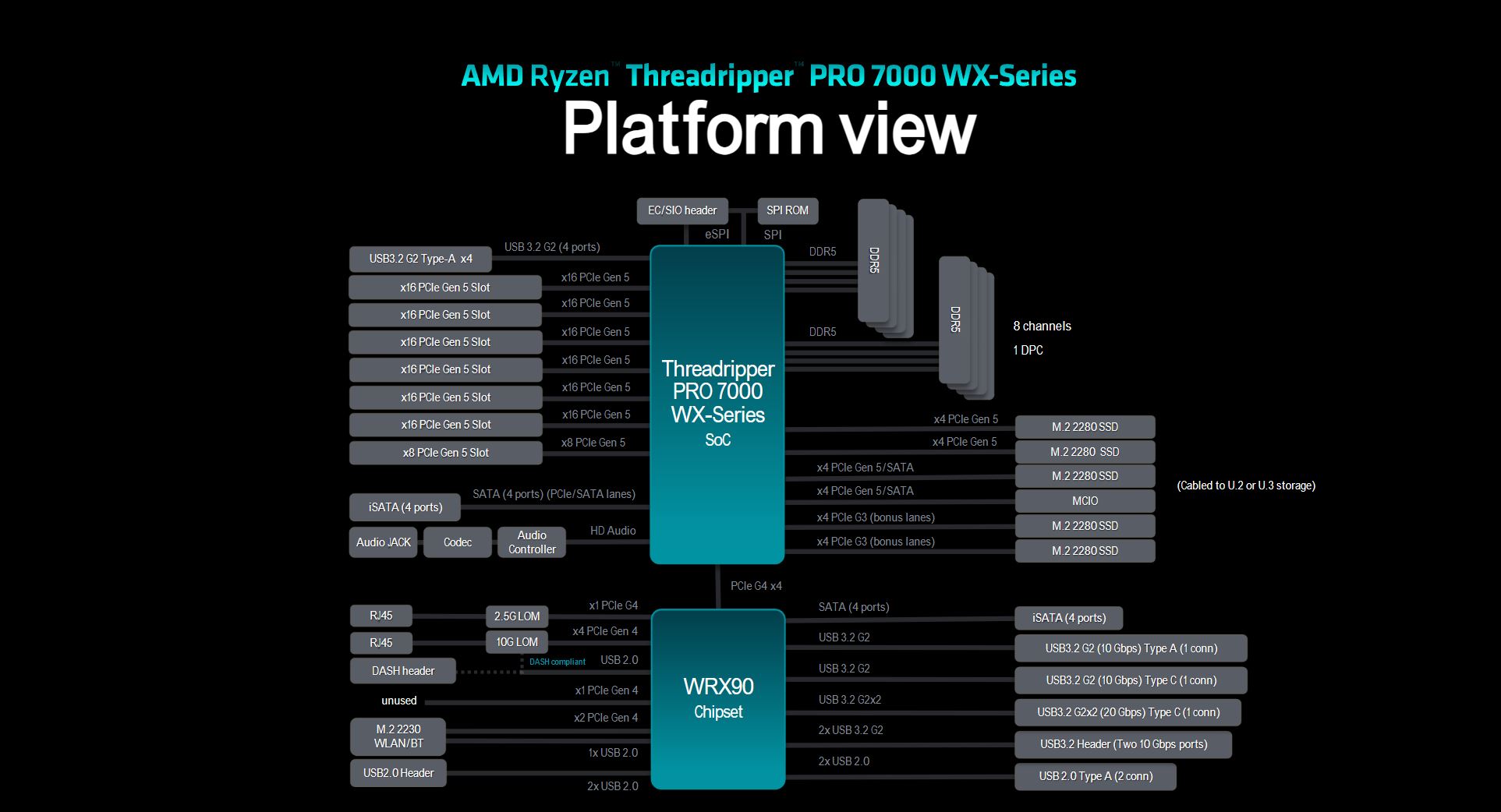 The high-level platform view is similar to 5000 Series Pro models' but there's practically double the peripheral bandwidth thanks to PCIe 5.0.
Knowing that it already enjoys a performance advantage over Intel Xeon workstation CPUs in many applications, AMD is understandably keen to drive home the hegemony message to workstation users demanding best-in-class capabilities.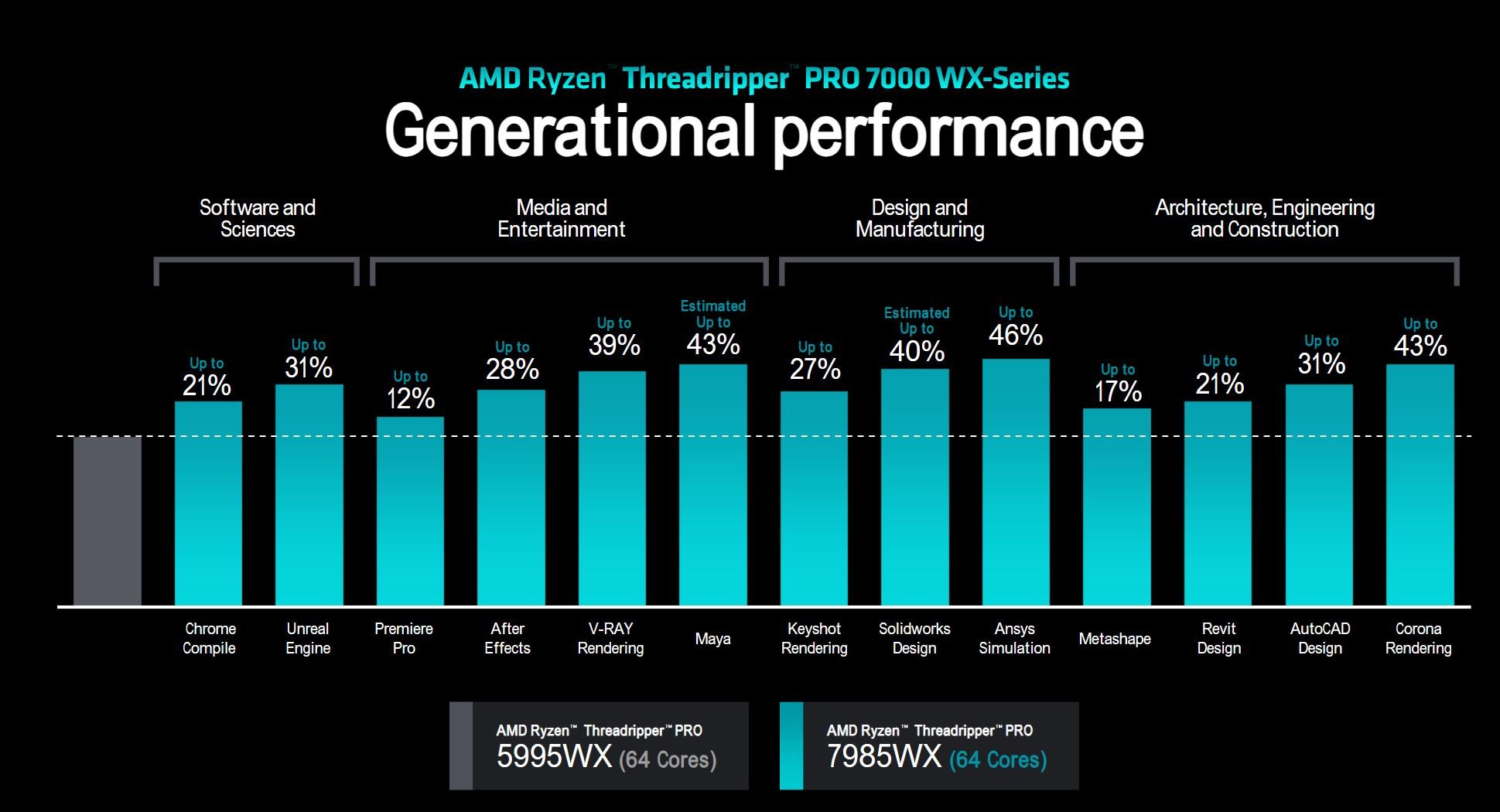 But first, exposing the benefits of a better architecture, higher frequencies, and increased bandwidth, AMD shows a significant gen-on-gen rise when comparing same-core processors from two families. Each professional application benefits to differing degrees – some favour IPC, others frequency, and yet more may love DDR5. The precise interaction of these three facets determines uplift.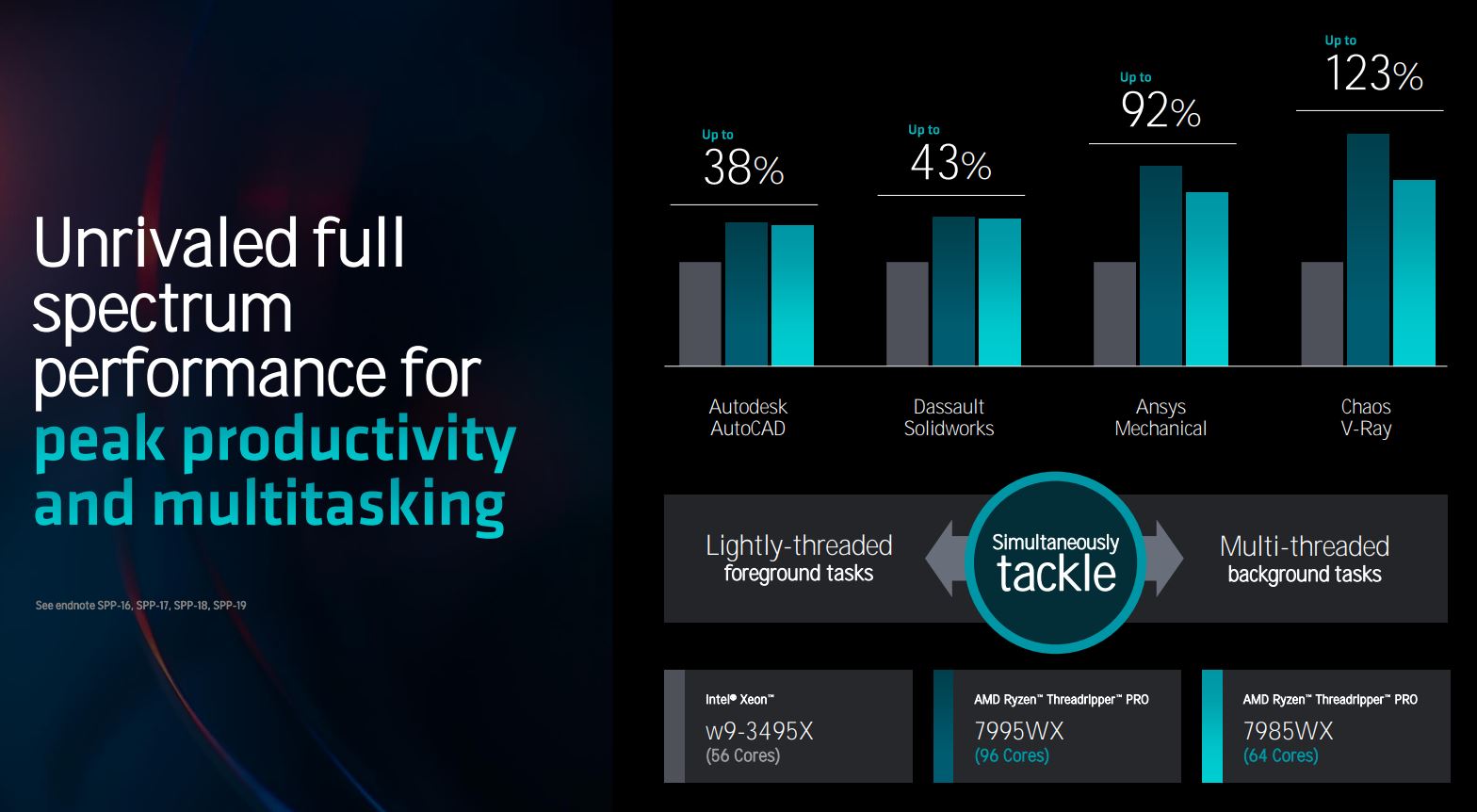 Take manufacturer-provided numbers with an appropriate pinch of salt. Nevertheless, the trend is clear; Ryzen Threadripper Pro 7000 WX Series is a powerhouse.
Dell, HP, Lenovo and Supermicro are lead worldwide partners, though many region-specific SIs will also get in on the act starting on November 21. Appreciating the complexity and target market, the majority of systems will be pre-built, but AMD will offer the option of retail boxed Pro WXs for those adventurous enough to build their own.
Ryzen Threadripper 7000 Series
For companies that don't need the memory bandwidth and tuned application support afforded by Pro WX, AMD's regular Ryzen Threadripper 7000 Series is more appealing, especially as it's better designed for end-user configuration.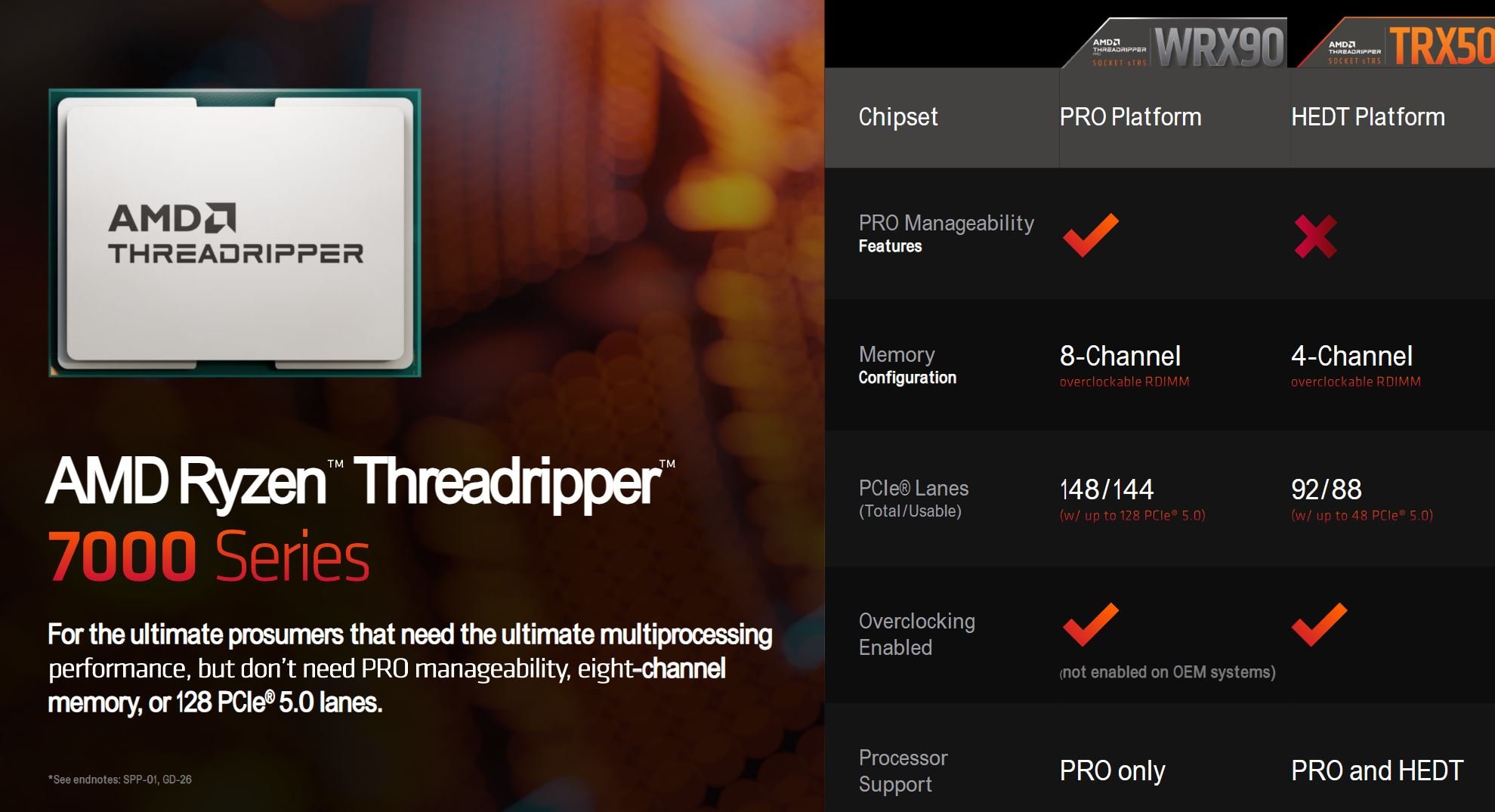 AMD is using the same sTR5 socket platform for both processors. That's not surprising in itself, of course, but modifications to the platform enables CPU interoperability between series for the first time. This is made possible by AMD moving regular 7000 Series to the same registered DDR5 memory as Pro, with the premise being that RAM security is a must-have feature in the workstation space. In effect, regular DDR5 simply won't work on either platform.
The HEDT chips lose out on connectivity compared to Pro cousins. For example, memory support drops from eight channels to four, while usable PCIe 5.0 lanes also suffer – Pro's 128 drop to merely 48 for HEDT. Nevertheless, the intriguing aspect is one can use a Pro WX chip in an HEDT platform because of feature consistency, though one can't use a regular chip in a Pro platform as it misses out on said connectivity.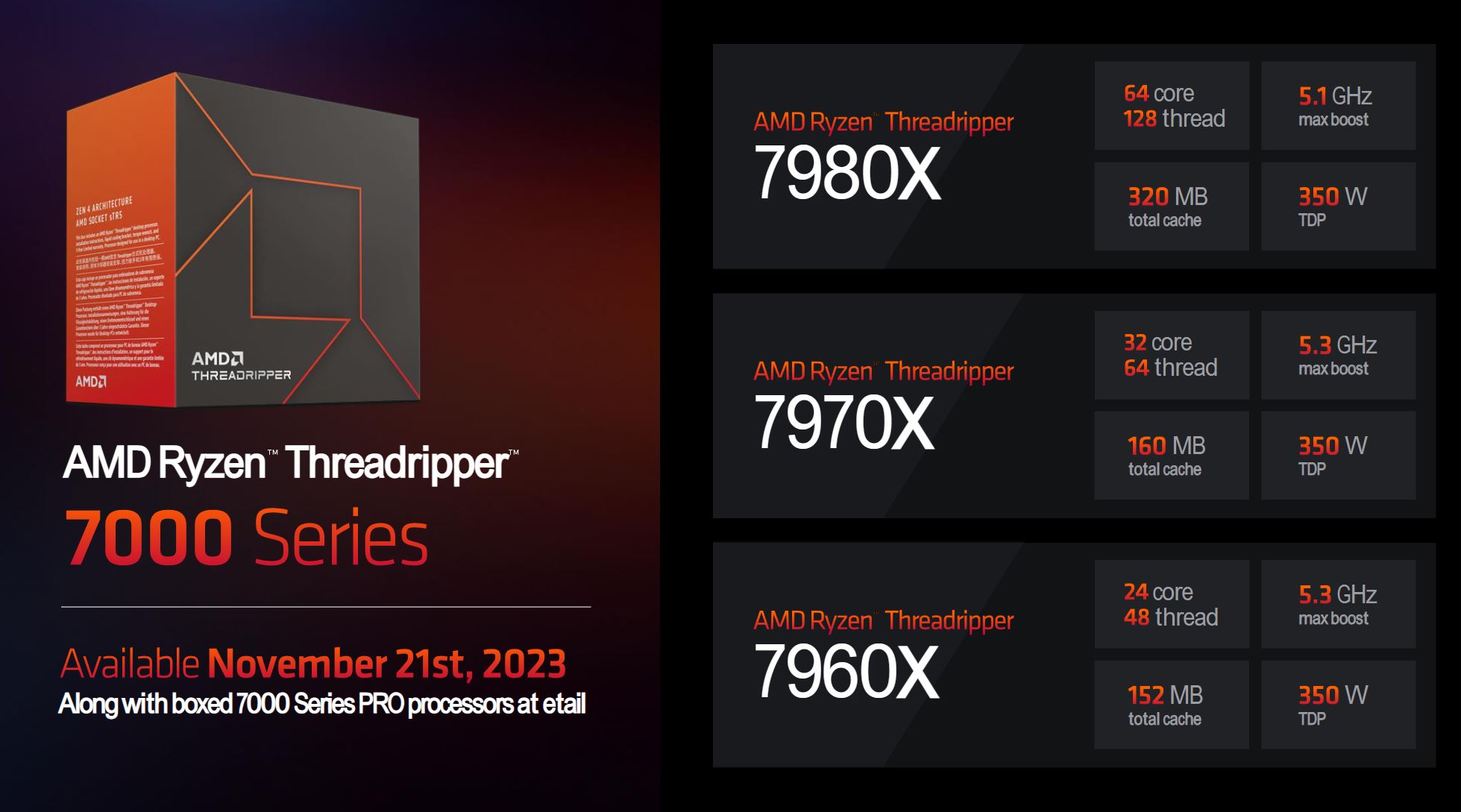 Matching the core-and-thread count of in-field Ryzen Threadripper 3000 Series, performance derive from other avenues such as frequency and IPC. It's a shame there's no 96-core model in this range, but should you want one, investment in a dual-purpose Pro WX is the way to go.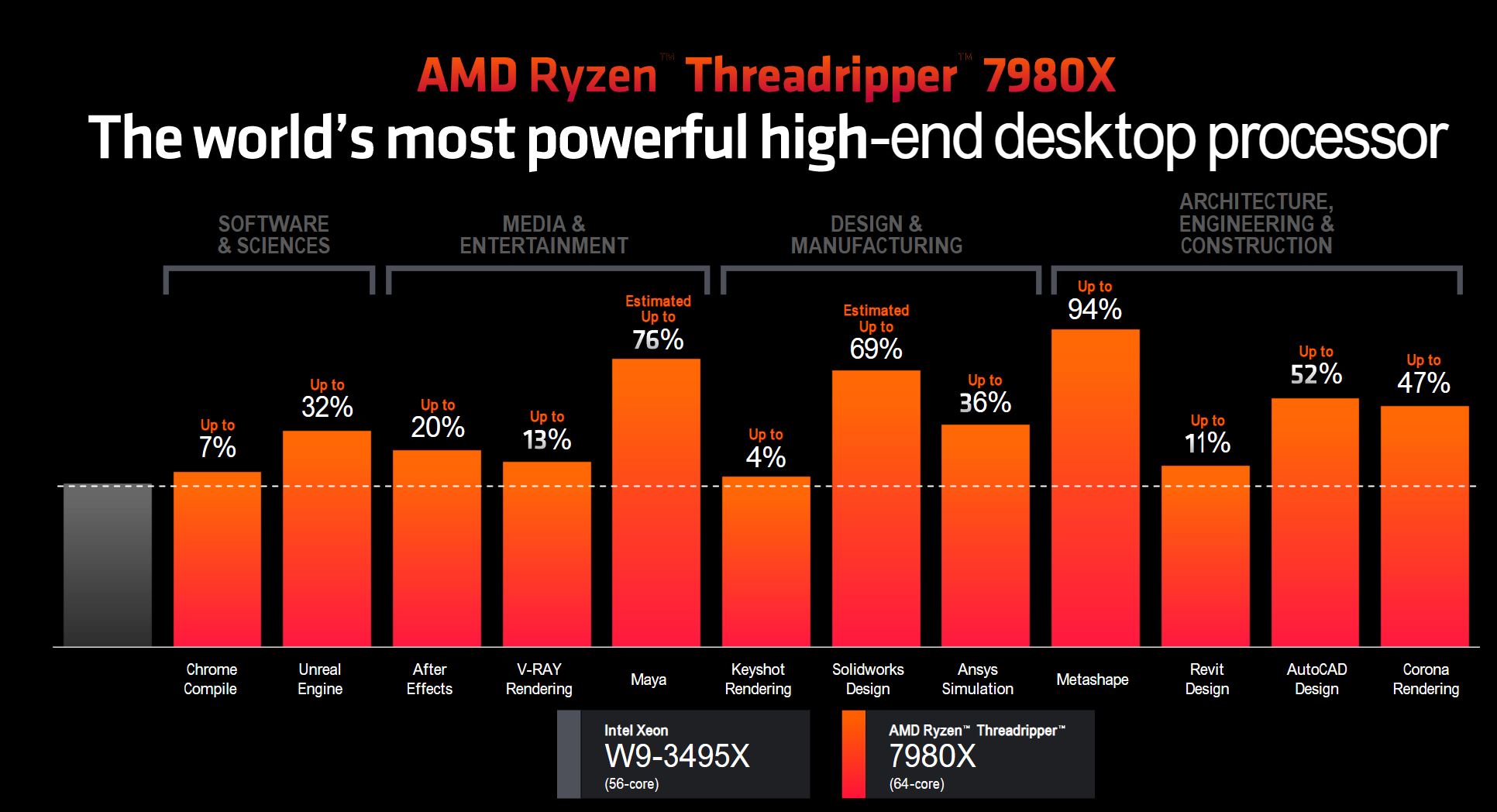 The 7980X has plenty of power under the hood, evidenced by AMD stating it has the beating of Intel's Xeon W9-3495X 'Sapphire Rapids' CPU in most benchmarks. That's tough talking right there.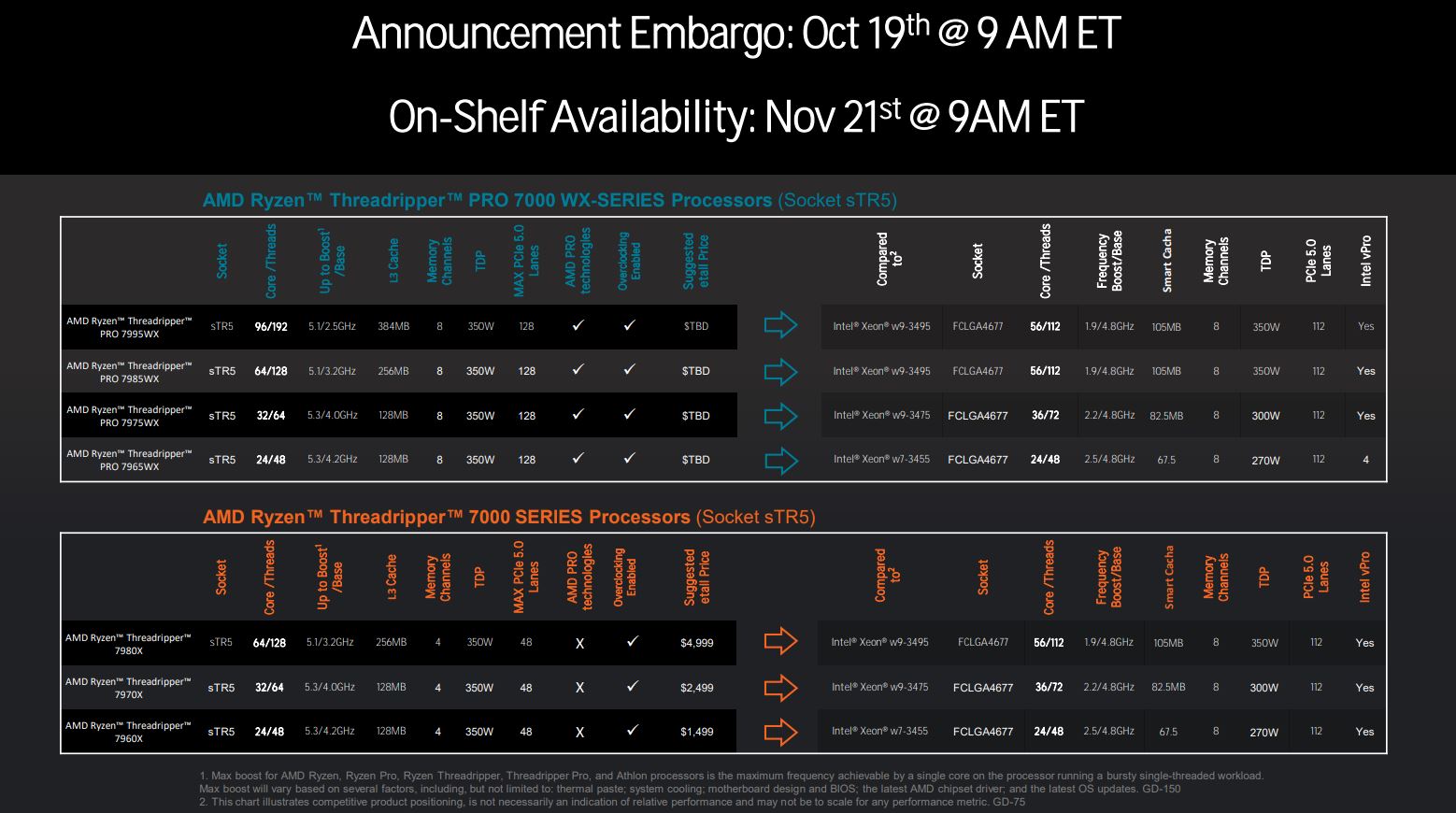 Putting it all together, here is how the seven processors shake out. AMD divulges the pricing for non-Pro CPUs and we notice a reasonable hike when compared to 3000 Series models. For example, 7980X's $4,999 fee is $1,100 higher than for 3995X, which is understandable as performance looks far more handsome.
When desktop Ryzen and its 16 cores and 32 threads simply doesn't cut it for your workload, AMD's all-new Ryzen Threadripper 7000 Series become the de facto option. Expect the Club to evaluate the best AMD has to offer.