Jump to: Genoa-X | Bergamo | Performance | Conclusion
AMD's charge in the server space shows no signs of abating. In fact, it's speeding up. Now harnessing 4th Generation models across multiple swim lanes, Epyc's portfolio is split between Genoa and all-new Genoa-X and Bergamo processors. From general-purpose horsepower through cache-rich models primed for technical workloads and density-optimised solutions ready for cloud-native applications, there's something for everyone.
Today, we examine the performance credentials of top-line Epyc 9684X Genoa-X and 9754 Bergamo chips.
| | | | |
| --- | --- | --- | --- |
| Epyc codename | Genoa | Genoa-X | Bergamo |
| Architecture | Zen 4 | Zen 4 | Zen 4c |
| Best processor | 9654 | 9684X | 9754 |
| Socket | SP5 | SP5 | SP5 |
| Max cores / threads | 96 / 192 | 96 / 192 | 128 / 256 |
| CCXes per CCD | 1 | 1 | 2 |
| Cores per CCX | 8 | 8 | 8 |
| Total CCDs | 12 | 12 | 8 |
| L3 cache per CCD | 32MB | 96MB | 2x16MB |
| Total L3 cache (MB) | 384 | 1,152 | 256 |
| DDR5 channels | 12 | 12 | 12 |
| PCIe 5.0 lanes | 128 | 128 | 128 |
| Default power (watts) | 360 | 400 | 360 |
| Base frequency (GHz) | 2.4 | 2.55 | 2.25 |
| Boost frequency (GHz) | 3.7 | 3.7 | 3.1 |
| Price in 1k units ($) | 11,805 | 14,756 | 11,900 |
When cache is king
Genoa-X and Bergamo are natural evolutions from the standard Epyc Genoa revealed last November, and it's worth heading back to that editorial to familiarise yourself with the underlying Zen 4 architecture as it pertains to server processors. Genoa-X is closest in design as it mimics most of what makes the regular chip tick along, but there is one crucial difference. You see, AMD appreciates there is market opportunity for server processors with heaps more on-chip L3 cache than the maximum 384MB present on the 96-core / 192-thread 9654 monster.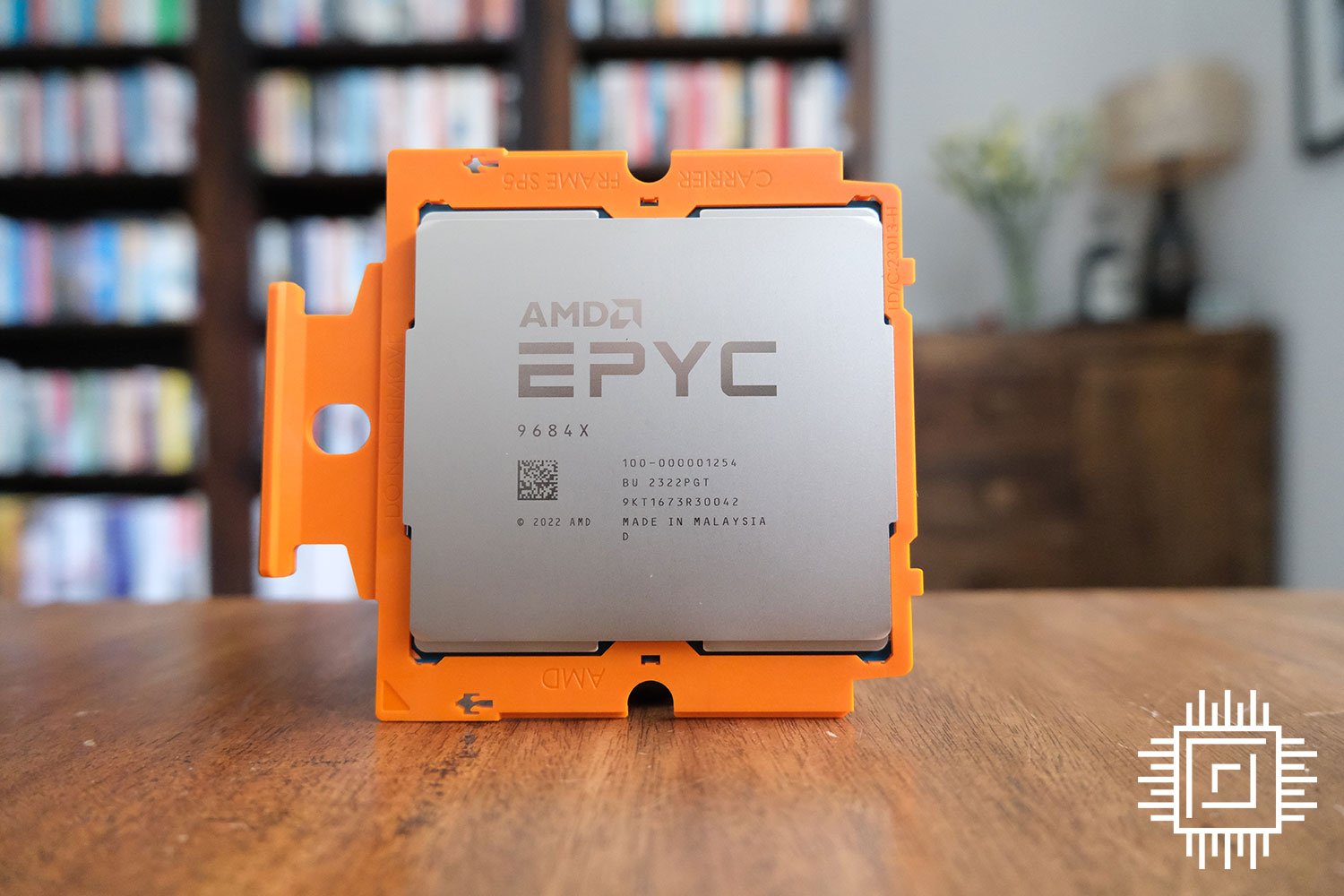 Numerous technical-computing workloads are large in application footprint, meaning serious performance uplifts are achieved if their entire working set is resident in chip cache. AMD turns to 3D V-Cache technology, enabling an extra 64MB of L3 per CCD, or 768MB across a 12-CCD chip. The maths therefore describe a single processor housing 1,152MB of juicy last-level cache, which is doubled in a 2P environment. Yup, you've read that right; there's around 2.3GB per standard board. In a land where cache is king, Genoa-X is monarch without equal.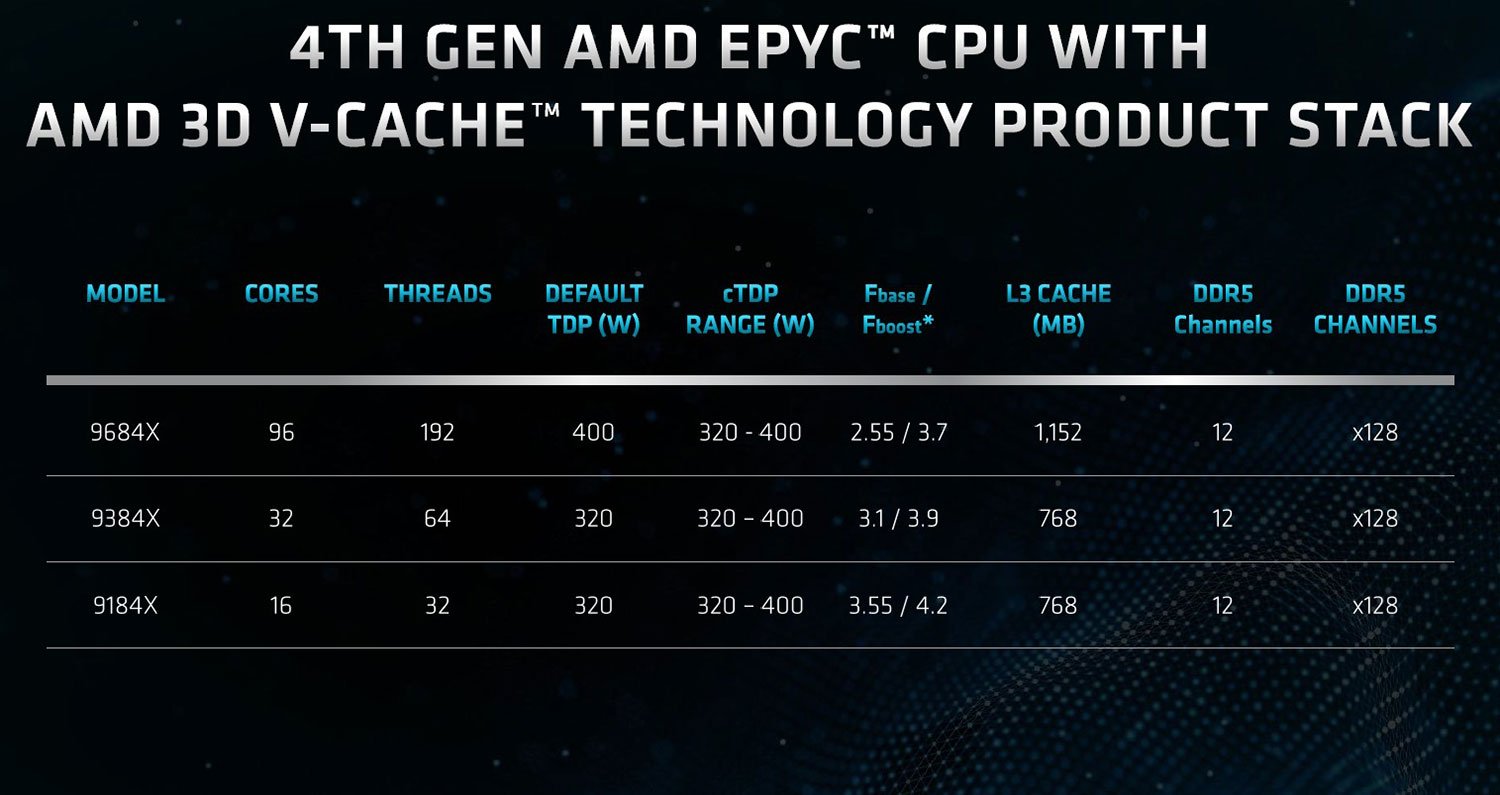 Costing a cool $14,756, 9684X is sure to grab the headlines, but AMD sensibly adds a couple of further options for customers whose requirements extend to cache more than cores. An interesting observation is a lack of a 64-core model in Genoa-X ranks, which is at odds with 64-core Epyc 7773X from the previous generation.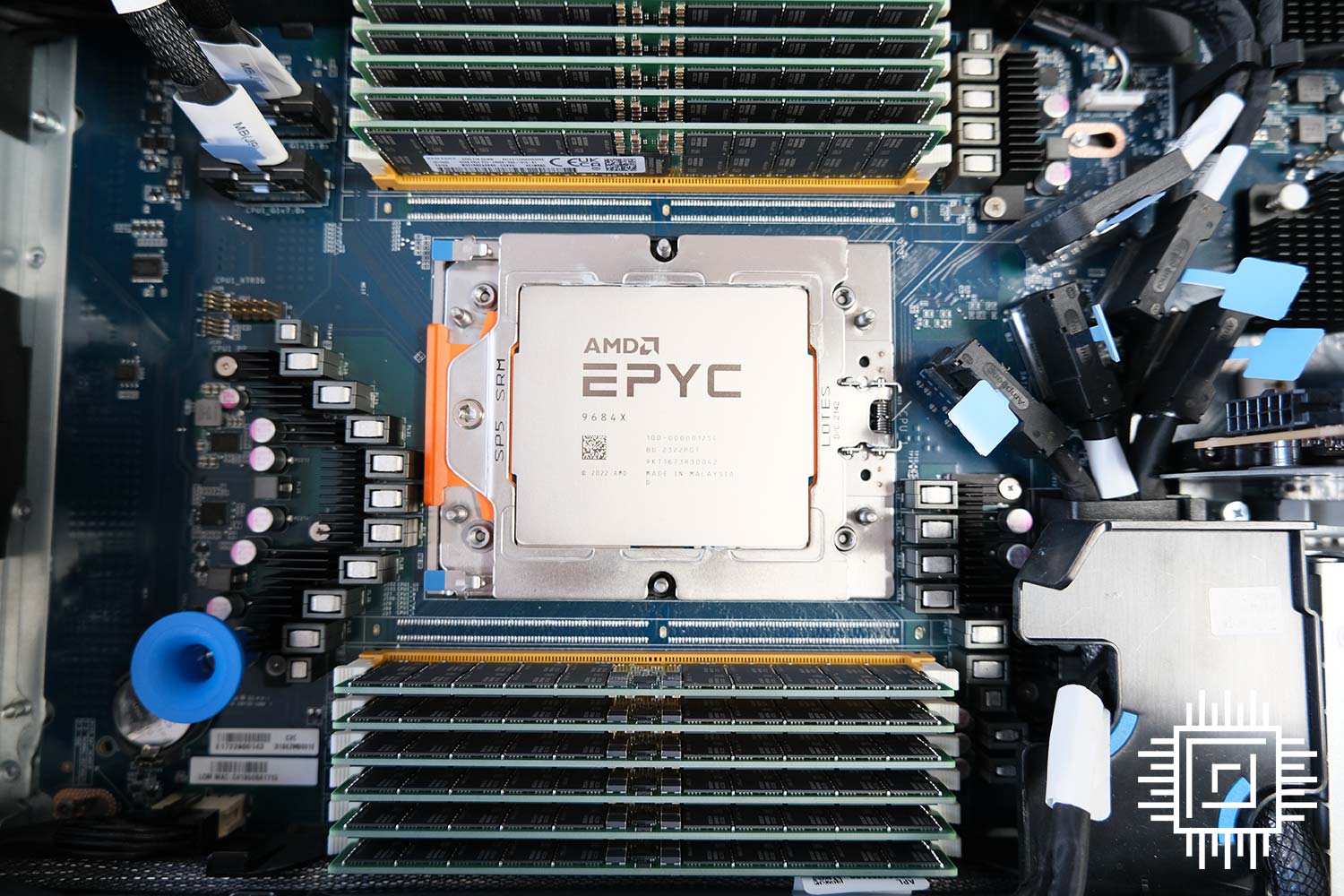 Understanding how Genoa-X fits into the Epyc landscape is important enough to warrant further discussion, so here's how similar models line up against regular Genoa and last-gen Milan / Milan-X.
| Model | Arch | Socket | Cores / Threads | TDP | L3 Cache | Base Clock | Boost Clock | Launch MSRP |
| --- | --- | --- | --- | --- | --- | --- | --- | --- |
| Epyc 9684X | Zen 4 | SP5 | 96 / 192 | 400W | 1,152MB | 2.55GHz | 3.70GHz | $14,756 |
| Epyc 9654 | Zen 4 | SP5 | 96 / 192 | 360W | 384MB | 2.40GHz | 3.70GHz | $11,805 |
| Epyc 7773X | Zen 3 | SP3 | 64 / 128 | 280W | 768MB | 2.20GHz | 3.50GHz | $8,800 |
| Epyc 7763 | Zen 3 | SP3 | 64 / 128 | 280W | 256MB | 2.45GHz | 3.40GHz | $7,890 |
AMD's taken the opportunity to increase standard chip TDP from 360W to 400W for Big Boy Genoa-X 9684X, and that's enough to drive the extra 768MB of L3 cache whilst also boosting the base frequency. Though you may not need it, Epyc 9684X ought to be a tad quicker than Epyc 9654 in almost every scenario, whilst taking it fully to task in cache-limited scenarios that fully play into its design. It's a beast alright.
Bergamo harnesses density-optimised Zen 4c
Switching gears to all-new Epyc Bergamo processors, AMD concentrates 33 per cent more cores than regular Genoa / X processors – 128 vs. 96 – by stripping away what it deems to be silicon bulk not required for cloud-native applications. These include, but are not limited to, having less-dense cache, no TSVs for 3D V-Cache technology, and myriad other space-saving refinements. In fact, if taken on the same process and core-to-core basis, including L1 and L2 caches, Bergamo enjoys an impressive 35 per cent smaller footprint than Genoa.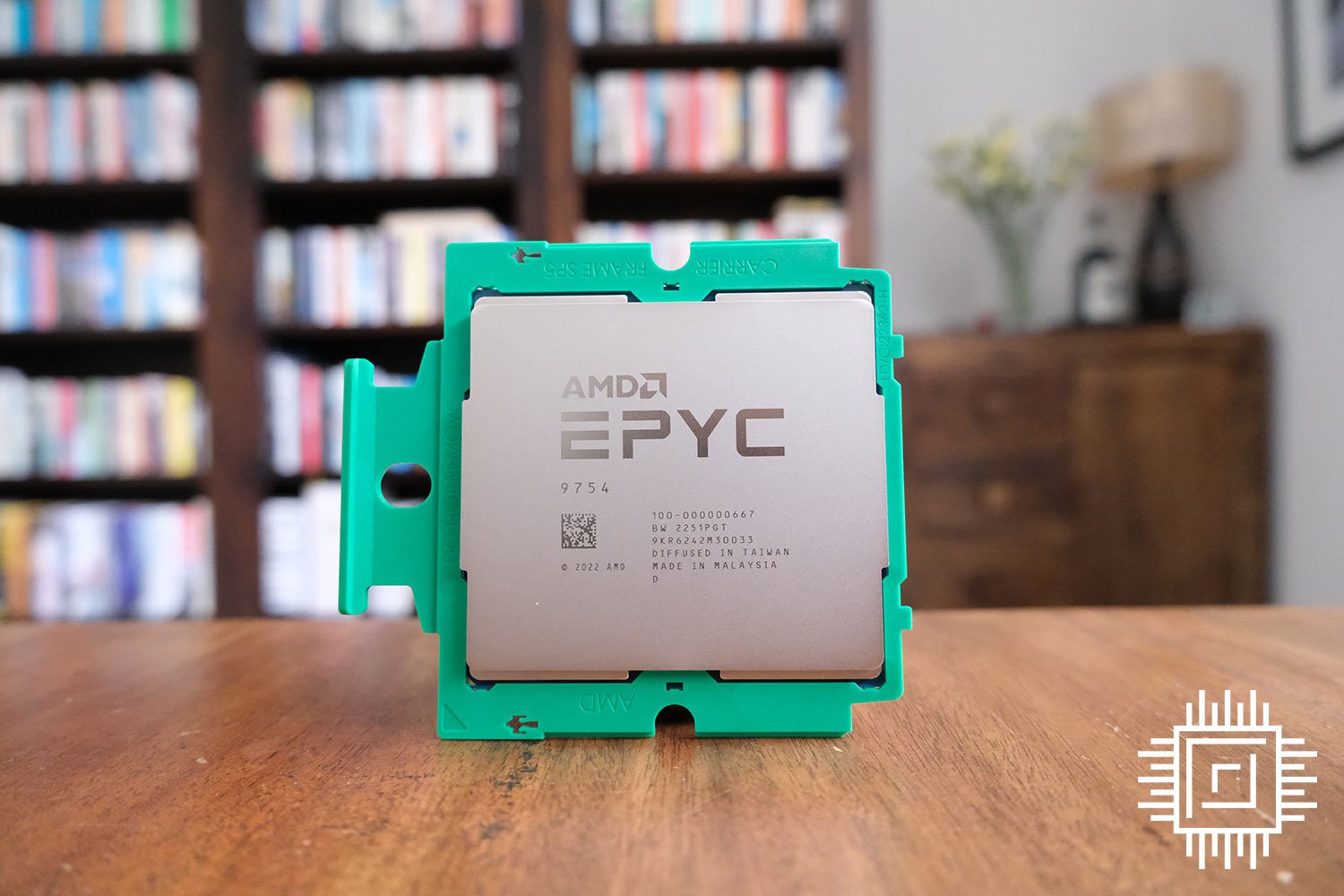 Bergamo's Epyc 9754 champion, shown above, uses only eight CCDs, which is four fewer than Genoa-based 9654, though AMD effectively doubles the cores contained within each CCD. Now, there are a maximum 16 cores per partition, rather than eight, and simple maths leads us nicely to a full complement of 128 cores.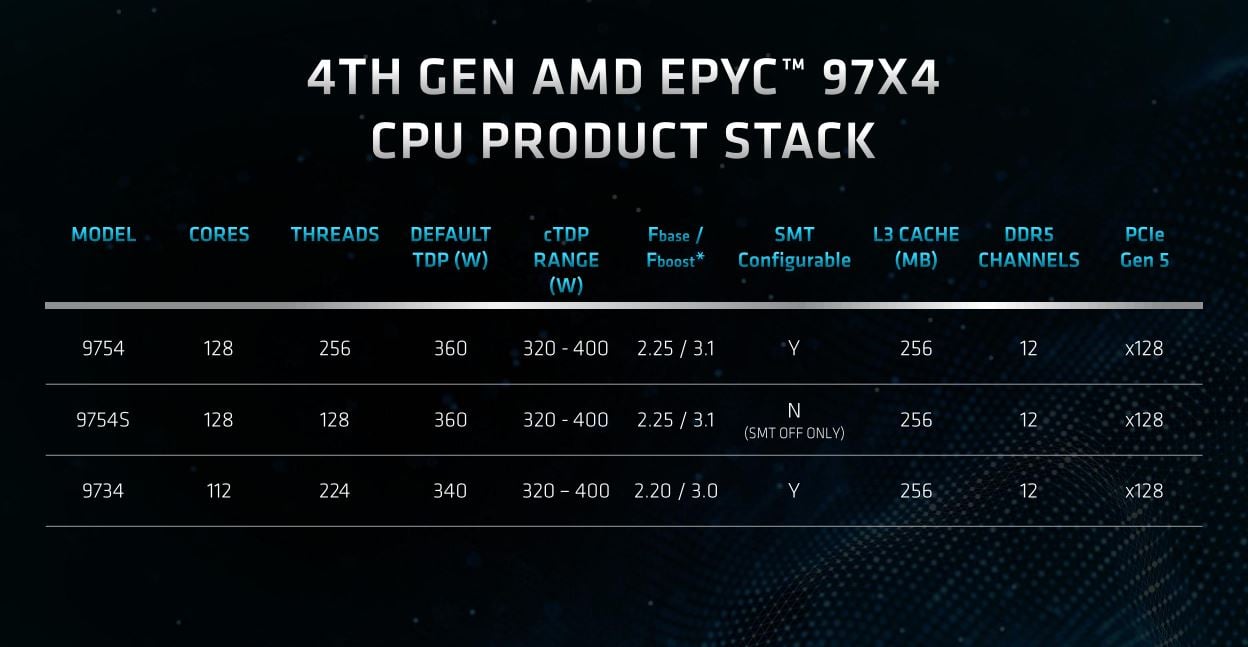 As density is of most importance for Bergamo, AMD concentrates on high-core-count models alone. 9754 ($11,900) sits as chief protagonist, 9754S ($10,200) is the non-hyperthreaded version for customers whose workloads don't benefit from the technology, while 9734 ($9,600) switches off one of the eight CCDs to leave a 112-core, 224-thread offering. Opting for more cores compared to Genoa, however, translates into slower base and boost speeds. You can't have it all.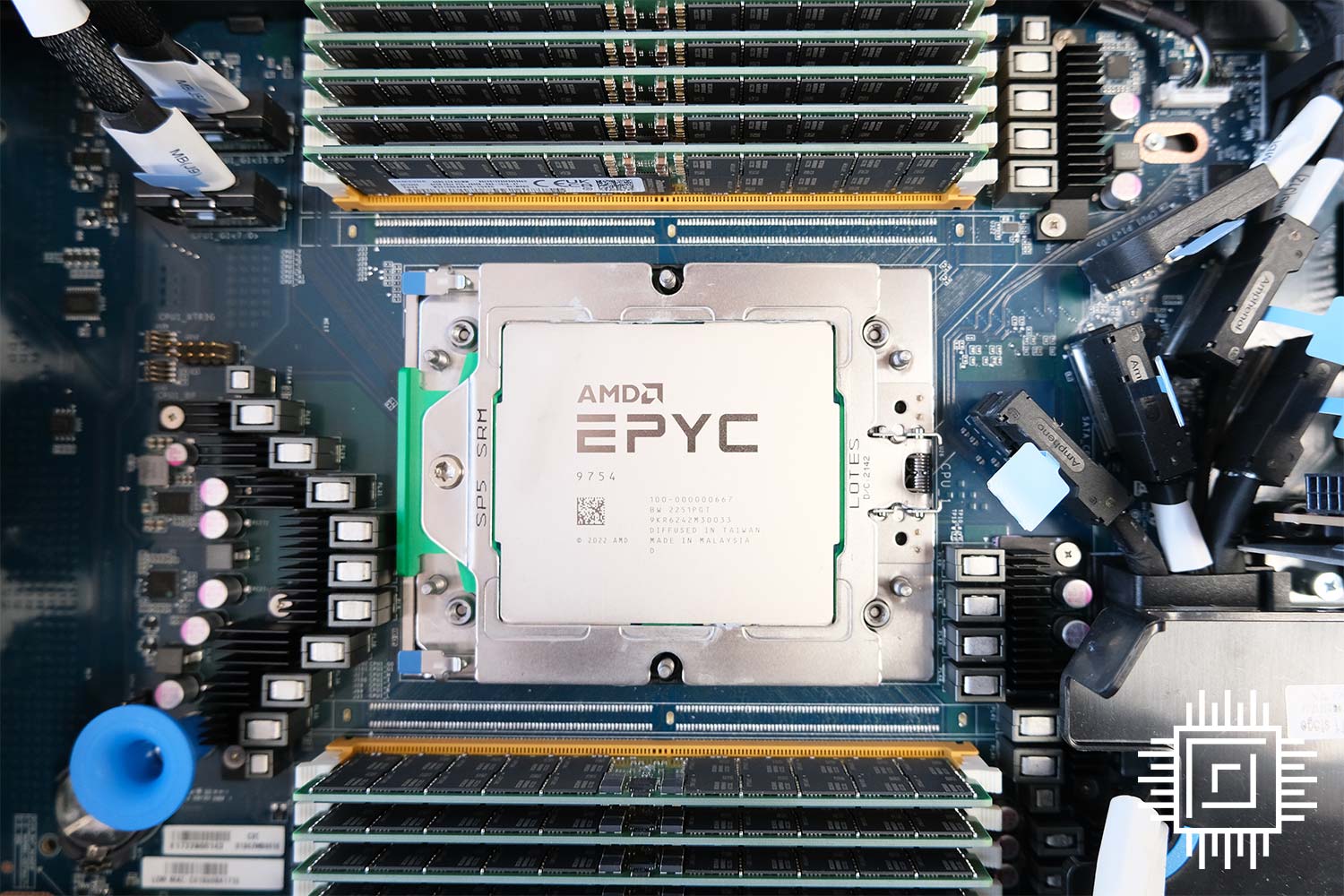 Looking across the wider market, AMD and Intel have both seen clear merit in building server processors that target certain markets better than a sole all-encompassing design. You may recall rival Sapphire Rapids Xeons also feature a subset known as Max, designed to excel in memory-bound operations thanks to the integration of 64GB of HBM2e, which is useful in the HPC community. Point is, moving forwards, we'll see more server processors fine-tuned to leverage the most performance in segments that aren't served, if you excuse the pun, optimally right now.
This fragmentation is a necessary evil in achieving the highest revenue in an ever-evolving datacentre market, and reason enough for AMD to further introduce Telco-optimised Epyc Siena later this year.
Performance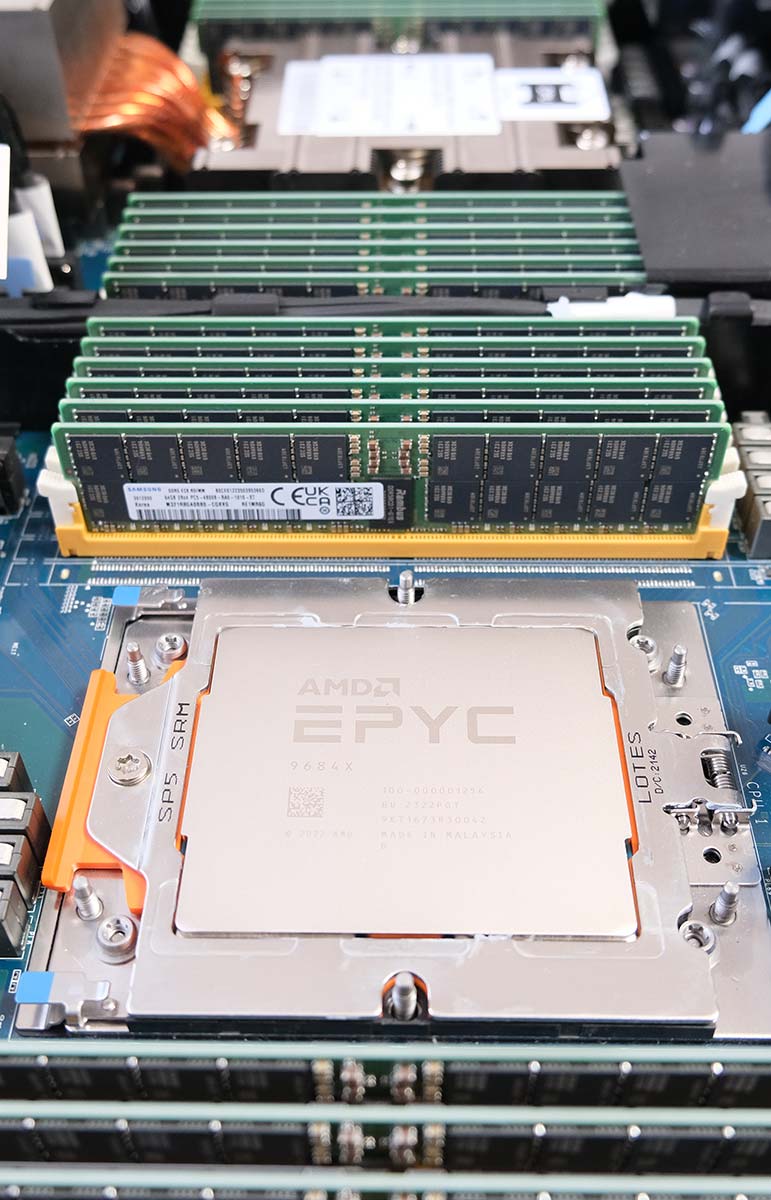 AMD Epyc 4th Generation
Processors: 2x AMD Epyc 9754 and Epyc 9684X
Motherboard: AMD Titanite, RTI1008_C BIOS
CPU Cooler: AMD Titanite
Memory: 1.5TB (24x64GB) Samsung DDR5 RDIMM
Storage: 1.92TB Samsung PM1733
Power Supply: 2x Murata CRPS 1,200W
Chassis: AMD Titanite
Operating System: Ubuntu 22.04
2P Epyc 9684X and 9754 are compared against the best AMD server processors. This generation is represented by Epyc 9654, and the last generation includes cache-king Epyc 7773X and Epyc 7763, sat on the AMD Daytona platform (RYM1009B BIOS).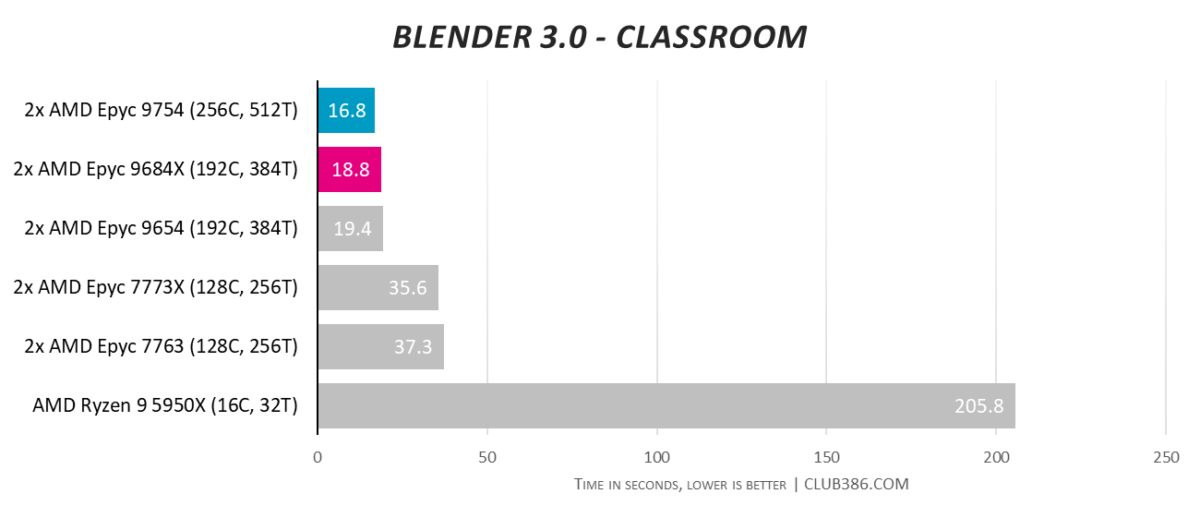 Starting off with a benchmark familiar to all, we've taken the liberty to include a desktop Ryzen 9 5950X for illustrative reasons. Considered a good chip for multi-core work, all Epycs are in a different league.
The densest-core offering is the 2x Epyc 9754 setup. Running at around 3.1GHz on all 256 cores and 512 threads – think about that for a second, will you – epic performance ensues – yes, I went there. And there we were thinking two 64-core Epyc 7773X chips were darn quick.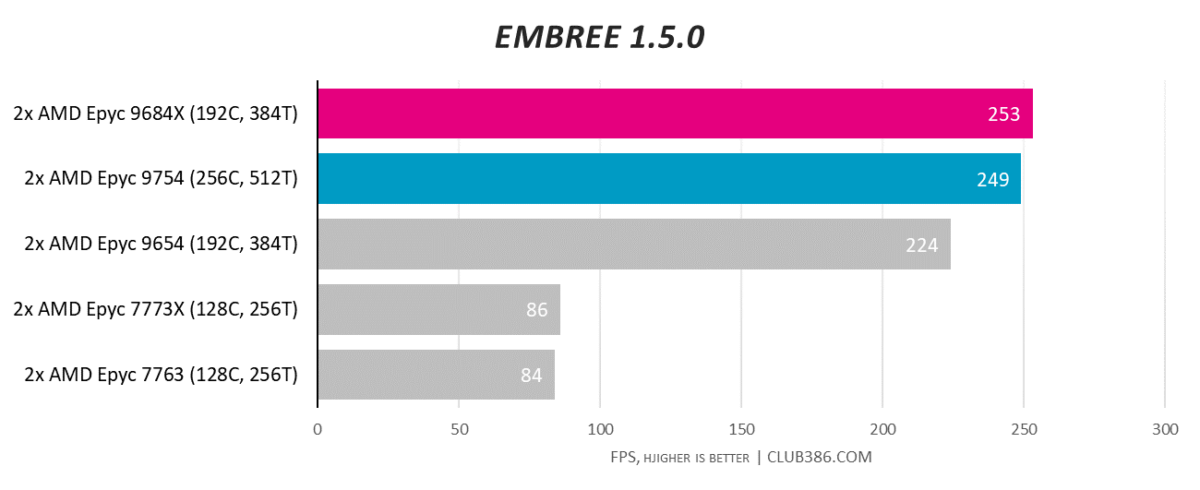 Embree is useful for evaluating ray-tracing performance, and here the Asian Dragon model is used. Both Epyc Genoa-X 9684X and Bergamo 9754 put a chunk of performance into the already-fast Epyc Genoa 9654, while best performance is over 3x that exhibited by a 7000 Series combination.
Running full chat, the Titanite server pulls just north of 1,000W when equipped with dual Bergamo 9754 chips, rising to around 1,150W with Genoa-X 9684X. That may seem like a lot on first blush, but one needs to factor total server power consumption and RAM allocation against the performance it delivers. Framed this way, the latest Epycs are actually very efficient. We know this because dual Epyc 7763 chips, albeit equipped with 512GB of RAM, pull over 700W. In effect, you're getting 3x the performance for only 50 per cent more power, representing an excellent trade-off that multiplies with more server instances.

Show your support for impartial Club386 reviews
Club386 takes great pride in providing in-depth, high-quality reviews built on honest analysis and sage buying advice. As an independent publication, free from shareholder or commercial influence, we are committed to maintaining the standards our readers expect.
To help support our work, please consider making a donation via our Patreon channel.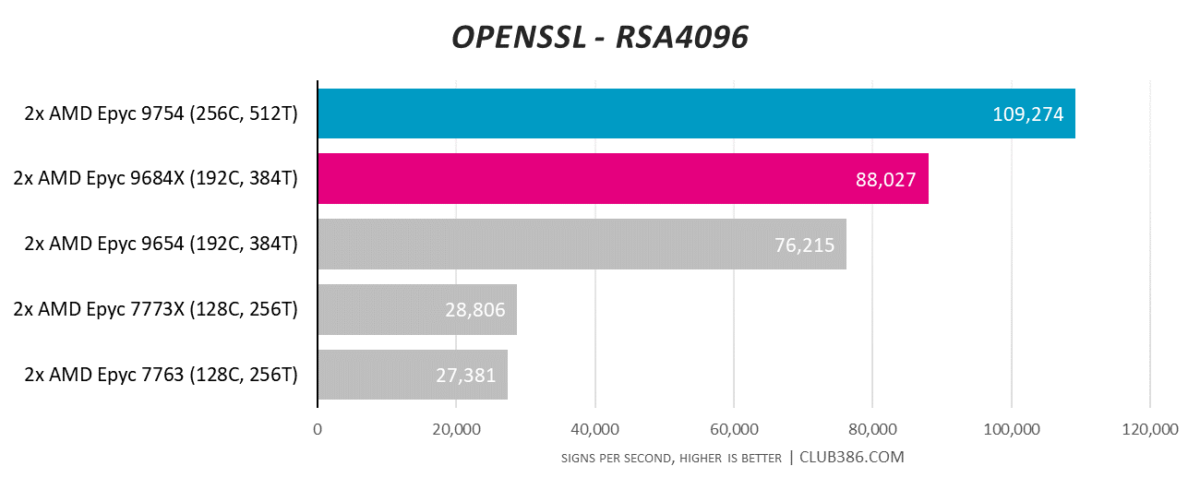 Density rules in encryption and server authentication, as well. Genoa-X, to be fair, is impressive in its own right, but Bergamo's 256 cores per motherboard are absolutely fantastic.
Compacting this much power into a 2P server is more than obvious density. Let's say a certain company's minimum requirement is one million signs per second. This means it will take around 10 Bergamo 2P instances, compared to nearly 40 Milan 2P. Not only does one save rack space, attendant costs and power, total cost of ownership is projected lower, too. It's these kinds of decisions that plague the nocturnal thoughts of solution architects.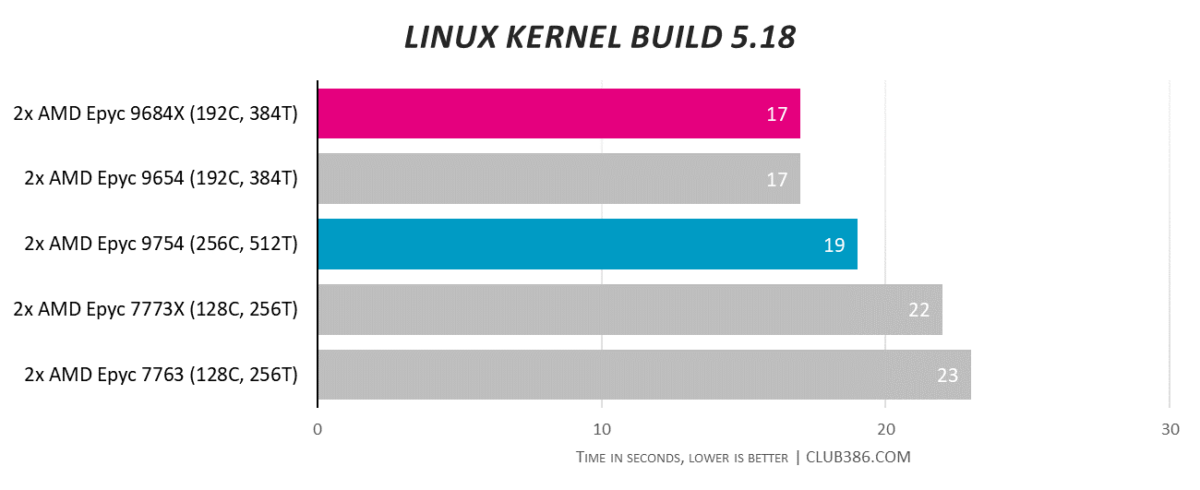 Extra cache and core density don't help too much in the popular Linux kernel build benchmark. Nevertheless, there's a reasonable improvement from the previous generation.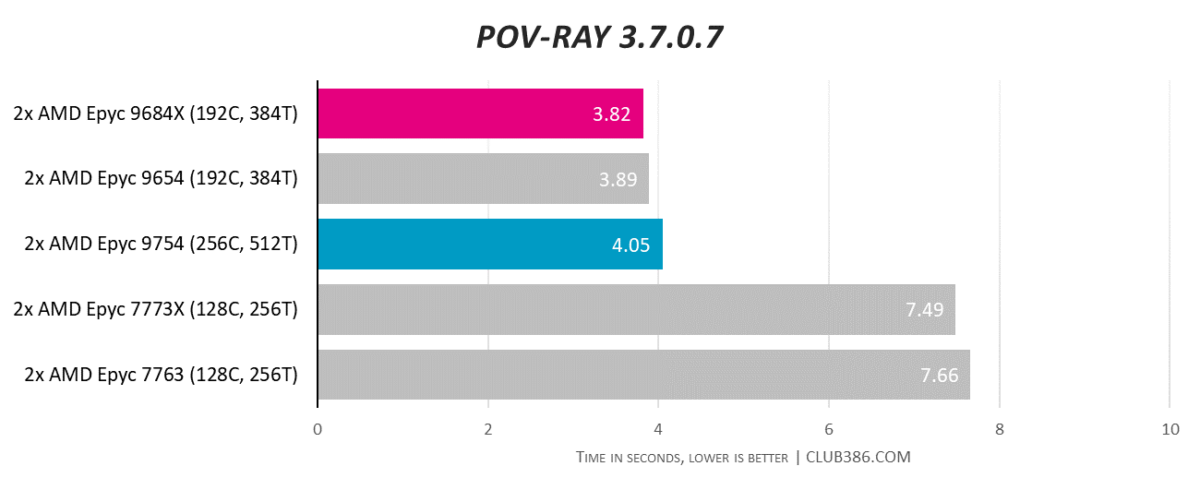 If it's sheer server horsepower you want, top-bin Epyc 9000 Series provide it in spades.

Show your support for impartial Club386 reviews
Club386 takes great pride in providing in-depth, high-quality reviews built on honest analysis and sage buying advice. As an independent publication, free from shareholder or commercial influence, we are committed to maintaining the standards our readers expect.
To help support our work, please consider making a donation via our Patreon channel.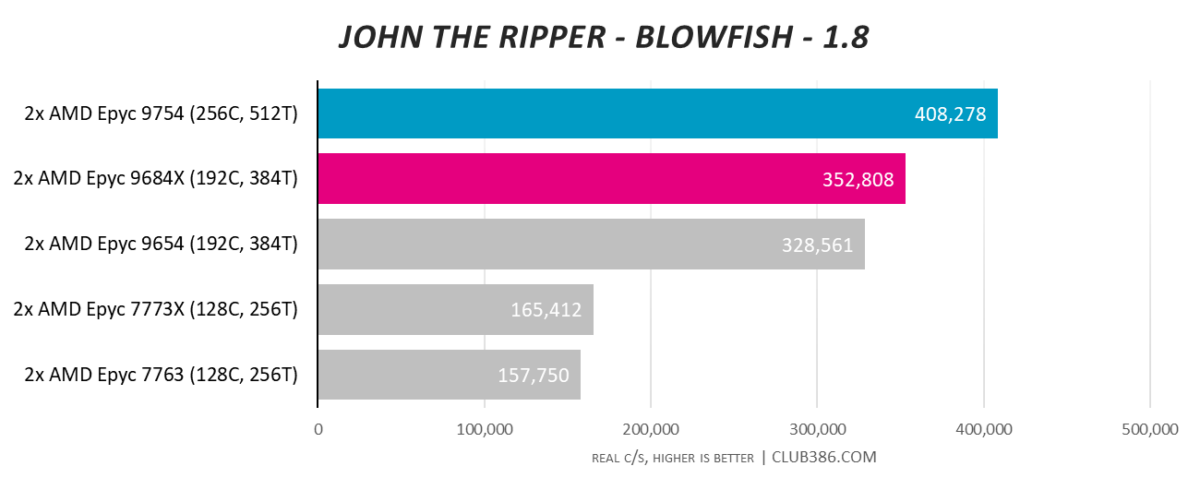 Going back to cryptography teases out swim-lane advantages. Again, Bergamo leads the charge, putting 24 per cent into standard Genoa. Most of this gain is attributed to an increase in core count.
Genoa-X is no slouch. Running at an all-core 3.3GHz, it's comfortably faster than Genoa and over twice the speed relative to the Epyc 7000 Series.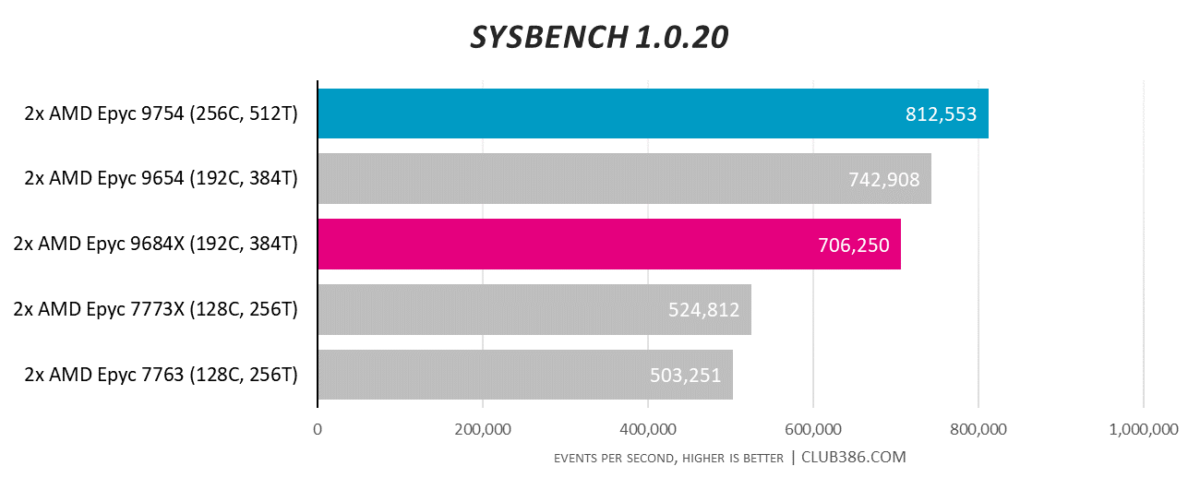 Smooth sailing, again.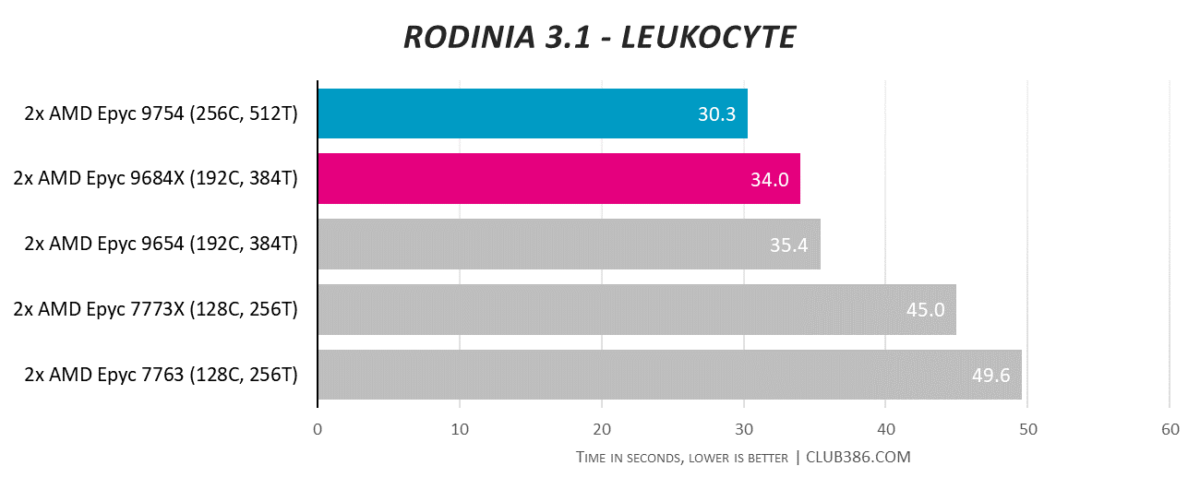 AMD made great strides in releasing third-generation Epyc processors back in 2021, but topping out at 64 cores and 128 threads, their innate performance is a league or two lower than exhibited by today's best Genoa-X and Bergamo chips.
Conclusion
From server outcast to dominating performance proceedings within six years, AMD's Epyc finally realises Prime Time™ potential with release of segment-specific 4th Generation Bergamo and Genoa-X processors. Building out architecture derivations for particular high-value instances reinforces AMD's vision to be the go-to provider for datacentre CPU hardware.
Bringing hither-to unseen levels of density in the x86 chip space, 128-core, 256-thread Epyc 9754 Bergamo taps into the rich seam presented by cloud-service providers who need as much unadulterated compute and throughput as possible. AMD achieves this by reworking the underlying Zen 4 architecture for footprint efficiency and through judicious removal of superfluous wattage-guzzling caches.
Offering fundamental appeal to hyperscalers purchasing server racks in the thousands, we'd argue Epyc Bergamo is the most important server chip from AMD to date, opening up revenue opportunities previously deemed difficult.
AMD commitment to an overarching SP5 socket platform also pays dividends insofar as small-scale purchasers can opt for any 4th Generation Epyc – Genoa, Genoa-X and Bergamo – safe in the knowledge they're all supported by a comprehensive, identical roster of features and work without the need for any time-consuming code recompilation.
Genoa-X's potential is more laser-focussed than Bergamo. Not showing clear worth in regular applications over in-field Genoa, the massive L3 cache is primed for technical workloads. Users of such software will see innate worth, just as they did with Milan to Milan-X, though this so-called swim lane has a naturally lower total available market.
There is no one size fits all in the datacentre CPU space. Acutely aware of leaving potential market share and revenue on the table from previous generations, introduction of optimised Epyc hardware broadens AMD's appeal significantly. Genoa, Genoa-X or Bergamo, have it your way.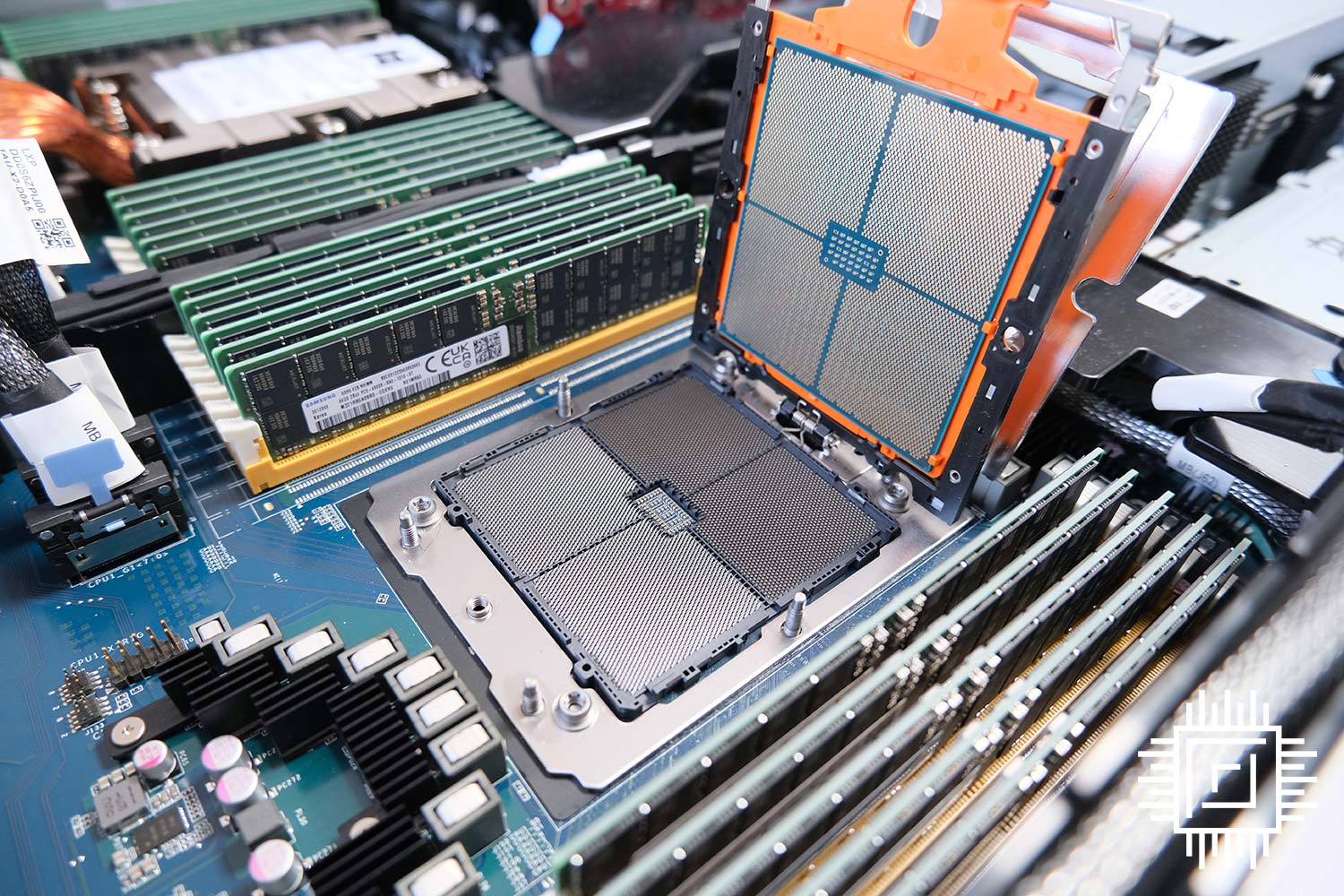 AMD Epyc 9754 and 9684X
Verdict: Specialised Epyc processors unlock the prized door to more server revenue.
---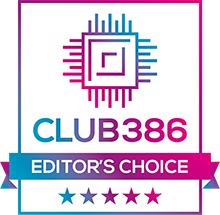 Pros
Stunning performance
Platform compatibility
Excellent efficiency
Segment optimised

Cons
AI not the strongest
---
Club386 may earn an affiliate commission when you purchase products through links on our site. This helps keep our content free for all.
Rest assured, our buying advice will forever remain impartial and unbiased.