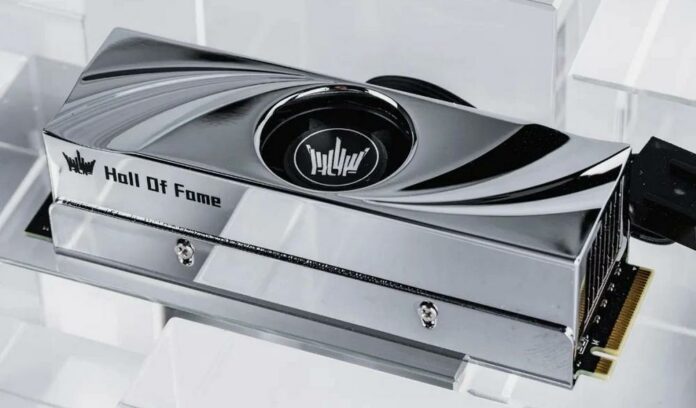 Galax has released an updated HOF Extreme 50S M.2 SSD boasting higher speeds than its non-S sibling without any apparent hardware changes.
Following the launch of its HOF Extreme 50 PCIe 5.0 SSD, the refreshed 50S sees read speed bumped from 10,000MB/s to 12,400MB/s, with write going from 9,500MB/s to 11,800MB/s on the 2TB model. We would expect similar uplifts on other capacities, too, with a 4TB variant mooted.
Sequential speeds are the hallmark of forward-looking PCIe 5.0 drives, but don't expect similar gains in terms of random performance from this initial crop of drives. Galax quotes read and write IOPS performance of 1,500K for the Extreme H50S, yet while that's a 20 per cent increase over the non-S model, the numbers are comparable to existing PCIe 4 solutions.
Inside Galax's storage beast we find Phison's PS5026-E26 controller using a new ECC algorithm and fifth-generation LDPC error correction, coupled with 2TB or (later) 4TB of 232-layer NAND flash memory and LPDDR4 cache. As is increasingly common for hot-running, high-speed PCIe 5.0 drives, cooling comes courtesy of an active heatsink with a tiny central fan.
No word about noise or durability, though since the NAND seems to be identical, we can assume 1,400TBW for the 2TB drive, like its predecessor. The same ought to be true for pricing, where we can expect a little markup over the HOF Extreme 50 2TB's $349.99 tag.
It has taken SSD manufacturers only two years from the launch of the first consumer motherboard supporting PCIe 5.0 SSDs (2021) to offer speeds near the maximum achievable using this interface. Impressive! That's the first step, now let's make these drives cooler, more efficient and, of course, more affordable.