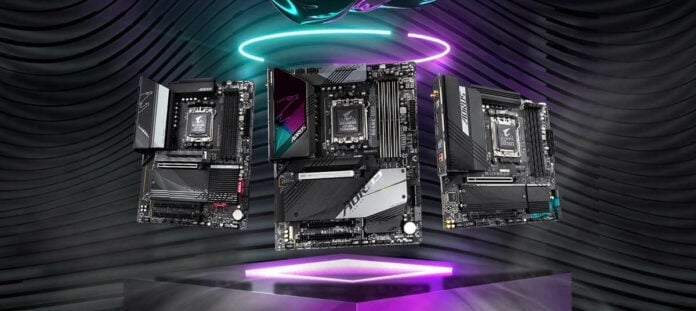 Gigabyte has announced an extensive B650 lineup to meet your next-gen motherboard needs, offering a balance of performance and value via the B650 chipset.
AMD's Ryzen 7000 processors have taken centre stage this past week, offering paramount performance and beckoning a new era of AM5 (LGA1718) motherboards. Cost of entry on top-end X670E variants can be eye watering, and this is where B650 comes in.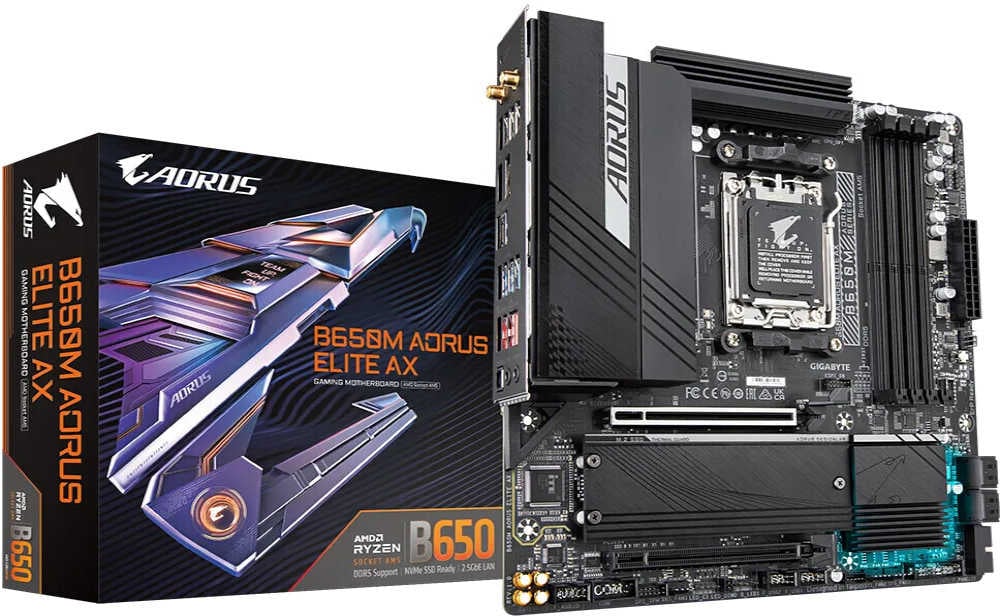 Gigabyte offers a total of seven models including B650E Aorus Master, B650 Aorus Pro AX, B650 Aorus Elite AX, B650 Aorus Elite, B650M Aorus Elite AX, B650 AERO G, and B650I Aorus Ultra, with more on the way to fill out various budgets and preferences.
Kicking off with B650E Aorus Master, it appears to be the only E variant in the range so far, and though information is limited on the E range from what we can tell it offers beefier VRMs and X670-like features and performance, albeit with cut down PCIe 5.0 lanes and reduced USB options.
Gigabyte says you can expect up to a 16+2+2 phase digital power design for ATX and mATX form factors, with ITX models supporting 8+2+1 phases, with each stage managing up to 105A of current for unhindered overclocking.
With great power requires great stability and even greater heat dissipation, and to that effect Gigabyte introduces redesigned, all-encompassing aluminium thermal heatsinks covering most of the board and its VRM's to prevent thermal throttling and consists of up to 12-layer PCB design for ITX and 8-layer PCB design for ATX and mATX form factors.
Rounding off, all AX variants are Wi-Fi 6E certified, with Bluetooth 5.2 connectivity, and all boards support up to 6,600MHz dual-channel DDR5 RAM, and support for both XMP and AMD EXPO memory profiles. Finally, the topmost PCIe x16 expansion slot is next-gen ready with PCIe 5.0 x16 support.
What's the difference?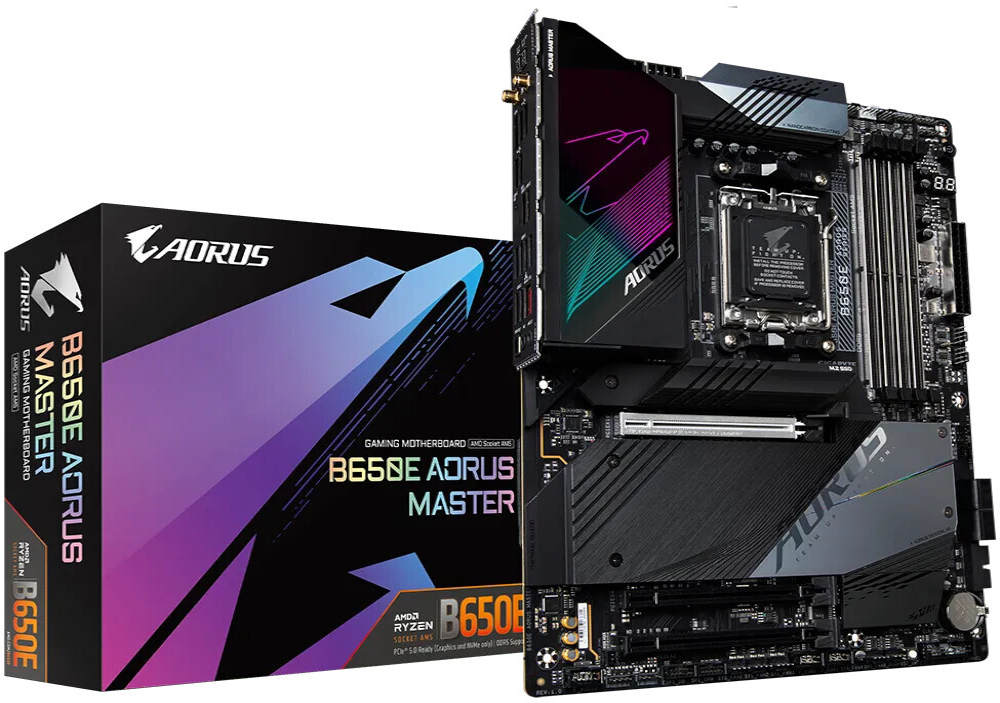 At the top end, the B650E Aorus Master features four PCIe 5.0 x4 connections fed directly from the CPU, rounding off with four SATA 6Gb/s connections from the B650E chipset, totalling eight options for high-speed onboard storage.
Rear I/O features one USB 3.2 Gen 2 Type-C, four USB 3.2 Gen 2 Type-A, four USB 3.2 Gen 1 and four USB 2.0 ports for peripherals. You'll also find a 2.5GbE LAN port for tethered networking, two analogue outputs, a single S/PDIF output for audio powered by Realtek ALC1220-VB codec, buttons for CMOS and BIOS flashback, and last but not least a HDMI 2.1 port for integrated graphics.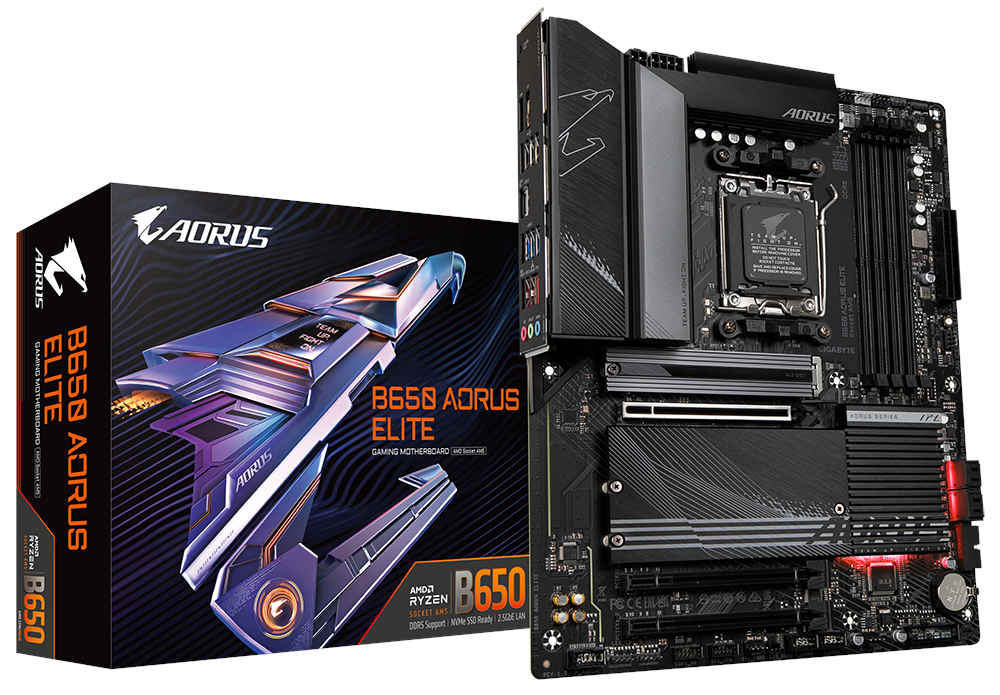 Toward the other end of the spectrum, the B650 Aorus Elite features a single PCIe 5.0 x4 M.2 connector, two PCIe 4.0 x4 connectors and four SATA 6Gb/s connectors, totalling seven options for high-speed onboard storage.
Rear I/O features a single USB 3.2 Gen 2 Type-C, two USB 3.2 Gen 2 Type-A, five USB 3.2 Gen 1 ports, and four USB 2.0 ports for peripherals. Finally, a single Q Flash Plus button is available with DisplayPort 1.4 and HDMI 2.0 connections for integrated graphics, and 2.5GbE LAN.
No specific release date has been listed but for further information you can check Gigabyte's official website, with more boards being listed as the official release date rolls out.
Pricing, while still unknown, remains a key factor for all B650 and B650E motherboards. While we expect the latter to fetch ~£250, is it overly optimistic to expect entry-level B650 boards to start at £150? We'll find out soon enough.