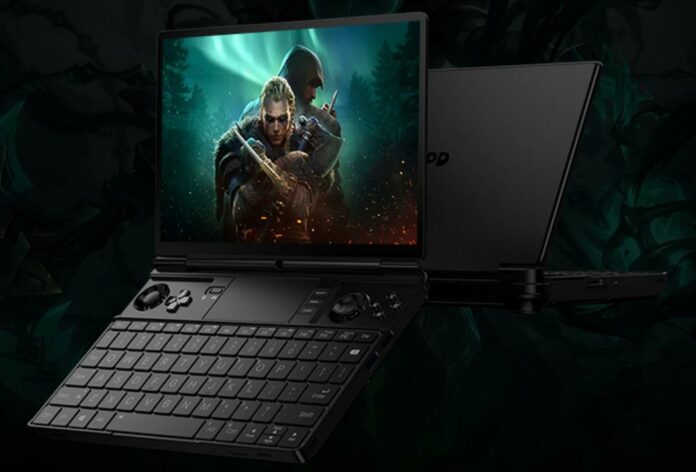 GPD has opened a crowdfunding campaign on Indiegogo for the Win Max 2 starting at $999, with shipping beginning in September 2022 if all goes as planned.
If Valve's acceleration of Steam Deck manufacturing indicates anything, it's that there is a lot of demand for such machines. Thus, GPD is here to fill that void with its new powerful machine, following the steps of the Win Max 2021.
While the Steam Deck is based more on an ergonomic design like that of the Nintendo Switch and less on raw horsepower, GPD goes all-in with hardware but keeps a simple laptop-like form with a screen attached to the body via a hinge.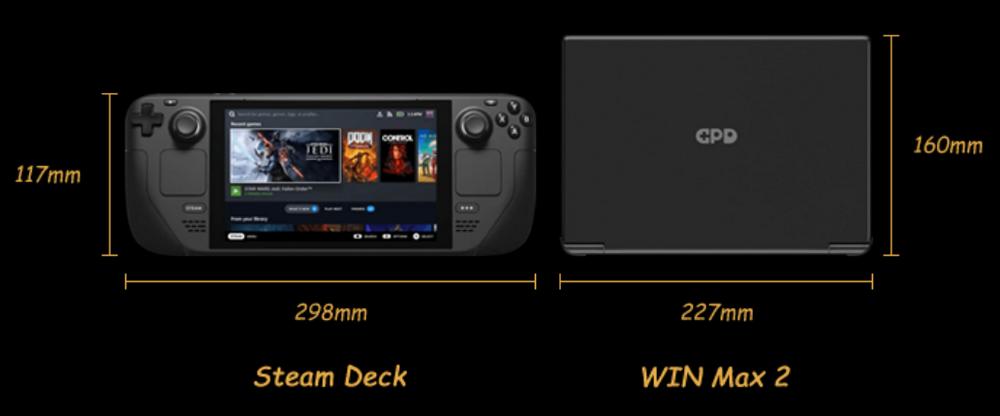 The Win Max 2 measures 227mm x 160mm x 23mm and weighs 1,005g. It can be powered by either a 4-P-core/8-E-core Intel Core i7-1260P or an 8-core/16-thread AMD Ryzen 7 6800U, both reaching a maximum frequency of 4.7GHz.
For Graphics acceleration we get a 96EU Iris Xe at 1.4Ghz on the Intel CPU, or a 12CU Radeon 680M at 2.2GHz on AMD's. Memory can go up to 32GB of LPDDR5-5200 or LPDDR5-6400 for Intel and AMD, respectively. No dedicated GPU here, obviously, but you may try using an external one via Thunderbolt. Whatever floats your boat.
The 10.1in IPS display resolution is quite good for such a small machine, hitting a maximum of 2560×1600, although by default it's set to 1920×1200 at 400-nit brightness. Probably because of performance limitations. The screen is also touch-sensitive and has Gorilla Glass 5 to protect against scratches.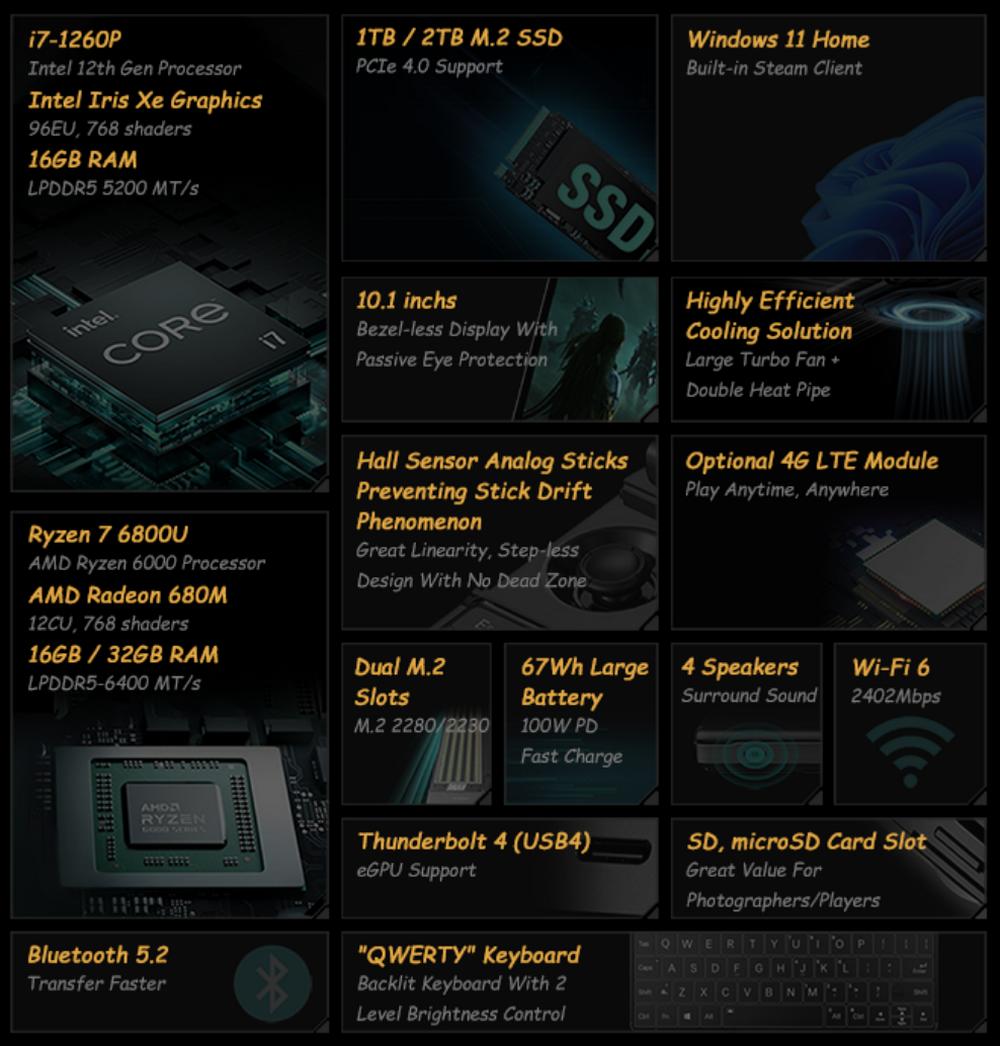 For storage, the machine comes with up to a 2TB of M.2 PCIe 3.0 SSD, however, the machine supports PCIe 4.0 with a theoretical throughput of up to 7.877GB/s, paving the way for faster upgrades. Another easily accessible SSD bay in the back can accommodate M.2 2230 SSDs, just keep in mind that for both slots, only single-sided SSDs are compatible due to clearance limitations.
Above the keyboard, there is a mouse pad, two analogue sticks (using a hall sensor to avoid joystick drift), a D-pad, buttons (two are programable) and two triggers on the back. Two magnetic covers hide and protect the 'controller' when not in use. There are also two haptic motors and a six-axis gyroscope for that extra immersion.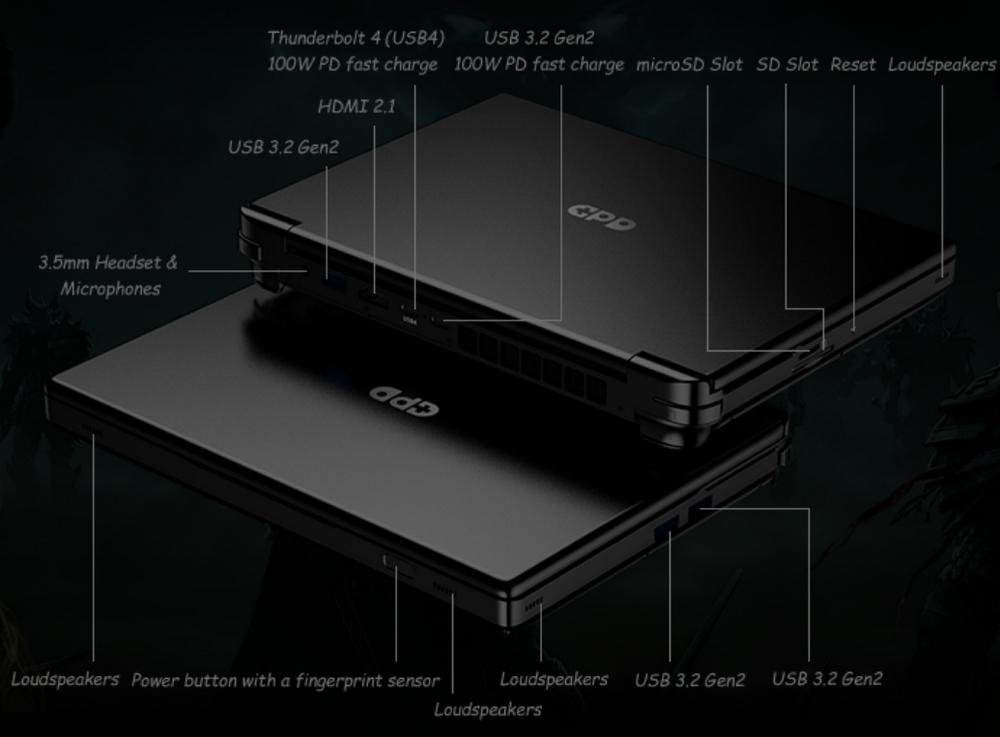 IO-wise, the Win Max 2 offers three USB 3.2 Gen 2 Type-A ports, a USB Type-C running in Thunderbolt 4 on Intel or USB 4 on AMD CPUs, a USB 3.2 Gen 2 Type-C, HDMI 2.1, SD plus microSD slots and an audio jack. Not to forget Wi-Fi 6, Bluetooth 5.2, a 2MP webcam and an optional 4G LTE modem. Audio comes from four surround speakers.
Finally, GPD opted for a 67Wh battery that promises three hours of heavy or 14 hours of light use, capable of recharging to 50 per cent in 20min via the provided 100W power adapter.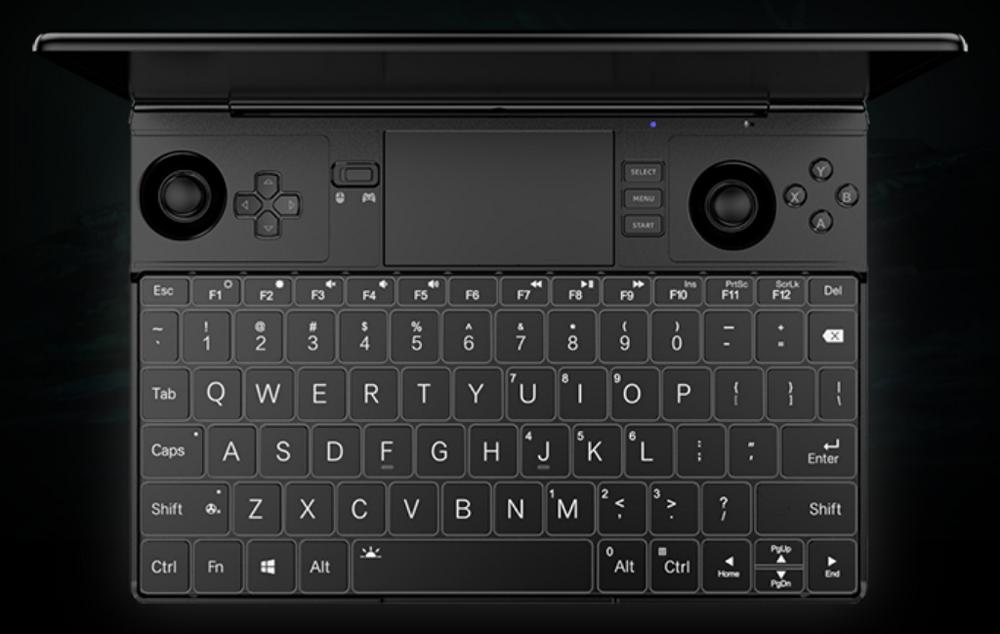 Now let's talk about Pricing:
Intel Core i7-1260P, 16GB RAM, 1TB SSD for $999 (Indiegogo), or $1,159 (retail).
AMD Ryzen 7 6800U, 16GB RAM, 1TB SSD for $999 (Indiegogo), or $1,159 (retail).
AMD Ryzen 7 6800U, 32GB RAM, 1TB SSD for $1,199 (Indiegogo), or $1,359 (retail).
AMD Ryzen 7 6800U, 32GB RAM, 2TB SSD for $1,299 (Indiegogo), or $1,459 (retail).
4G LTE modem for $79 (Indiegogo), or $89 (retail).
1TB M.2 2230 SSD for $139 (Indiegogo), or $145 (retail).