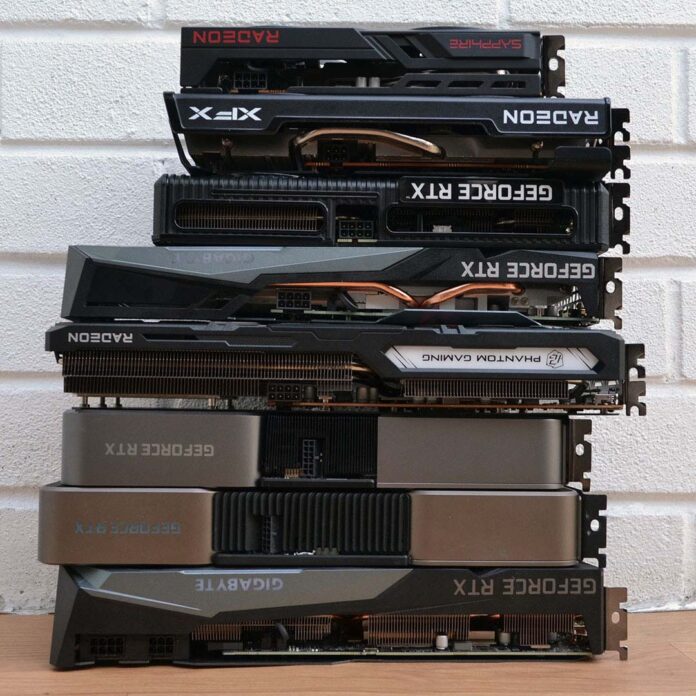 Jon Peddie Research has sobering news on the state of graphics processing unit (GPU) shipments in 2022. According to the latest report, 25 per cent fewer GPUs were shipped year-to-year, indicating the largest drop since the recession of 2009.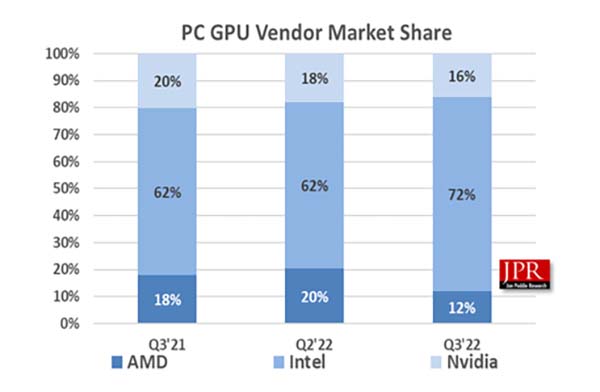 Comparing quarters first, JPR indicates serious movements in the total market. The clear winner is Nvidia, which boosts its market-share percentage from 62 points to 72 points, at the direct expense of AMD and Intel. In case you're wondering, Intel has a larger market share than AMD due to millions of integrated graphics shipping in desktop and mobile Core processors.
Breaking it down further, desktop GPU shipments fell by 15.43 per cent year-to-year, while notebook shipments nosedived by a whopping 30 per cent. Ouch.
The industry achieved 75.5-million-unit sales in Q3 2022, said JPR, and compared to the previous quarter, AMD shipments decreased by a massive 47.6 per cent, Intel's rose by 4.6 per cent – the Arc effect, perhaps? – and Nvidia's dropped by 19.7 per cent. Not good figures.
There is better news on the horizon as JPR predicts a bouncebank to reach a 3,138-million-unit install base by 2026.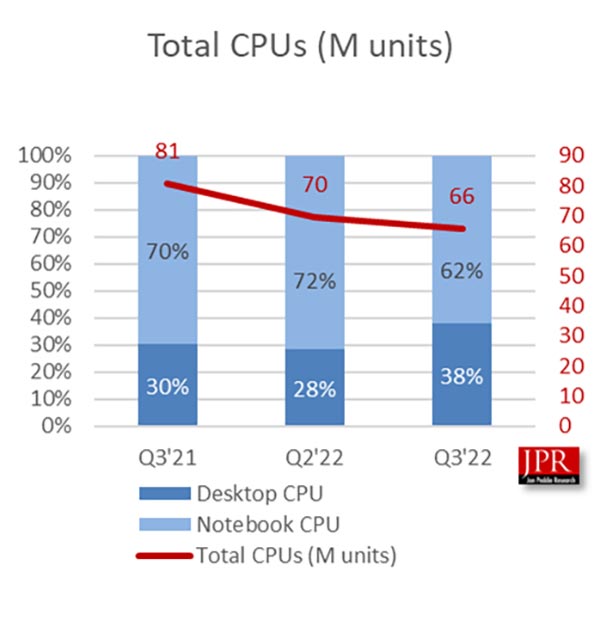 The situation is no less fraught in the CPU space, with total shipments down 18.5 per cent when comparing Q3 2021 to Q3 2022. The one bright spark for enthusiasts is the increasing share for desktop computers.
Jon Peddie, president of JPR, noted, "The third quarter is usually the high point of the year for the GPU and PC suppliers, and even though the suppliers had guided down in Q2, the results came much below their expectations.
"All the companies gave various and sometimes similar reasons for the downturn: the shutdown of crypto mining, headwinds from China's zero-tolerance rules and rolling shutdowns, sanctions by the US, user situation from the purchasing run-up during Covid, the Osborne effect on AMD while gamers wait for the new AIBs, inflation and the higher prices of AIBs, overhang inventory run-down, and a bad moon out tonight.
"Generally, the feeling is Q4 shipments will be down, but ASPs will be up, supply will be fine, and everyone will have a happy holiday," Peddie said.