Jump to: Productivity | Performance | Conclusion
We've said it before but it's worth repeating; when contemplating a single component upgrade for 2023, put a new monitor right at the top of your list. Display technology has come on heaps and bounds in recent years, and while a faster SSD or more memory can help enhance the PC experience, a new monitor proves transformative.
The good news is you don't need to break the bank to get dramatic results. While top-end gaming monitors on the bleeding edge of resolution and refresh rate will fetch a pretty penny, casual users seeking a combination of productivity and gaming credentials will find plenty to like for under £500. In this arena, ultrawide displays have begun to dominate the landscape, with just about every big-name manufacturer including UWQHD solutions as part of their portfolio.
On paper, iiyama's ProLite XCB3494WQSN looks a formidable proposition. Pricing is sensible at just under £450 if you shop around, and specifications suggest iiyama is aiming for home-office users who work by day and play by night.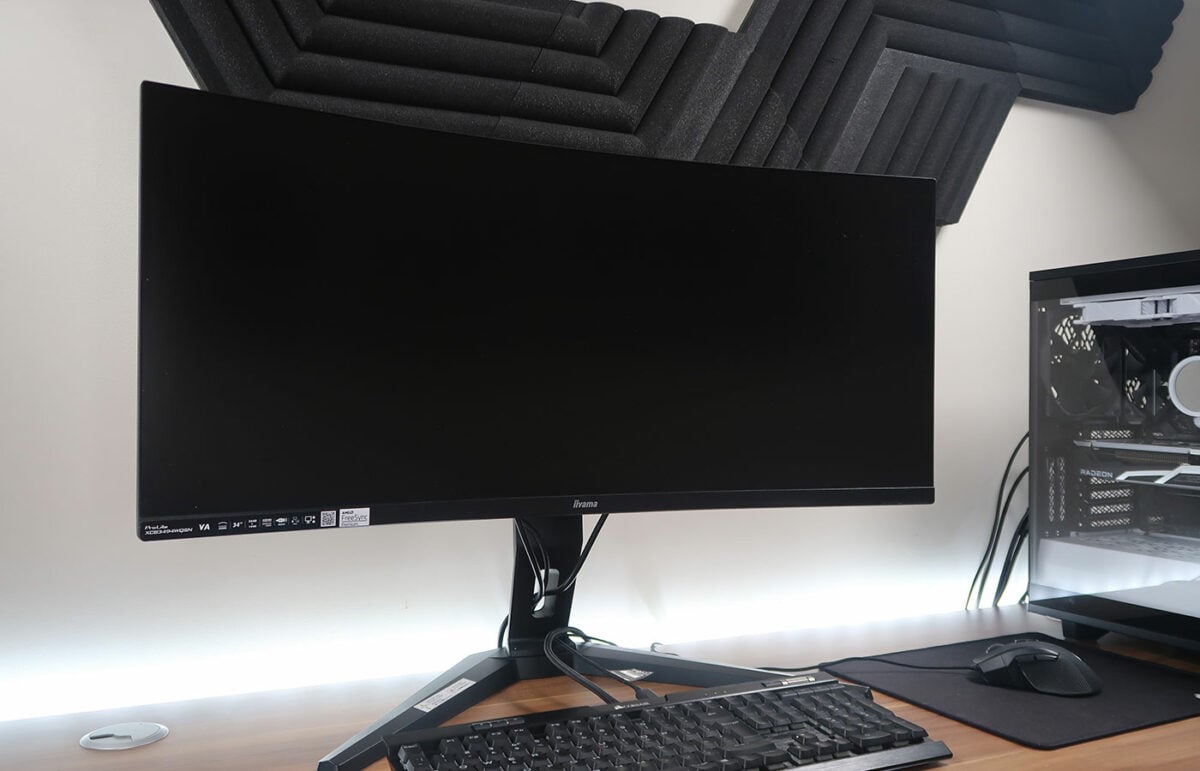 Offering a lot of monitor for the money, iiyama employs a 34in ultrawide VA panel touting a 1500R curve and 3440×1440 UWQHD resolution. We're of the opinion a curve is only worthwhile on an ultrawide format, and a 1500R implementation works particularly well here; it's subtle enough to bring you closer to the content without any feeling of distortion.
It is common to look upon VA as an inferior cousin to IPS, yet there are pros and cons both ways. While the latter tends to offer superior colour and viewing angles, modern VA panels have come a long way. Black crush on our XCB3494WQSN is minimal, viewing angles are actually rather good in all directions, and the main plus points of VA – affordable pricing, deep blacks and impressive contrast – all remain present.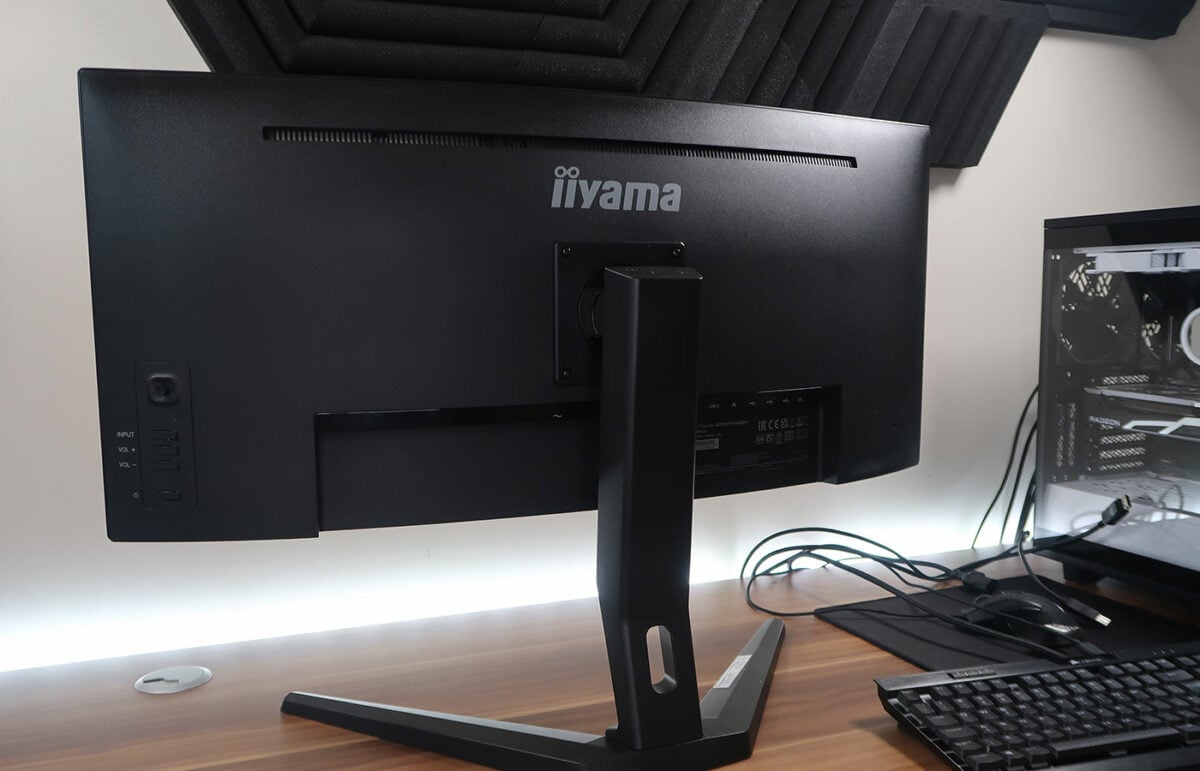 What's useful about the ProLite is that it straddles both work and play to good effect. On the gaming front, a matte finish is complemented by a 120Hz refresh rate, and there's FreeSync adaptive synchronisation in the 48-120Hz range, ensuring a smooth, tear-free experience. Decent credentials for a Pro-marketed monitor, but if gaming is a serious concern, do factor in a capable GPU as you need to maintain reasonably high framerates to prevent ghosting, which becomes more apparent at 60fps or below.
2 PCs, 1 Monitor
Always good to know a monitor can game effectively, but it is in the office that the XCB3494WQSN sets itself apart amid a sea of UWQHD competitors. An ultrawide canvas naturally bodes well for productivity and iiyama augments those underlying credentials with good connectivity and, importantly, a built-in KVM.
Such functionality is a real boon for users who regularly juggle two PCs, i.e. a desktop and laptop. For those unfamiliar with KVM (keyboard, video, mouse) tech, it is essentially an internal switch that allows an array of connected peripherals to be shared between multiple PCs.
In this instance, iiyama's available ports include HDMI 2.0, DisplayPort 1.4, USB-C with DisplayPort, Gigabit Ethernet, a three-port USB Type-A hub and a headphone jack. Courtesy of the KVM, a user can connect peripherals (keyboard, mouse, webcam, etc.) directly to the monitor for simpler cabling. All those devices are made available to a PC hooked up via DisplayPort and USB, and carry over to a laptop when docked via USB-C. Better yet, the laptop will also charge via the single cable at up to 65W, and if you connect to your network via the monitor's Ethernet port, wired web access is available, too.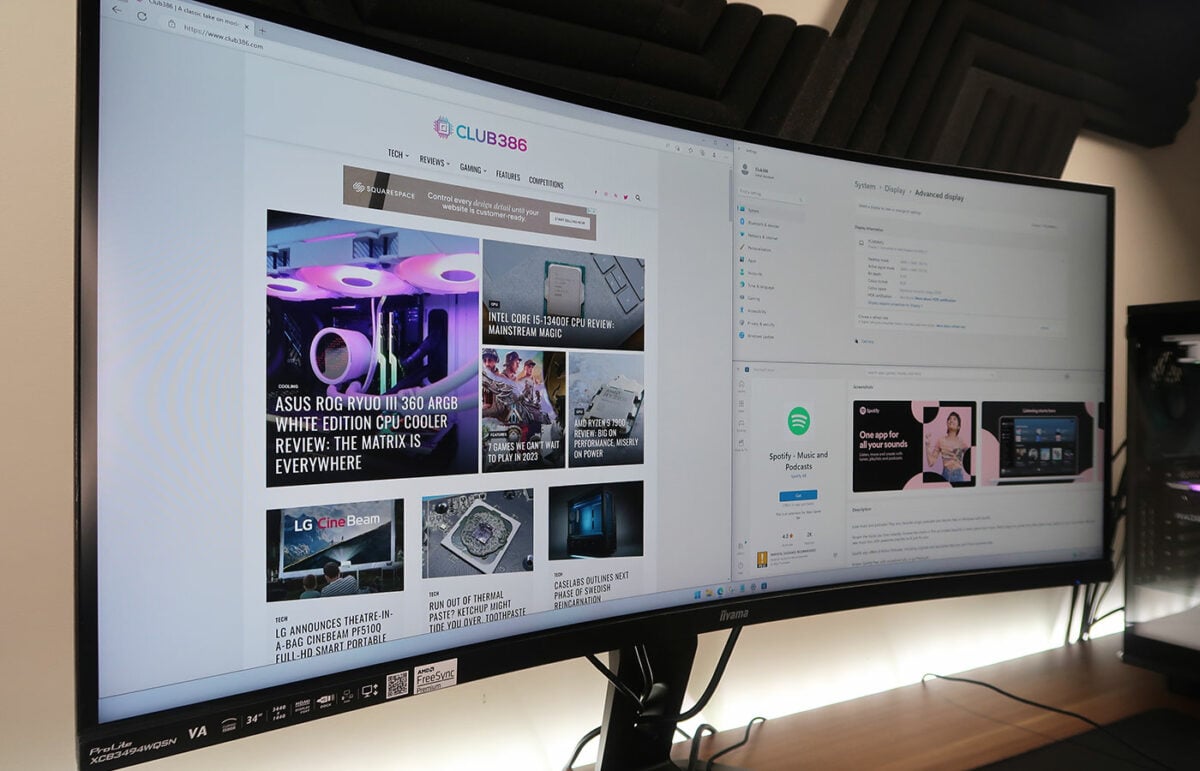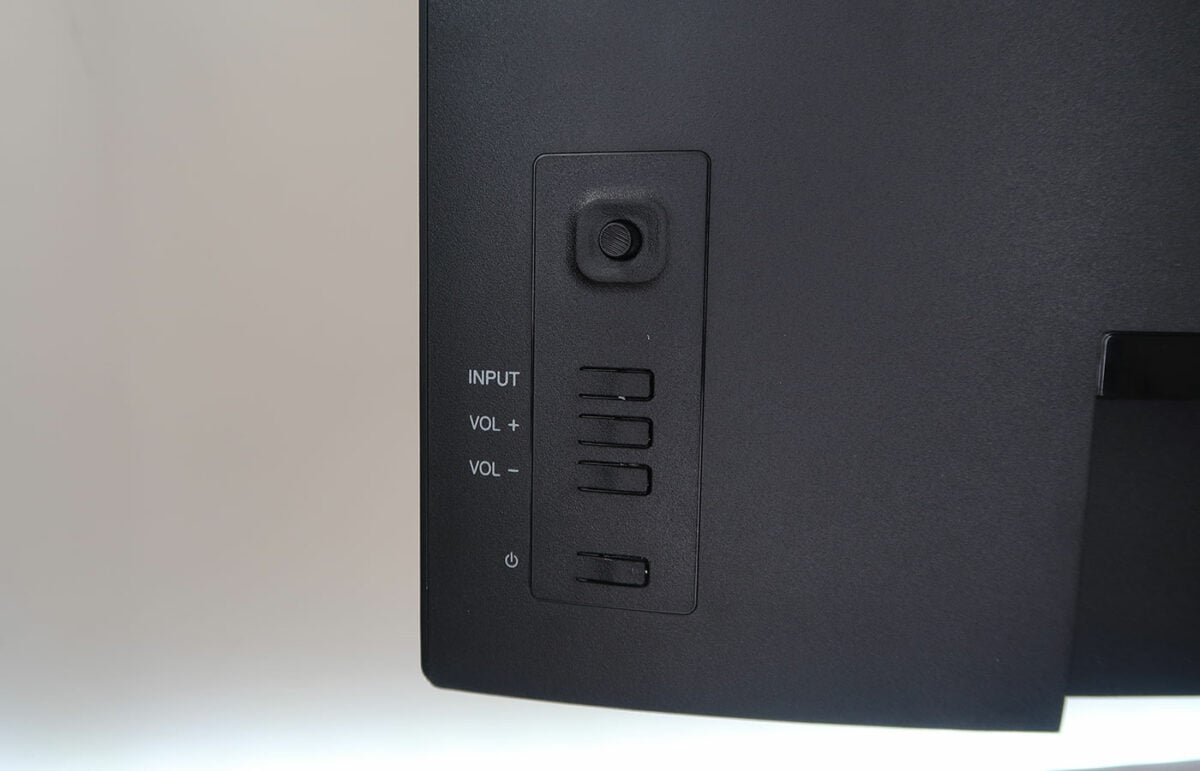 As a frequent laptop user it's a feature that holds genuine merit, though no sub-£500 monitor does it all, and there are some limitations to be aware of. Users seeking a one-stop solution for desktop, laptop and games console should be aware that the HDMI port is restricted to 100Hz at the native resolution, peak panel brightness of 300 nits results in a basic HDR experience, and unlike many others in this space, iiyama chooses not to integrate a webcam as standard.
You do get perfunctory stereo speakers that are adequate for everyday use, and we like the fact that iiyama includes a proper joystick and tactile buttons for navigating a clear and uncluttered OSD. The VESA-compliant stand, meanwhile, allows 130mm of height adjustment and +20°/-3° tilt, but doesn't swivel. Nitpicking somewhat, we'd prefer the stand didn't allow for rotation into portrait mode; the function serves no purpose here – there isn't enough clearance, plus a tall curved ultrawide makes little sense – and allowing such movement means you're never entirely sure the screen is perfectly horizontal.
An ultrawide canvas and built-in KVM are key reasons to consider the ProLite XCB3494WQSN, but when picking any modern monitor, it's important to consider usage scenario. Gaming on the iiyama is enjoyable, but it is a productivity solution first and foremost, and even then, some workloads favour an ultrawide format better than others. Users who spend a lot of time scrolling websites may prefer more vertical pixels, but anyone accustomed to multi-tasking with multiple windows will deem the upgrade revolutionary. Heck, you've not lived until you've authored spreadsheets on an ultrawide.
Colour Credentials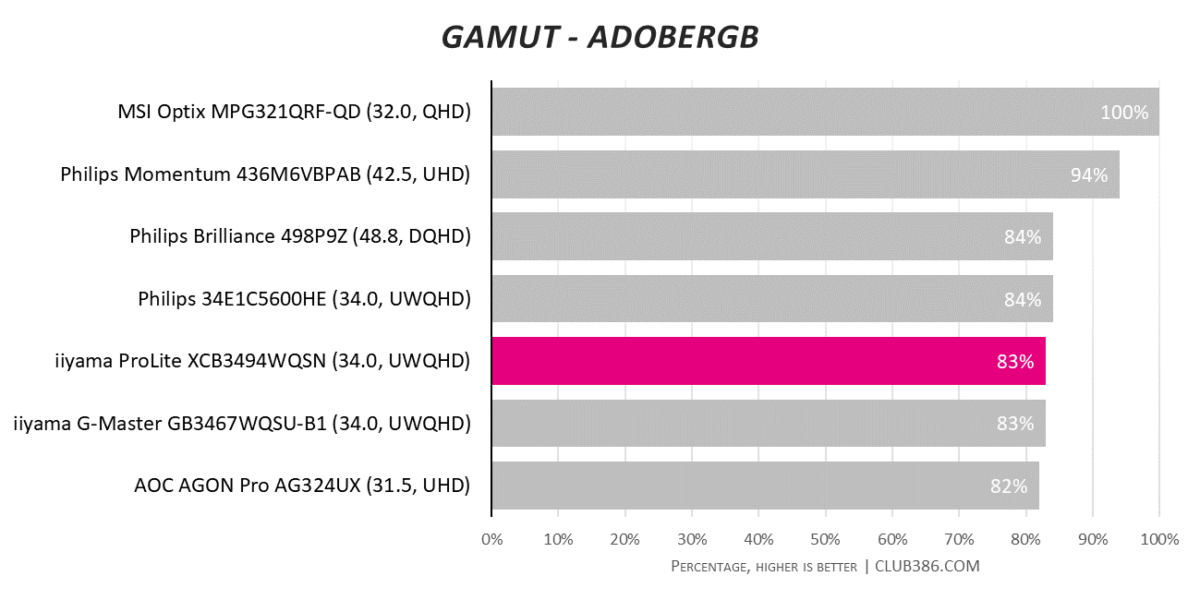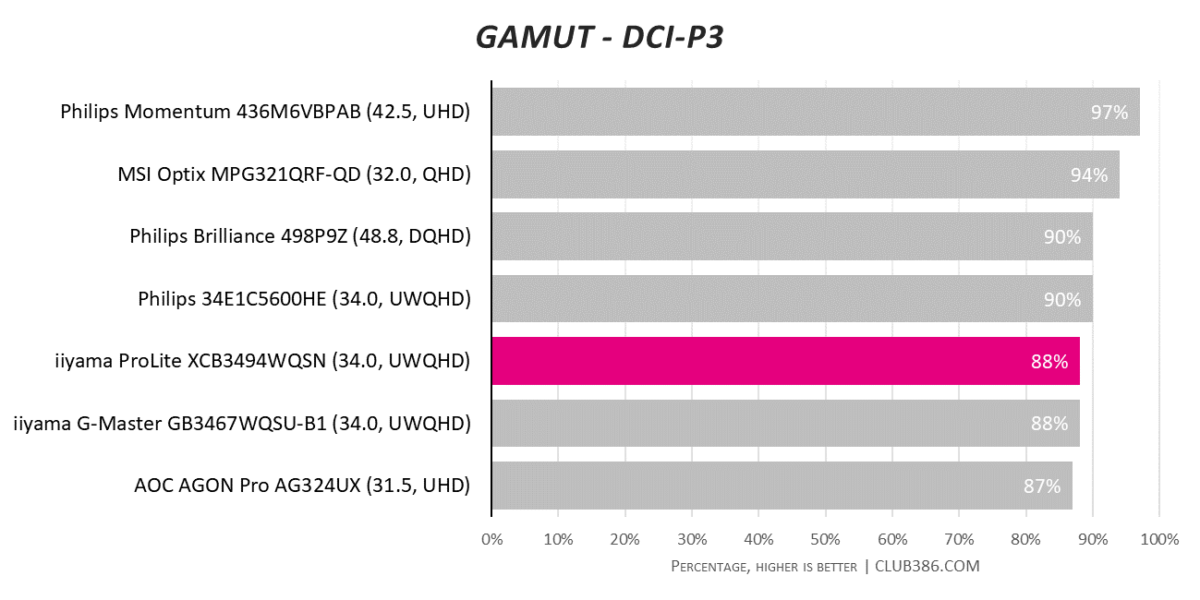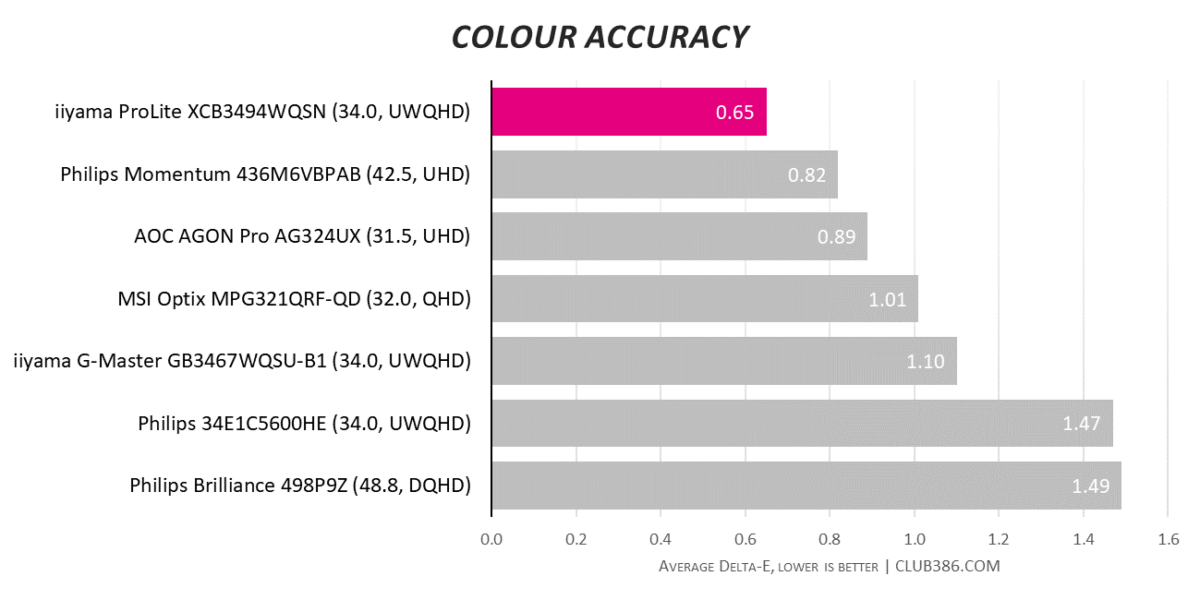 Our in-house testing reveals the panel is capable in most regards. Achieving 100 per cent sRGB colour coverage is light work for most modern displays, including the XCB3494WQSN, but AdobeRGB and DCI-P3 tests help separate the wheat from the chaff. The iiyama delivers solid results in terms of gamut, but really excels in out-the-box accuracy, where it achieves chart-topping results with zero calibration on our part.
Brightness and Contrast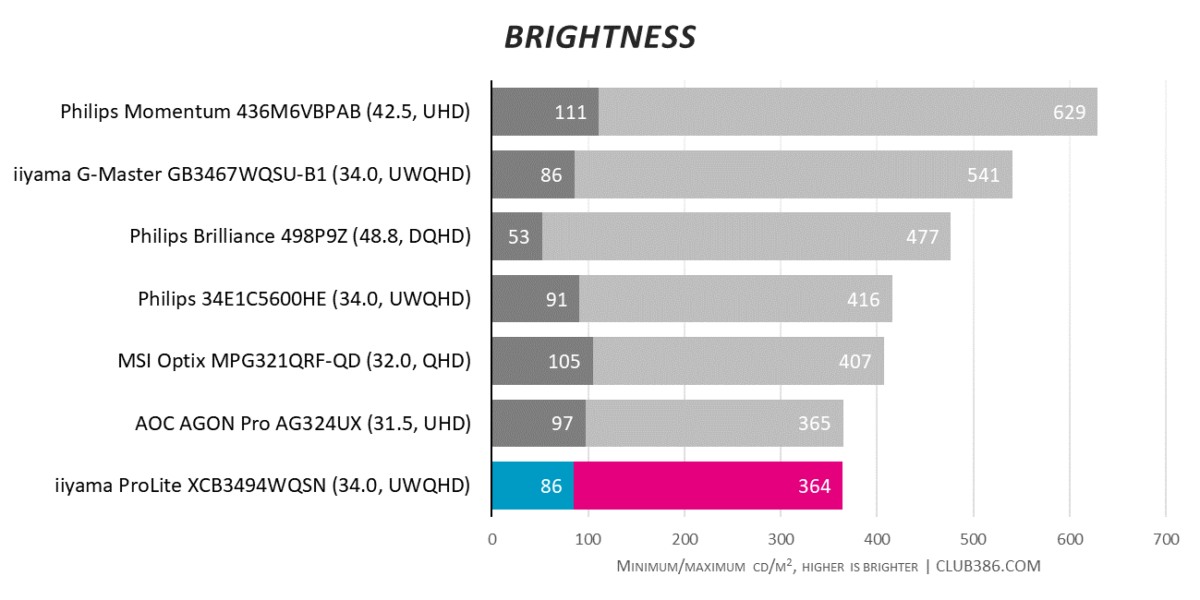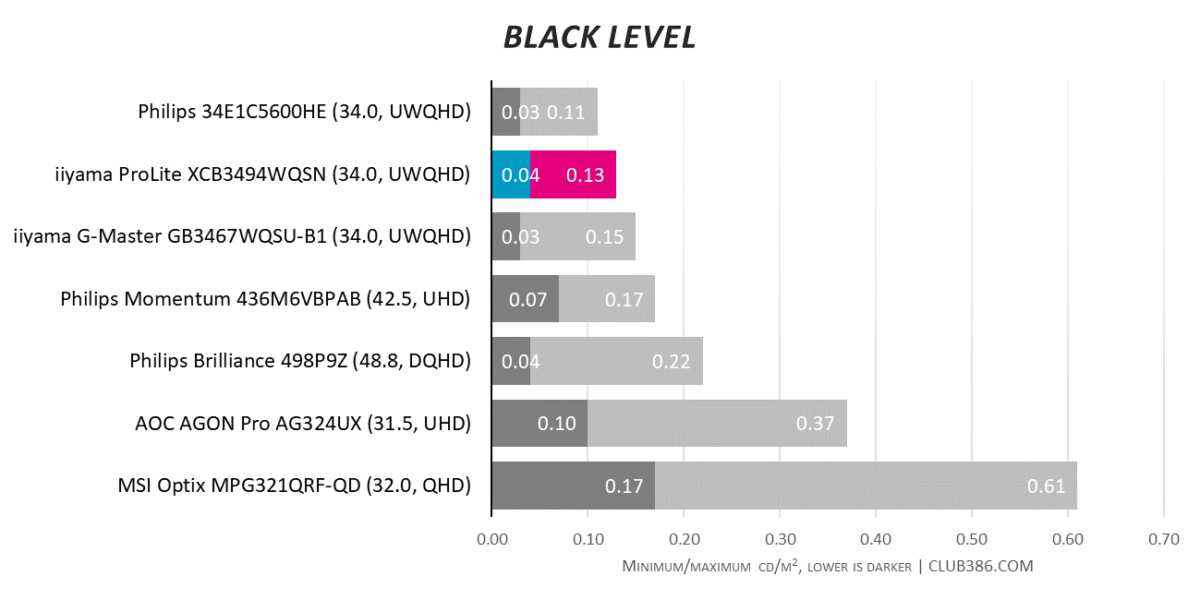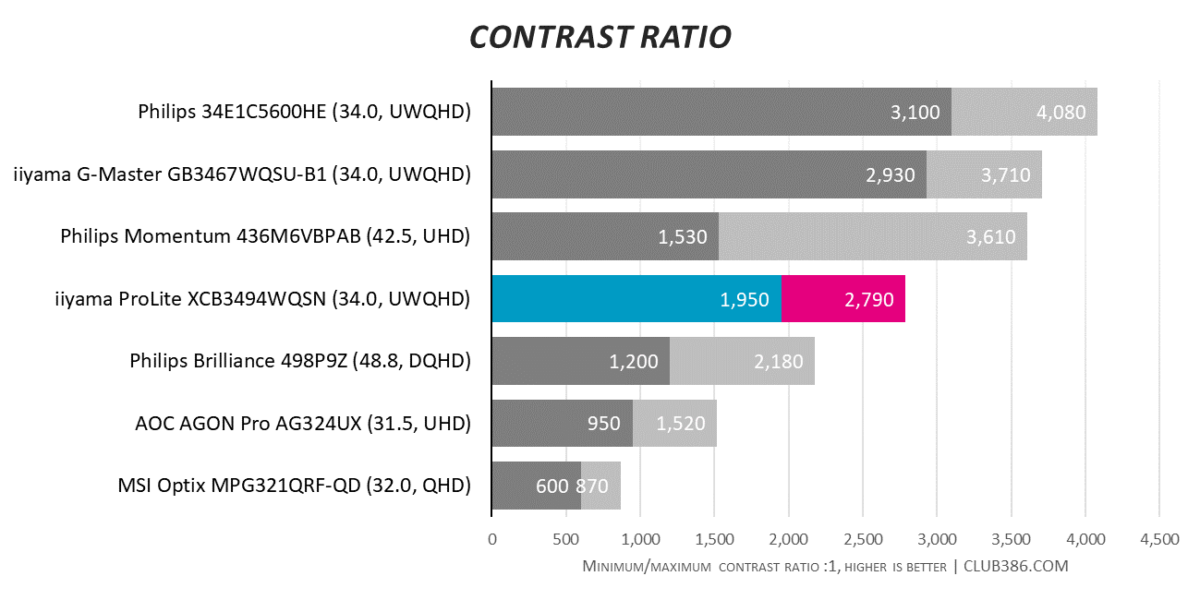 Brightness isn't the XCB3494WQSN's strong suit. This doesn't affect general use – we're actually inclined to turn brightness down when working – but the HDR experience is naturally limited. Black levels, as you'd expect from a VA solution, are very good.
Uniformity and Efficiency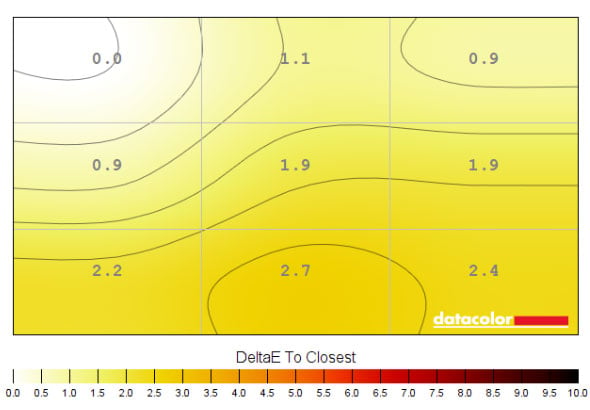 We've spoken about improvements in display technology in general, and uniformity is certainly an area in which we're seeing good progress. Even on a large ultrawide, our review sample delivers excellent consistency from side to side.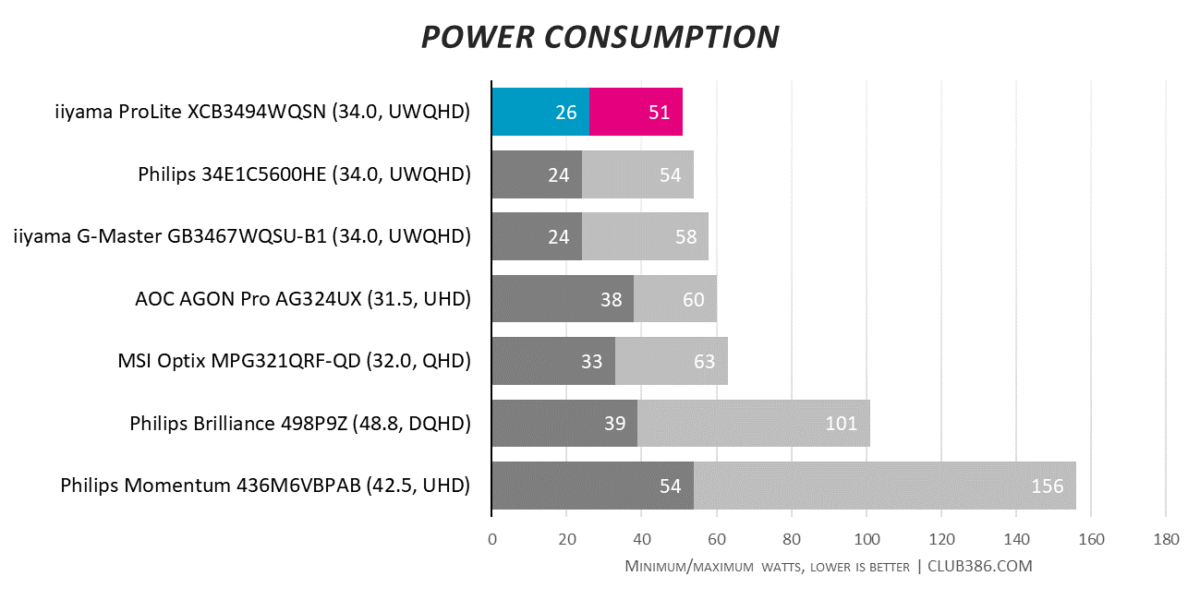 Going large can take a toll on power consumption, but limited peak brightness and a shortage of frills ensure the iiyama is one of the most efficient monitors in its class.
Conclusion
Japanese manufacturer iiyama has been producing computer monitors for over four decades and continues to serve as a go-to brand for consumers and businesses who know what they want. The firm's success revolves around high-quality products that tick the relevant boxes without the need for frivolous extras.
Case in point, 2023's ProLite XCB3494WQSN doesn't push the boat out in any one area yet serves as a satisfying ultrawide workhorse that covers multiple bases. One of the better VA panels we've tested, it offers serious productivity potential, competent gaming credentials, a swift 120Hz refresh rate, and an increasingly popular 3440×1440 resolution that works well in a 34in ultrawide format.
Such credentials make the ProLite a noteworthy upgrade for any user migrating from a common 1080p panel, and the attraction is heightened by a built-in KVM. Switching between laptop and desktop has never been easier.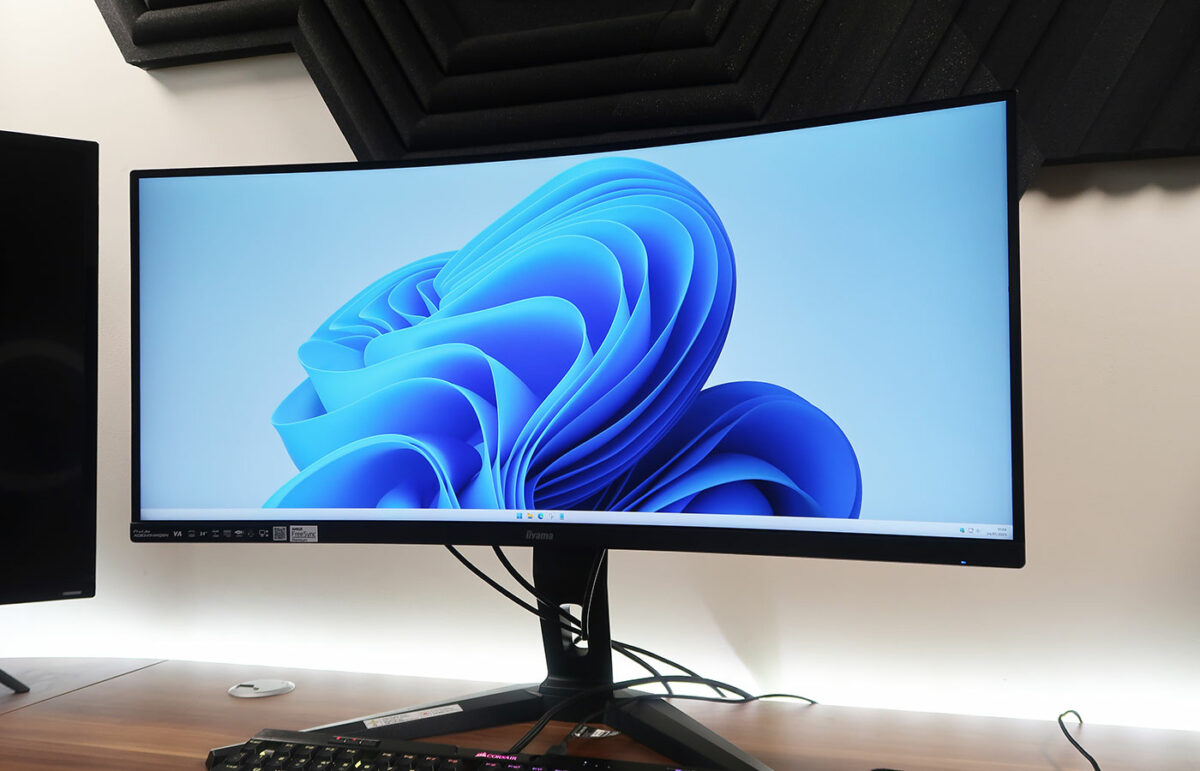 iiyama ProLite XCB3494WQSN
Verdict: Competitive pricing and well-rounded specs make this an ultrawide worth considering.
---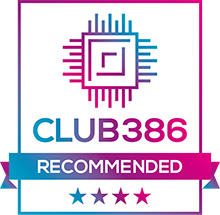 Pros
3440×1440 at 120Hz
Great for work and play
KVM ideal for juggling PCs
Sub-£500 price tag
Intuitive controls
Cons
HDMI limited to 100Hz
Stand doesn't swivel
---
Club386 may earn an affiliate commission when you purchase products through links on our site. This helps keep our content free for all.
Rest assured, our buying advice will forever remain impartial and unbiased.