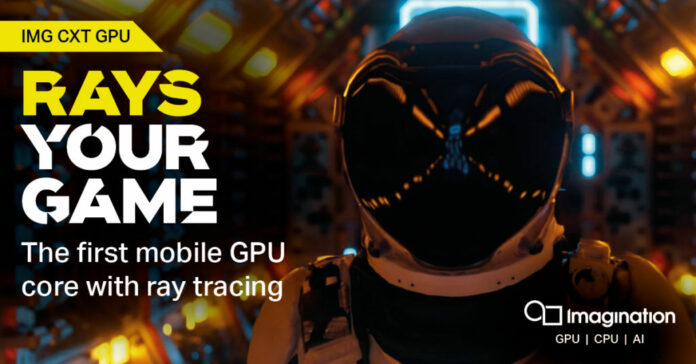 Meanwhile, the new flagship IMG CXT will deliver "desktop-quality visuals to mobile."
Imagination Technologies has announced a new flagship mobile GPU dubbed the IMG CXT. This is claimed to be a significant launch, as this GPU debuts the PowerVR Photon ray tracing architecture, "delivering incredible performance for games and other graphical use cases."
IMG says that it has been developing viable real-time ray tracing in mobile devices for a decade, and this Level 4 RTLS solution is the most advanced available for mobiles, with the "performance and efficiency to deliver a desktop-quality experience." More specifically, the graphics chip designer says its IMG CXT-48-1536 RT3 core features three instances of the Ray Acceleration Cluster (RAC), offering up to a total of 1.3GRay/s. This is enough for "photorealistic ray traced shadows, reflections, global illumination, and ambient occlusion, with high frame rates, in a mobile power budget," according to IMG's performance testing.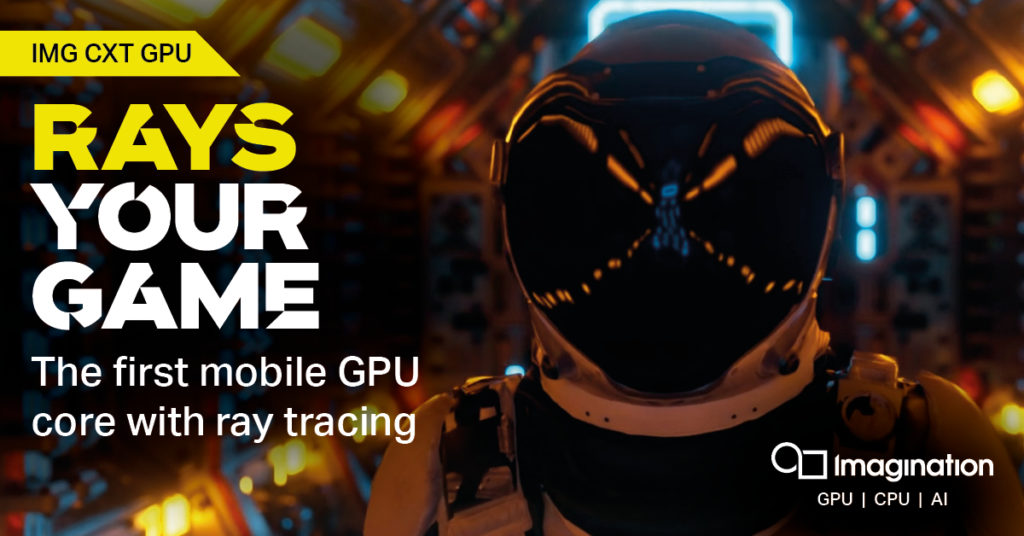 In addition to all the talk about ray-tracing advances, IMG has managed to boost rasterised graphics performance by 50 per cent, compared to the previous gen. Users will thus enjoy significant boosts in GPU compute, texturing, and geometry performance. Rounding off this GPU's appeal, we have "exceptional FPS/W efficiency," as well as Imagination Image Compression (IMGIC) for optimised bandwidth.
Official IMG CXT highlights:
Brings desktop-quality ray-traced visuals to mobile IP – for the first time!
The industry's first Level 4 RTLS ray-tracing architecture
Up to 2.5x greater power efficiency than current shipping Level 2/3 RTLS solutions
Scalable to desktop and data centre (up to 9TFLOPS FP32 and over 7.8GRay/s)
With 50 per cent more compute, texturing, and geometry performance than the previous generation
Already licensed for multiple markets
Heavy hints at PC desktop solutions
The IMG CXT is targeting mobile devices and already has been licensed for use in multiple mobile and embedded devices, but in the launch presentation the IMG team boasted about the scalability of 'Photon' and its hardware acceleration, and multiple times mentioned that it is possible there will be a desktop/PC solution built on this tech. Perhaps will see new PowerVR graphics cards in the PC universe in the coming months.
In the CXT bullet points, you can see Imagination mentions that the PowerVR Photon ray-tracing architecture can be scaled to up to 9TFLOPS FP32 and over 7.8GRay/s. How does this compare to rival modern PC GPUs? Please check out the table below:
| | | | | |
| --- | --- | --- | --- | --- |
| | PowerVR desktop | GeForce RTX 2060 | Radeon RX 6600 XT | GeForce RTX 2080 Ti |
| FP32 TFLOPs | 9.0 | 6.5 | 10.6 | 13.5 |
| Gigarays/s | 7.8 | 5.0 | ?? | 10.0 |
Even when scaled to the desktop or datacentre-style solution, Imagination insists its Photon architecture can offer "up to 2.5x greater power efficiency than today's Level 2 or 3 RTLS ray-tracing solutions."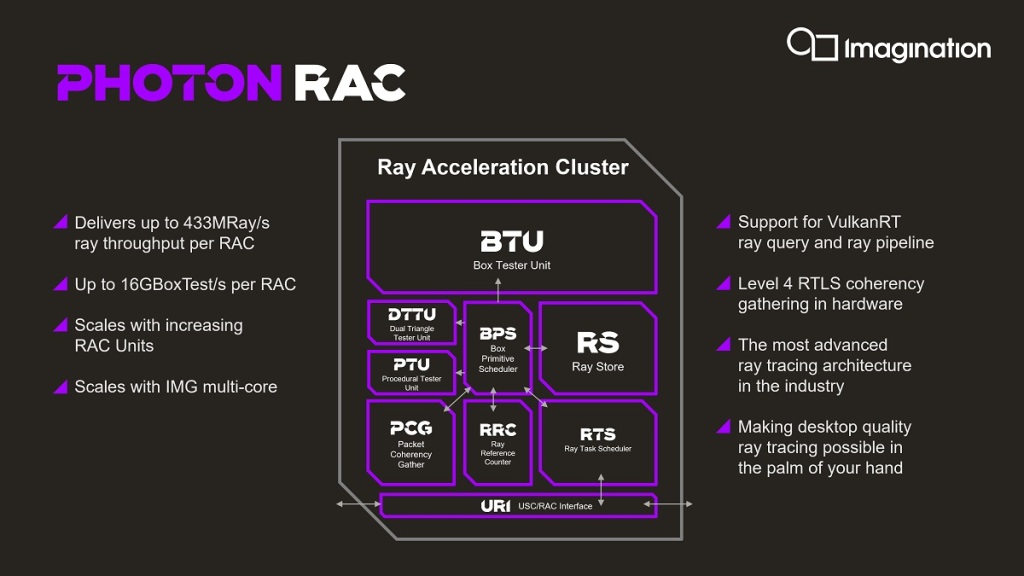 At the current time, it seems like just mobile device makers, cloud providers, such as Tencent and NetEase, have come forward to talk about adopting the IMG CXT Photon Architecture GPUs. Are Imagination's PC desktop boasts simply fishing, or is there some other news currently submerged, not quite ready to divulge? PC GPUs certainly seems like a good market to be in right now, as long as you/your partners can produce and ship products.