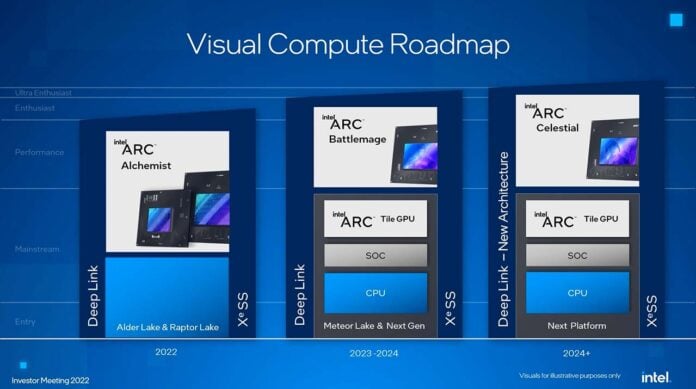 Team Blue provided plenty of roadmap and product updates during yesterday's Investors Meeting. We know plans are afoot to launch E-core Xeon chips in 2024, while next-gen P-core Xeons, codenamed Granite Rapids, will be built on the Intel 3 process, not Intel 4 as previously mooted.
Graphics attract more immediate attention in 2022. Coming under the umbrella established by the Accelerated Computing Systems and Graphics Group (AXG), Intel disclosed plans to ship more than four million discrete Arc GPUs this year.
The strategy is to have large-scale OEM notebook manufacturers ship mobile Arc cards in Q1 (by March), followed by add-in desktop cards in Q2 (April-June), then workstation in the July-September timeframe. Furthermore, Intel says "work has begun on Celestial, a product that will address the ultra-enthusiast segment."
Current Arc Alchemist GPU architecture will be followed by Battlemage in 2023-24 and Celestial in 2024. Whether the long-term plan is to retain monolithic dies or go towards a tile-based approach for high-performance GPUs is an interesting question to ponder.
It is difficult to ascertain the total market size for discrete GPUs, but if recent JPR reports are a good yardstick, total volume is in the region of 45-50 million. Nvidia accounts for 80 per cent of sales, according to most research.
In that context, then, plans to ship four million Arc GPUs into mobile, desktop and workstation isn't mind blowing. Intel is likely to account for less than 10 per cent of all shipments in 2022, assuming last year's numbers remain steady, and would put Team Blue in third place.
Whether Intel gains most of its market share at the direct expense of Nvidia and AMD, or grabs share of a larger pie, is unclear.
Going by this news, readers planning on a desktop build with Intel discrete graphics may be waiting longer than originally anticipated. At that time, in late Q2 this year, AMD and Nvidia will be busy preparing their next-generation graphics architectures.