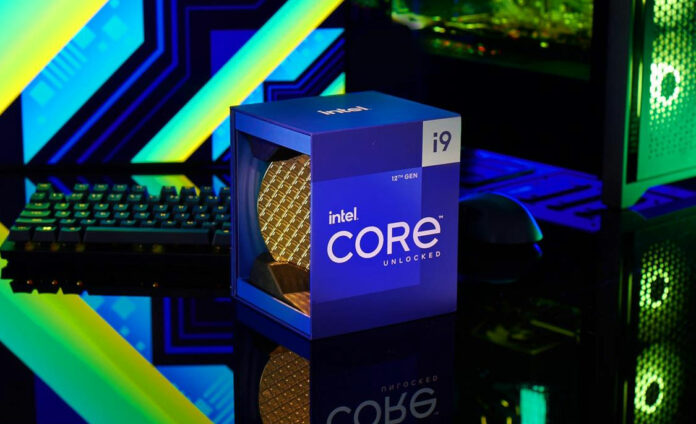 Unless you have been living underneath a rather large rock for the past few weeks, it's implausible that news surrounding Intel's 12th Gen Core platform hasn't crossed your radar.
12th Gen Core, also known by the codename Alder Lake, is a big deal because it fundamentally changes how Intel views CPU processing.
Rather than rely on multiple identical CPU cores to process workflows, as has historically been the case, Intel is building Alder Lake with a mix of what it terms Performance cores alongside Efficient cores.
High-performance cores are primed for workloads that can be completed quickly and are lightly threaded, whilst the power-efficient cores better handle background tasks and combine more effectively for higher multi-threaded performance.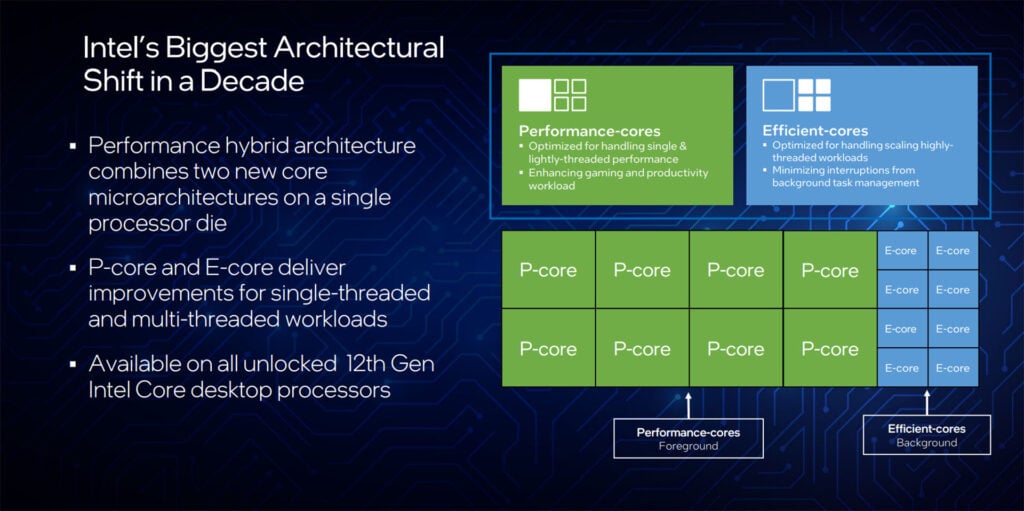 It's worth knowing Performance cores feature hyperthreading technology, where each one can handle two threads in parallel. Efficient cores strip out this capability and operate on a single core-to-thread basis.
A technology called Thread Director manages work allocation between the two types of cores. It works best with Windows 11, the company says, yet also functions well enough in Windows 10.
Building such a chip from scratch, on a new, leaner 10nm process known as Intel 7, enables the chip giant to enact a clean-sheet design. So much so, in fact, that there are numerous factors to consider when contemplating an Alder Lake platform.
Socket Change to LGA 1700
It makes sense for Intel to change the physical socket in the transition between 11th Gen Rocket Lake and 12th Gen Alder Lake. Though sounding mundane, the socket design is important in routing out new features to compatible motherboards. Intel therefore changes the 12th Gen socket to what is known as the LGA 1700 form factor, up from LGA 1200 on the previous generation.
Repercussions for doing so are profound. LGA 1700 is physically incompatible with LGA 1200 – the socket is a completely different shape, actually – and all 12th Gen processors need to be paired with also-new 600 series motherboards.
Initial support arrives by way of the Z690 chipset, with Intel adding more 600 series variants at a later date. Major motherboard partners such as Asus, ASRock, Gigabyte and MSI have multiple Z690 models in their arsenal. Pricing starts at around £150 for entry-level boards rising to over £700 for all-singing, all-dancing models primed for enthusiasts.
The socket change is significant enough to require updates to mounting kits for all-in-one liquid coolers and air-based heatsinks. Many vendors will supply the relevant upgrade bracket at little or no expense, but it's worth doing research to ensure your present cooling can be used on LGA 1700. If not, practically all manufacturers have a 12th Gen-specific cooler in their range.
Support for PCIe 5.0 and DDR5 Memory
Outside of novel CPU processing, Intel has taken the opportunity to ensure Alder Lake CPUs are cutting edge in other respects, too. These processors are the first to offer support for DDR5 memory, which offers higher bandwidth than incumbent DDR4.
As a point of reference, Intel supports DDR4 at an official 3200MT/s but increases the speed to 4800MT/s for DDR5. A 50 per cent on-paper hike is nothing to be sniffed at, of course, but do understand the nature of DDR5 means it ships with higher access latencies, eroding some of the gains associated with a significant uptick in bandwidth.
4,800MHz is merely the starting point, mind. Memory manufacturers have been busy this week in attempts to outdo one another in the frequency wars; 7000MHz-plus kits are on the horizon.
Being a new technology, DDR5 isn't cheap as ubiquitous DDR4. For example, a 16GB (2x8GB) pack of DDR4-3200 memory is widely available for £65, whereas the same-capacity set of DDR5 costs a whopping £300 at this moment in time.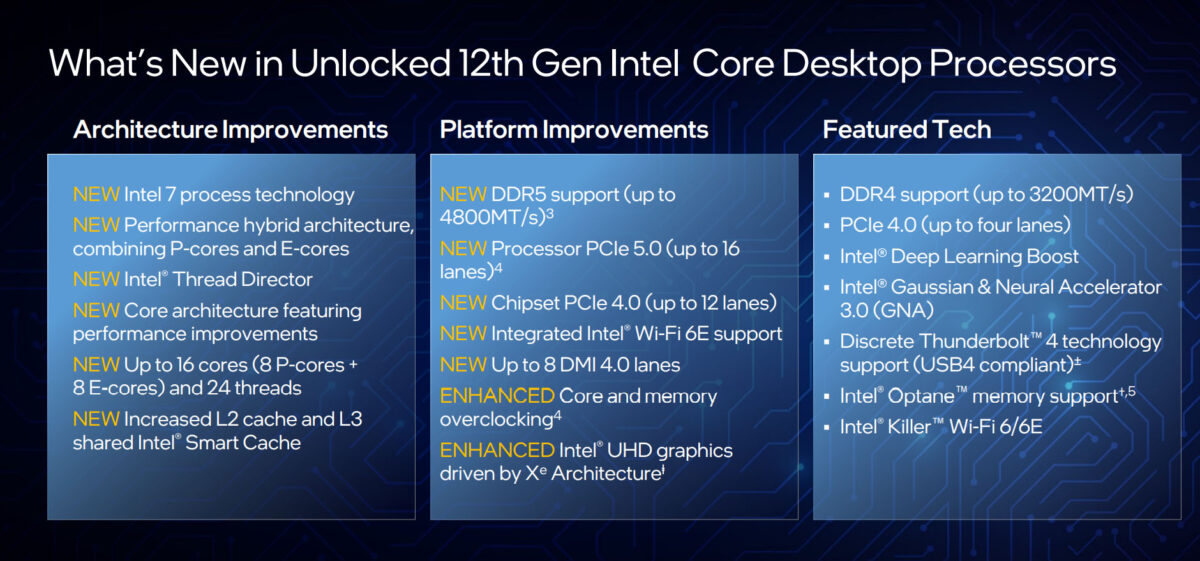 Intel is well aware of this massive disparity in pricing and understands that adoption for DDR5 may well be slow. To that end, all Alder Lake chips feature a dual-format memory controller that works just fine with regular DDR4. Motherboard manufacturers have duly released plenty of boards with DDR4 support from the off. Understand that boards will feature either DDR4 or DDR5, not both.
AMD has historically beaten Intel to the desktop feature punch since the launch of rival Ryzen CPUs in 2017. The clean-sheet nature of Alder Lake allows Intel to leapfrog its competition on the CPU-integrated expansion front. 12th Gen Core is the first series to provide 16 PCIe 5.0 lanes for add-in graphics cards, doubling the bandwidth over PCIe 4.0. Looking good on a specification sheet, this feature is of limited value right now as no current graphics cards support PCIe 5.0 – we are likely to see compatible GPUs in 2022.
Models
The first tranche sees six 12th Gen models available for the enthusiast market. They are split equally between traditional Core i9, Core i7 and Core i5 branding.
Notice the K designation on each? This refers to the chips being free of any additional overclocking shackles imposed on non-K models. For example, enthusiasts can overclock Performance and Efficient cores without artificial restrictions – Intel has a handy XTU utility for this very purpose – whilst memory overclocking is naturally present, too. Be aware that auto-boosting smarts baked into each chip limit the effectiveness of manual overclocking unless you are eager and willing to employ heavy-duty cooling.
All Core ranges have a KF-suffixed part. These chips are identical to their K brethren save for having no built-in graphics. Regular K chips house Intel UHD Graphics 770 that are useful for transcoding video, providing a means by which to run a PC without a dedicated graphics card, whilst offering very basic games-playing capability. KF models, therefore, attract a marginally lower fee. This is one area in which Intel has a feature lead; no premium Ryzen chips feature integrated graphics.
12th Gen chips all use the same underlying architecture and are largely differentiated by the number of cores they possess. Core i5 accommodates six Performance cores (12 threads) alongside four Efficient (four threads) for a total of 16-thread capability. Core i7 ups the Performance cores to eight. At the top, Core i9 employs eight Performance cores with a matching eight Efficient cores. Totting it all up reveals 24-thread prowess that's still shy of AMD's 32-thread Ryzen 9 5950X. But not all cores are created equal.
Pricing
Intel's keenness in pushing 12th Gen Core into the hands of enthusiasts is underscored by attractive pricing. Arriving at $264 for the entry-level model, translating to roughly £250, Core i5-12600KF appears to offer plenty for the money. Even the $589 (£550) for the Core i9-12900K isn't outrageous, either, but do understand that, being a new product, retailers are charging up to $100 more. Still, it's a fair bit lower than the $799 AMD nominally charges for competitor Ryzen 9 5950X.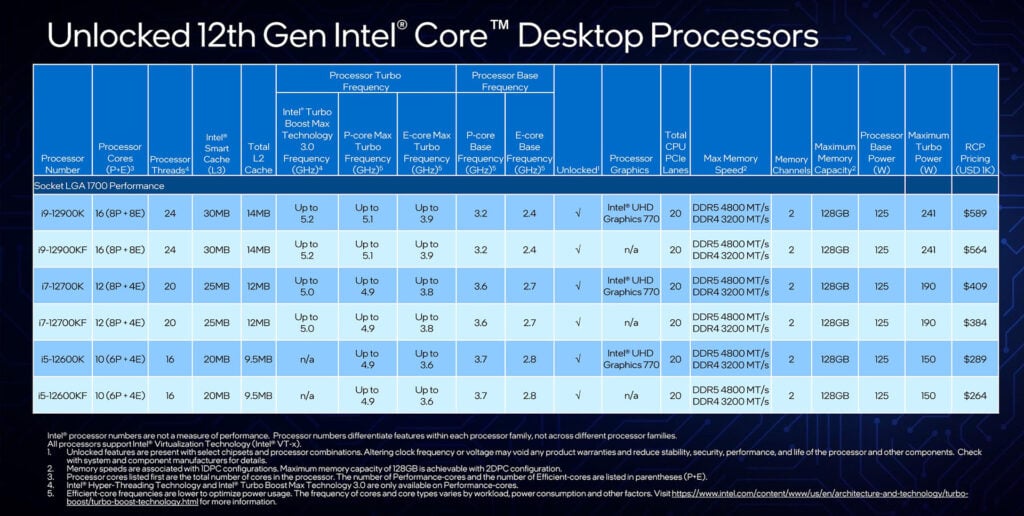 Any talk of individual CPU pricing needs to be contextualised against overall platform costs. As enthusiasts need to purchase the CPU, motherboard, maybe DDR5 and a new cooler, the financial barriers to entry are steep. This is always the way with a brand-new launch, but this time there's more to consider.
12th Gen Core makes most sense for users looking to build a PC from scratch – there's enough new to contend with – and is consequently less attractive as a short-term upgrade.
Ushering in a new era in CPU computing, Intel 12th Gen Core is the biggest change in a decade. The Club386 full review will be live tomorrow; it's worth the wait.