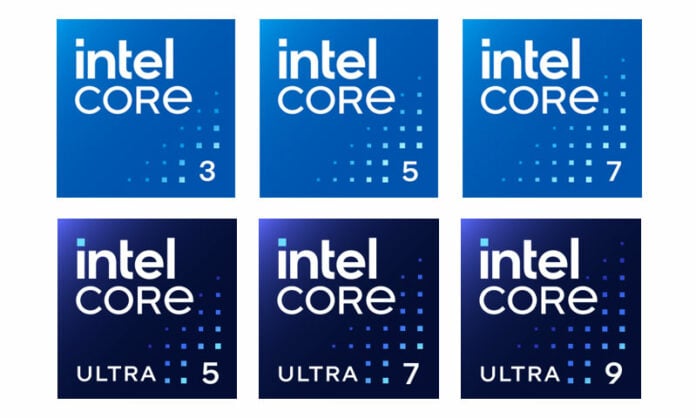 Intel is busy putting the finishing touches on next-generation Meteor Lake-based processors scheduled for release later this year, and there are profound changes afoot with regards to branding.
Backing up a prior Club386 report, Intel has confirmed the 'Core i' nomenclature we've become so accustomed to is to be phased out in favour of just 'Core.' Sounds simple enough, yet as is often the case, there's more to it than first meets the 'i,' if you'll excuse the pun.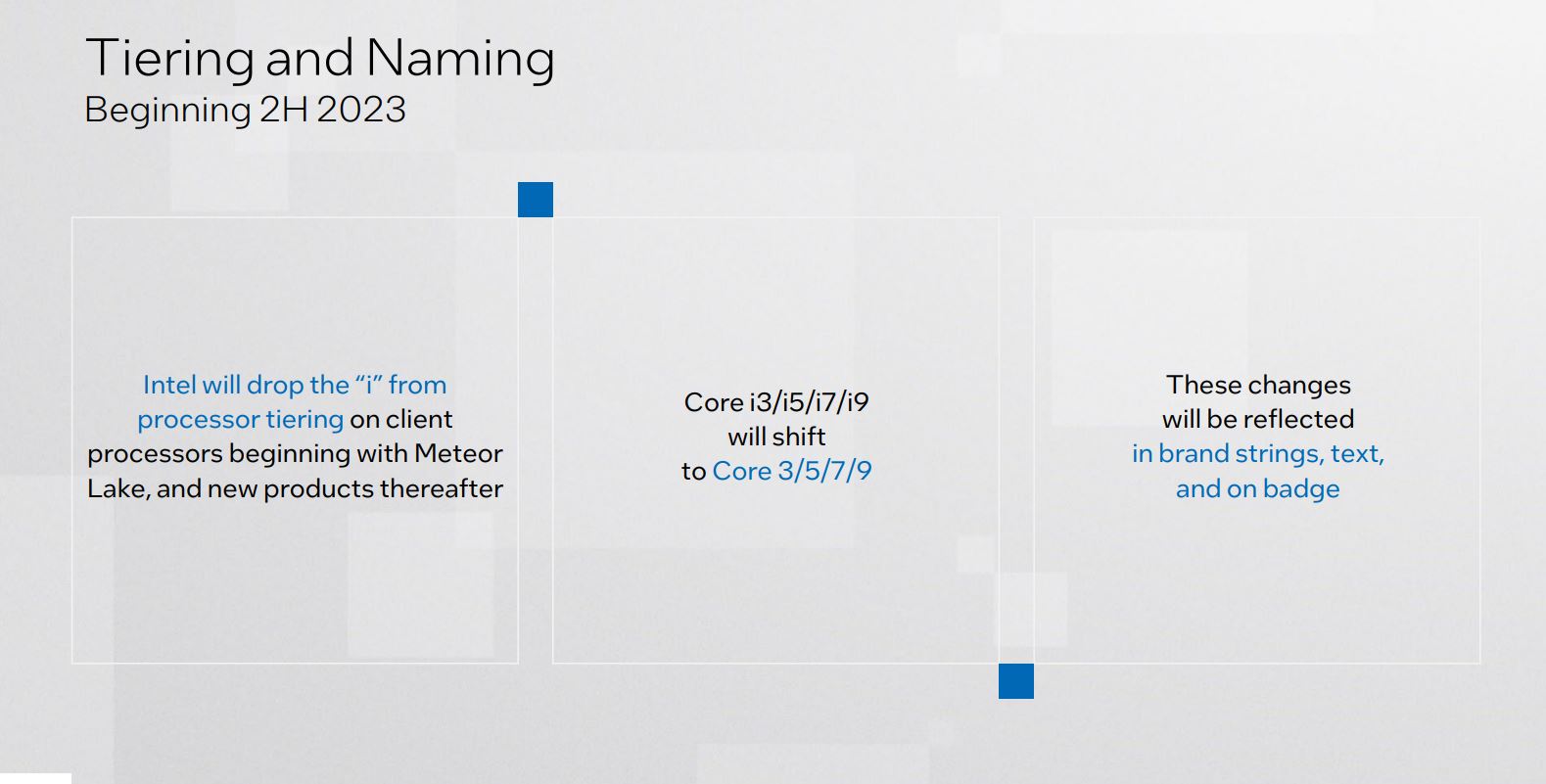 Dropping the "i' is a simple change that cleans up badging, and Intel reckons the strategy better aligns with customer requests. What's interesting, and perhaps confusing depending on your point of view, is that the Core brand itself is being split into two; regular Core for the 3, 5 and 7 tiers, plus Core Ultra-encompassing tiers 5, 7 and 9.
There's potential for confusion in the overlap, and Intel also wants to mix-up the layout of processor numbering. Whereas a current chip is designated Intel Core i5-13400F processor, Team Blue wants to ensure the word 'processor' doesn't get cut by moving the model number to the end. Who's looking forward to the Intel Core 5 processor 14400F? Sounds a mouthful, if you ask me.
Below are the before and after branding guidelines straight from the horse's mouth.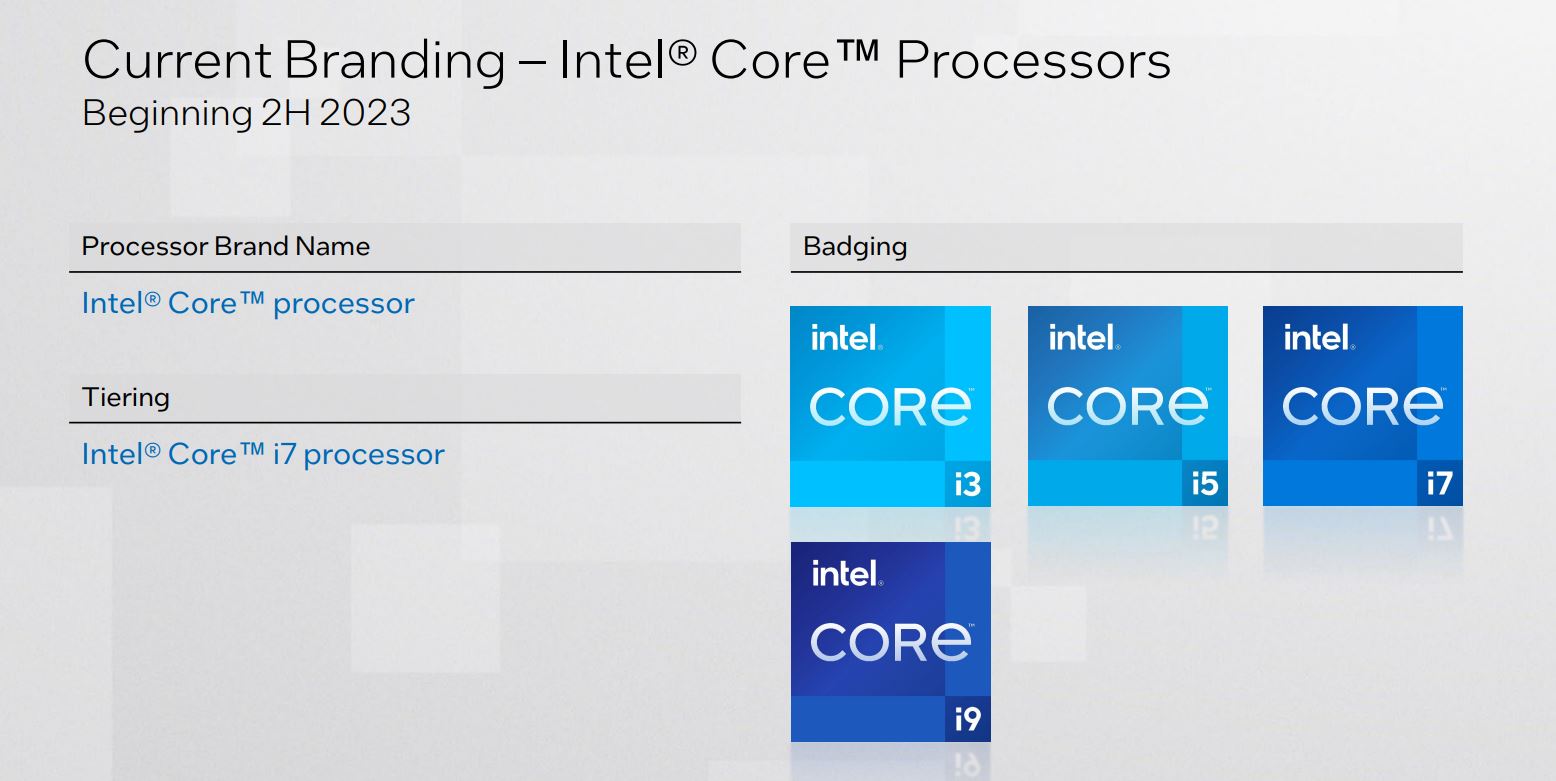 Arriving in November 2008 with Bloomfield-based processors such as the Core i7 920, 940, and 965, the 'i' is gone… but look closely, so is the Core i9 designation. Does this mean Intel is shelving the enthusiast line altogether? Absolutely not, as stated, the chip manufacturer is switching gears with Core Ultra branding for what it perceives as high-performance processors. Who's ready for Intel Core Ultra 7 processor 14700K?
An asterisk adds further intrigue, as final processor number is to be determined. Might all the K, F and T designators fall by the wayside for the coming generation? Only time will tell.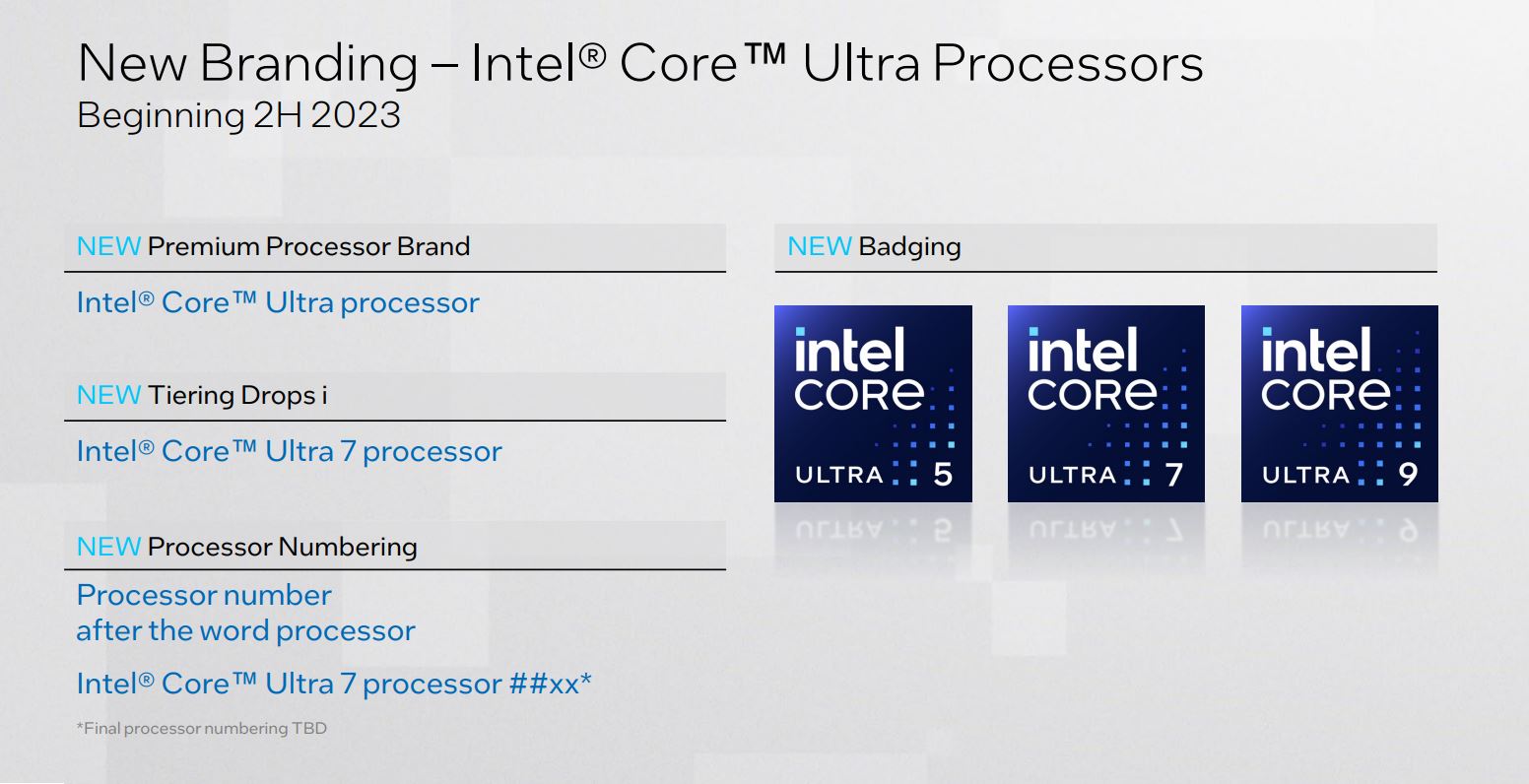 Post-Meteor Lake there will be three families of processors imbued with an 'Ultra' tag, meaning Core 3 is exclusive to the mainstream line, while tier 9 only becomes available via Core Ultra. The thought process, as far as we can tell, is chips at the top of their respective stacks – imagine today's Core i5-13600K or Core i7-13700K – are endowed with the Ultra badge, thereby differentiating them from mainstream models. An Ultra 5 is faster / better than a regular 5, and the only way to gain a '9' is to go for an Ultra processor. Got all that?
Dyed-in-the-wool enthusiasts who refer to Intel processors with due knowledge of the generational designation will notice another small-but-significant tweak on the packaging. Right now, Raptor Lake chips are known to many as 13th Generation Core. This will stop from the moment Meteor Lake arrives, so you won't see any reference to 14th Generation Core on packaging or silicon. However, the number will still be available after Core, meaning that Core 5 14500 is likely.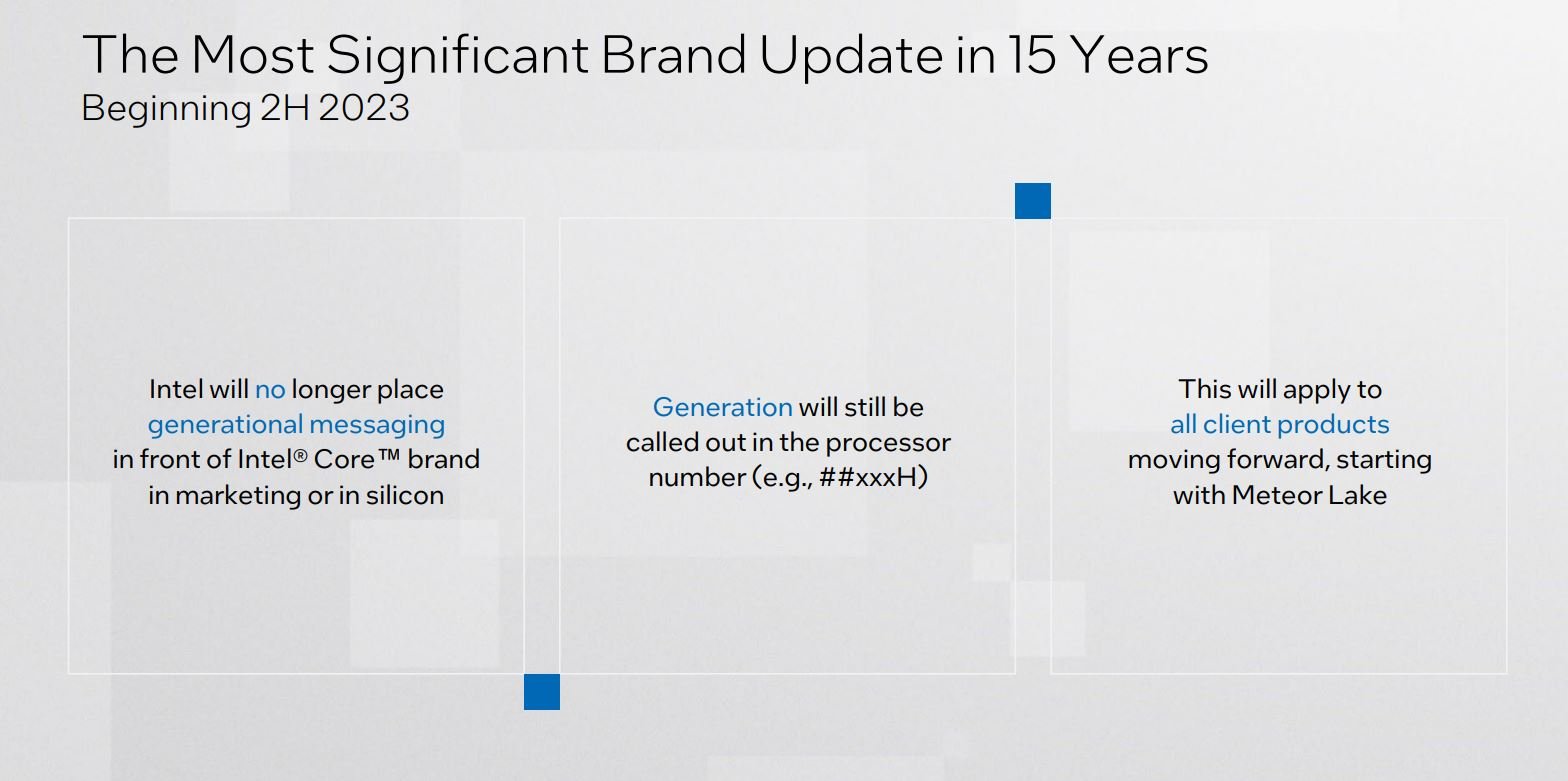 One reason for this is Intel mixes and matches architectures in certain generations. 13th Generation Core, for example, carries predominantly Raptor Lake but also has a subset of Alder Lake chips. Therefore, having 13th Generation in front of Core is not especially helpful as it doesn't provide concrete details on architecture. The same is rumoured to be true for 14th Generation Core, which is a mixture of Raptor Lake refresh and Meteor Lake. Intel would rather that number be subsumed into the processor designation.
The new branding is arguably easier to comprehend for the lay person popping into PC World. It's also more in tune with car manufacturers who use numbers to define model ranges – BMW being the obvious example. Get ready for the Core Ultra 9 14900KS at CES 2024, everyone. Intel is also using this pretext to simplify Evo and vPro branding.
"Our client roadmap demonstrates how Intel is prioritizing innovation and technology leadership with products like Meteor Lake, focused on power efficiency and AI at scale. To better align with our product strategies, we are introducing a branding structure that will help PC buyers better differentiate the best of our latest technology and our mainstream offerings," said Caitlin Anderson, Intel vice president and general manager of Client Computing Group Sales.
The question that's most racking our brains is whether an upcoming Intel Core 7 is better than an Intel Core Ultra 5? Answers on a postcard, please.