Jump to: The Chip | CPU Perf | Mem Perf | Gaming Perf | Conclusion
Premium PC gaming receives fresh impetus during 2022 as Intel and AMD release high-performance processors in quick succession. AMD brings forth cache-heavy Ryzen 7 5800X3D on April 20, but Intel steals a march with Core i9-12900KS.
This special edition processor packs in all the goodness present in 12th Gen Core 'Alder Lake' architecture and turbocharges it by installing the highest frequencies to date. How does 5.5GHz on two cores grab you?
Running up to 300MHz faster on Performance cores and 100MHz quicker on Efficient than present best CPU, Core i9-12900K, Intel achieves uplift through a combination of cherry-picking the very best silicon and running it at higher default wattage. Base power increases from 125W to 150W though maximum turbo power remains glued to the 241W limit seen on other K-series Core i9s.
Core i9 line-up
| CPU | Cores | Threads | L2 | L3 | Turbo | IGP | Base TDP | Max TDP | MSRP |
| --- | --- | --- | --- | --- | --- | --- | --- | --- | --- |
| Core i9-12900KS | 16 (8P+8E) | 24 | 14MB | 30MB | 5.5GHz | UHD770 | 150W | 241W | $739 |
| Core i9-12900K | 16 (8P+8E) | 24 | 14MB | 30MB | 5.2GHz | UHD770 | 125W | 241W | $589 |
| Core i9-12900KF | 16 (8P+8E) | 24 | 14MB | 30MB | 5.2GHz | – | 125W | 241W | $564 |
| Core i9-12900 | 16 (8P+8E) | 24 | 14MB | 30MB | 5.1GHz | UHD770 | 65W | 202W | $489 |
| Core i9-12900F | 16 (8P+8E) | 24 | 14MB | 30MB | 5.1GHz | – | 65W | 202W | $464 |
| Core i9-12900T | 16 (8P+8E) | 24 | 14MB | 30MB | 4.9GHz | UHD770 | 35W | 106W | $489 |
12900KS is the sixth and final entrant in the desktop Core i9 family. Unlike AMD, who is innovating extraneous to frequency with 3D V-Cache technology, Intel relies on upping the wick alone; this chip is identical to others from microarchitecture and feature perspectives. A case of grunt versus elegance, Intel is well versed in adding copious power to top-line chips. Core i9-12900KS feels like a throwback to the 14nm days, where Intel's main weapon was adding more coal to the fire.
Lumps of Core i9 coal duly crank speed to 5.5GHz opportunistically under the auspice of Thermal Velocity Boost and Adaptive Boost Technology, while a BIOS and associated microcode update are required for motherboards to fully realise the chip's potential.
Core i9-12900KS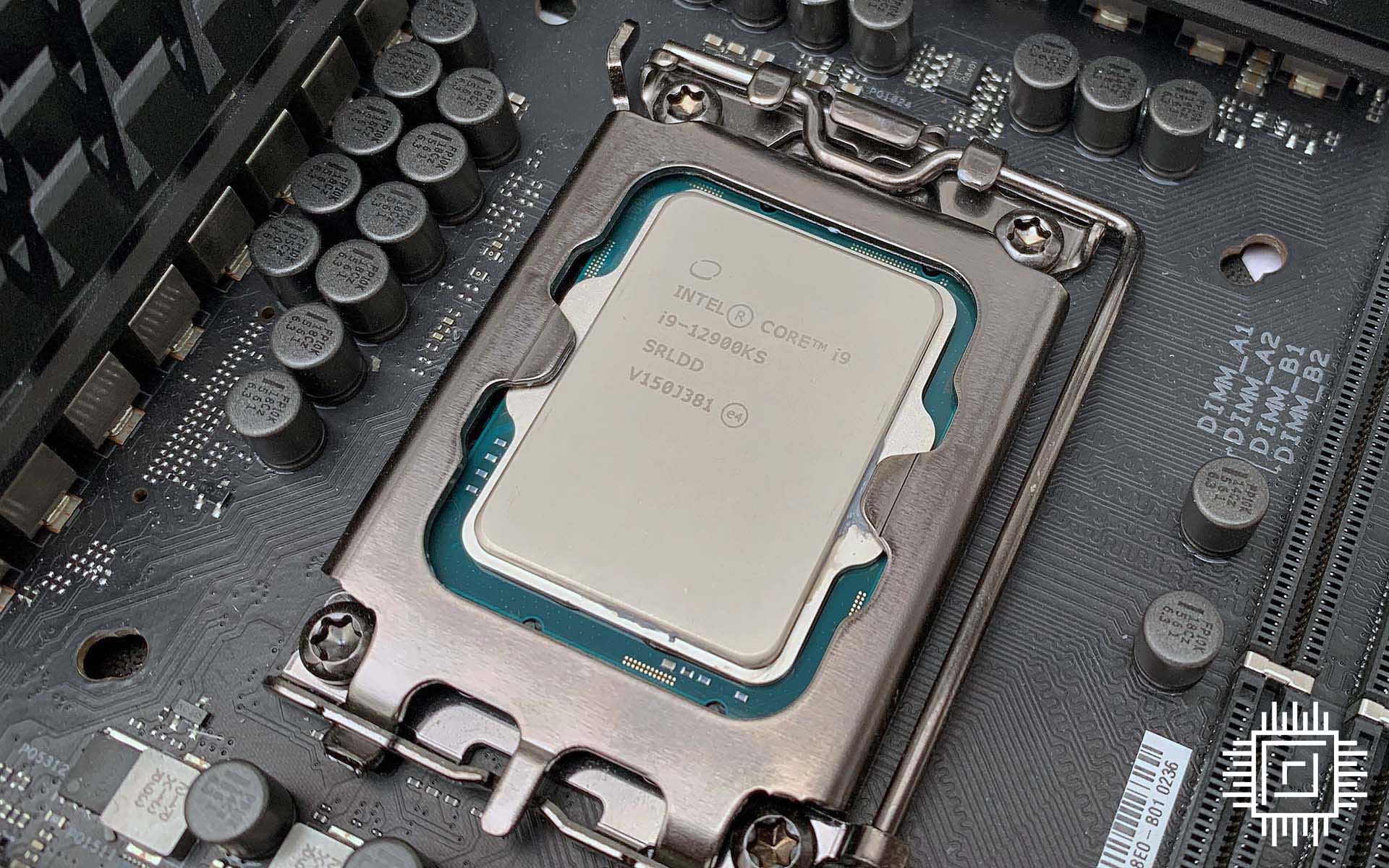 Understandably a little quicker than Core i9-12900K debuting in November 2021, Intel spies opportunity to extract more cash from the gaming enthusiast's pocket. 12900KS comes in swinging at $739 (£700+), which is 25 per cent more expensive than the processor it replaces as head honcho. You're rewarded with performance improvements in the single percentage figures, mostly, meaning value is of secondary or even tertiary concern.
"A case of grunt versus elegance, Intel is well versed in adding copious power to top-line chips."
Non-benchmark discussion takes away from 12900KS' raison d'être. This is the finest Alder Lake-based chip to date, and perhaps forever will be, standing as a monument to frequencies extractable from Intel's 10nm SuperFin process.
There is only one version of this chip. Equipped with a basic IGP known as UHD770, Intel won't sell it in non-IGP 'KF' or 'F' forms. Core i9-12900KS is also referred to as a special edition chip, intimating production quantity is more limited than regular 12th Gen models. We don't know how many will be made, but if you want one, the clock is ticking, as many will be reserved for base units from system integrators promoting high-end builds.
We already know Core i9-12900K is a fast chip in every scenario, bettering AMD Ryzen 9 5950X in numerous tests. The only question left to answer is whether Core i9-12900KS can clean-sweep all performance benchmarks, so let's get to it and find out.
In-depth testing methodology is found on the second page of this review.
CPU Performance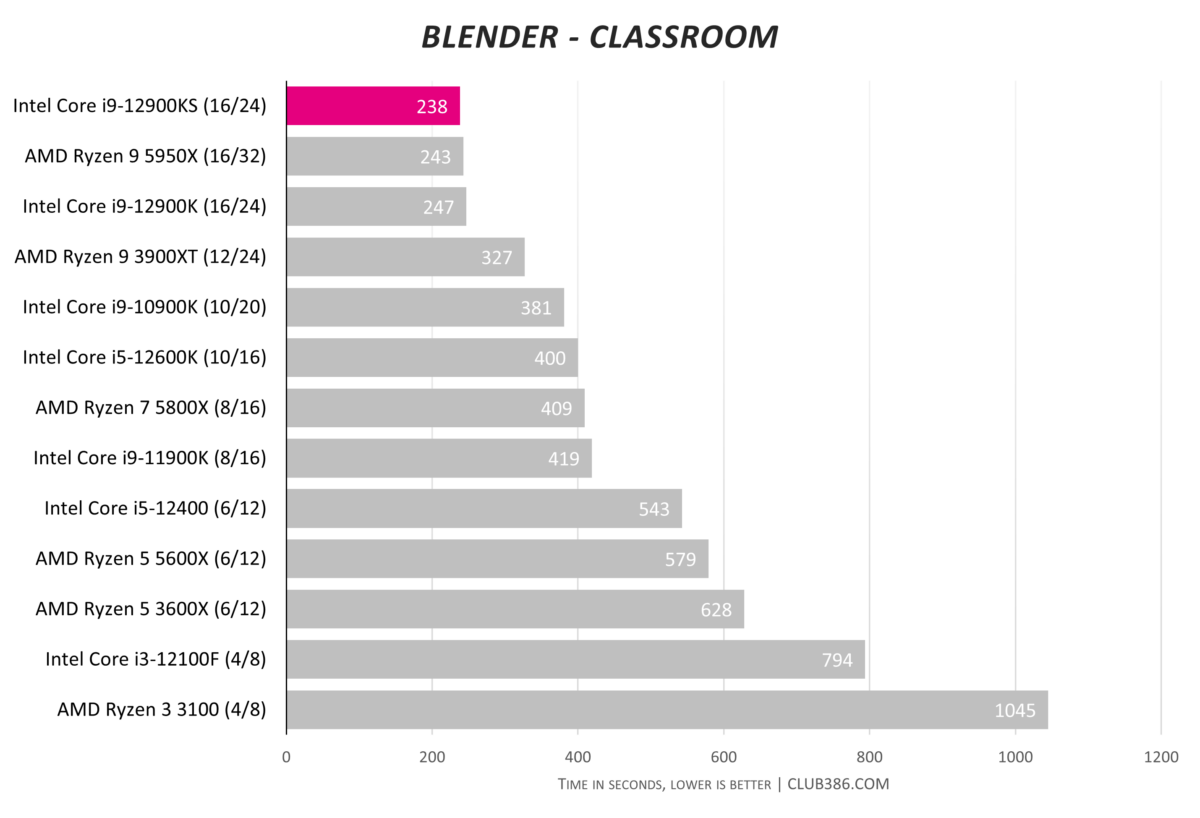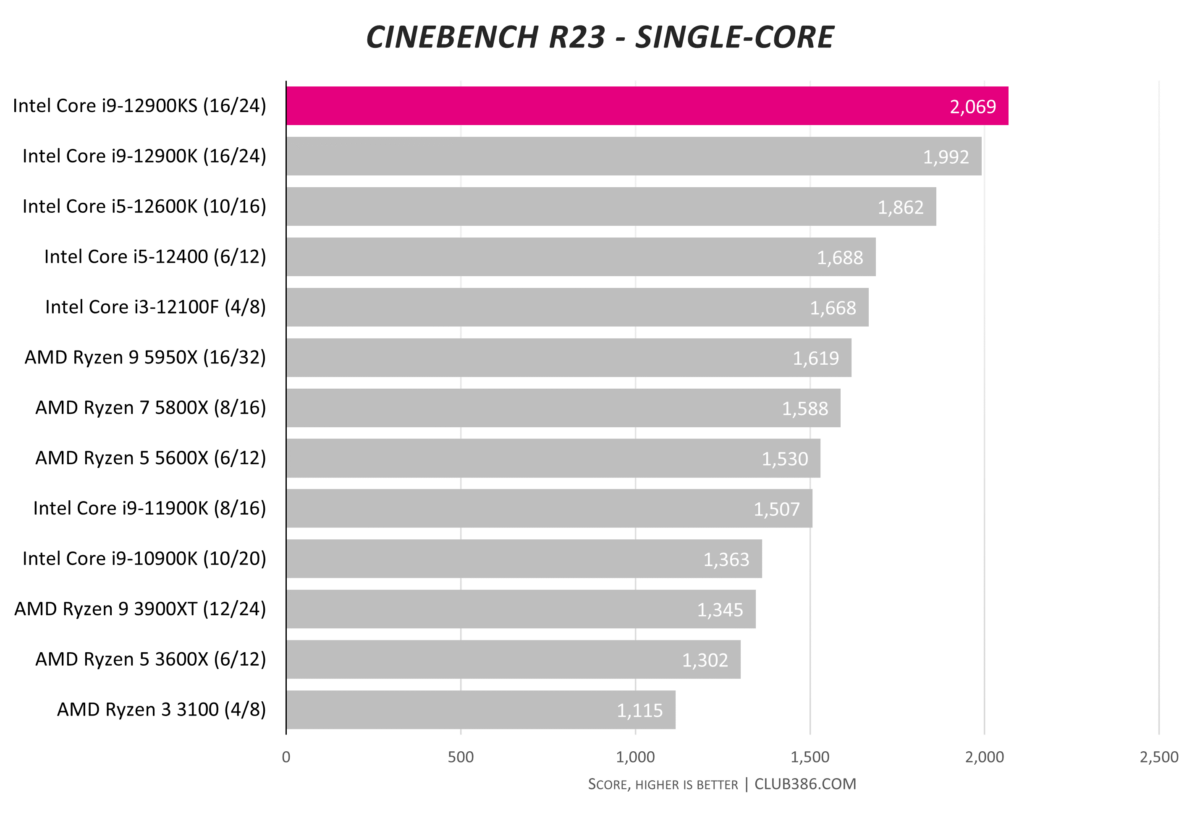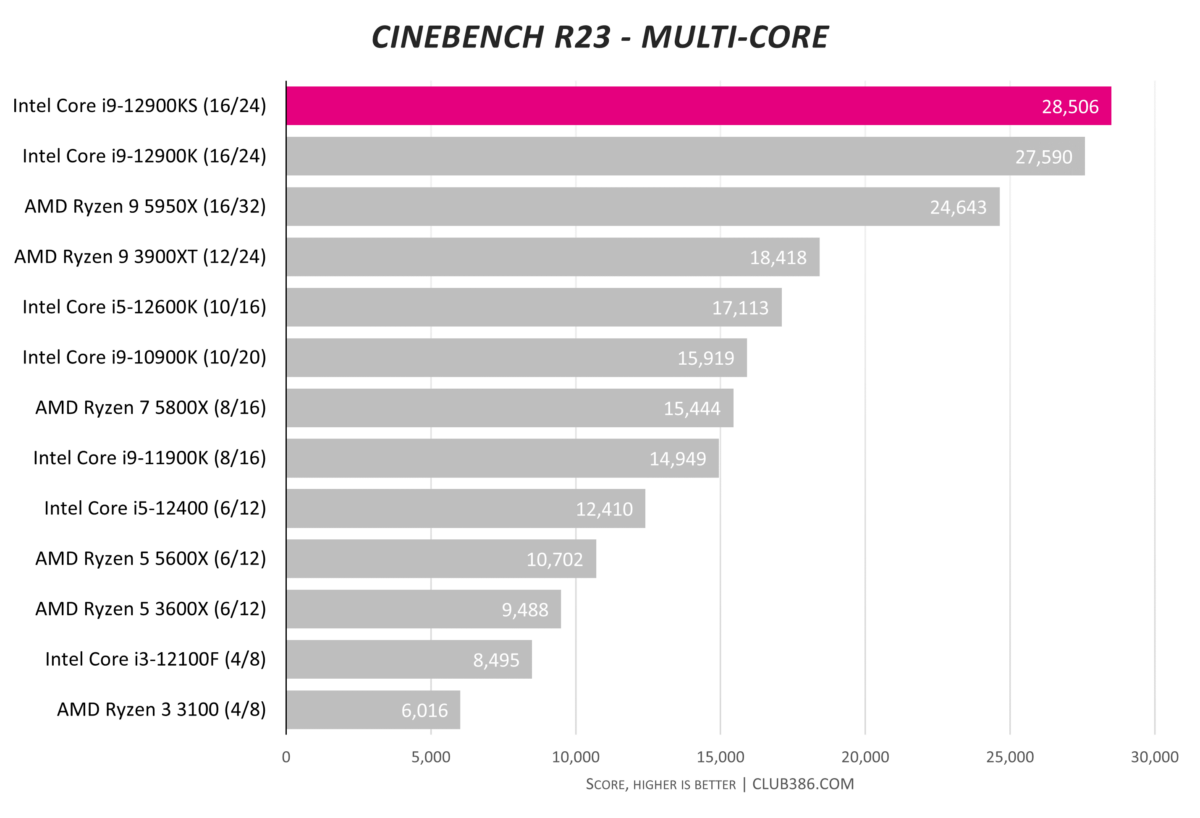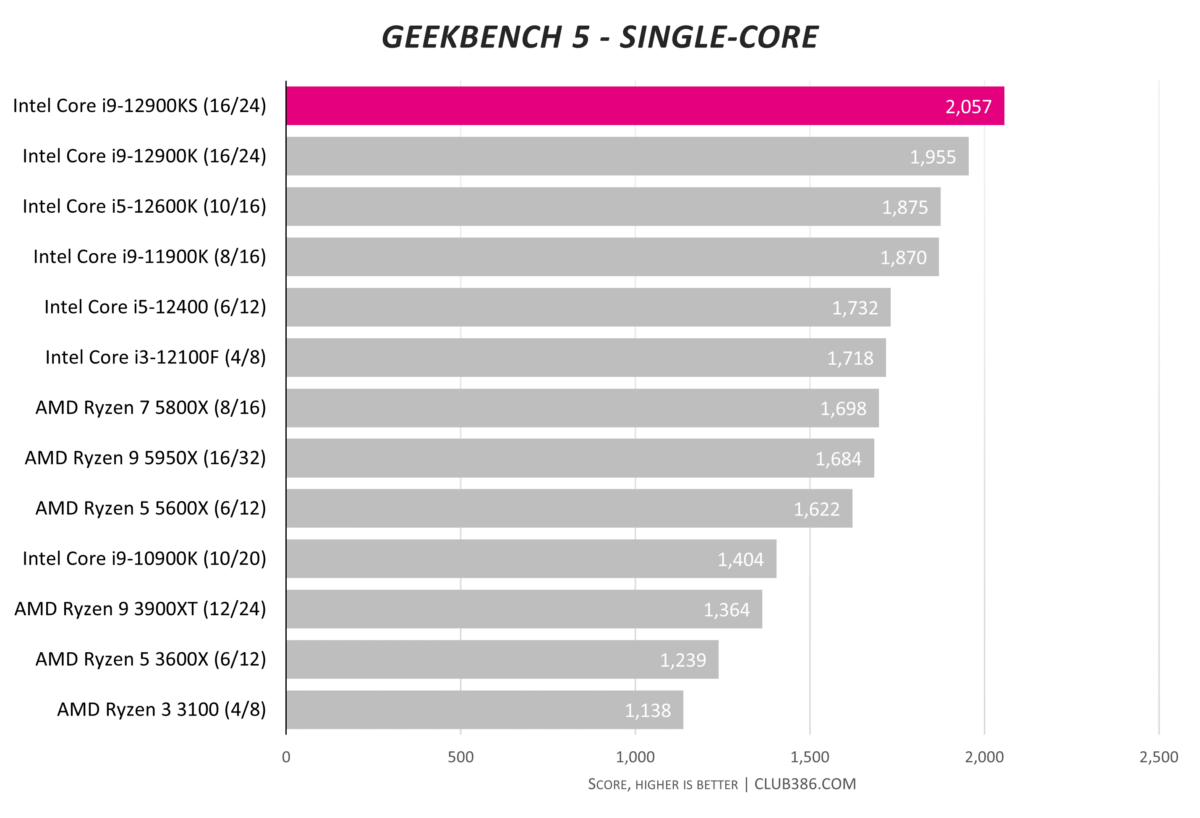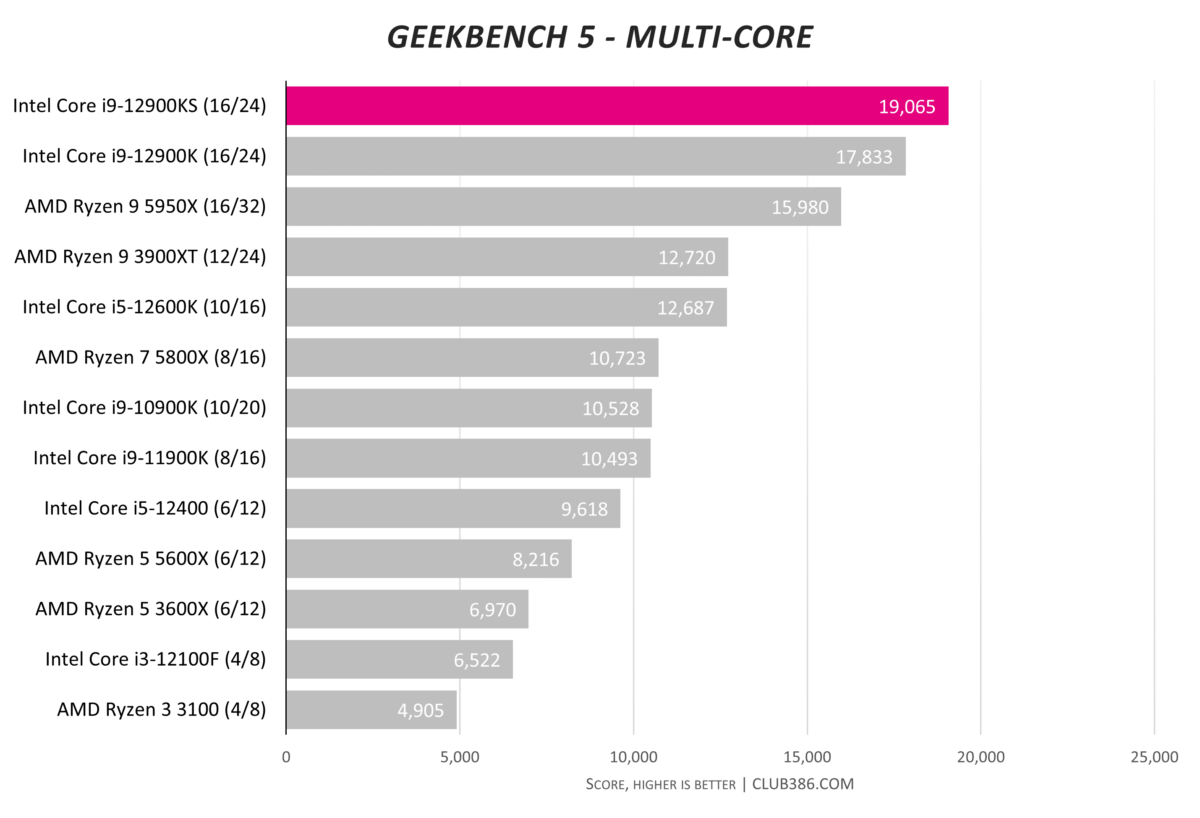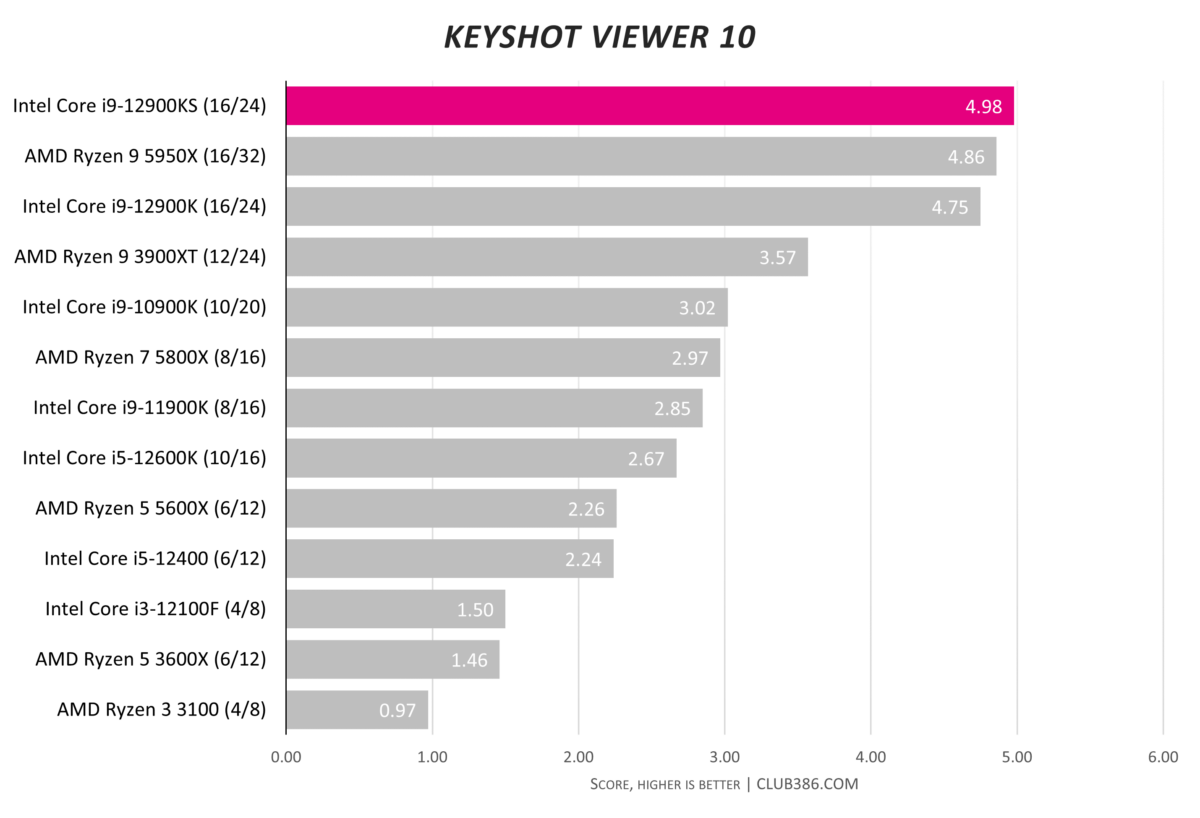 Intel is six for six in the CPU-intensive tasks. Cooled by a dual-fan Noctua NH-D15S monster heatsink, all-core temperature rises to 95°C after sustained load. ABT and TVB do their thing in moving the KS chip away from regular K; our sample hums along at 5.1GHz. Nevertheless, we're seeing four to seven per cent gains. Not much, granted, but every little counts.
Memory Performance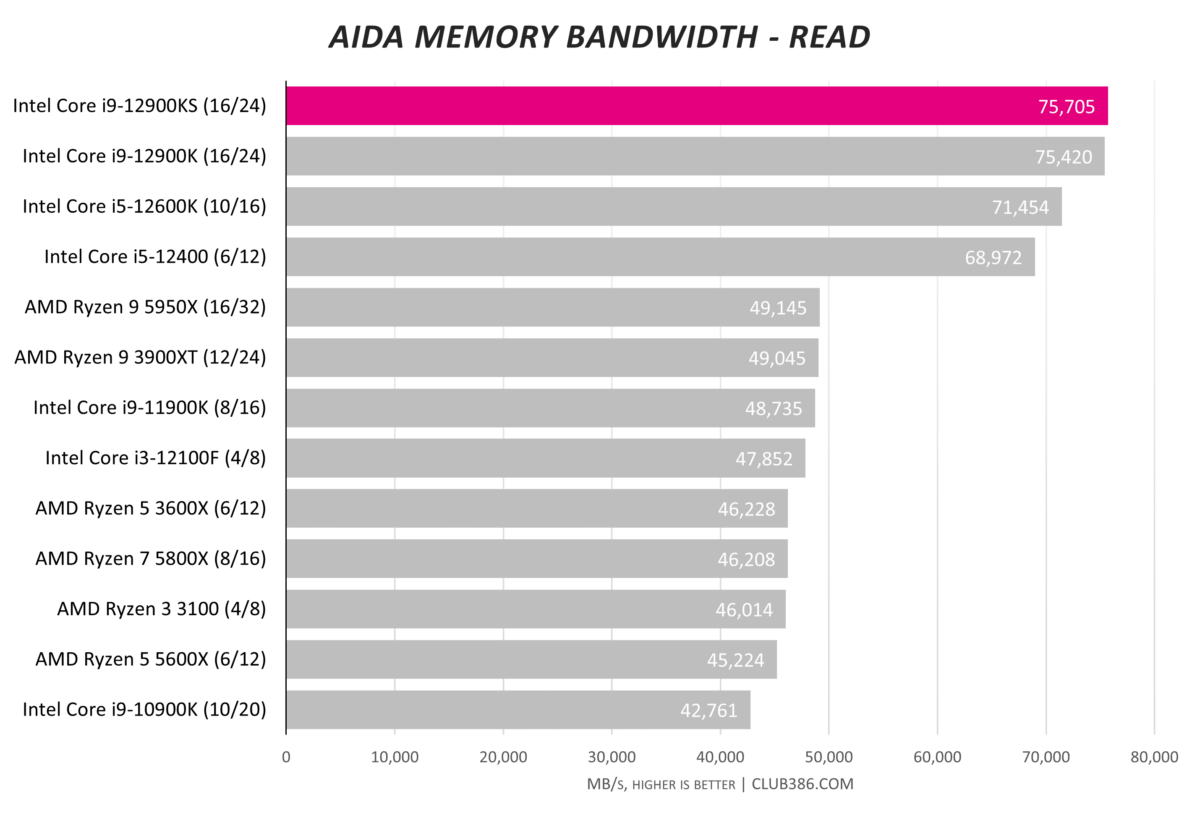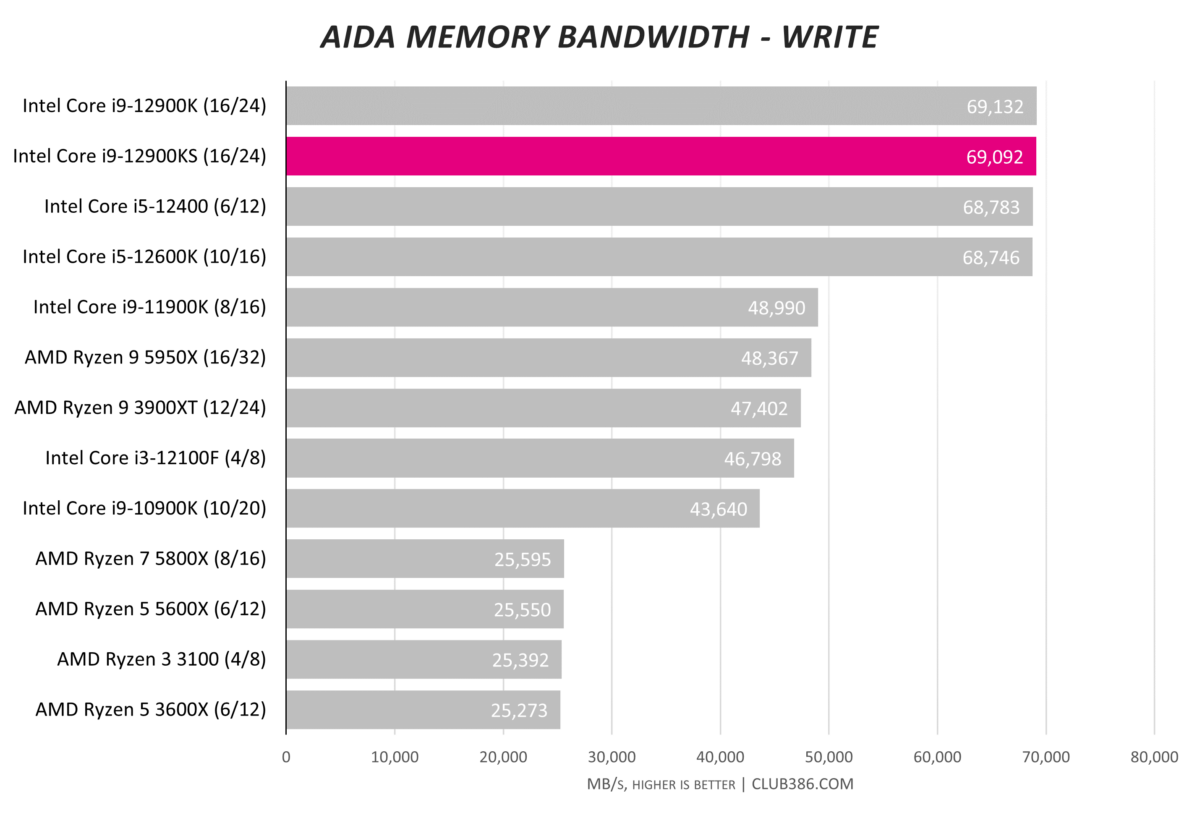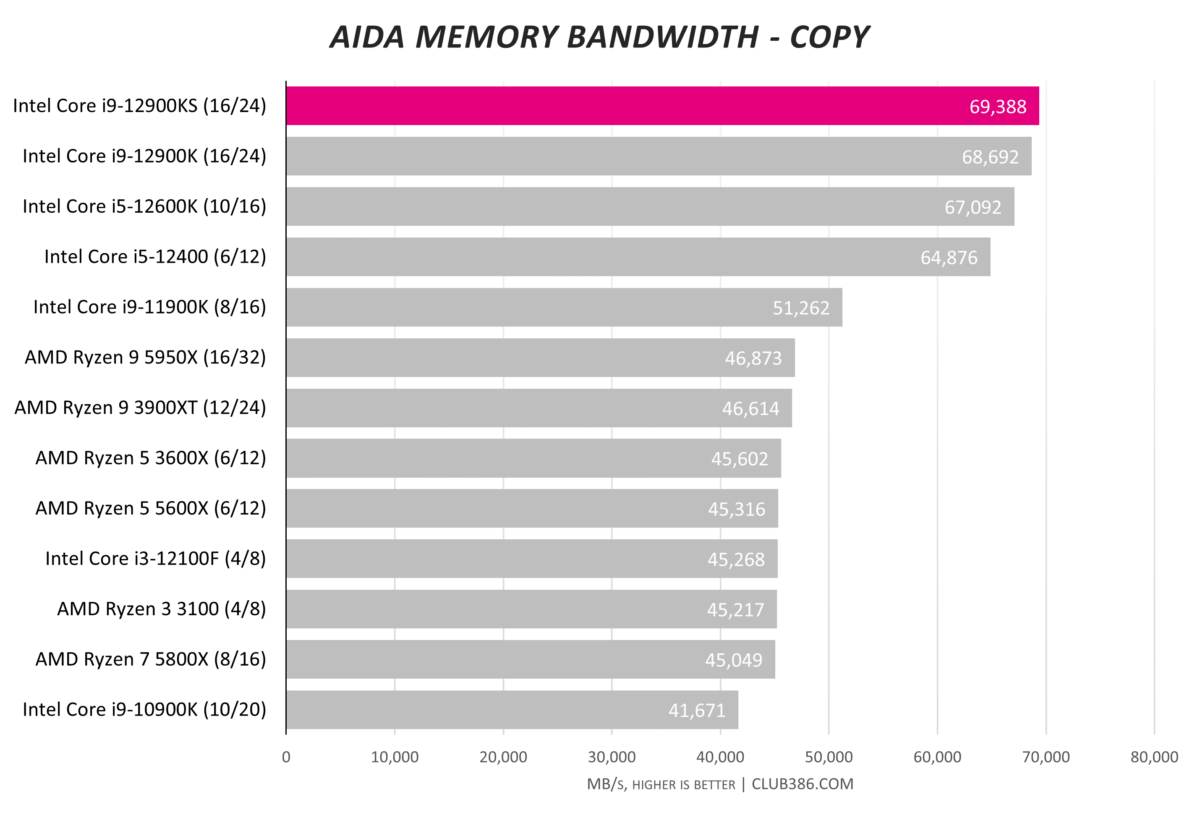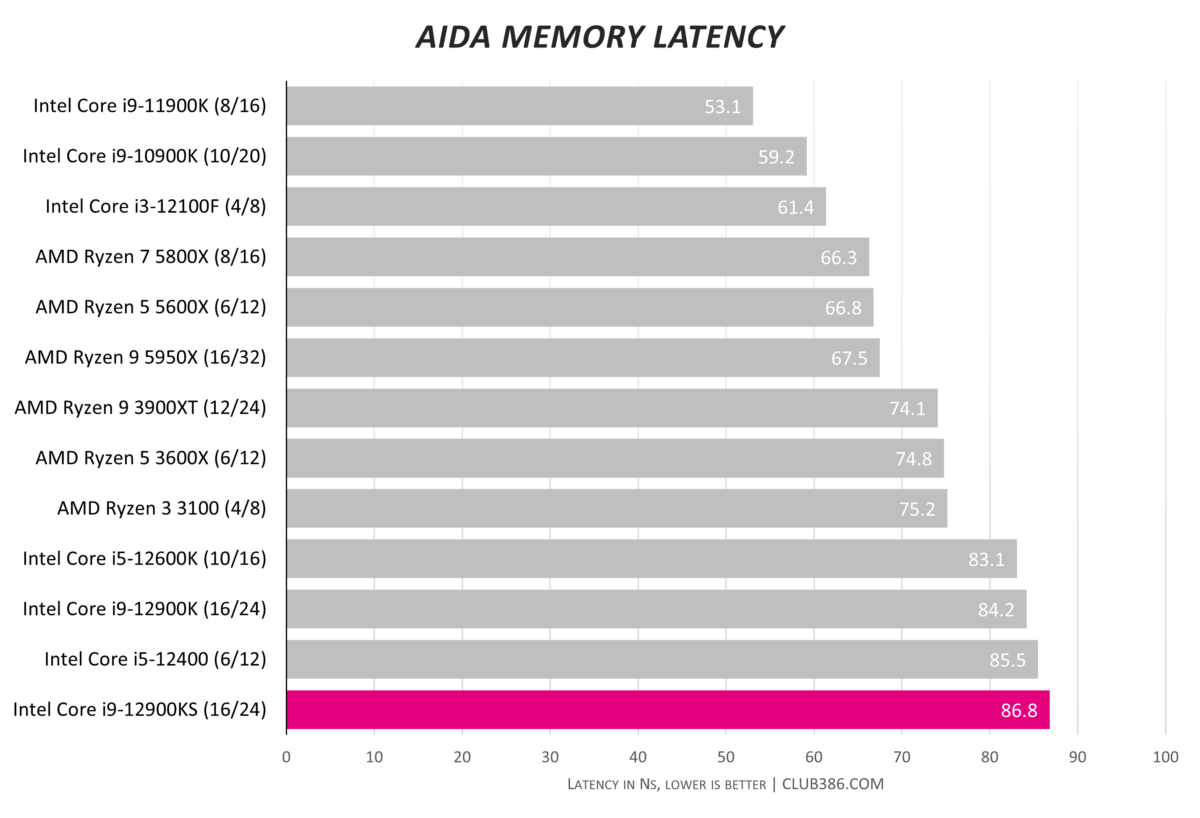 DDR5 gives with the bandwidth hand and takes away with latency. Grabbing some super-tight DDR5, thus shaving off a few clocks, is an expensive business.
System and Gaming Performance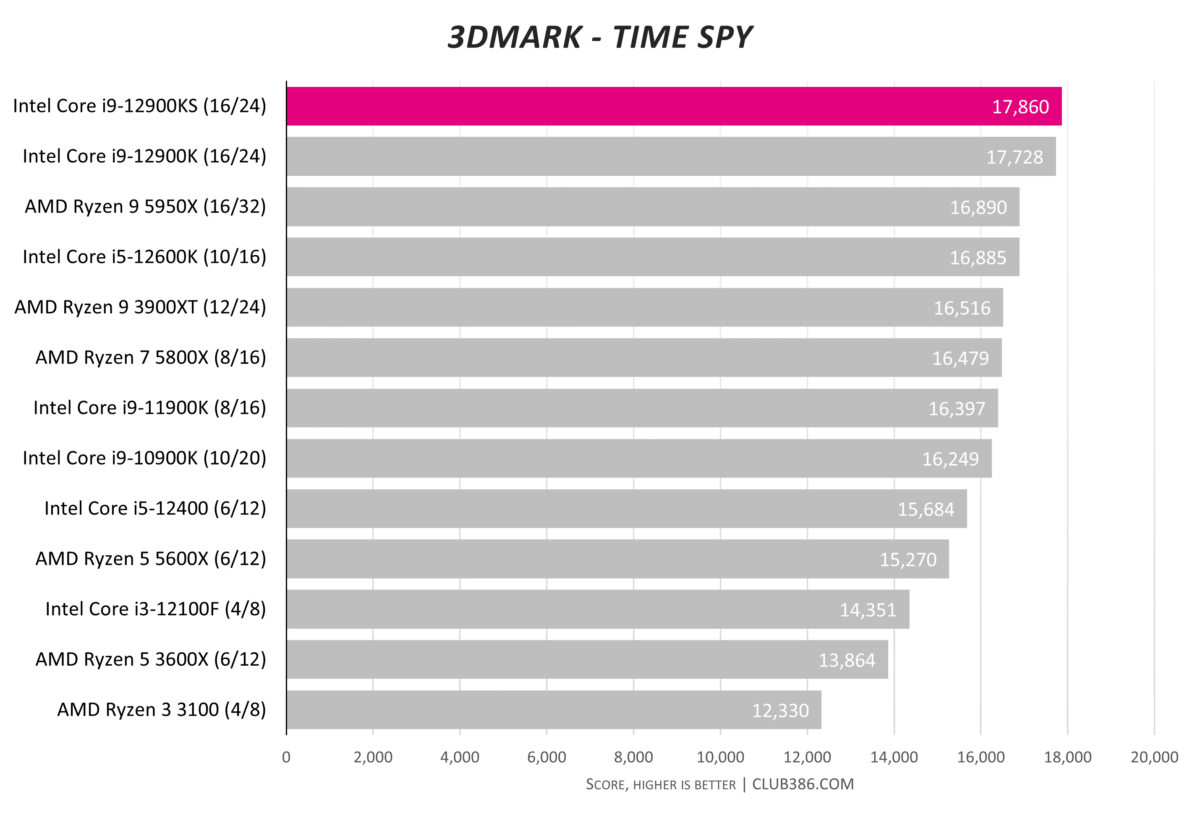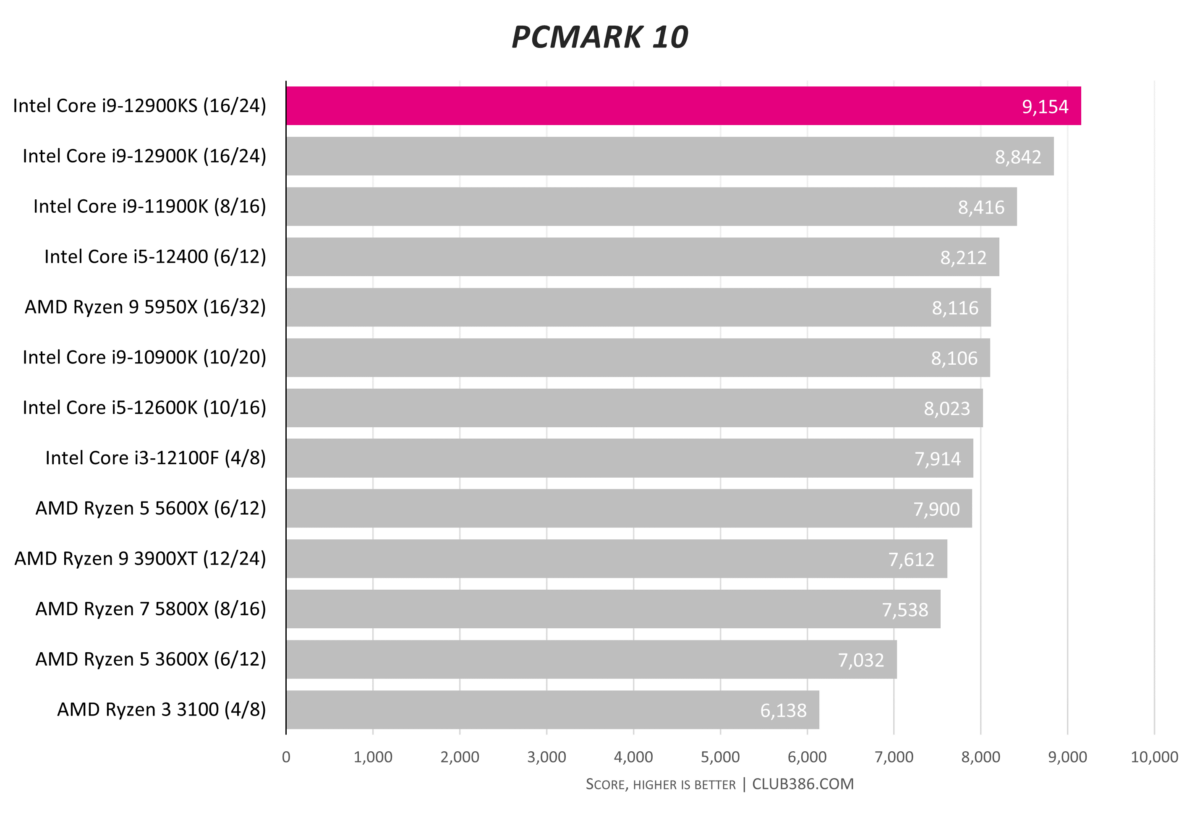 PCMark 10 shows how infrequently the chip touches 5.5GHz.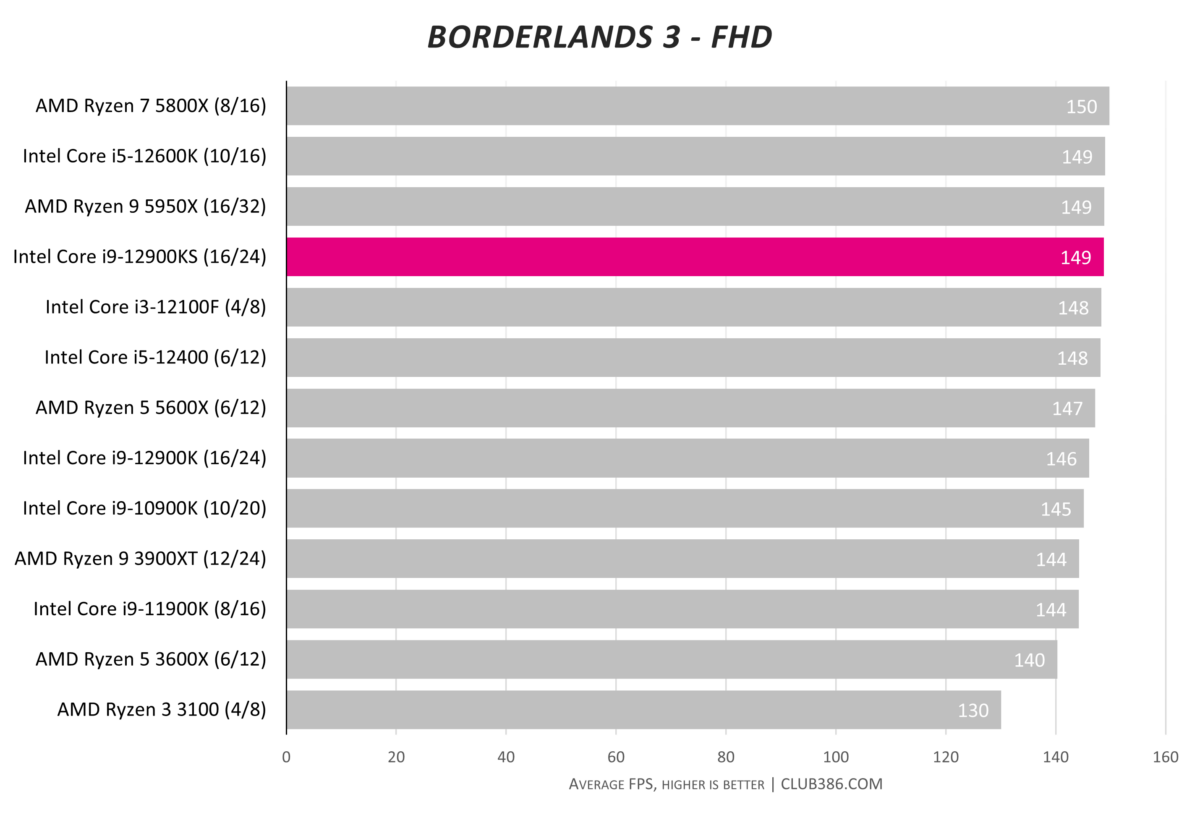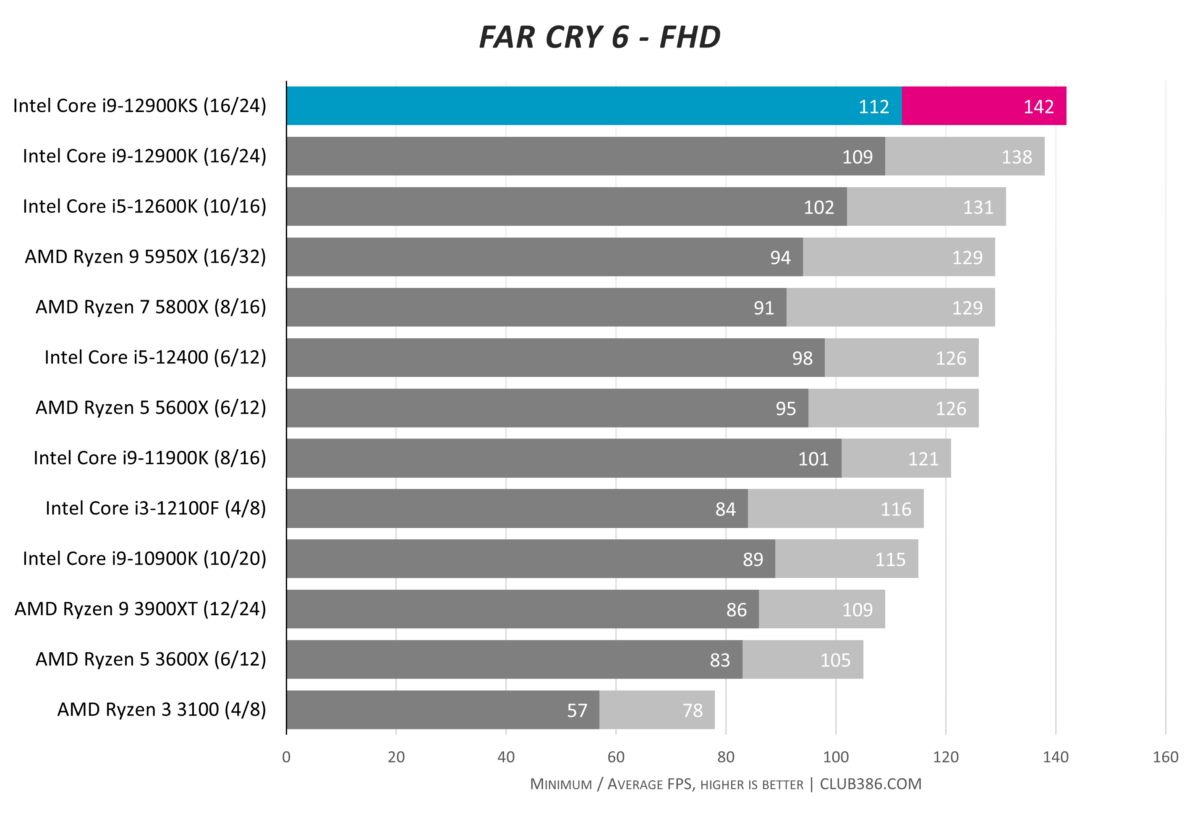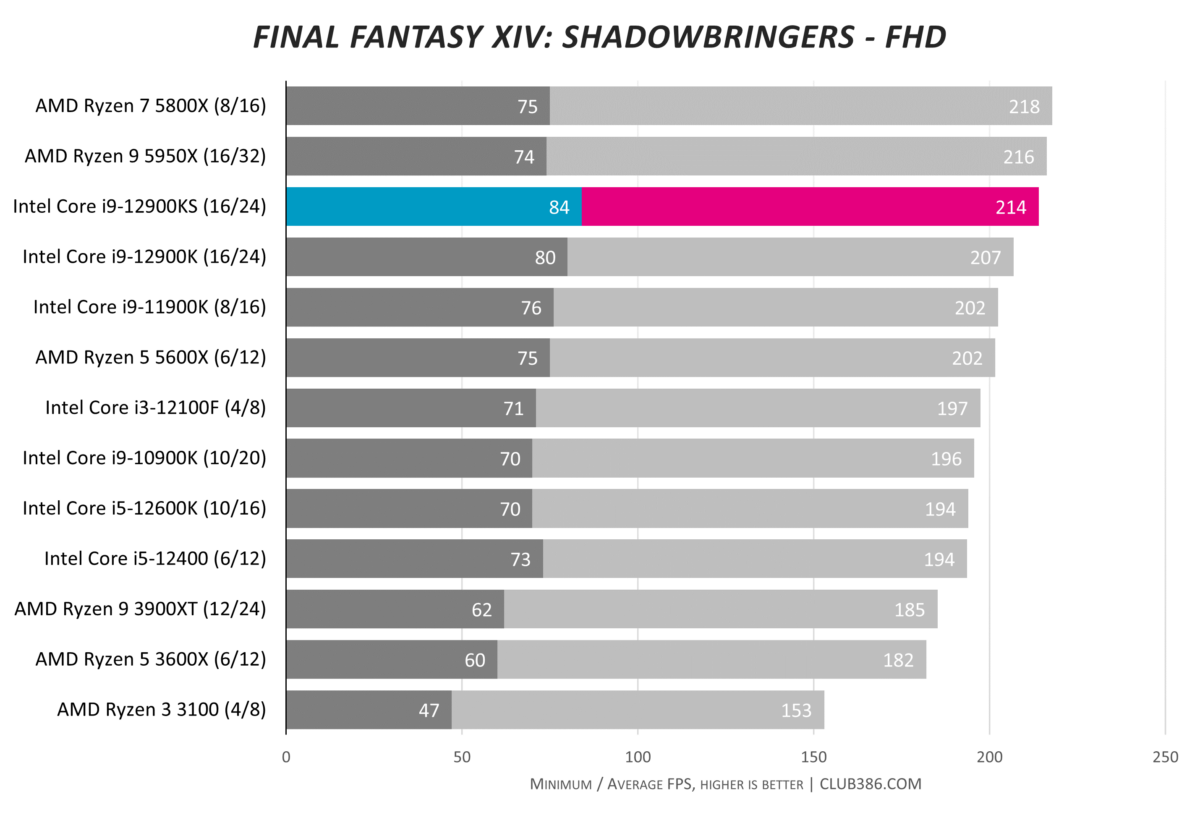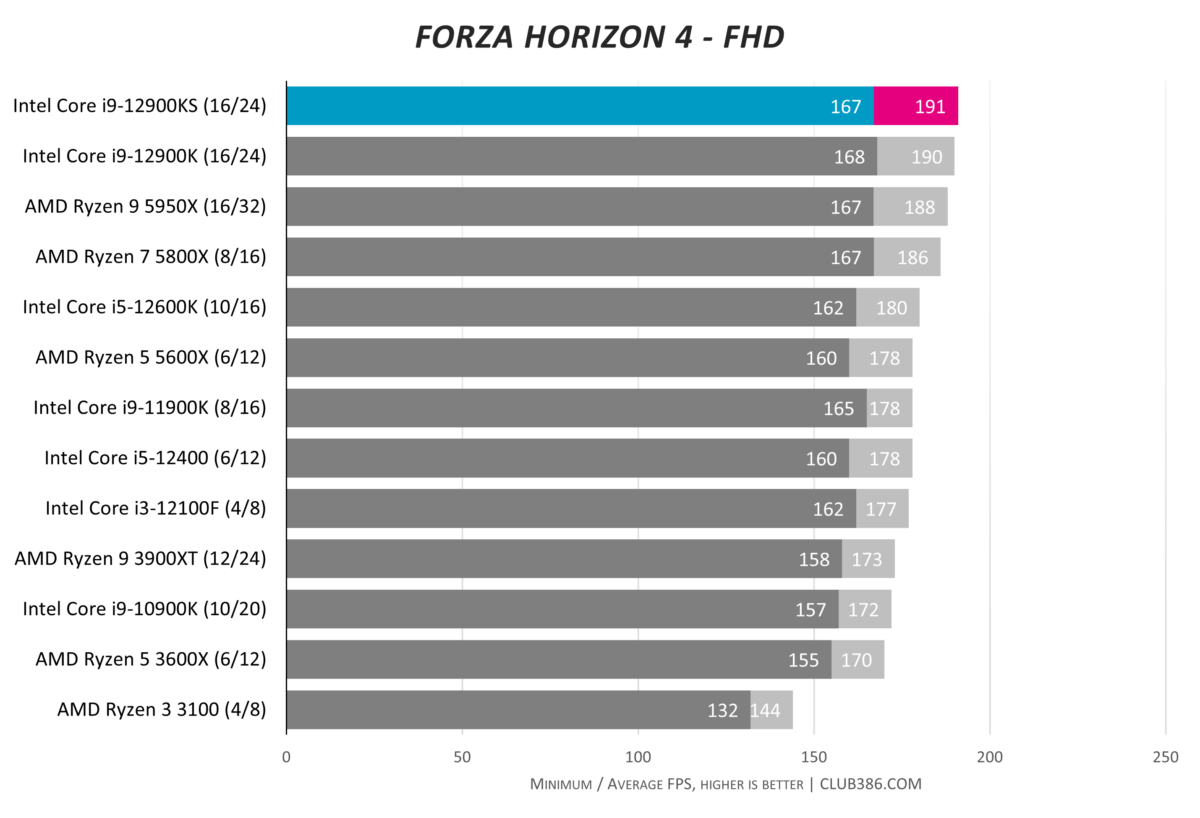 Four wins out of six in the system and gaming tests. Bear in mind these are run at FHD with a GeForce RTX 3080 Founders Edition. We'd typically use this card to game at QHD, if not UHD, so most of the framerate divergence from those lower down the pecking order will diminish in real-world situations.
Power, value and efficiency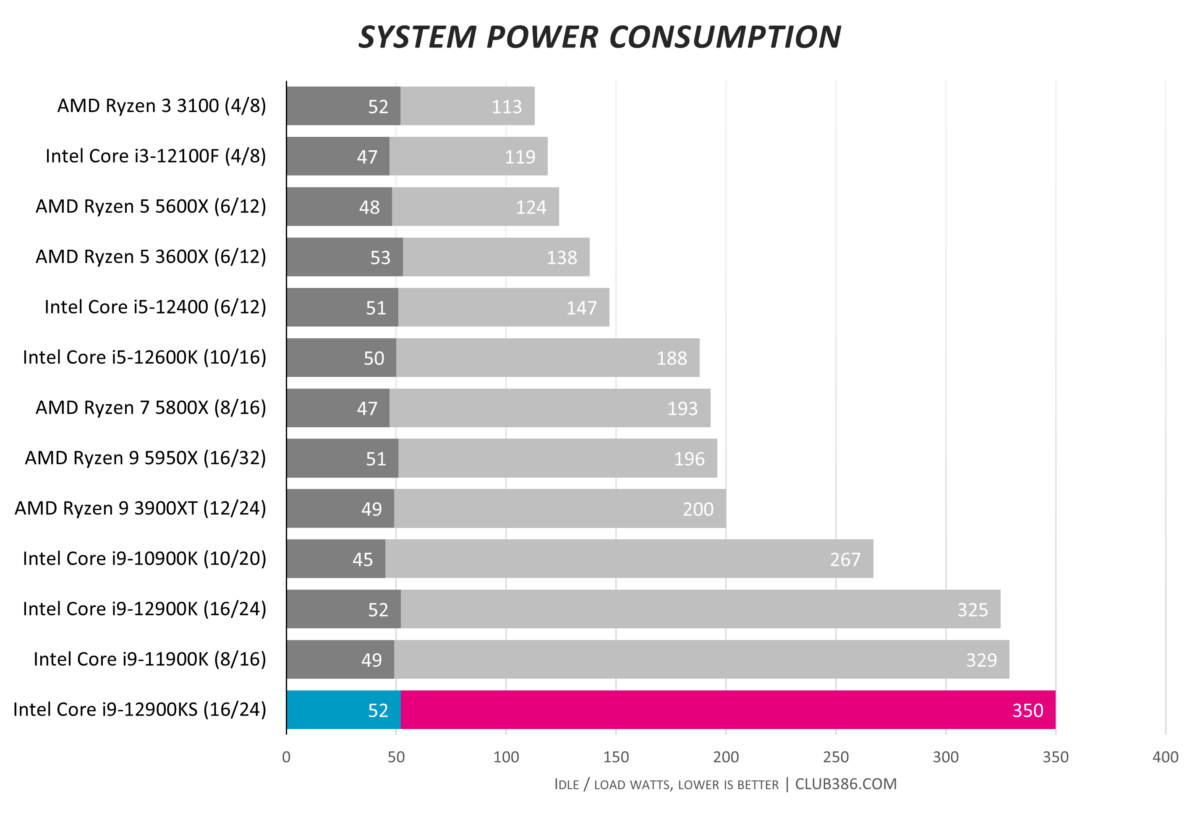 What this graph doesn't tell you is what happens when only a few cores are active. In that situation, where the chip needs to boost to 5.5GHz, two-core power consumption is 30 per cent higher than on Core i9-12900KS, rising from 102W to 134W. Makes sense, too, as base TDP increases to 150W on this model.
Using ABT and TVB in concert also pushes system-wide power consumption higher than we expected in the Cinebench all-core test. No wonder even a dual-fan Noctua begins to struggle.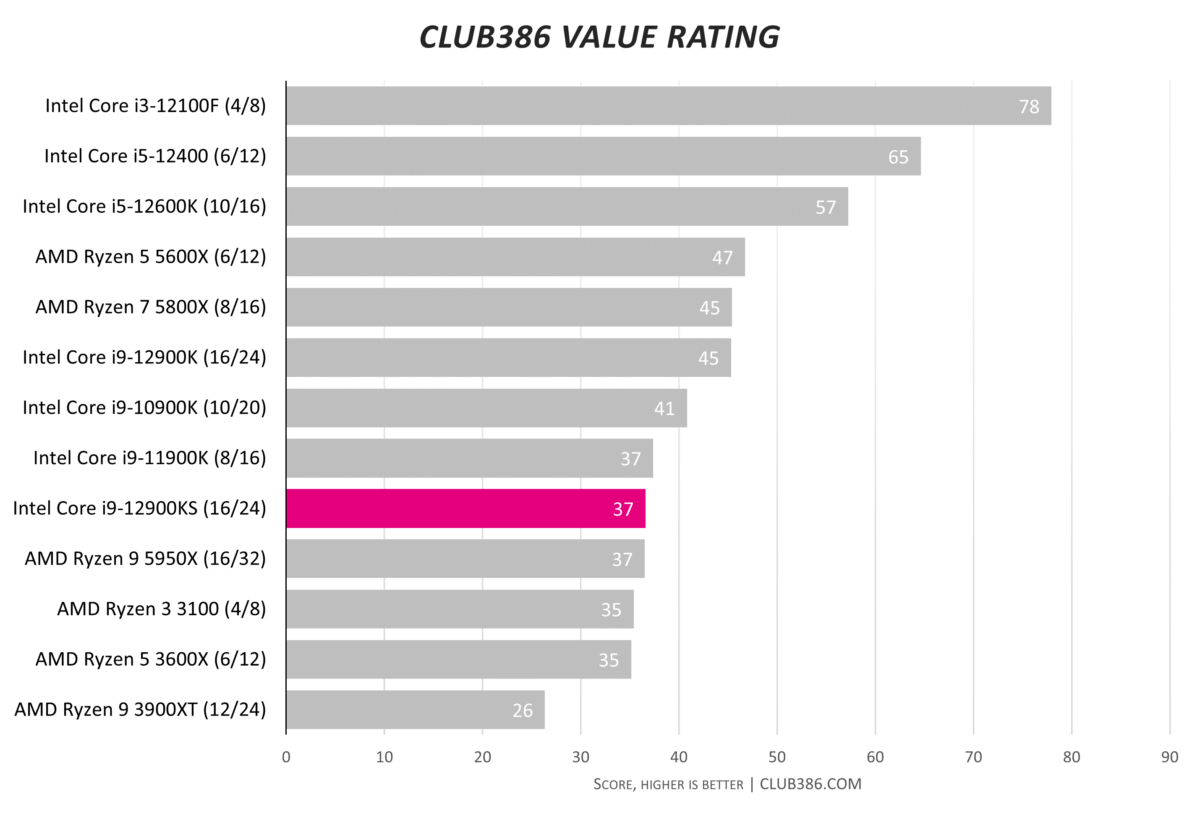 This value rating is calculated by taking the all-core Cinebench R23 score and dividing by the dollar price at Newegg on the day of publication. Prices have changed over the past few weeks, so this graph can't be directly compared to other chip reviews.
A $779 street price removes most of the goodness emanating from class-leading Cinebench performance. Though it ought to be obvious at the outset, this is not a value-centric chip at all.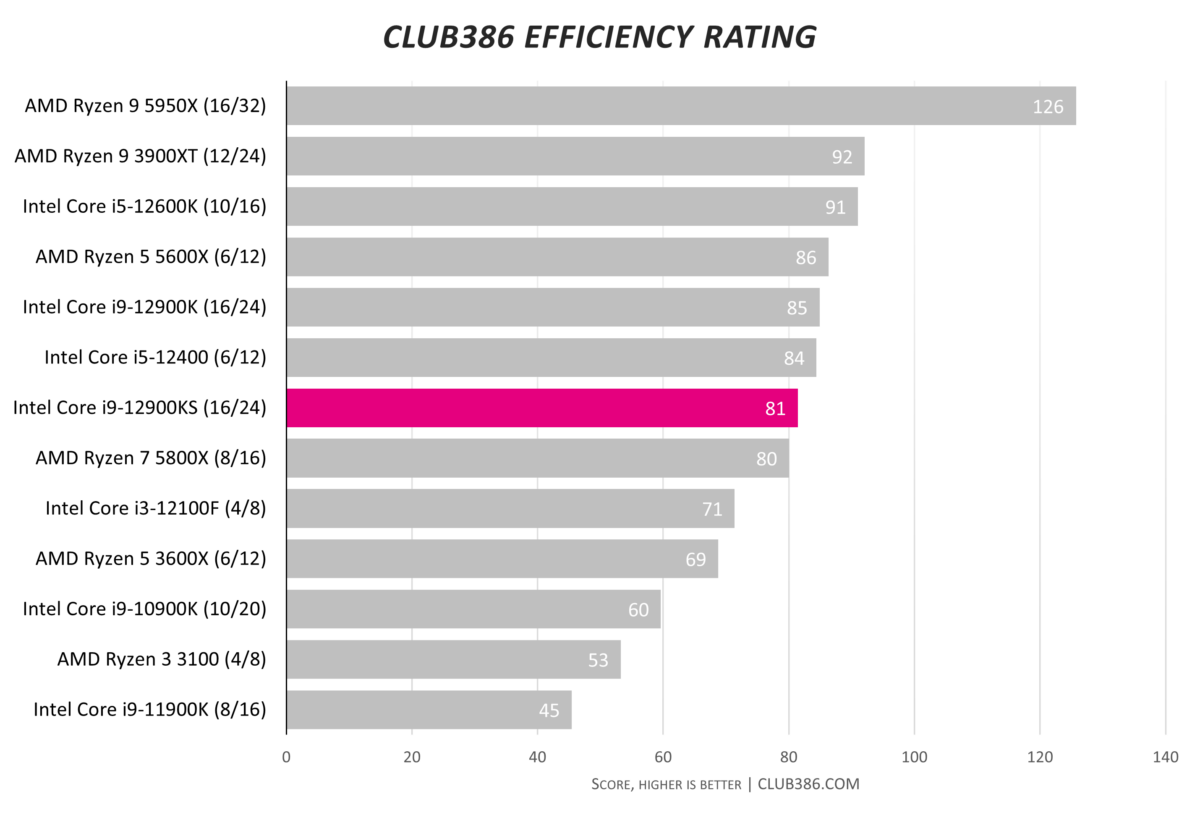 Efficiency is calculated by taking the same multi-core score and dividing by system-wide power consumption. Core i9-12900KS produces a little more performance than Core i9-12900K… but commensurately more energy is required to do it.

Show your support for impartial Club386 reviews
Club386 takes great pride in providing in-depth, high-quality reviews built on honest analysis and sage buying advice. As an independent publication, free from shareholder or commercial influence, we are committed to maintaining the standards our readers expect.
To help support our work, please consider making a donation via our Patreon channel.
Overclocking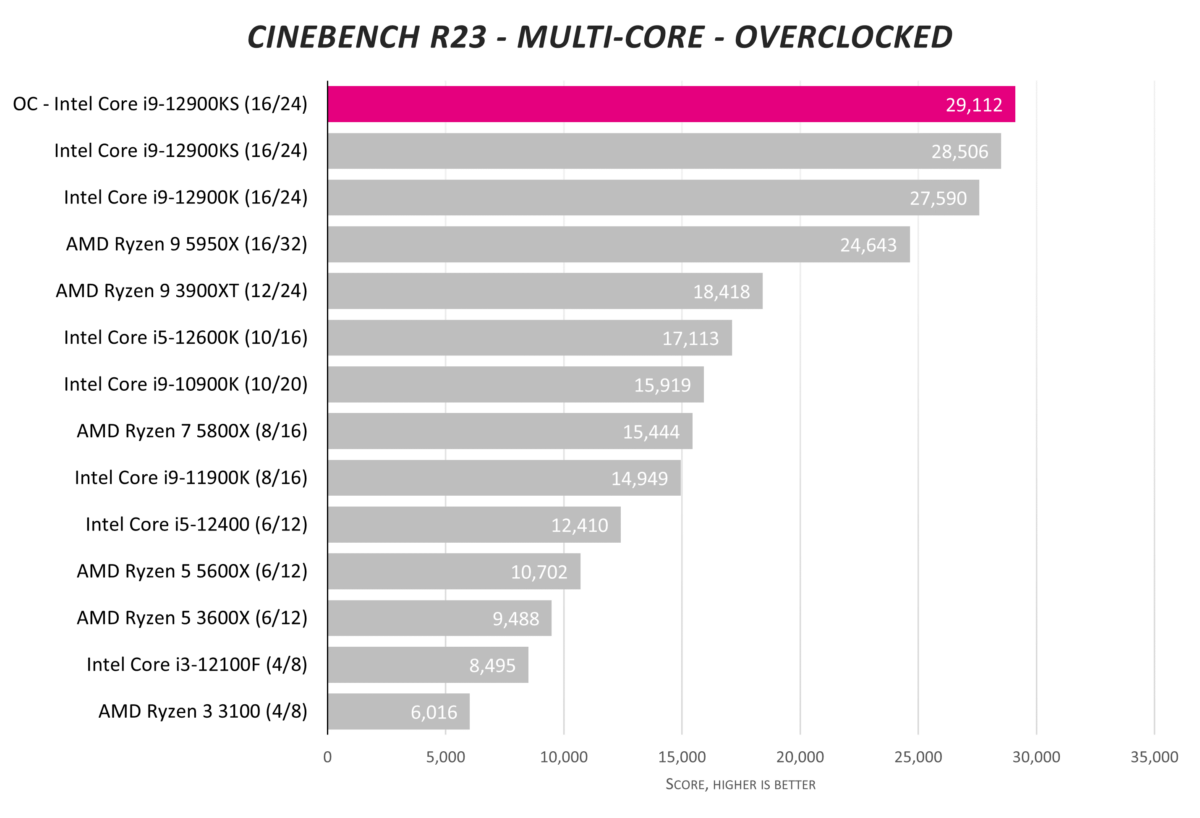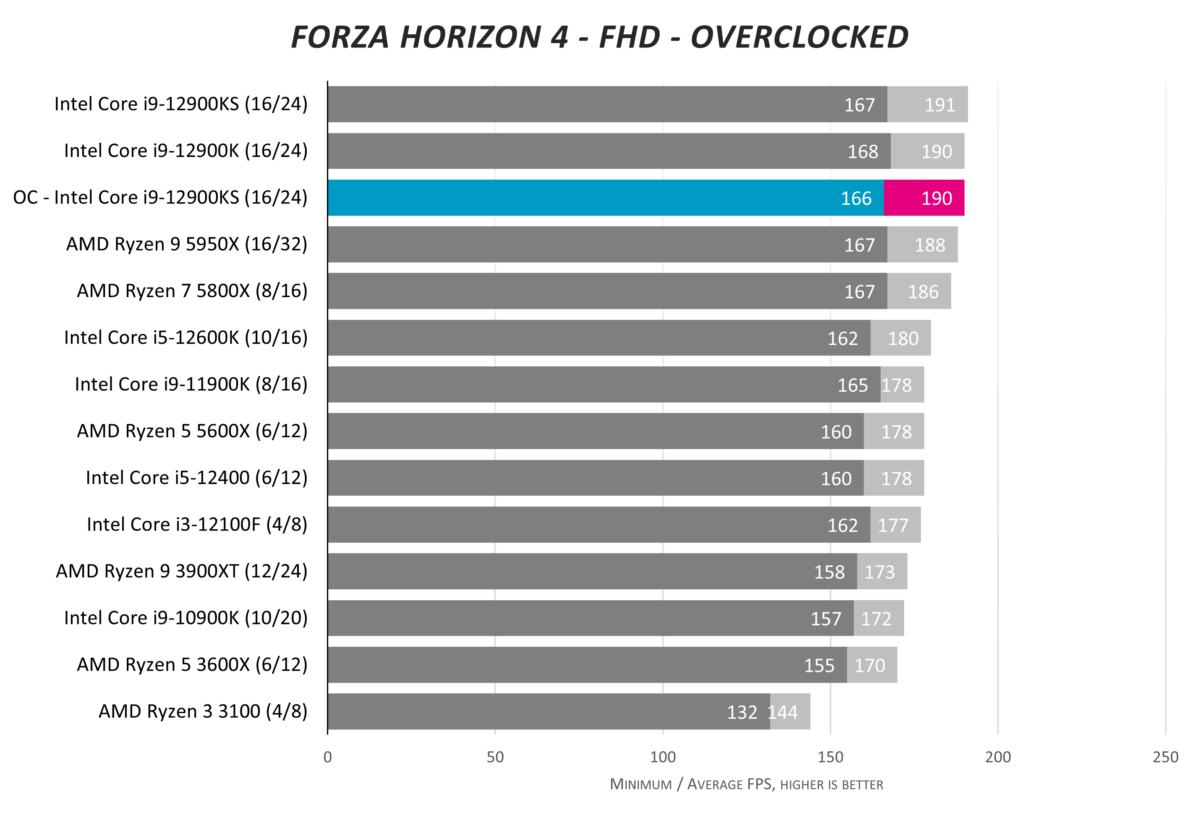 Trust us, you don't want to be manually overclocking this chip farther unless you have wonderful cooling. The dual-fan Noctua was not up to the task once we installed an all-core 5.2GHz and 1.35V, necessitating a switch out to a Cooler Master MasterLiquid PL360 Flux AIO. Even then, temperature spiralled to the wrong side of 100°C and system-wide power consumption to 452W. Proceed with caution.
Conclusion
Intel is acutely aware that hitching Core on to the gaming wagon is a sage move which promotes awareness. Knowing rival AMD is readying cache-enriched Ryzen 7 5800X3D for the same purpose, Core i9-12900KS strikes first.
Team Blue achieves marginally faster speeds by sheer horsepower alone, meting out higher speeds through a mixture of effective silicon binning with internal testing for frequency at the upper echelons. There is no other chip that runs the right side of 5GHz so often.
Benchmark performance is excellent; Core i9-12900KS wins the vast majority of benchmarks through a brute-force approach which leads to a mid-pack efficiency rating.
Core i9-12900KS' real issue is price. Costing around £200 more than the regular K yet offering single-digit performance increases, we find it difficult to recommend to DIY builders who can achieve similar results by overclocking Core i9-12900K. Where this chip makes sense is in turnkey rigs designed to offer supreme gaming credentials above all else; to that end we'll be testing a PCSpecialist system in the coming days.
Intel's pursuit of mainstream performance excellence comes at a heavy fiscal cost. Core i9-12900KS feels like a kneejerk reaction to the competition, and as such, is a solution looking for a problem.
Intel Core i9-12900KS
Verdict: Exorbitant pricing and higher energy consumption impair what is an otherwise excellent mainstream CPU.
---
Pros
Super performance
Fastest 12th Gen
5.5GHz top speed


Cons
Pricey at £750
High power demand
Slightly faster than 12900K
---
Club386 may earn an affiliate commission when you purchase products through links on our site. This helps keep our content free for all.
Rest assured, our buying advice will forever remain impartial and unbiased.