Jump to: Architecture | Performance | Gaming | Conclusion
The hybrid-architecture Core i9-12900K put a game fight against the best of AMD, but it was never a fair scrap, as pitting last-gen Core against raging Ryzen 9 7950X felt, at times, cruel. Black eye in tow, 12th Gen Alder Lake has trudged home and called on big bro to sort things out. And you know what that means, don't you? It's 13th Gen Core Raptor Lake time!
Intel is back and keener than ever in reclaiming performance supremacy for both PC applications and gaming. Spearheading this charge to dislodge Ryzen from top spot in the coveted mainstream space is the singular remit of Core i9-13900K. Like Arnie in Commando's denouement, Intel's fastest-ever client processor is armed and ready to wreak havoc. Flexing muscles through faster P-cores, double the number of E-cores, larger caches, and higher speeds, the 24-core, 32-thread champ of the 13th Gen is a beast in its own right.
Yet do understand that fitting into the same LGA1700 socket as incumbent 12th Gen Core Alder Lake processors released at the tail end of last year, 13th Gen Core is a refinement rather than grounds-up design, which is totally normal and expected. A bit of old mixed in with some muscular new.
Alder Lake On Steroids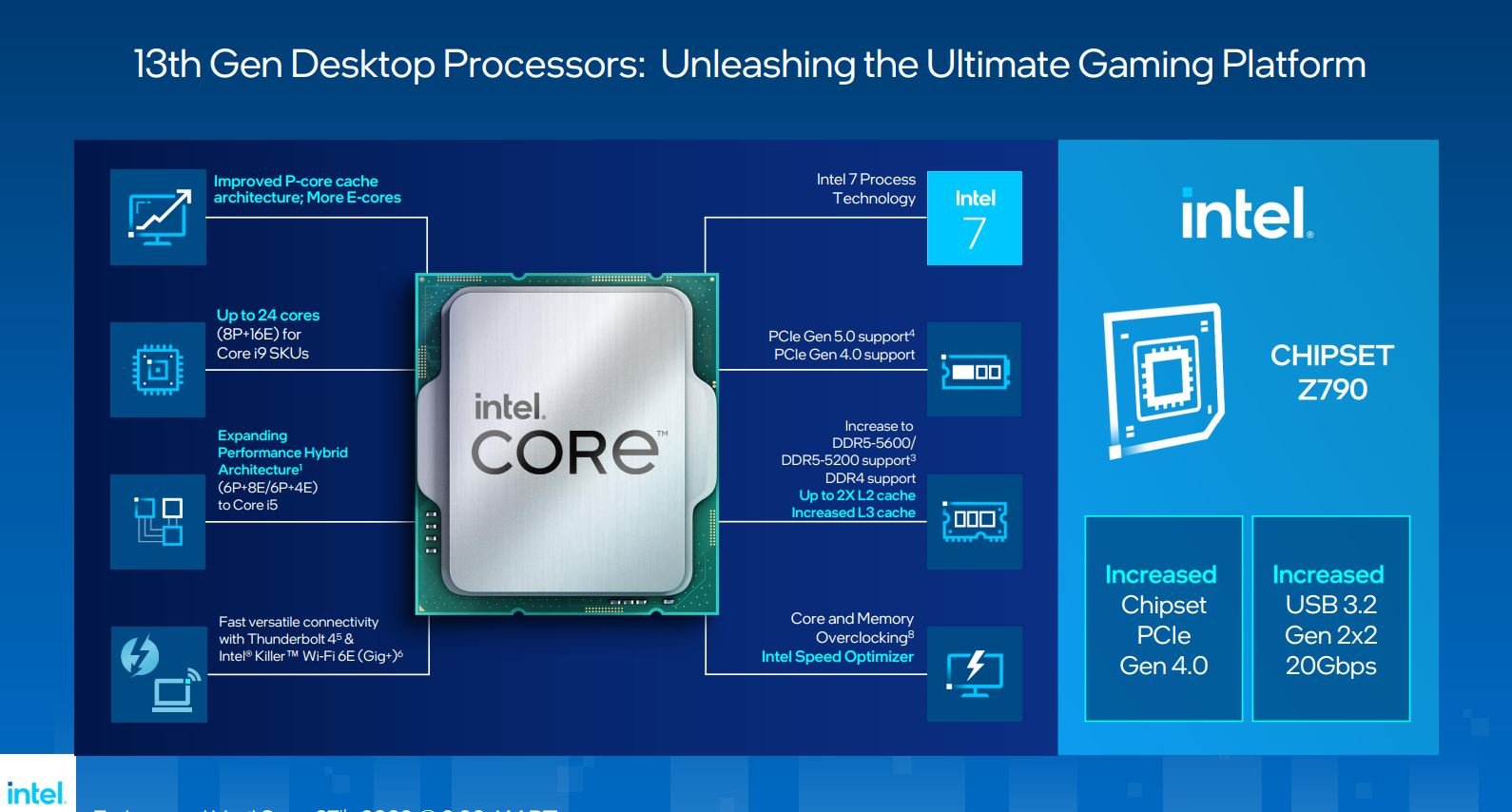 Appreciating 13th Gen Core uses the same hybrid-architecture as its immediate predecessor, it's impressive that performance gains are achieved without moving from the 'Intel 7' 10nm Enhanced SuperFin process used on Alder Lake.
Looking at the wider introduction first, Intel is adding more E-cores for Core i5, Core i7 and Core i9 families, translating to greater processing power across the entire stack. On top of that, the hybrid memory controller is now specified for native operation at DDR5-5600 speeds, up from DDR5-4800 on 12th Gen Core.
Intel has already announced 700 Series chipsets to fully support 13th Gen Core processors. Flagship Z790, however, doesn't differ much from today's Z690, which will also support Raptor Lake processors through a BIOS update.
Moving with the times, chipset PCIe 3.0 lanes are reduced from 16 to 8, while 4.0 lanes conversely rise from 12 to 20, primarily to service high-speed expandability for peripherals hanging off the PCH. There's a further USB 3.2 2×2 20Gbps port, as well, but that's your lot.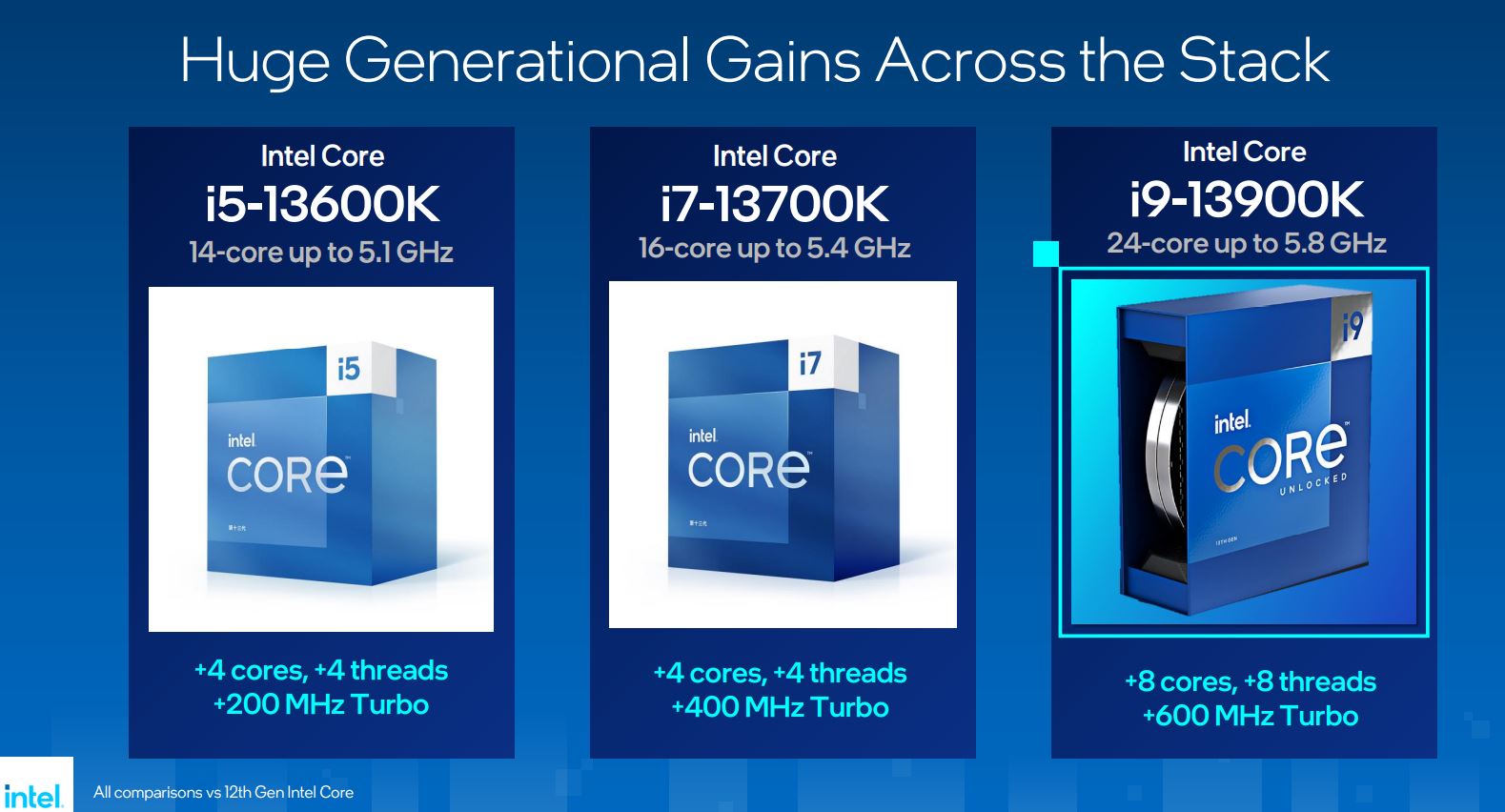 Fuelling Performance Through More Cache
Intel comments it's been able to boost Raptor Lake frequencies by using an improved version of third-generation Intel 7 process. Like latest Ryzens, this shifts the voltage/frequency curve out by a reasonable amount.
13th Gen Core can run at the same speed as 12th Gen Core with 50mV less juice – leading to the appetising idea of heaps of performance at reduced TDPs – or offer an additional 200MHz at the same voltage. Cranking out more speed with an expanded TDP range is how the newest Core i9 scales up to 600MHz higher, which is a key weapon in its arsenal.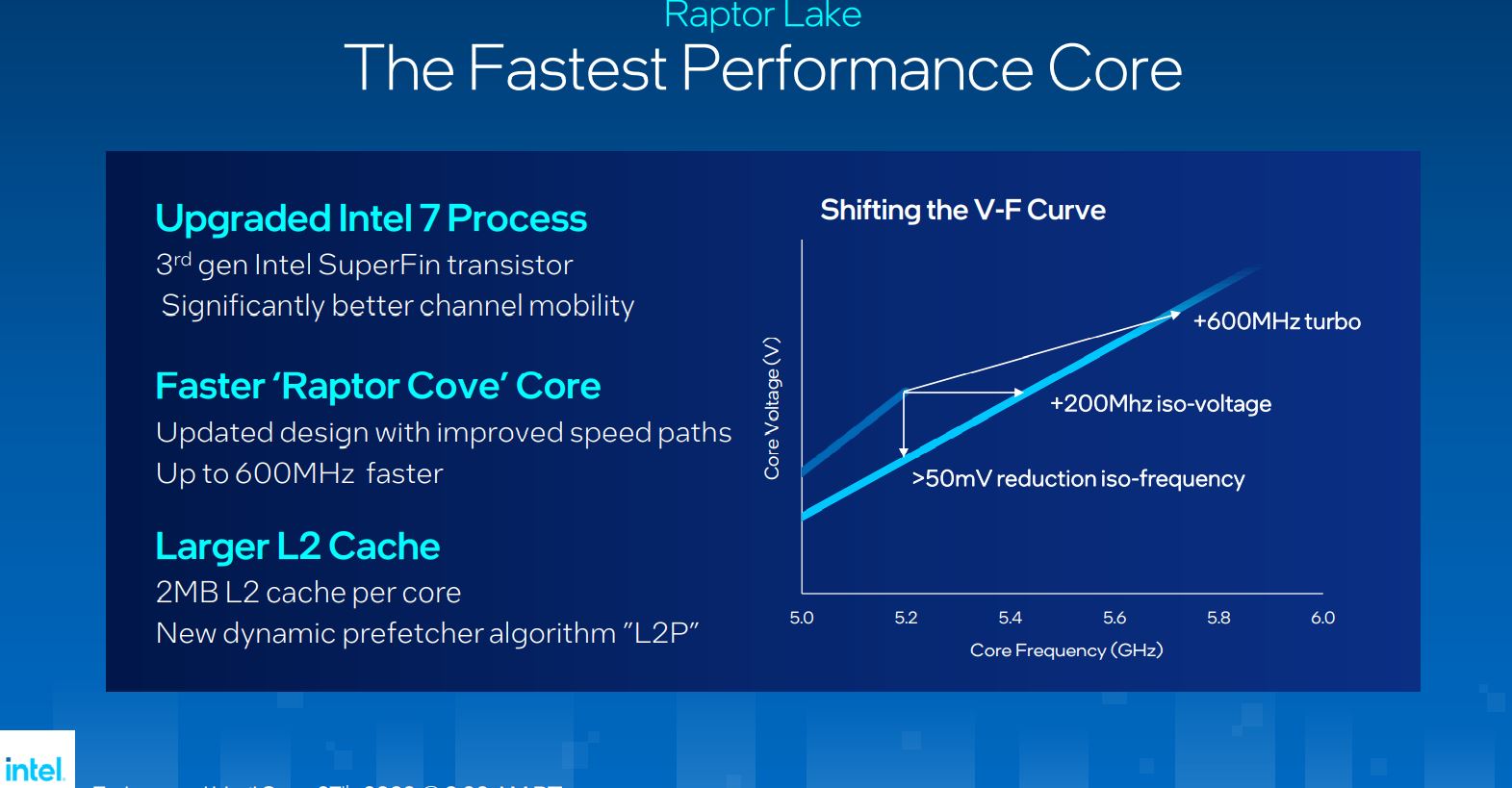 We know E-cores are more numerous this generation and Intel keeps to the tried-and-trusted Gracemont microarchitecture – the smaller cores are identical on Alder and Raptor Lake. That said, performance ought to be better as Intel doubles L2 cache from 2MB per four-core E-core cluster to 4MB. A small but important detail.
P-cores also benefit from more L2 cache. You may recall 12th Gen offered 1.25MB per core – 13th Gen ups this to 2MB. Put simply, an 8P+8E chip (16 cores, 24 threads) from the Alder Lake generation carries a total 14MB L2 (8×1.25 + 2×2) while Raptor Lake jumps to 24MB (8×2 + 2×4). More cache never hurts if latency is kept at around the same levels, and Intel also adds to L3 capacity for each family. Getting the feeling Intel is going Arnie-style gung-ho with nary a thought for ballooning transistor budgets?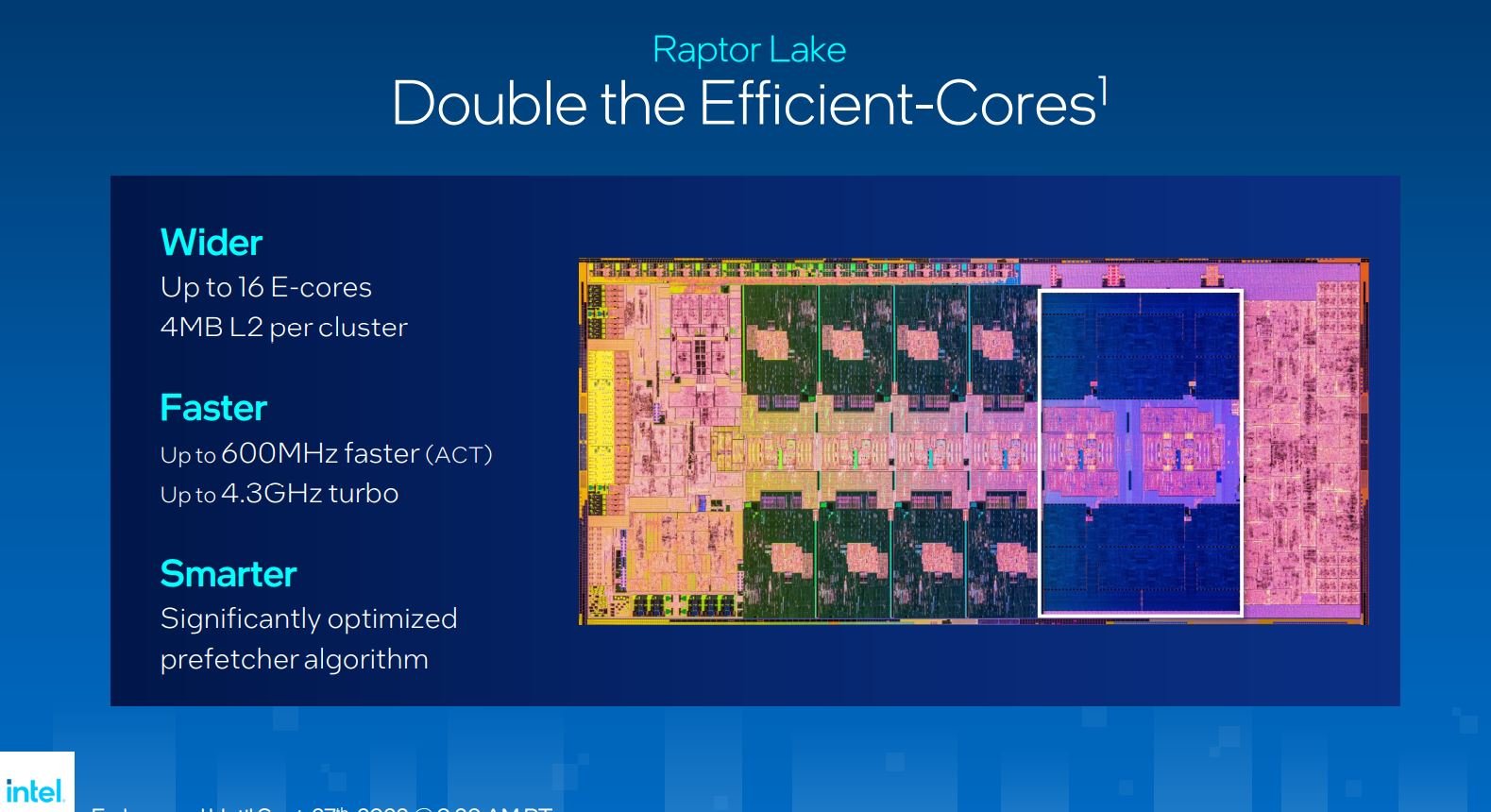 Last Of The Monoliths
Intel's forward-looking architecture strategy is to shift away from a monolithic die – where all constituent IPs are integrated into one piece of silicon – and favour disaggregated design instead. Rendering 13th Gen Core last of the client-side monoliths, Raptor Lake has the honour of being the last of a long time of high-performance desktop processors built in a particular fashion. Le Roi est mort, vive le Roi.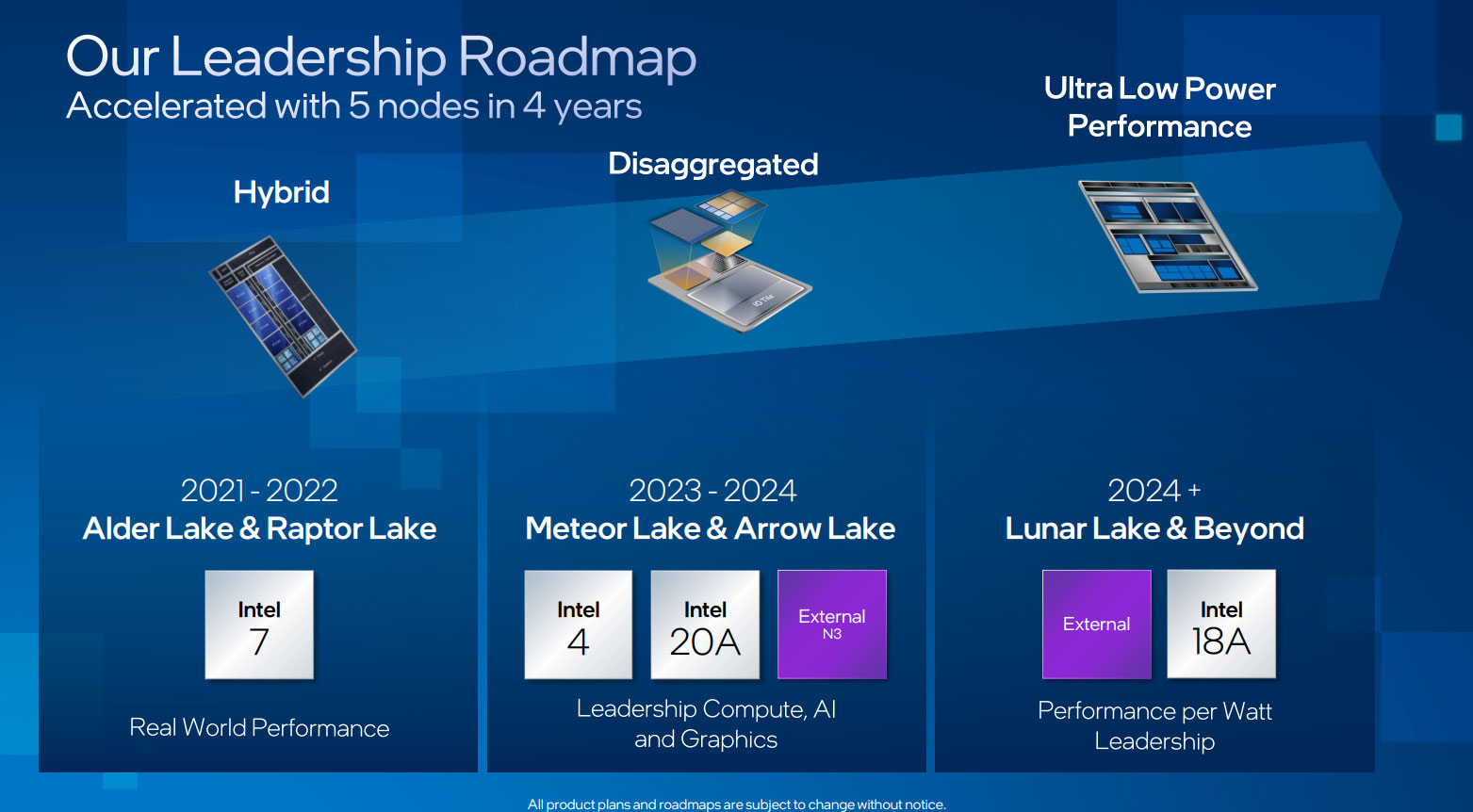 Raptor Cove Operates Differently To Golden Cove
But pull the curtain back and a few new additions come into view. Raptor Lake uses a significantly optimised prefetching algorithm. Speaking to Adi Yoaz, chief architect for P-cores, this is actually a feature baked into Alder Lake too. There's a firmware-upgradeable power management microcontroller built into Alder Lake's Golden Cove P-cores which runs on a per-core basis and offers fine-grained adjustments.
Intel's fastest-ever client processor is armed and ready to wreak havoc.
For Raptor Cove P-cores, however, Intel is extending the reach of this microcontroller to adjust other aspects of the core aside from monitoring telemetry and frequencies. In hushed tones, Yoaz informed Club386 Intel can control the behaviour of the prefetching unit and whether L2 and L3 caches are inclusive or non-inclusive by introducing new algorithms through firmware updates. Knowing the microcontroller affects parameters every 200 microseconds, there's plenty of on-the-fly optimisation taking place on Raptor Cove. What's more, constant machine learnings update algorithms such that application performance improves over time.
In the future, using this microcontroller, "Intel will have more and more algorithms that will adapt and modify the machine to the actual application that's being run," continued Yoaz.
Given this is a firmware-led upgrade and the microcontroller technology already exists in Alder Lake, an interesting question is whether it can be backported to 12th Gen Core for improved performance. Intel chose not to answer this pressing question during our chat with Adi at a technical tour event in Israel a few weeks back. The enhanced prefetching and cache algorithms in Raptor Cove are marketing decisions first and foremost, to help differentiate from the direct predecessor which effectively uses the same core technology. Liberally applied in the server business, Intel is no stranger to expanded performance via firmware updates.
The devil is in the details as Intel hasn't announced any non-K(F) chips. Rumours are abounding that processors below the Core i5-13600K(F) will use Alder Lake technology rather than Raptor Lake, with core-and-thread counts and frequency massaged to fit into the intended Core i5 and Core i3 segments. Time will tell.
Launch Models
| CPU | Cores | Threads | L2 | L3 | Turbo | Base TDP | Max TDP | MSRP |
| --- | --- | --- | --- | --- | --- | --- | --- | --- |
| Core i9-13900K | 24 (8P+16E) | 32 | 32MB | 36MB | 5.8GHz | 125W | 253W | $589 |
| Core i9-12900K | 16 (8P+8E) | 24 | 14MB | 30MB | 5.2GHz | 125W | 241W | $589 |
| Core i7-13700K | 16 (8P+8E) | 24 | 24MB | 30MB | 5.4GHz | 125W | 253W | $409 |
| Core i7-12700K | 12 (8P+4E) | 24 | 12MB | 25MB | 4.9GHz | 125W | 190W | $409 |
| Core i5-13600K | 14 (6P+8E) | 20 | 20MB | 24MB | 5.1GHz | 125W | 181W | $319 |
| Core i5-12600K | 10 (6P+4E) | 16 | 9.5MB | 20MB | 4.9GHz | 125W | 150W | $289 |
Getting swiftly back on track, presented here are some of the best CPUs from the 12th and 13th Gen families. Core i9 adds a further eight E-cores and, as explained earlier, increases cache sizes markedly. Not only that, but frequency also sees a healthy uptick, so it's inevitable Core i9-13900K will be faster than Core i9-12900K in every meaningful scenario. And it needs to be in socking it to Ryzen 9 7950X. Catering for higher clocks, Intel ups maximum power from 241W to 253W.
In a nutshell, Core i9-13900K is a bigger, stronger version of 12900K. More is the clear clarion call of the day; E-cores, frequency, cache and power all go up. Rather more pleasingly, recommended pricing stays around the same, which is a welcome change in a world tinged with inflationary pressure.
Intel Core i9-13900K – More Core, More Silicon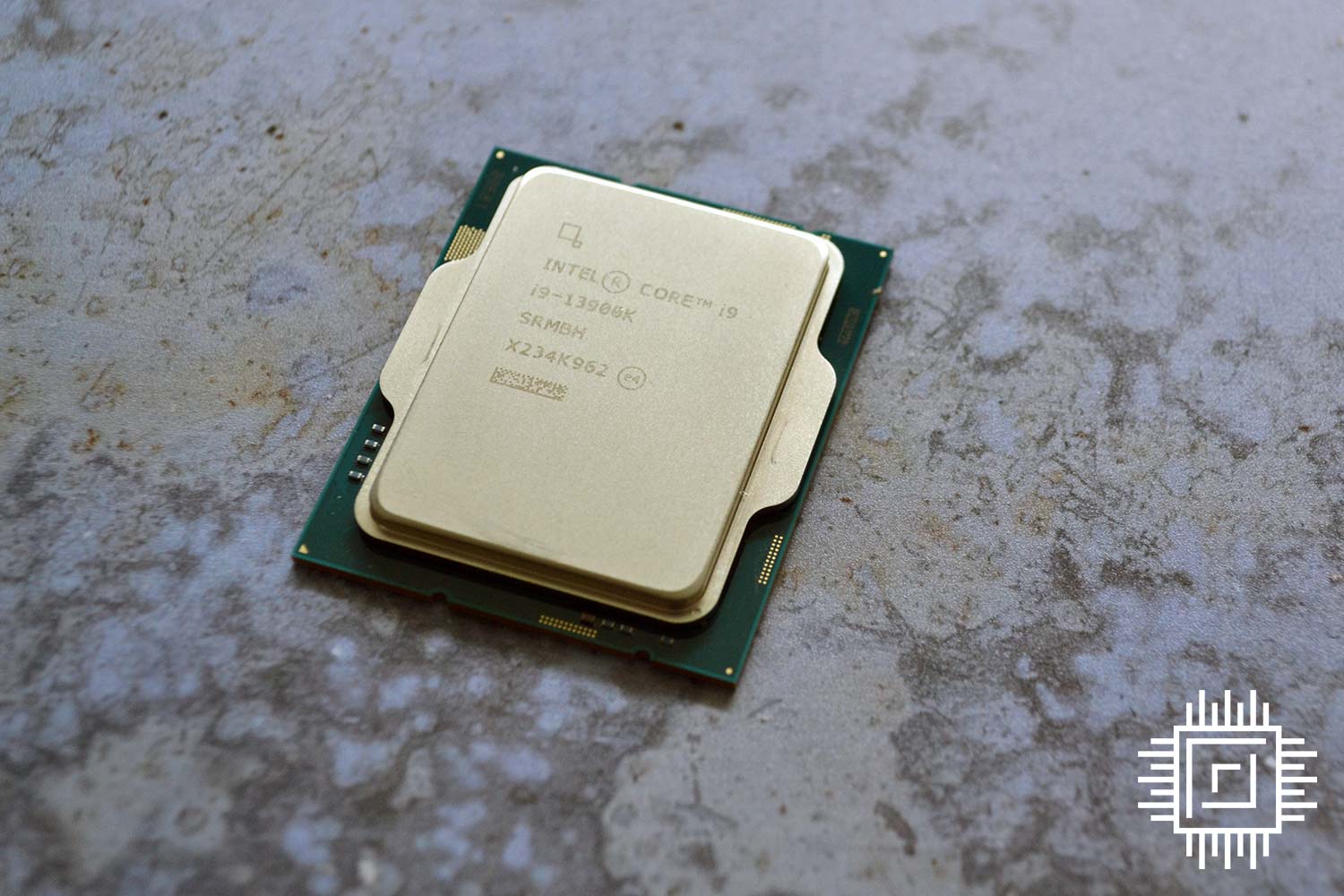 Presenting in the familiar LGA1700 form factor has obvious advantages. This new champ fits into a wide range of 600- and 700-series motherboards, so anyone having already invested in 12th Gen Core can upgrade easily. As Intel also maintains a dual-format DDR4/DDR5 controller on Raptor Lake, the choice of memory is naturally wider than the new-socket, DDR5-only AMD Ryzen 7000 Series.
Easier to implement from the get go, one potential downside of purchasing a 13900K chip is limited socket longevity. It's well-understood Team Blue is shifting to a multi-tile 'Meteor Lake' architecture for 14th Gen Core, coming late next year, and most commentators agree Intel will shift sockets from today's LGA1700 to LGA1851. For enthusiasts looking at long-term solutions, AMD requires you to take the AM5 platform hit now; Intel is likely to demand it next year. As the saying goes, you have the pay the piper at some time.
Core i9-13900K is a bigger, stronger version of 12900K.
Bolstering performance ambition are P-cores humming along at up to 5.8GHz out of the box. E-cores are not as powerful and clocked in at 4.3GHz. Intel doesn't divulge an all-core speed on either front, citing environmental and cooling variations as having a large impact on frequency. Our testing shows Core i9-13900K floats along at an all-core 5.25GHz/1.269V at Intel-recommended specs of 253W maximum turbo power, and Raptor Lake's finest sports real-world frequencies better than even Core i9-12900KS. Got to love that enhanced Intel 7 process. I'd buy that for a dollar, or 589 of 'em.
Suffused with more cores, threads and cache, Core i9-13900K is laden with inevitably more precious silicon than 12900K ostensibly built on the same manufacturing process. Measurements indicate a 257mm² area for Raptor Lake's most performant die, which is 23 per cent larger than the 209mm² area reserved for the best of Alder Lake.
Working just fine in myriad motherboards, be prepared to have decent cooling to get the most out of the 24-core, 32-thread beastie. Club386 provides a guiding light on this front as we tested a similar-wattage Core i9-12900K with three thermal solutions.
Performance
In the blue corner and trained in Israel, weighing in at 253W and boasting a spotless specification of 24 cores and 32 threads, put your hands together for 'Hybrid Hurricane' Core i9-13900K. In the red corner and calling Santa Clara home, the 230W 'Symmetrical Slayer' Ryzen 9 7950X takes no prisoners.
Inevitably heading the charts, both leading chips are tested in recent days with accompanying hardware including 32GB (2x16GB) of G.Skill Trident Z5 Neo EXPO CL30 memory operating at official specifications – DDR5-5200 for AMD and DDR5-5600 for Intel – plus Nvidia GeForce RTX 3080 FE graphics, Seagate FireCuda 530 SSD, and Noctua NH-D15 cooling. The Asus ROG Hero motherboard family is home for both platforms – Crosshair X670E for AMD and Maximus Z790 for Intel. A pre-production be quiet! Dark Power 13 1,000W PSU provided perfectly stable power.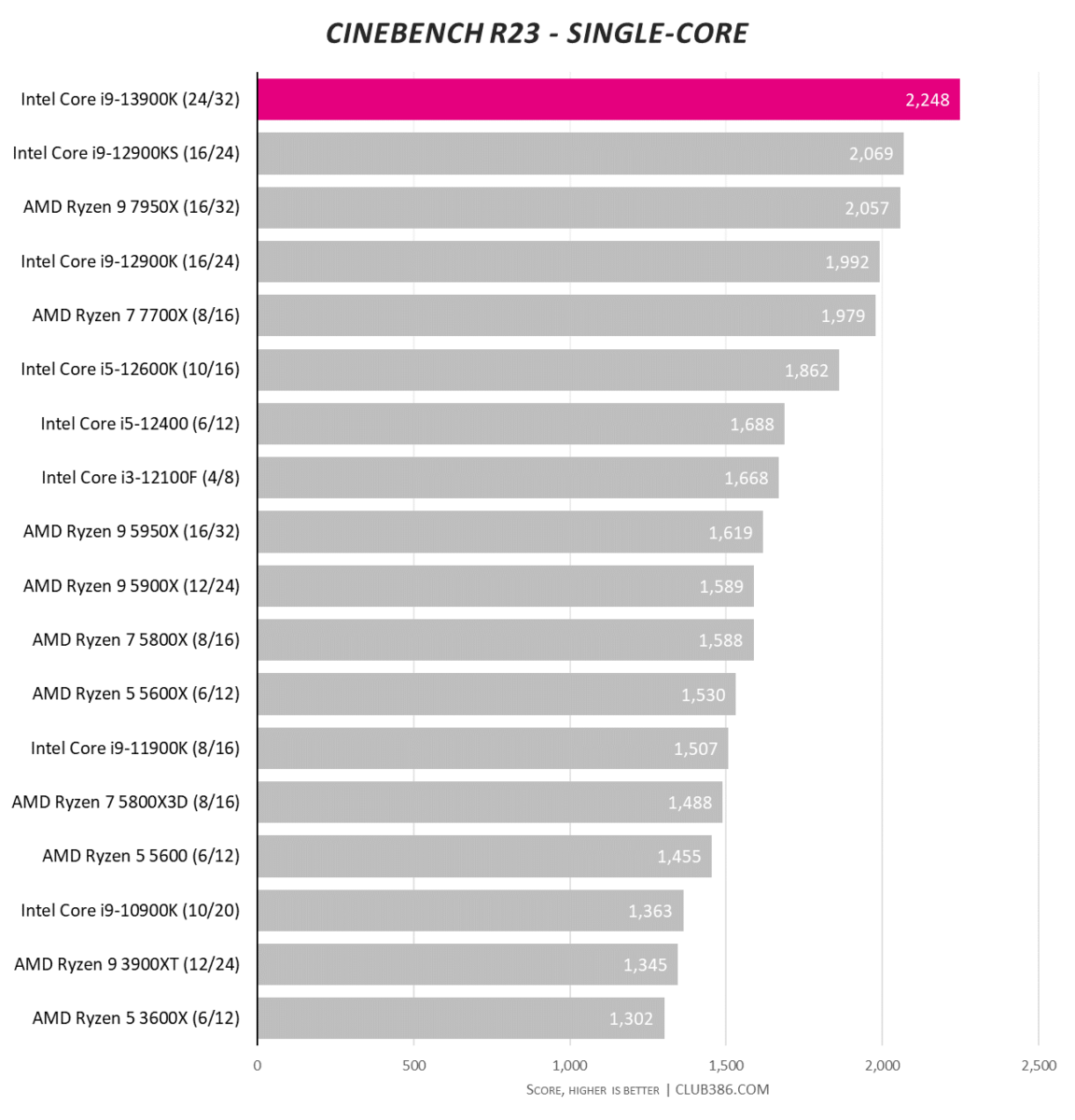 Recall that 13th Gen Core's main weapons are the multiplicative effect of frequency, cores and caches. Of that trident it is pure MHz winning out in low-thread tests which mimic performance in everyday applications. There's no getting around 5.8GHz of Raptor power. The first stiff jab goes to Intel.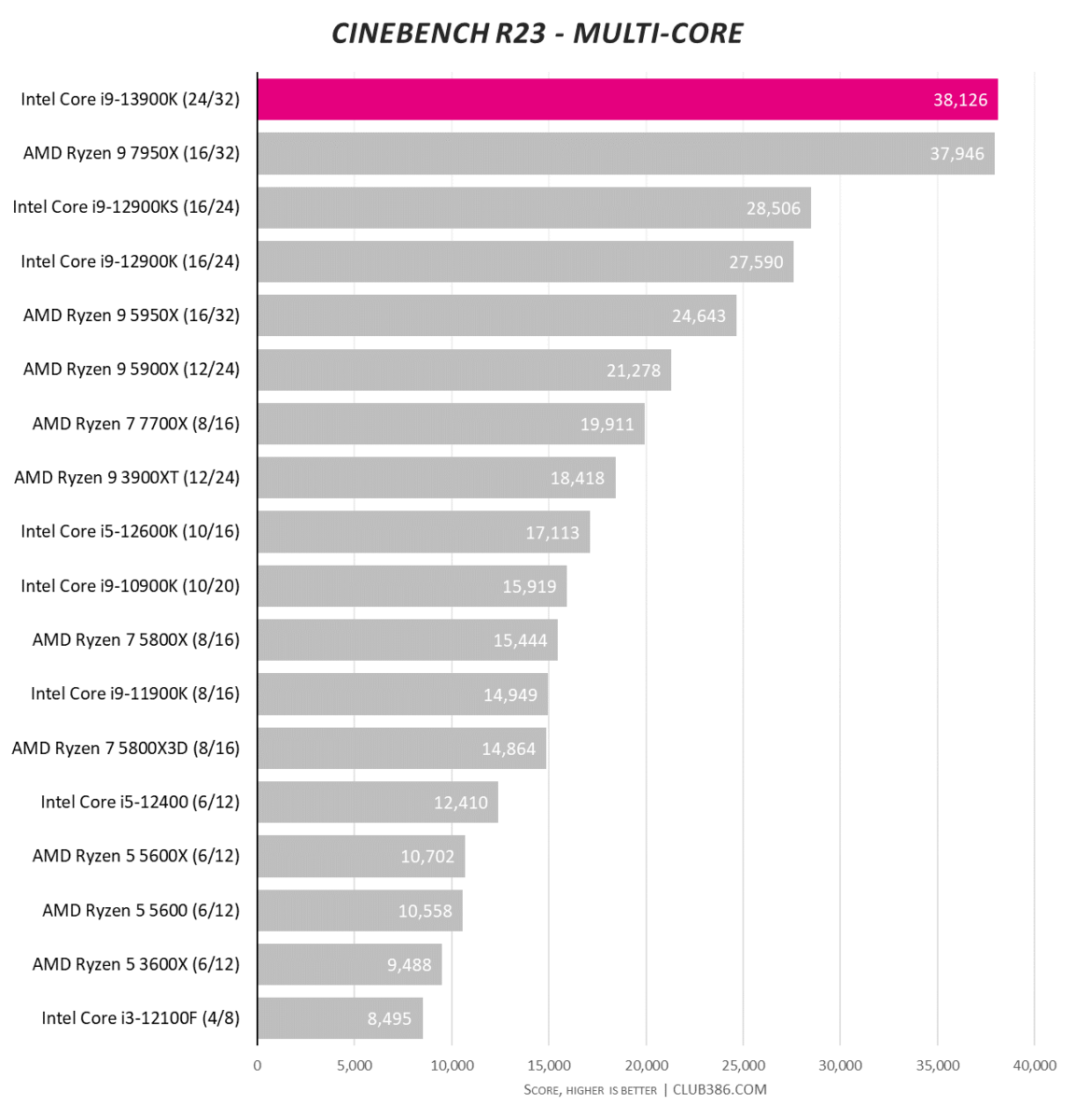 We hazard most readers are more interested in what happens when all cores and threads are loaded. Divergent philosophies collide. Both headline chips run all performance cores at over 5GHz. It's difficult to call a winner as scores are so damn close.
Whichever chief chip you choose, know that it's fundamentally faster than anything offered from the last generation, to the tune of at least 33 per cent more chutzpah.
Run with sufficiently competent cooling, Core i9-13900K maintains decent run-to-run consistency, returning a 10-minute stress test score of 37,855 marks.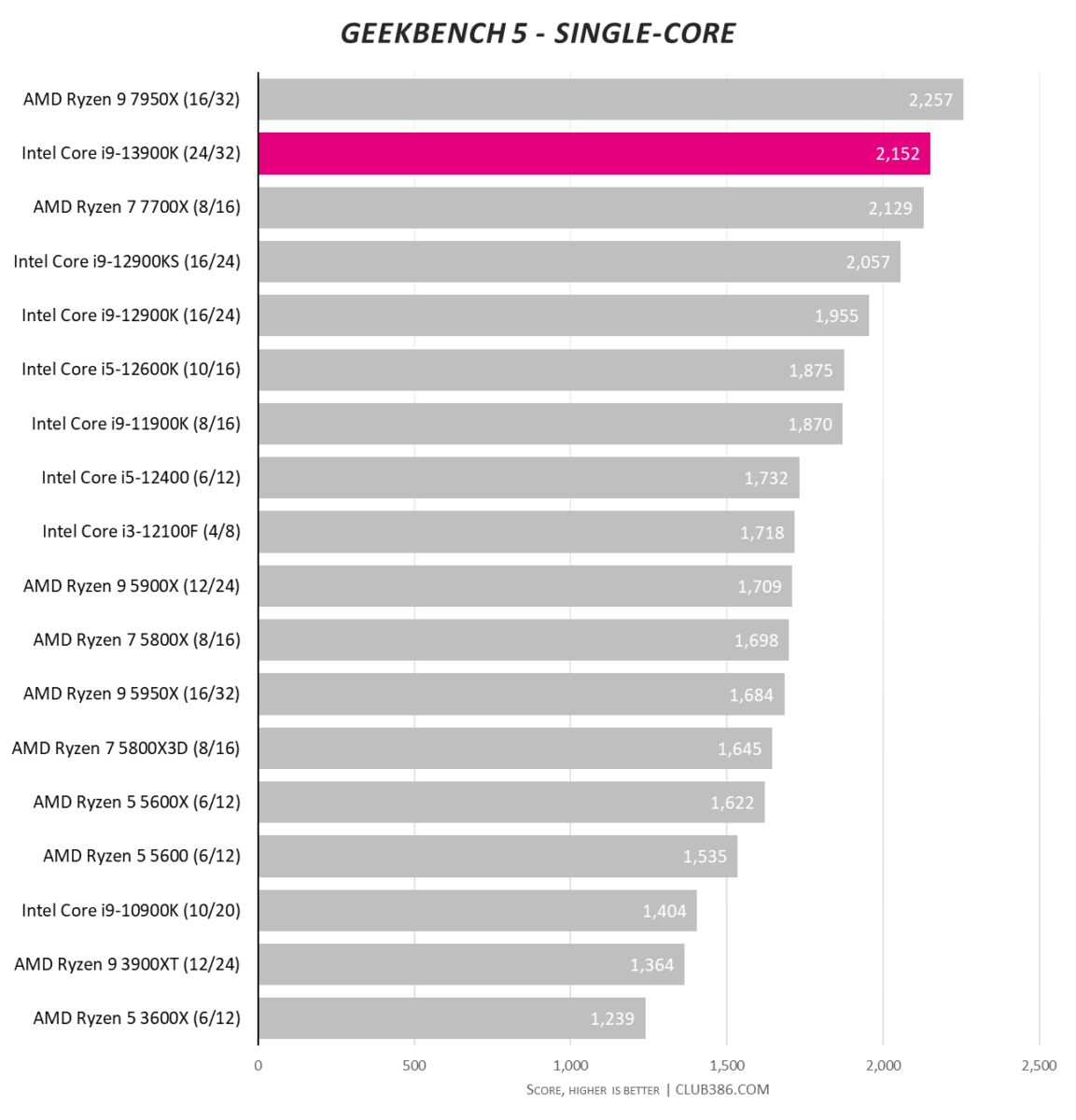 The two heavyweights continue to grapple for supremacy. Intel is marginally behind AMD in the single-thread Geekbench test.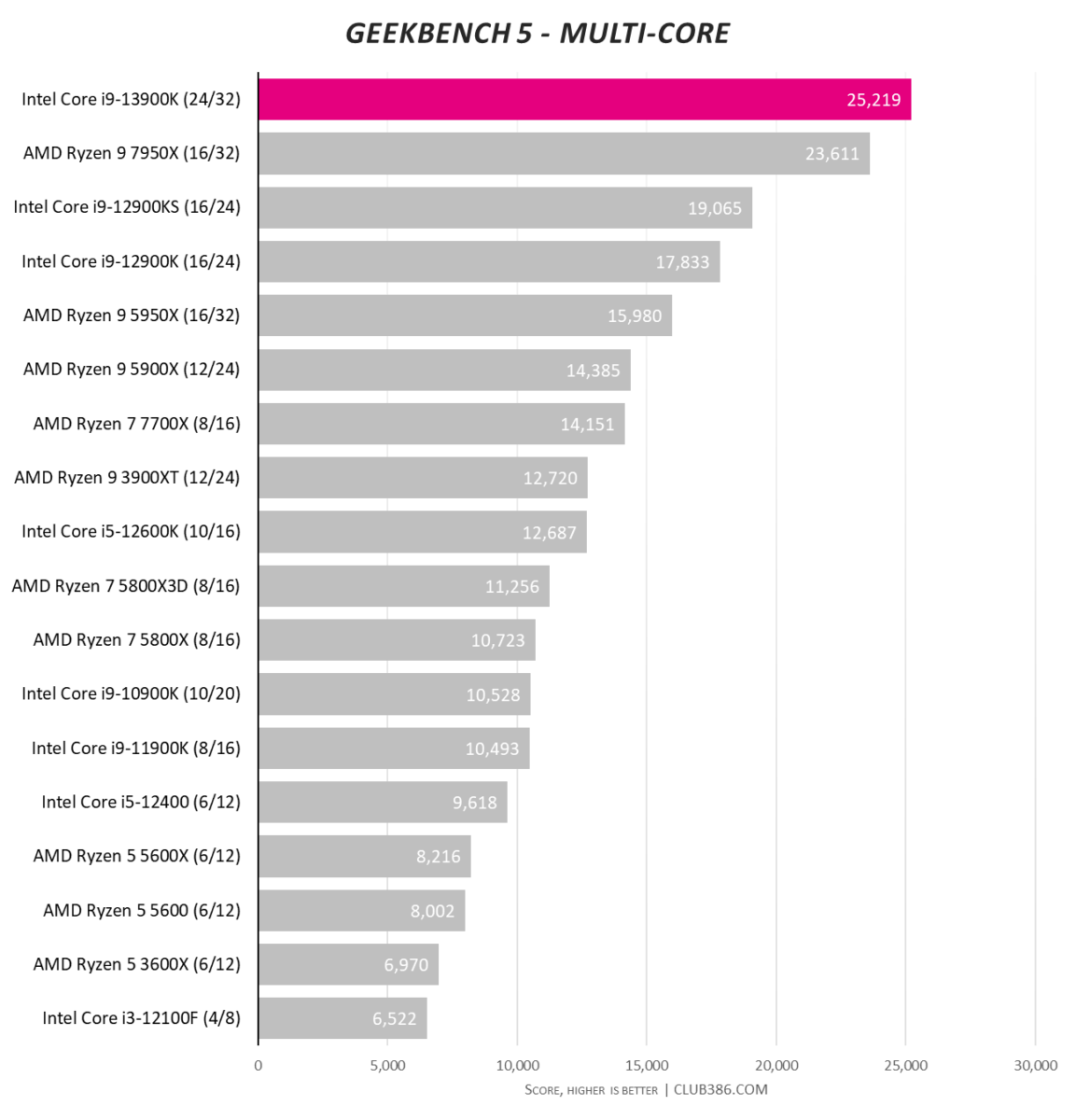 But wait a minute. Core i9-13900K puts Ryzen 9 7950X into a sneaky multi-core chokehold and reclaims top spot.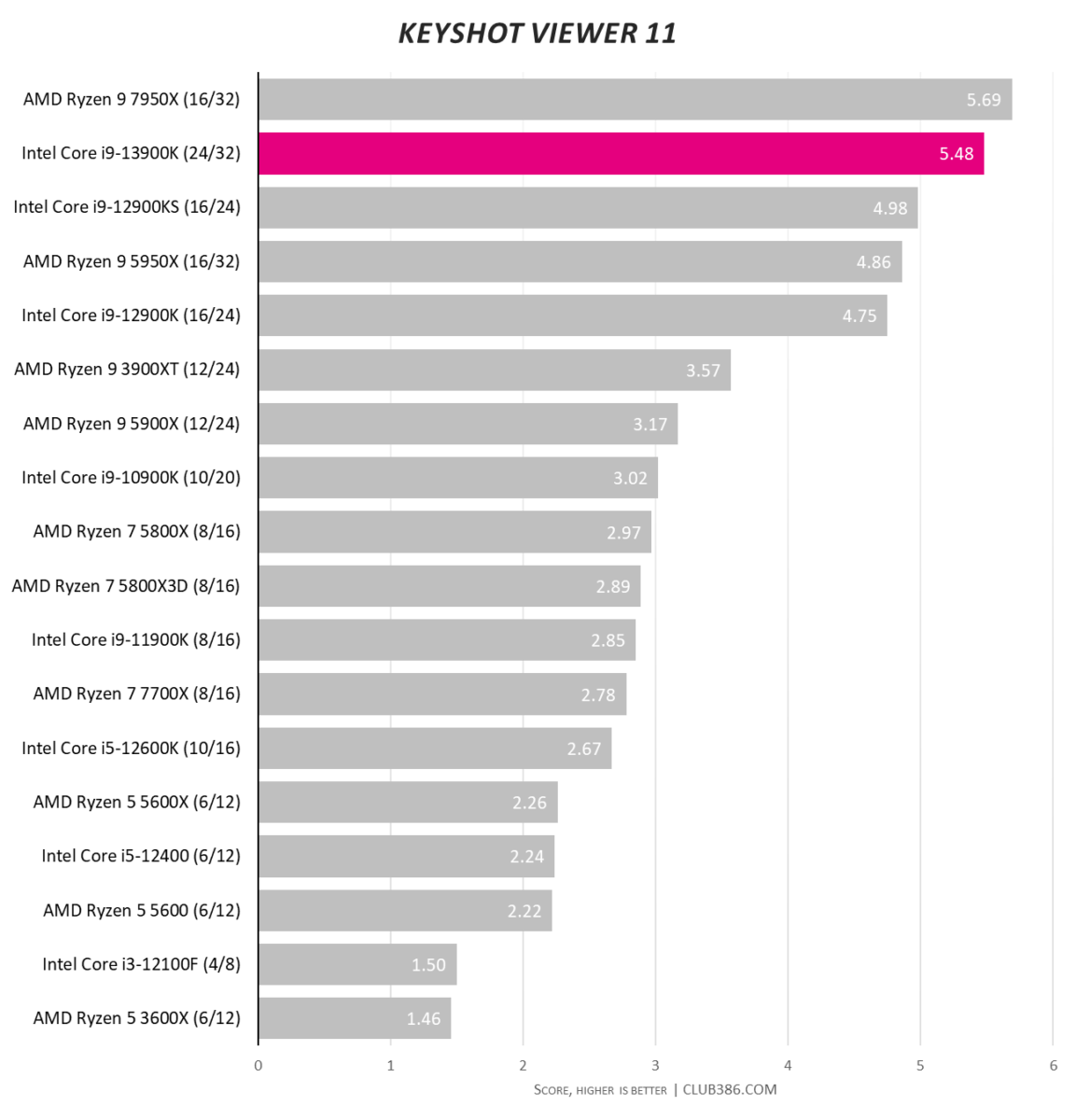 Flipping and flopping positions, it's surprising how equally matched the two main performance protagonists are.
Digging deeper into a wider range of multi-threaded workloads tips the favour back toward Ryzen 9 7950X. In an accompanying article we dissect performance with the two leading processors limited to 125W and 65W. Well worth a read.
Memory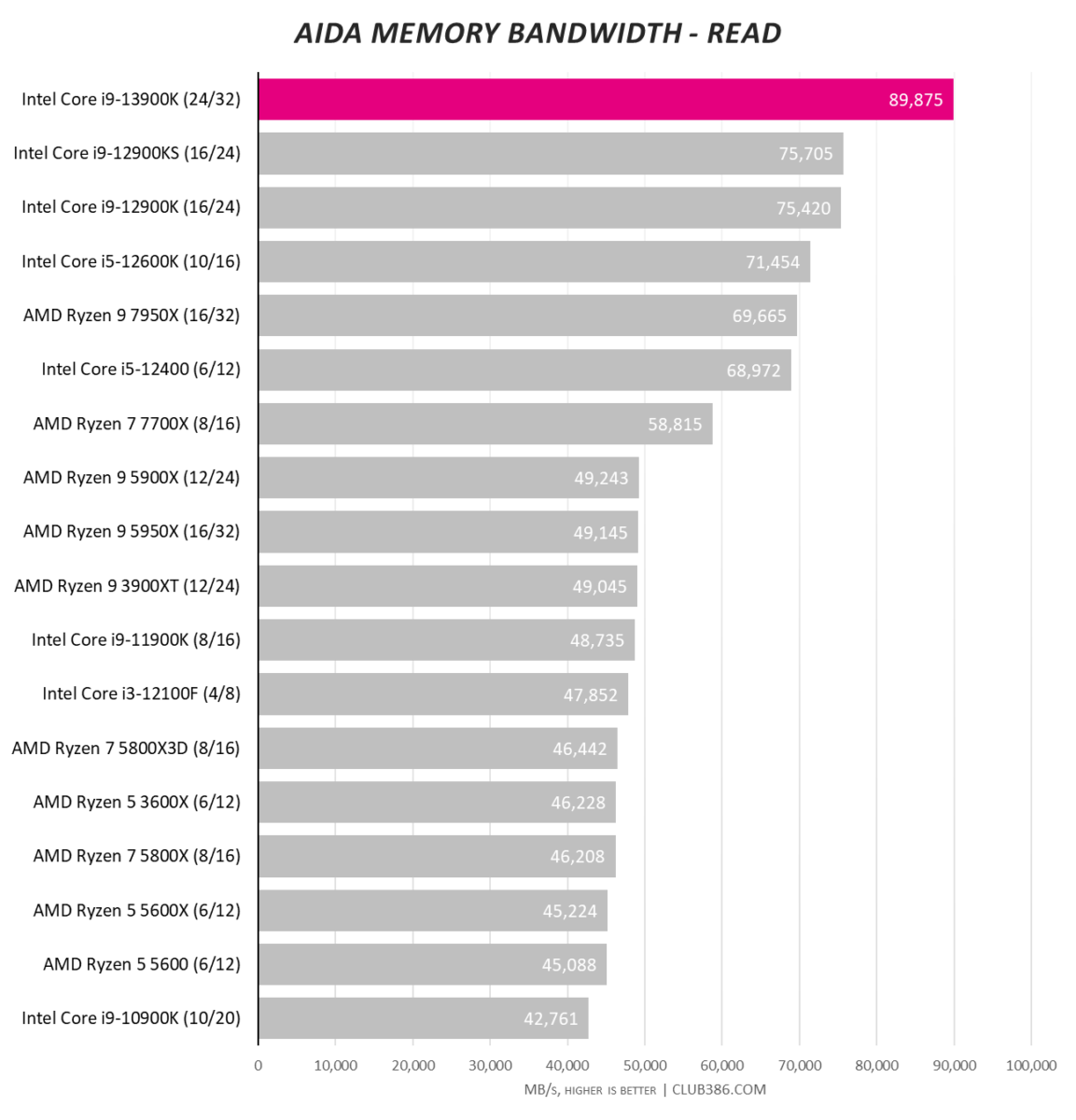 Intel Core has historically managed to extract more meaningful bandwidth from a similar speed than AMD Ryzen, at least as far as the AIDA tool is concerned. Running DDR5-5600 CL30 memory is a real boon for 13th Gen Core.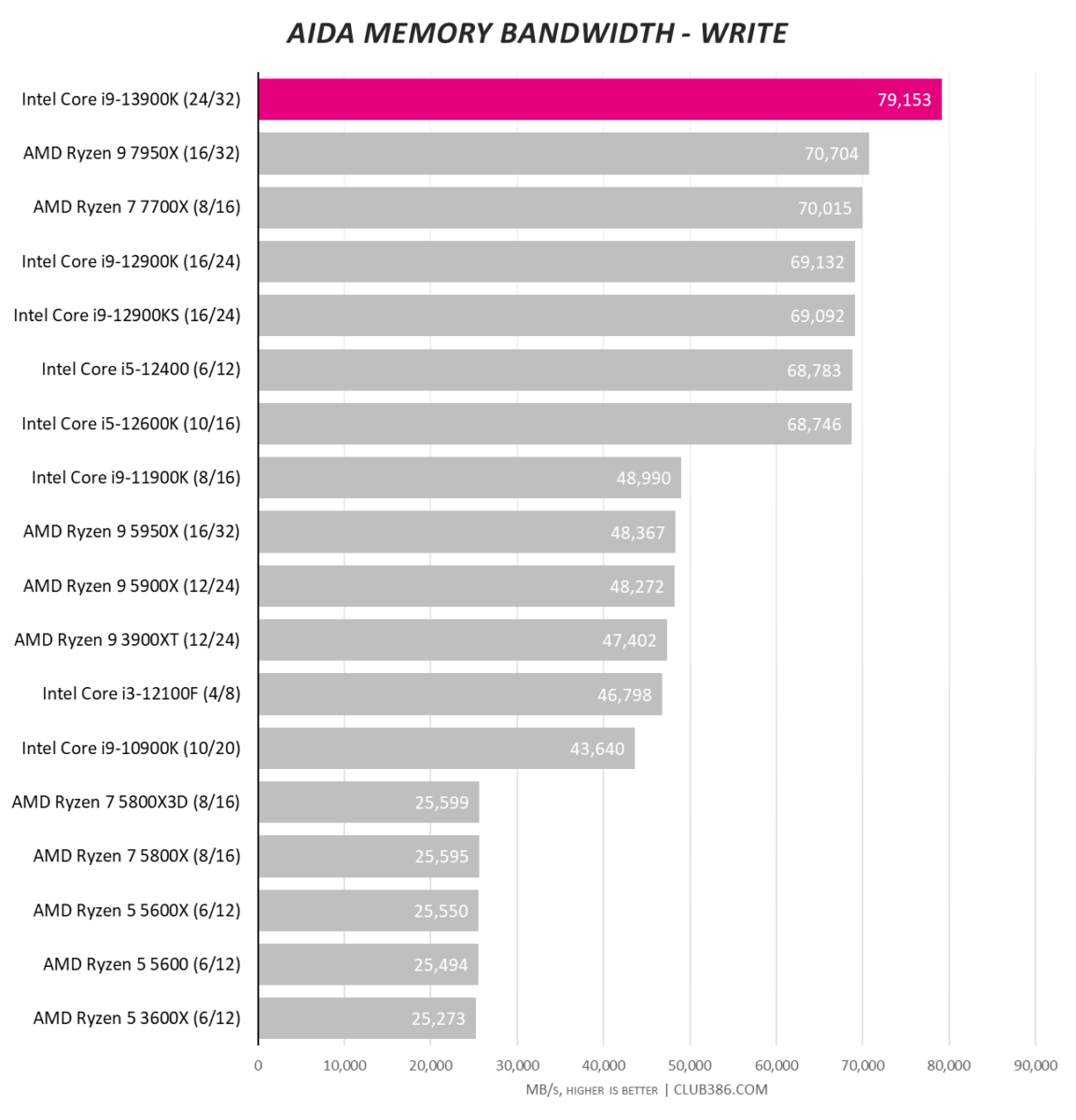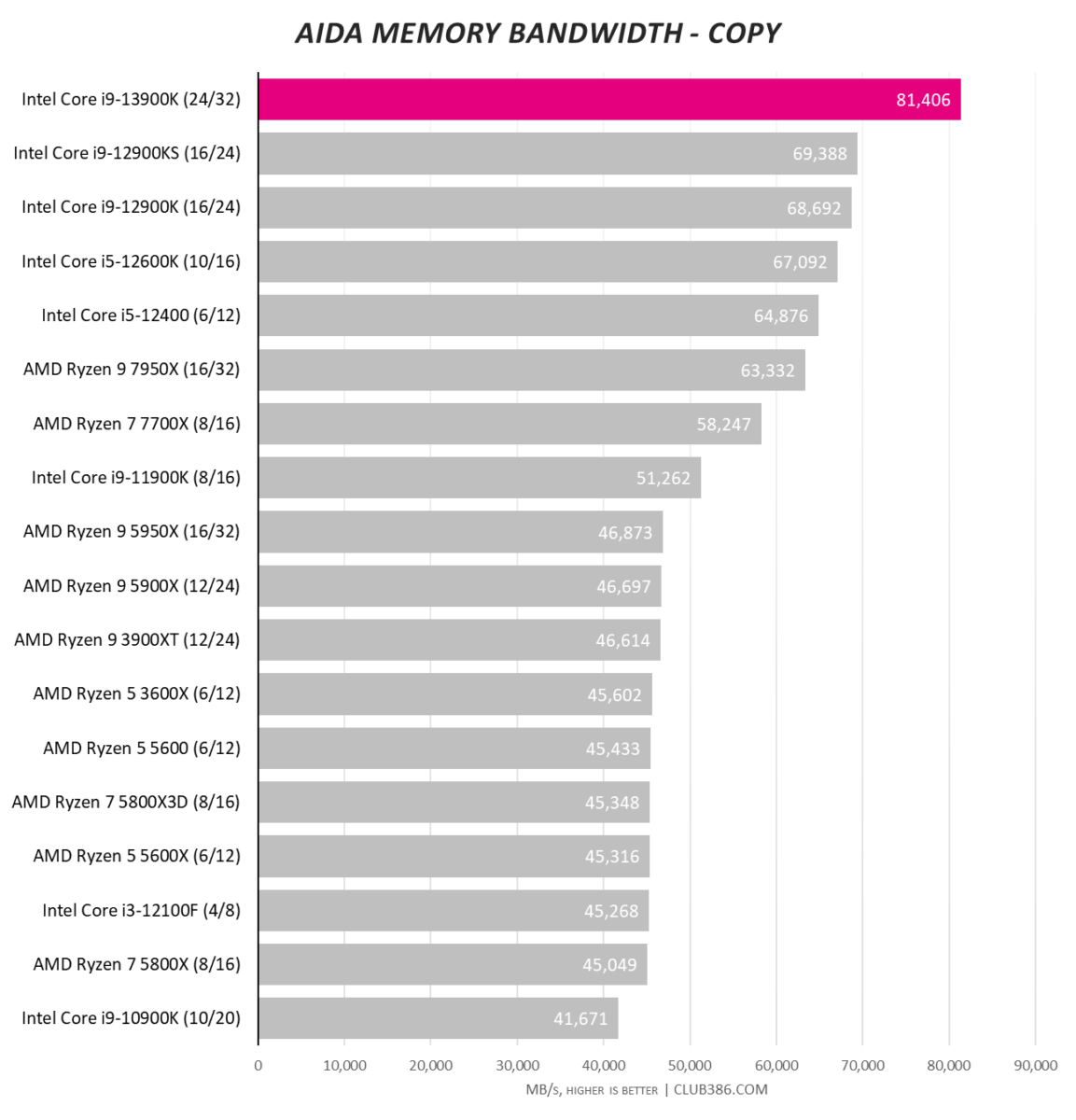 And the good work continues into the copy test.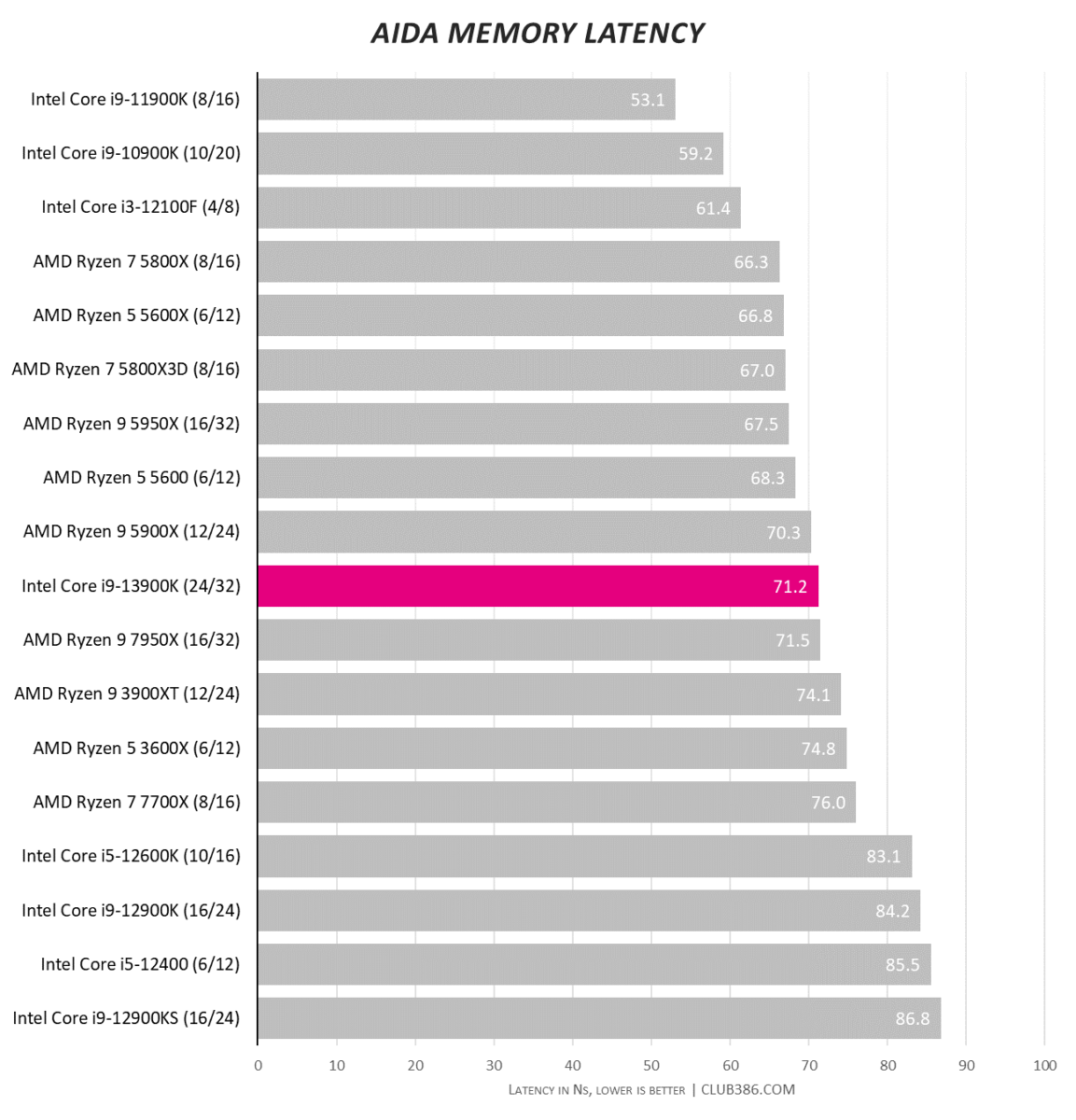 Though Intel continues to use a monolithic die, DRAM latency is on the up even as frequencies increase between generations.
System and Gaming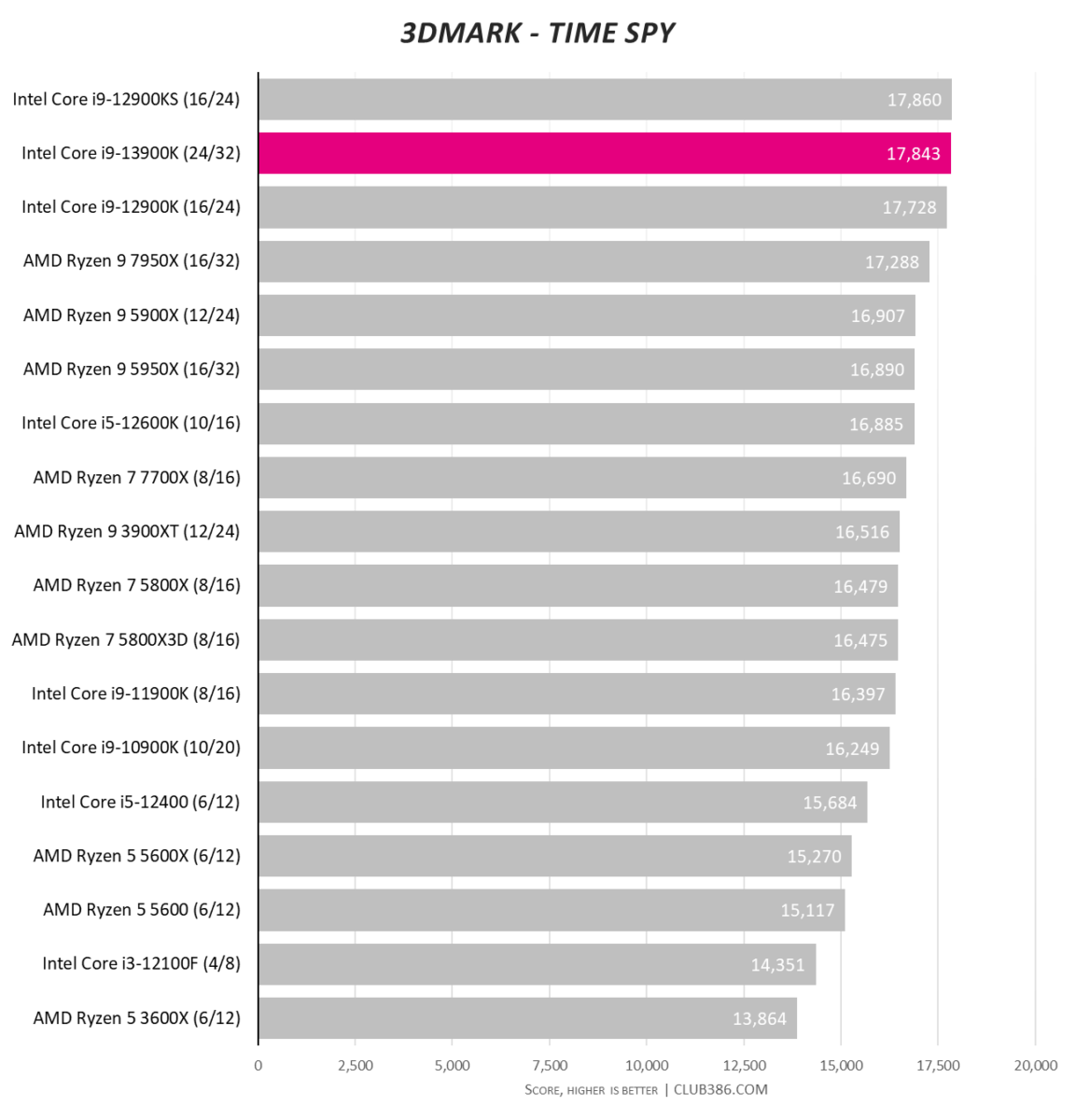 A few rounds in and we're not any closer to separating the best consumer chips from each company. Intel manages to push ahead in 3DMark, most likely thanks to faster cores.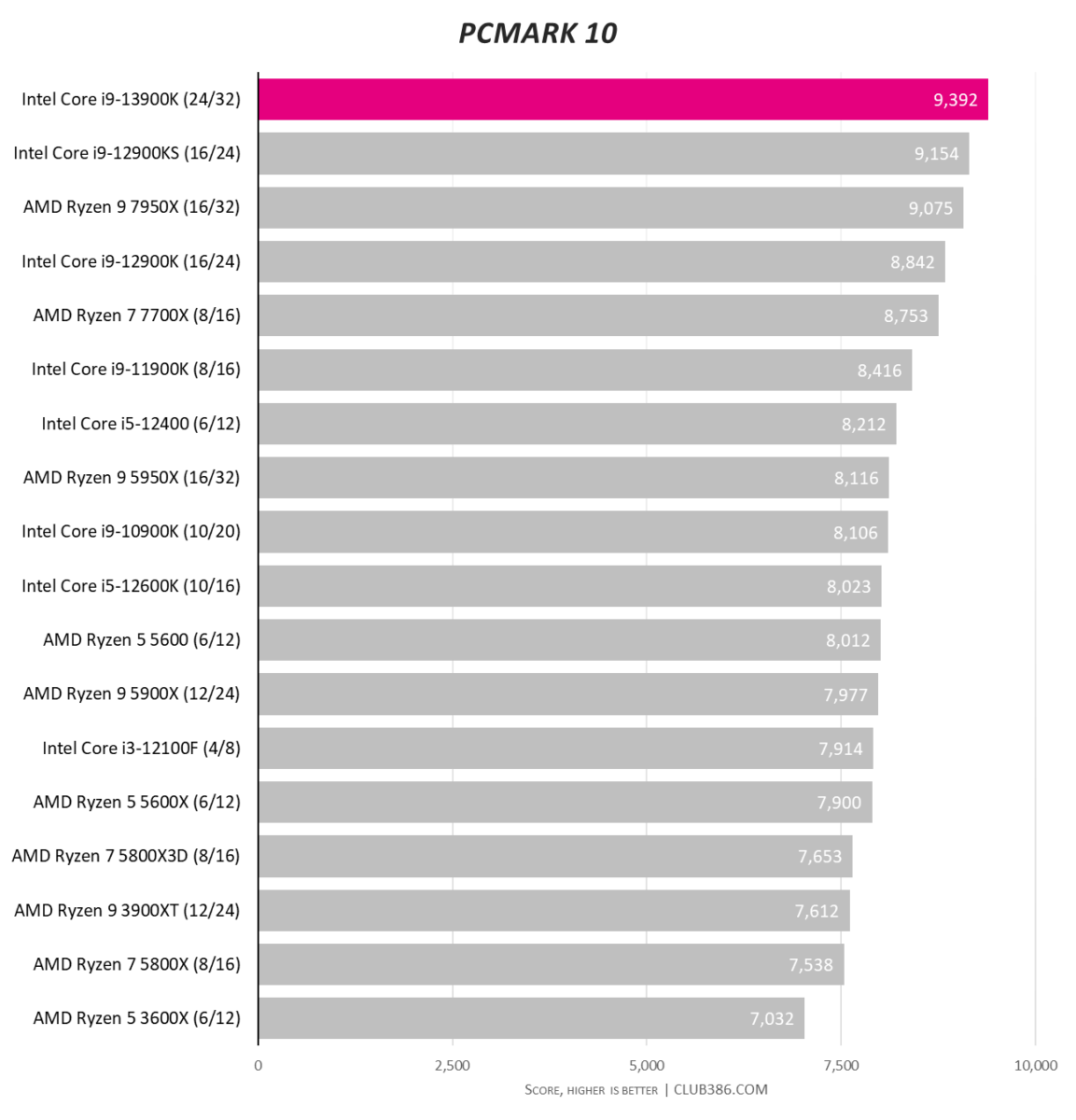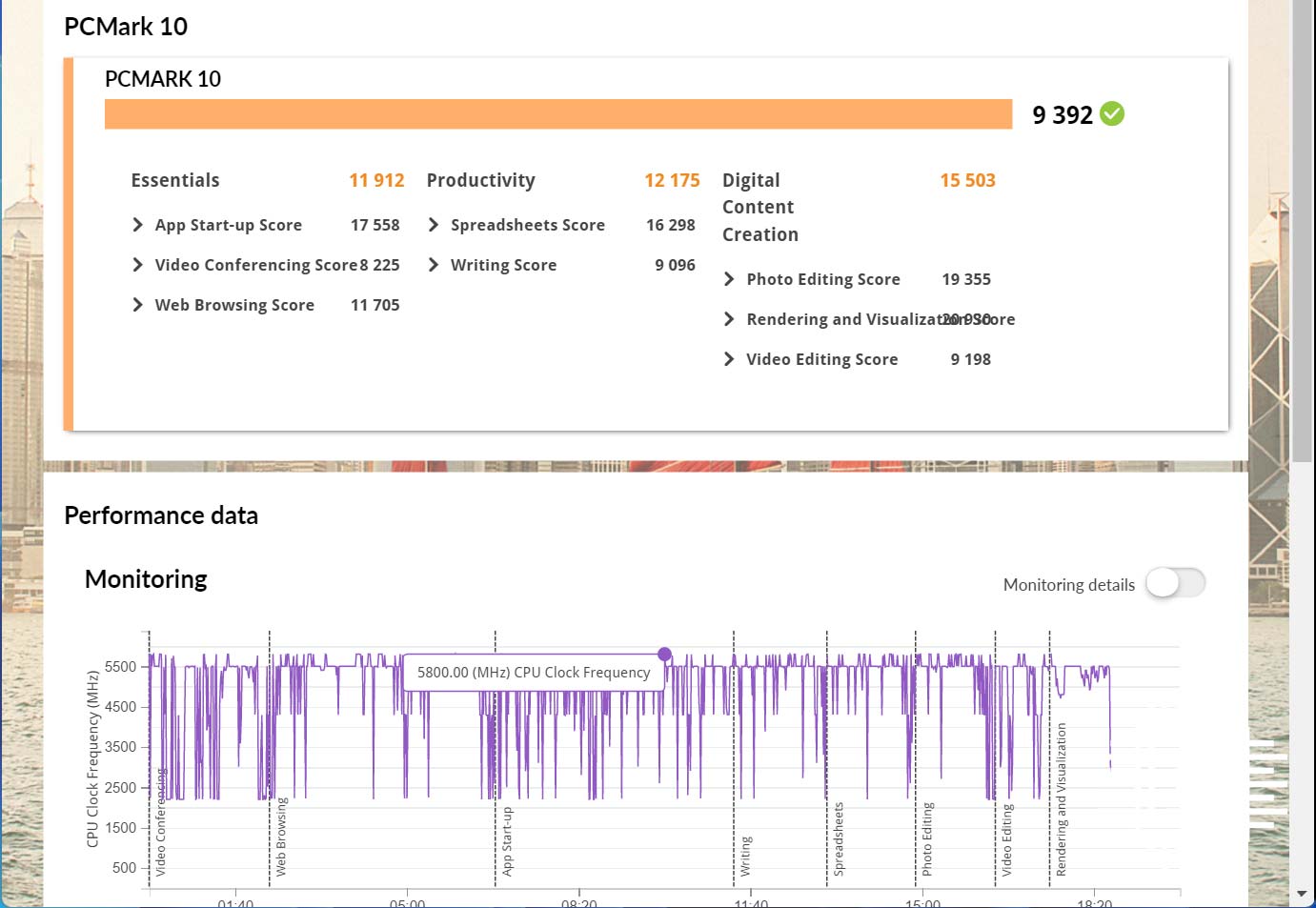 That lofty 5.8GHz frequency is achieved numerous times during the PCMark run, helping elevate the newest champion Core to the top of the charts.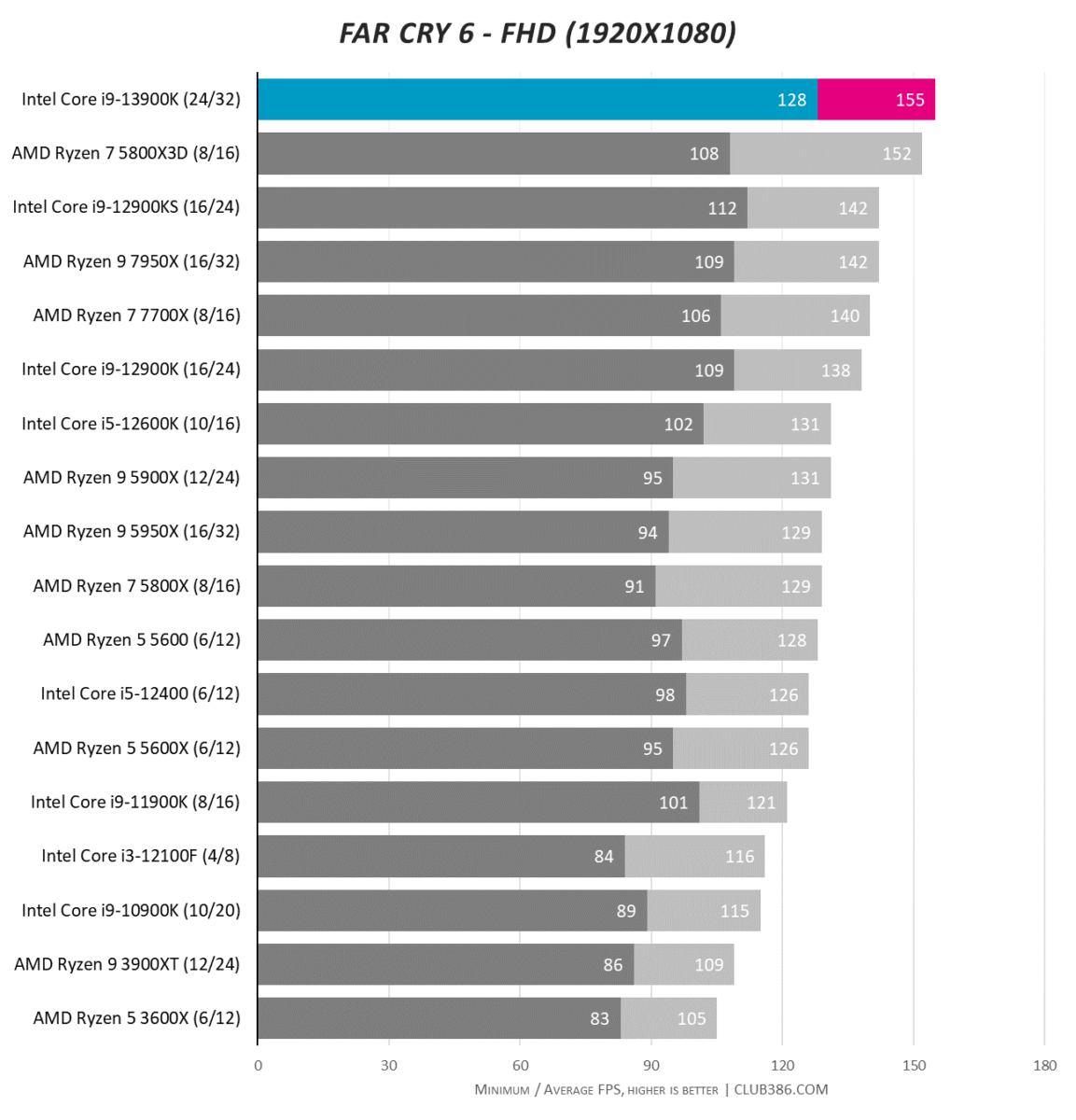 The first clear indication of Core i9-13900K being a fantastic gaming processor is shown in Far Cry 6. A combination of sky-high frequency and more on-chip cache than the previous generation are, we believe, the main drives for table-topping performance.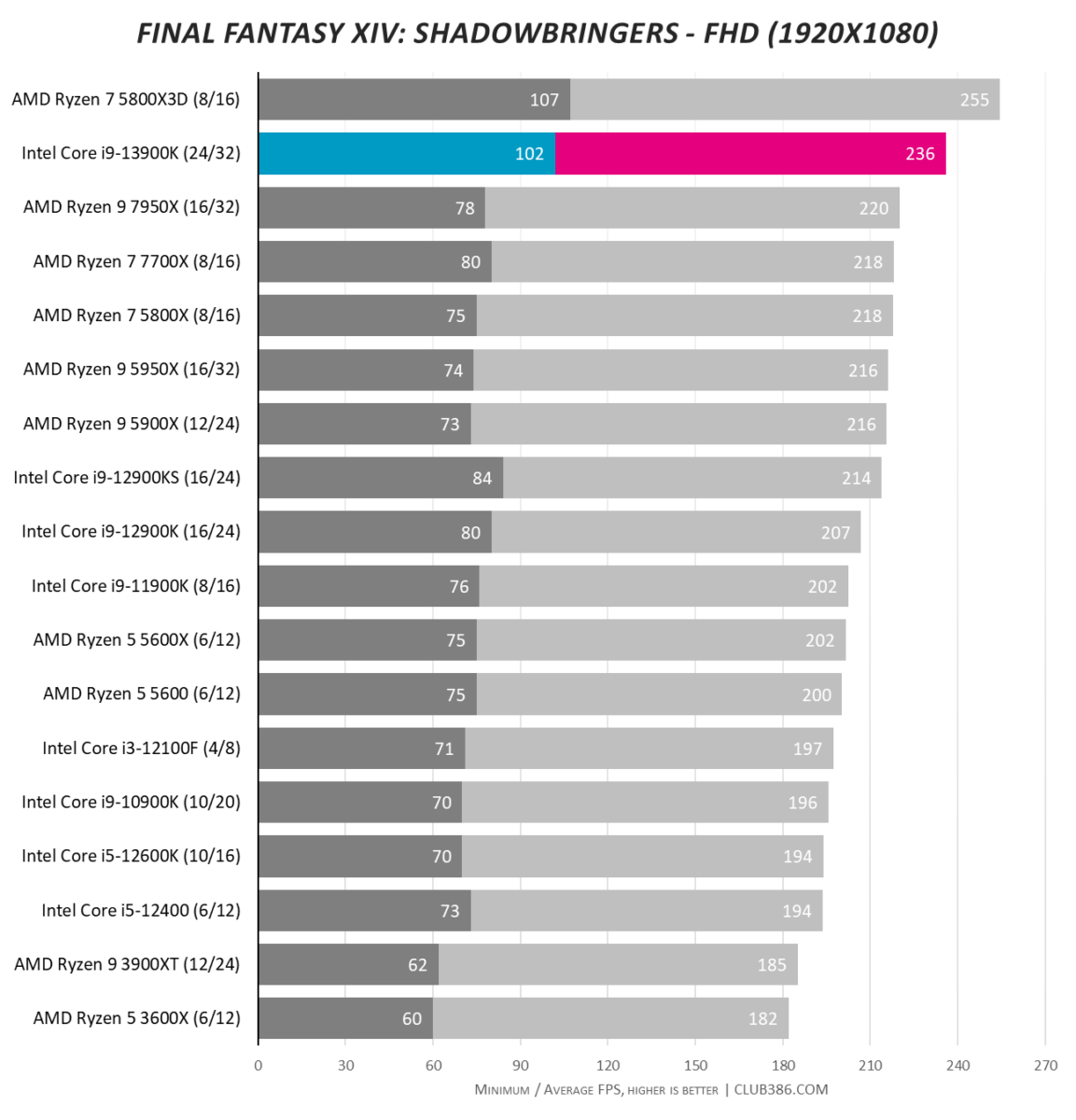 The same two qualities also combine here. Cranking out frames with consummate ease, this is a processor ideally paired with the monster GeForce RTX 4090.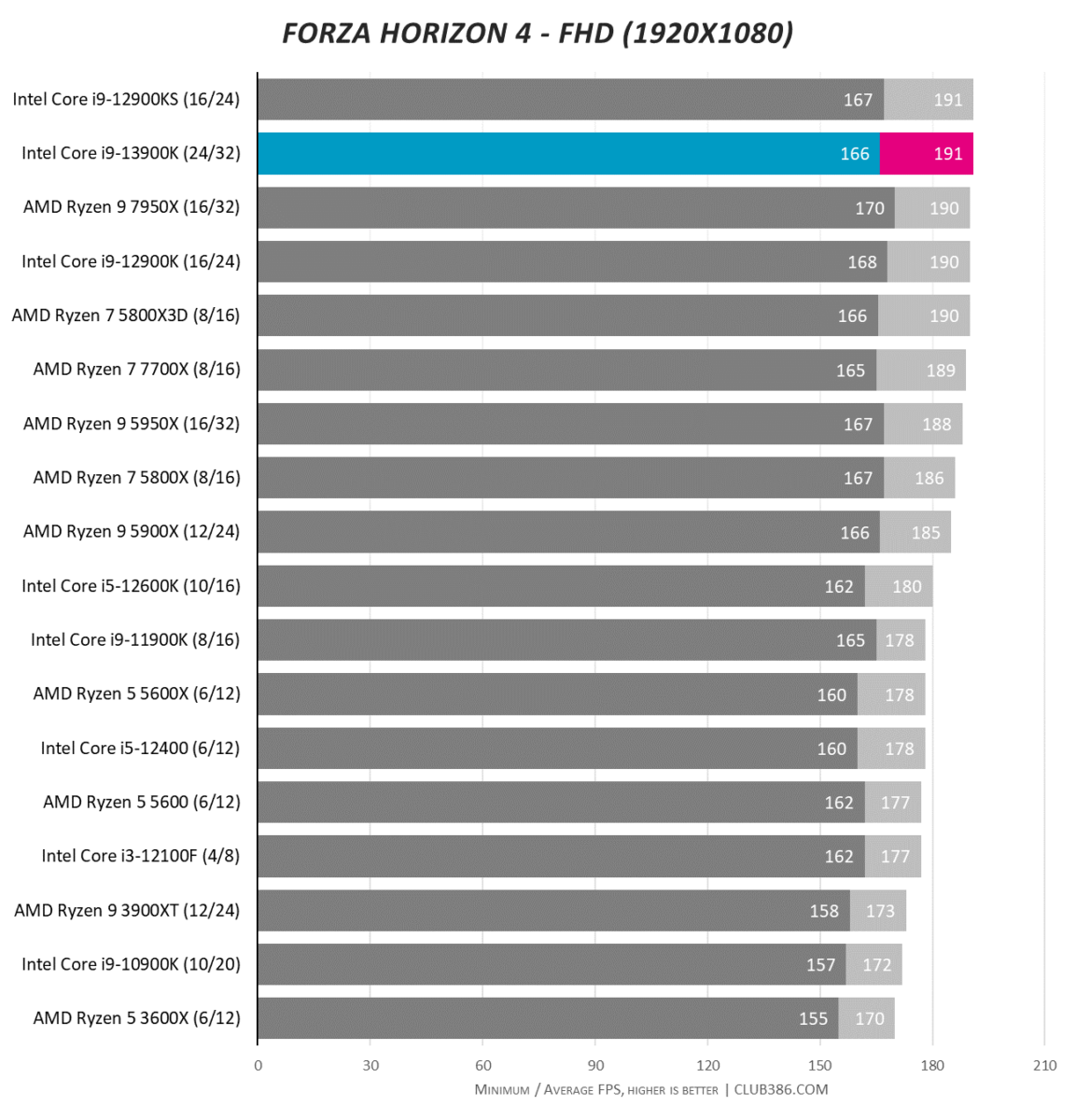 Some games just don't give the CPU any further credit. Forza Horizon 4 is one of 'em.

Show your support for impartial Club386 reviews
Club386 takes great pride in providing in-depth, high-quality reviews built on honest analysis and sage buying advice. As an independent publication, free from shareholder or commercial influence, we are committed to maintaining the standards our readers expect.
To help support our work, please consider making a donation via our Patreon channel.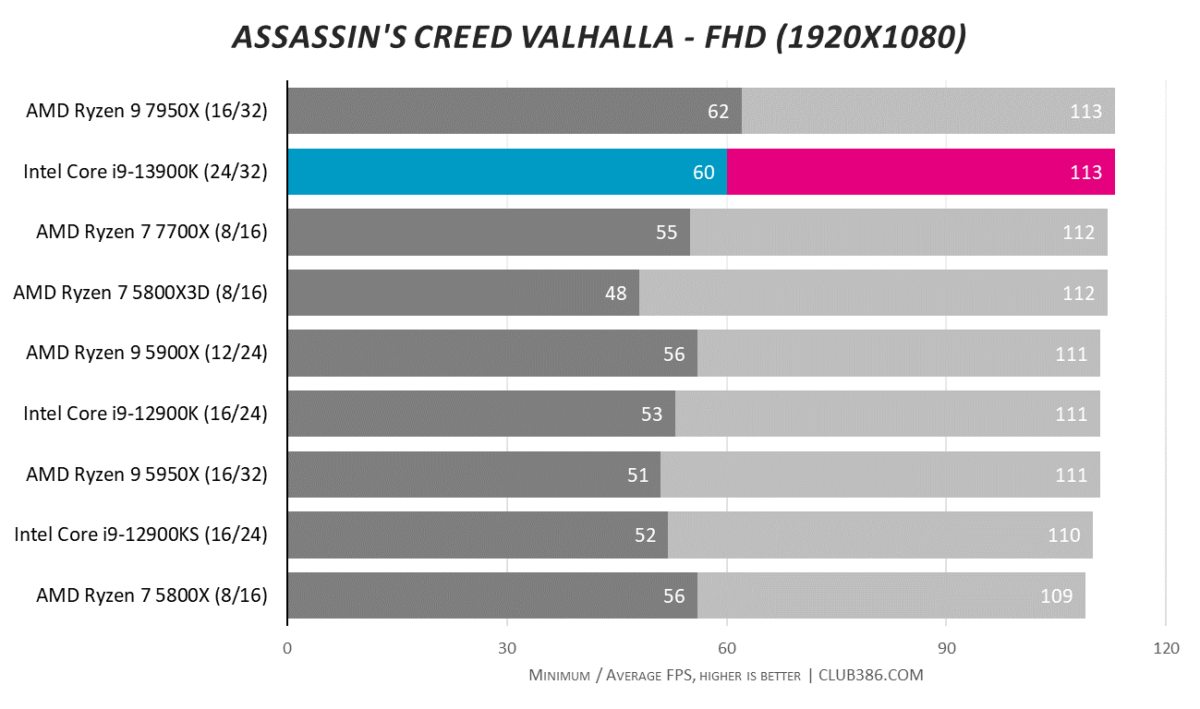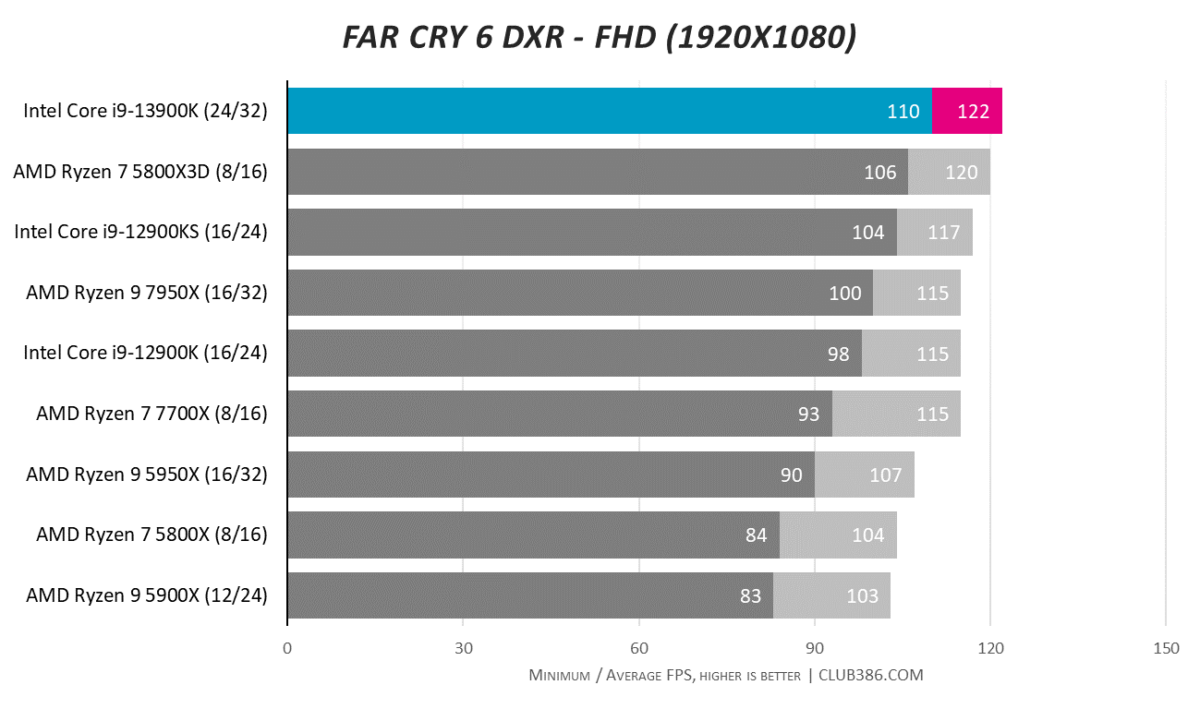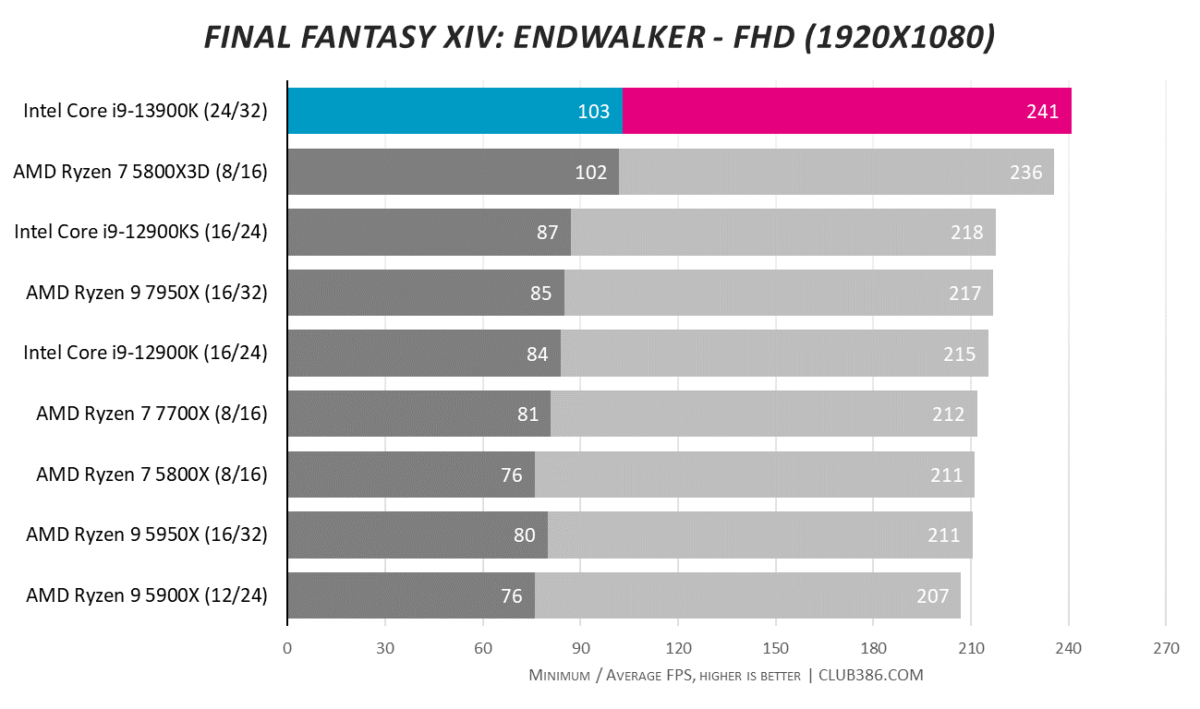 A games engine in love with cache.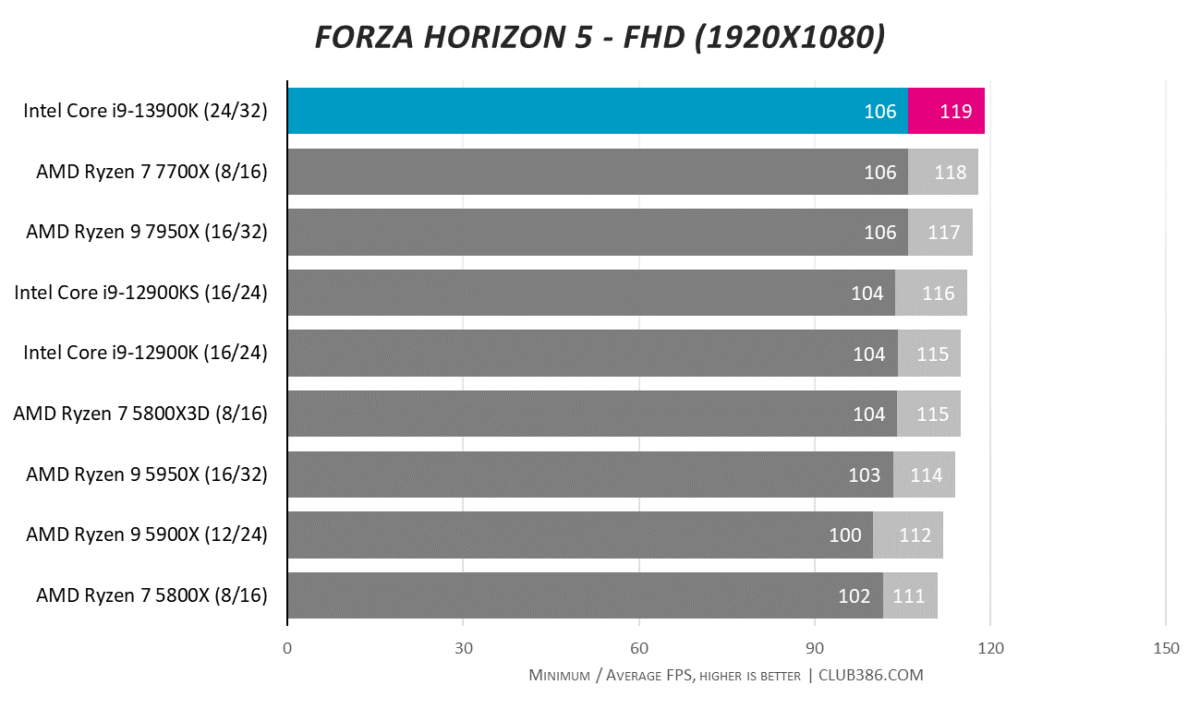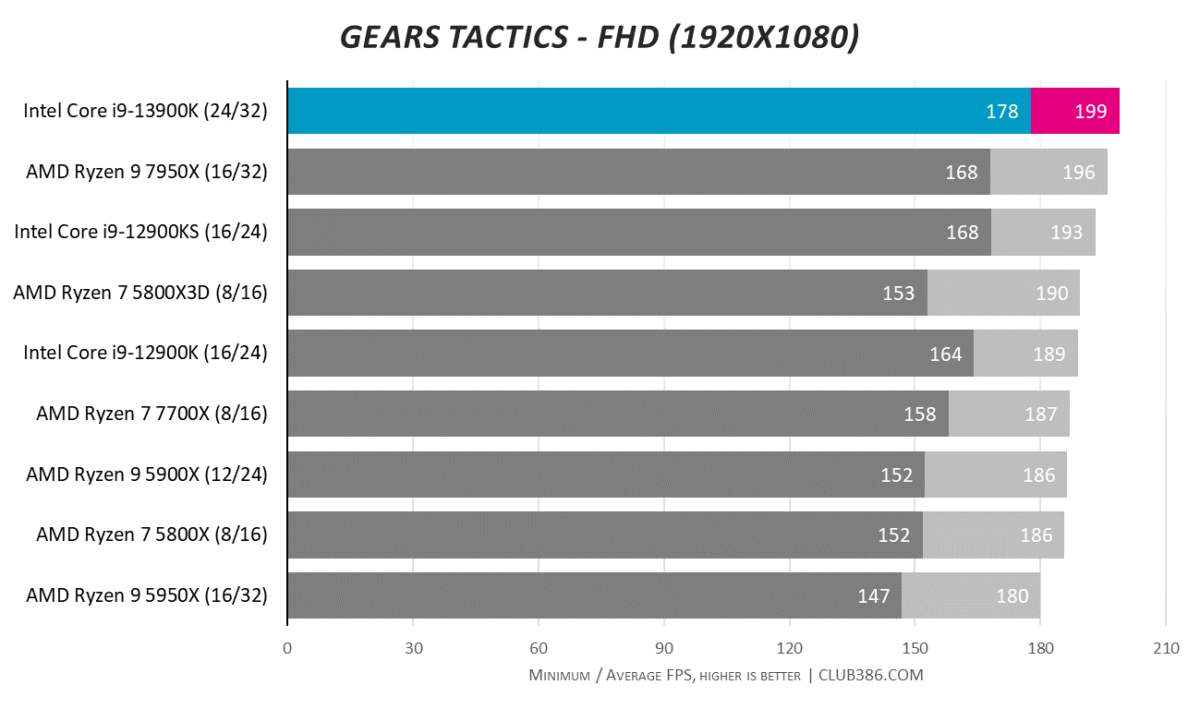 Five further games are run at 1080p high/ultra-quality settings to separate the wheat from the chaff. Intel Core i9-13900K puts up an exemplary showing. Beating out rival Ryzen 9 7950X in four out of five benchmarks and tying the other, Intel is right to claim 13th Gen Core a gaming Goliath.
Power, Temperature, Efficiency, Value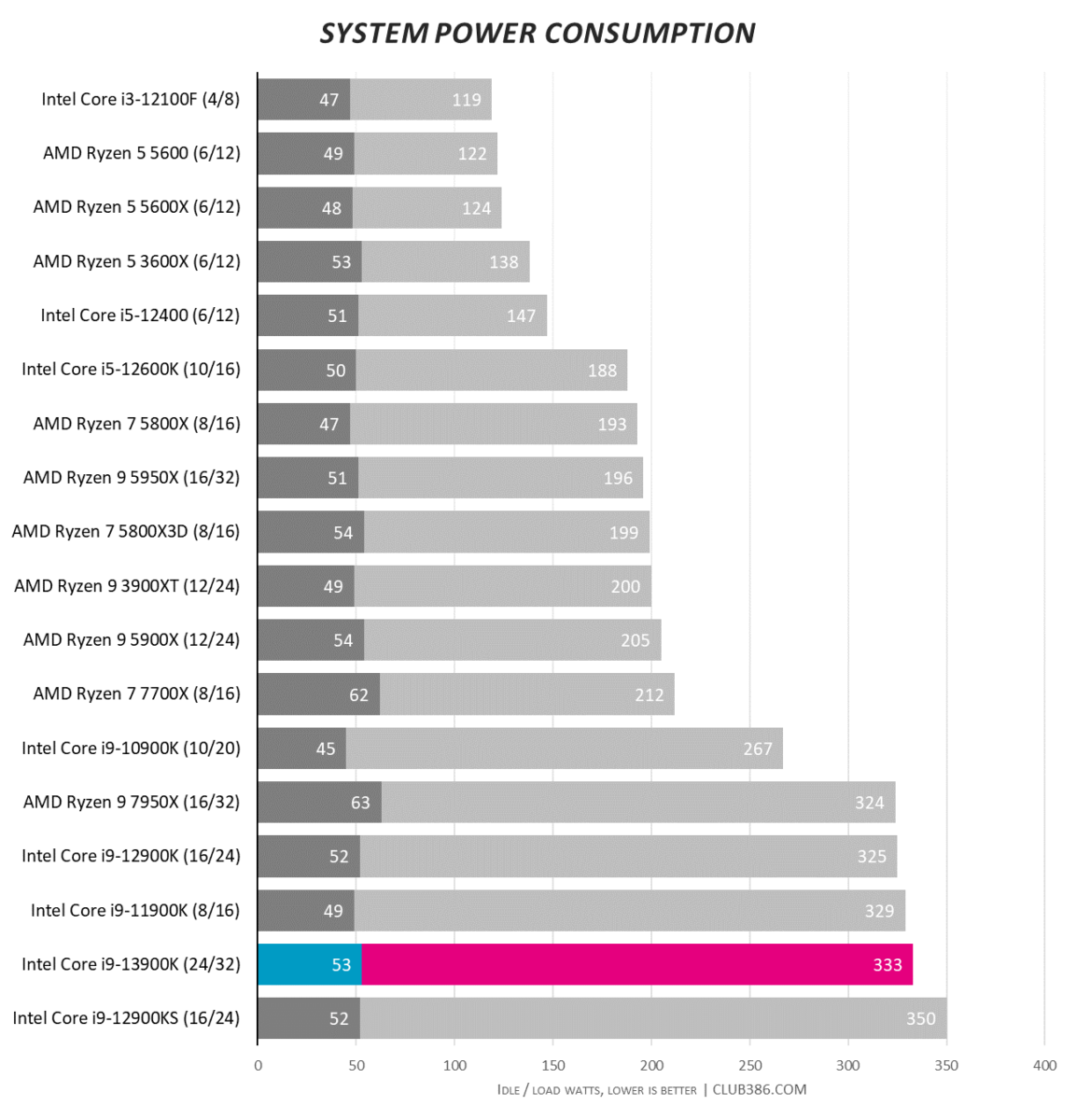 You didn't think all that performance came without dialling the power wick up to 11? Outfitted with a 253W PL2 target, Core i9-13900K consumes exactly what we'd imagine it to.
Like its predecessors with huge power budgets in tow, having excellent cooling is an absolute must. A single-fan Noctua NH-D15 heatsink is no shrinking violet but even that lump of metal struggles to keep the chip below 90°C under extensive multi-core load.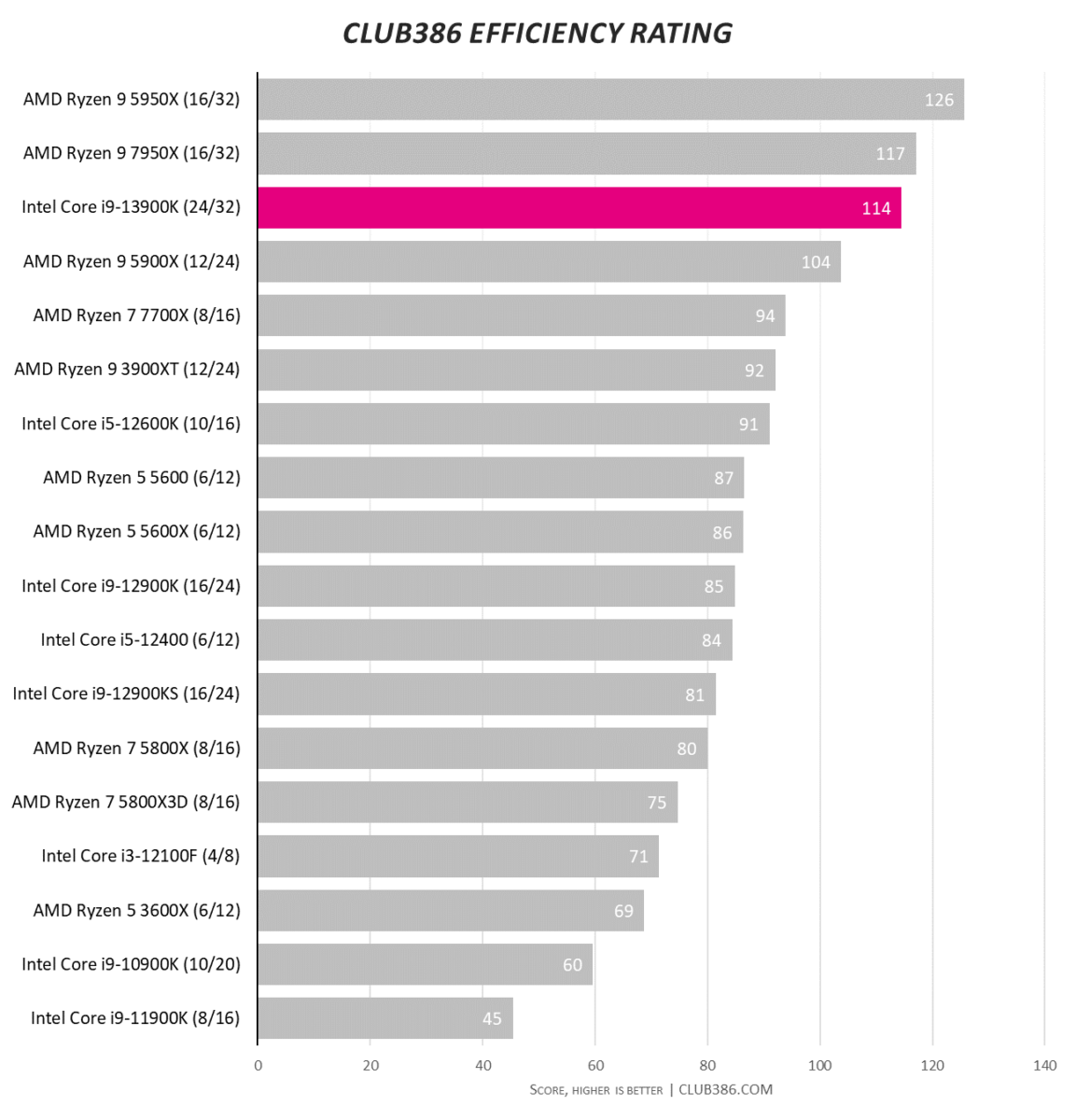 Dividing the all-core Cinebench R23 score by system-wide power consumption gives us the graph above. The diametrically-opposed forces of benchmark-busting performance and high power usage clash. Being near the top of the chart highlights the former wins out, but look how close our two prize fighters are. Isn't this exciting.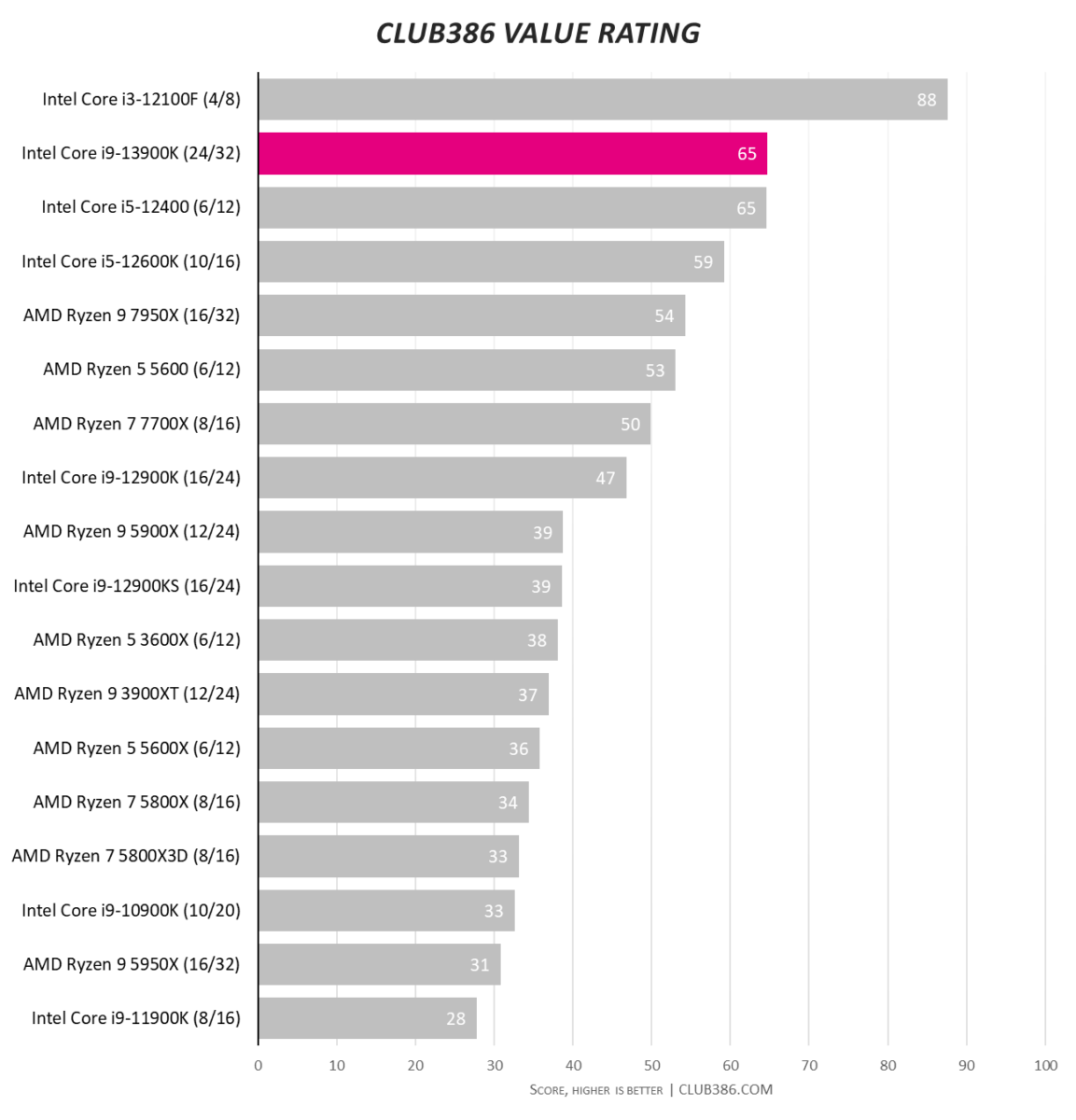 This graph divides the same Cinebench R23 multi-core score by dollar SRP. The obvious reason why Intel is ahead of AMD rests with the $589 attached to 13900K compared to $699 for performance-comparable 7950X. It's rare a range-topping processor claims a top-three position in both these graphs; Core i9-13900K manages to do just that.
Overclocking
Who'd want to overclock a chip already running at 5.8GHz out of the box and climbing to north of 5GHz when all cores are called into action? Enthusiasts would, of course.
The simplest method is to remove all power-related limits in BIOS. Say goodbye to the 253W cap. Instead, unchained from such shackles, Core i9-13900K morphs into Mental Mode™ – words resonate with hyperbole until you realise the chip pulls 335W on its lonesome and 430W as a system.
Even the Noctua NH-D15 tower heatsink upgraded to two fans struggles to keep temperatures in check. Escalating to 100°C very quickly, thermal throttling sets in after merely 30 seconds, and going down this massive TDP route requires investment in a custom loop. Or do the sensible thing and leave the chip at stock settings.
Multi-core speed ramps up to 5.5GHz, which is what Intel is aiming for with the upcoming, limited-edition Core i9-13900KS. It's also the first time we've seen a mainstream processor smash through the 40,000-mark barrier!
Conclusion
Duly chastened by rampaging Ryzen 7000 Series last month, Intel is back in the premium mainstream PC space with serious performance improvements. Slipping into the incumbent LGA1700 socket is a blessing and a curse, however, as ease of transition is hampered by no clear upgrade path beyond this generation.
Core i9-13900K takes the best bits from Alder Lake and amplifies potential by conscripting more cores, larger caches, faster memory and higher frequencies, all wrapped inside an ageing 10nm footprint. Intel is to be commended in achieving so much with so little help from process technology and manufacturing.
The melting pot of improvements coalesces into a range-topping chip which stands tall in the face of considerable Ryzen onslaught. Great multi-core application performance is sure to keep content creators happy, while high-frequency throughput results in fantastic gaming. So much so, in fact, that Core i9-13900K becomes the world's best gaming processor.
Undercutting rival Ryzen 9 7950X by over $100 on recommended pricing, the choice of which high-end mainstream chip to go for has become, once again, nebulous, and we love that. Whichever you choose – 13th Gen Core or Ryzen 7000 Series – there's not a bad apple among them.
Going big and bold by turning everything up to maximum, Intel has produced an impressive desktop processor majoring on performance in every area.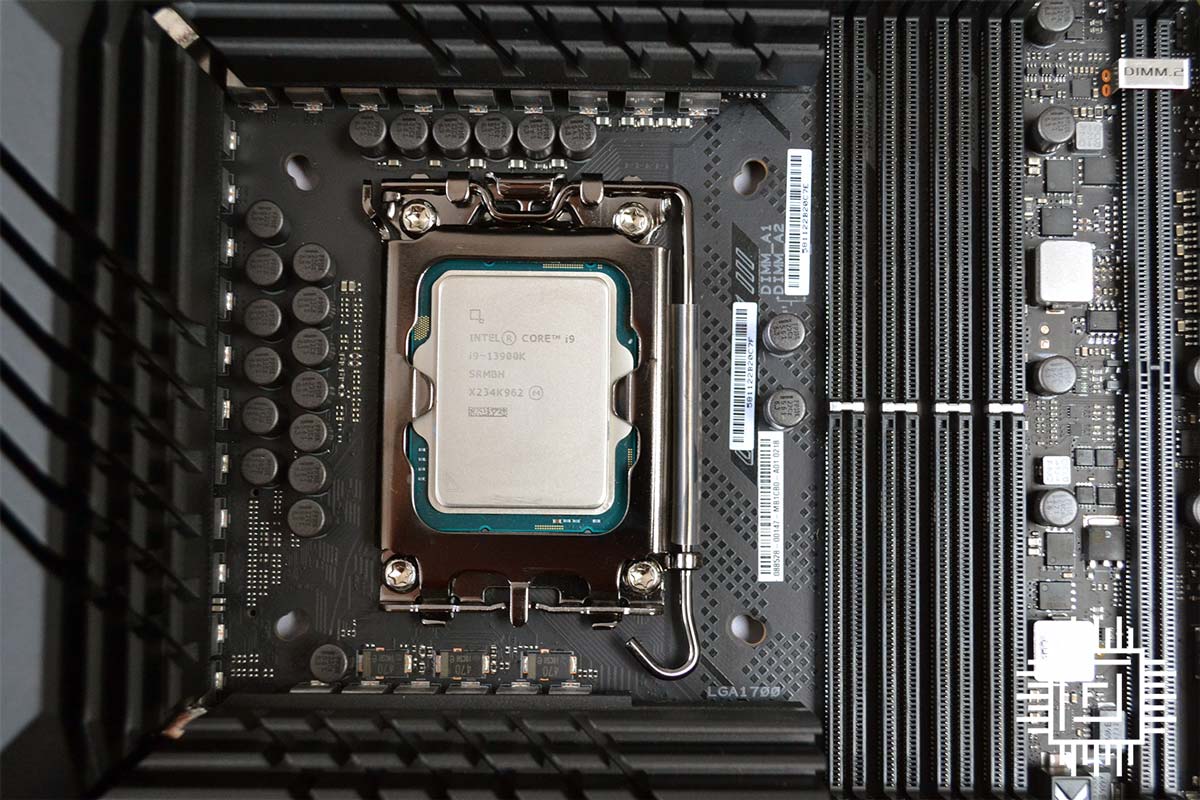 Intel Core i9-13900K
Verdict: Intel's 24-core, 32-thread leader of the Raptor Lake pack is a genuine contender as the best all-round CPU.
---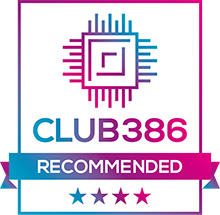 Pros
Excellent performance
Decent pricing
Brilliant at gaming
DDR4/DDR5
Wide mobo support
Cons
High power
No easy upgrade path
---
Club386 may earn an affiliate commission when you purchase products through links on our site. This helps keep our content free for all.
Rest assured, our buying advice will forever remain impartial and unbiased.