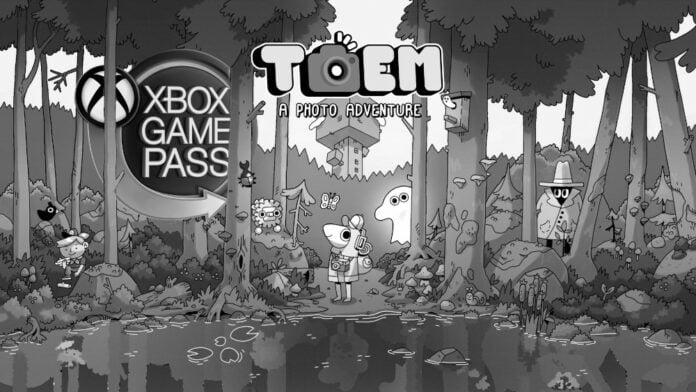 The Xbox team has revealed its second batch of Game Pass goodies for the month of July, offering nine additions of varying art styles and gameplay.
The full list is as follows:
Techtonica (Game Preview) (Cloud, Console, and PC) – Available now
Toem (Cloud, Console, and PC) – Available now
The Cave (Cloud and Console) – Available now
Maquette (Console and PC) – Available now
Figment 2: Creed Valley (Cloud, Console, and PC) – July 20
The Wandering Village (Cloud, Console, and PC) – July 20
Serious Sam: Siberian Mayhem (Cloud, PC, and Xbox Series X|S) – July 25
Venba (Console and PC) – July 31
Celeste (Cloud, Console, and PC) – August 1
Additionally, you can grab these DLCs:
Naraka: Bladepoint Deluxe Edition Upgrade – Available now
League of Legends Champion: Naafiri – July 20
Sea of Thieves: The Legend of Monkey Island – July 20
Dead by Daylight: Nicolas Cage DLC – July 25
Alongside these perks for Xbox Game Pass Ultimate members:
Naruto Shippuden Uncut Season 1 – Available Now
Crunchyroll Premium Perk – July 20
FIFA 23 EA Play Ultimate Team Pack – July 21
As usual, a bunch of titles are leaving the service on July 31, namely:
Dreamscaper (Cloud, Console, and PC)
Expeditions: Rome (PC)
Marvel's Avengers (Cloud, Console, and PC)
The Ascent (Cloud, Console, and PC)
Two Point Campus (Cloud, Console, and PC)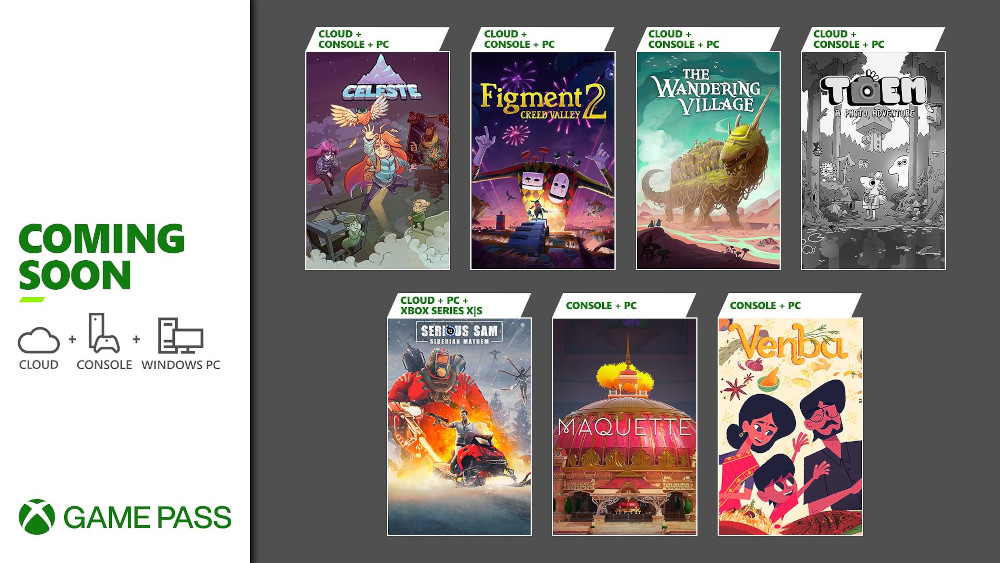 If these look or feel less appealing than previous Game Pass offerings, it's because they are made primarily by smaller independent development teams that focus on content rather than shiny marketing, so allow us to change your perception a little bit.
Toem is an adventure game about taking pictures of the world and its inhabitants, boasting fantastic black-and-white, hand-drawn graphics. The mix between 2D characters and 3D environments filled with perspective-based objects blends perfectly with the art style, delivering a unique experience. If not for gameplay, at least give this one a shot for its design.
Maquette is also an artistic game with beautiful graphics and imaginative world. This time you interact with a mock-up (Maquette) by putting and pulling objects depending on perspective to resolve puzzles. A good candidate if you are into games such as Superliminal.
Finally, there is The Wandering Village, a city building and managing simulator where the land is on top of a giant, roaming, dinosaur-like creature. Here you need to oversee the limited space all while trying to maintain a symbiotic relationship with the creature by avoiding over-exploitation. I have been waiting for this one quite a bit.
So, go give them a shot, they are 'free' after all, if you happen to be subscribed to Game Pass. If not, you can always get started using the £1 deal.