Jump to: Specs | Build | Performance | Conclusion
Lenovo turning its attention to the gaming market spelt trouble for most other vendors. In the space of just five years, the firm's Legion brand has cemented its position as a purveyor of some of the best gaming laptops around.
The Chinese giant's manufacturing clout is such that new models arrive quickly, touting technological advancements from the likes of AMD, Intel and Nvidia. For 2022, the refreshed Legion 5i Pro Gen 7, priced from £1,495, warrants a closer look courtesy of an upgraded Intel 'Alder Lake' processor.
Lenovo's naming conventions don't make it easy to keep tabs on what's new – this 'Gen 7′ laptop features a '12th Gen' Intel CPU – but Legion laptops succeed in their acceptance that no gaming laptop is perfect. It's a case of winning key battles and Legion 5i Pro Gen 7 has a good number of aces stored away.
Sleek and Powerful
Amid a sea of ostentatious rivals, the 16in Lenovo makes a positive first impression with a 'Storm Grey' aluminium chassis that's relatively understated. There are no gaudy RGB lights adorning the exterior, branding has been revised to a sleek laser-etched Legion logo, and build quality feels solid throughout. Good rigidity results in little flex, the lid opens effortlessly with one hand, and the laptop would feel equally at home in the boardroom or LAN party.
Don't mistake the streamlined exterior as an indication of underpowered hardware, mind. Offering plenty of oomph beneath the lid, Lenovo's processor options extend up to an Intel Core i9-12900H, with up to 32GB of memory, 2TB of SSD storage and a choice of GeForce RTX 3060, 3070 or 3070 Ti graphics.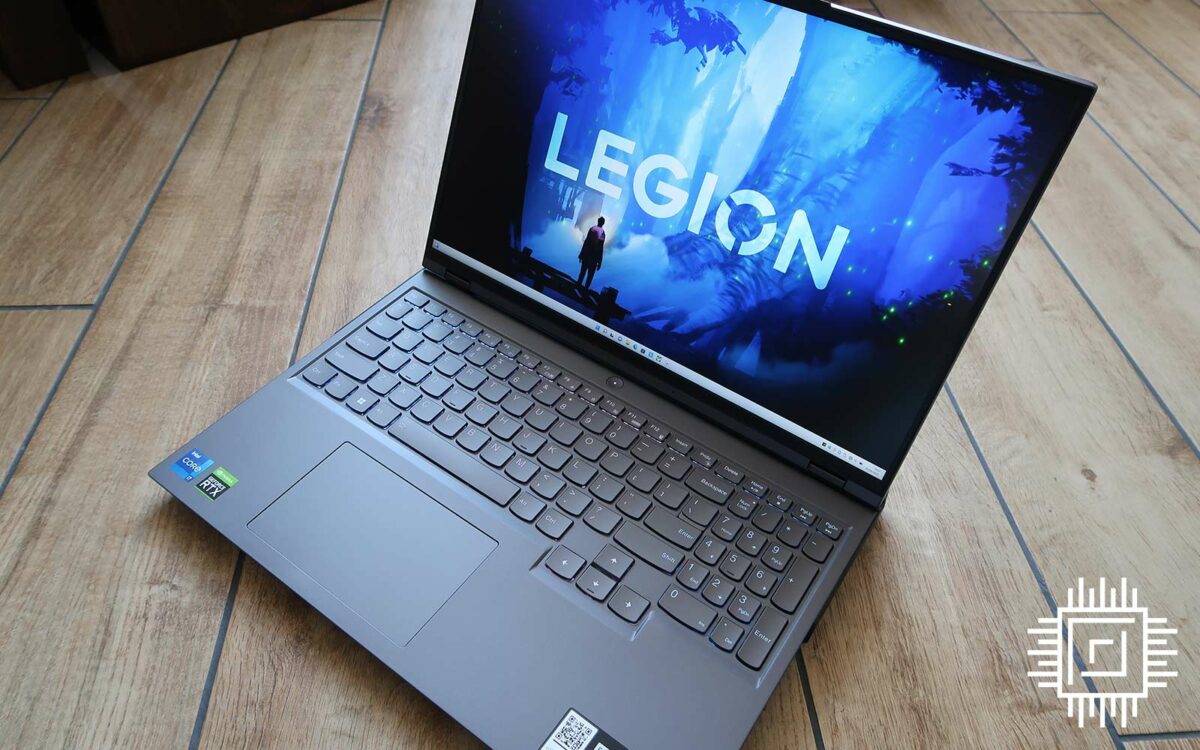 Configuration options do frustratingly tend to vary greatly from one region to the next. Our review unit, outfitted with a 14-core (6 Performance, 8 Efficient) Intel Core i7-12700H processor is unusually lopsided. Graphics are provided by an entry-level RTX 3060 6GB, which is always likely to struggle with gaming at the native resolution, while storage is overkill with dual 1TB Samsung PM9A1 SSDs configured in RAID 0. A bizarre setup. UK customers thankfully have a more favourable configuration in the form of part number 82RF002LUK, which at a cost of £1,710, marries the aforementioned Intel Core i7-12700H processor to 16GB of DDR5-4800 memory, a 1TB M.2 SSD and potent Nvidia GeForce RTX 3070 Ti 8GB graphics. That's the sort of spec we'd be looking for.
Outside of core components, another key selling point is a choice of 16in 16:10 displays, each bordered with thin bezels and offering a FHD+ (1920×1200) or WQHD+ (2560×1600) resolution. Our review system features the latter and boasts a 165Hz refresh rate, Nvidia G-Sync adaptive synchronisation and 500-nit brightness. Excellent credentials for gaming, yet while the 16:10 aspect ratio is wonderful for productivity, limited DCI-P3 colour coverage may dissuade the creative crowd.
User Experience
Portability is another point that deserves consideration. While Legion 5i Pro Gen 7 looks and feels reasonably svelte for a 16in high-performance machine, dimensions of 359.9mm (H) x 264.4mm (W) x 26.6mm (D) require a good-sized backpack, and you'll start to feel the 2.5kg weight if you regularly carry a laptop around. There's some bulk to it, and that heft is only accentuated by a large external 300W power brick.
Lenovo has a good amount of real estate to work with, yet shortcomings do remain. The 720p webcam above the display offers basic image quality and no IR facial recognition, leaving the laptop void of any form of biometric security, and we're divided over the keyboard, too.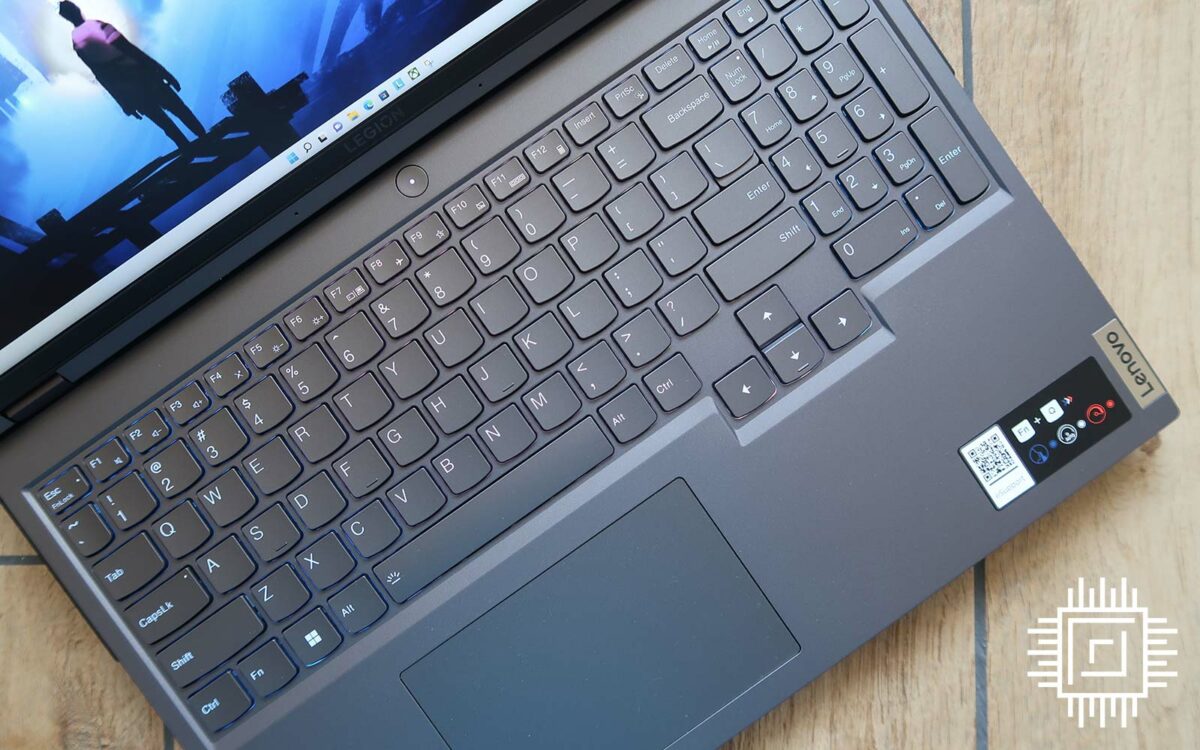 1.5mm travel is a plus point, and Lenovo's 'TrueStrike' key action tends to be among the best in the business, but shoehorning a thinned numpad makes the overall layout feel congested. I've accidentally hit the Num keys on more than one occasion, and in this instance would favour a tenkeyless configuration with better backlighting.
Rather than premium per-key lighting, illumination is controlled across four lighting zones, resulting in jarring effects that lack the seamless transition you might expect. There are also just the two brightness levels, and these can only be toggled through software – unless we're missing something obvious, there doesn't appear to be a keyboard shortcut.
Connectivity and Features
We've no qualms with the trackpad – it is both roomy and responsive – and there's not a lot wrong in the I/O department, either. The laptop's left side is home to Thunderbolt 4 and USB 3.2 Gen 2 Type-C (both supporting DisplayPort 1.4 output), while over on the right there's a USB 3.2 Gen 1 Type-A, a 3.5mm headphone jack, and an E-Shutter switch to unplug the webcam for added privacy.
Keeping everything else tucked neatly out of sight, the rear carries the power connector, two further USB 3.2 Gen 1 Type-A, HDMI 2.1, another USB 3.2 Gen 2 Type-C and Gigabit Ethernet. Small icons along the top-rear edge make it easier to identify the ports without having to peer behind the laptop, and that rear Type-C can also be used to charge at up to 135W.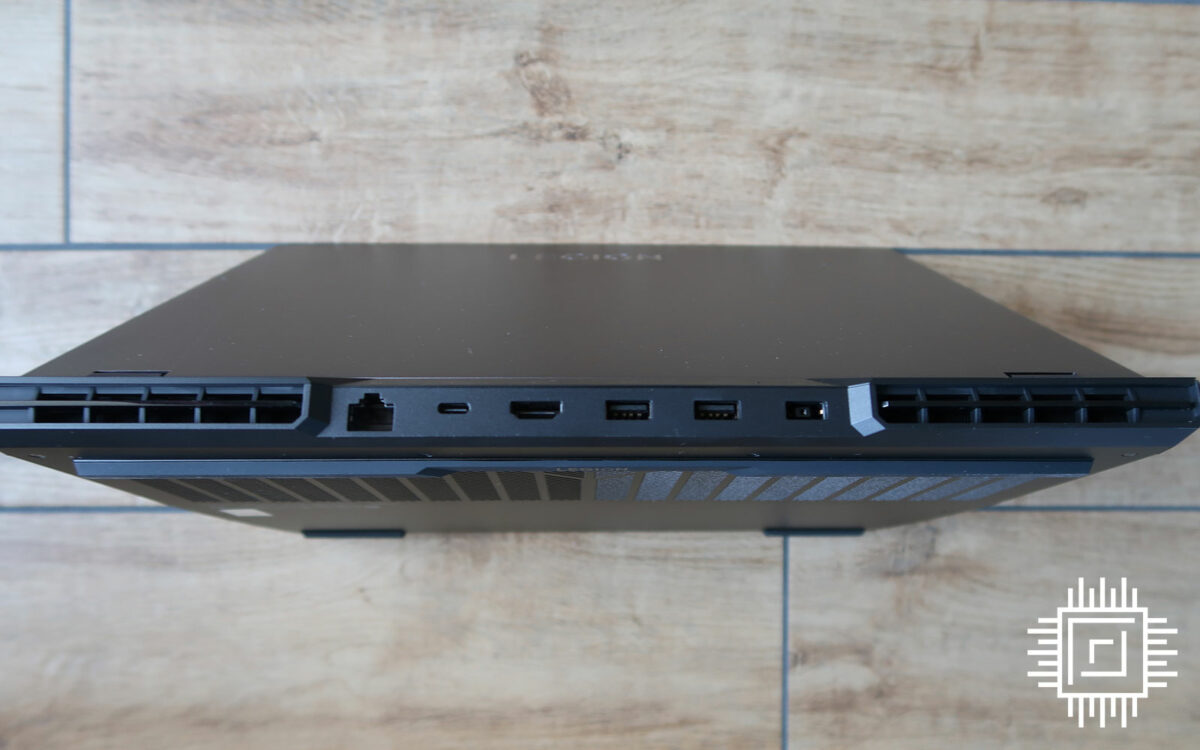 Wi-Fi 6E, Bluetooth 5.1 connectivity and an 80Wh battery round out the hardware, and stereo speakers, while lacking in bass, deliver decent clarity at ample volume. Speaking of acoustics, those large vents you see are allied to a reworked 'Coldfront 4.0' cooling setup that adds a fifth heatpipe and thinner fan blades to lower temperature while reducing noise. Getting inside the laptop for maintenance entails unfastening a series of screws and unclipping the bottom cover, and two DDR5 SO-DIMM plus two M.2 slots are available for user upgrades.
Lenovo has most bases covered, and Legion 5i Pro Gen 7 also makes use of Nvidia Advanced Optimus. Designed to streamline transition from iGPU to dGPU, a dedicated MUX switch governs the swap and gives users a choice of four working modes; Hybrid, where the system automatically chooses GPU depending on workload; iGPU, where integrated Intel graphics are employed at all times; Hybrid-Auto, which switches from Hybrid to iGPU when disconnected from the mains; and dGPU, whereby Nvidia is used exclusively. Handy options to have, but note a full reboot is still required when switching between modes.
Performance


Much like desktop counterparts, Intel's mobile Alder Lake CPUs pack a noticeable punch. Core i7-12700H aces the Cinebench tests; note we carry out an extended 10-minute run before recording the multi-core result. A single run, limiting thermal throttling, returns an even tastier score of 16,436.


Geekbench is particularly keen on 12th Gen Intel architecture. Core i7-12700H delivers nearly a 45 per cent performance increase over AMD's Ryzen 9 6900HS. Impressive.


Premium DDR5 memory guarantees ample bandwidth and a 16GB dual-channel setup feels about right for a laptop of this ilk.

Remember that overkill storage configuration we mentioned earlier? Dual 1TB Samsung M.2 SSDs in a RAID 0 configuration might be OTT, but sequential read and write speeds in excess of 10,000MB/s sure look good.

Show your support for impartial Club386 reviews
Club386 takes great pride in providing in-depth, high-quality reviews built on honest analysis and sage buying advice. As an independent publication, free from shareholder or commercial influence, we are committed to maintaining the standards our readers expect.
To help support our work, please consider making a donation via our Patreon channel.



Lenovo's Legion 5i Pro Gen 7 has topped every meaningful chart thus far but is bested in 3DMark Time Spy, where the base GeForce RTX 3060 delivers only mid-range credentials.
Gaming



This particular GPU is best suited to 1080p gameplay, and as such isn't an optimal choice for a laptop featuring a WQHD+ panel with a 165Hz refresh rate.
| Game | FPS @ 1200p | FPS @ 1600p |
| --- | --- | --- |
| Assassin's Creed Valhalla (Ultra High Quality) | 57 | 46 |
| Dirt 5 (Ultra High Quality, Raytraced Shadows On) | 67 | 52 |
| Far Cry 6 (Ultra Quality, HD Textures and DXR On) | 49 | 18 |
| Gears Tactics (Ultra Quality) | 84 | 59 |
Testing a variety of games at the panel's native aspect ratio suggests RTX 3060 can get close to the desired 60fps with resolution scaled down to 1200p, but 1600p is a step too far, particularly in titles that feature advanced rendering technologies such as ray tracing. RTX 3070 Ti, as configured in UK spec, would be much preferred.
Display and Vitals



Though colour coverage leaves room for improvement, out-the-box accuracy is excellent and brightness is right in line with Lenovo's claims. Competent characteristics, but wide viewing angles, a 16:10 aspect ratio and 165Hz refresh rate are ultimately what make this is a highly enjoyable display.



An extra heatpipe over the previous generation does appear to be working well. Both CPU and GPU temperatures are kept to very comfortable levels, and though noise levels rise accordingly, Lenovo's fan profile is smooth and consistent.

If there's a snag in this tale, we've saved it until the very end: battery life is disappointing. Using PCMark's 10 Modern Office test, which intermittently tasks the laptop with writing, web browsing and video conferencing workloads, we configure each system with a purpose-built power plan, wireless radios disabled, and screen brightness set as close to 200 nits as possible using a calibration device.
Modern expectations are such that laptops ought to deliver a runtime in excess of 10 hours in this scenario. Gaming systems such as those in the chart typically fall short, yet five hours and 40 minutes is a relatively meagre return by today's standards.
Conclusion
A 12th Gen Intel 'Alder Lake' processor is an expected upgrade for Lenovo's 2022 Legion 5i Pro. Bringing chart-topping CPU performance to portable gaming PCs, the reviewed Core i7-12700H delivers a meaningful performance uptick in an already well-stocked laptop.
Improved cooling, comprehensive connectivity and a modest aesthetic enhance the overall package, but it is the large 16:10 display that remains the star attraction. A 16in 2560×1600 canvas with 165Hz adaptive sync is a fine fit for both productivity and gaming, albeit with the proviso of heightened GPU requirements. A base GeForce RTX 3060 will struggle at the native resolution, and we'd recommend gamers give serious consideration to a model outfitted with GeForce RTX 3070 Ti as standard.
Other limitations include a basic webcam and disappointing battery life, but these are likely to be of little consequence to a target audience seeking latest-generation gaming credentials in a polished laptop from a reputable brand. In that regard, the Legion 5i Pro Gen 7 will have no shortage of suitors.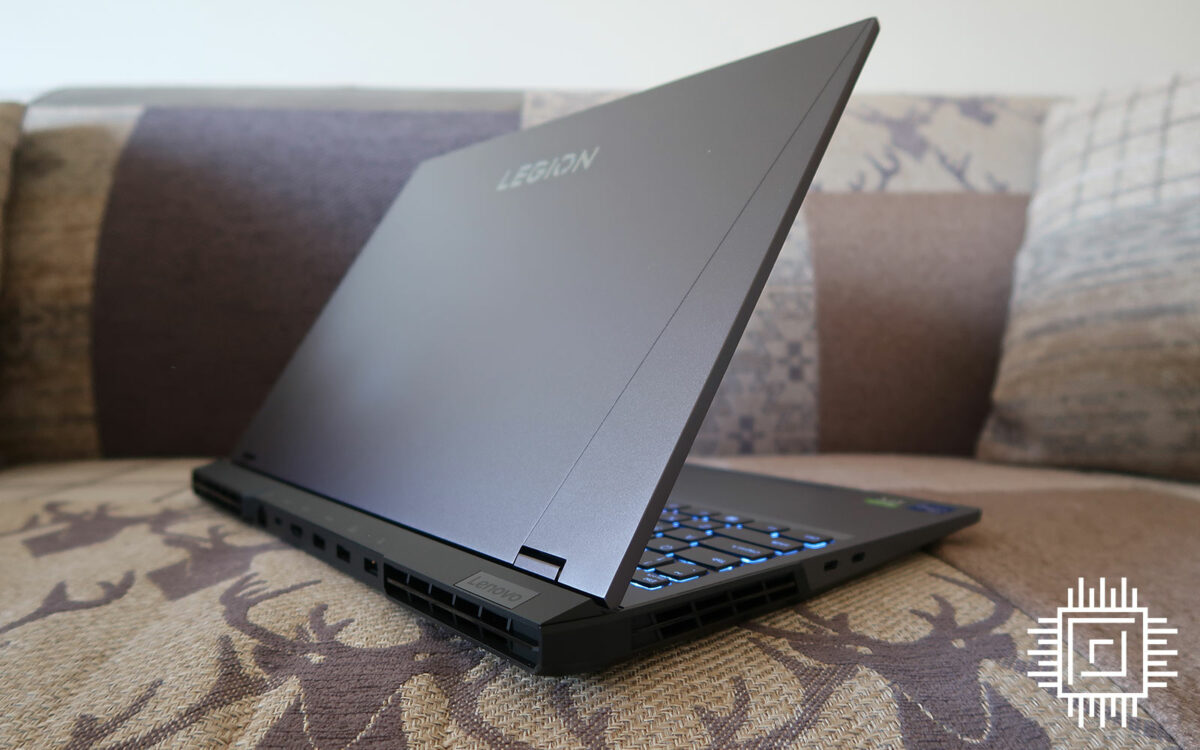 Lenovo Legion 5i Pro Gen 7
Verdict: Another likeable addition to a burgeoning range, the Legion 5i Pro Gen 7 is a safe bet for high-quality mobile PC gaming.
---
Pros
Excellent CPU performance
Large 16:10 display
165Hz adaptive sync
Thorough connectivity
Restrained aesthetic
Good cooling
Cons
Disappointing battery life
Basic webcam
No biometrics
RTX 3060 not ideal
---
Club386 may earn an affiliate commission when you purchase products through links on our site. This helps keep our content free for all.
Rest assured, our buying advice will forever remain impartial and unbiased.