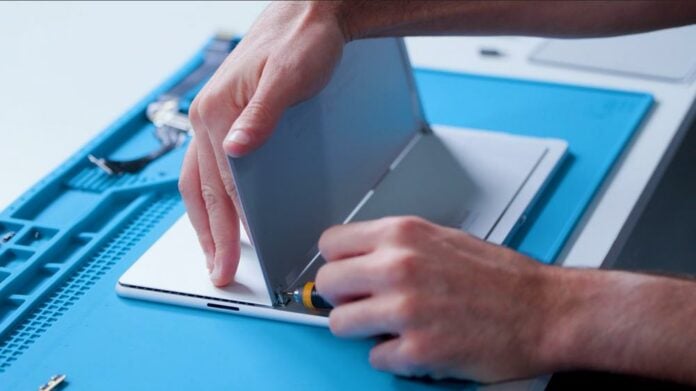 Microsoft has initiated Surface replacement part sales for self-repairs outside warranty coverage, focusing on its latest Surface products to begin with.
Currently available for USA, Canada, and France (more coming later), the company's online store presents listings for replacement panels, SSDs, batteries, and even smaller pieces such as rubber feet. These can be bought by anyone willing to fix broken machines no longer covered by warranty. A useful option given the wide availability of online teardown guides.
"We are excited to offer replacement components to technically inclined consumers for out-of-warranty self repair," said Tim McGuiggan, Microsoft VP Devices Services and Product Engineering, adding that "when purchasing a replacement component, you will receive the part and relevant collateral components (such as screws if applicable)."
That's the good news, the bad news is out-of-warranty parts won't come cheap. For example, a Surface Studio 2 Plus screen will set you back $1,749.99, while a Surface Pro 9 battery fetches $237.99.
Lofty sums given the crux of the repair is in your own hands, and it won't have escaped your attention the Surface Studio 2 replacement screen is almost half the price of the entire machine brand new, which includes an i7 CPU, RTX 3060 graphics, 32GB of RAM, 1TB of storage, plus a mouse and keyboard. At this point, it may be better to try your luck on second-hand markets.
In the end, it's up to each user to decide if the cost is worth it. We can totally see many fixing old laptops just because they are used to the keyboard and trackpad, or because they built their setup around said PC. Expensive or not, we have another choice when the time comes to fix a machine, and that's a good thing.
The running cost of Surface PCs is a controversial topic here at Club386, as our very own publisher, Tarinder, found out recently when his Surface Laptop charger developed a fault while out at Computex. The downsides of a proprietary connector quickly became apparent, as he scoured most of Taipei in the hope of finding a replacement; he eventually managed to track one down, but let's just say it was far from cheap.