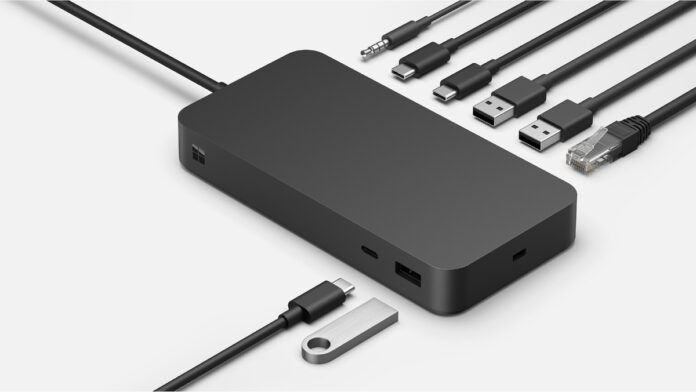 After a major leak mere days ago, Microsoft has officially unveiled its Surface Thunderbolt 4 dock, which is a successor to the Surface Dock 2. Now coming in hot with Thunderbolt 4, ergo USB 4, there are multiple high-bandwidth ports for all your peripheral needs.
The dock is being marketed specifically for Microsoft-centric devices such as the Surface Laptop 5, Surface Studio 2 Plus, and Surface 9 Pro, but in theory it should work perfectly well with any computer that has support for USB 4 / Thunderbolt 4.
As such, design cues mirror myriad Surface devices on the market. For starters, it's rectangular with smooth edges all-round, features a sleek matte black colourway, and subtle-yet-reflective gloss black company logo on the side. It's small and dainty, too, measuring a quaint 150mm x 75mm x 21.3mm, meaning it's quite unobtrusive on any office desk.
If out-of-sight is what you prefer, there's also a screw nut at the bottom, meaning it's desk mountable and compatible with a newly designed Cable Matters desk mount accessory, made specifically for the 410g Surface Thunderbolt 4 dock. A neat touch.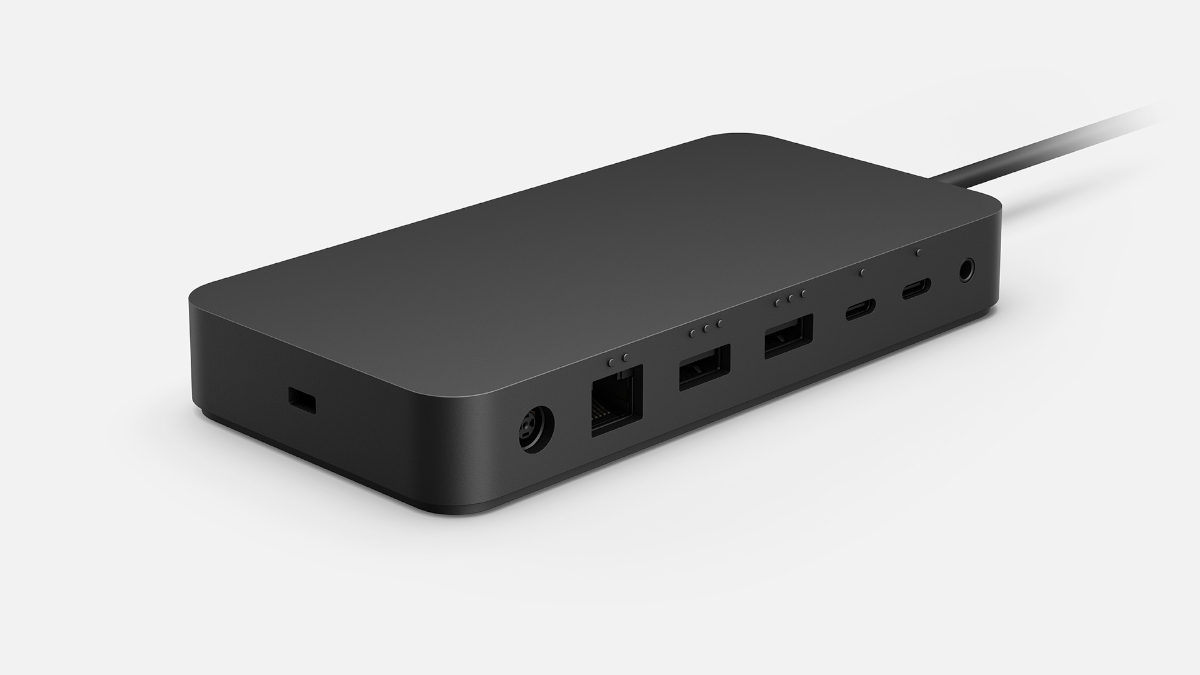 Moving on, I/O is plentiful. There's up to 96W of passthrough power to drive and charge a healthy variety of high-speed ports up to 40Gbps with Thunderbolt 4. Keeping it simple in the front, there's access to a single USB 3.1 Gen 2 Type-A port, and another USB 4 / Thunderbolt 4 Type-C port that is video display compatible.
In the rear, you will find most of the connections, including a power jack, dual USB 3.1 Gen 2 Type-A ports, two USB 4 / Thunderbolt 4 Type-C connections that are also video out capable, a single 2.5GbE port for Internet, and finally, a tried-and-trusted 3.5mm jack for audio duties.
One small caveat that will surely bother photography enthusiasts and content creators; there's a sorely missing full SD card reader, which could have made the dock a well-rounded device. A missed opportunity.
Nonetheless, the Surface Thunderbolt 4 Dock is currently available for purchase from the Microsoft store and priced at £319. Seems on par with similarly powerful docks on the market that provide additional support for USB 4 / Thunderbolt 4, though still too rich for my blood.