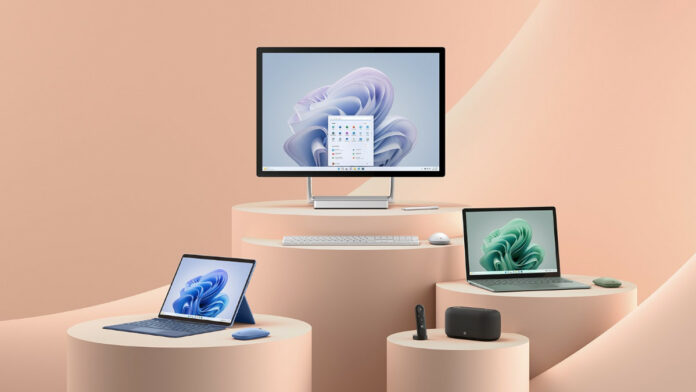 Wednesday marked Microsoft's 2022 hardware event and the company unveiled three Surface products, introducing the all-new Surface Pro 9, Surface Laptop 5 and Surface Studio 2 Plus.
Surface Pro 9
October is the Surface Tablet's 10th anniversary and to honour the occasion Surface Pro 9 features the most significant upgrades over its predecessor. The device serves as a crossover between laptop and tablet, and upgrades include a 13in PixelSense Flow display that supports a 2880×1920 resolution with a 120Hz refresh rate, as well as a full-HD 1080p front-facing camera.
This is also the first time the tablet will feature both Intel- and ARM-based models, both featuring equal advantages and drawbacks. Starting with the latest 12th Gen variants, there is a choice between either Intel Core i5-1235U and Intel Core i7-1255U processors mated with up to 32GB of LPDDR5 RAM and up to 1TB SSD removable storage options.
Connectivity is where the Intel devices shine, with two USB 4.0 Type-C ports with support for Thunderbolt 4, a single Surface Connect port, and one Surface Type Cover port.
The ARM-based variant comes in the form of a Microsoft SQ 3 processor, this time around mated with up to 16GB of LPDDR4x RAM – half the Intel variant – and including support for up to 512GB removable SSD storage.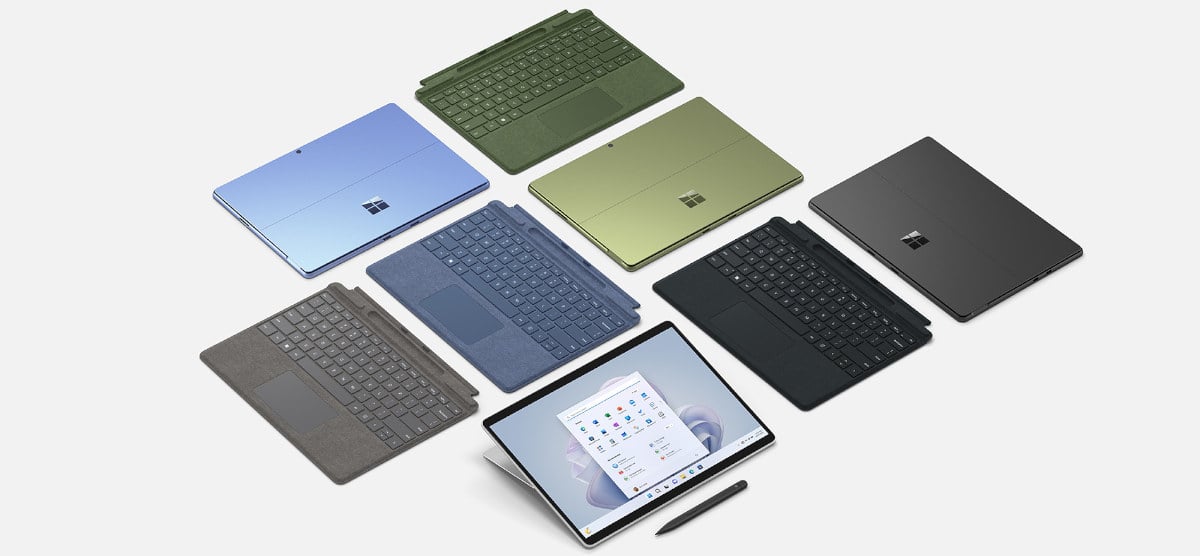 Ports on the ARM-based model are also restricted to dual USB 3.2 Gen 2, though it does have the added benefit of 5G connectivity with support for the latest mmWave technology (dependant on carrier), including GPS, GLONASS, Galileo, and Beidou positioning systems support. 5G connectivity is accessible via a nano-SIM tray or eSIM.
Battery life varies between these two variants, as well. Microsoft claims the Intel version is rated for up to 15.5 hours of typical daily usage, while the 5G variants are less power-hungry with a rating of up to 19 hours of battery life.
Intel machines also arrive with new colour options with matching Type Cover keyboards available in Sapphire, Forest, Platinum and Graphite. The SQ 3 variant is only available in Platinum.
Finally, pricing starts at $999 up to $1,900 in the US, where availability is scheduled for October 25. UK markets will get it a tad later, on November 8, with prices ranging from £1,099 to £1,599. It is worth noting that you will have to spend a bit extra for a Type Cover keyboard and accompanying Surface Pen 2 accessories.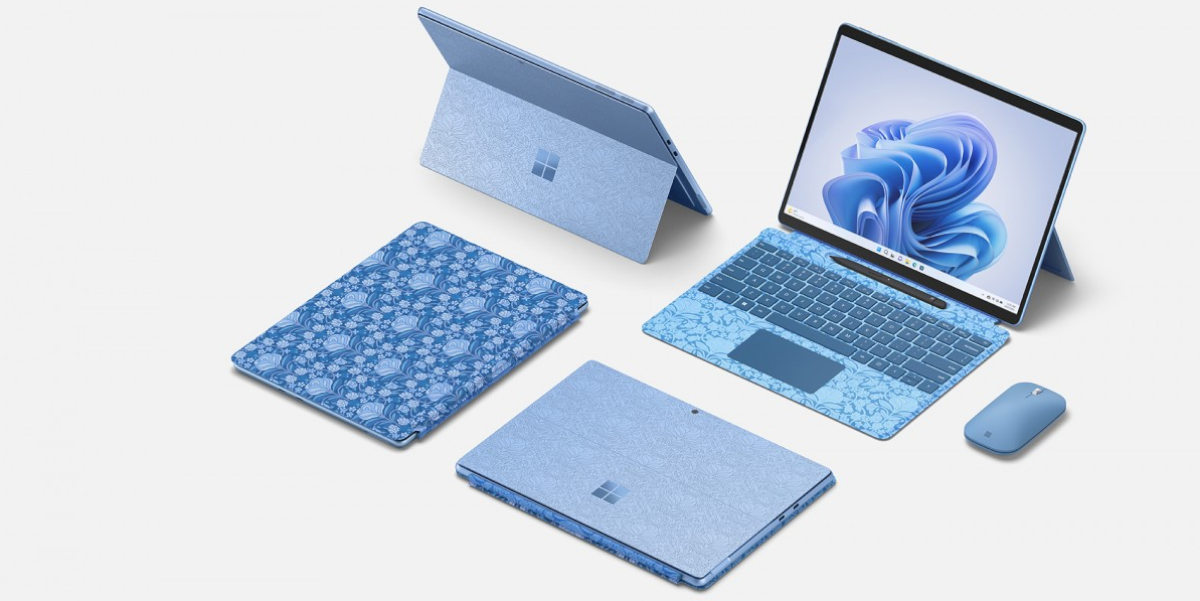 Additionally, a special edition to celebrate the anniversary will be made available in select regions that features unique laser-etched livery in Liberty Blue and matching Type Cover keyboard and accessories.
Surface Laptop 5
The Surface Laptop 5 gets a modest refresh with updated processor, sadly. There was no Surface Gaming Laptop to be found at the event, even more so, a missed opportunity to include AMD-based models with its initial line-up.
Dimensions come in at 308 x 223 x 14.5mm for the 13in, with weight specified as 1,272g for the fabric version or 1,297g for all-metal. The 15in laptop measures 340 x 244 x 14.7mm and weighs a modest 1,560 grams.
The 13.5in PixelSense display carries a resolution 2256×1504, while the 15in has a slightly higher 2496×1664 resolution. On par with what we expected back in February but since it's not the 120Hz PixelSense Flow variant and the refresh rate is not listed in the tech specifications, we assume it's the very same display used in the Surface Laptop 4; yet another missed opportunity, if this is indeed the case.
Moving on, the 13.5in model comes with either Intel Core i5-1235U or Intel Core i7-1255U processors, while the 15in version is only available in an Intel Core i7-1255U configuration. All models can be mated with up to 32GB of LPDDR5x RAM and up to 1TB of removable SSD storage.
Connectivity options include one USB 4.0 Type-C port with Thunderbolt 4, one USB 3.1 Type-A port, a Surface Connect port, and a 3.5mm headphone jack. Wireless network options include Wi-Fi 6 and Bluetooth 5.1 wireless technology.
Typical battery life is rated for up to 18 hours of typical device usage for the 13.5in, while the 15in is rated for 17 hours of longevity.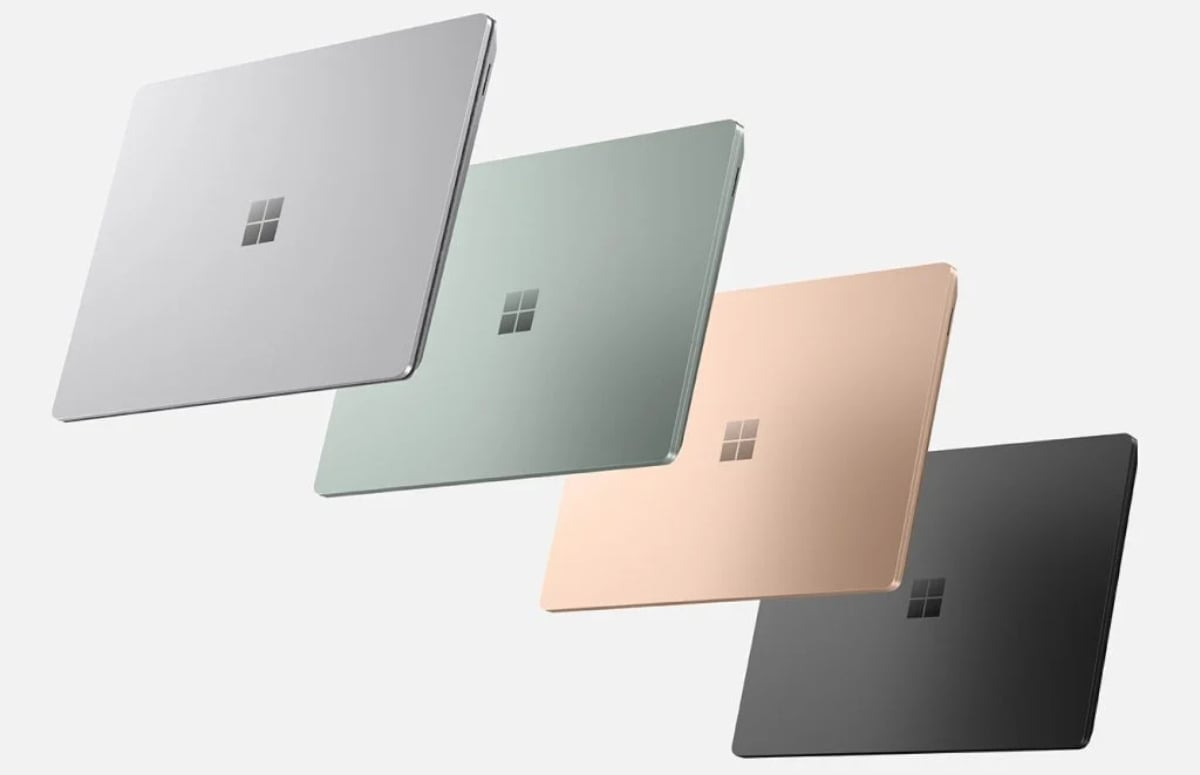 Rounding off, the Surface Laptop 13.5in is available in a variety of colour options including Platinum with Alcantara material palm rest, Matte Black, Sage and Sandstone, and the 15in is available in Platinum and Matte Black colourways.
Finally, the Surface Laptop 5 13in starts from £999 up to £1,699 depending on configurations, while the 15in starts from £1,299 up to £2,399, with both scheduled to ship beginning October 25.
Surface Studio 2 Plus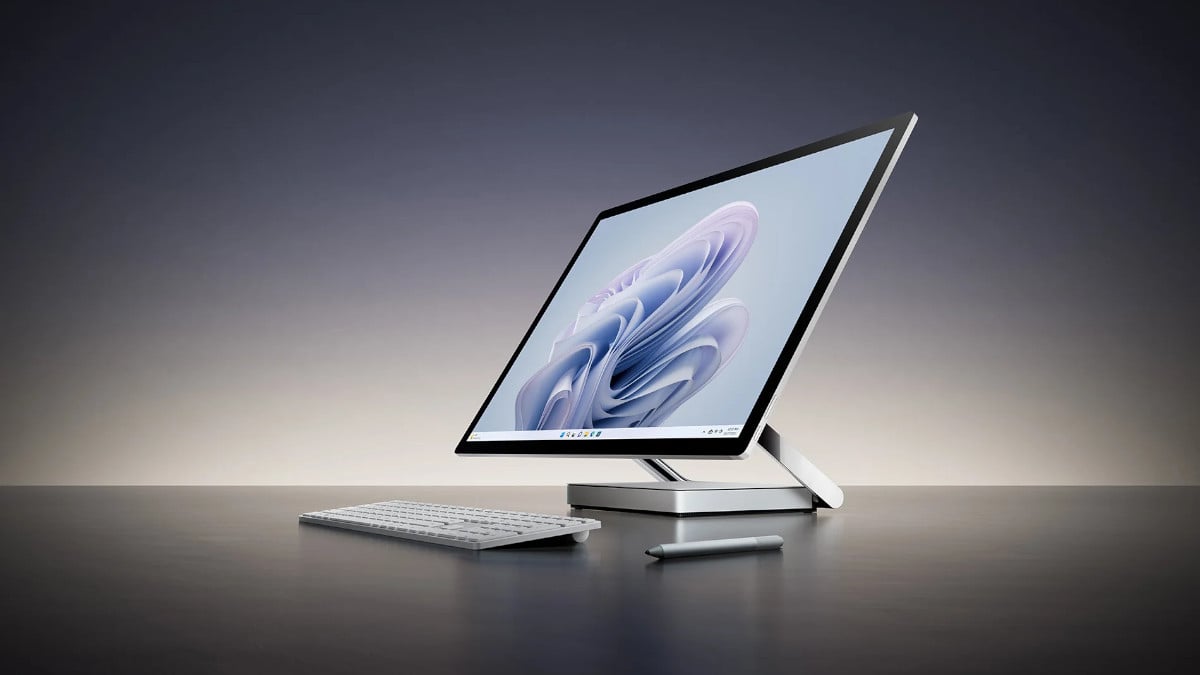 Microsoft debuted Surface Studio 2 back in 2018, and this version looks to be a nominal refresh with upgrades focused on internal hardware while retaining largely the same external styling.
Strangely enough, the Surface Studio 2 Plus is sorely missing a 12th Gen Intel processor. Instead, the company opted for an older 11th Gen Intel Core i7-11370H chip, with graphical prowess being catered by a mobile version of Nvidia's GeForce RTX 3060 with 6GB of dedicated VRAM, tied up to 32GB of LPDDR4x RAM and 1TB built-in storage.

The gorgeous 28in PixelSense Display retains a screen resolution of 4500×3000 pixels with support for Dolby Vision. The panel is a star attraction, and to the frustration of many, Microsoft has shown no desire to launch a standalone Surface monitor.
Connectivity has been bolstered this time around, with the all-in-one desktop packing a trio of USB Type-C Thunderbolt 4 ports that can support up to three 4K external displays. This is in addition to two USB 3.1 Type-A ports, a 3.5mm headphone jack, and a single Gigabit Ethernet port for network connectivity.
There are no configurable options with the device as it is only available in this particular guise that includes a Surface mouse, keyboard and pen. Pricing is set at a lofty £4,699 and Surface Studio 2 Plus will begin shipping in the UK from November 1.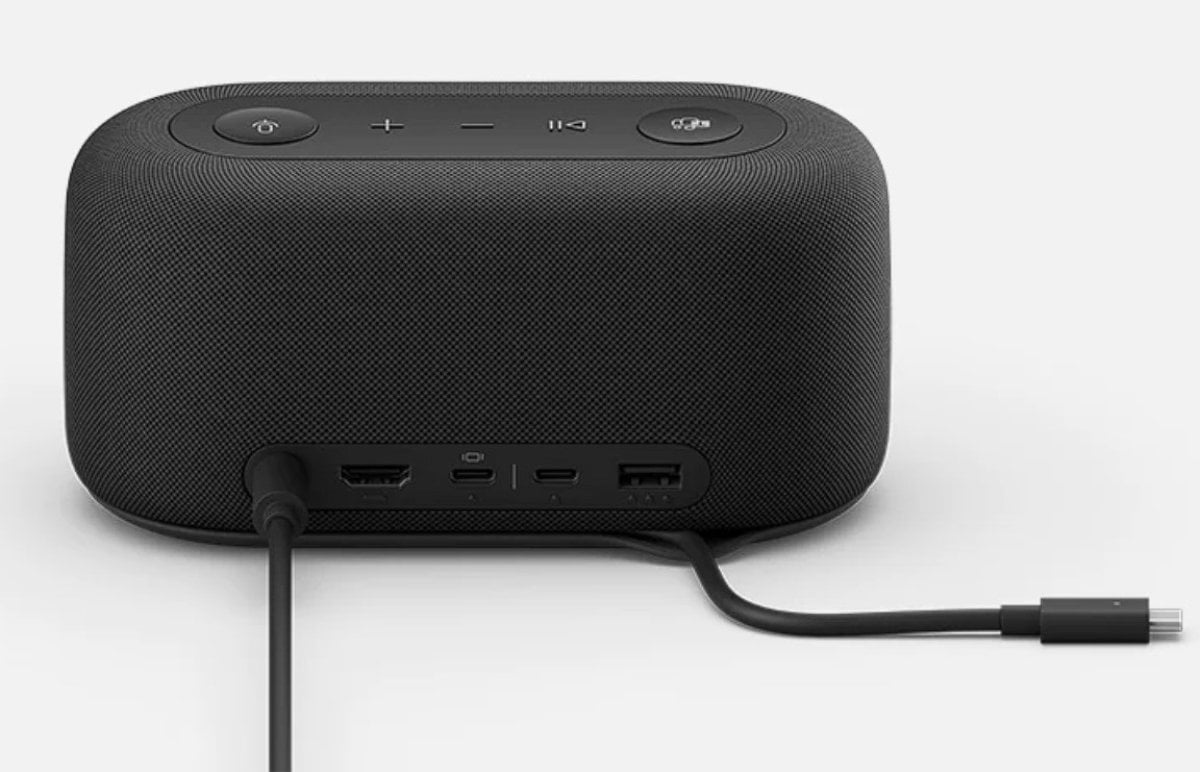 That's a wrap for the main Surface devices, though a new accessory – the Microsoft Audio Dock – was also announced at the event.
It is a speaker system that doubles as a USB-C hub for any laptop, consisting of a 20W speaker and a 5W subwoofer, and omnidirectional microphones, with dedicated Microsoft Teams and microphone toggle buttons.
Additionally, the Audio Dock supports macOS integration. Not yet available for pre-order, the device has a suggested US retail price of $249.99 and will be made available for purchase on October 25.
Incremental upgrades, and one has to wonder, after an initial flurry of eye-catching devices, is Microsoft's commitment to Surface innovation beginning to wane? We sincerely hope not.