Jump to: Firmware | Performance | Conclusion
Intel 12th Gen Core 'Alder Lake' desktop processors now span the entire gamut from Core i3 to Core i9. Running from £100 to £550, PC builders looking for a new system or upgrade need next to determine which motherboard to buy.
Z690 offers all the bells and whistles, but we've come away quietly impressed with the more affordable B660. Missing out on CPU overclocking and expensive features, value is the pre-eminent play. MSI duly sent in the MAG B660M Bazooka for technical evaluation. Armed with a £150 sticker fee and looking unique, let's examine further.
Bazooka is only available in a micro-ATX form factor, which makes sense when considering the target market. Two boards exist with the same core name, and the only difference is support for either DDR4, per our review sample, or DDR5. Appreciating continued premium pricing for DDR5 and a lack of performance uplift in most applications, we'd choose the DDR4 model at this moment in time.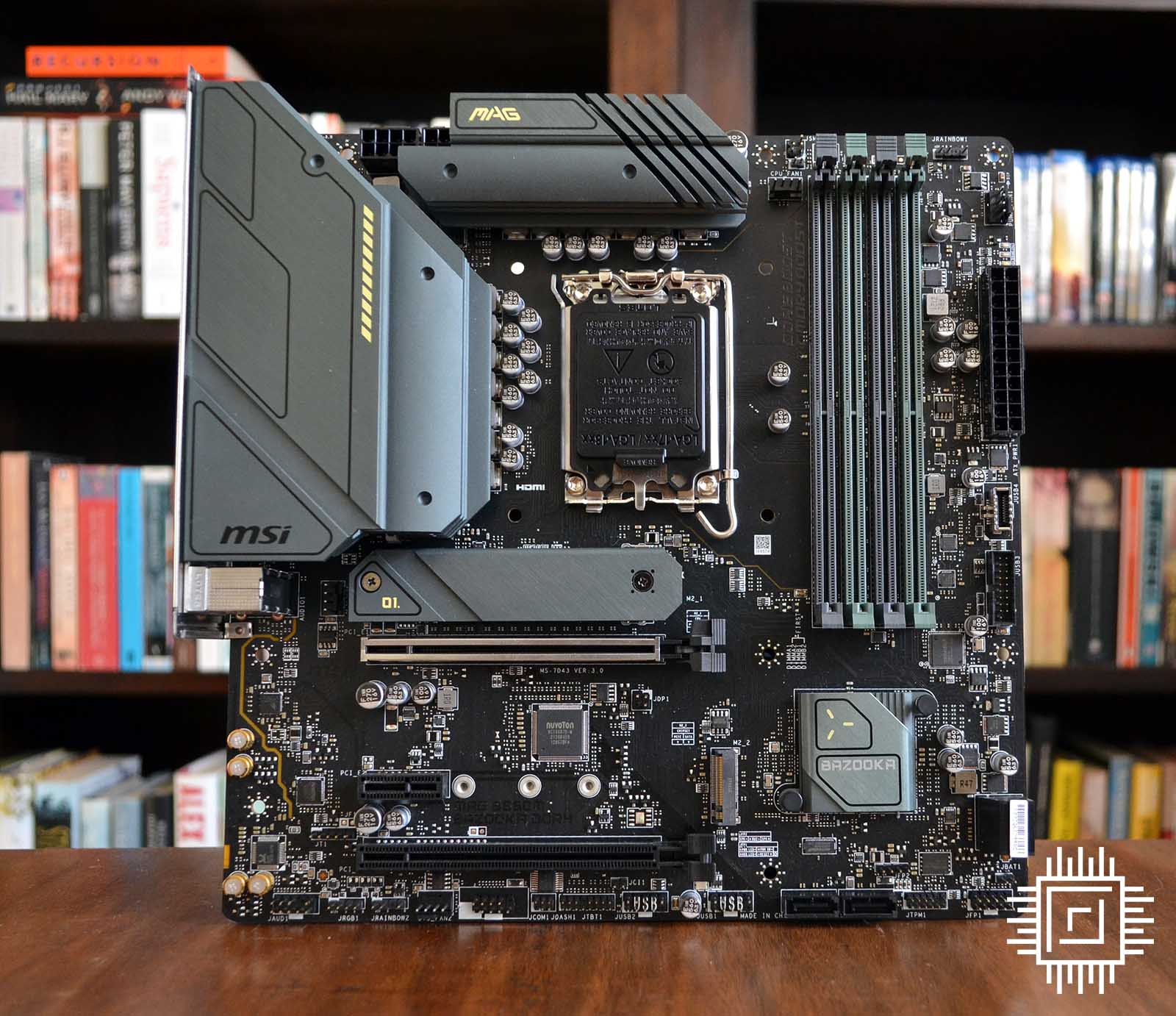 MSI opts for a subtle alpine green colour scheme for various heatsinks and two of the four DIMM slots. It looks sharp in person, yet we wonder about the amount of clashing with themed builds. Nevertheless, if the aim is to stand out in some way for the budget crowd, Bazooka does it.
An area where B660 boards typically trail Z690 rests with VRM cooling. To the Bazooka's credit, two thick, well-constructed heatsinks surround the CPU area, with the left-hand block extending into the integrated I/O ensemble.
There's support for the entire 12th Gen range, of course, and putting the board's heatsink capability into difficulty by running a 20-minute stress test on a Core i9-12900K set to Maximum Turbo Power of 241W reveals an 81°C peak temperature. That's still over 20°C cooler than an ASRock B660 Pro RS, though we'd recommend good front-to-back chassis cooling. Performance aficionados can rest easy in the knowledge the board doesn't throttle when at full tilt.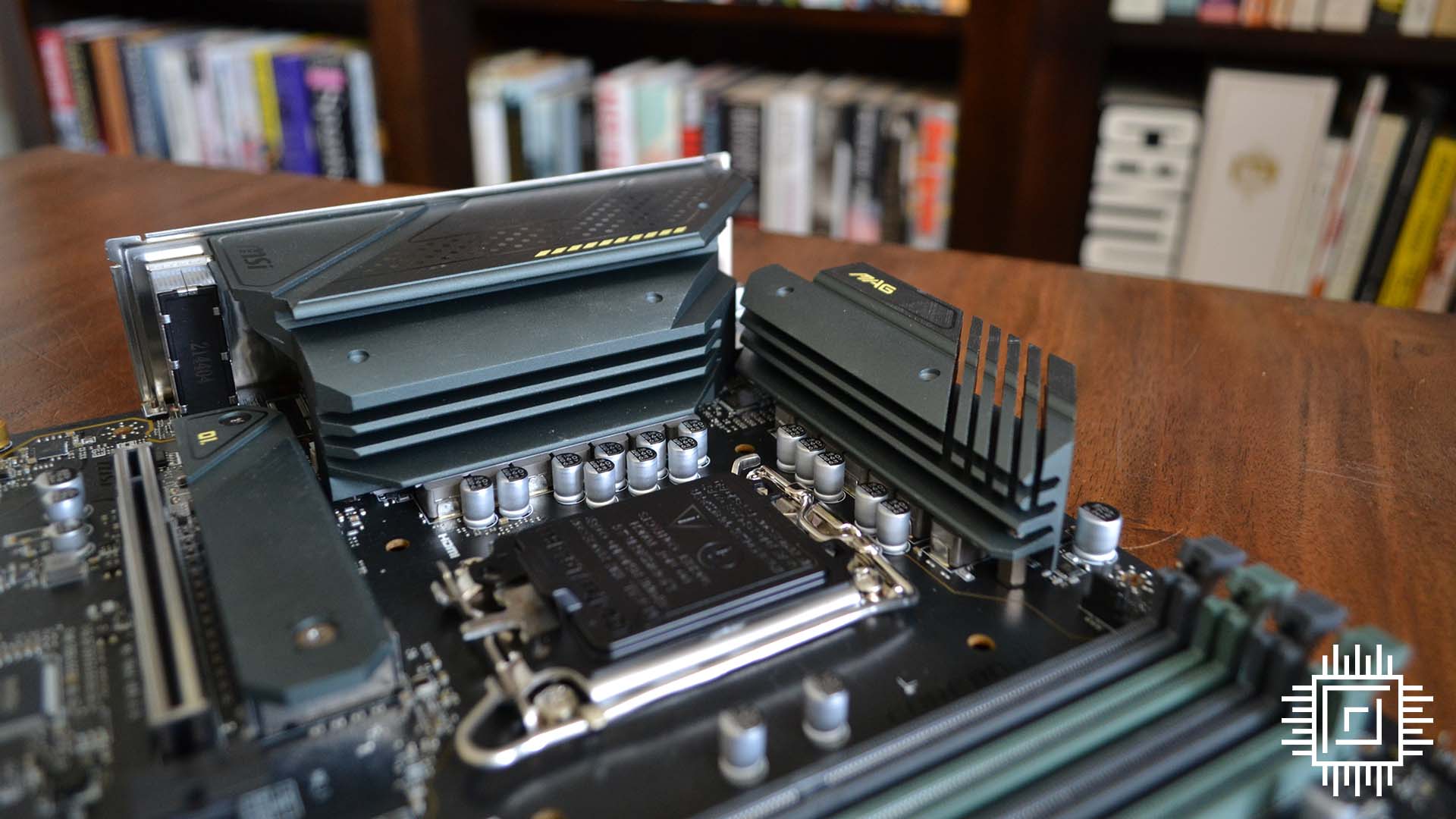 Bazooka is shorn of onboard RGB, which is no great miss, and illumination can be added through two headers. We'd prefer to have some visual indication the board is powered once the PSU is connected – a small status LED, perhaps – but there's nothing until the chassis power switch is depressed, at which time four EZ Debug LEDs come into play. We don't expect any onboard buttons at this price point so shan't criticise MSI for not including any.
"Performance aficionados can rest easy in the knowledge the board doesn't throttle when at full tilt."
The micro-ATX form factor isn't a hindrance to good component placement. Nothing feels overly cramped, likely because the board features only two M.2 storage slots. It's worth knowing both connect at PCIe 4.0 x4 speeds; we'd recommend using the upper one as it has a decent-enough heatsink and connects directly to the CPU.
So does the main PCIe 4.0 x16. The remaining x1 and x16 both are PCIe 3.0 and run off the B660 chipset, which is a price worth paying for the reduction in cost compared to even entry-level Z690.

Show your support for impartial Club386 reviews
Club386 takes great pride in providing in-depth, high-quality reviews built on honest analysis and sage buying advice. As an independent publication, free from shareholder or commercial influence, we are committed to maintaining the standards our readers expect.
To help support our work, please consider making a donation via our Patreon channel.
Underscoring this point, everything must be considered against the £150 price point. It's for this reason we overlook the last-gen ALC897 audio codec and lack of RGB. Six of the board's 13 USB ports are contained on the I/O panel. Only two of the full complement are 10Gbps (red, I/O), a further five 5Gbps (blue, two I/O), and the remainder USB 2.0 (black, two I/O). Bazooka is crying out for integrated Wi-Fi, by the way.
Better are dual outputs for CPUs with integrated graphics as is MSI's decision to opt for Realtek's 2.5G Ethernet. Overall, there is always going to be some compromise when building cheaper boards; we feel MSI's is well-balanced.
Firmware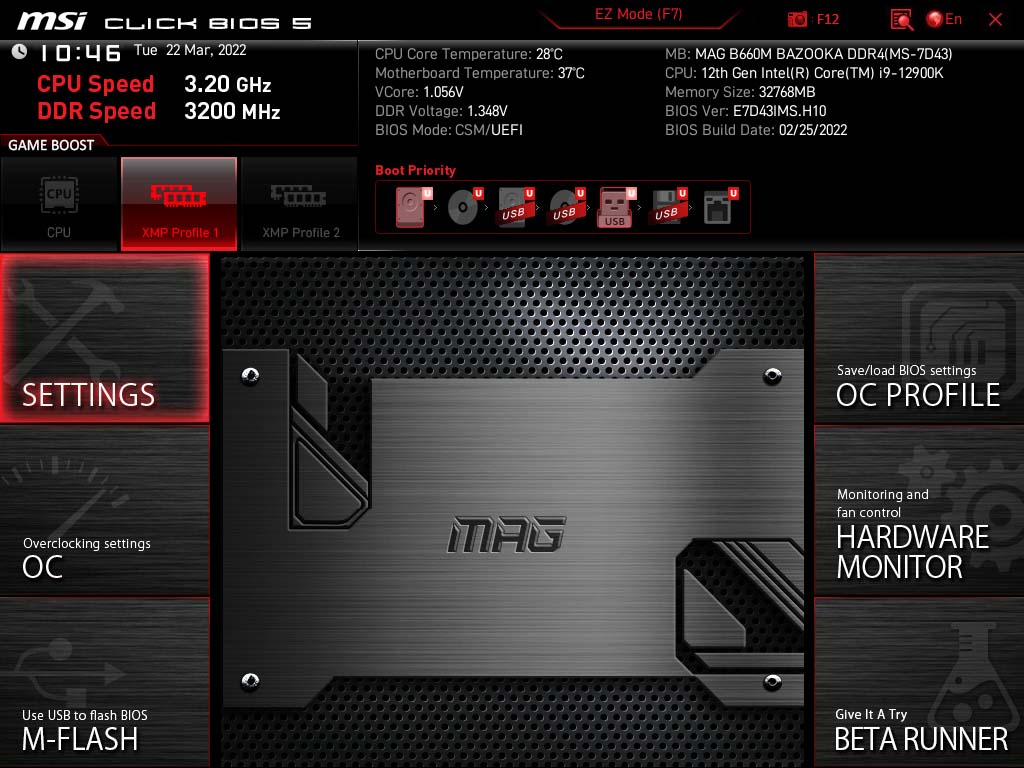 Click BIOS 5 covers all MSI enthusiast boards. It's been around since the Z170 days of 2015. Updated to the latest iteration, it is automatically configured to run 12th Gen Core chips at their respective Maximum Turbo Power settings if, like us, you choose AIO cooling as the preset.
We reckon this firmware takes more getting used to than, say, the Asus one. Part of the reason is the use of nested options that require multiple clicks to get to the nub of the matter.
Performance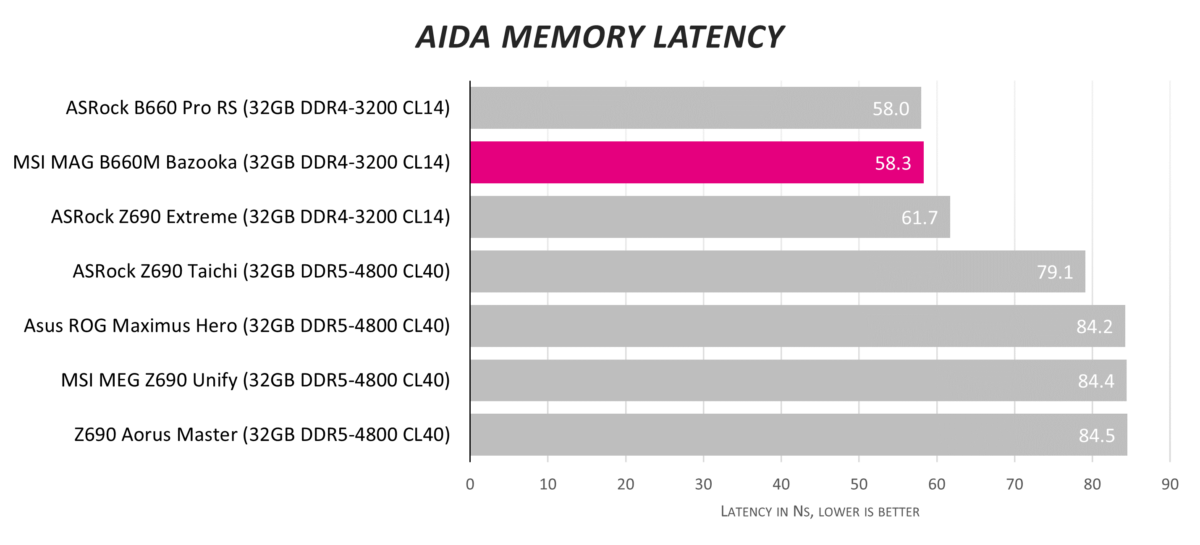 Bazooka DDR4 gets off to a good start. It's curious copy bandwidth is noticeably higher than two other boards using the same memory. Latency is bang-on for a 32GB CL14 pack.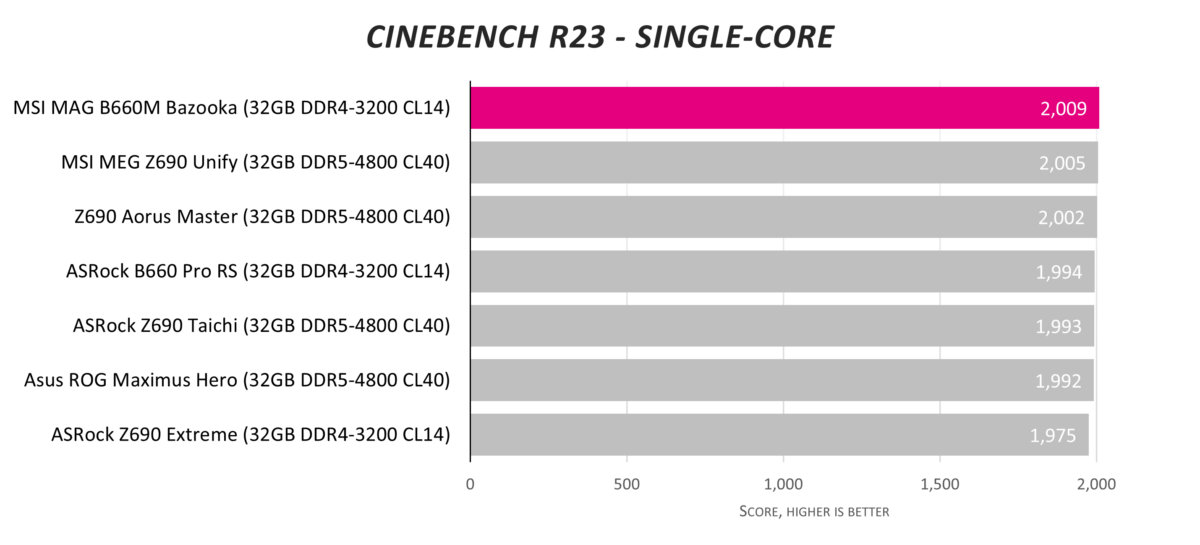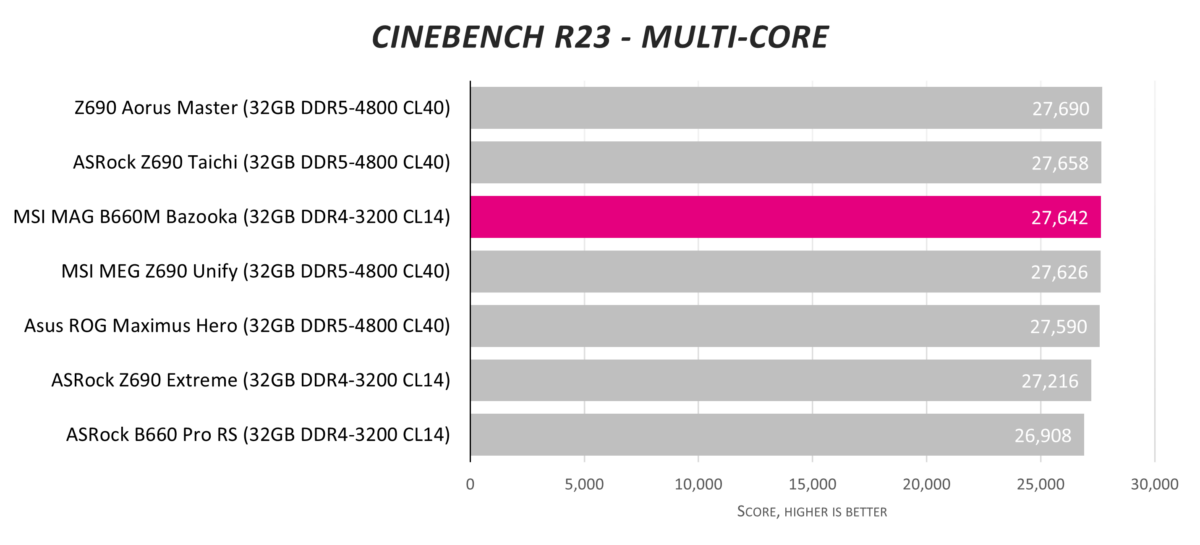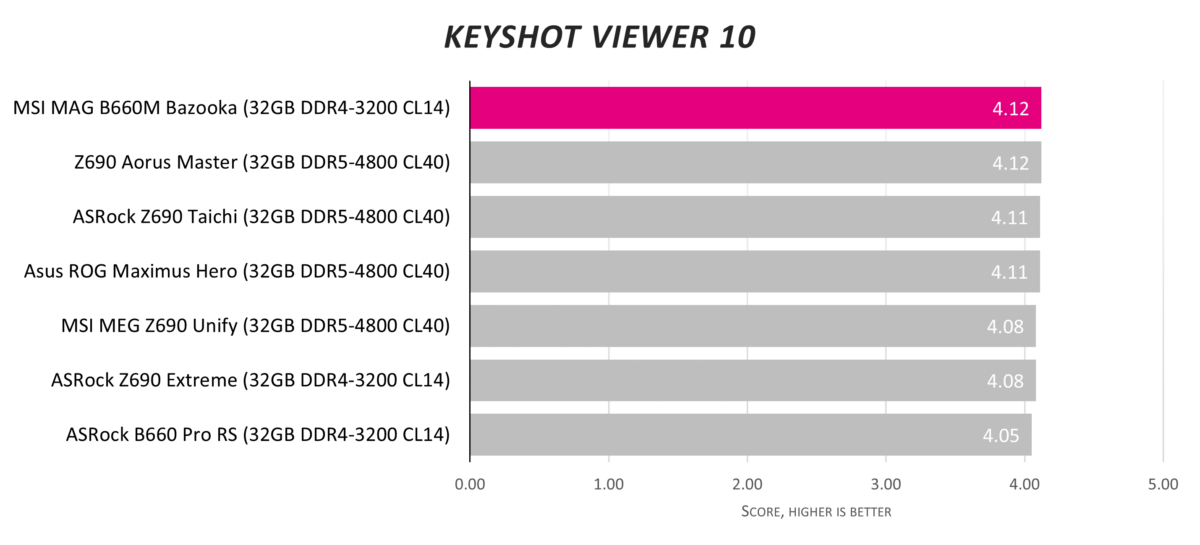 If you were concerned B660 was a vastly inferior chipset not able to extract the most out of a full-power Core i9-12900K, worry not. MSI 'bazookas' the all-core processor benchmarks.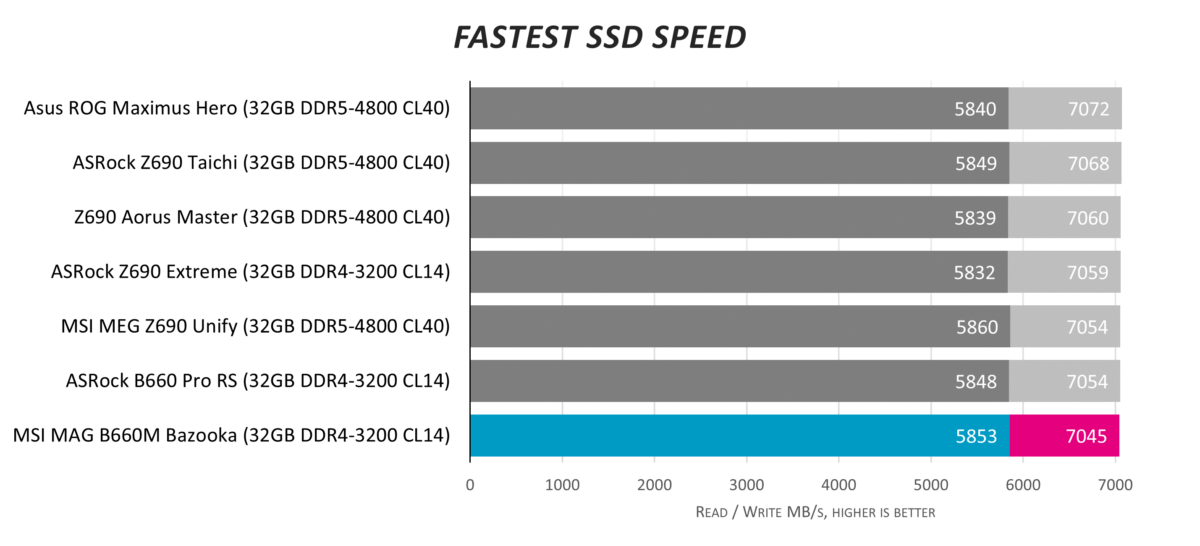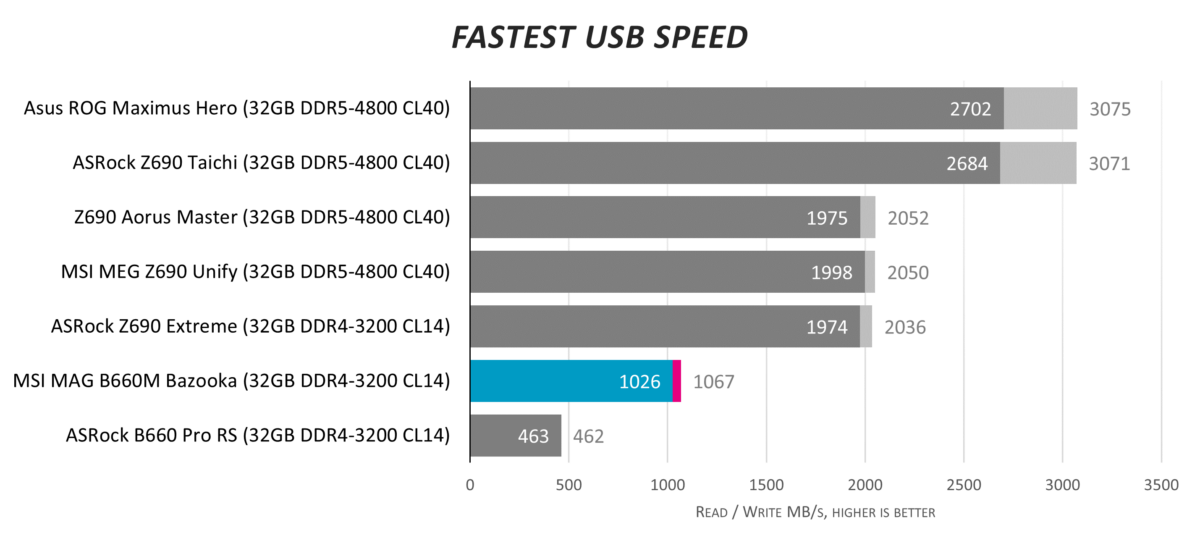 PCIe 4.0 is working nicely enough, too. MSI does better than the ASRock B660 with respect to USB bandwidth by supporting 10Gbps vs. 5Gbps. Wouldn't 20Gbps be nice on an entry-level board?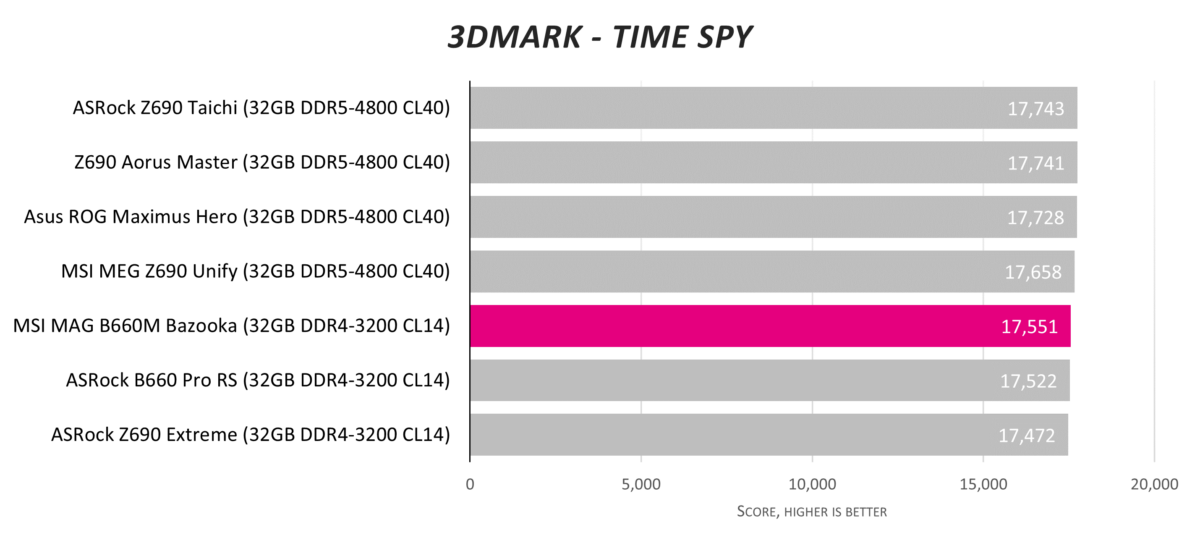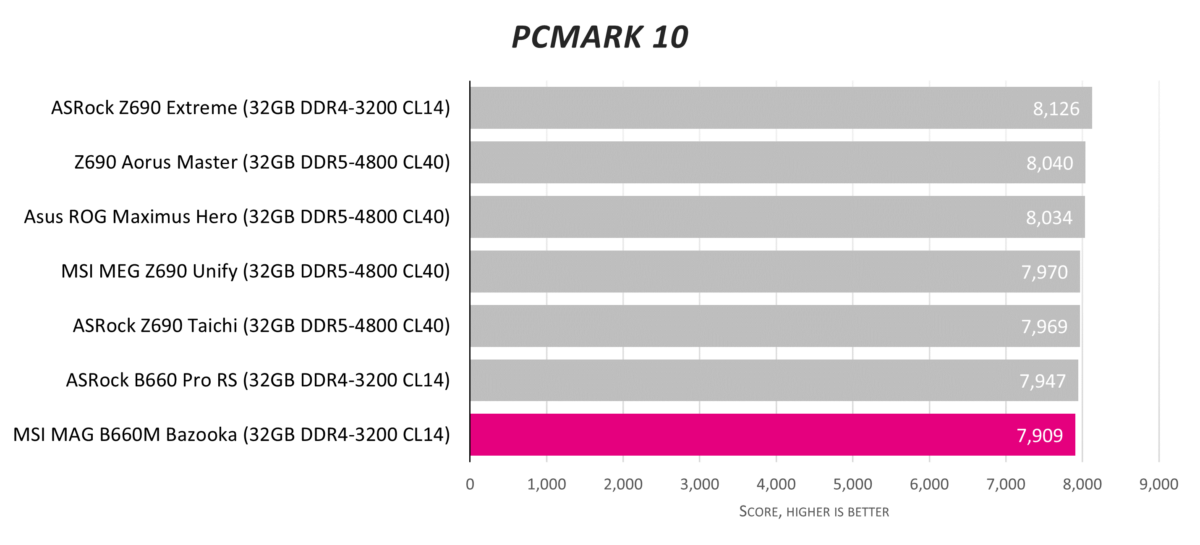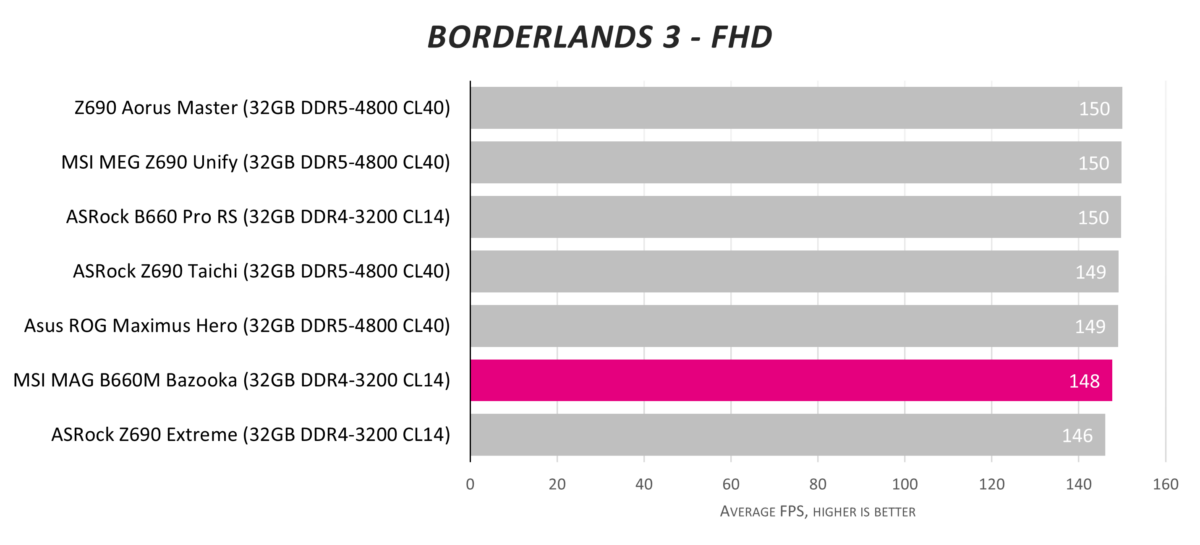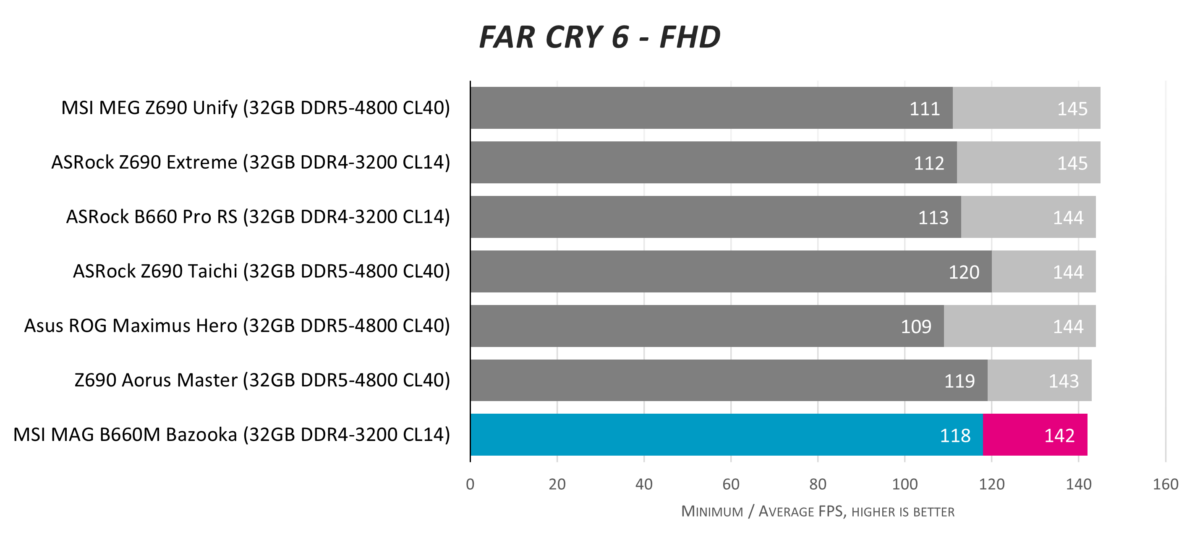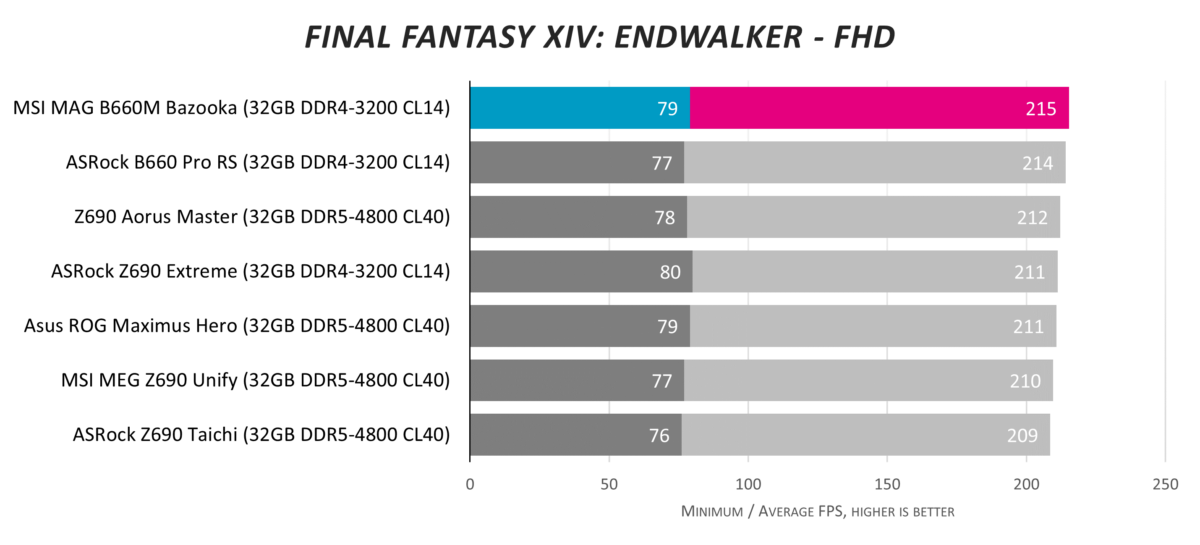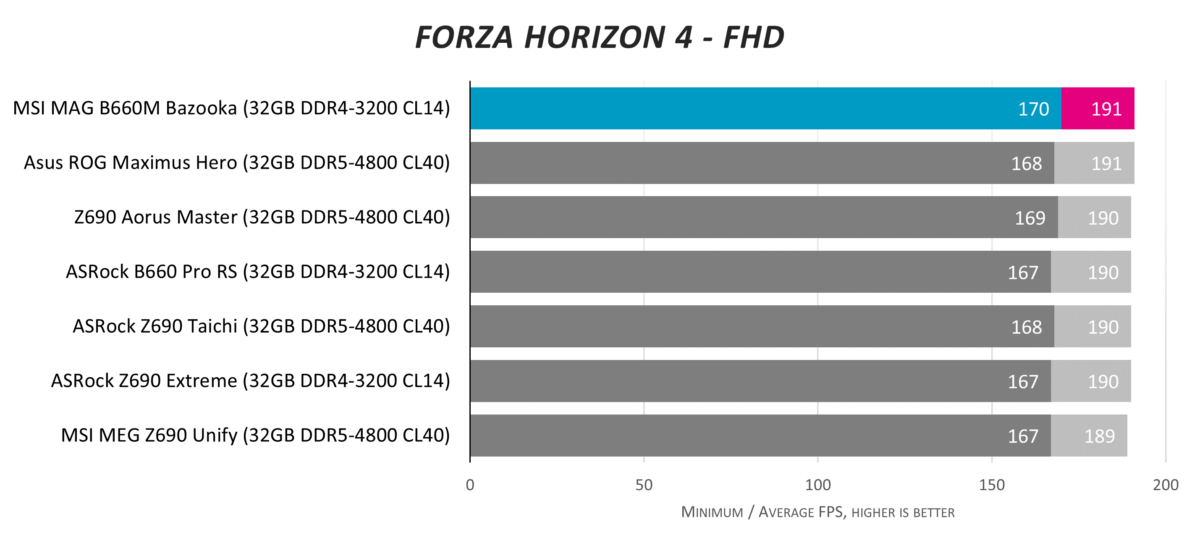 Benchmark numbers remain solid throughout gaming tests. Core i9-12900K runs sweetly on this £150 board.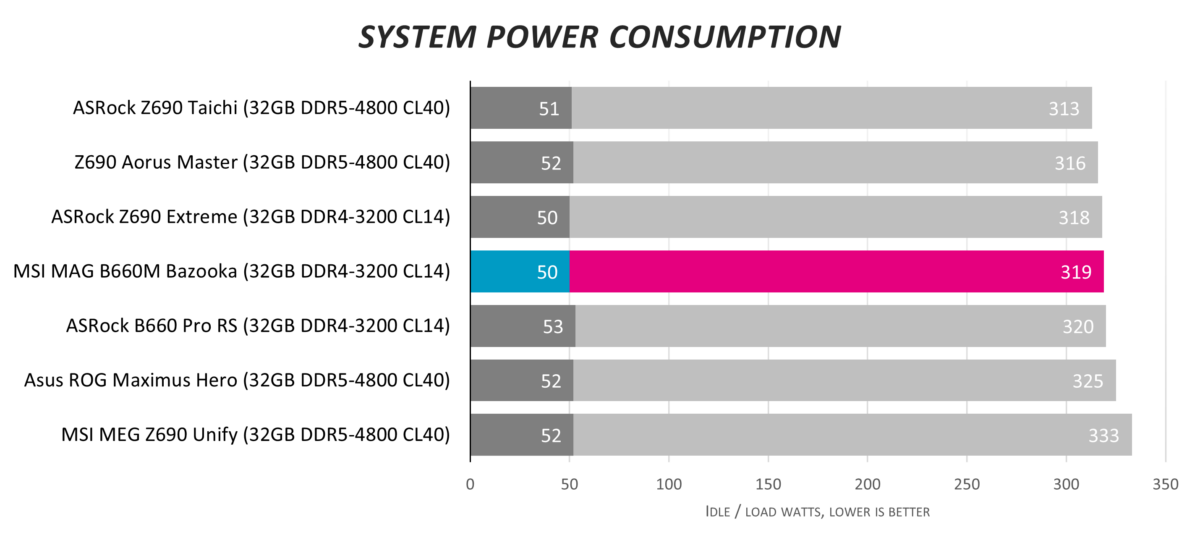 MSI uses what we'd term average power consumption to drive the CPU, and that's reflected in the all-core consumption measured at the wall.
B660 doesn't have multiplier support for overclocking 12th Gen Core chips. That's no major problem for Core i9-12900K as it runs fairly close to the frequency wire through baked-in smarts. On the memory front, however, we were able to get a DDR4-3600 CL18 pack up to 4,000MHz, which is as high as it's gone on other platforms.
We'd advise users contemplating a board like this to overclock by using the chip's Maximum Turbo Power alone.
Conclusion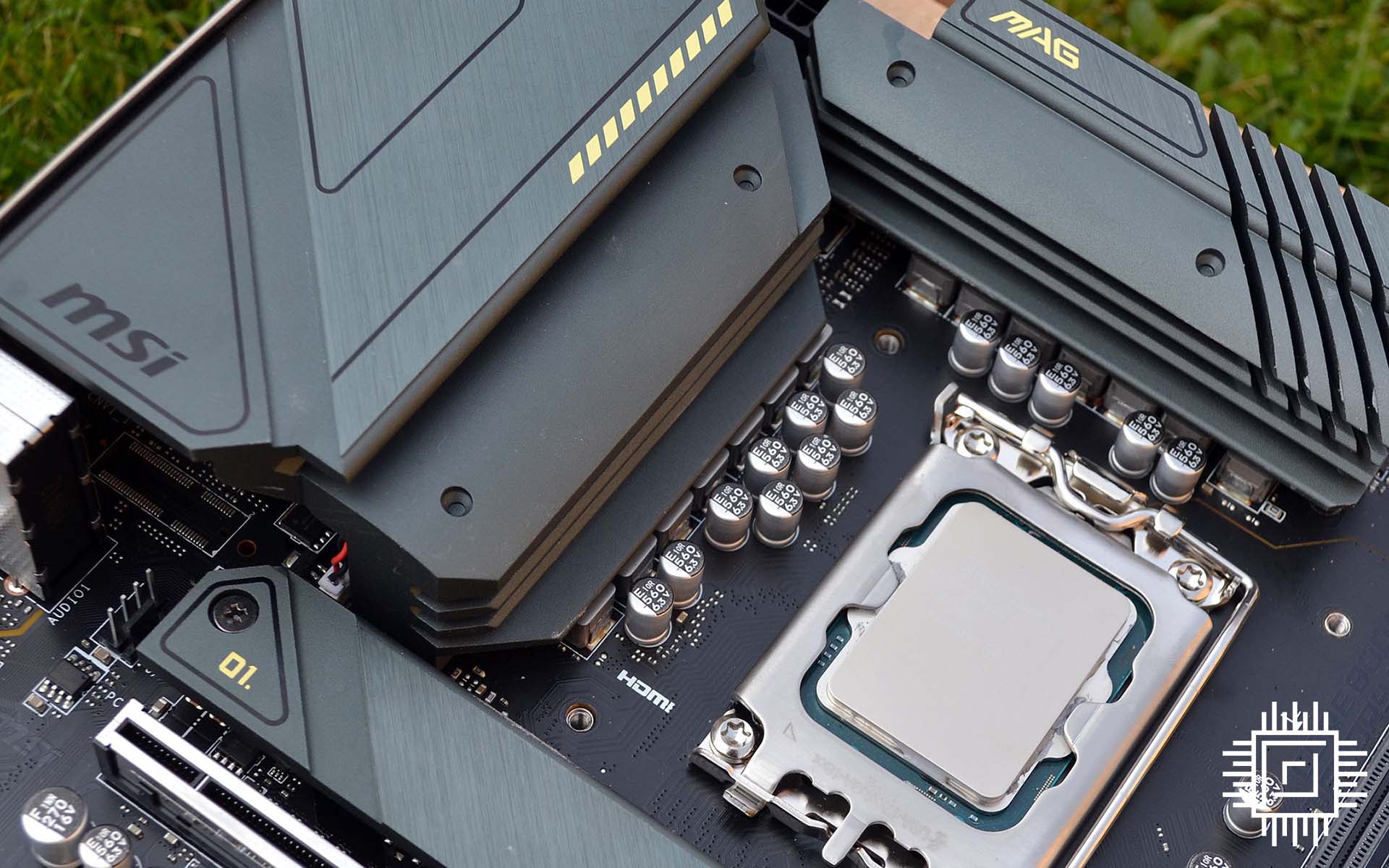 There's plenty of merit in considering a B660 motherboard for the latest Intel LGA1700 processors. A well-thought-out solution is able to run a Core i9-12900K at optimum settings without sacrificing performance to Z690, and the MSI MAG B660M Bazooka DDR4 does just that.
Outfitted with a sensible array of componentry and using widely available, cheaper DDR4, the micro-ATX board's alpine green colour scheme elicits a Marmite reaction. We'd prefer more USB 10Gbps and Wi-Fi integrated as standard, but that's it for our list of gripes.
Looking for a compact motherboard to slot that mid-stack 12th Gen Core into? The MSI MAG B660M Bazooka DDR4 certainly ought to be on your shortlist.
MSI MAG B660M Bazooka DDR4
Verdict: A unique-looking board delivering most of the goods at a £150 price point.
---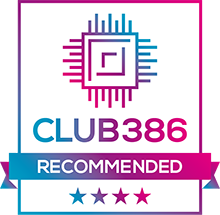 Pros
Handles Core i9
Excellent performance
Attractive price point
Decent on power
Cons
Two 10Gbps USB
No Wi-Fi
---
Club386 may earn an affiliate commission when you purchase products through links on our site. This helps keep our content free for all.
Rest assured, our buying advice will forever remain impartial and unbiased.