Jump to: Firmware | Performance | Conclusion
Intel puts forward a compelling case to consider 12th Gen Core desktop processors built on Alder Lake architecture. Released in limited form during November 2021, Intel brought in plenty more Core i5 and Core i3 chips during January 2022.
Anyone contemplating a shiny Alder Lake processor needs to invest in a 600 Series motherboard because Intel shifts the socket from LGA1200 to LGA1700. To that end, Z690, H670, B660 and H610 are suitable candidates. PC builders opting for Core i5 and Core i3 can put aside expensive Z690 and focus on value B660; it offers a lot of the performance for significantly less cash.
A case in point is the ASRock B660 Pro RS. Costing around £130 and offering PCIe 4.0 for graphics and M.2 storage, it deserves further attention. We duly provide it in today's review.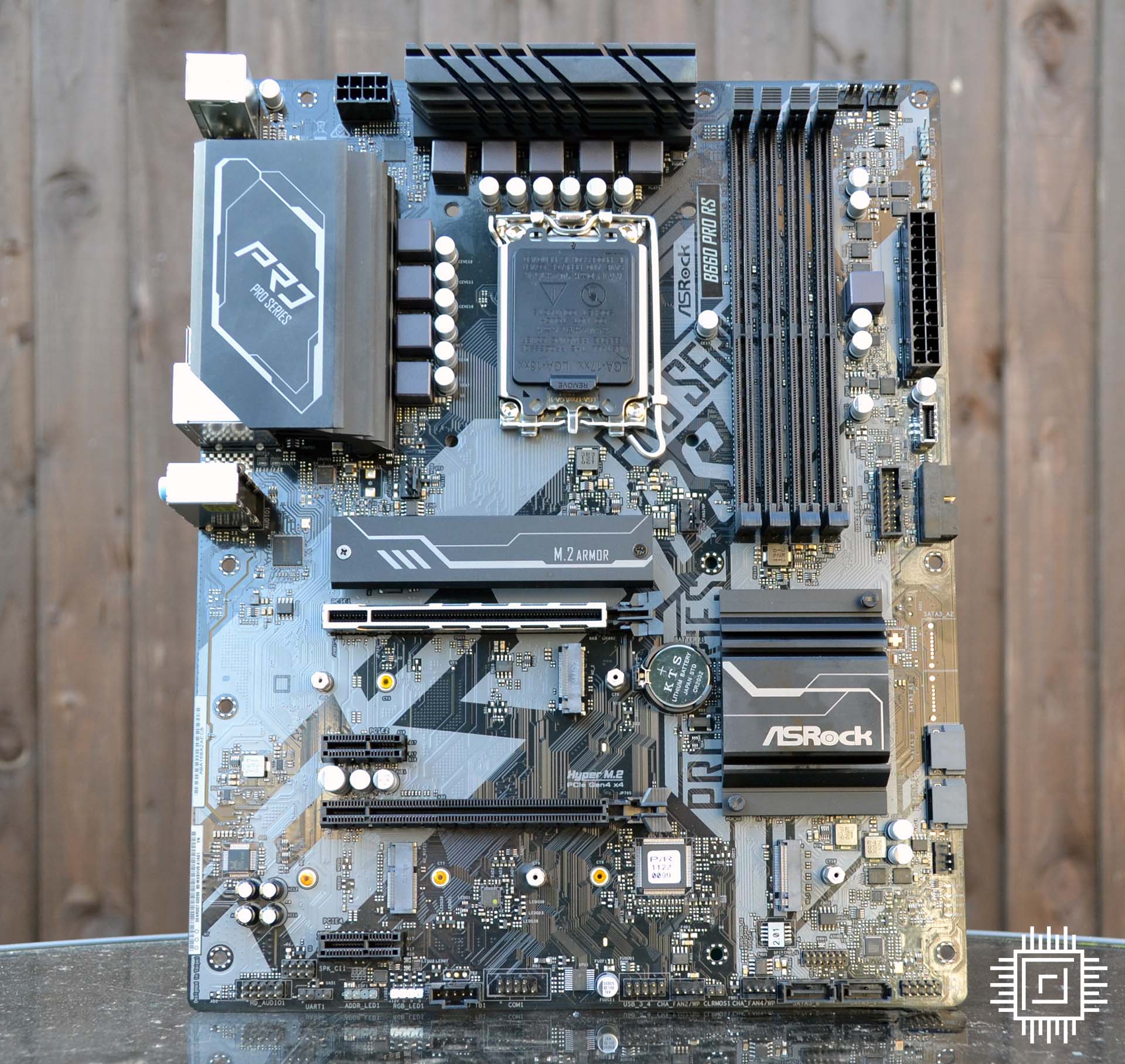 Shorn of fancy cooling and superfluous features, this is a back-to-basics offering. Camouflage livery looks better in the flesh than pictures suggest. The biggest departures between this and far dearer Z690 boards are a lack of PCIe 5.0 x16 for the main graphics slot, quality of power regulation, and size of heatsinks. To that end, ASRock carries a PCIe 4.0 x16 for primary graphics, PCIe 3.0 x16 as a secondary slot, and uses an 8-phase design with basic cooling on top.
No problem for a low-power chip such as Core i3-12100F – we actually used this board for testing that CPU – issues arise as we step up the Alder Lake hierarchy. B660 Pro RS does support Core i9-12900K, but if doing so, you need to be careful to keep it in stock 125W mode.
Letting the processor rip by activating Maximum Turbo Power of 241W, which is done by setting appropriate limits in firmware, is something we're not comfortable with on a long-term basis. Peak heatsink temperature hits a staggering 103°C on the top-edge and 69°C above the I/O ports. To the board's credit, performance doesn't throttle. Run in standard 125W mode, however, temperatures are restrained to 77°C and 55°C, respectively.
We feel DDR4 is the only sensible choice for an entry-level B660 board; ASRock obliges. It's frustrating that three of the four onboard USB headers provide only USB 3.2 Gen 1 (5Gbps) support, while the other is limited to even slower USB 2.0. Surely in 2022 a 10Gbps speed ought to minimum, particularly as the B660 chipset supports 20Gbps.
Four SATA ports are okay and general layout doesn't cause installation issues. It's understandable ASRock offers a single M.2 heatsink for the main PCIe 4.0 x4 connector. There's another PCIe 4.0, but the third, bottom right, is only capable of PCIe 3.0 x2. Eagle-eyed readers will spy an M.2 2230 (Key-E) slot to the left, used for adding in, say, a Wi-Fi card.
Seven fan headers are plenty, too, and B660 Pro RS provides a modicum of visual pizzazz by having five RGB LEDs directly below the SATA ports, controllable by Polychrome RGB sync software.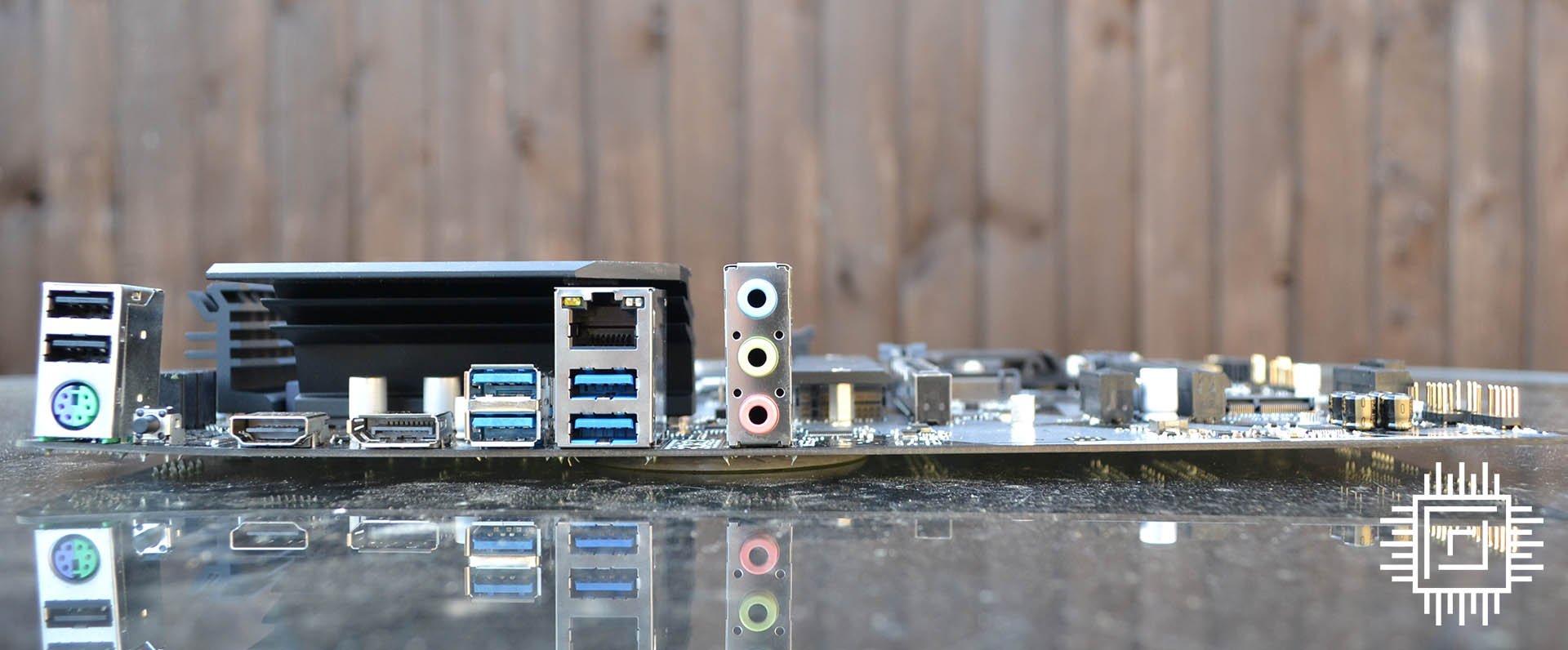 A couple of USB 2.0 run alongside four USB 3.2 Gen 1 (5Gbps) ports. Again, we feel ASRock is remiss in not supplying at least a couple of 10Gbps here. It's nice to see an Intel Gigabit LAN and both DisplayPort and HDMI outputs for 12th Gen chips featuring integrated graphics.
It's questionable how much more we ought to expect from a £130 board built on a brand-new socket. Nevertheless, we'd prefer to see a £10-£20 higher price and the inclusion of a handful of extra, useful features.
Firmware
We like the ability to update firmware quickly; the board cycles through any USB stick for a new BIOS or, if connected to the Internet, grabs the latest from ASRock's server.
B660 Pro RS is set up to run chips at their base speeds and power, understandably so given the temperatures noted above. There's no problem in activating XMP settings and all the important bases are covered. We'd give the nod to Asus firmware for ease of use and aesthetic appeal, but much like the board, ASRock implements a no-nonsense approach.
In-depth testing methodology is found on the second page of this review.
Performance


DDR4 memory has certain benefits over DDR5. One is latency, which is around 20 cycles lower.



B660 Pro RS is a bit slower than dearer competition because it doesn't keep to the boost speed for quite as long. This cannot be down to throttling taking place – remember the 103°C temperature – as these benchmarks are not long enough. It transpires ASRock B660 Pro RS runs a 100MHz lower peak all-core speed than most of the competition.

Here's where the budget origins shine through. Age-old USB 5Gbps doesn't make the cut.
We'd strongly recommend ASRock spends an extra few dollars to get the Pro RS up to at least 10Gbps on multiple I/O and internal ports.

Support for PCIe x4 NVMe drives comes via two slots. Both are perfectly decent.






A combination of DDR4 memory and tight latencies is, in our opinion, better than DDR5 with loose timings.
Getting to the top of the Final Fantasy charts with the same processor, and mixing it up well in Borderlands 3 and Forza Horizon 4, a well-tuned B660 is no performance slouch.

Mid-pack performance when everything is turned up to 11. Appreciating the high heatsink temperature when testing at MTP levels for Core i9-12900K, we didn't overclock the board further.
Conclusion

Show your support for impartial Club386 reviews
Club386 takes great pride in providing in-depth, high-quality reviews built on honest analysis and sage buying advice. As an independent publication, free from shareholder or commercial influence, we are committed to maintaining the standards our readers expect.
To help support our work, please consider making a donation via our Patreon channel.
The Intel B660 chipset is a sensible solution for anyone migrating to the all-new 12th Gen Core platform. Whilst Z690 offers more features and better cooling, the price difference is difficult to stomach for a mid-priced build.
ASRock's B660 Pro RS is a likeable board whose budget origins are exposed when a Core i9 operates at full chat. Finding it nigh-on impossible to contain the maximum chip power – a heatsink temperature of 103°C is the highest we've seen – users need to be careful in pairing choices.
We'd urge ASRock to include faster USB, and more of it, and also basic Wi-Fi capabilities, but that's about it for our list of gripes at the £130 price point. An ideal bedfellow for a Core i3-12100F, especially as DDR4 is easy to come by, it deserves to be on a shortlist of budget LGA1700 boards.

Verdict: A likeable board that needs faster USB and Wi-Fi.
Pros
Plenty fast with good DDR4
Dual PCIe 4.0 x4
Attractive price
Dual display outputs
Cons
Heatsink can't handle Core i9 MTP
Only 5Gbps USB
No Wi-Fi
Club386 may earn an affiliate commission when you purchase products through links on our site. This helps keep our content free for all. Rest assured, our buying advice will forever remain impartial and unbiased.