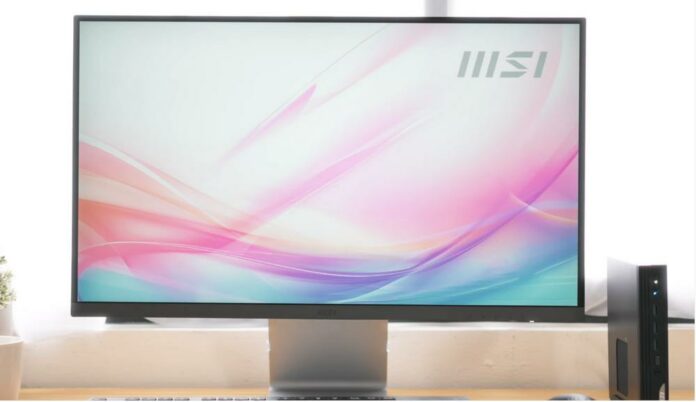 MSI has announced a multitude of business/productivity-oriented products featuring clean aesthetics, multiple sizes, and thoughtful functionality.
MSI Modern MD271UL
Starting with the £289 Modern MD271UL, we have a 60Hz 27in monitor squeezing a 16:9 4K IPS panel offering 95 per cent Adobe RGB and 99 per cent DCI-P3 gamut coverage with 10-bit (8-bit + FRC) colour depth inside a slim 11.7mm aluminium frame, making it suitable for colour-critical work like photo and video editing. On the other hand, those not needing high colour precision will surely appreciate the anti blue light system – aimed at preventing eye fatigue.
The latter comes paired with other valuable solutions such as anti-flicker, anti-glare, and Eye-Q Check, which displays a selection of test patterns to keep tabs on eye health. If the lines appear wavy, blurred or faint, users are users are recommended to take a quick break from the screen, and when you return there's a posture correction mode that can be used to check for optimal eye position. For the record, MSI reckons that ought to be one-ninth of the top edge of the screen. All this is complemented by a toolless stand that can tilt from -5° to +20° helping with user posture.
I/O is quite generous offering two HDMI 2.0b, one DisplayPort 1.2a, one USB Type-C (with 65W PD), and a headphone jack, and the elegant design is such that the ports are all easily accessible without trying to crane our necks below the screen – we've all been there.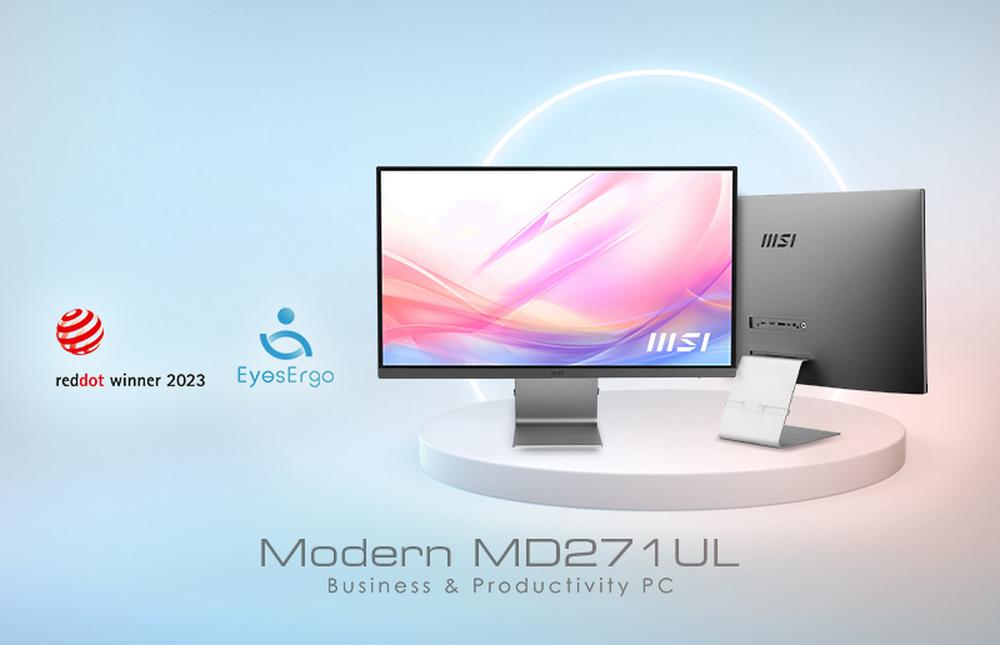 MSI Modern MD272QXPW
The 27in Modern MD272QXPW trades higher resolution for a faster 100Hz 1440p panel certified for DisplayHDR 400. MSI again confirms a 10-bit panel, though whether via 8-bit + FRC or not is unknown. While not the fastest available by today's standards, 100Hz can make a noticeable difference to overall smoothness during daily tasks, and if there's time in the evening, this workhorse can double as a gaming screen thanks to a low 1ms (MPRT) response time.
I/O comprises HDMI 2.0b, DisplayPort 1.2a, USB Type-C (with DP alt mode plus 65W PD), and a headphone jack, just in case the built-in dual 3W speakers aren't loud enough. This set is augmented by a welcome built-in KVM offering multi-machine control using a single set of peripherals.
The same eye care and ergonomic features are available here too, though this time coming with a four-way adjustable stand that is also VESA mount compatible.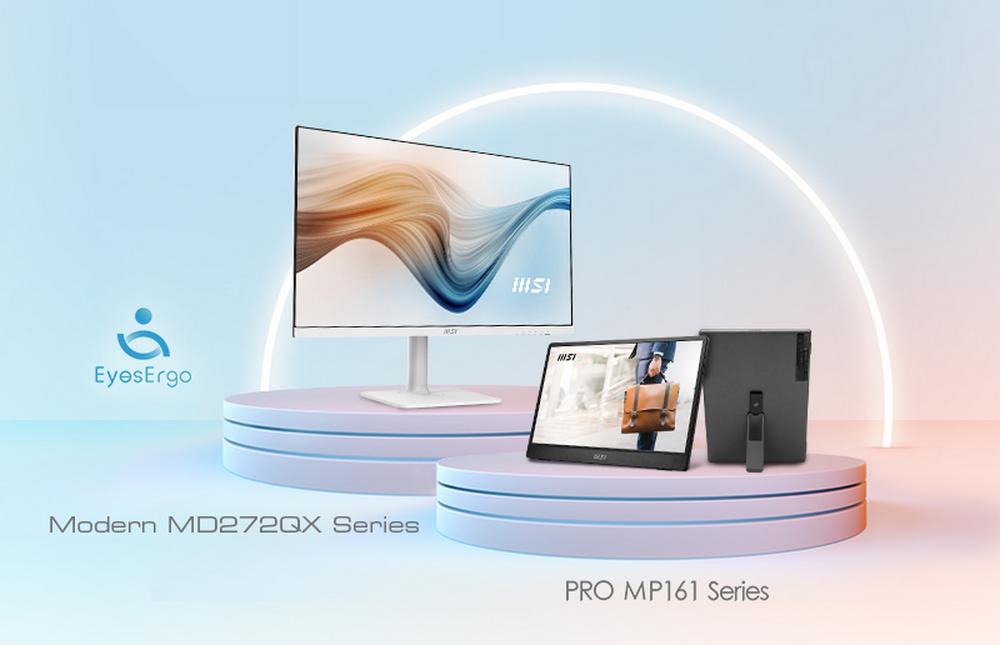 But wait there is more
MSI has also presented a new Pro MP161 15.6in portable monitor featuring mini-HDMI alongside a Type-C port for more flexibility, all in a slim 10.8mm-thick design that tips the scale at merely 0.75kg. The perfect companion for professional travellers.
On the other end of the spectrum, MSI's prosumer portfolio has been expanded with the heavy-duty Pro DP180 desktop PC packing an Intel Core i7 CPU plus GeForce RTX 30 series graphics for efficient workflow – especially those requiring CUDA cores. This is also an Nvidia Studio-validated device, meaning it is tailored for performance and reliability in creative apps such as video, 3D editing, and AI.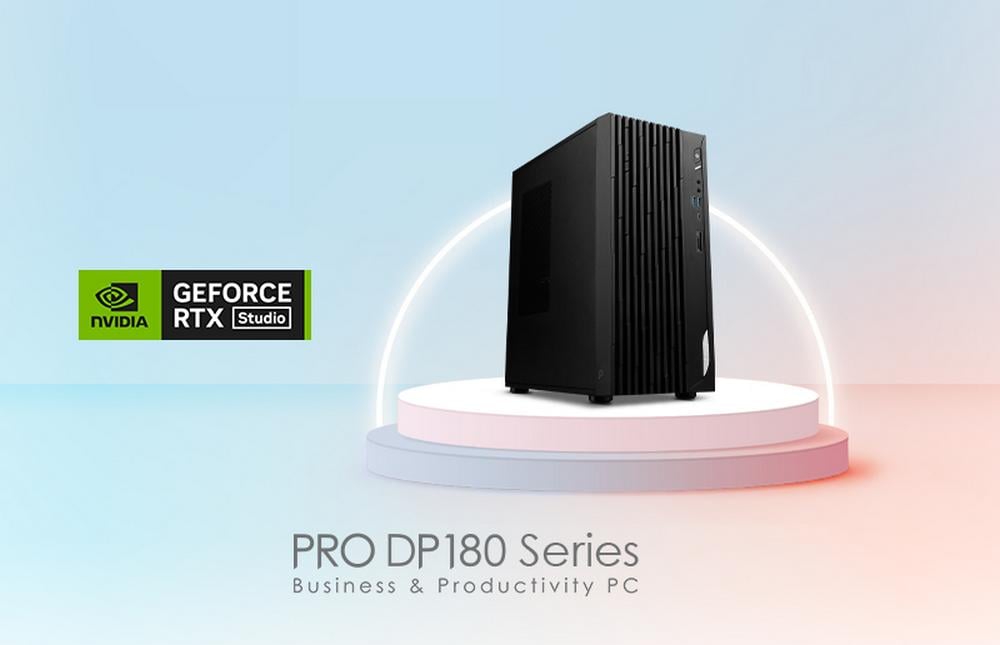 Those who like desktop horsepower but in a travel-friendly or space-saving package may be tempted by the 2.3-litre Pro DP21 13M packing an i7-13700 CPU alongside a variety of connections from Type-C to COM ports, or the 1.1-litre Pro DP10 13M with its 12-thread i7-1360P processor and Thunderbolt 4 ports, not forgetting optional Wi-Fi 6E and 2.5G LAN. Still too big for your suitcase, maybe the 0.66-litre Cubi 5 12M will do the trick complete with 12-Gen i7 and dual LAN ports.
While most may know MSI as a gaming or enthusiast manufacturer first and foremost, the Taiwanese giant clearly wants to become a key player in the lucrative business market. Expect to see and hear plenty more from the Pro Series lineup throughout 2023.