Jump to: Specification | Drive | Performance | Conclusion
Storage specialist Netac is making a name for itself as the provider of value SSDs that don't skimp on speed. Our look at the NV7000 2TB highlighted enthusiast-class performance wrapped in an attractive package. There's change afoot at Netac HQ as another value-conscious PCIe 4.0 x4 successor has been added to fold. Not wishing to mess around with established branding, enter the NV7000-t.
Most PC SSDs are defined by their relationship between controller and NAND, as these two facets largely predicate performance. Whereas the regular NV7000 – which continues to be sold, by the way – uses either Phison or InnoGrit controllers allied to varying layers of NAND, Netac switches gears and opts for the Maxio MAP1602A controller and 232-layer YMTC NAND.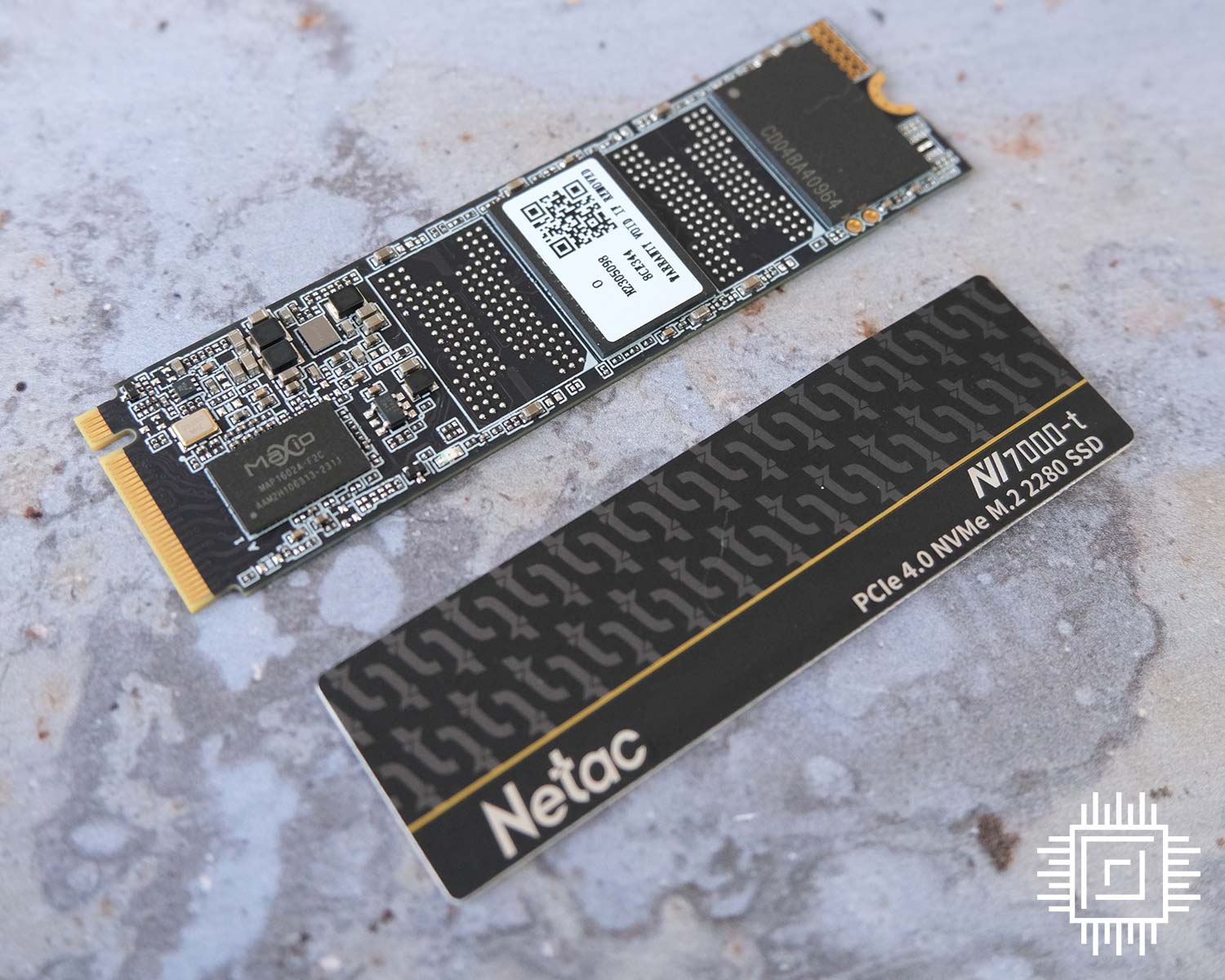 Specifications and Analysis
| Netac NV7000-t | 512GB | 1TB | 2TB |
| --- | --- | --- | --- |
| Controller | Maxio MAP1602A | Maxio MAP1602A | Maxio MAP1602A |
| NAND | 232L YMTC TLC | 232L YMTC TLC | 232L YMTC TLC |
| DRAM | None | None | None |
| Interface | PCIe 4.0 x4 | PCIe 4.0 x4 | PCIe 4.0 x4 |
| Sequential Read Speed (MBps) | 7,200 | 7,300 | 7,300 |
| Sequential Write Speed (MBps) | 4,400 | 6,600 | 6,700 |
| Random Read IOPS (K) | 850 | 1,000 | 900 |
| Random Write IOPS (K) | 600 | 700 | 700 |
| Form Factor | M.2 | M.2 | M.2 |
| Endurance (TBW) | 320 | 640 | 1,280 |
| Hardware encryption | No | No | No |
| Heatsink version | No | No | No |
| Warranty | Five years | Five years | Five years |
| Current price | $47 / £43 | $67 / £70 | $111 / £110 |
Designed to fit into more budget systems, Netac jumps down one capacity at each rung when compared to vanilla NV7000. Now starting at 512GB and topping out at 2TB, enthusiasts craving more space are pointed back to regular NV7000 that's offered with a 4TB option.
The premise here is simple: Netac invites users who favour speed over ultimate capacity, and we see laptop storage upgrades as a key market for NV7000-t. To that end, the three capacities house components only on one side, ensuring they're slim enough to fit into legion laptops and, should you wish, as expanded storage for PlayStation 5. The trio of drives far exceeds the minimum 5,500MB/s read speed requirement laid down by Sony.
Specifications for our 1TB review model, nominally priced at £69, are robust enough to marry up with established competition. It's rare to see PCIe 4.0 x4 SSDs offer more than the prescribed 7,300 / 6,600MBps sequential transfers, while hosting a million read IOPS puts NV7000-t into the enthusiast realm.
New Controller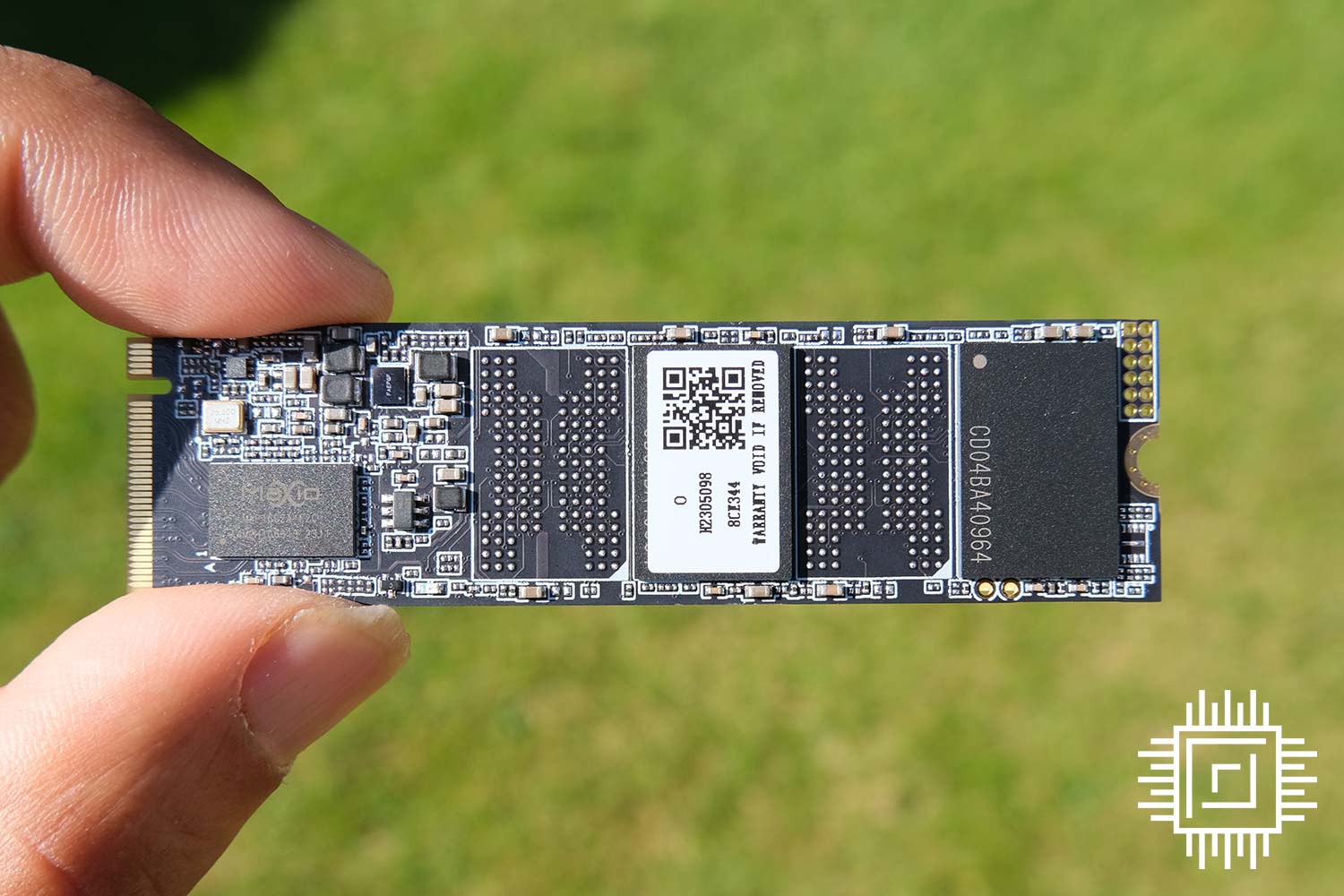 Endurance is a little ways down on regular NV7000 but consistent with big hitters such as the WD SN850X and Samsung 990 Pro.
You can see how easy it is to build a 1TB NVMe SSD these days. Our review model carries only three chips – controller and two NAND devices. Eagle-eyed readers may be wondering where the usual DRAM chip is, typically used for buffering operations and holding data tables. Keeping costs very much in check, Netac opts for a DRAM-less design, meaning NV7000-t implements the Host Memory Buffer (HMB) protocol to ferry important data around. To the uninitiated, this entails data flowing back and forth from main system memory, possibly raising read and write latency compared to an on-drive DRAM solution.
Maxio MAP1602A is a new name to us but has been used in the industry before: Acer GM7 and Patriot P400 Lite both leverage it. Netac's version is known as MAP1602A-F3C and is a four-channel ARM R5-based controller built on a 12nm manufacturing process. It can handle NAND running at 2,400MT/s, which is exactly what Netac specifies. Identified as CD04BA40964 and productised as YMTC Xtacking 3.0 232-layer TLC, Netac allocates a portion as faster SLC cache for frequently used data, though it's not clear how large that cache is.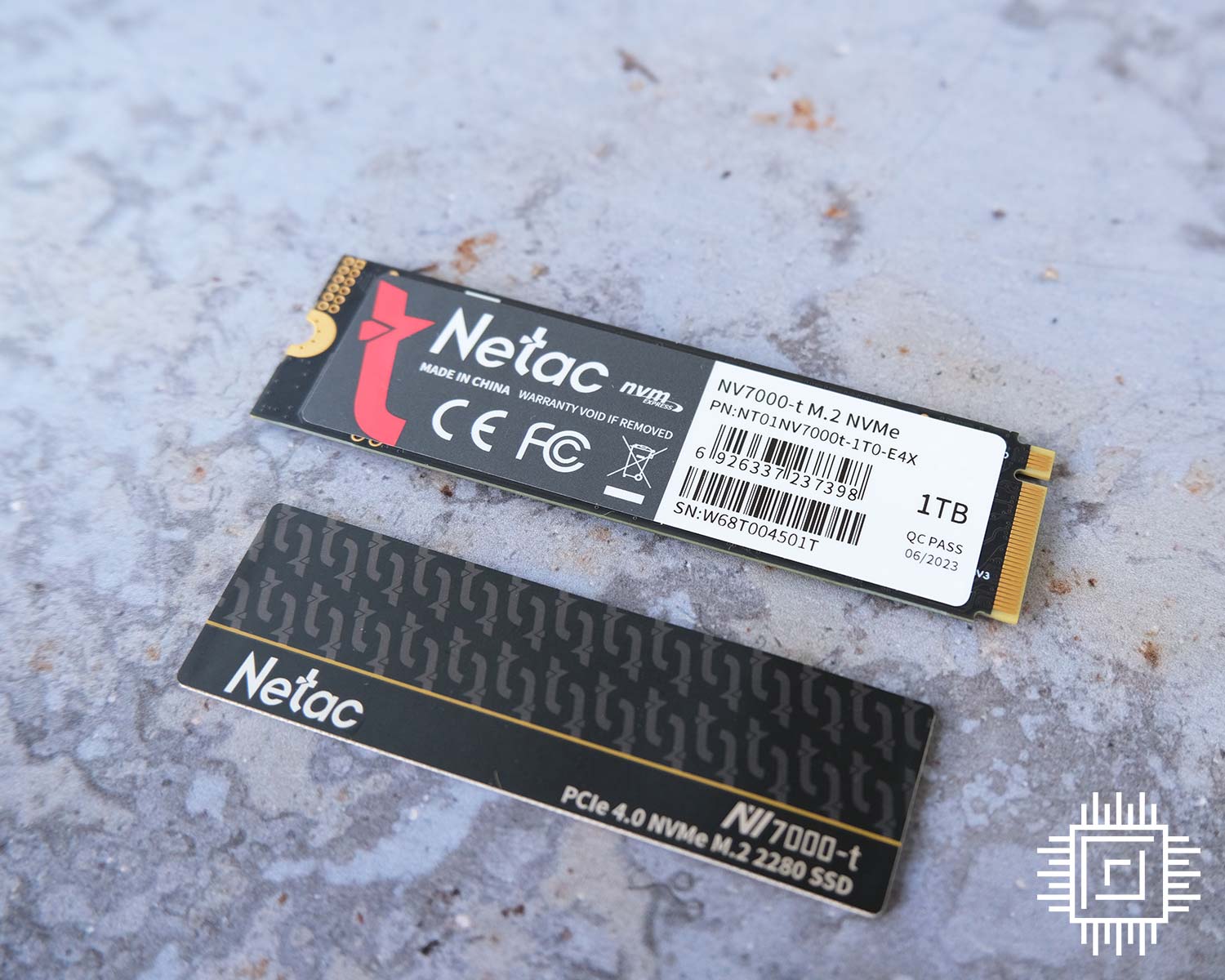 A metallised heatspreader is included in the box but is not attached to the drive from the get go. This makes sense as many will position NV7000-t underneath their motherboard's dedicated M.2 cooling, eliminating the need for the strip.
Pricing is absolutely key to NV7000-t's appeal. Right now, the 1TB drive costs around $67 across the pond and £70 in good, old Blighty. Those prices are generally in line with competition models espousing the same level of specification, though as always, it pays to keep an eye on frequent deals; Netac is known to offer stonking value at certain times of the year.
Backed by a standard five-year warranty, and tested on an AMD Ryzen 9 7950X and ASRock X670E Taichi featuring the latest SSD firmware available, let's see how competitive NV7000-t 1TB is against a mob of high-speed solutions.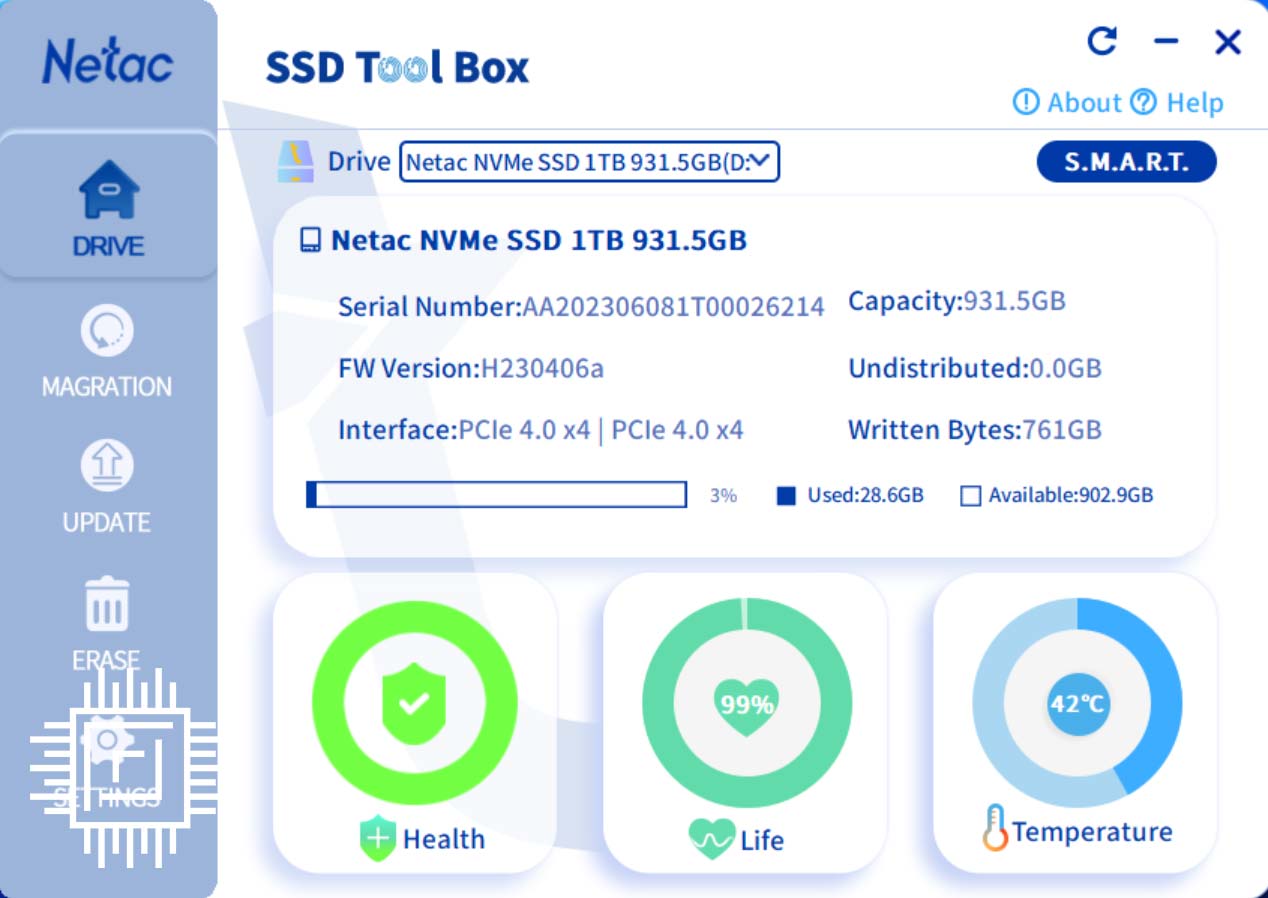 Transfer Speed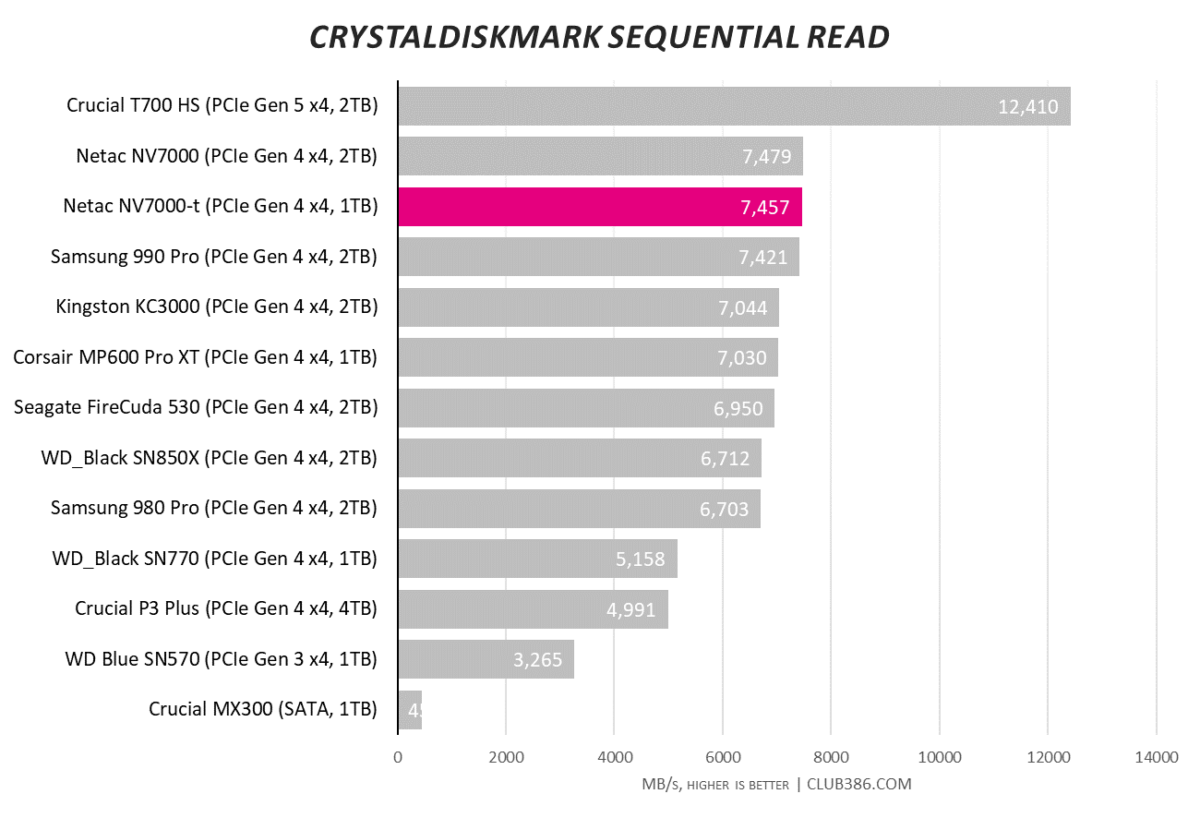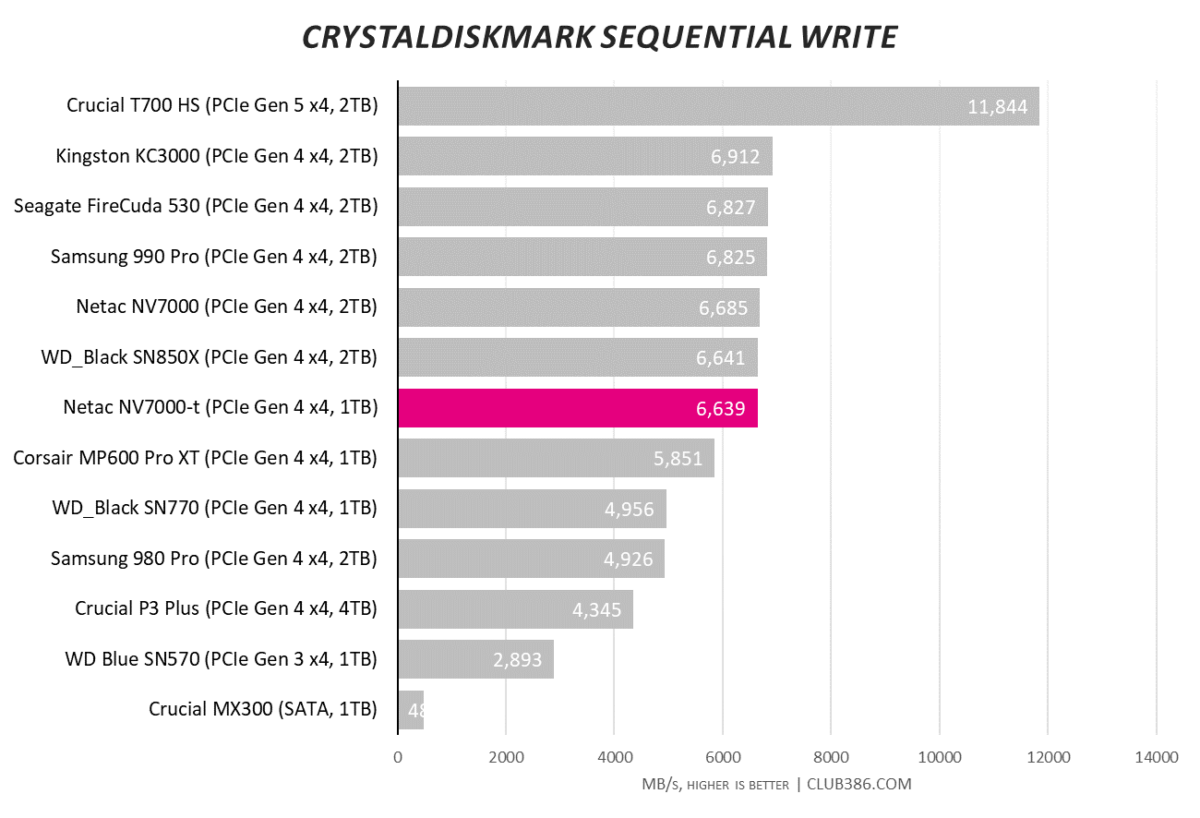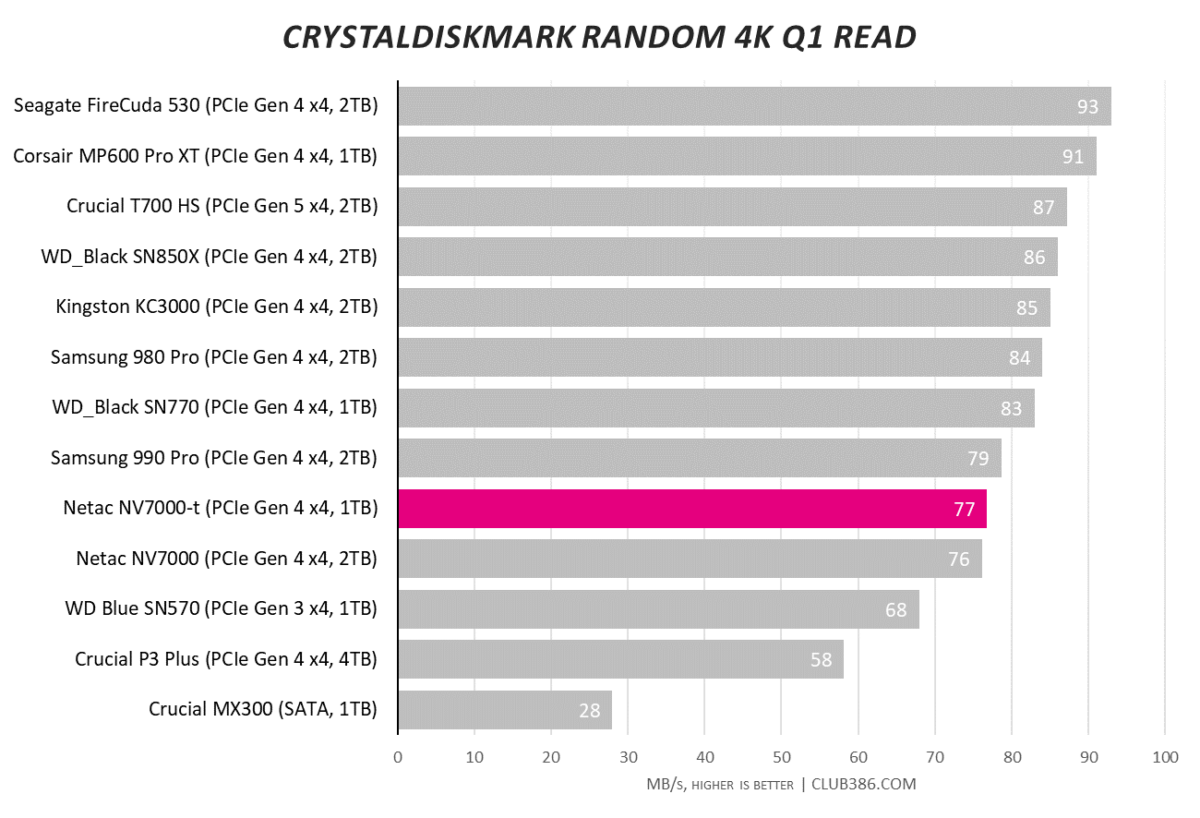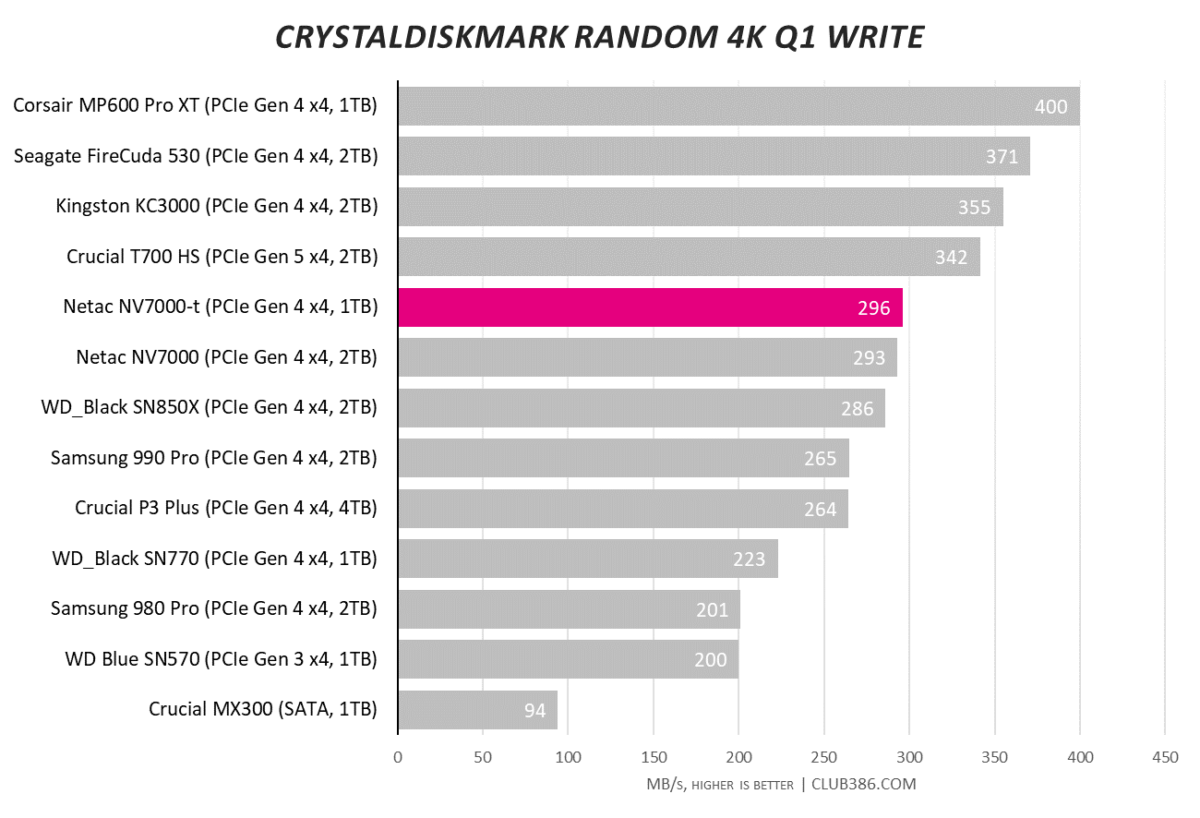 Run with synthetic tests first, there's no obvious disadvantage with opting for a HMB drive. Off to a solid start.

Show your support for impartial Club386 reviews
Club386 takes great pride in providing in-depth, high-quality reviews built on honest analysis and sage buying advice. As an independent publication, free from shareholder or commercial influence, we are committed to maintaining the standards our readers expect.
To help support our work, please consider making a donation via our Patreon channel.
Gaming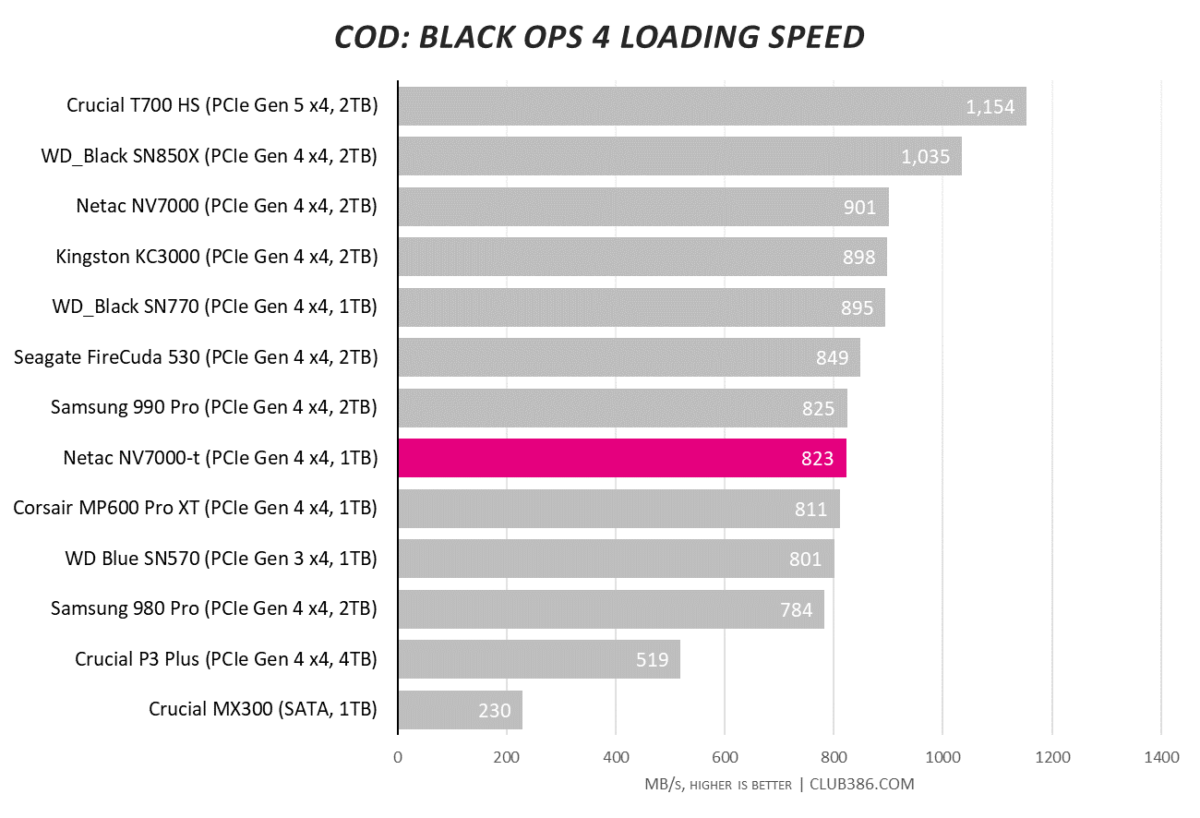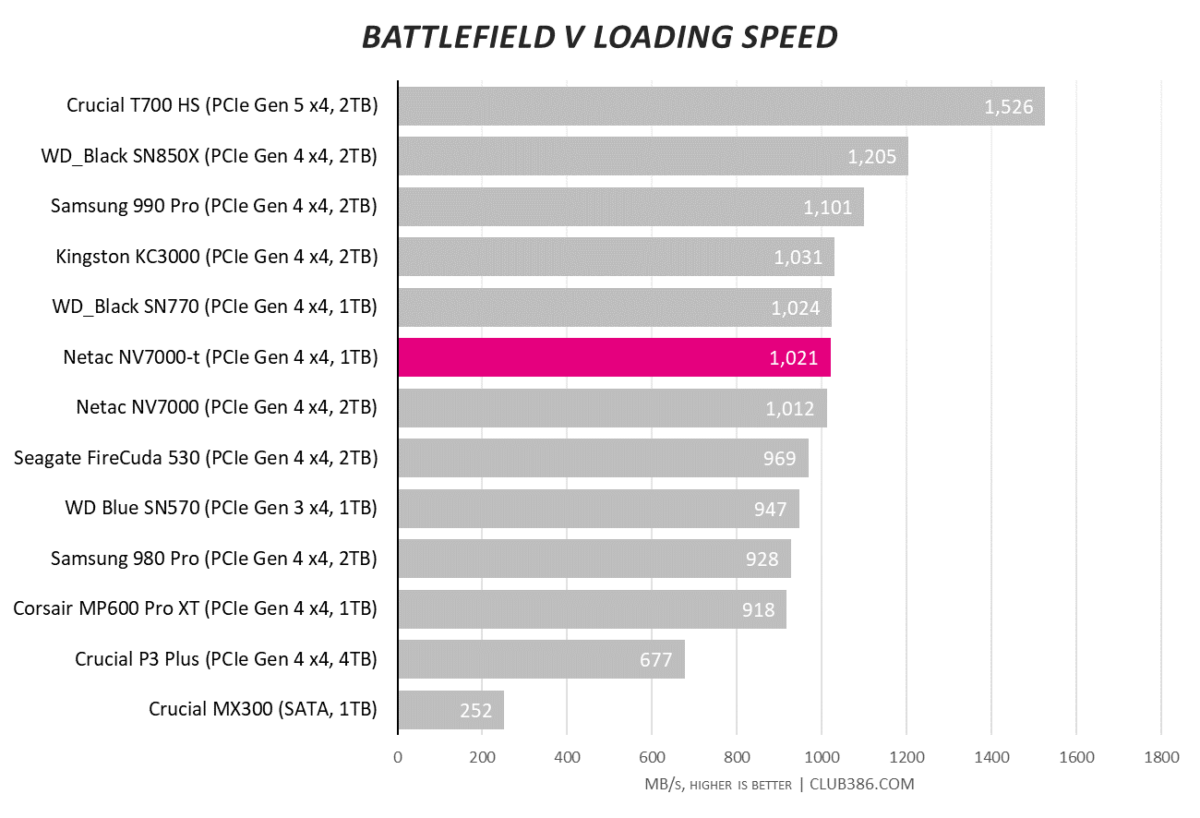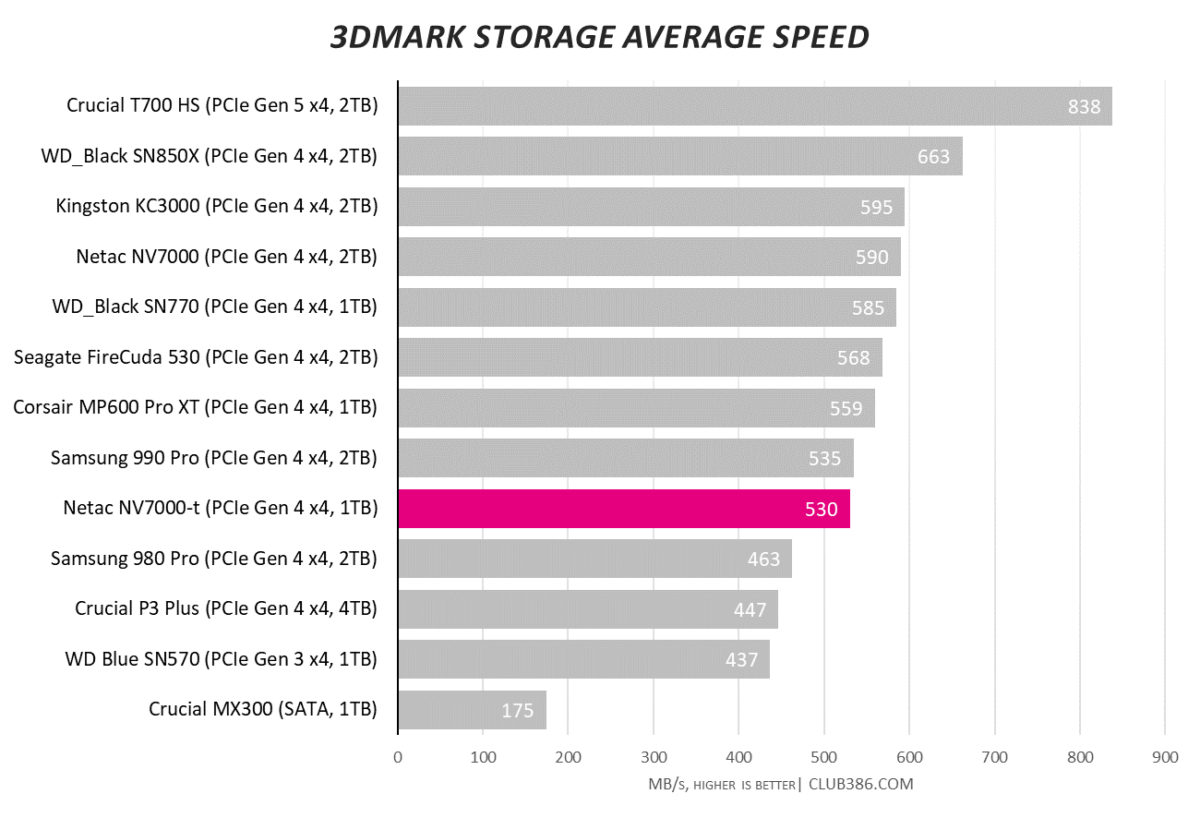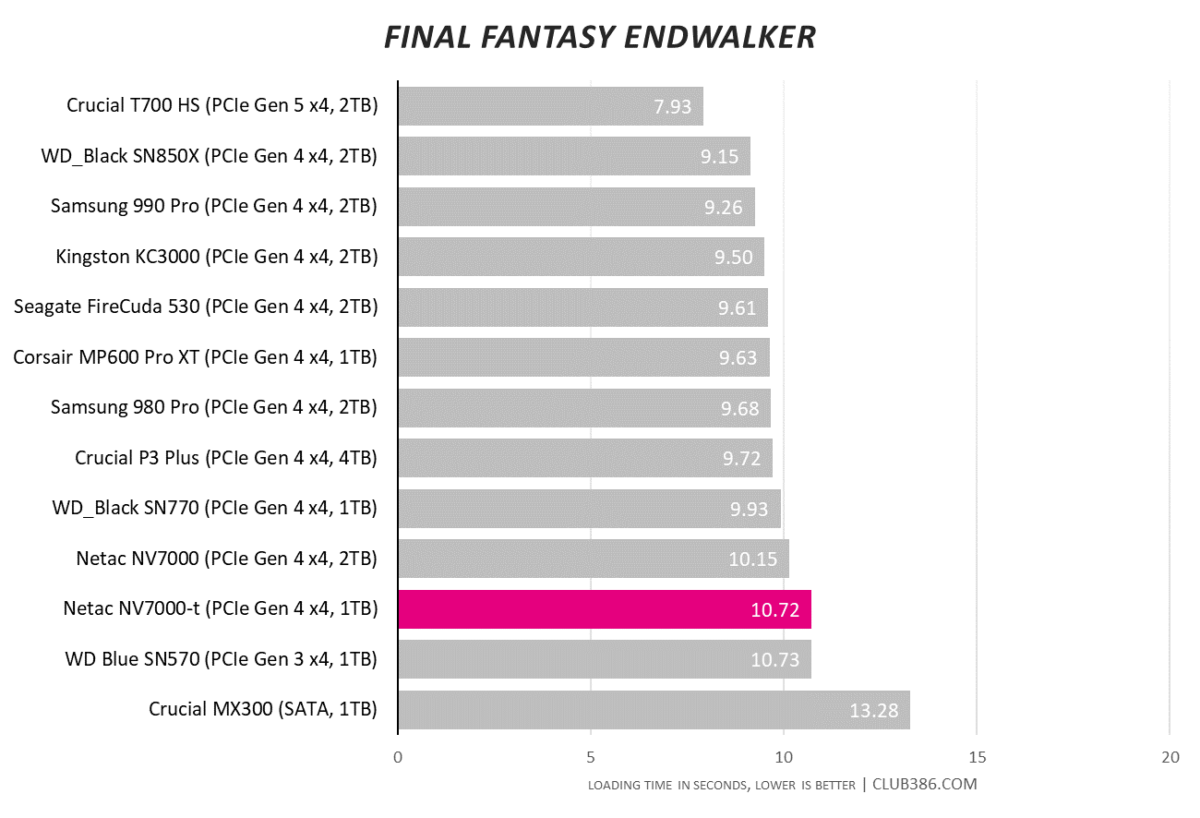 NV7000-t's most common use case is as an upgrade over a SATA SSD or mechanical spinner. With respect to game loading, you can clearly see the improvement over an older Crucial MX300.
Professional Applications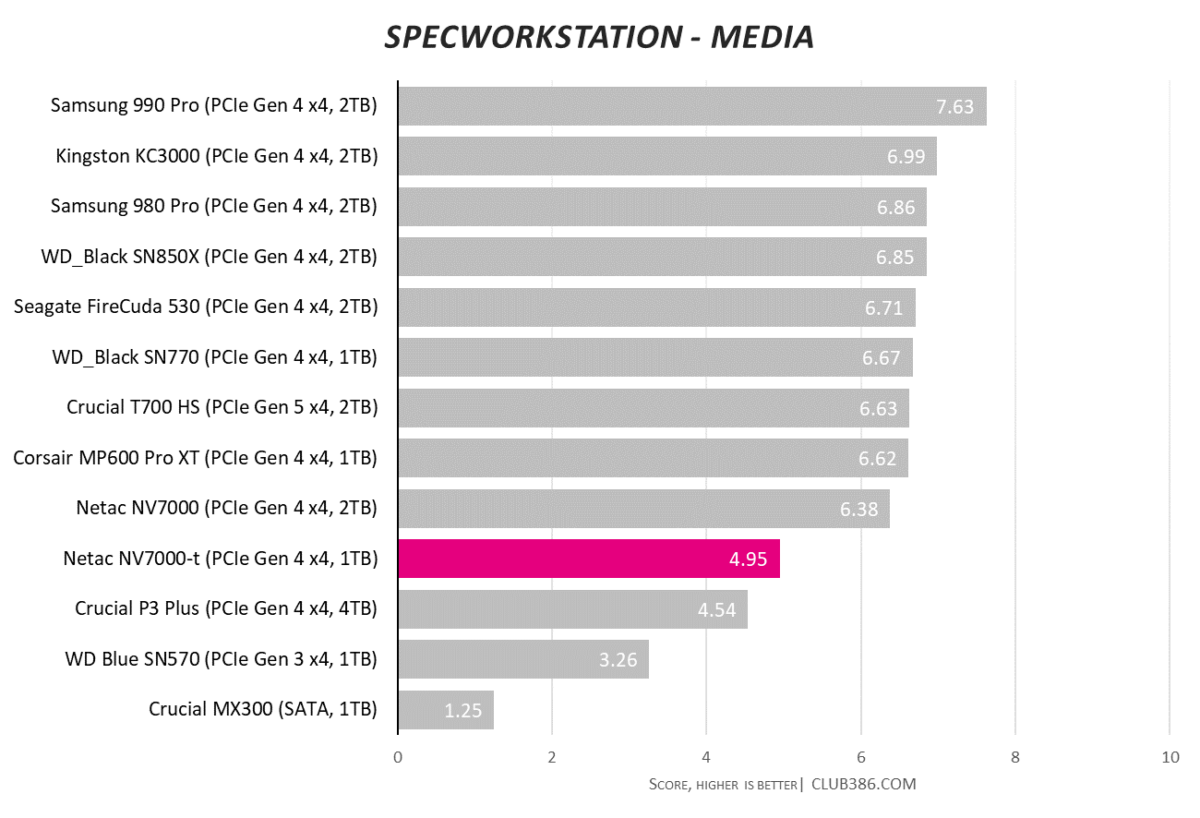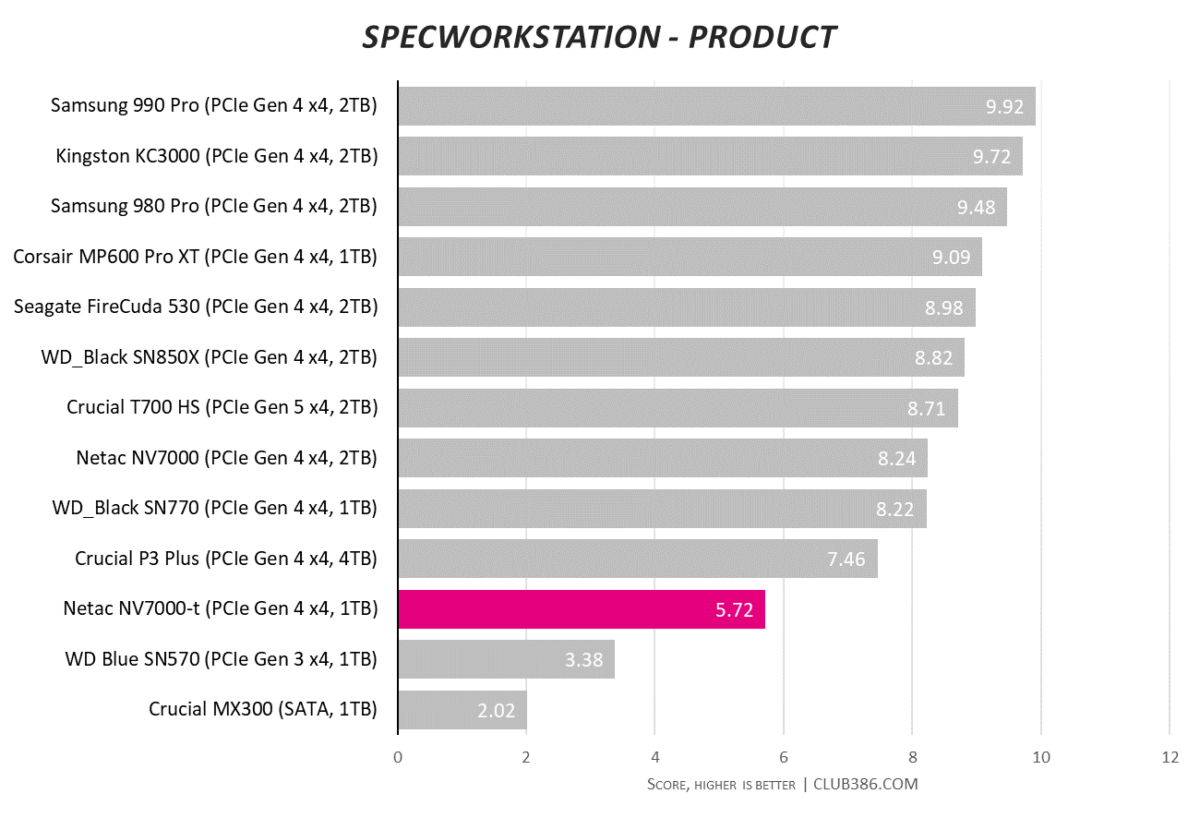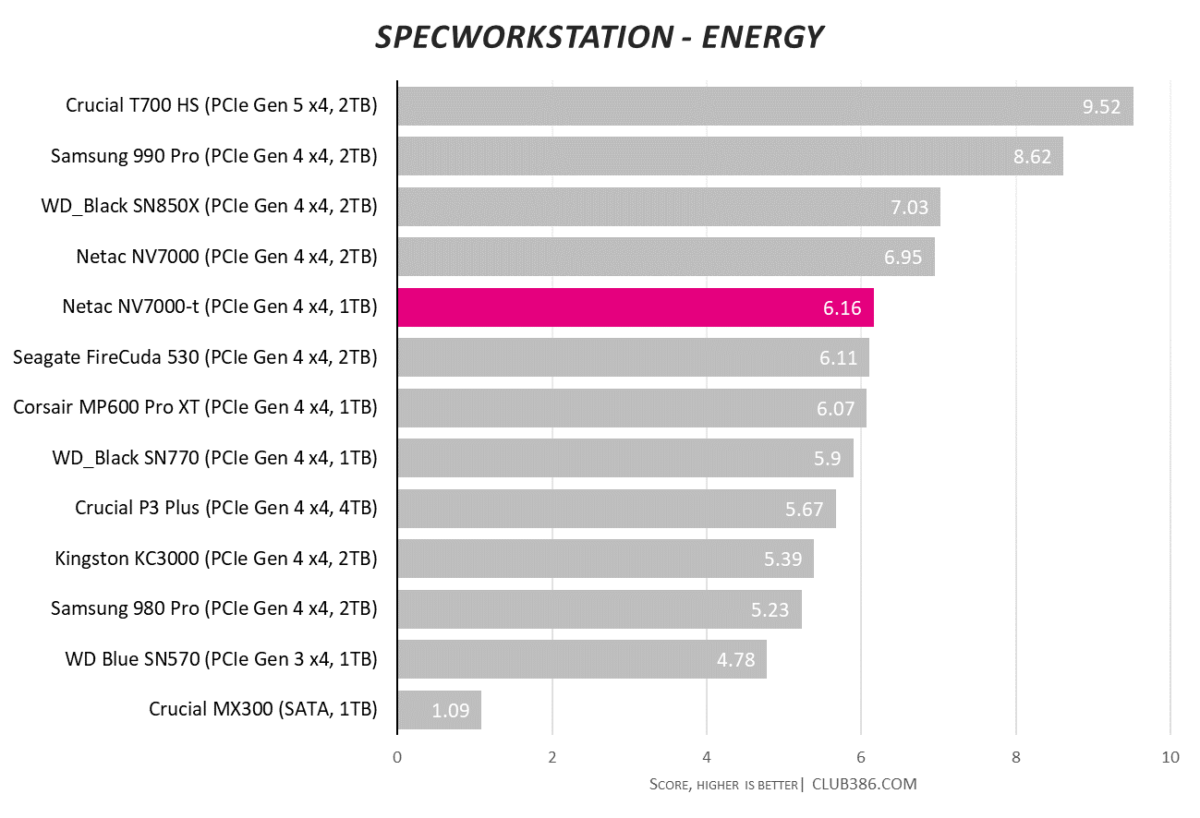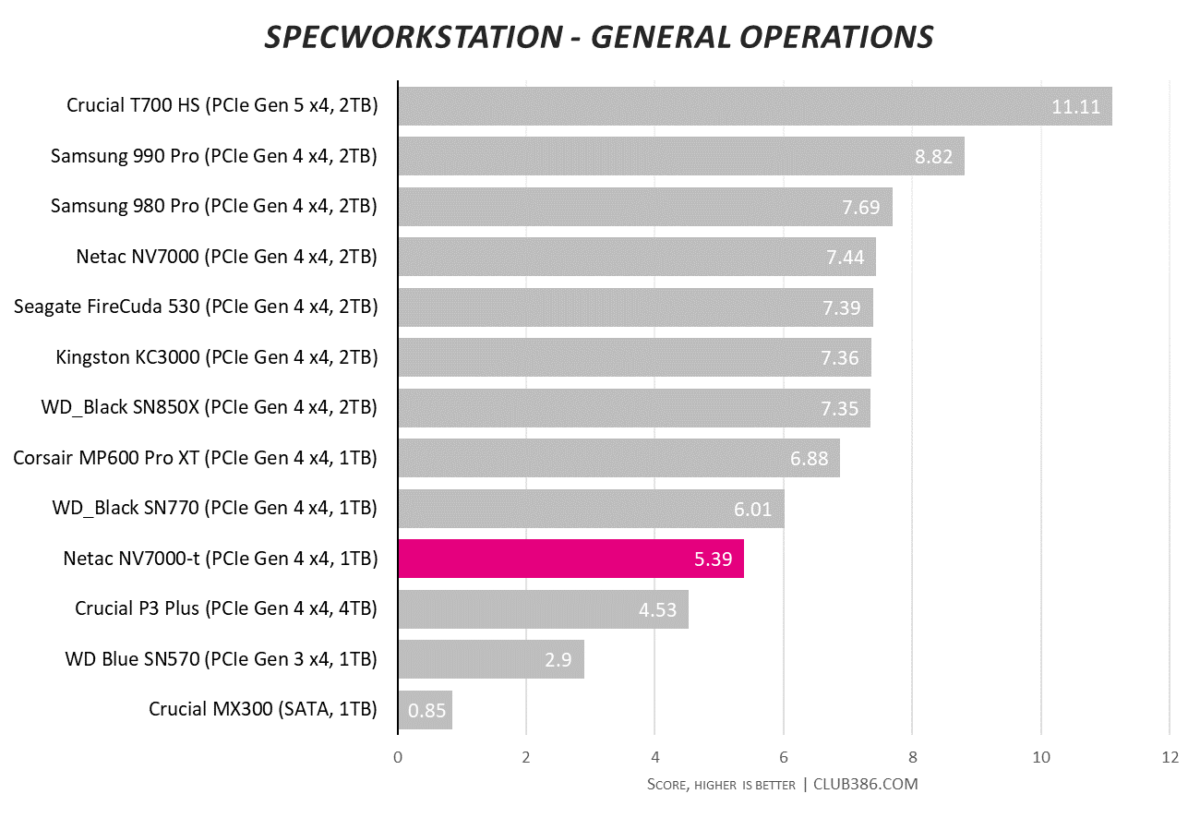 Peeling back the onion by looking at performance once the drive is subjected to more rigorous use, we find NV7000-t isn't as good as rival models that feature on-SSD DRAM. Our educated guess is having to traverse the host memory buffer on multiple occasions when dealing with small files shows up some weakness.
Input/output Operations per Second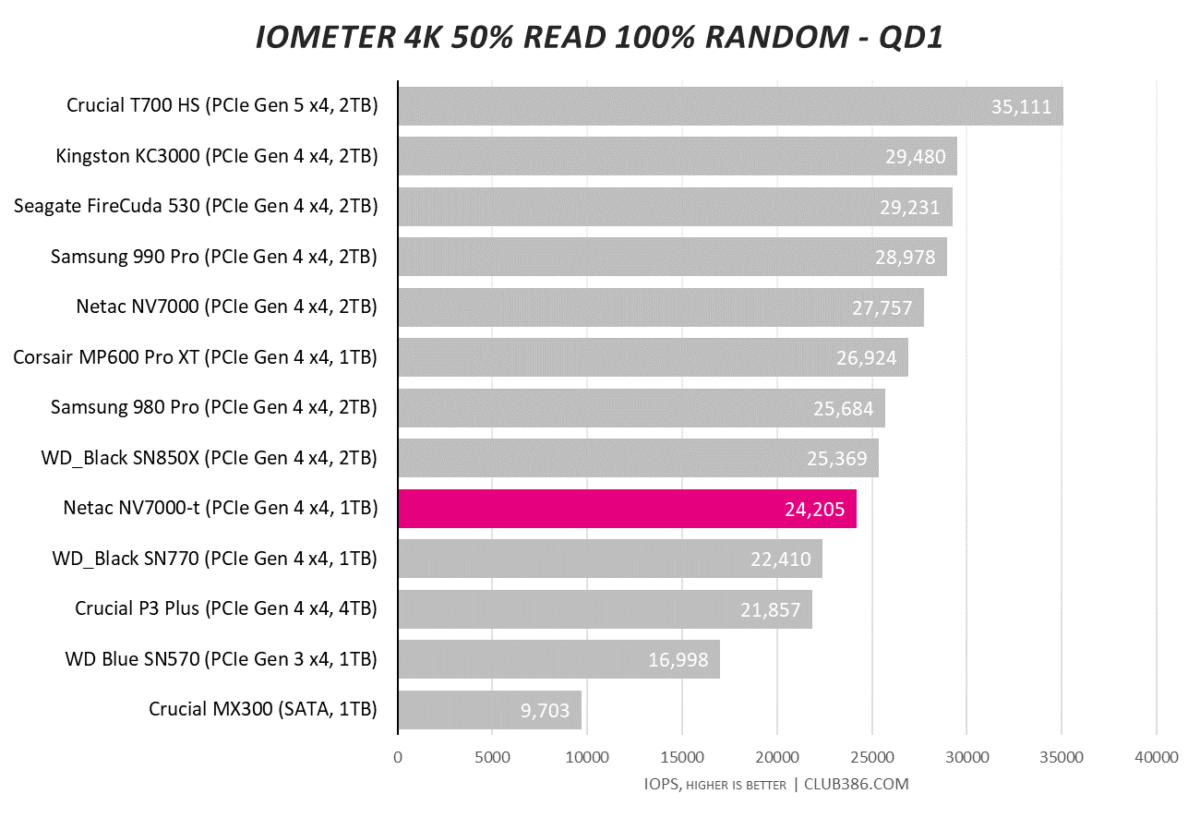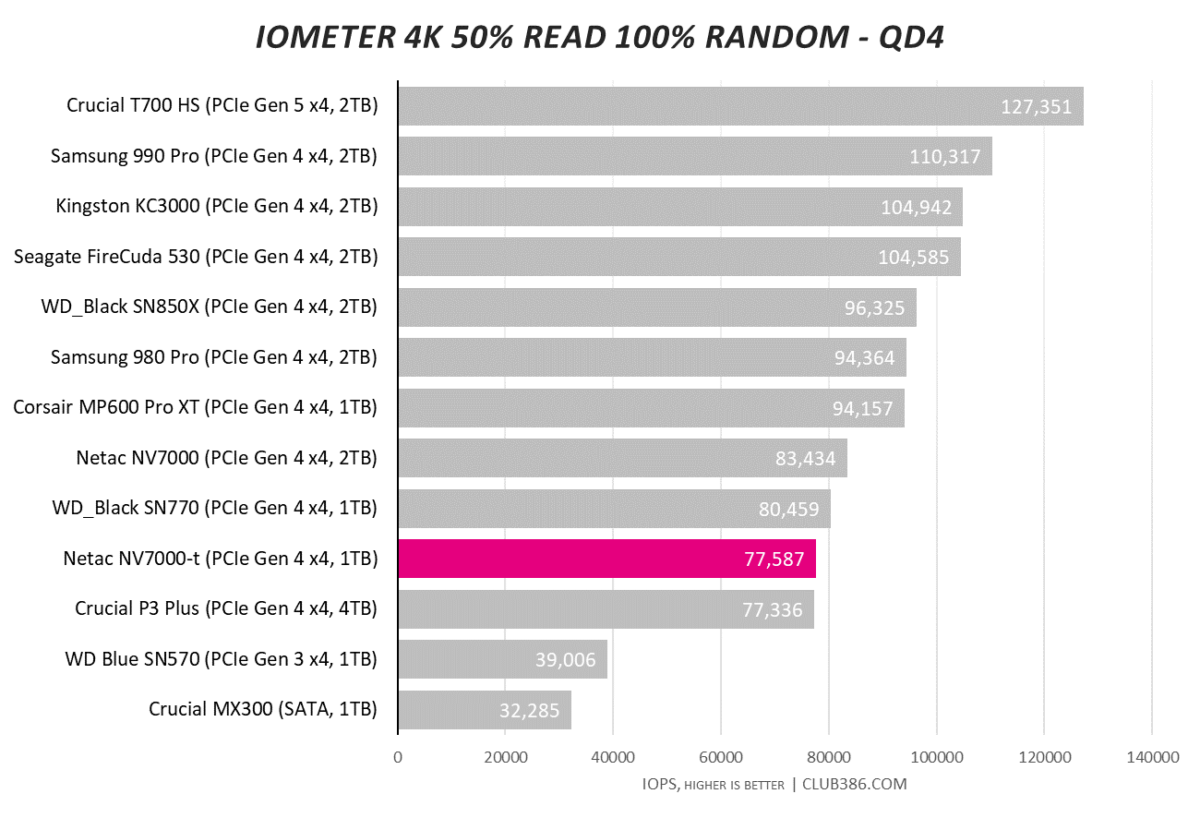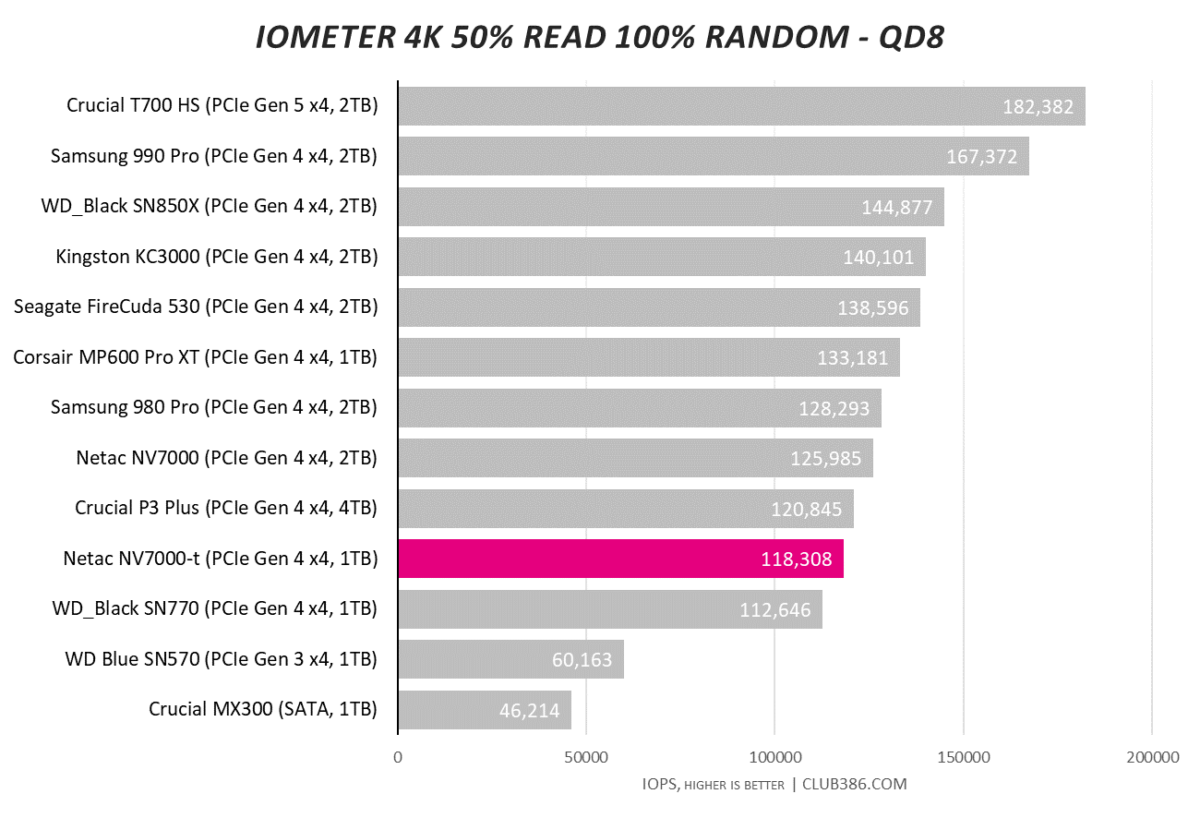 Getting to the nub of the matter, NV7000-t is decent enough when bombarded with small-file read and write loads. Nevertheless, and as it to be expected, regular NV7000 is faster in most scenarios. Stands to reason as it features LPDDR4 on the PCB.
Focussing on caching, we can determine the size of the pseudo-SLC cache by monitoring write speeds in Iometer when using large block sizes. Starting off at around 4.9GB/s, performance drops off to around half that after approximately 100GB has been written, suggesting the cache is full. For most consumers, this 100GB is more than they'd typically write in one go.
Extended Testing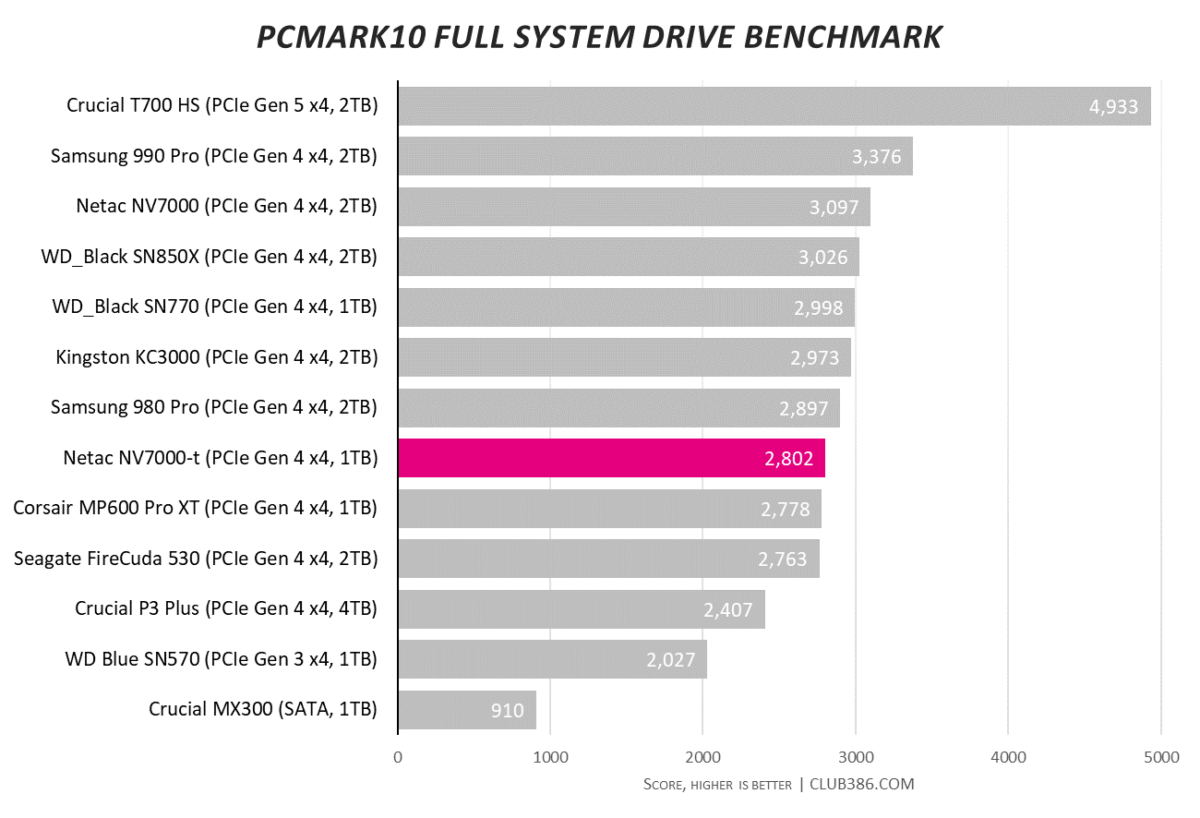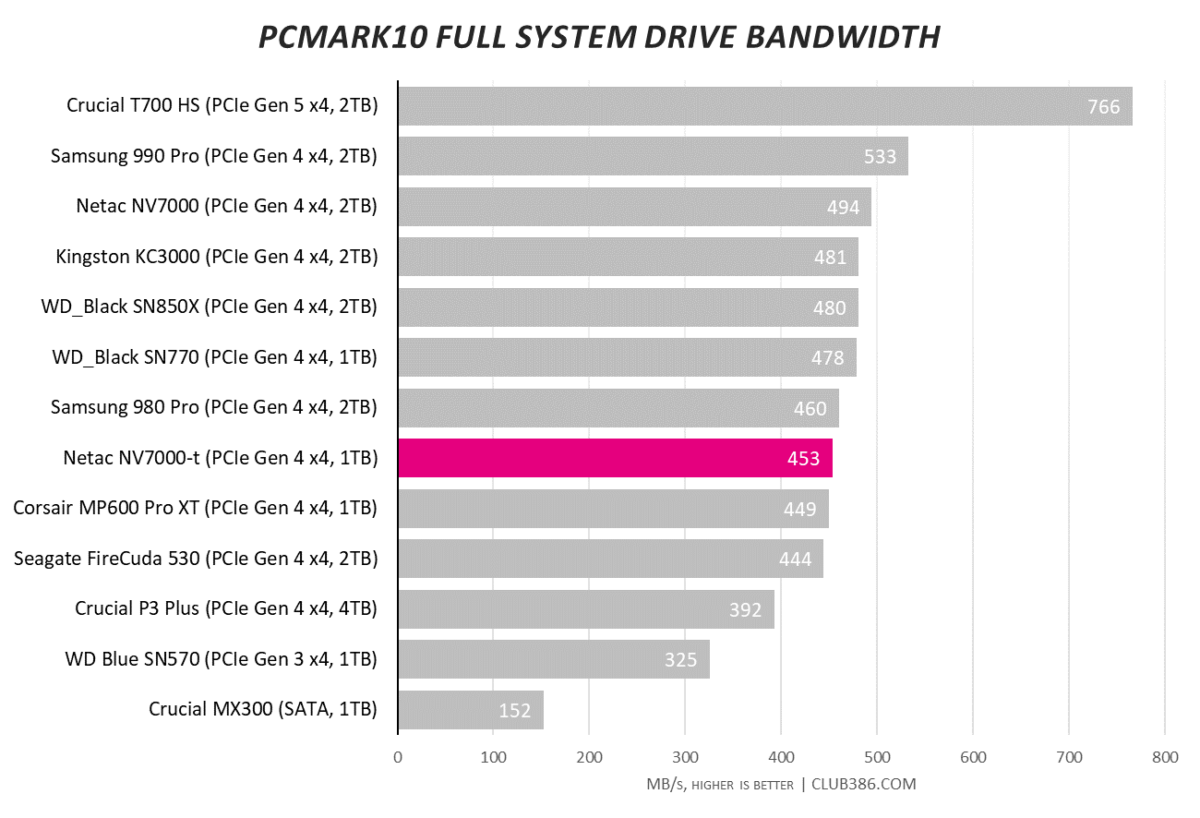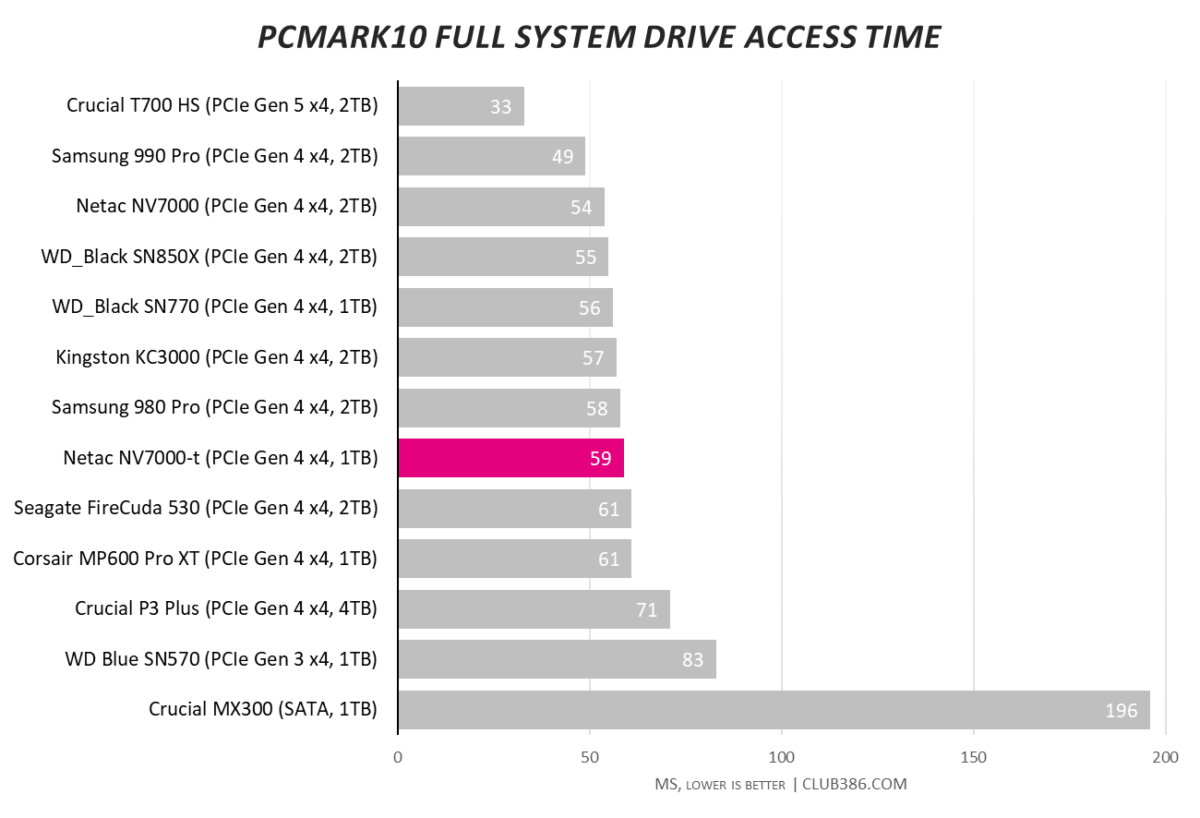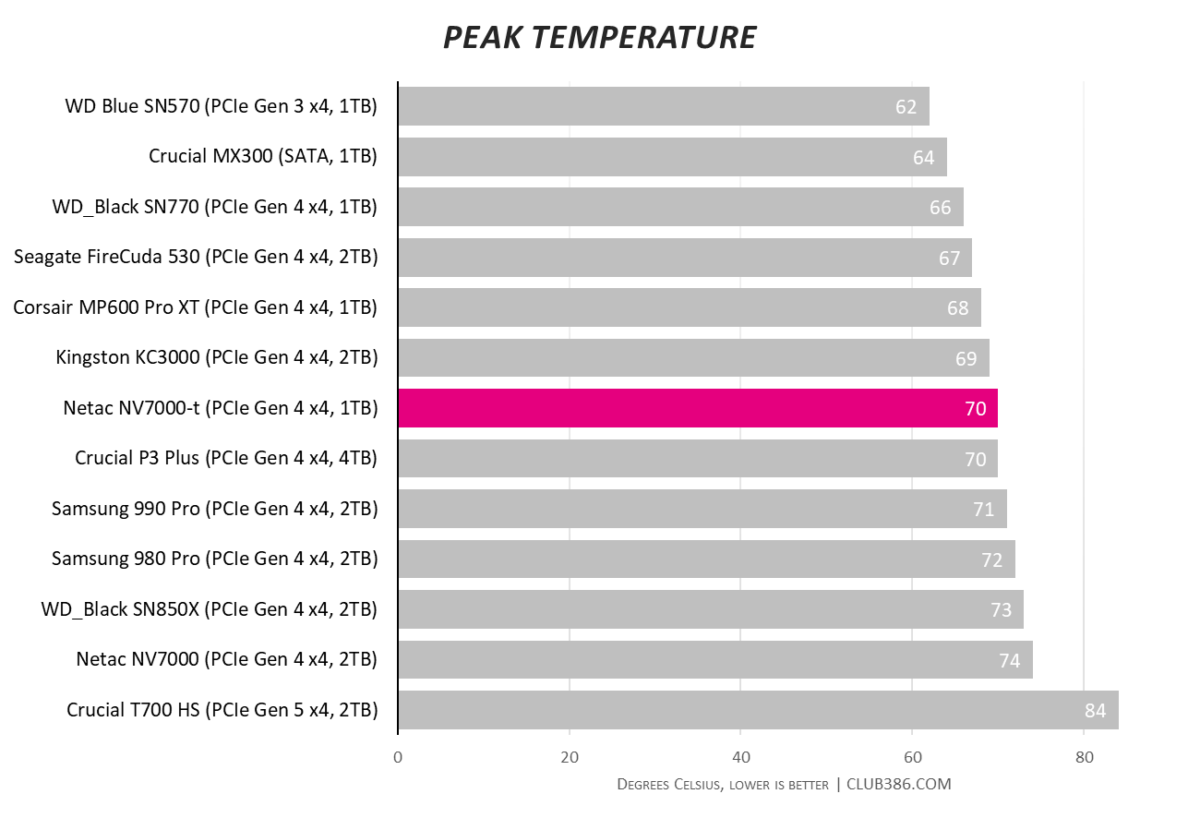 Rounding it out, general performance is around mid-pack, which is in line with our expectations of a drive that strives for value.
Conclusion
Nowhere has competition been fiercer than in the consumer SSD market. Oversupply has wrought havoc and caused prices to dwindle such that they're far less than merely a year ago. This is the area in which Netac battles against established heavyweights such as Samsung, WD, Crucial, et al.
Carving out a niche by equipping SSDs with eclectic controllers and NAND, Netac has made a name for itself by historically providing high performance at very amenable prices, and drives such as the NV7000 are clear evidence of this strategy.
Newer NV7000-t takes a different tack by appealing to cost-sensitive users looking for their first meaningful storage upgrade for laptops and desktops alike. Offered in 512GB to 2TB capacities, performance is decent in target applications such as gaming and productivity but understandably not so robust when heavier load is introduced.
That's perfectly okay if pricing is on point, but this is now a fast-moving market, and savvy shoppers will need to keep an eye on store shelves as myriad manufacturers jostle for position. At times, the aluminium heatsink-equipped NV7000 is about the same money and competing drives are cheaper for the same capacity, but regular sale events make the NV7000-t an attractive alternative if you time it just right.
Case in point, Netac is offering a 30 per cent voucher on Amazon UK until September 17, dropping the price down to a mere £48.99. At that money, anyone seeking a solid upgrade ought to take a look.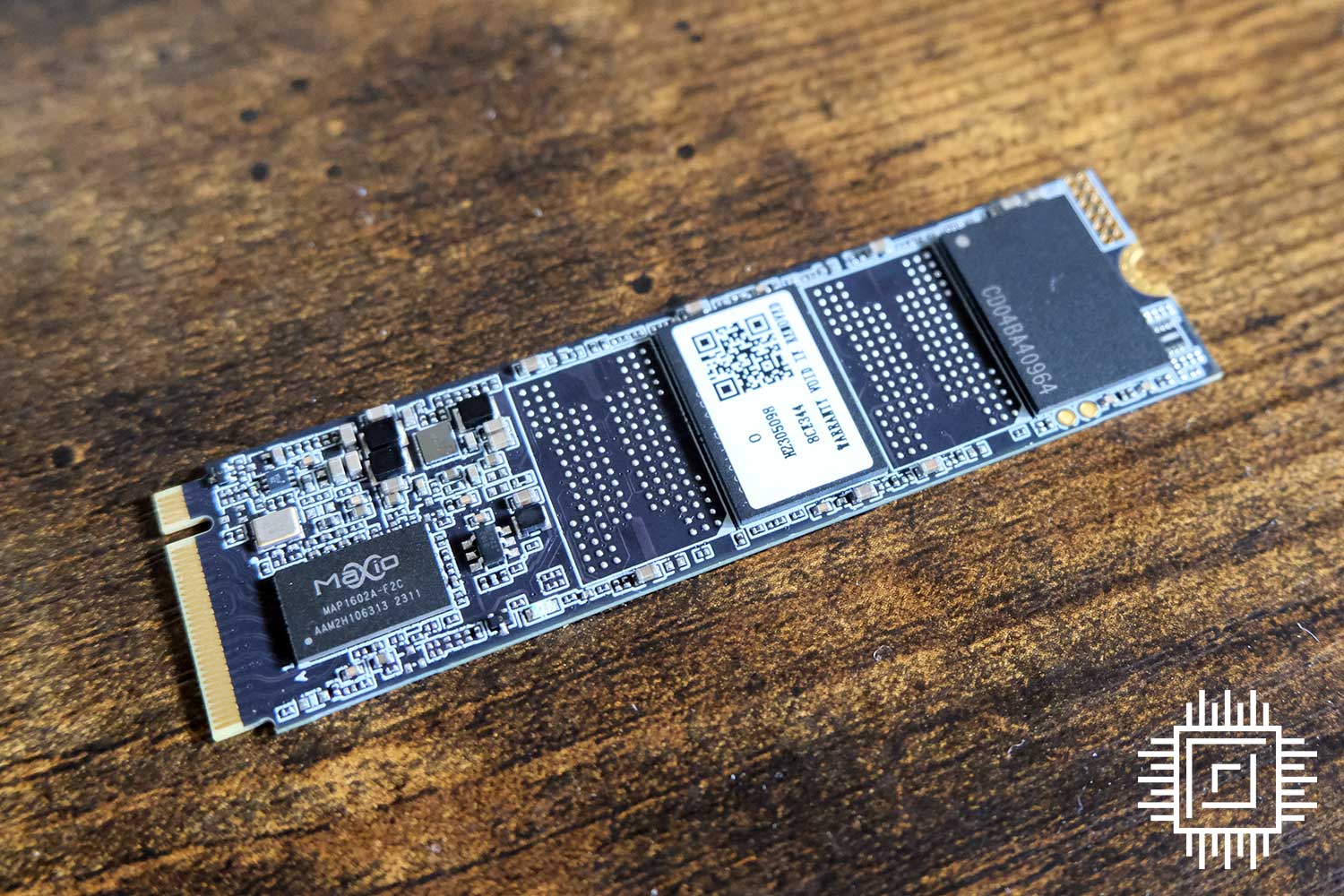 Netac NV7000-t 1TB SSD
Verdict: A reasonable drive in its own right, NV7000-t is a value buy when under £50.
---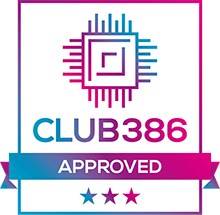 Pros
Solid performance
Metallised heatspreader
SLC caching works well
PS5 compatible


Cons
No 4TB option
Pricey without voucher
---
Club386 may earn an affiliate commission when you purchase products through links on our site. This helps keep our content free for all.
Rest assured, our buying advice will forever remain impartial and unbiased.