Jump to: Specification | Performance | Conclusion
Storage behemoth Western Digital has recently invigorated its premium solid-state drive (SSD) line-up through the introduction of WD Black SN850X.
Considered a substantial improvement over SN850 launched November 2020, X-suffixed models are notable for increasing performance in every meaningful metric whilst also offering a 4TB version not previously available. Without further ado, let's dig right in.
Specifications
| WD Black SN850X | 1TB | 2TB | 4TB |
| --- | --- | --- | --- |
| Controller | WD Black G2 | WD Black G2 | WD Black G2 |
| NAND | SanDisk TLC | SanDisk TLC | SanDisk TLC |
| DRAM | LPDDR4 | LPDDR4 | LPDDR4 |
| Interface | PCIe 4.0 x4 | PCIe 4.0 x4 | PCIe 4.0 x4 |
| Sequential Read Speed (MB/s) | 7,300 | 7,300 | 7,300 |
| Sequential Write Speed (MB/s) | 6,300 | 6,600 | 6,600 |
| Random Read IOPS (K) | 800 | 1,200 | 1,200 |
| Random Write IOPS (K) | 1,100 | 1,100 | 1,100 |
| Form Factor | M.2 | M.2 | M.2 |
| Endurance (TBW) | 600 | 1,200 | 2,400 |
| Hardware encryption | No | No | No |
| Heatsink and RGB version | Yes | Yes | No |
| MSRP | £158 | £304 | £671 |
WD is famously coy in revealing fine-grained details on controller and NAND. From what we can gather, SN850X still uses the high-performance, in-house G2 controller, optimised further to unlock performance, but this time allies with faster NAND from subsidiary SanDisk. Though still based on triple-level cell (TLC) pervasive across the industry, SN850's 96-layer ICs are replaced by 112-layer BiCS 5, offering more intrinsic performance.
The culmination of this controller and NAND pairing is WD Black's fastest consumer drive to date. Riding on the established PCIe 4.0 x4 interface, peak sequential reads inch up to 7,300MB/s, but it's sequential writing that sees the largest immediate benefit. You may recall SN850 offering a maximum 5,300MB/s, thus lagging behind the competition, and WD Black rights it with up to 6,600MB/s.
And general improvements naturally continue through to IOPS, where the previous benchmark of 1,000K/720K read/write is smashed by SN850X's 1,200/1,100. The two most performant WD consumer M.2 drives share most of their name but, make no mistake about it, the company realises it has to up the game to stave off the likes of Samsung 980 Pro, Seagate FireCuda 530, and Kingston KC3000, which have all eclipsed original SN850's levels.
Evaluated on a capacity-to-capacity basis, endurance remains the same as SN850. That's no bad thing, as 1,200TBW for the 2TB model equates to around 0.33 drive writes per day (DWPD) over the five-year warranty period, yet do realise competitors such as the aforementioned FireCuda provide over twice as much.
High-performance SSDs tend to come with onboard cache rather than relying on Host Memory Buffer (HMB) technology found on mainstream drives such as the SN770. To that end, the DRAM scales with capacity, and our 2TB model carries a robust 2GB necessary for saving map tables that track data movements efficiently.
There's no hardware encryption – not a huge miss on consumer drives – but WD does have a neat trick up its sleeve.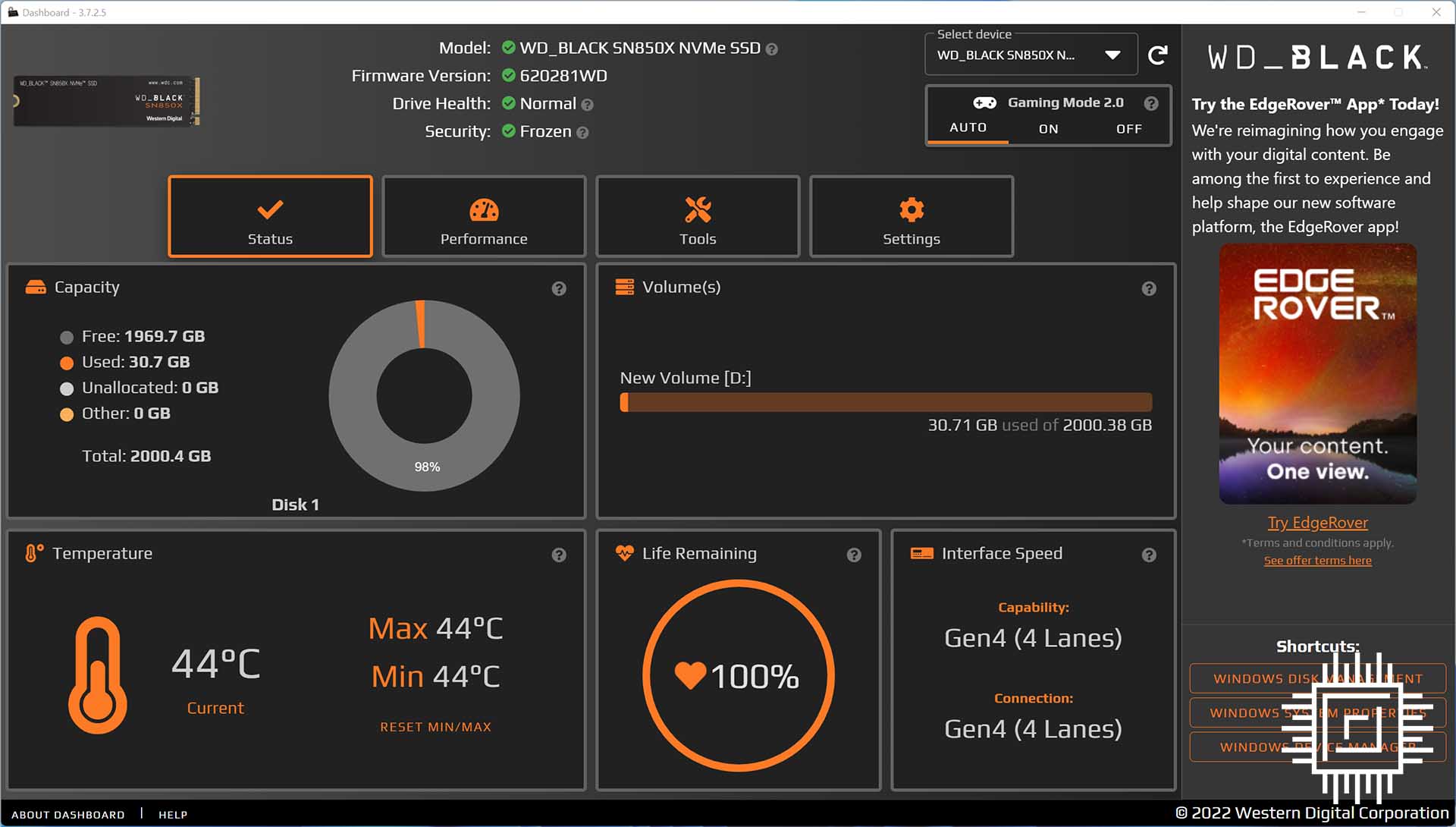 The latest WD Management Dashboard software offers a Gaming Mode 2.0 setting for improved performance in gaming. Setting it to Auto, as we have done above, turns the mode on solely for games selected through adding specific folders to the watchlist. Doing so, WD says, leaves it off for regular tasks.
Game Mode itself speeds up the loading of games through 'intelligent prediction' but the effect isn't considerable. Measured across the Final Fantasy Endwalker benchmark, implementing it shaves a mere 0.21s off the nine-second load time.
Dashboard is also useful for updating the firmware at the click of a button, monitoring temperature, and gauging performance. Definitely one of the better accompanying SSD software, visually and usability.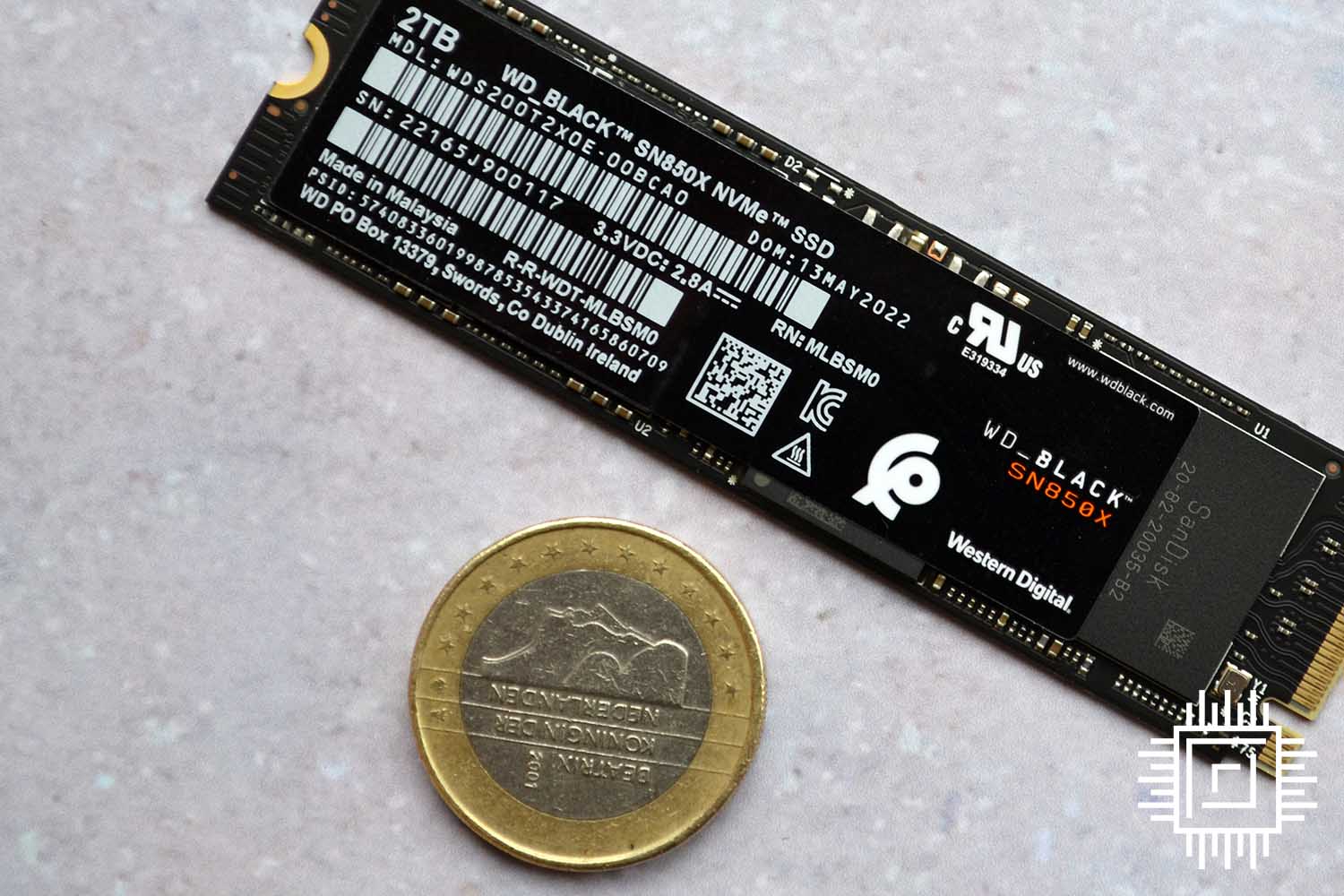 Chip density is such that only a single side is used for our 2TB review model. The four-chip solution encompasses SanDisk's controller – seen peeking out on the right – Micron DRAM, and two SanDisk NAND chips carrying 1TB apiece. Uncomplicated and unfussy.
1TB and 2TB models each have an optional version complete with a pre-applied heatsink and RGB lighting; they typically cost £20 more and are useful for instances where motherboard cooling is not up to scratch. The 4TB model, meanwhile, is only available as a bare drive. WD recommends using heatsink-clad models for expanding PlayStation 5 storage, though the SN850 remains the only officially licensed option for Sony's console.
Our trusty AMD Ryzen 9 5950X test platform has been busy running the numbers, so let's see how WD's latest compares.
Transfer Speed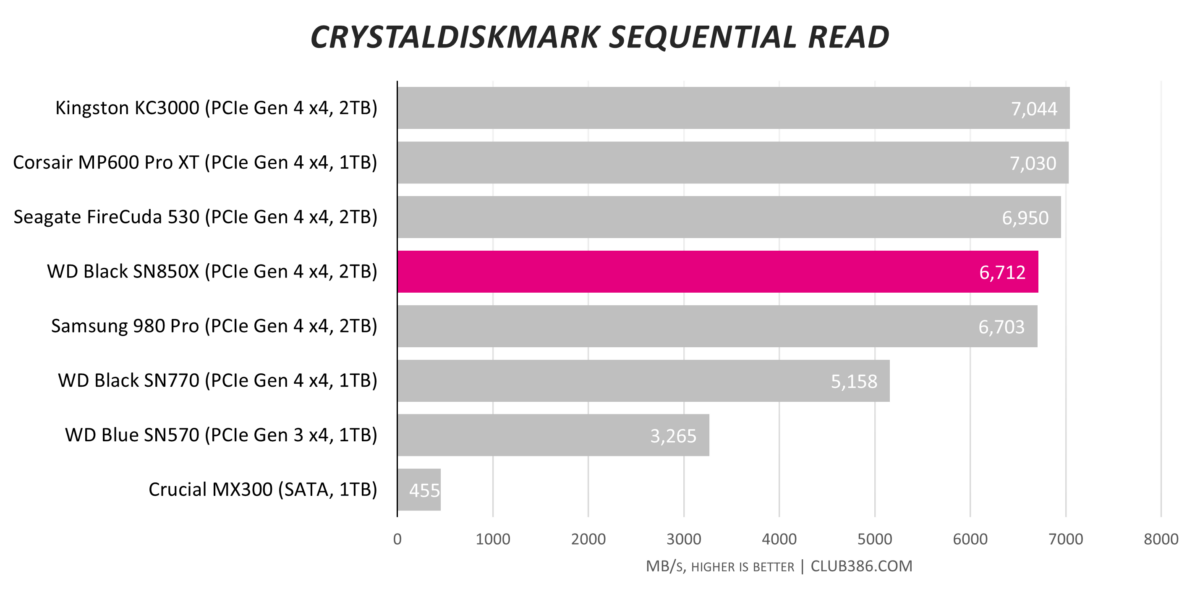 Six of the eight drives on show use a PCIe 4.0 x4 interface for increased transfer bandwidth. SN850X doesn't get up to the maximum 7,300MB/s expressed by WD, but peak speeds are often dictated by platform. Nevertheless, as all eight are tested on the same Ryzen 9 5950X machine, SN850X starts off mid-pack.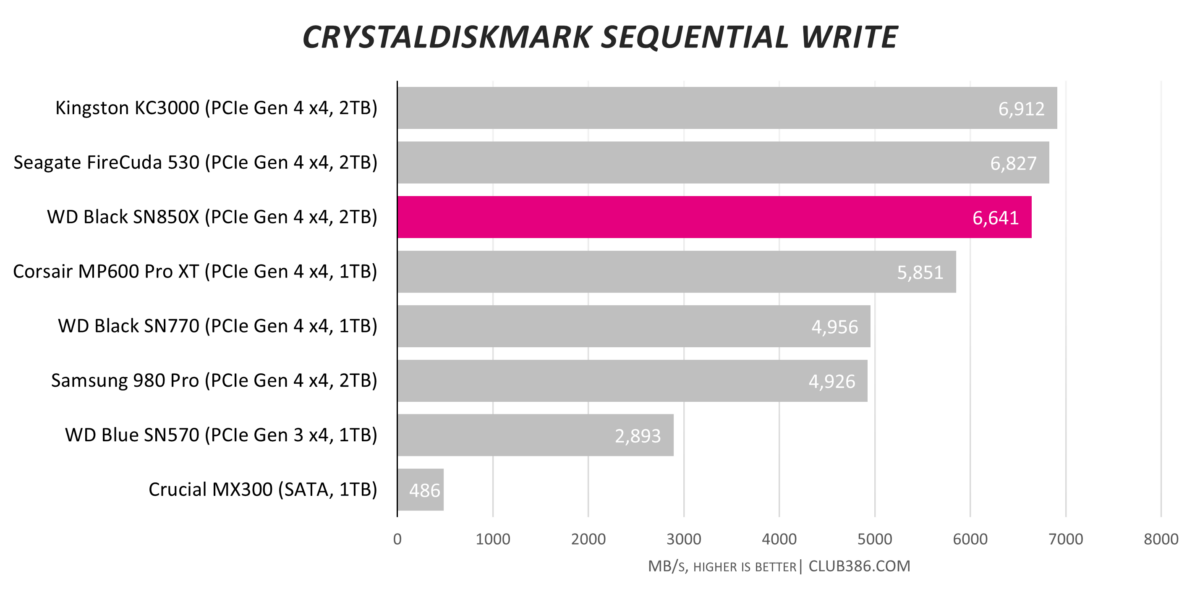 A key improvement over regular SN850 is with respect to write speeds. Offering a straight-line 6.6GB/s, WD Black SN850X vaults to the upper echelons.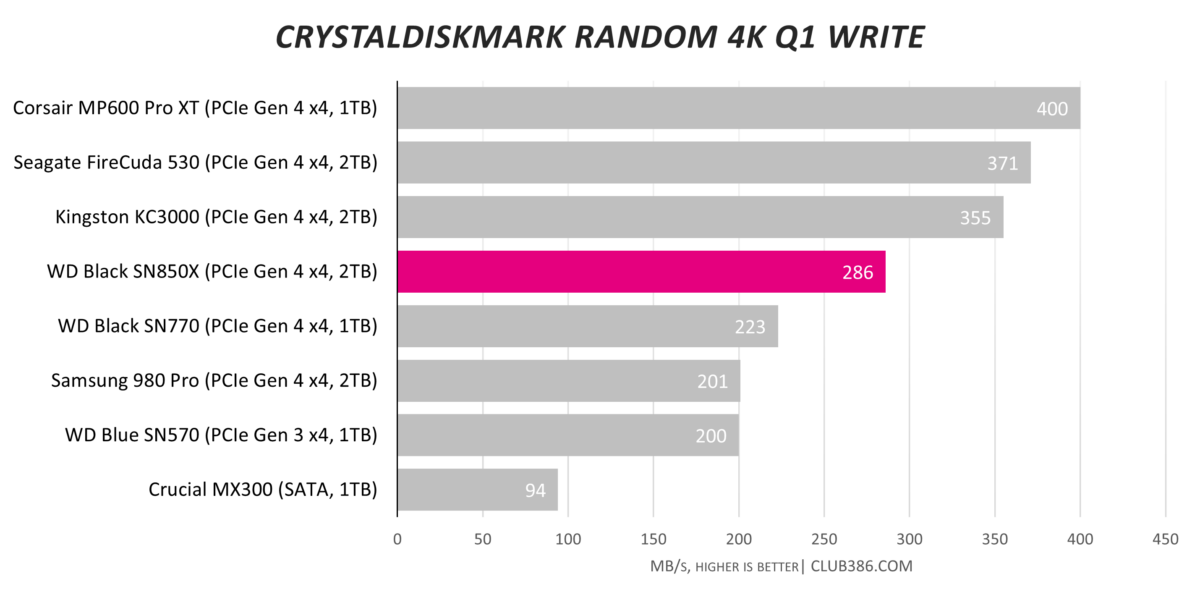 Performance in small file sizes, according to CrystalDiskMark, isn't as robust. It's not bad, of course, but there are better options if your workload requires moving thousands of files around on a constant basis.
Gaming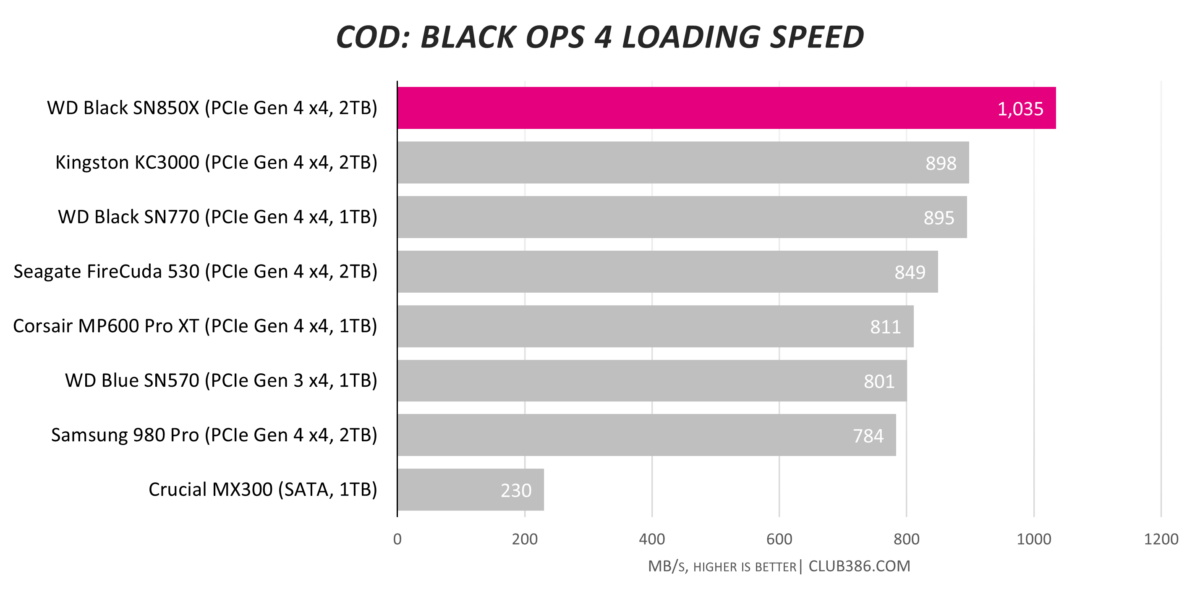 Positioning is everything. WD promotes Black SN850X as a great choice for the gamer and content creator, and we can't argue with the top-notch performance on show. Note that these results are delivered with Game Mode 2.0 set to auto, but turning it off had hardly any detrimental effect on performance.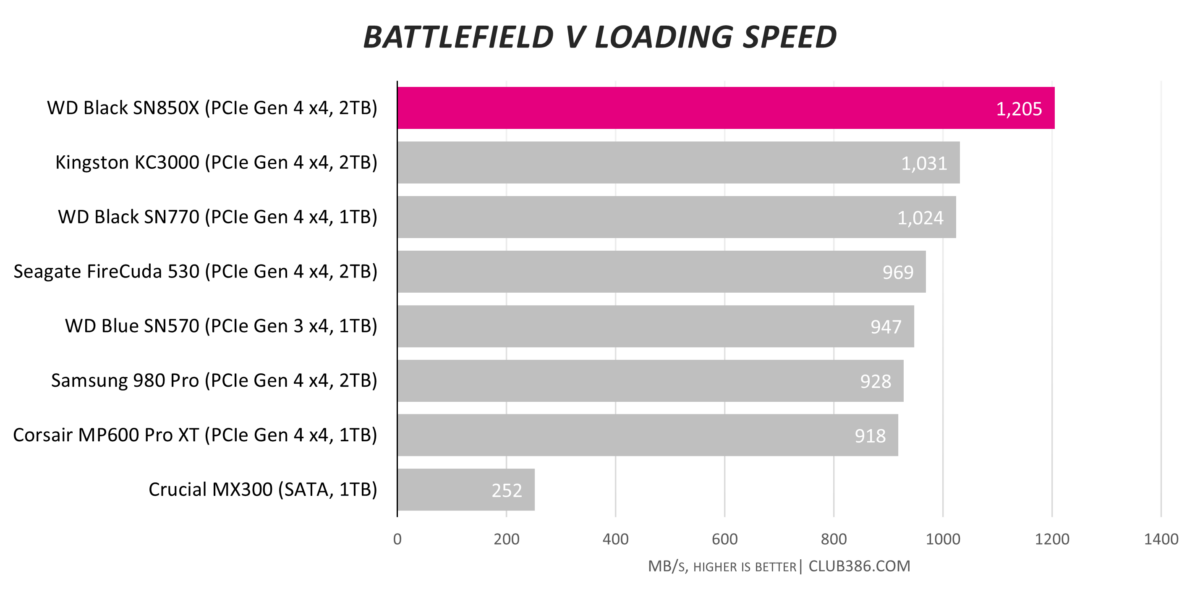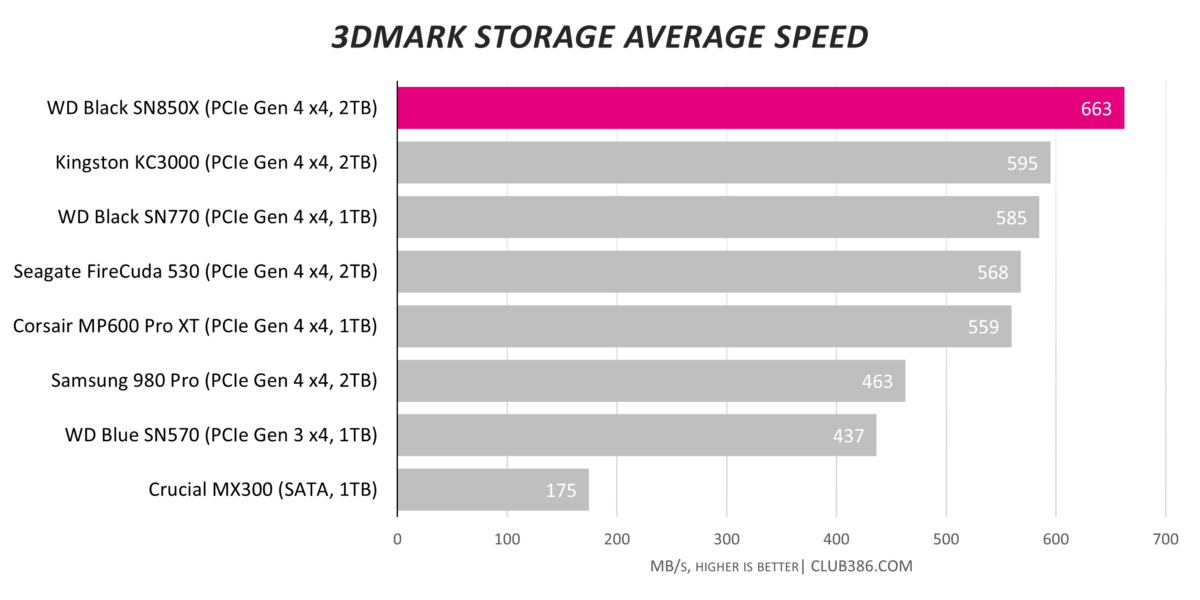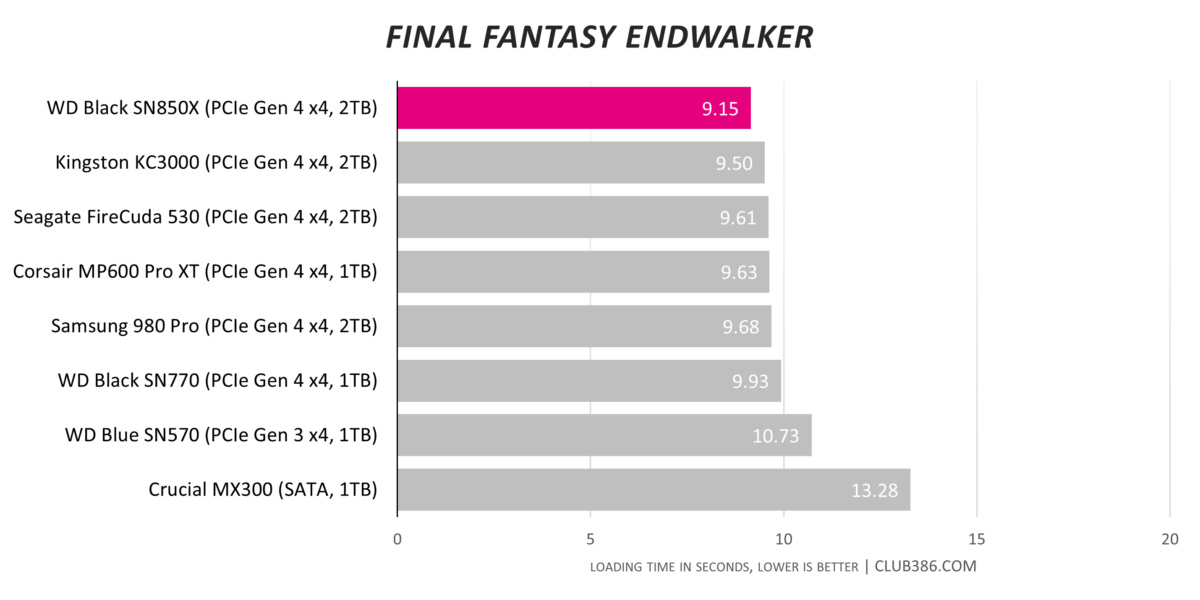 Making it a clean sweep of gaming-focussed benchmarks, SN850X succeeds in its primary aim of being a supremely fast solution befitting a high-end build.
Professional Applications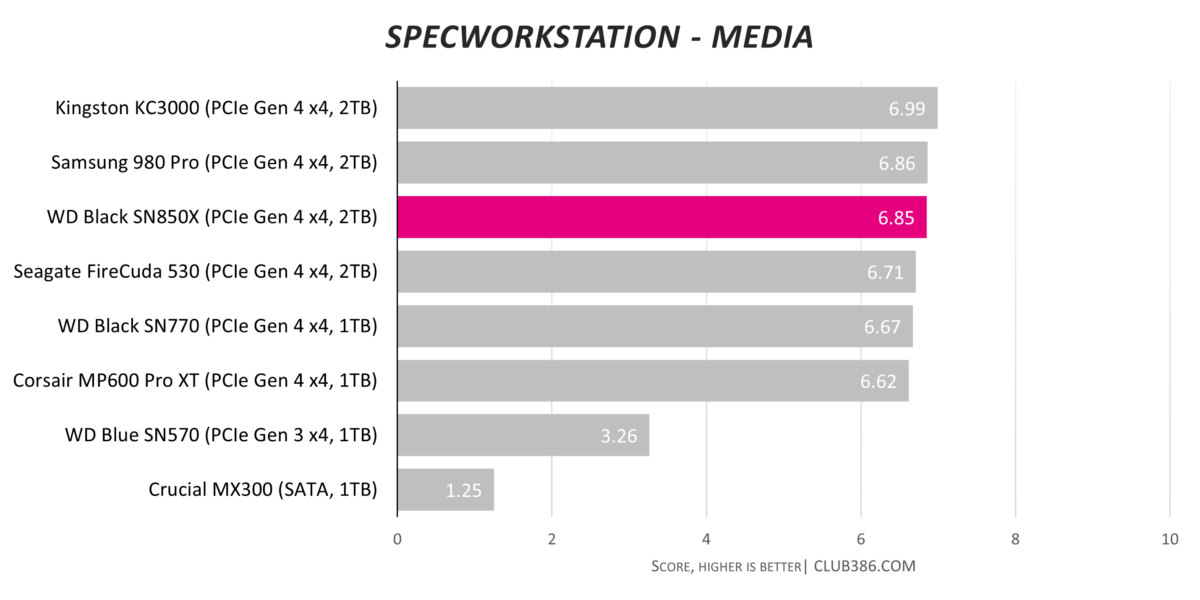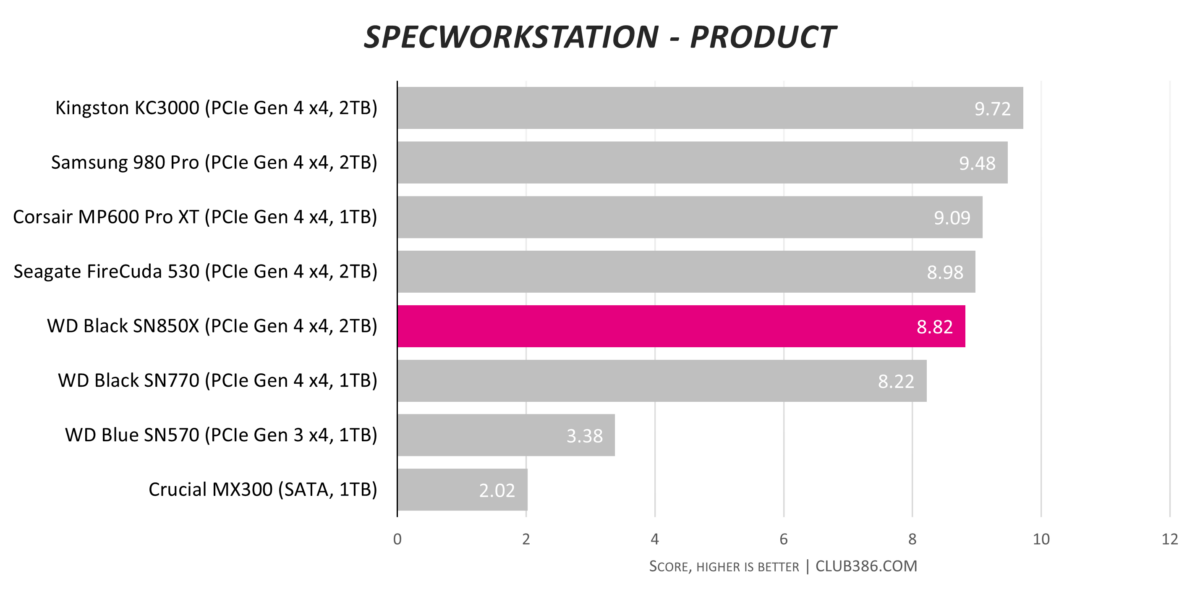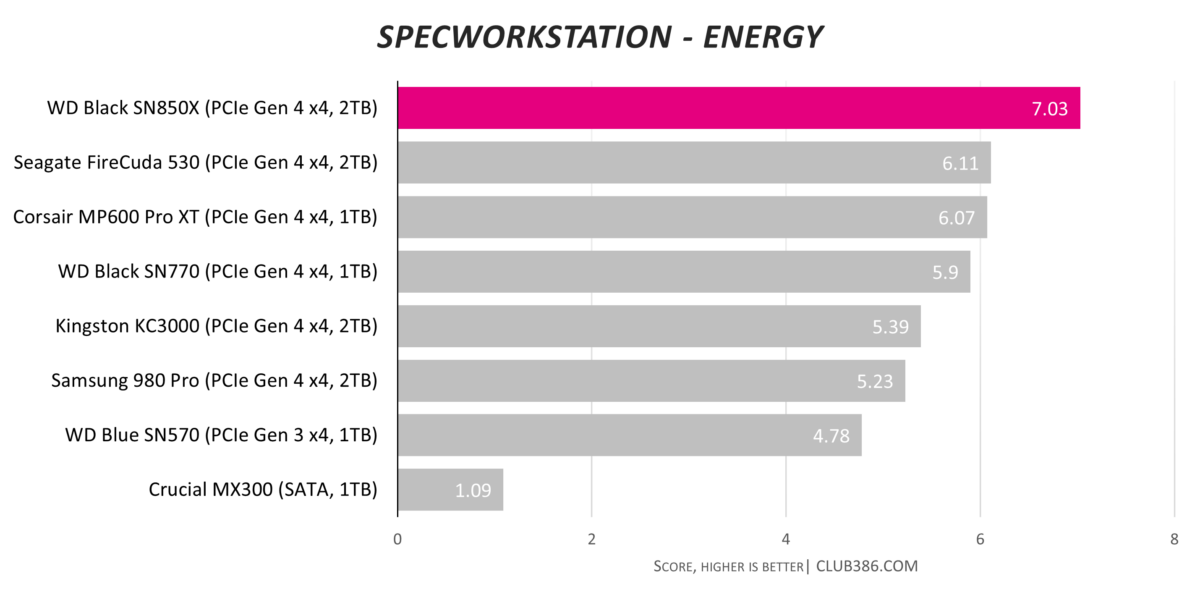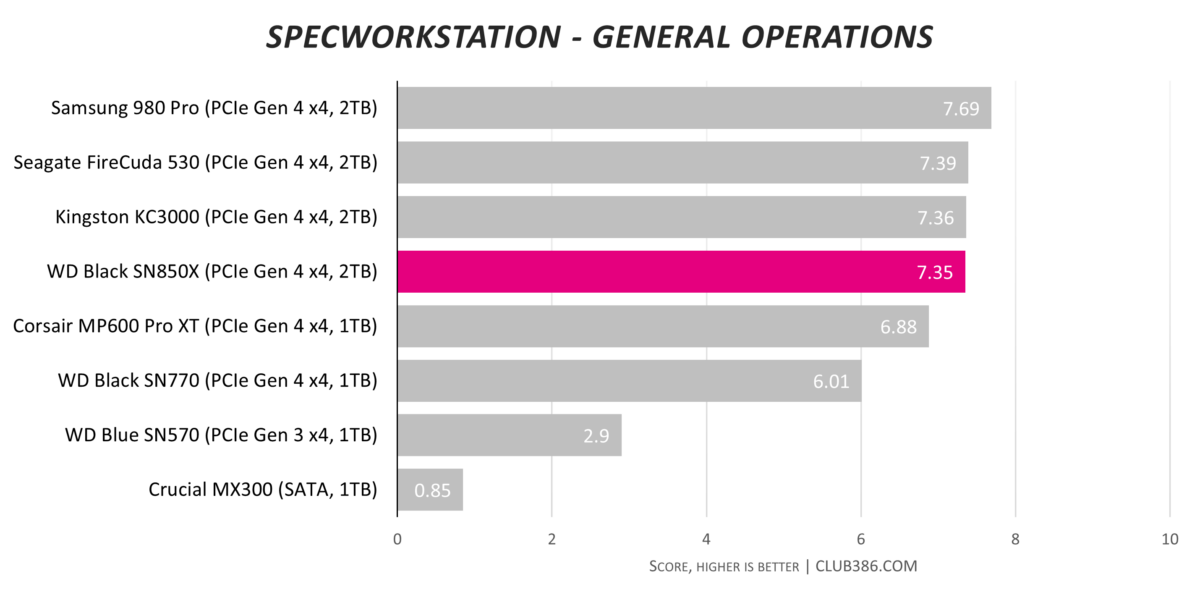 Tests become more stringent as we go down the page. SPECworkstation is a good proxy of how drives accommodate demanding workloads used in professional environments. A fit-and-forget solution that, so far, is capable in every area.

Show your support for impartial Club386 reviews
Club386 takes great pride in providing in-depth, high-quality reviews built on honest analysis and sage buying advice. As an independent publication, free from shareholder or commercial influence, we are committed to maintaining the standards our readers expect.
To help support our work, please consider making a donation via our Patreon channel.
Input/output Operations per Second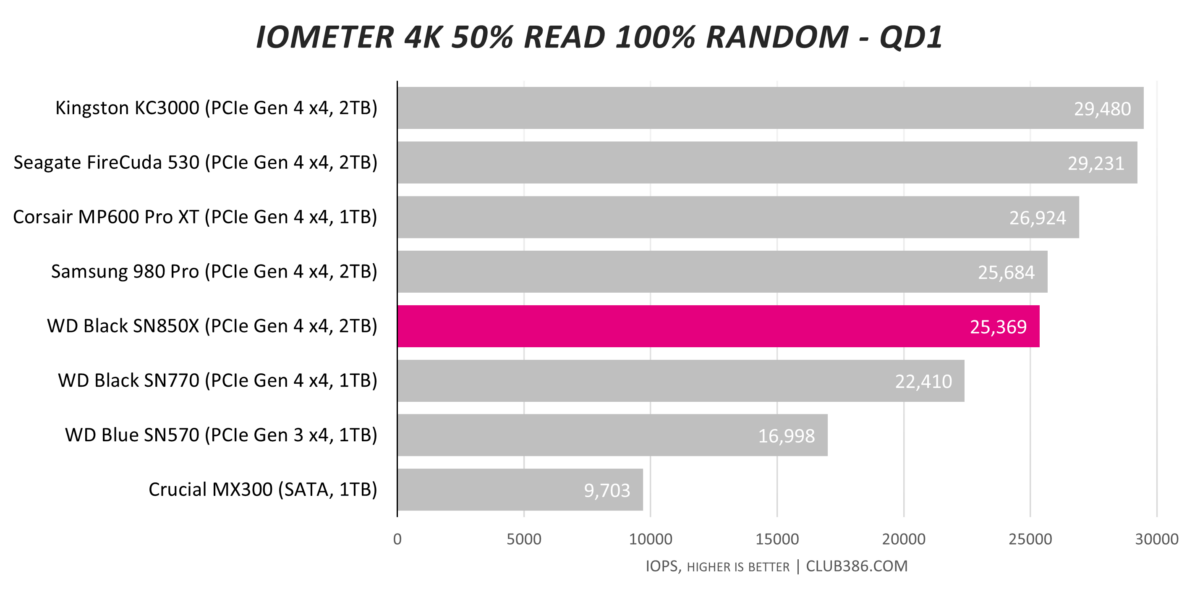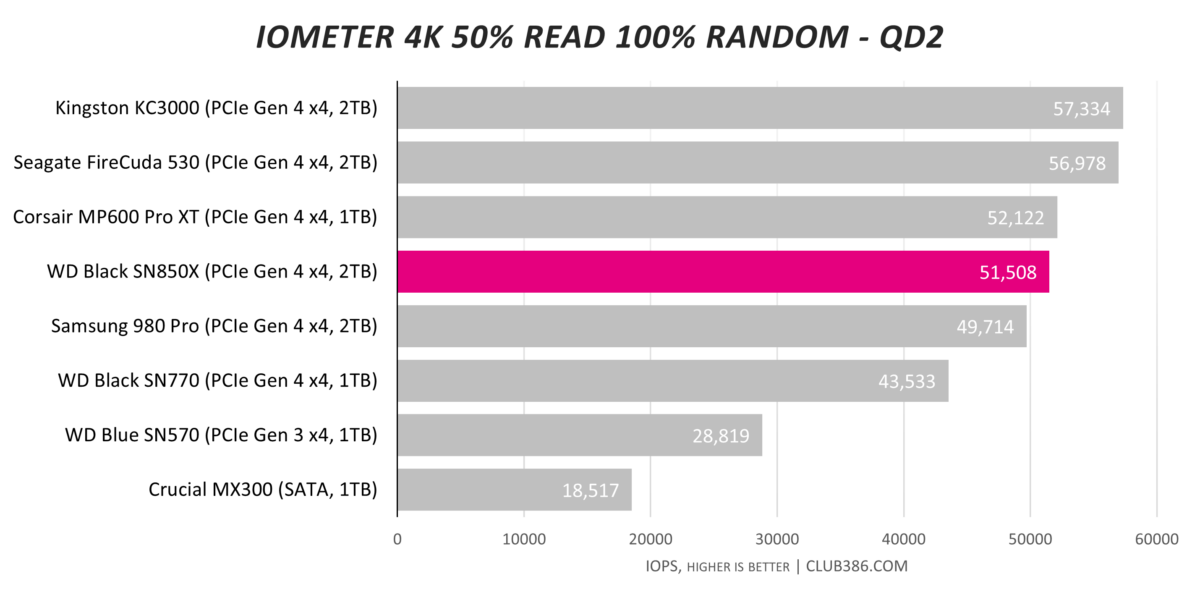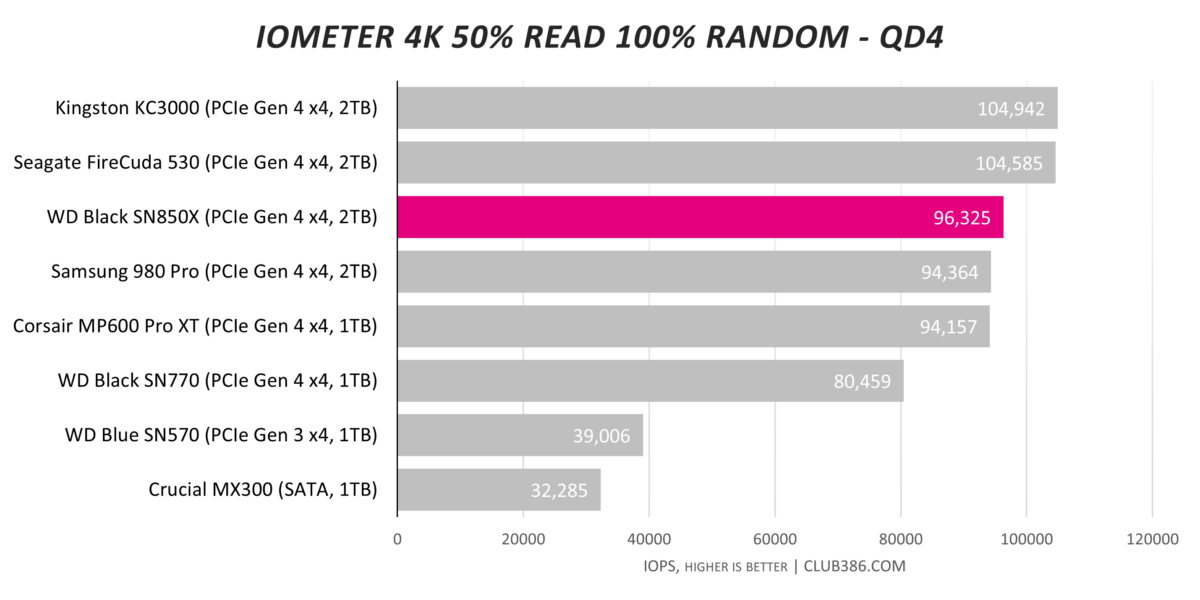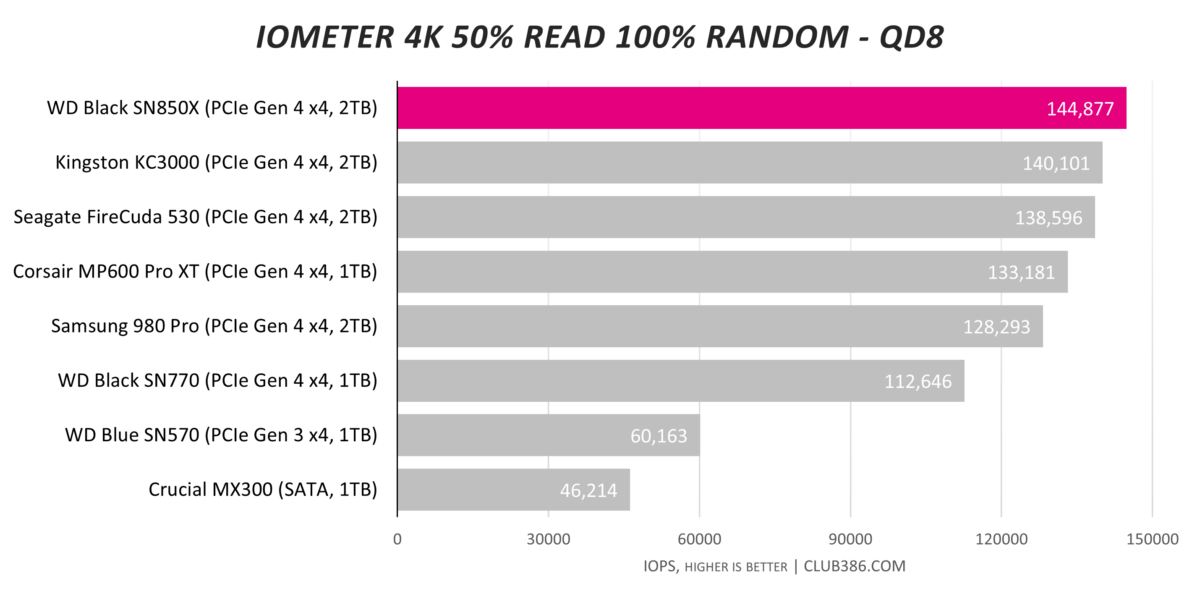 Really laying on the hurt, Iometer is a fantastic tool to evaluate storage. Configurable in thousands of ways, we choose to run the 4K aligned test with 50 per cent reads, 50 per cent writes, and 100 per cent random accesses.
Starting off mid-pack, SN850X becomes incrementally better as the queue depth – complexity, in other words – is increased, leading to best-in-class numbers in the final chart.
Torture Testing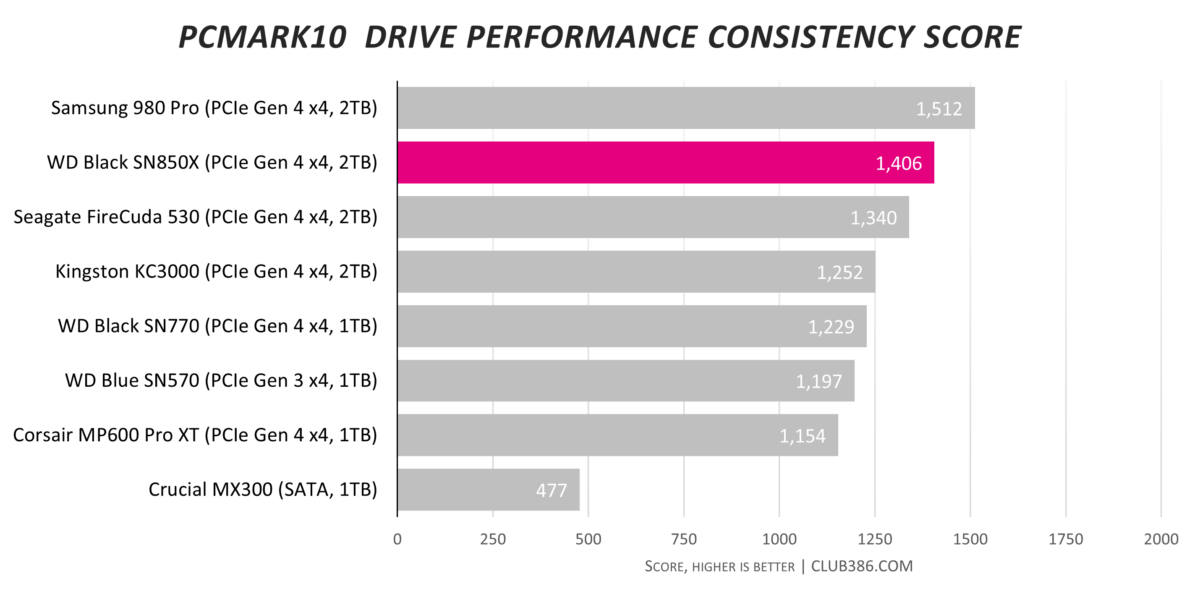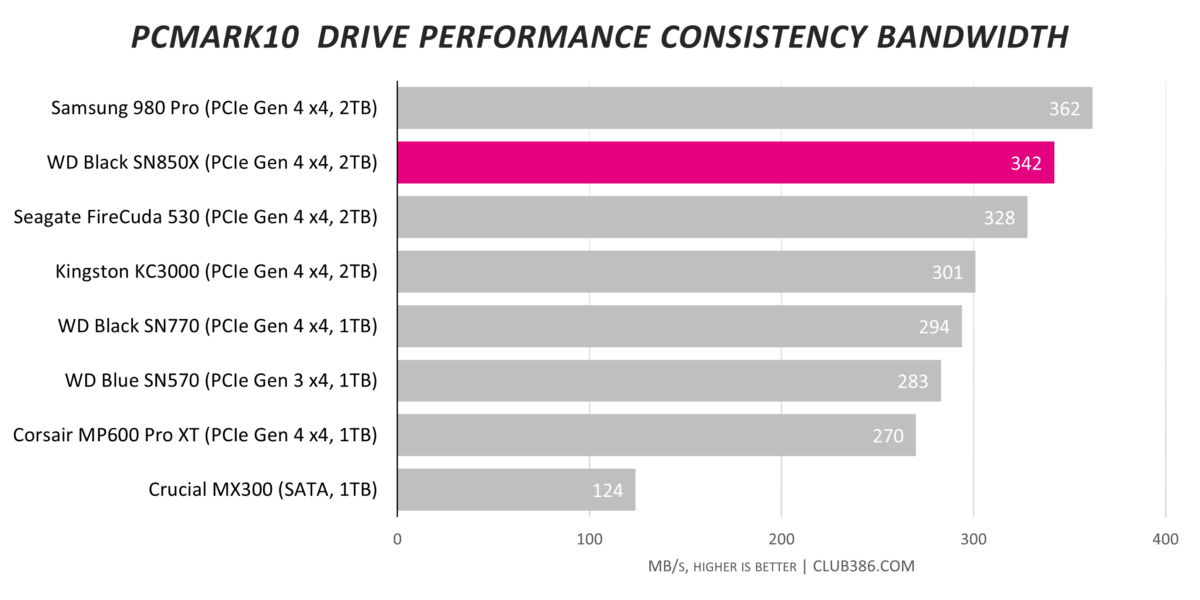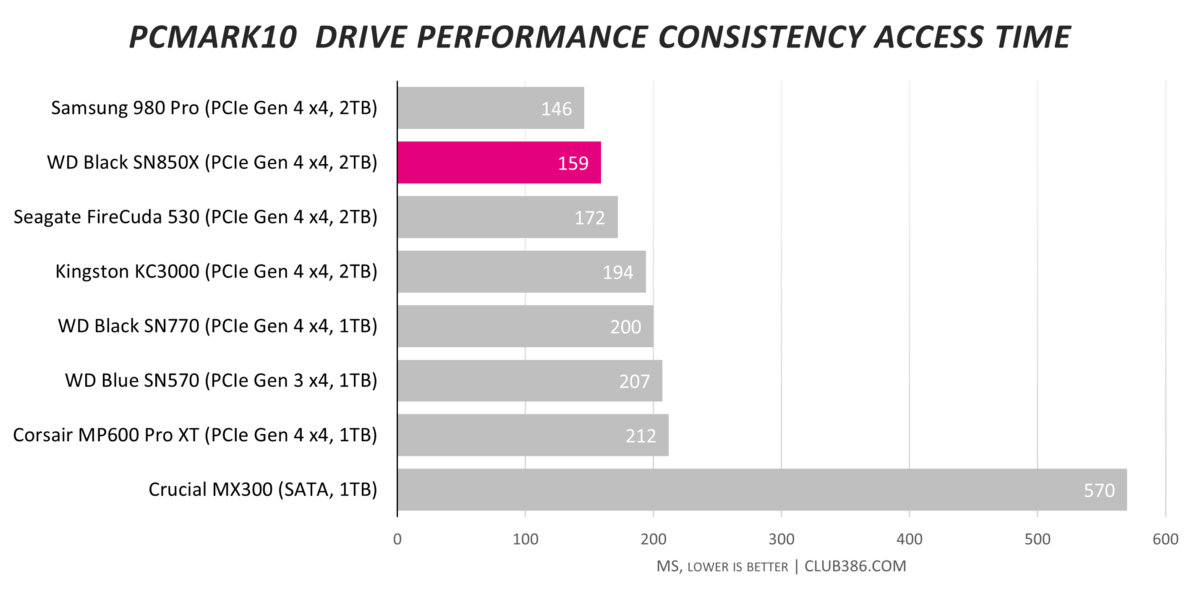 Running the 12-hour drive consistency test doesn't throw up any surprises. A decent step up from the WD Black SN770 and in a different league to entry-level drives such as WD Blue SN570.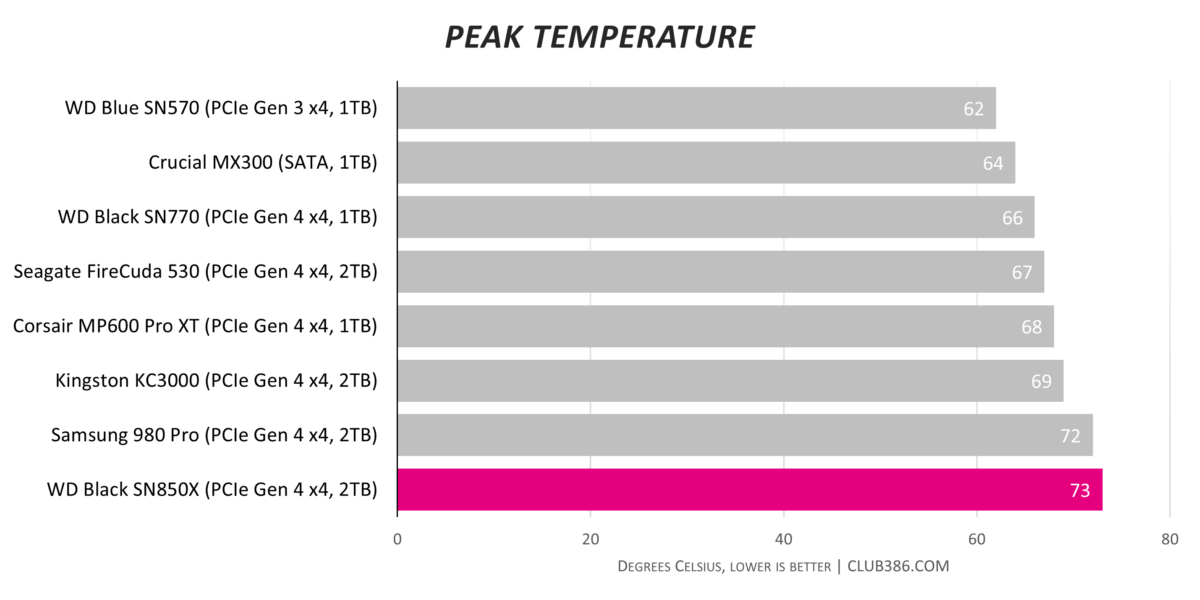 One downside of running high-throughput applications and not having a baked-in heatsink – on this model at least – is high-ish peak temperatures. WD doesn't bother with graphene stickers and whatnot, and at 73°C on a toasty day, we're not concerned with drive health, especially as WD has extended the operating range from 70°C to 85°C for SN850X.
Conclusion
WD has acutely appreciated that its enthusiast-focussed WD Black line of SSDs need to keep abreast of modern developments by offering class-matching performance and features. As competitors have released faster drives saturating the PCIe 4.0 x4 M.2 interface, WD's response is late in coming but worth the wait.
A trio of WD Black SN850X SSDs improves upon their non-X predecessors in ways that matter. Write speed, IOPS and general application performance increases by a significant degree, there's now a 4TB option, and our results show, on average, an SN850X 2TB model to mix it with the very best available.
The drive's pedigree shines through in gaming tasks, where it wins every benchmark, and we have little trouble in recommending it for enthusiast builds from this generation or the next.
Pricing tends to be a concern during a product's initial launch, but available now for ~£300, WD's asking fee isn't a million miles away from premium comparisons such as the Samsung 980 Pro and Seagate FireCuda 530. It's reasonable to expect the review model to fall by 10 per cent over the next few months, putting it on an even keel before the inevitable onslaught of PCIe 5.0 models.
WD succeeds in its ambition to tempt PC gamers and enthusiasts away from other brands plying the premium consumer SSD space. Want a big-name, no-nonsense SSD that makes a mockery of most benchmarks? WD Black SN850X 2TB fits the bill nicely.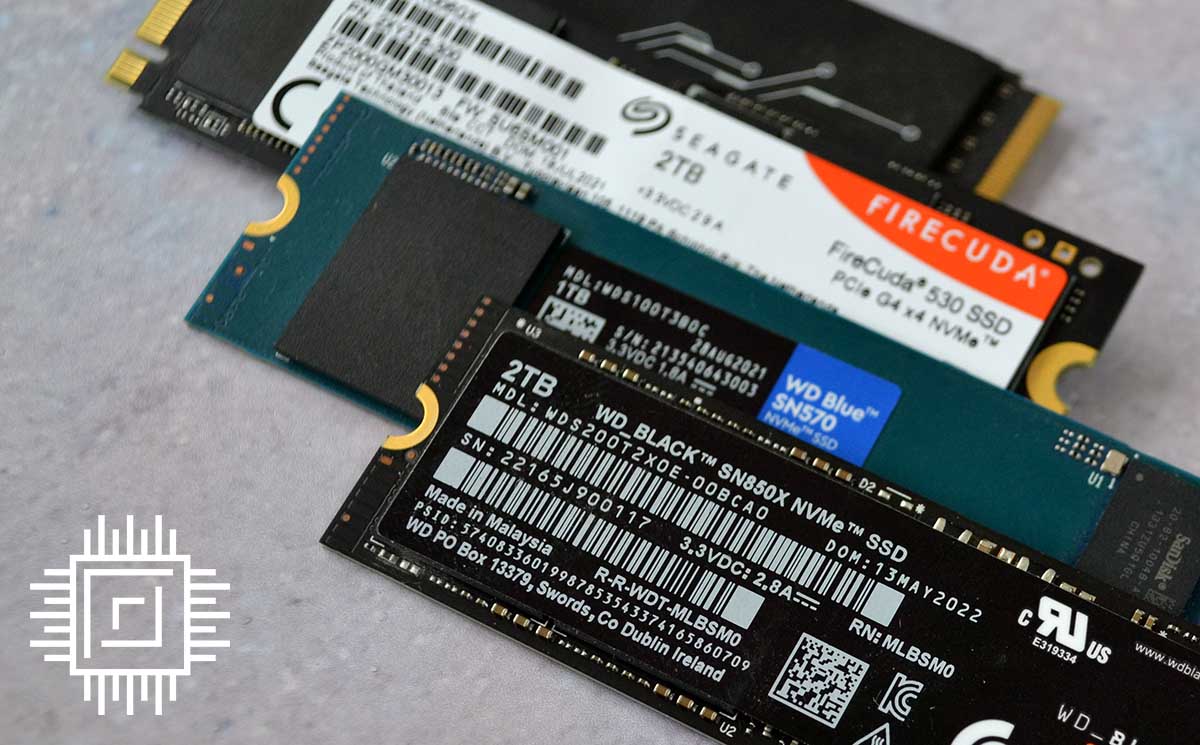 WD Black SN850X 2TB
Verdict: Battling out with the best consumer SSDs available, WD Black SN850X is another fine contender.
---
---
Club386 may earn an affiliate commission when you purchase products through links on our site. This helps keep our content free for all.
Rest assured, our buying advice will forever remain impartial and unbiased.