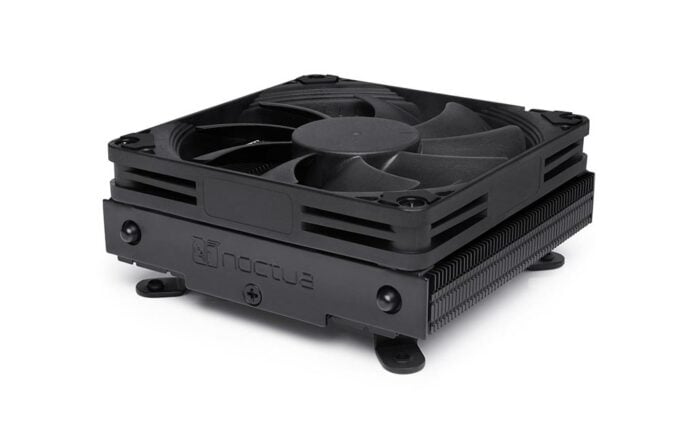 The cooling specialists at Noctua have introduced an LGA1700-specific version of its NH-L9i low-profile CPU cooler. You can get this squat air cooler in Noctua's traditional livery, or opt for the chromax.black version, if you prefer. As you might expect of a low-profile design like this, it is particularly suitable for compact HTPC or SFF PC builds. Noctua's low-profile LH-L9 cooler has quite a heritage; it was first released way back in 2012.

Intel's new Alder Lake-S processors suck up a lot of power and aren't trivial to cool. The most beefy examples of the new line probably aren't destined for HTPC/SFF and low-profile building using air coolers, but Noctua has done some preliminary testing.
"We're very happy with the performance of the NH-L9i-17xx coolers on Intel's new LGA1700 CPUs", said Noctua CEO, Roland Mossig. "We have managed to dissipate up to around 160W on the Core i9-12900K, pushing it to over 4.2GHz, and up to 125W on the Core i5-12600K running at 4.3GHz. These are excellent results for such small coolers, making them fantastic options for highly compact Intel Z690 builds that pack a lot of processing power!" In Club386 testing, the Intel Core i9-12900K could consume up to 325W, so to get it working smoothly at 160W some Intel XTU tuning of voltages and clocks might be useful.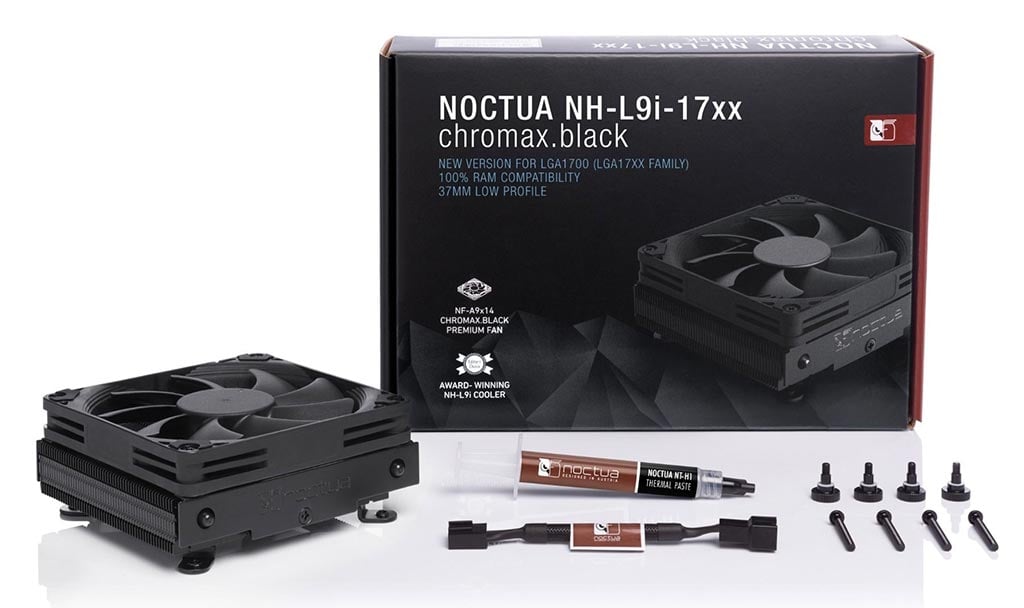 Importantly for a cooler destined to be shoehorned into the tightest spaces, we are assured the new 37mm tall LGA1700 specific NH-L9i promises "100 per cent RAM and PCIe compatibility as well as easy access to near-socket connectors even on tightly packed mini-ITX motherboards". Key features of the NH-L9i are its NF-A9x14 92mm PWM controlled fan, custom-designed SecuFirm2 mounting system for LGA1700, and use of pre-applied NT-H1 thermal compound. You can see all the tech specs of this air cooler charted below.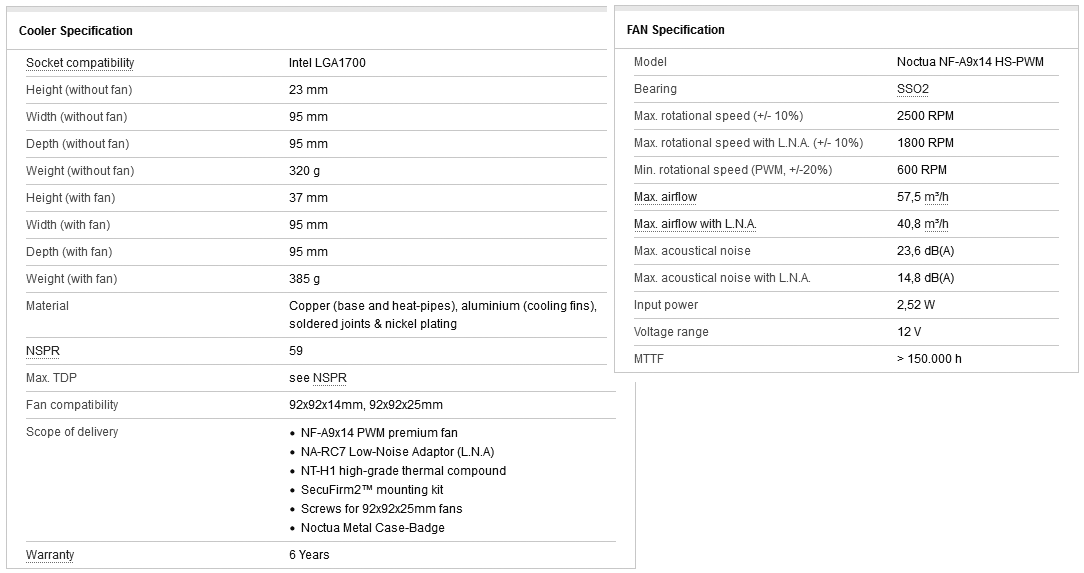 Interestingly Noctua has created the new NA-FD1 fan duct kit to improve the performance of the Noctua NH-L9i (Intel) and NH-L9a (AMD) series CPU coolers in SFF environments. The affordable duct system facilitates CPU temp reductions by around 5°C. For further info and to see the NA-FD1 duct kit in action it is worth a look at the video embedded below.
Noctua says all the new products mentioned above are available right away via its Amazon stores worldwide. Guide pricing is provided below:
Noctua NH-L9i-17xx: EUR/USD 44.90
Noctua NH-L9i-17xx chromax.black: EUR/USD 54.90
Noctua NA-FD1: EUR/USD 12.90