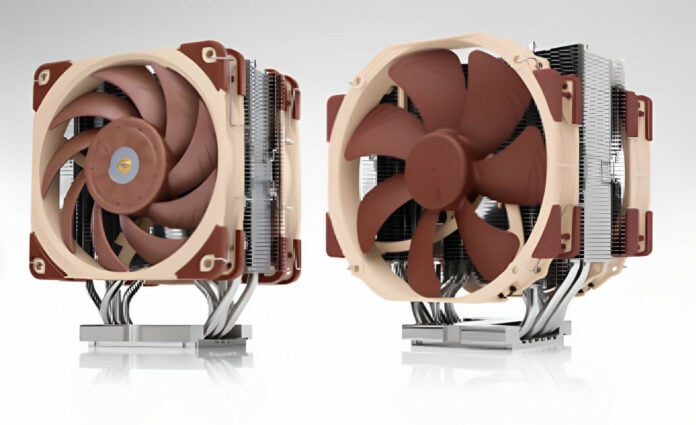 Noctua has announced a range of four dual-fan Intel LGA4677 coolers ready for Xeon W-3400 and W-2400 Sapphire Rapids CPUs.
From the smallest to the tallest, we have the NH-U9 DX-4677, NH-D9 DX-4677 4U, NH-U12S DX-4677, and NH-U14S DX-4677. The first measures 125mm (H) x 95mm (W) x 71mm (D), weighs 660g, and carries 92mm fans, the second measures 134mm (H) x 95mm (W) x 95mm (D), tipping the scale at 584g using 92mm fans, the third measures 158mm (H) x 125mm (W) x 45mm (D) at 626g with 120mm fans, and the largest stands at 165mm (H) x 150mm (W) x 52mm (D) weighing 797g and carrying 140mm fans.
The coolers have an NSPR (Noctua Standardised Performance Rating) of 118, 134, 157, and 162, respectively. For comparison, the consumer NH-D15 and NH-D12L have an NSPR of 183 and 148, respectively, while the massive passive NH-P1 can barely scratch 42. More details about Noctua's NSPR formula can be found here.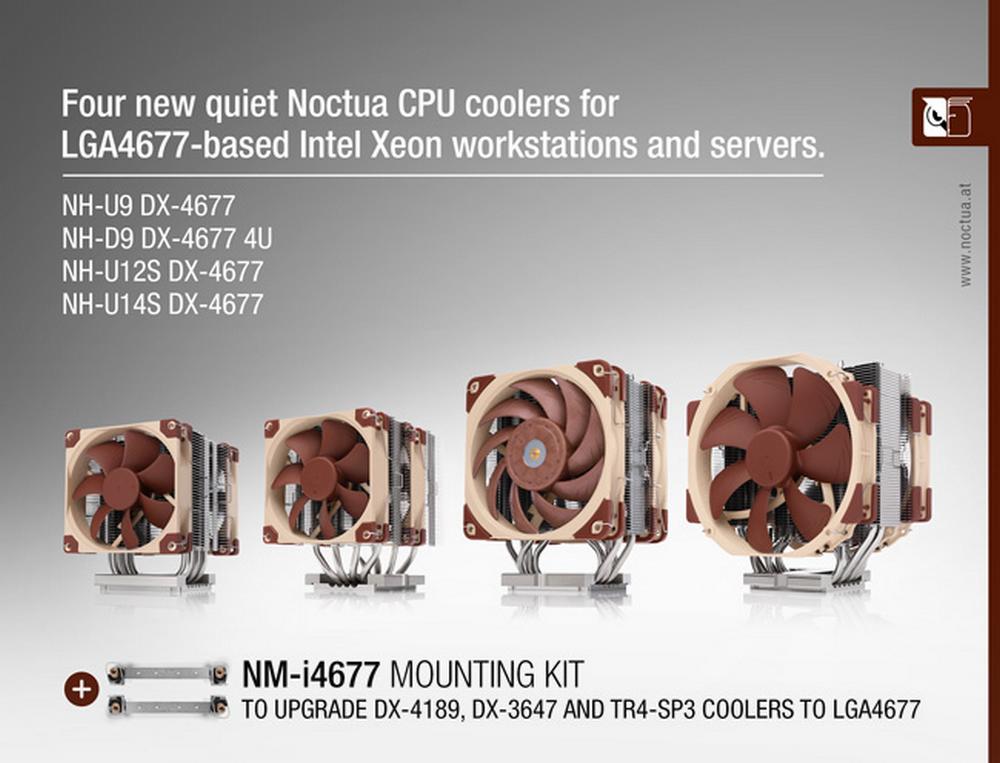 In order to be compatible with different cooling paths, Noctua offers the NH-U9 whose airflow direction is perpendicular to the long axis of the LGA4677 socket and the NH-D9 whose airflow is parallel, allowing system builders to align cooler airflow with chassis exhaust fans ensuring optimal system performance. Moreover, thanks to a compact size, both models are compatible with dual-socket motherboards.
Noctua also indicates that its cooler mounting system (which includes a Torx T30 mounting tool) is fully compliant with Intel's installation guidelines.
These coolers will be available from the end of February via Noctua's official Amazon stores at the following (MSRP) prices, and as is customary for the Austrian manufacturer, each model is backed by a six-year warranty as standard.
NH-U14S DX-4677 at €139.90
NH-U12S DX-4677 at €139.90
NH-U9 DX-4677 at €129.90
NH-D9 DX-4677 4U at €129.90
NM-i4677 at €29.90