Jump to: Installation | Performance | Conclusion
Anticipation is building for Noctua's next-generation NH-D15, yet while we await its arrival early in 2023, everyone's favourite Austrian cooling firm has been keeping things ticking over with a number of noteworthy releases.
The NH-U12A proved that 120mm air coolers can offer terrific performance, a new line of redux products have delivered the core goodness of Noctua solutions at a lower price point, and now the NH-D12L is here with the promise of "outstanding quiet cooling performance with superior case compatibility."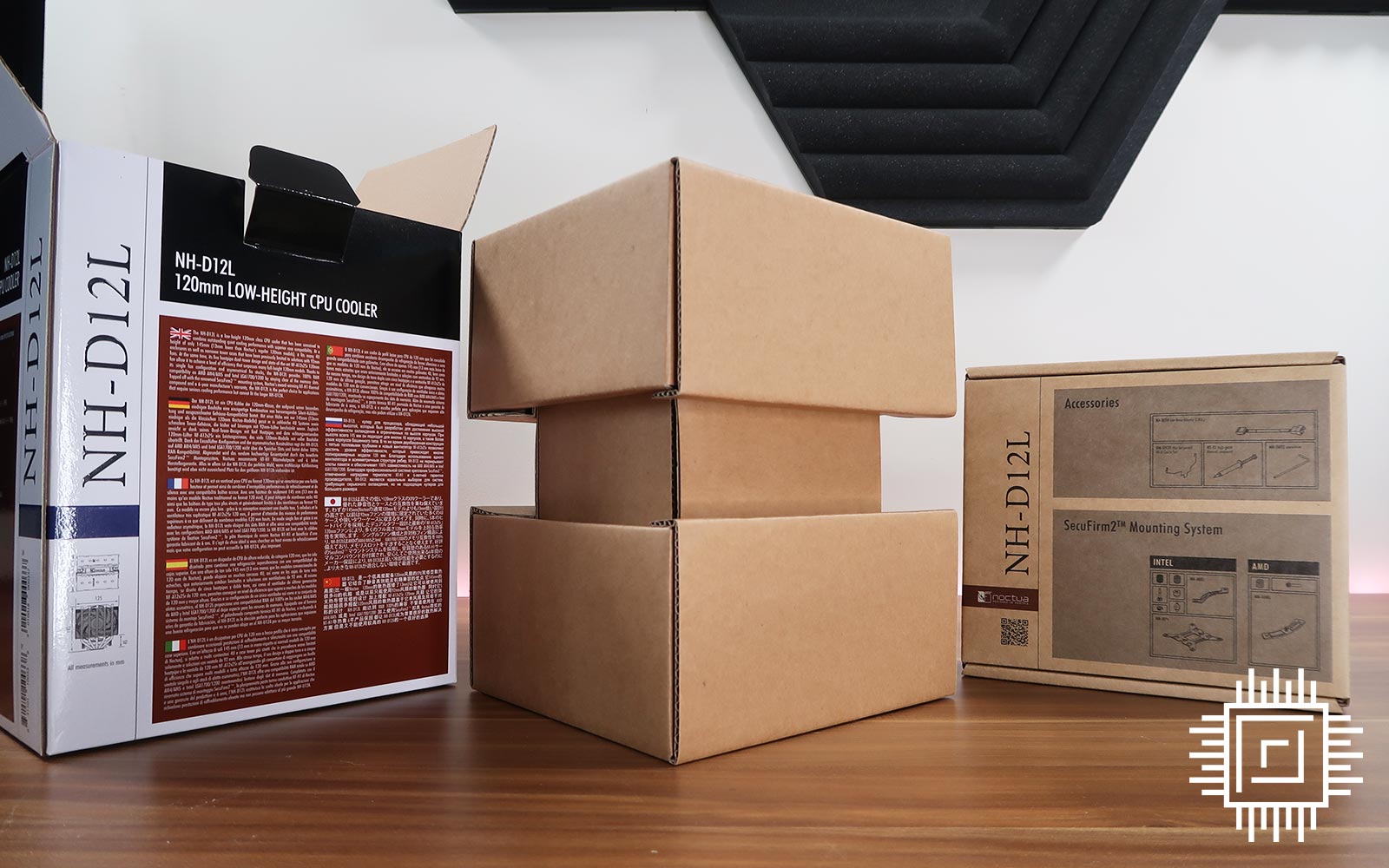 Priced at £80, the NH-D12L's unique point of difference is a 145mm maximum height that's better suited to small-form-factor PCs or indeed low-profile 4U server cases typically starved of compatible high-end cooling solutions.
Strictly speaking the height reduction isn't going to make a great deal of difference in regular mid- or full-tower coolers – NH-D12L is a mere 13mm shorter than, say, the NH-U12A or NH-U12S redux – and if space isn't an issue, it's worth noting the top-end NH-D15S is available at the same price. Heck, even the flagship dual-fan NH-D15 costs only £10 more, so you must really need a smaller solution for the NH-D12L to enter the equation.
Noctua is well aware of congestion in the ranks, and openly states "users who want the absolute best performance/noise efficiency in the 120mm class and don't mind investing a bit more should go with the premium class NH-U12A."
Fortunately, if NH-D12L happens to be a better fit for your particular build, you can rest assured in the knowledge that build quality and presentation hasn't been sacrificed. Delivery includes a signature Noctua box, enough cardboard padding to avoid damage during transport, and a comprehensive bundle that includes a full tube of NT-H1 thermal compound, a spare set of fan clips, an NA-RC14 low-noise adaptor, and an excellent six-year warranty.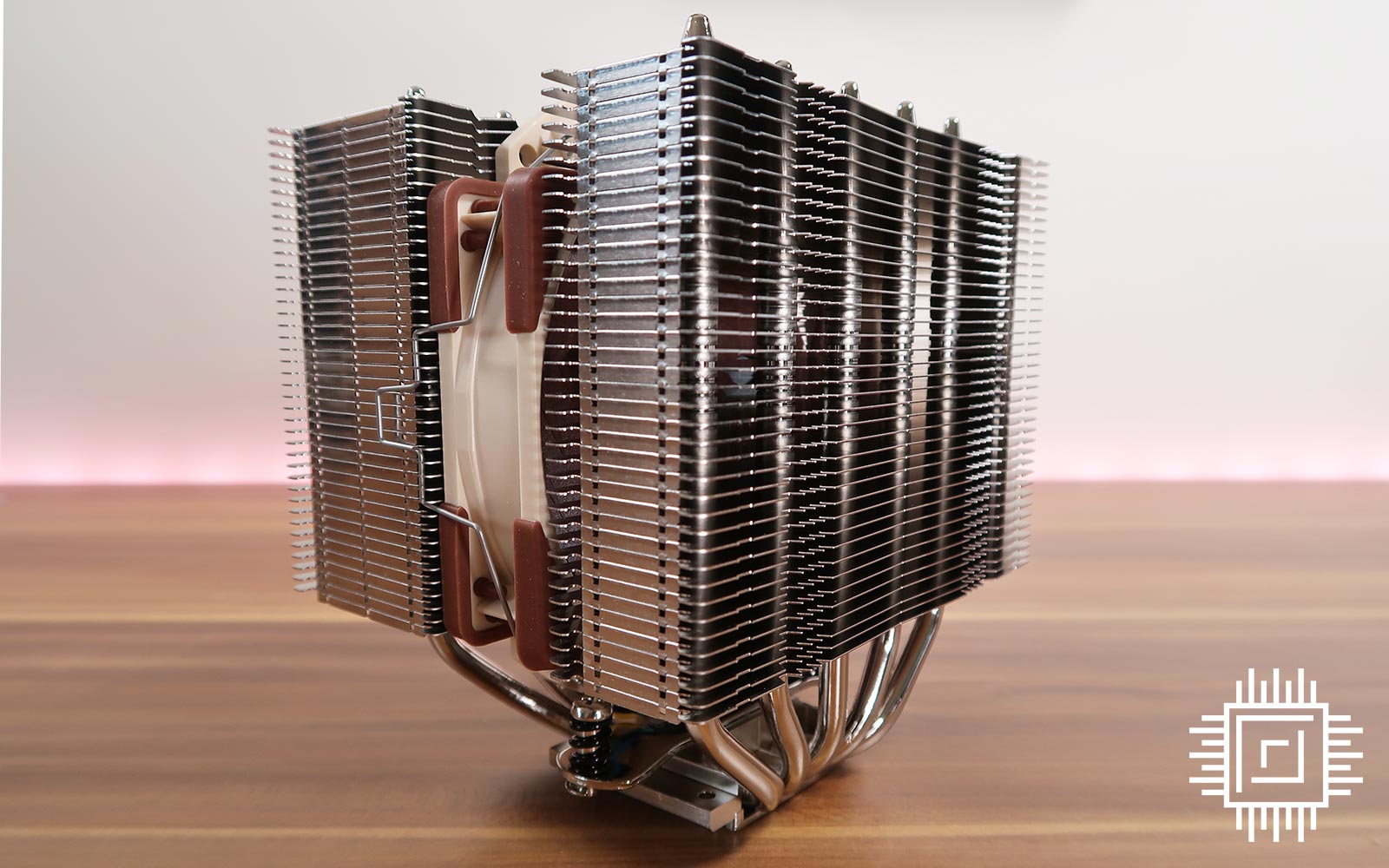 That premium feeling extends throughout the product. There isn't a single fin out of place on the 145mm x 125mm x 113mm heatsink, and five nickel-plated copper heatpipes are neatly soldered throughout the stack before passing through a smooth contact plate.
Noctua's asymmetric configuration is such that the heatsink doesn't overhang DIMM slots on most motherboards, allowing free reign for heightened memory modules of your choosing. There are a couple of caveats, mind. NH-D12L will naturally overhang RAM slots on quad-channel setups such as LGA 2066, and if you choose to add a second fan to the front, cooler height will likely extend based on the profile of nearby memory modules.
Speaking of fans, a highly competent NF-A12x25r is included in the box. Effectively a round-framed version of the popular NF-A12x25, Noctua's well-engineered 120mm PWM blower further minimises the risk of component incompatibility and helps justify the cooler's cost; the fan alone is worth over £25 at retail. Maximum speed is rated at 2,000RPM (1,700RPM with the low-noise adaptor) with up to 102.1 m³/h airflow at just 22.6dBA noise. If our experience of previous Noctua coolers is anything to go by, you'll barely hear it.

Show your support for impartial Club386 reviews
Club386 takes great pride in providing in-depth, high-quality reviews built on honest analysis and sage buying advice. As an independent publication, free from shareholder or commercial influence, we are committed to maintaining the standards our readers expect.
To help support our work, please consider making a donation via our Patreon channel.
Installation
All the latest Intel and AMD sockets bar Threadripper are supported, and Noctua typically scores well in the compatibility department. Looking beyond LGA 1700 and AM5, the firm paints NH-D12L as a long-term investment stating that free upgrade kits for future sockets will be made available "if technically possible."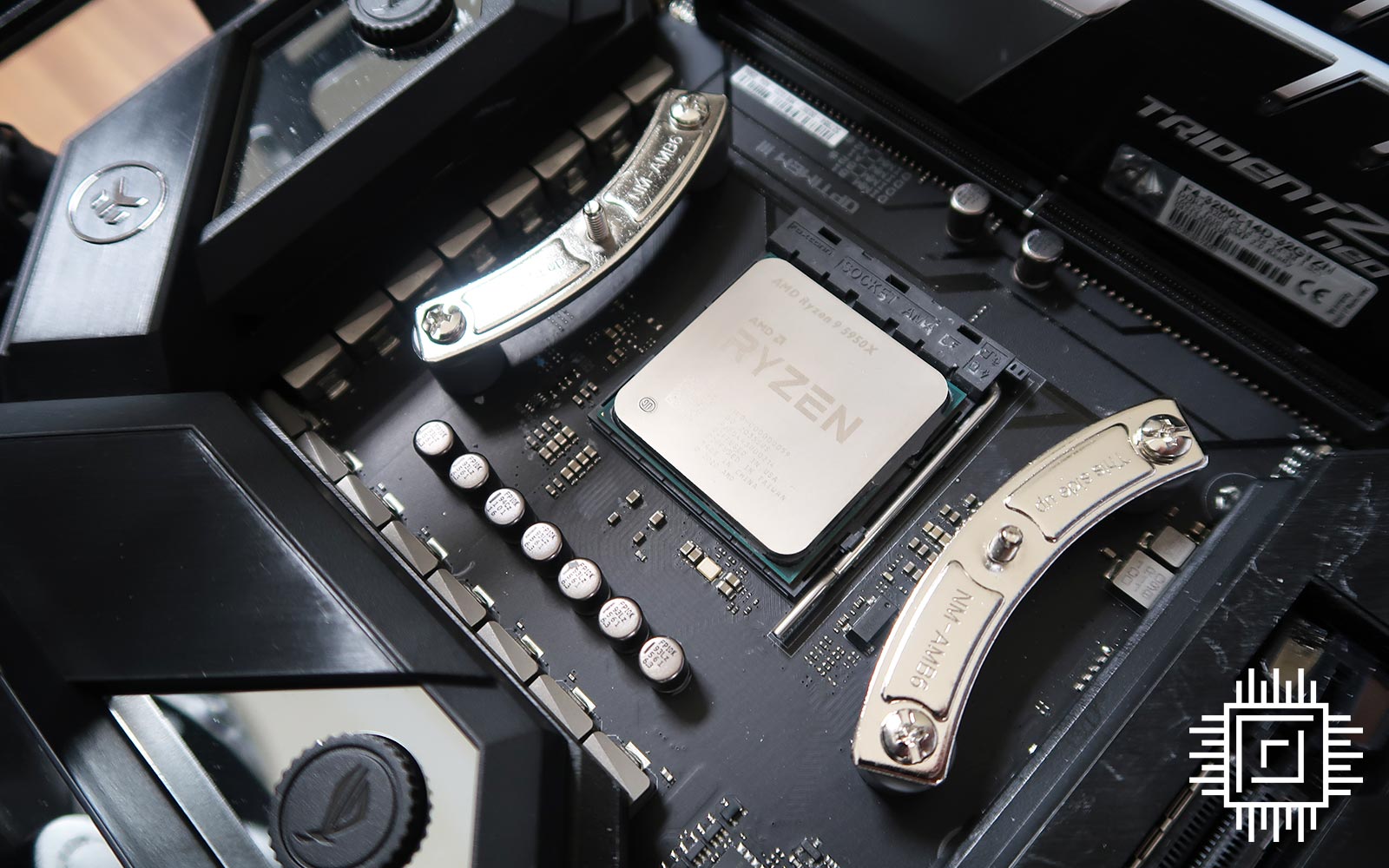 Setup on our AMD AM4 test platform couldn't have been much easier, with the tried-and-trusted SecuFirm2 mounting system proving yet again to be a pleasure to work with. It's simply a case of removing the motherboard's stock brackets in favour of Noctua's all-metal supports, and then clamping the dual-tower heatsink in place using a pair of spring-loaded screws.
The mounting arm is pre-fixed above the contact plate to make things even easier, and there's a screwdriver included in the box. You do have to remove the fan in order to get access to the screws, but the entire installation process takes but a matter of minutes, and for first-time builders, Noctua's separate manuals for Intel and AMD are clear, instructive and well illustrated.
As an aside, do note the rounded NF-A12x25r features custom hole spacing of 93mm x 83mm and therefore cannot be repurposed to regular 120mm mounts with standard 105mm spacing.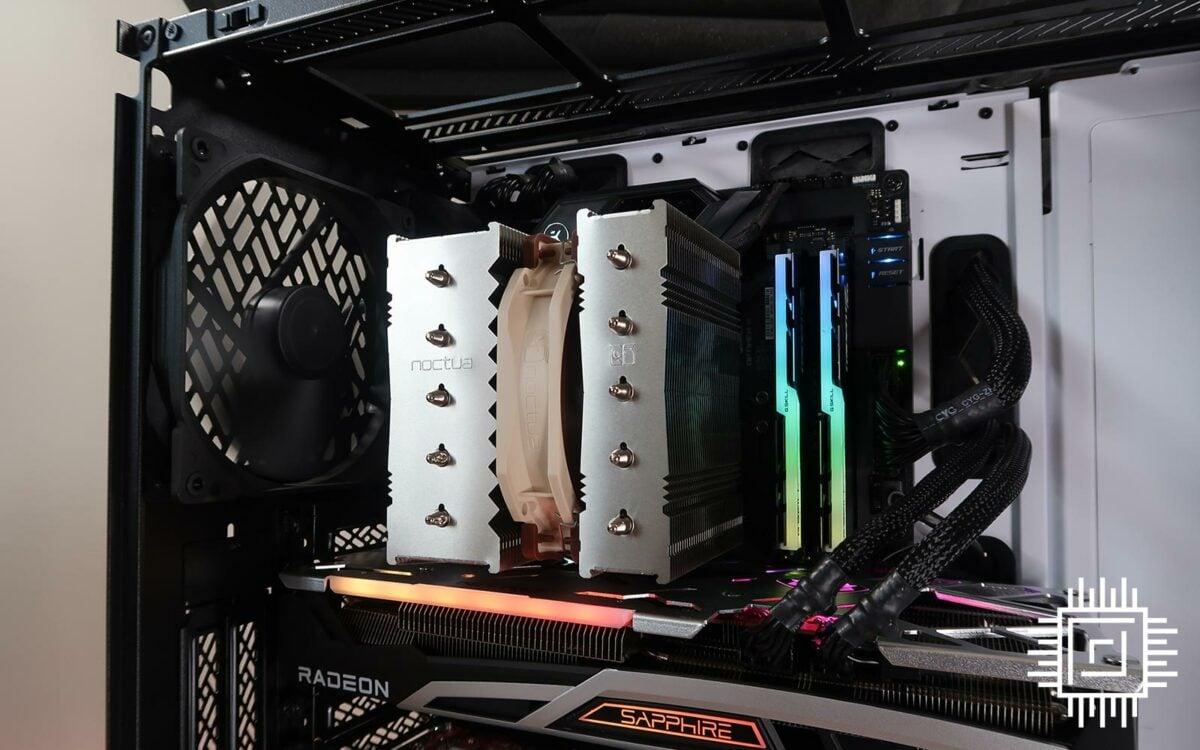 All looks rather neat in situ, wouldn't you say? Clearance for our G.Skill memory is ample, there's no risk of fouling the top PCIe slot, and a classic air cooler comes with traditional benefits. That means no superfluous RGB lighting, no cumbersome software, and no excess RGB cabling – a single, sleeved four-pin fan cable is your lot.
Noctua's brown-and-beige colour scheme will always divide users, and if there's a criticism of the NH-D12L in the aesthetics department, it's that a stealthy chromax.black edition hasn't been made available. Here's hoping that's something Noctua will remedy later this year.
Performance
CPU cooling credentials are examined on the Club386 Ryzen 9 5950X test platform, featuring Asus ROG Crosshair VIII Formula motherboard and Sapphire Radeon RX 6700 XT graphics card inside a stock Fractal Design Define 7 chassis. All coolers are tested with fan speeds configured to 600, 1,200 and max RPM. We record noise output at each setting and log temperature during an extended multi-core run of Cinebench R23.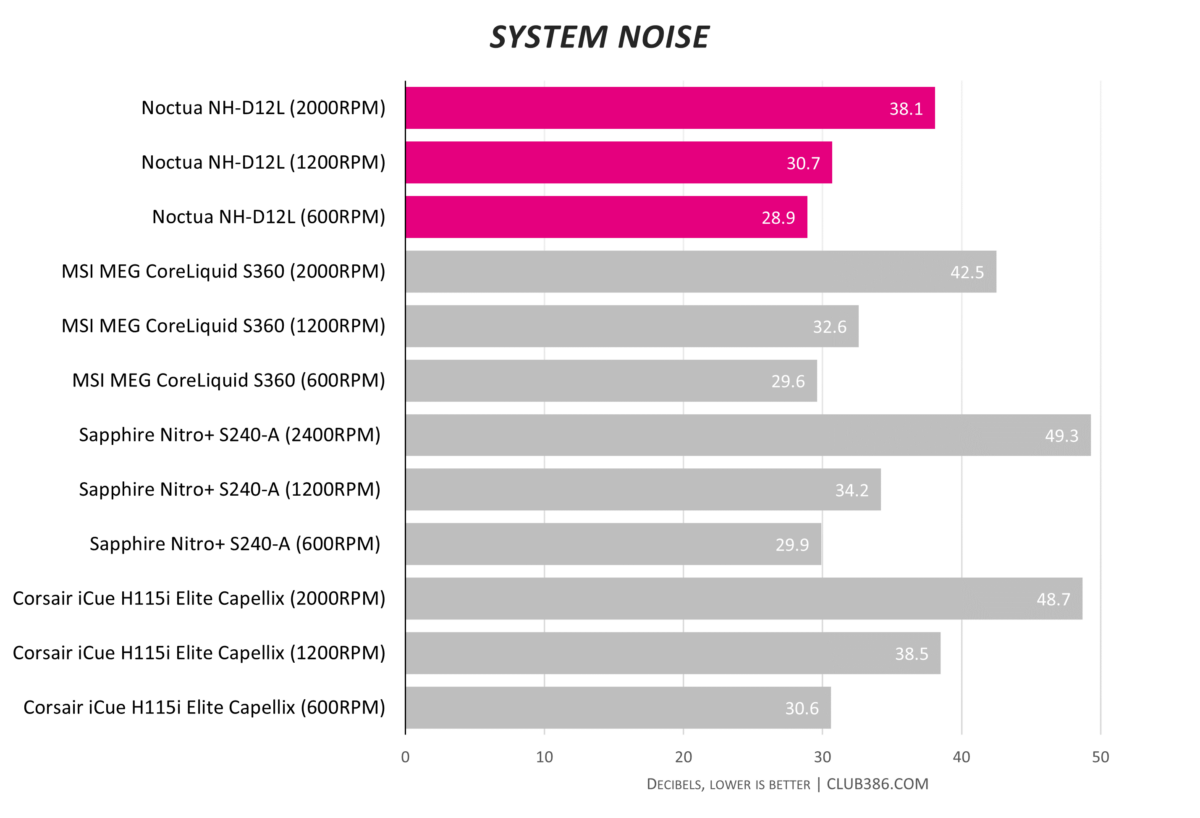 As the first air cooler to enter our charts, Noctua's latest is up against a trio of premium liquid AIOs yet sets itself apart from the get-go. With only one fan and no other moving parts, the NH-D12L is noticeably quieter at each of the three fan speeds. Indeed, at 600RPM it is practically silent, and only a keen ear will notice the gentle hum at 1,200RPM. Top marks here.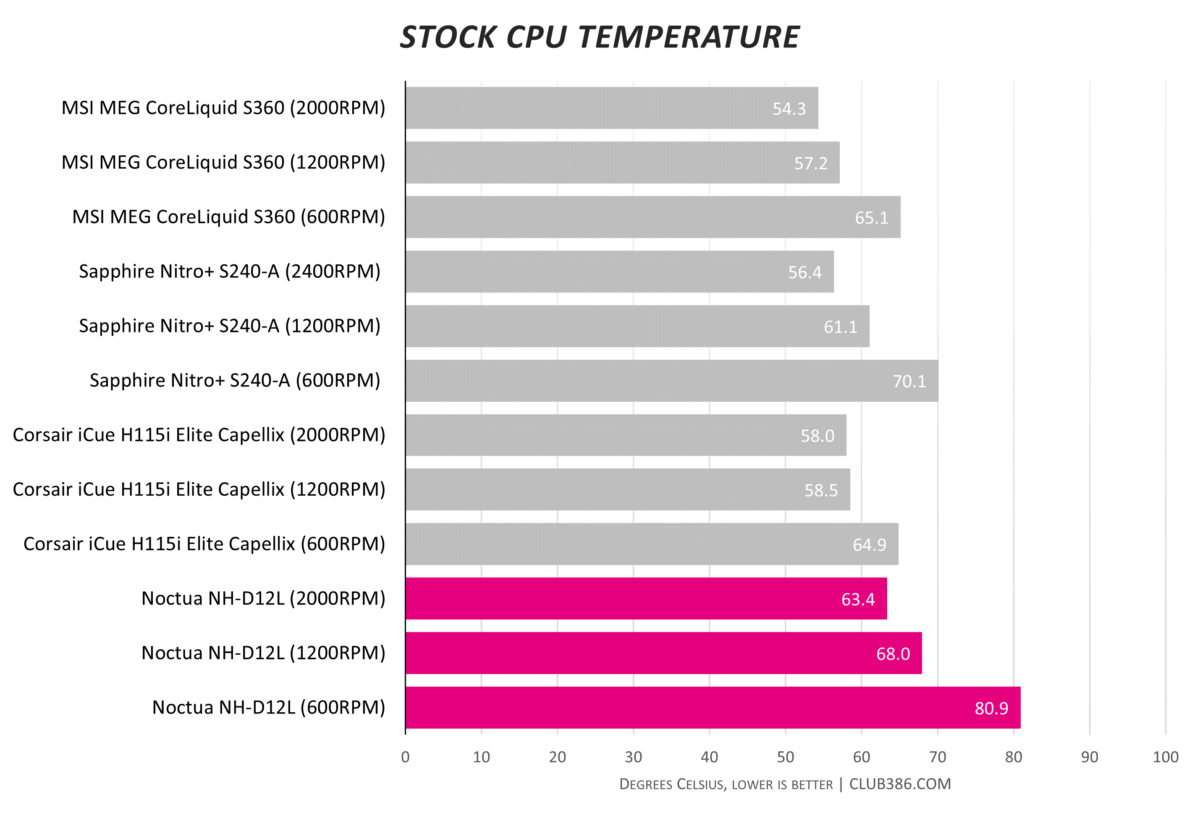 Though quieter in use, the Noctua does have to concede in the cooling department. Still, sub-70°C at 1,200RPM can be considered decent given the cooler's reduced height.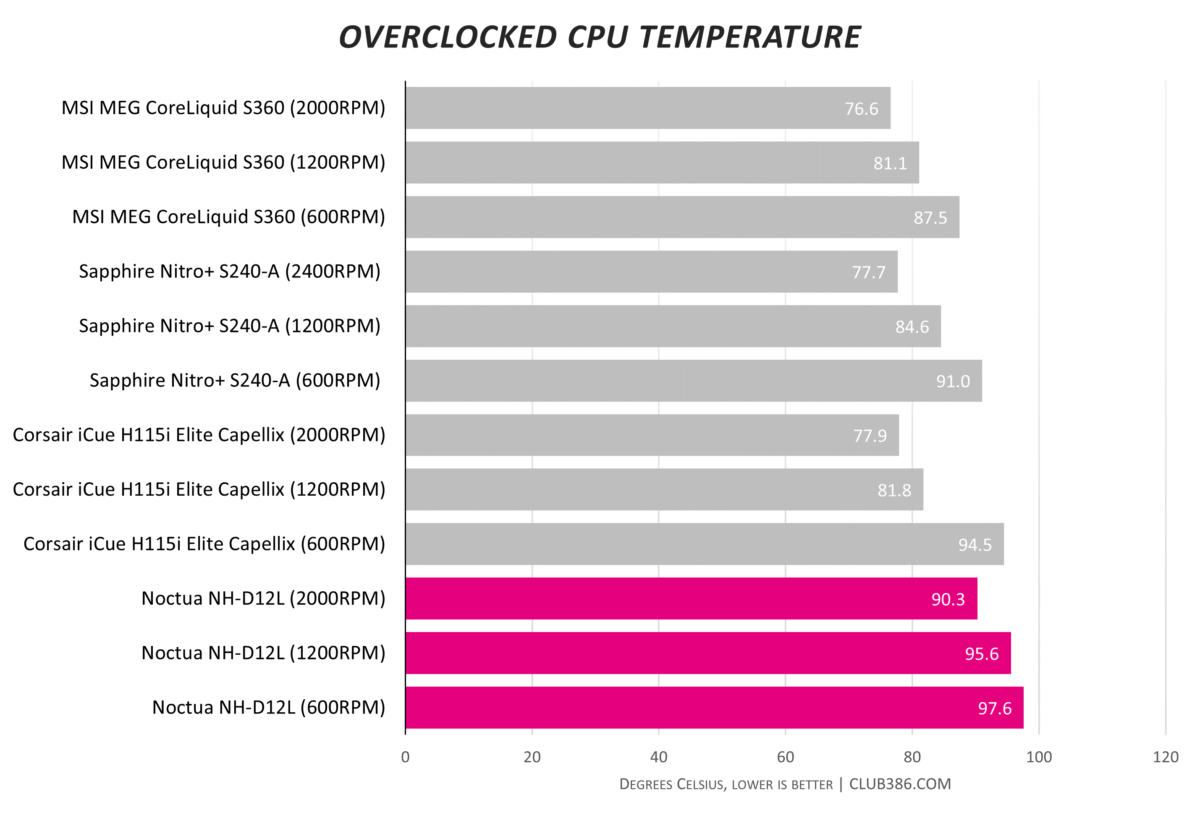 As expected, any performance gap is accentuated when our 16-core processor is overclocked. Apply 1.3V and a 43x multiplier and temperature sneaks past 90°C even at maximum fan speed. Adding a second NF-A12x25r fan does lower core temperature by up to a further 6°C, but we're reticent to do so as the front fan sits proud above our G.Skill memory and defeats the purpose of a low-height cooler.
Conclusion
Noctua is responding to the growing number of Mini- and Micro-ATX chassis with a low-profile, dual-tower cooler sized accordingly. Standing 145mm tall, the NH-D12L falls within the remit of modern enclosures carrying a 150mm cooler height limit, and also neatly happens to fit 4U server installations.
There is a performance concession – don't expect NH-D12L to match the likes of NH-U12A – yet practically everything else that helps Noctua solutions stand out from the crowd remains intact. Build quality and scope of delivery is excellent, installation couldn't be simpler, and you'll do well to find any cooler bundled with a higher-quality fan than this.
Overclocking high-end CPUs will push the cooler to its limit, and we would advise against such scenarios, but for a stock-clocked chip in a downsized rig, the NH-D12L literally fits the bill.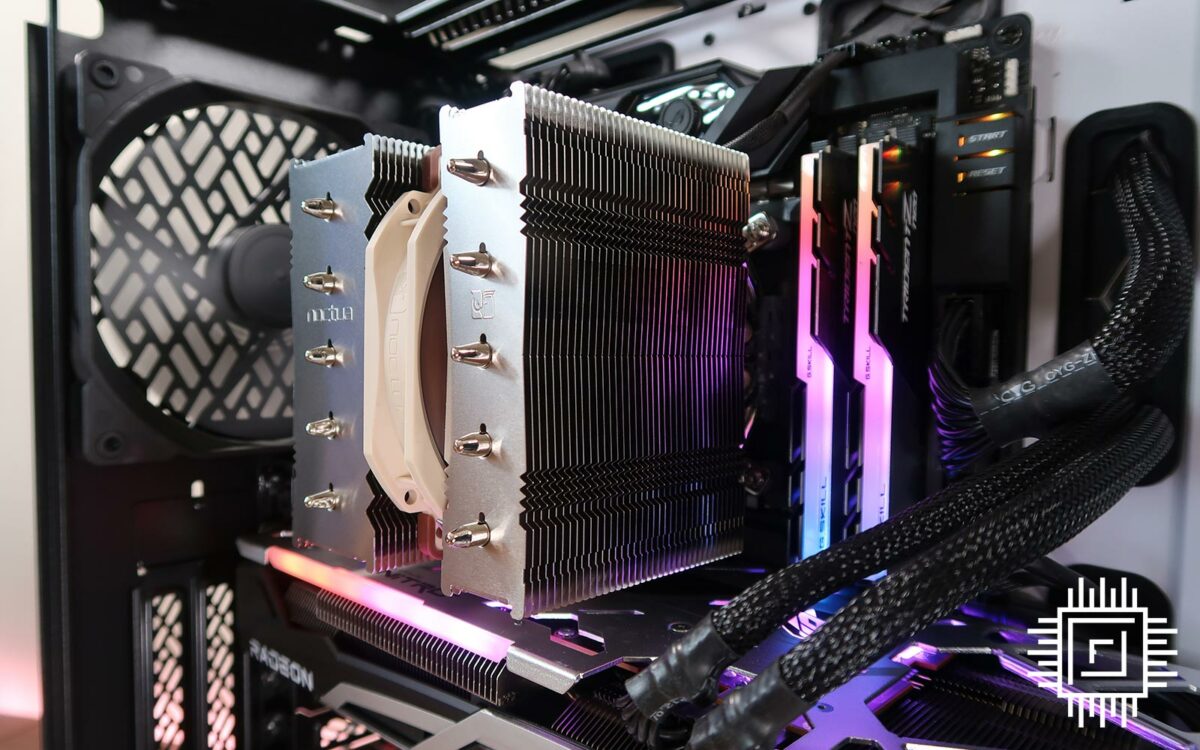 Noctua NH-D12L
Verdict: Ready to switch to Mini-ITX for your next build? Noctua's NH-D12L offers high-quality cooling cut to size.
---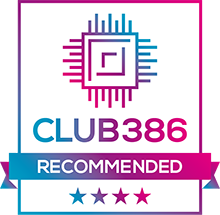 Pros
Reduced 145mm height
Excellent build quality
Decent performance
SecuFirm2 mounting
Six-year warranty
Cons
Pricey at £80
Second fan raises height
---
Club386 may earn an affiliate commission when you purchase products through links on our site. This helps keep our content free for all.
Rest assured, our buying advice will forever remain impartial and unbiased.