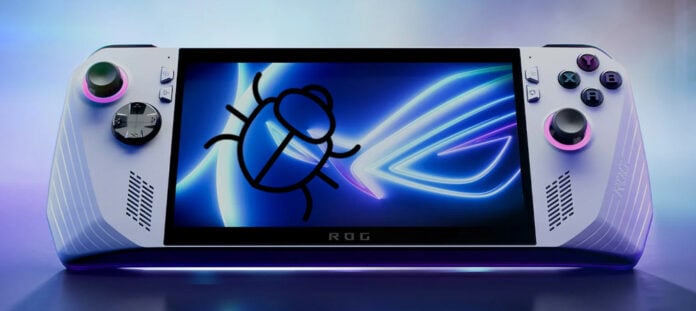 Asus ROG Ally BIOS update 319 has seemingly hampered the handheld performance by up to 21 per cent, though thankfully version 317 is still available.
According to The Phawx's testing, at 10W the 319 update causes about 21 per cent fps regression in one-percentile results over April 25's update in Batman Arkham Knight. Average framerate also dips by 11 per cent. However, against Ally's origin firmware, version 319 offers an eight per cent higher fps… but brings the one-percentile figure down by some nine per cent. Without bothering you with more numbers – watch The Phawx's video for details – in summary, update 319 is worse than the day-one / original BIOS for pure framerate.
This is unfortunate for Asus's handheld since its strongest selling point against Valve's Steam Deck is the extra power offered by AMD's Ryzen Z1 processor and its 16 threads / 12 RDNA 3 CUs. Thankfully, if you have already jumped on this update, you can still revert to an older one (317, for example) to remedy the performance.
Just like a motherboard
If you own an Ally yet never updated its BIOS, there's nothing complicated to worry about. Go to Asus's website and download the latest version under 'BIOS for Asus EZ Flash Utility' – preferably not 319 if you care about performance. Put the file inside a USB drive that can connect to the Ally (USB Type-C)/ It is recommended to have a hub in order to power the handheld at the same time.
Shut machine down, then turn it on while holding the volume down button. Now you should be inside the BIOS, so navigate to 'Advanced Mode' (or click Y), search for 'Asus EZ Flash 3 Utility,' and here you should see all detected drives on the left side. Find the USB device and select the BIOS file, where you will see a confirmation message, choose Yes to let the machine do its magic, which takes a couple of minutes. You will know it's finished when the Ally boots up back to Windows.
Note, we are not sure if updating the BIOS using battery power is possible, but if yes, make sure it is fully charged, as failing an update is no bueno.
This is another reminder to not download every single update (security ones aside) on the day of their release as new bugs may cause more harm than good. A week or two should be good enough for problems to be discovered.