Jump to: Ultrawide Work | Performance | Conclusion
Though the call to return to offices grows ever louder, plenty favour the added convenience, comfort and productivity of working from home. There's something to be said for fewer distractions – not to mention skipping the morning commute – and if you plan to keep at it, a better monitor is one of the best investments you can make.
Choosing the right display can be a minefield given the thousands of variables to consider. Philips' catalogue is more expansive than most, and with a new 5000 Series addition dubbed the 34E1C5600HE and priced at £480, the Dutch firm claims to have nailed the essentials of a collaborative home-office setup.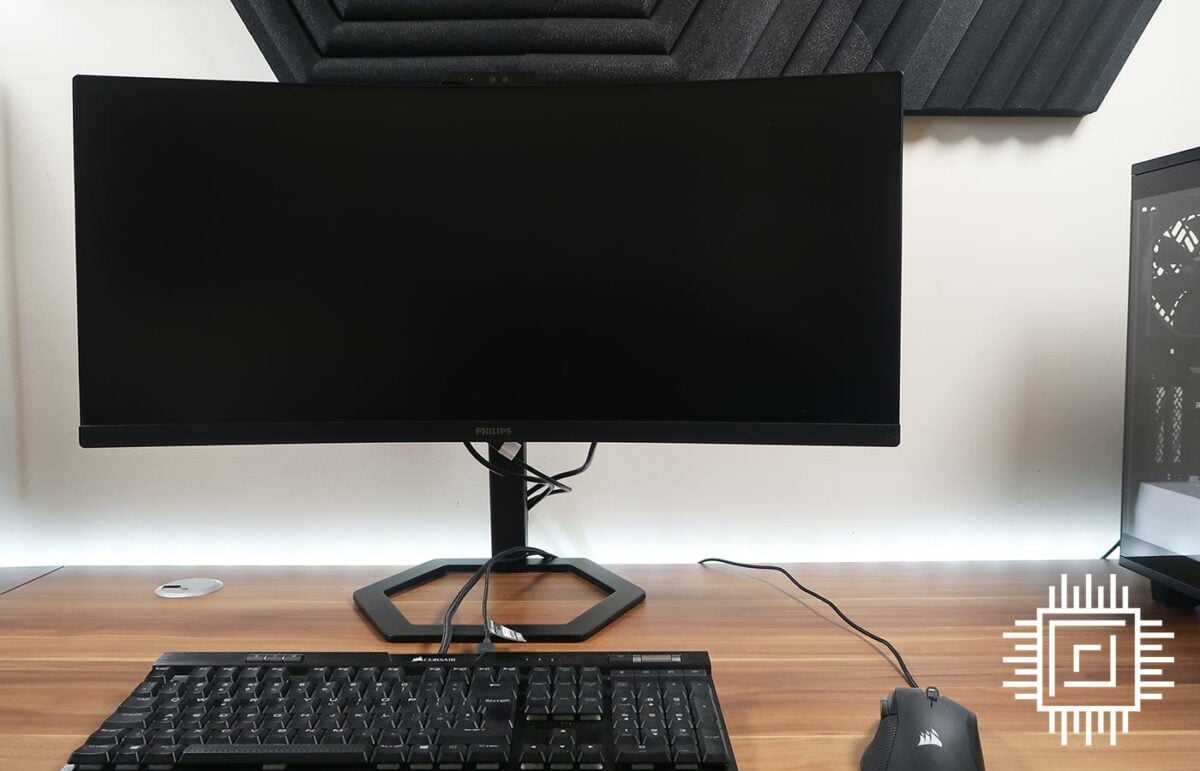 Key toward achieving that goal is the integration of a five-megapixel webcam. Jutting out the top of the display, Philips' implementation includes IR sensors for Windows Hello facial recognition and a noise-cancelling microphone. We've become accustomed to terrible-quality webcams over the years, and while the Philips is never going to compete with a premium, standalone solution, it fares better than most.
Do note the full five megapixels are only applicable to a 4:3 (2592×1944) aspect ratio and drops to just over two megapixels when switching to 16:9 (1920×1080). The resulting picture is clear enough for the daily Teams meeting, though the camera is heavily reliant on good lighting, with the image becoming very grainy in dimmer environments. Good news on the privacy front as the webcam has the added benefit of a physical shutter that is slid across when not in use.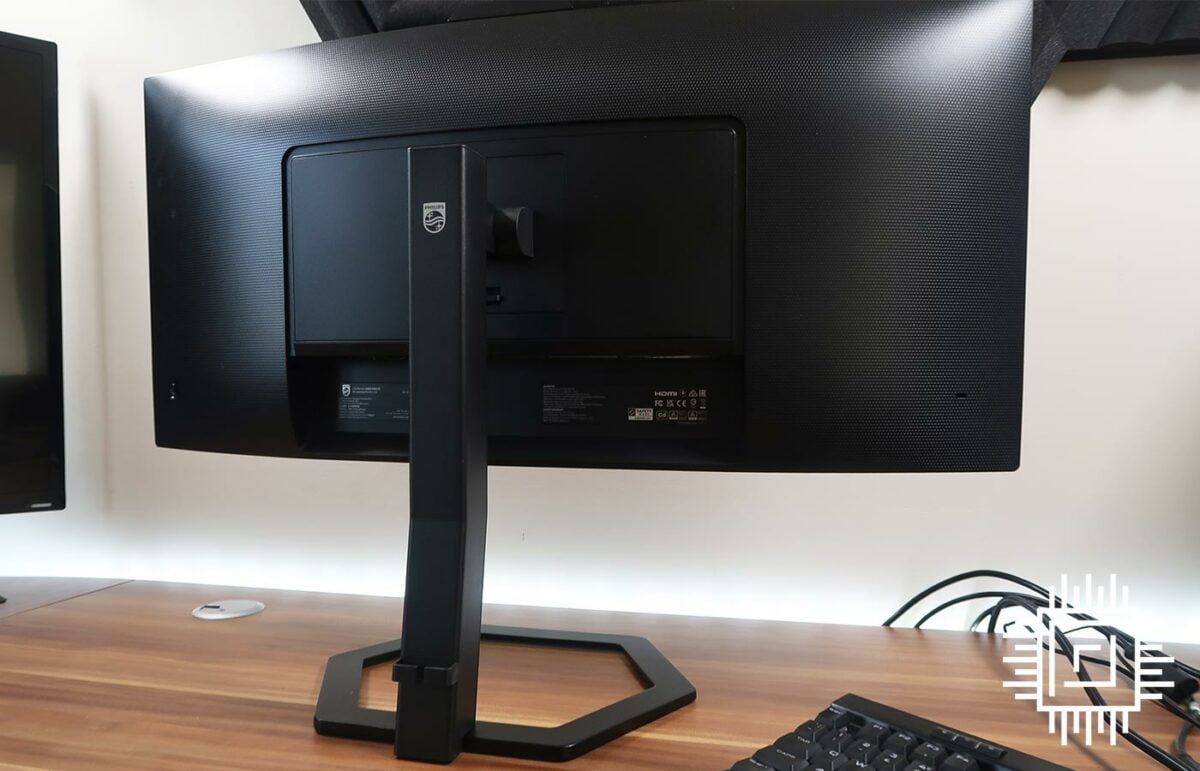 Philips throws up another surprise in that the 5W stereo speakers are better than you might expect from an office monitor. You do, of course, lack in bass and the mid-range is decidedly muddy, yet given the ultrawide form factor, speakers being positioned on the lower left- and right-edges results in a nice and wide soundstage. More than sufficient for office work, and there's a headphone jack for full-on jam sessions.
Made for Multi-tasking
As for the display itself, Philips opts for a curved 34in VA panel offering an increasingly common 3440×1440 UWQHD resolution at 100Hz. Brightness is rated up to 300 nits, with contrast ratio at 3,000:1, while a 4ms grey-to-grey response time confirms that gaming isn't this monitor's primary concern.
A productivity and work-first solution, the 21:9 aspect ratio is a godsend for multi-tasking – particularly with Windows 11's vastly improved window snap functionality – and the 1500R curve works well at this size. We've often felt a curve is borderline pointless on smaller, 16:9 panels, yet on an elongated 808mm x 381mm x 111mm display, the wraparound effect works well and helps bring you closer to on-screen content.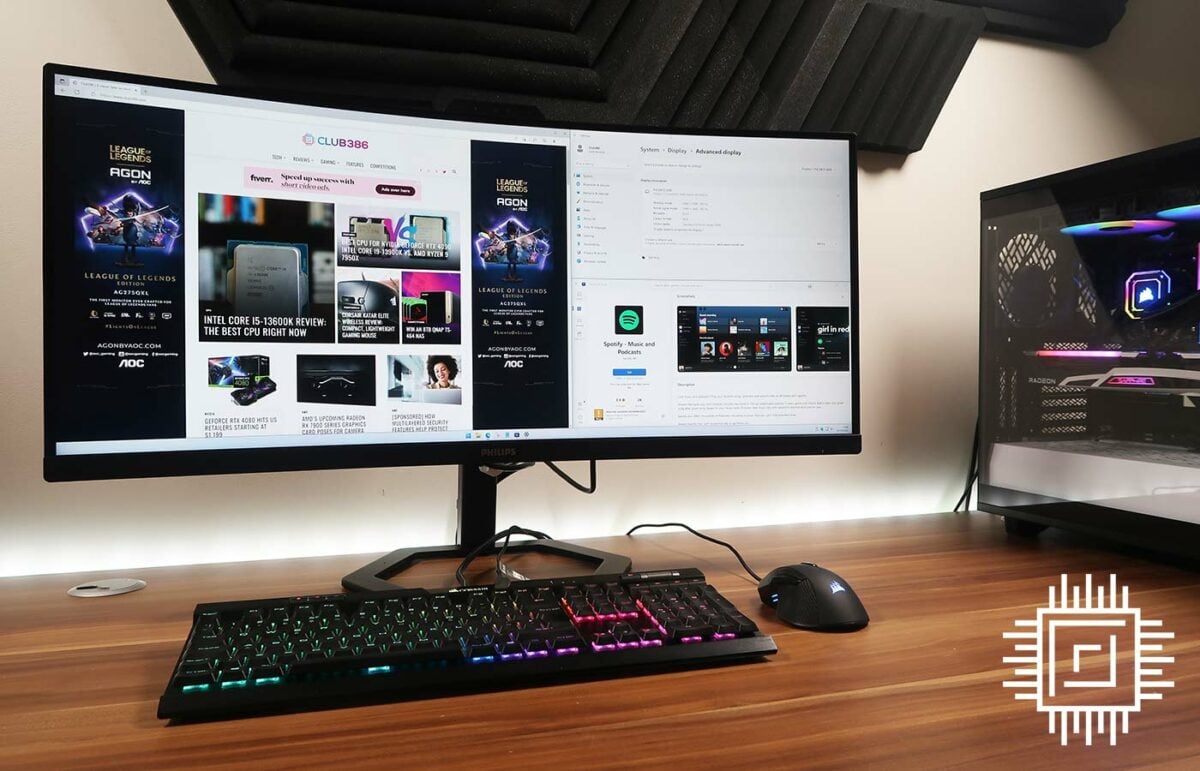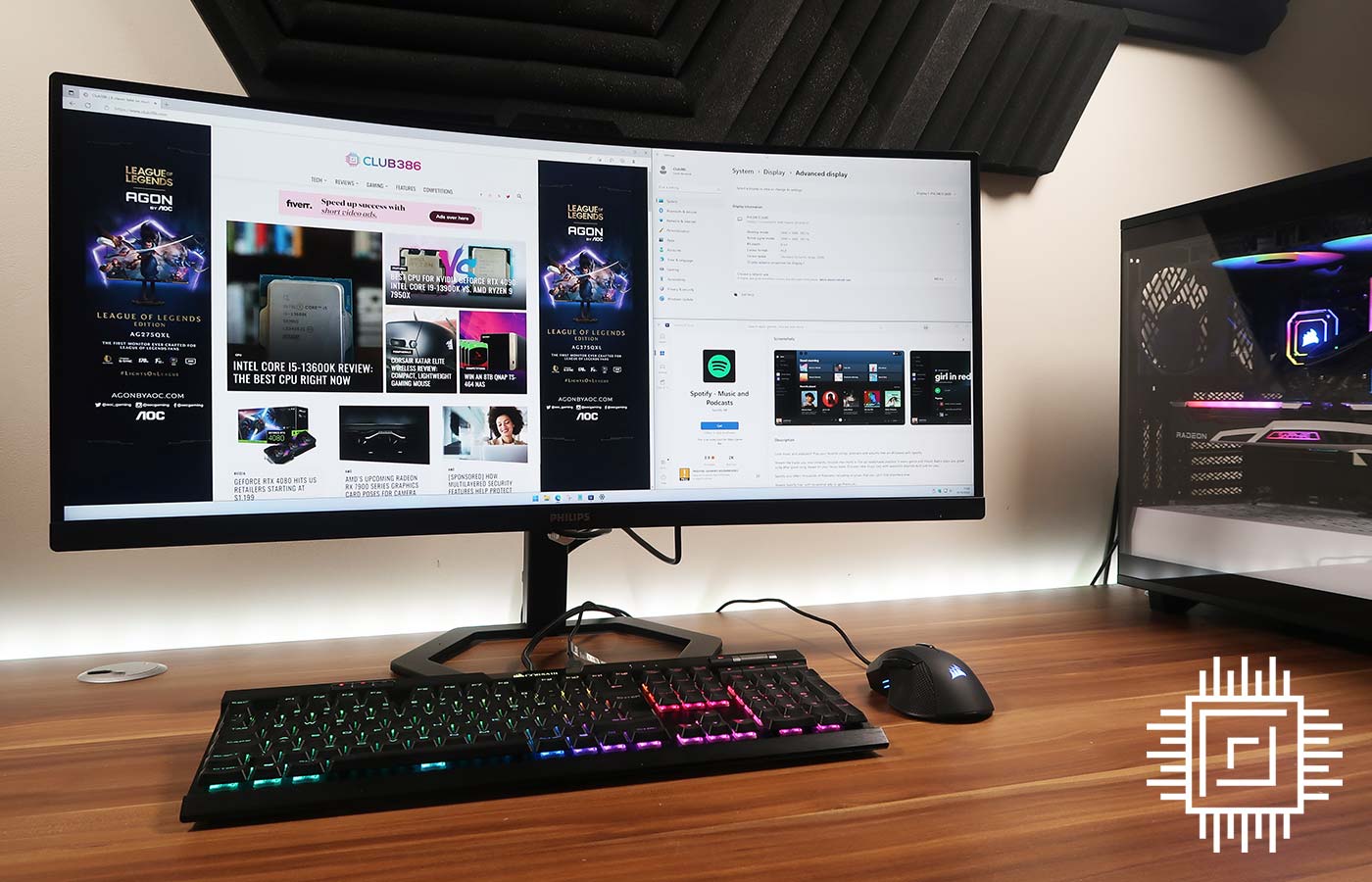 Colour coverage, going by our own measurements, is good enough for anything but the most stringent creative work, and though viewing angles aren't typically VA's strong suit, Philips' chosen panel performs well. Colour shift and black crush are kept down to a minimum, making this one of the better VA-based ultrawides we've tested. 100Hz adaptive sync helps keep everything smooth, and though you'll be tempted to fire up the odd game come lunchtime – they do look fantastic at the native resolution, despite lacklustre response times – the benefits of a quicker panel shouldn't be ignored during everyday use. Everything from webpage scrolling to the Windows Start menu feels noticeably smoother.
In the connectivity department, 34E1C5600HE keeps matters relatively straightforward with HDMI 2.0, DisplayPort 1.2 (either of which can manage 100Hz at the native resolution), and USB Type-C. The latter supports DisplayPort Alt mode and power delivery, allowing a docked laptop to charge at up to 65W, and also drives a four-port USB Type-A hub, one of which supports fast charging.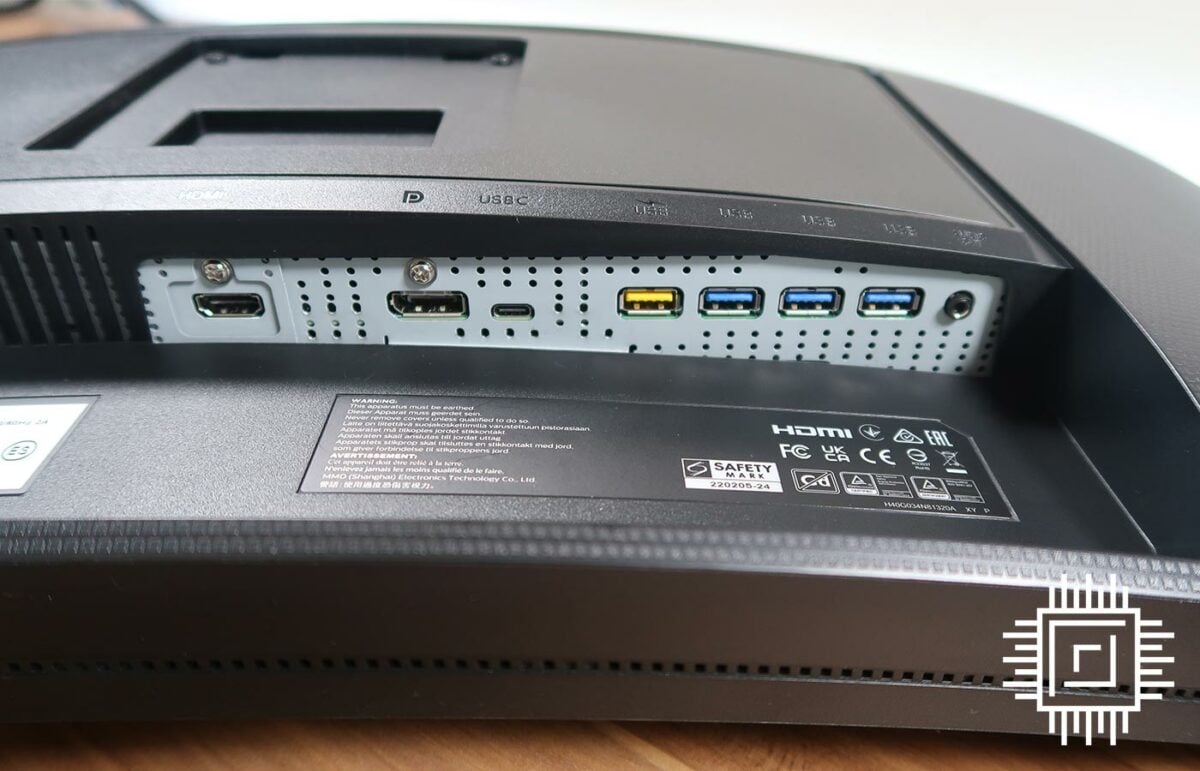 That sense of doing the essentials well without pushing the boat out extends throughout the product. Philips' VESA-compliant stand is straightforward to attach and offers generous height adjustment (130mm) and -5°/+20° tilt; however there's no option to swivel side to side. Build quality is solid – there's barely any perceptible wobble – and the metal foot, measuring 280mm deep and 320mm wide, doesn't impinge on desktop real estate to any great extent. There's also a basic clip on the back for keeping cables tidy, a built-in power supply, and an intuitive joystick positioned on the rear-right side for OSD navigation.
Using the 34E1C5600HE as my primary monitor has proven enjoyable – it's a display that integrates well with web publishing workflow – but there are a few niggles to be aware of. There's no KVM, so don't expect to easily share peripherals between laptop and desktop, and though the top and side bezels appear thin in the promo shots, the actual image begins almost a full centimetre from the edge. Nitpicking somewhat, I've become so accustomed to the 4K (3840×2160) monitor I've been using over the past few years that 3440×1440 does feel vertically limited. If you spend a lot of time scrolling websites, you do miss that extra height, and we'd like to see more ultrawide office monitors adopt a superior 5120×2160 resolution.
Lastly, there is a question mark over pricing. The addition of a webcam pushes the 34E1C5600HE up close to the £500 mark while existing camera-less competitors are often available at or below £400. Even Philips' own 345B1C offers 34in 100Hz ultrawide credentials for closer to £430, so you're effectively paying an extra 10 per cent for the convenience of a Windows Hello webcam.

Show your support for impartial Club386 reviews
Club386 takes great pride in providing in-depth, high-quality reviews built on honest analysis and sage buying advice. As an independent publication, free from shareholder or commercial influence, we are committed to maintaining the standards our readers expect.
To help support our work, please consider making a donation via our Patreon channel.
Colour Credentials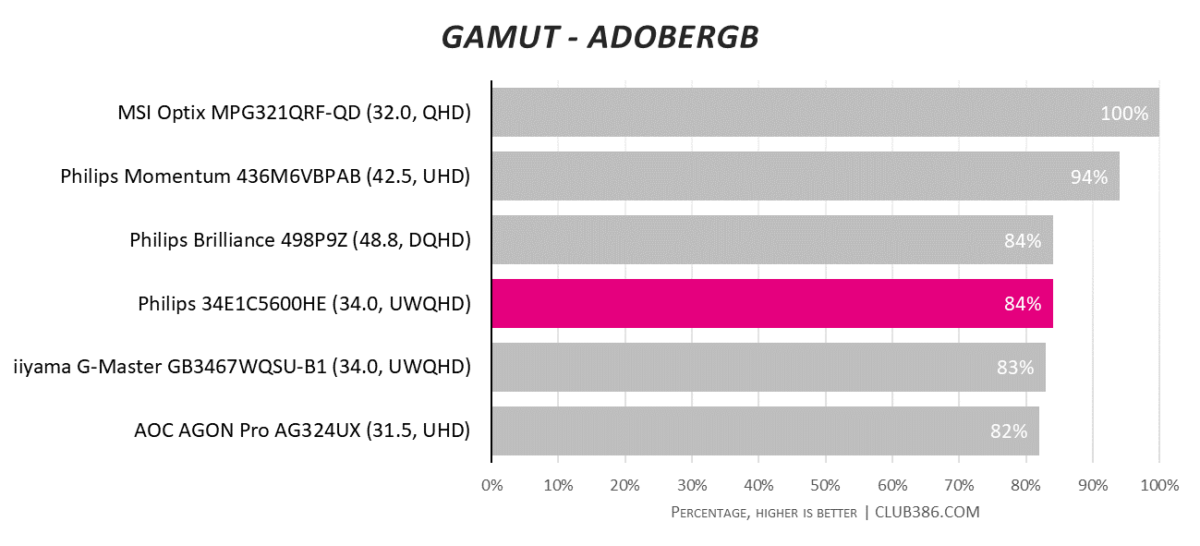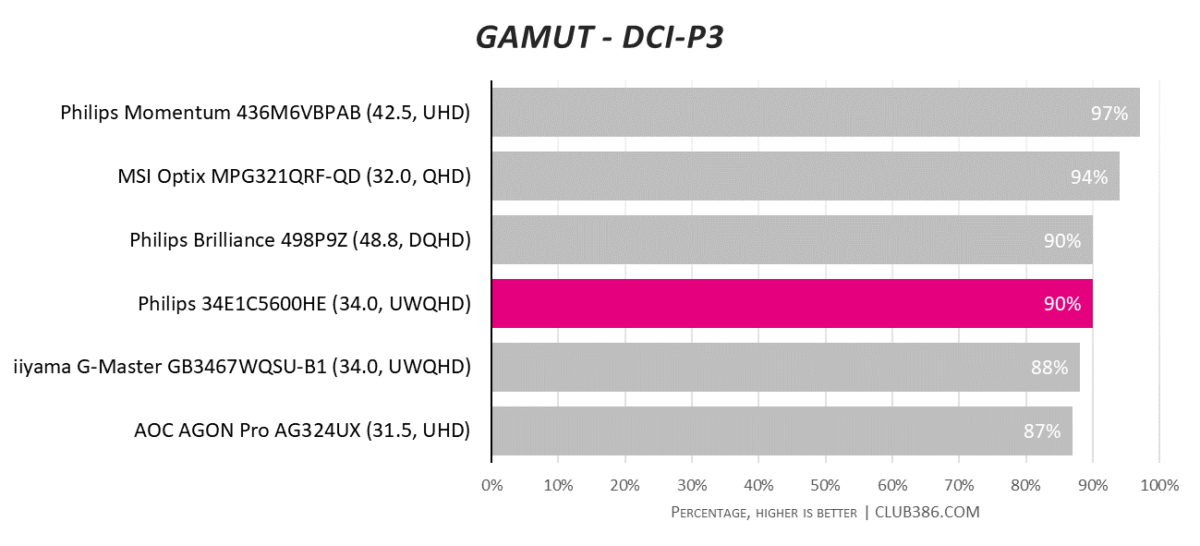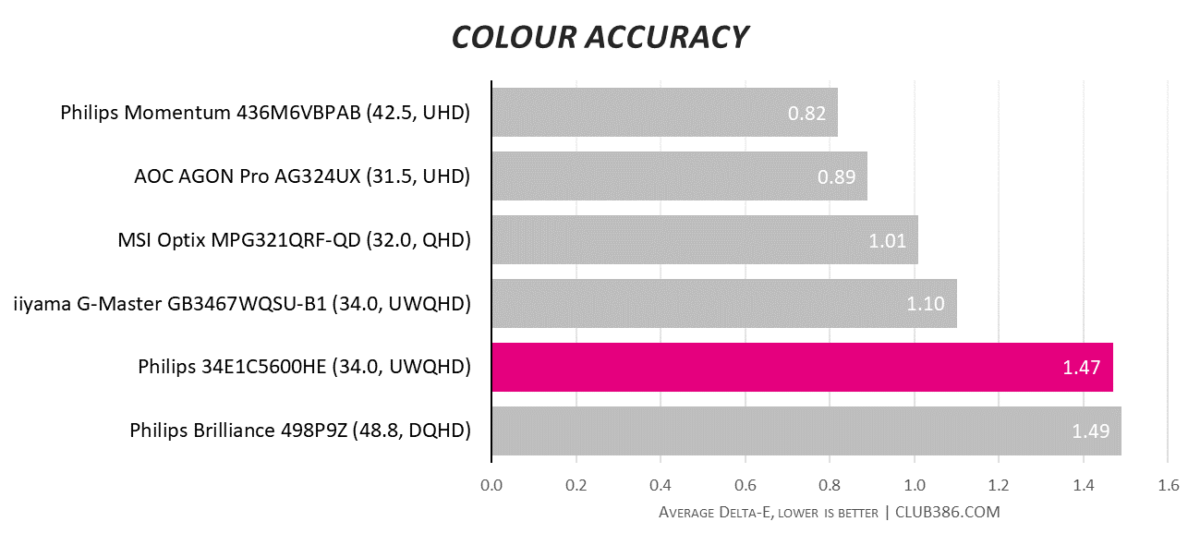 Colour coverage and out-the-box accuracy are areas where display manufacturers are upping their game. Greater than 90 per cent DCI-P3 is quickly becoming the norm, and any score of less than two in the 48-shade accuracy test is deemed very good.
Brightness and Contrast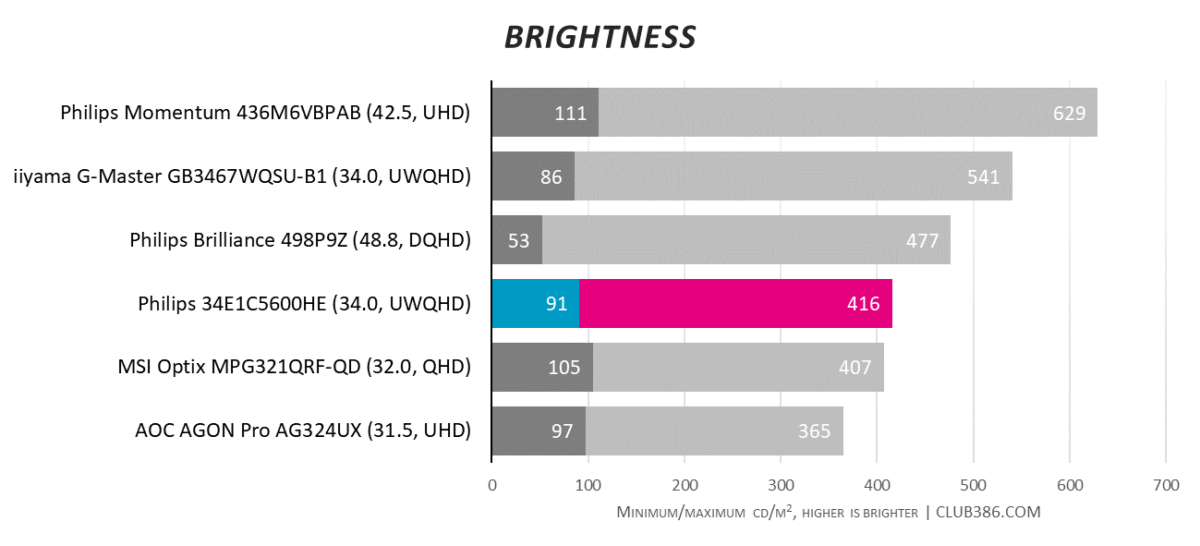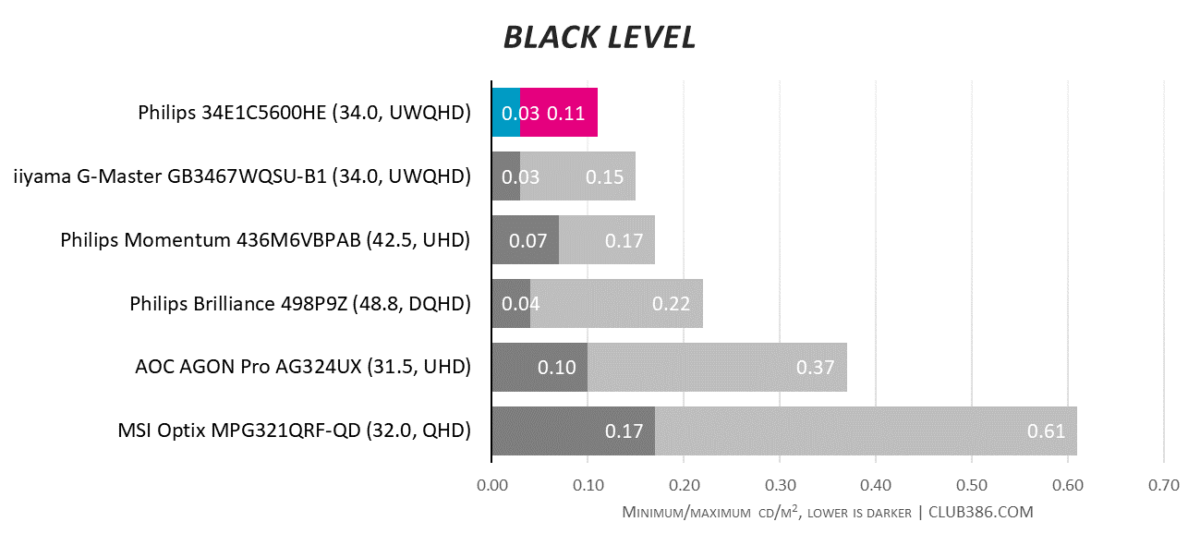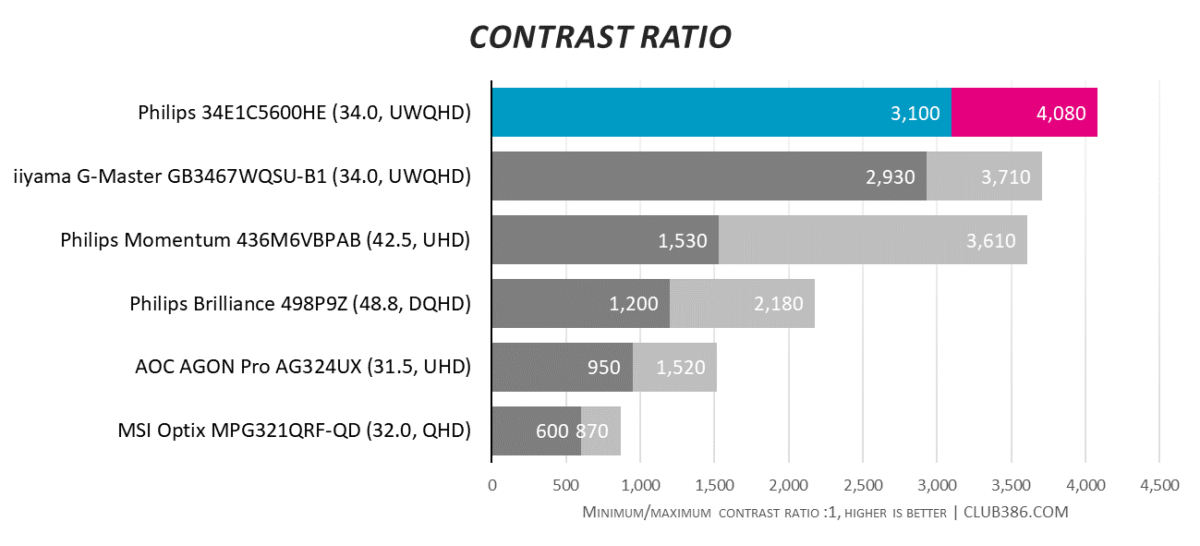 VA monitors tend to have the upper hand with regards to black levels and contrast, and this holds true for the 34E1C5600HE, whose ultrawide panel tops the respective charts. Thumbs up for peak brightness, too, which at 416 nits is actually comfortably brighter than official spec.
Uniformity and Efficiency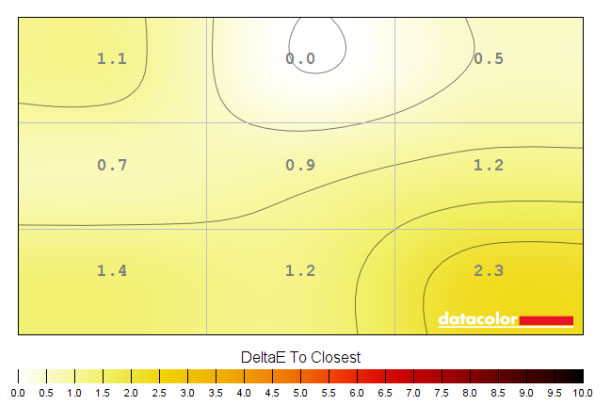 Worried about uniformity on a VA ultrawide? You needn't be. While we're working with a sample of one, both colour and luminance are suitably consistent across our review sample.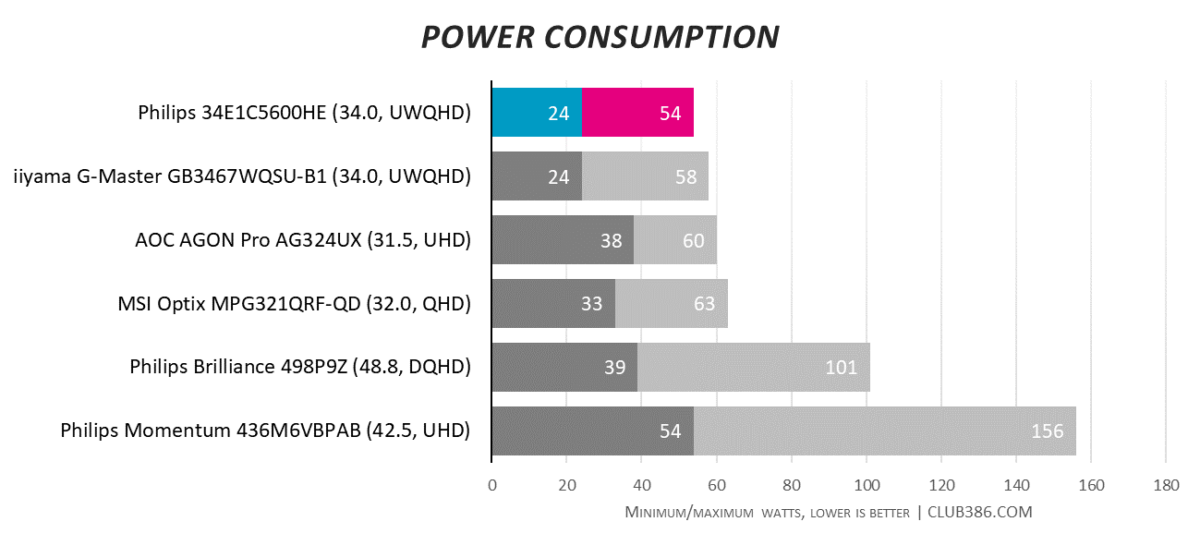 In this day and age, efficiency is an increasing concern, and one that may put you off a larger display. Big panels can take their toll, yet the 34in Philips is more conservative than most, even at peak brightness.
Conclusion
Designed for the work-at-home crowd, the Philips 34E1C5600HE is a well-rounded (excuse the pun) monitor and a sizeable upgrade over a regular 16:9 display. Switching to an ultrawide 21:9 format is a boon for productivity, and whether you're editing video timelines, manipulating spreadsheets or simply working with multiple windows, you'll appreciate the additional desktop real estate.
Understanding that VA panels can vary wildly with respect to quality, Philips' curved 34in screen is better than most, with minimal colour shift, great contrast, good viewing angles and a smooth 100Hz refresh rate. A built-in KVM would further elevate the monitor's workplace credentials, and you do pay a premium for a webcam that still struggles in low light, but that extra level of convenience bodes well for remote collaboration.
Despite the increasing cost of goods, the 34E1C5600HE at £480 ultimately feels pricey compared to existing curved VA solutions. A sale price closer to £400 would help elevate the panel to recommended.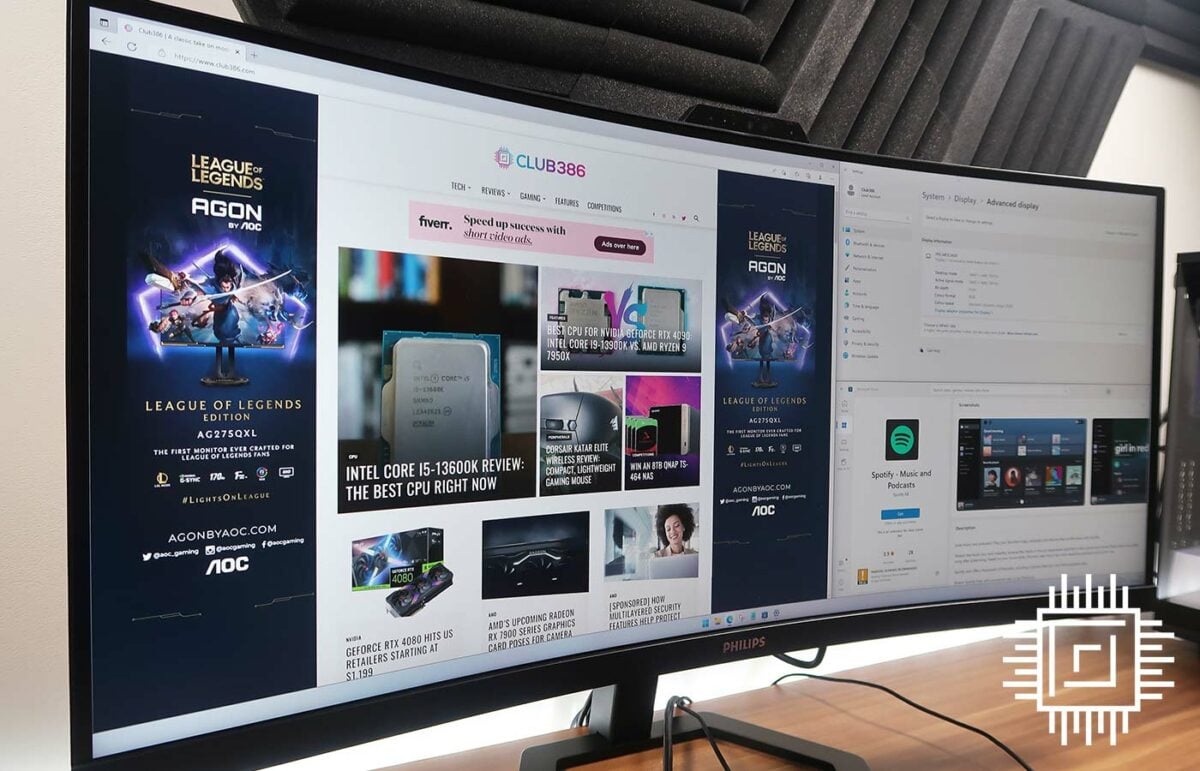 Philips 34E1C5600HE
Verdict: A likeable ultrawide office upgrade from a well-known brand.
---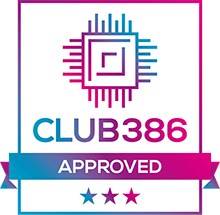 Pros
UWQHD aids productivity
Good VA panel
Windows Hello webcam
Smooth 100Hz refresh
Excellent contrast
Joystick control
Cons
Cam suffers in low light
Pricey at £480
Stand doesn't swivel
---
Club386 may earn an affiliate commission when you purchase products through links on our site. This helps keep our content free for all.
Rest assured, our buying advice will forever remain impartial and unbiased.