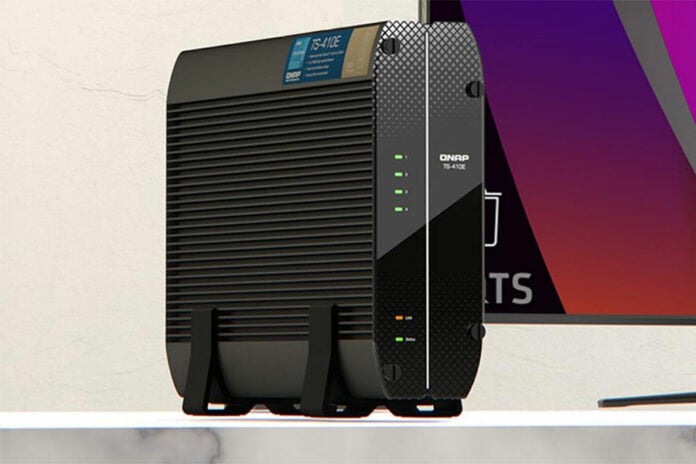 Taiwanese network storage specialist Qnap is expanding its range of quiet NAS solutions with the launch of the TS-410E.
Designed for sound-sensitive environments, the newcomer joins the existing dual-bay HS-264 in Qnap's arsenal but sets itself apart with a choice of horizontal and vertical orientations, with room for four internal storage bays.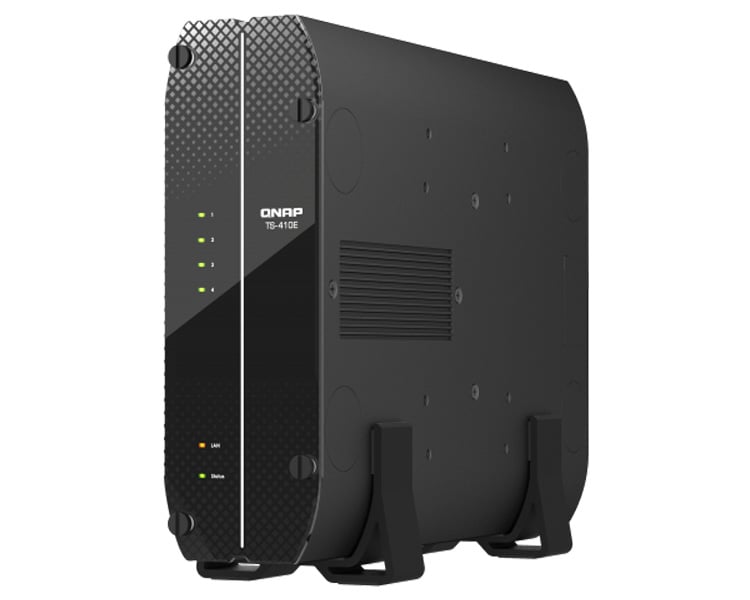 Though the manufacturer is keen to position the TS-410E as a solution for specialised environments such as recording studios, there's no denying its appeal as a living-room media server. Qnap references the TS-410E as its best low-noise NAS on account of its fanless design and four 2.5in drive bays geared ostensibly for silent solid-state drives.
Vertical anti-skid stands are supplied for upright positioning, and reasonably petite dimensions of 180mm x 60mm x 254mm are described as a perfect fit alongside your TV.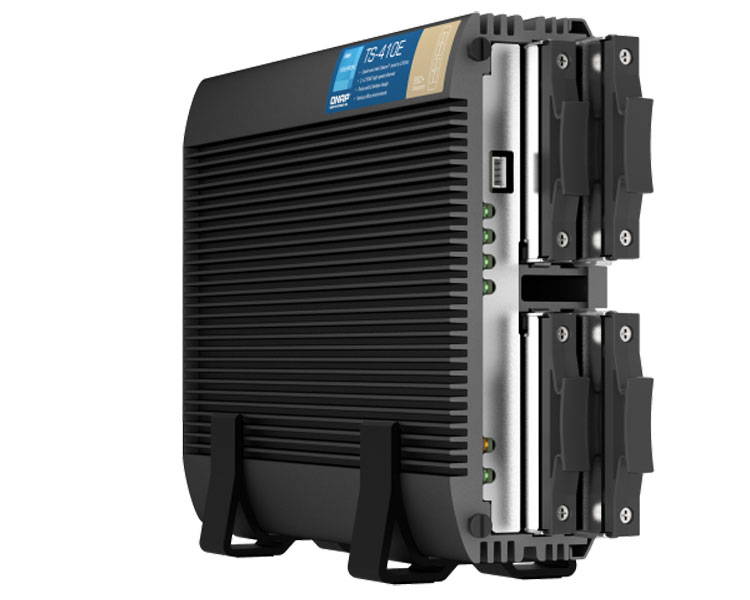 A 2.6GHz Intel Celeron J6412 processor provides 64-bit, quad-core processing capabilities together with 8GB of onboard (non-expandable) memory, allowing for modest hardware-accelerated transcoding through popular media server packages such as Plex.
Connectivity is well stocked with dual 2.5GbE LAN and four USB 3.2 Gen ports, though HDMI output remains limited to 1.4b, allowing for up to a 3840×2160 resolution at a maximum 30Hz. A connector for the external 90W power supply rounds out the port selection, and as with most Qnap NAS units, all of the front LEDs can be disabled through software so as not to interfere with movie nights.
While we're always a tad cautious when it comes to fanless storage servers, Qnap's sturdy-looking chassis is designed to serve as giant heatsink, and for users who've come to appreciate the benefits of a home NAS, silent-running alongside the TV has obvious benefits.
No word on pricing, sadly, but if you share a fascination for all things NAS, Qnap's 52-minute long video overview could be right up your street.