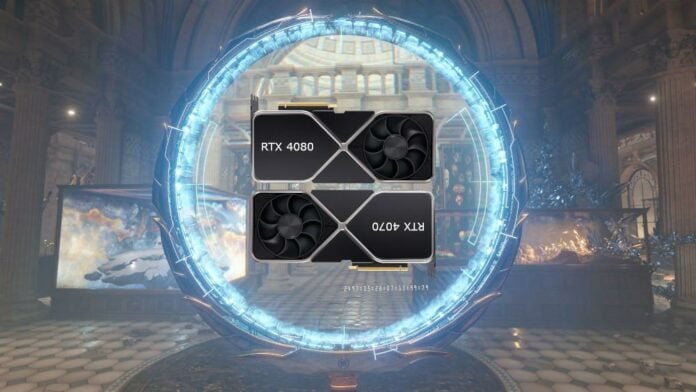 New rumoured 3DMark Time Spy Extreme scores are out, this time for Nvidia's next-gen GeForce RTX 4070 and RTX 4080 graphics cards.
About a week ago, we had a 3DMark Time Spy Extreme score of the future RTX 4090, which was very good to say the least. And today, it's the mid-range GPUs that are getting their share of test marks. According to @kopite7kimi, an RTX 4070 achieves around 10,000 marks, while an RTX 4080 hits around 15,000 in the taxing Time Spy Extreme benchmark.
For perspective, a score of 10,000 is equivalent to what an RTX 3090 currently achieves in that test, whereas 15,000 points leaves even the RTX 3090 Ti in the dust with its 11,400 marks. But what about the GPUs they are replacing? Well, moving to TSMC's N4 process alongside faster GDDR6X and higher frequencies should give them significant advantage over their Ampere counterparts. This makes RTX 4070 and RTX 4080 about 50 per cent faster than RTX 3070 and RTX 3080, respectively, according to this rumour.
If these scores are true, it means next-gen mid-range cards will eclipse their older equivalents, even replacing current $1,300 GPUs. This begs the question, at what price are we getting this upgrade? Hopefully, we don't see another price surge; cards are already expensive the way they are now.
Although don't think a lot about it, because if previous reports are accurate, RTX 4070 and RTX 4080 cards may not be released in 2022, hitting shelves only in Q1 2023, leaving time for Nvidia to get rid of its excess Ampere stock before releasing something new.