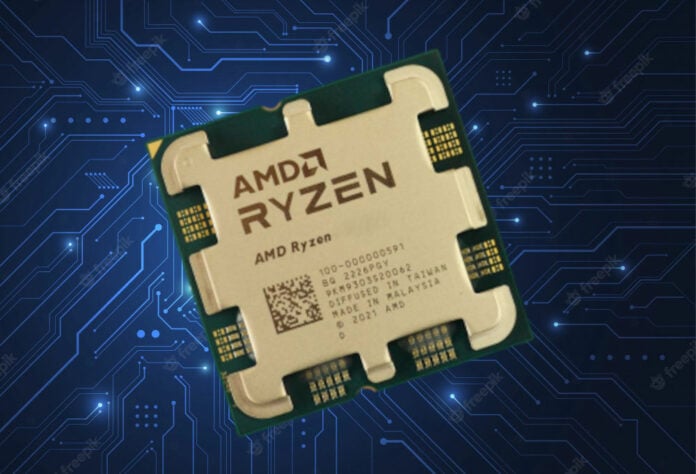 Twitter user @momomo_us has published a hint at what could be a Ryzen 7 7700 (non-X) 8-core 65W CPU. The tweet doesn't say much other than "7700 8 65", but it's enough to assume AMD is working on a low power addition to its Ryzen 7000 Series line-up.
If AMD follows the same trend as previous Ryzen launches, the rumoured CPU ought to be very similar to the Ryzen 7 7700X albeit with lower base/boost clocks out of the box and reduced overclocking headroom because of its limited power.
Keep in mind that 65W is the TDP, the CPU can still draw more if it's allowed to, since the socket power or package power tracking (PPT) limit should be around 88W. For comparison, the Ryzen 7 7700X has a TDP of 105W and a PPT of 140W. One would imagine a 65W TDP should also allow the chip to steer well clear of the standard 95°C operating temperature of high-end Zen 4 parts.
This chip could be the perfect compromise for gamers needing high performance without going overboard on price and power consumption, which in turn necessitates premium cooling and a built with room to breathe. Not to mention the power bill.
I personally very much look forward to the availability of this CPU, and other low-power additions to both the latest AMD and Intel product lines. Let's just hope the fabled 7700 is not an OEM-exclusive part, and if it does see the light of day, wouldn't it be nice if a cooler was included in the box?
While most had assumed non-X models would release sometime down the line, the latest rumours could indicate an accelerated rollout, with AMD no doubt feeling the pressure of keenly priced Core i5-13600K. We wouldn't be surprised to see 65W Ryzen 7000 Series chips, as well as eagerly anticipated X3D parts, unveiled at CES in January.
In the meantime, you can check our review of the Ryzen 7 7700X for a good indication of full-power performance, and if you're curious as to what happens when the latest and greatest CPU architectures are scaled down to 65W, well, we've got that covered, too.